Soccer and Baseball: It Is Time for Video Replay
by Jeremy Gibson…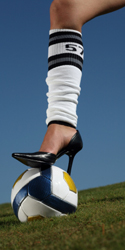 I was recently asked a very interesting question: why would anybody want to be a referee? It is not an easy question to answer, especially in this day and age of modern technology. In reality, referees and umpires have perhaps the most difficult job in all of sports. They are continually asked to make important, game altering decisions in real time, often while running or skating to keep up with the action. It is a thankless job. Referees are very rarely commended – there is no "Umpire of the Year" award – but fans and players are quick to lambaste them when they make mistakes. Unfortunately for referees and umpires, 2009 has been a year full of lambasting.
Front and centre in this awful year for officials was the MLB playoffs, a performance so awful that it has been discussed, debated, and dissected in numerous sports magazines and websites. Going into the playoffs, the odds that a casual fan had ever heard of Phil Cuzzi, Dale Scott, or Tim McClelland were slim to none. But thanks to four blatantly obvious calls going spectacularly wrong, the three are now household names. Cuzzi was the left field umpire who stared directly at a Joe Mauer fly ball as it landed fair, yet called it foul. Scott and McClelland blew three calls on the basepaths in Game 4 of the ALCS – in a span of eleven batters! Luckily for Major League Baseball the blown calls did not directly impact the outcome of a game. In the end, the Yankees won the World Series because they were the better team, not because of (or in spite of) poor umpiring.
Unfortunately the same cannot be said about the latest case of horrendous officiating. The refereeing mistake in a World Cup Qualifying match between Ireland and France did directly impact the outcome of the game. Because of the blunder, the Republic of Ireland lost more than just the game – they lost their dreams of heading to South Africa to compete in the biggest event in all of sports, the 2010 World Cup.
To set the stage: France had the advantage in the tie after a 1-0 road victory in Ireland on Saturday, but Ireland's 1-0 victory after 90 minutes set up two 15-minute periods of extra time, and if necessary a penalty shootout. In the 13th minute of extra time France was awarded a free kick in Irish territory, which seemed to trigger a complete meltdown in the competence levels of the match officials. Just before the kick was taken, two French players jumped offside – something missed by both the referee and the linesman. As the ball sailed towards the box, it skipped past a number of players and appeared to be heading out of bounds for an Irish goal kick. However, French striker Thierry Henry instinctively put his hand out to stop the progress of the ball, cupping it twice with his hand before dropping it to his foot. The resulting cross was headed into the net by William Gallas. Somehow, Swedish referee Martin Hansson missed the blatant handball, and despite vigorous protests from the Ireland defenders, allowed the goal to stand.
The extra time goal gave France a 2-1 aggregate victory and sent them through to South Africa. It also unleashed a tidal wave of emotion and activity. For the Irish, two years of practice, training, coaching sessions, and qualifying came to a crashing and premature end. Players were heartbroken, coaches were furious, and fans were a mixture of both. The irate Irish Football Association petitioned FIFA to have the game replayed for reasons of fairness, an action given worldwide support after Henry's post-game admission that he had indeed used his hand to control the ball. Referee Hansson has even been condemned by papers in his home country of Sweden.
While the error by Hansson was enormous, and the mistakes by Cuzzi, Scott, and McClelland were embarrassing for their sport, it is shameful to place all of the blame for these incidents on the officials. It is easy to forget that announcers and home viewers have the luxury of super-slow motion along with dozens of high definition cameras following every square inch of the field. To us, the correct decision is easy to see. For referees and umpires it is not that easy – they do not have access to that technology.
And there lies the most difficult fact for fans to comprehend, and why most of the blame must be placed on the organizing bodies MLB and FIFA. If the technology is available, which it clearly is, why not use it? Where basketball, football, and hockey have embraced technology with video reviews in the past few years, both baseball and soccer remain infuriatingly stubborn in their resistance. Sure baseball has adopted a review process for disputed home run calls, but that barely scratches the surface of the myriad of problems that have the potential to be resolved. Plays that can be extremely difficult for umpires to see, such as close plays at the plate or fair/foul balls, have the ability to be called accurately nearly 100% of the time. This degree of accuracy should be more important to soccer, a sport where goals are rare and carry an enormous amount of importance. Any piece of technology to ensure that all goals are valid should be welcomed by FIFA, not resisted. The organization recently discarded new technology that would, with 100% certainty, tell an official if the ball crossed the goal line – a curious, almost backwards-thinking, decision.
Why do baseball and soccer continue to lag behind the rest of the sporting world? There are three popular theories: 1) they have more history and tradition than other sports; 2) they are extremely popular, so why mess with a good thing; 3) replay would slow down the flow of the game. To an average fan, those are poor excuses, and come across as nothing more than baseball and soccer arrogance. Hockey and football fans have proven that they will tolerate a short delay in a game if they are rewarded with a correct call. After all, fans are attracted to sport because of the fairness of the competition. Refusing to eliminate bad calls from games does nothing but jeopardize that sense of fairness. Just ask the Irish.