Well it's finally here. As we get ready for the Super Bowl this weekend, it always takes me back to when I first started watching football as a twelve year old. Back in those days, I could watch the Super Bowl live, go to bed at three o'clock in the morning and still be able to get up for school. Now though, I have to book the next day off work.
In any event, I thought it would be a good idea to count down what I consider are the top five Super Bowls I have ever watched. You may not agree with me, but that's part of the fun. Hence I give honourable mentions to Super Bowl XXXIV (St Louis 23-16 Tennessee) and Super Bowl XXLI (N.Y. Giants 17-14 New England), but ultimately, they miss out on the top five.
Okay, here we go:
5) Super Bowl XXXIV New England 20-17 St Louis
The result which heralded the dawn of the latest dynasty in the NFL and the birth of Tom Brady as the latest quarterback attempting to challenge Joe Montana's position as the best in the history of Super Bowl play (even if Brady does go on to win more rings, it won't change the fact that Montana never threw any interceptions or lost a game on the big stage.)
The Patriots started out as the third biggest underdogs in the history of the Super Bowl. By the end, they had secured its second biggest upset.
This was a game, which captivated the audience from start to finish. No one really believed that the Rams could lose and yet at one point, it looked like they were going to be blown out. Trailing 17-3 and driving inside the ten, Kurt Warner fumbled and the ball was returned for a touchdown that apparently put the Pats up 24-3. However, a penalty overturned the play and the Rams went on to score two fourth quarter touchdowns to tie the game at 17-17.
Everyone thought New England had lost their opportunity, but Brady went on to drive the team down the field, setting the stage for Adam Vinatieri's 48-yard field goal as time expired.
4) Super Bowl XXIII S.F. 49ers 20-16 Cincinnati
This is the game that cemented Joe Montana's position as the ultimate big-game quarterback. It also gave heart to a young boy as I finally got to witness a close Super Bowl, which lived up to the hype.
I admit that at the time, I hated the 49ers, because they were always winning. It's only now that I can fully appreciate what a complete football team they were. Apart from Montana, there was Jerry Rice, Roger Craig, Harris Barton, Ronnie Lott, Charles Hayley and so on. This team was loaded.
Having said that, the Bengals gave the 49ers all they could handle. Ironically enough, as their number one rated offence struggled on the big stage, it was the Cincinnati defence, which kept them in the game. And this was despite losing their top defender, Tim Krumrie, with a sickening injury in the first quarter. (I can still see his leg twisting around 180 degrees.)
A little known fact was that Boomer Esiason had a shoulder injury, which hampered him throughout the postseason. To this day, I'm convinced that Cincinnati would have won the game with a fully fit Esiason, who had enjoyed a league MVP winning campaign.
In any event, Cincinnati actually took a three-point lead with under four minutes to go and had the 49ers backed up on their own eight-yard line. Someone on the Bengals sideline was heard to remark 'we've got them right where we want them', to which Chris Collingsworth replied 'have you seen whose on the other side?'
Unfortunately for Cincinnati, Collingsworth proved to be right. Montana calmly lead the 49ers down the field, before finding John Taylor for the winning touchdown, with thirty-four seconds to go. Game over.
3) Super Bowl XXX Dallas 27-17 Pittsburgh
It had gotten to a point where I was beyond desperate to see the AFC win a Super Bowl (eleven straight losses going into this game.)
If it wasn't for Neil O'Donnell, this is the game where it would have finally happened. The guy who entered the game with the lowest percentage of passes intercepted in the history of the NFL, managed to throw three, including two boneheaded ones in the fourth quarter.
The Cowboys entered this Super Bowl as favourites and the game started out along these lines. They were up 13-0 as halftime approached. However, Pittsburgh put a late drive together to score a touchdown right before halftime, making the game more interesting.
As the third quarter began, O'Donnell threw his first interception, resulting in Dallas going up 20-7. Everyone thought it was over. However, in the fourth quarter O'Donnell finally started to find some form, Bam Morris began to run the ball with authority and the Steelers made their move.
Pittsburgh scored a field goal in the fourth to make it 20-10 and then fooled everyone by attempting and recovering an onside kick. This resulted in a touchdown to make it 20-17. A three and out by the Steel Curtain defence got me finally believing the NFC win streak was about to end. However, O'Donnell then literally threw the game away with those two late interceptions. An Emmitt Smith touchdown run finished the Steelers off.
When it was all said and done, it didn't matter than Pittsburgh had gained more yards and first downs than Dallas. They helped Larry Brown get a big-money move to the Raiders with his MVP award and managed to fool people into thinking that Barry Switzer was a good coach.
2) Super Bowl XXV N.Y. Giants 20-19 Buffalo
In the midst of the NFCs' thirteen game winning streak, we were lucky enough to witness the closest ever (figuratively speaking) Super Bowl.
Everyone recalls the words 'wide right' as Scott Norwood missed a 47 yard field goal at the end of the game, which would have won the game for the Bills and saved them from the ever-lasting infamy of four straight Super Bowls losses.
However, this game will always be remembered as it took place during the Gulf War. A lot of players, fans and media in the stadium were directly affected, as they had loved ones away fighting the war. Security was at an all-time high.
The Bills were actually favourites going into this game, a rarity for an AFC team back in those days. What followed was a classic, as the Bills explosive offence was mostly held in check by Lawrence Taylor, Carl Banks and the rest of the Giants vaunted defence.
Buffalo looked like they might run away with the game early on, taking a 12-3 lead halfway through the second quarter. However, the Giants, led by career backup Jeff Hostetler, got a touchdown just before halftime to make a game of it.
The Giants offence would go on to set a Super Bowl record for time of possession, (with over 40 minutes, including 22 in the second half) as they went on to score ten more points and ultimately hold on for the win.
1) Super Bowl XXXII Denver 31-24 Green Bay
Come on, you all knew this was going to be my top pick. Finally, the AFC ended the NFCs' thirteen-year winning streak and who better to do it than the Broncos. More importantly, John Elway was guaranteed to leave the game with a ring. Admittedly though, this was Terrell Davis's Super Bowl.
T.D. was unbelievable, rushing for 157 yards and three touchdowns. And don't forget he missed nearly all of the second quarter with a migrane headache. He would have challenged Timmy Smiths rushing record of 204 yards (yes, I know, against the Broncos in Super Bowl XXII) if he'd been able to play the full game.
Despite an average showing statistically, Elway still had the biggest play of the game. His third quarter helicopter spin into the air on third and six gained a first down and galvanised the team. I know I'm biased, but in my opinion this is the best Super Bowl in the history of the game. A close, hard fought battle, with numerous lead changes and momentum swings, not decided until the final minute. John Mobley knocked down Brett Favre's fourth down pass in Denver territory and sent me to bed a very happy man.
Let's all hope that this Sunday's game can match the excitement of the above match-ups and give us all a memorable encounter.
Paul Taylor can be contacted at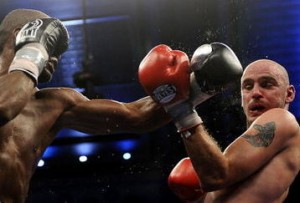 by Stoker Dafire… Bernard Hopkins recently fought a non-title fight against World Middleweight Champion Kelly Pavlik. It was such a master class of boxing that it should only be sold exclusively as an instructional video to all the young men out there who wish to pursue a career in the pugilistic arts.
Bernard Hopkins can be compared to a great 43-year-old architect who is about to build a temple with a specific set of blue prints. B-Hop is given the assignment, and then he begins to build his game plan and future performance from the ground skywards.
He knows that the basic tools for building any beautiful structure are a square and a level; in fighting it's the jab and footwork. With those simplistic tools, and the right material, it's possible to build yourself an architectural boxing monolith.
The jab is one of the most basic weapons in combat sports, but it's very much underrepresented and often ignored. Bernard Hopkins' brilliant left jab is one of the main reasons the 43-year-old fighter is ranked fourth on boxing's top 10 pound for pound list.
In his most recent fight, Bernard was able to measure and control the much younger—but slower—Pavlik with constant pressure from his head snapping left jab.
Also, by circling to his right—away from his opponent's power hand—B-Hop was able to nullify and rob Kelly Pavlik of his greatest weapon, the big right hand bomb.
Kelly "The Ghost" Pavlik is the middleweight champion of the world. He is undoubtedly a championship level fighter with tremendous knockout power; however, I feel he also takes far too many punches, and Kelly has had moments where he has barely survived.
He hit the canvas in the second round of his title fight against Jermaine Taylor, and it looked for all intents and purposes that the six feet two inch Ohioan was about to fall apart; but later in the seventh round, two uppercuts and a solid left hook from Pavlik floored Jermaine Taylor.
Getting up off the canvas and coming back to win the middleweight championship of the world shows tremendous heart, and it's the stuff that our Champions are supposed to be made of, but in this writer's opinion Kelly Pavlik is now nothing more than a "paper champion."
This recent humiliating loss to Bernard Hopkins showed us boxing fans that the young champion has some huge fundamental flaws.
Pavlik's punches are prodding and slow, and in some cases he seems to be fighting to keep his balance.
How long will it be before some new contender follows the same blueprints that Bernard Hopkins used?
Kelly Pavlik has an upcoming mandatory middleweight title defense against Marco Antonio Rubio on Feb. 21.
Rubio isn't supposed to give him any trouble, and it is said to be an easy win for Pavlik, but nowadays in the boxing world Murphy's law applies, which means anything can and will happen at the worst possible time.
I'm not Mother Teresa, but I'm not Charles Manson, either.
By Louis "The King of Roncesvalles" Pisano…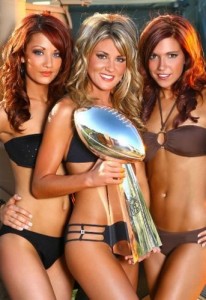 Pittsburgh Steelers VS Arizona Cardinals +6.5 Total 46.5
This is one most highly wagered on events of the year. Reported by the Nevada state gaming commission, Super Bowl XLII had 92.1 million dollars bet on the event. That's a lot of dough!
The line for this game has fluctuated between 6.5 where it opened and then went up to 7 and back down to 6.5 as the money comes in.
There are many angles on which to lay your money out on this mammoth game aside from just picking the winner. You can lay your money on such craziness as, Team to win coin toss, Team to call 1st time out, and other, in my mind, stupid card flips so to speak. But within these Game Props and Player Props I believe there is money to made. Deciphering and decoding these, while navigating through the other guessing games is the tricky part! I thought I might give you a few funky ones that I have found and will be wagering on, some with more value than others.
Larry Fitzgerald is the workhorse for the Cards and should see a lot of action as he has all year, he's Zona's go to receiver and even though he has seen double coverage while Boldin was out, he still made the catches to get the Cards here to the big show and his YAK is . The reason for taking him over Hines Ward is the fact that Ward has been injured and has brought his hyperbaric chamber from Pittsburgh down to Tampa and has it in his room, obviously trying to be as ready as possible with his sprained knee, but with one hit he could be out of the game as he was in the conference championship. Knowing how tough he is he must have been hurt pretty bad. This type of injury doesn't just heal in two weeks.
Player Match ups
Larry Fitzgerald VS Hines Ward +23.5 Receiving yards
Take Larry Fitzgerald -125
Player Props
Larry Fitzgerald Receiving yards O/U 90.5 Take the Over -125
He's had over 100 receiving yards in his last 5 consecutive games!
In his 3 playoff games he's had 419 receiving yards
He's averaging 18.2 yards per catch.
Larry Fitzgerald Receptions O/U 6.5 Take the Over -110
He's had 23 receptions in 3 playoff games (Over 7 catches/game, on avg.)
Hines Ward Receptions U/O 5 Take the Under -115
Will he finish the game, that's questionable!
Only 7 times this year out of 20 games has Hines Ward caught more than 5 balls including playoffs.
Team to Receive opening kickoff Pit +150 AZ -200
I've heard a lot of talk about this and how everyone thinks that Pittsburgh even if they win they coin toss will elect to give AZ the ball and get their tough D in there first to make a statement, this makes sense, but at -200 is it worth it. Perhaps a little sniff.
Arizona's team rushing O/U 76.5, I'm looking at the under here.
Pittsburgh as a team ranked 2nd in the NFL and only gave up a measly 80.2 yards/game on the ground, and as we know Arizona's running game ranked 32nd overall and averaged only 73.6 yards on the ground/game. 2nd versus 32nd, is some miracle running game going to show up and is Pitty's run defence going on vacation? I think not! Take the under!
Kurt Warner's Pass Attempts U/O 37.5, I'm looking at the under here.
Only 8 games out of 20 has Warner attempted over 38 passes and 0 of the last 5 games has he gone over that mark. Are they going to change up offensively what has gotten them here? Taking the under 37.5 at -120.
For ProPicks players
Roethlisberger completions under 18.5 (went over this number 5/20)
Warner completions under 23.5 (went over 8/20 games)
Larry Fitzgerald over 98.5 yards (even though this number is inflated from sports book lines by 8 yards he still had over 100 yards in his last 5 games, kind of tight though)
Longest Pass completion over 48.5 (Warner should sling one deep to L.Fitz or A.Bol)
Finally who will win this game, in my humble opinion I think Pittsburgh prevails and takes home the trophy and the Cinderella story for the Cards ends here. But…Arizona may hang around and may cover. I might be inclined to buy a few points on either side, perhaps AZ +7.5 -140 and/or Pitty -5.5 -130. That's all for the NFL season, enjoy the game!
Ship it, send it, chalk it and lock it, from the King of Roncesvalles to your sports books, good luck boys. All the best!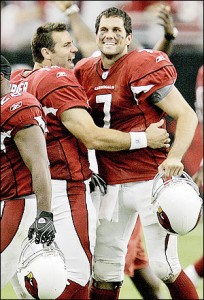 by Michael Seff… The Arizona Cardinals are partying like it's 1999. That's because Kurt Warner has dipped into the fountain of youth and rediscovered his old touch. Warner will become just the second quarterback to start a Super Bowl for two different teams when his Cards meet the Pittsburgh Steelers on Feb. 1 in Tampa. In a renaissance year for lucky number 13, it's time to start thinking of Warner as one of the game's elite.
One of the key arguments against Warner going into the Pro Football Hall of Fame is that his career has been essentially defined by five seasons in two stints separated by roughly six years. From 1999-2001, Warner was the toast of the NFL, winning two league MVP awards, two NFC titles, and leading the St. Louis Rams to victory in Super Bowl XXXIV. He had eye-popping statistics for a team dubbed "The Greatest Show on Turf". Here in 2008, Warner is lighting up the league once again leading Arizona to its first-ever Super Bowl. But what happened in between?
An injury-riddled 2002 season in which Warner didn't win a game was the beginning of the end of his time in the Midwest. He started one game in 2003 an was gone after that. He helped pave the way for Eli Manning in New York in 2004, then fell back into obscurity in the desert. It has also been pointed out that only three times has Warner started an entire NFL season.
But 2008 should serve as a reminder that although there were some less-than-flattering years, Warner has been a steady, if not outstanding, signal-caller in his storybook career. The former Arena League standout has thrown 182 touchdown passes to just 114 interceptions, good for a career quarterback rating of 93.8. In the last two seasons, Warner has thrown for exactly 8,000 yards along with 57 touchdown passes. Twice in St. Louis he amassed 4,000 yards. And his postseason record is a stellar 8-2.
One can say that Warner has fallen on hard times occasionally throughout his 10-year career, but there is no denying that Warner's good years have been spectacular. Kurt's best should be enough to get him a leg up in Hall of Fame voting.
by Miah D…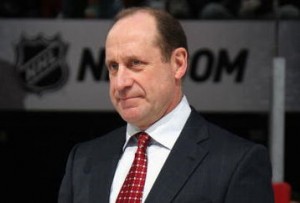 For the first time in nearly two years, the Montreal Canadiens have dropped four games in a row. Before calling them rude names, let's all breathe in and out, relax, and keep track of what is important—the season is still rolling.
So breathe in, breathe out, take a drink, sit, and calm down.
Yes, it is quite frustrating. The All-Star Weekend fairytale just turned into a nightmare. Five goals allowed in the last two games is quite bugging indeed.
As usual, let's keep our cheerful, positive (or maybe just fool) spirit—we are still in the playoff run.
We have lost four games in a row, our No. 1 goalie looks shaky for a No. 1 or even a No. 2, we take stupid penalties. The playoff picture still includes us.
Pointing fingers would be the easiest way to go. It is cheap and non-professional, it doesn't hurt, and it is fast. Once again, let's keep our cool and fun-spirited minds—this is the closest to success we have ever gotten in more than a decade! At least, from an expectations outlook.
However, the question is quite simple—why? What is it that doesn't work? The passion should be there, the talent should be there, the fun should be there. They start to play, looking like they are in pain. They have a "get this over with" attitude.
Is it Guy Carbonneau and his line changes? Does it affect the players and the team chemistry at a degree that the coach doesn't seem to realize? There is no perfect winning combination, of course, but stability isn't a bad thing either.
Is it the return of the injured players? After all, the youngsters did quite well, and the team had an average run despite the ankle problems, back pains, and the broken arms. In the latter possibility though, it is better to keep it simple and call it coincidence. There is no solution, other than hope for the best.
We can't tell them not to come back for the sake of chemistry, can't we?
Is it that the team relies too much on Carey Price? I would agree with Carbonneau—the goalie needs to be able to steal games now and then.
The answers seem to be locked in some place that the forum ghosts are trying to discover.
On a higher note, since we are positive people, Alex Kovalev seems to roll at a high pace since the MVP Award at the All-Star Game. Unfortunately, the razzle dazzles—although always impressive—are less enjoyable without the goals.
If there was a "razzle dazzle cup," we would have had a shot. Unfortunately, those are features found only in "Kovalev and Price in Wonderland."
The reality is obviously much harder.
"Success is a science, if you have the conditions, you the results." - Oscar Wilde
Go Habs!
by Josh Lewis…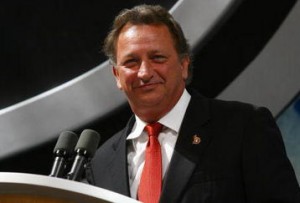 Despite mounting evidence that the Ottawa Senators are moving further away from the playoffs and not closer, owner Eugene Melnyk lashed out at his team's critics on Wednesday for suggesting the organization should go back to square one and try again.
"Anybody that says we should blow up this organization should get their own bomb and blow themselves up," said Melnyk, in response to continuing calls for a rebuild in Ottawa.
With apologies to Melnyk, I am not going to follow his advice. I'm 22 years old. I have too much to live for.
I should make it clear, I have tremendous respect for Eugene Melnyk. I like him as a person and I only wish that he owned the Maple Leafs instead of their archrivals in the nation's capital. He's almost the perfect owner—a man who is passionate about hockey and is willing to open his wallet for success, but allows his people to do their jobs.
That being said, when a falling safe is about to hit you, you don't try to convince observers that your head is hard enough to withstand the impact. You get the hell out of the way.
Yes, the Senators have a lot more talent than their record shows; that's why Melnyk is clinging to the hope of turning things around.
But a year and a half of watching his skilled team play like uninspired doormats should be enough to convince the owner that this group of players is not capable of getting it done. And that's without even mentioning all the years of playoff futility before the team made it to the Cup final in 2007.
It's time to wake up and smell the antibiotics, Eugene.
Aside from your captain, your entire core is comprised of players who don't know how to win. You have one of the poorest prospect pools in the NHL, and Daniel Alfredsson is going to retire before this team gets anywhere near a Cup.
It's time to blow it up. Not with a bomb. With a general manager and a BlackBerry.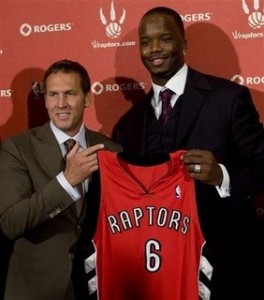 by James Borbath…
With the Raptors struggling midway through the season, it's time to take a look at some of the changes on the horizon.
Perhaps the team's biggest concern surrounds Chris Bosh's contract, which expires after next season. However, unless Bosh whispers in Bryan Colangelo's ear that he's leaving, he'll be staying in Toronto through the end of 2010. That hasn't happened, allowing Colangelo to shift his focus to a potential Jermaine O'Neal trade, which could allow the team to gain cap space this summer. That scenario would be a smart fallback for the GM, who would get one more chance to rebuild the team and convince Bosh to stay. Though the 2009 free agent class isn't as hyped as next season's, there are some players out there that could make a difference for the Raptors. Also, with 2010 looming, other teams may back off and save their money.
Other players that will likely survive moving forward are Jose Calderon and Andrea Bargnani. Calderon, signed to a five-year deal last summer, is locked in. An injury-plagued first half hasn't changed Colangelo's plans to build around him, and he remains one of the East's top point guards when healthy. Bargnani's emergence has given the Raptors the option of dealing O'Neal, as he's finally shown the upside Colangelo envisioned when he made him the top pick in the 2006 draft. He's here to stay, and the fact that he's stayed in the starting lineup with O'Neal back proves the team has faith in him.
Another likely change this off-season will be at head coach, as a big second half turnaround is the only thing likely to keep Canada's Jay Triano at the helm. With seven coaches fired already this season, there will be several looking for jobs this summer. Jeff Van Gundy, Eddie Jordan, Avery Johnson and Marc Iavaroni are names likely to be on Colangelo's list, with talk he could even look to Europe for the team's next bench boss.
Two things are likely to happen with the Raptors in coming months — they'll miss the playoffs and change will ensue. With a decent draft pick and potentially money to spend, Colangelo will have his work cut out for him.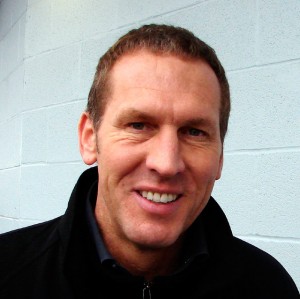 by Michelle C. Williams…
I have been saying since before Vince upped and left us that I could at least play bench for the Raptors. I could have been their Michael "Yogi" Stewart getting a $24 million-6 year contract to barely play. I could have dished out the one or two great passes that Alvin Williams offered up on the rare occasions when he wasn't injured.
There is no reason why most of us fans (or foes) of the Toronto Raptors can't suit up and play. What's the worst that can happen? We'd win a game?
Our record from season to season would give the average fan of another team a heart attack. We don't always suck but we aren't always good. After having a dismal record from 2002 to 2006 we turned around and made it to the playoffs in 2007 and even made a brief appearance in 2008. This season though we're back on the bottom (third from the bottom of the Eastern Conference to be exact).
Our horrible standing has me thinking again that it's time for me to let them know I'm available. The only difference between me and those that have donned the red uniforms (formerly purple) is that I won't need a jock strap (but I will need a sports bra though).
All jokes aside though, I had higher hopes for the Colangelo Era. When he came to us in 2006 I thought he was the best move that Maple Leaf Sports & Entertainment had ever made concerning the Raptors.
Now, two and a half seasons deep, Colangelo's only saving grace would be to drastically shake up the team. Can you say trades, trades and more trades along with a higher calibre coach? I was a member of the We Need to Fire Sam Mitchell club for eons—I wasn't only a member, I was practically the president—but had I'd known that we'd give him the boot just to hire Jay Triano in the interim, I would have picketed to keep Sam.
Yes, the Raptors are the only NBA team in Canada but that doesn't mean we need a Canadian coach. I heart Triano—I do—but more so as Team Canada's former coach, where the pressure to win is obviously less than it is in the NBA.
Bad decisions aside, I still think Colangelo can make it happen. He was with the Suns when they acquired Shawn Marion and Amare Stoudemire and when they freed up enough in their salary cap to obtain Steve Nash who became the league's two time MVP. Colangelo proved himself worthy of being made GM of the team that his father owned and he is capable of earning his keep in Toronto.
In the meantime, Colangelo might want to know that I shoot about .333 from the field so that makes me better than (in no particular order) Nathan Jawai, Hassan Adams and Jake Voskuhl.
If giving me a contract isn't a good idea to Colangelo then maybe a 3 for 1 deal where they'd trade, I dunno, maybe Jawai, Adams and Voskuhl, to make room to acquire one decent player to compliment Bosh's leadership and O'Neil would better suit him.
He could then hire a reputable coach. Preferably a coach with experience in the NBA rather than another NCAA coach like Kevin O'Neill. Good coaching is what put Detroit on top a few years ago. They didn't have superstars and they worked together and won a championship.
And if all else fails, I'm here to serve for my team. For about two slices of Pizza Pizza pizza per game I'd suit up and at least warm the bench like Kris Humphries.
by The Captain…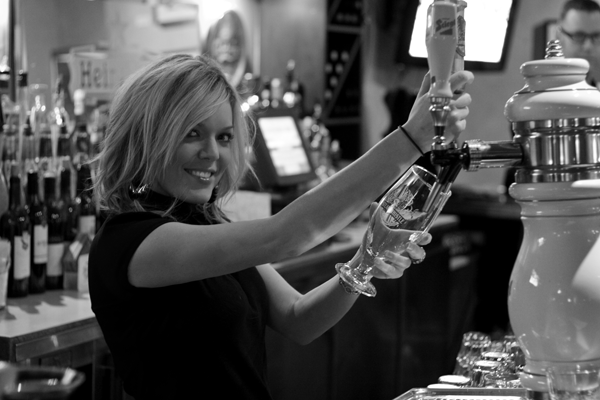 Send an email to and receive a groovy prize.
by Adam "Sully" Sullivan…
Dukes of Hazard Car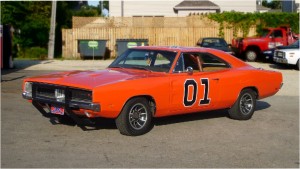 A guy driving this would have to be named Zeke or Bo or something like that. To him, formal wear would be the gray wife-beater. You would think that gasoline fuels a car like this, but it's actually racism. It gets about a half gallon of racism to the mile, non-highway.
In The Glove Box: One of those old revolvers where you have to cock the hammer before each shot.In The Trunk: "Urrrm…Rusty lawn chairs, a 24 of Bud, and the kids 'cuz my fishin' buddies are takin' up all them seats"
Pontiac TransAm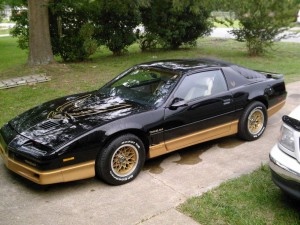 A guy driving this car surely still lives at home. He's got his guitar and amps set up in the garage and mom doesn't even care if he smokes in there. His hair? Long and frizzy. His highlights? Blond. His t-shirt? "Van Halen 1984 Worldwide Tour, I was THERE, MAAAAN!" Enough said. The car has to be parked on the lawn because his garage is stacked high with demo tapes and unrealized dreams.
In The Glove Box: The gnarliest collection of cassette tapes ever assembled.
In The Trunk: "Demo tapes, brother…tell your friends. This is the year of Silver Magma
Volkswagen Beetle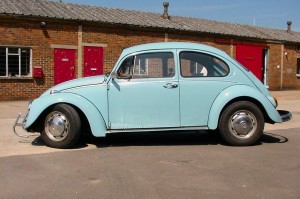 The gent driving this car is lean, mean, and…British? This car just screams pussy, but not the kind that you intercourse. There's a spot of tea on the passenger's side and I'm not talking about stains. The fine English leather upholstery happens to also be the favorite cologne of this wheelman, which makes the "racing" stripes embarrassing for everyone. These cars run on fluoride which accounts for the rarity of it being found in British drinking water and dental offices.
In The Glove Box: handkerchiefs and mystery novels
In The Boot: "Some crisps, a carton of fags, and a mess of lagers to forget me cock ups and get right arseholed. Then maybe I'll pull a dishy bird and bonk her with the old John Thomas. This bender will be the dog's bollocks!" (British Dictionary)
Shitty Run-down Station Wagon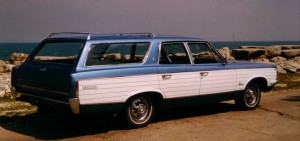 Anyone driving this car has given up on their dreams. They probably didn't plan on having 3 brat kids, an obese wife, and a pile of bills, but hey…what can you do right? He has sex twice a year (his birthday and anniversary), and honestly, he's sick of it. Life isn't worth living anymore and last week, he stood on the train tracks and was about one more diet Fanta away from jumping in front of a speeding steam engine. He went home and masturbated quietly in the basement instead.
In The Glove Box: Snacks for the kids (wife), soda for the kids (wife), appetite suppressants for the kids (do I really have to say it again? wife.)
In The trunk: "Trunk? What the heck is a trunk? There's a hatch back there, that's where the dog sleeps, but he's sick. The operation is too expensive."
Ferrari Enzo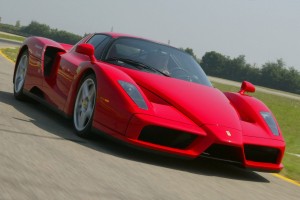 The guy who drives this car's dad was extremely successful. Now while he's at the office closing big shot important business deals, his son is out chasing ass at the gym, buying rounds of wheat shakes on the credit card his dad still pays for. The Enzo is a little cramped to have sex in, but that's okay because his dates always seem to get really tired right when he's about to make his move.
In The Glove Box: Dad's check book, dad's credit card, and dad's reminder note to "pick up his goddamn dry cleaning on time this time"
In The Trunk: "Oh it's jam packed back there. I have a tube of Mentos and a day-planner."
Jeep with No Doors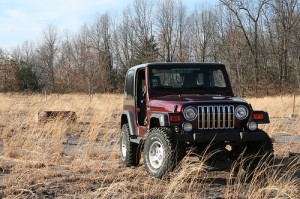 Ah yes, the California douche bag special. The owner of this bad boy took off the roof cover to give his faux-hawk some breathing space. The room created by removing the doors provides freedom to pack this beast full of high school girls who don't know any better. Research (that I just conducted in my head) shows that this is the car most likely to be driven drunk; which is great because, according to more imaginary research, the idiot drunk driving this is most likely to not be missed when he rolls the son of a bitch off a California cliff side.
In The Glove Box: Mousse, gel, hair spray, surfboard wax
In The Trunk: "There's no trunk, brosef…just heavenly babes lathered to perfection in only the finest of tanning oils."