By Brian Oswald…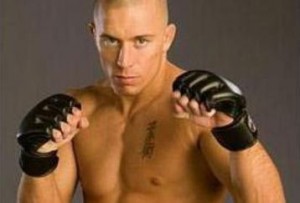 Much hype has been bestowed upon UFC 100 and the title fights which will anchor the most seismic fight card in MMA history—and rightly so.
The co-main event will showcase Georges St. Pierre defending his welterweight title against a very dangerous Thiago Alves. For St. Pierre, it will likely be his toughest test to date as he looks to bolster his MMA legacy while potentially securing a super fight with middleweight champion Anderson Silva.
If St. Pierre looks past Alves though, he could be looking at the canvas floor.
To get a full a sense of the current era of the welterweight division, one must step into their MMA time machine and travel back to Jan. 31, 2004. UFC 46 was a fight card of great significance to the modern welterweight division.
Matt Hughes stepped into the octagon that night having successfully defended his belt five times. On the night in question though, Hughes would not be as opportune as he succumbed to a rear naked choke at the behest of B.J. Penn at 4:39 of round one.
For Penn, who stepped up a weight class for the first time in his career, he delivered one of the biggest upsets in the UFC welterweight history at that time.
Also of significance that night was the UFC debut of current welterweight champion George St. Pierre. St. Pierre rushed through his first opponent to secure a decision win over Karo Parisyan.
With Hughes, Penn and St. Pierre all in place the welterweight stage would bet set in some form or fashion for the next four years plus.
Penn would go on to be stripped of the UFC welterweight title in February after cutting ties with the organization while Matt Hughes would go on to regain his title in October at UFC 50 by defeating the young phenom George St. Pierre.
Matt Hughes would successfully defend his welterweight belt another two times—at UFC 52 against Frank Trigg and UFC 63 against B.J. Penn respectively. In the process, Hughes secured his hall-of-fame status and also his place as the best welterweight in the UFC history…for now.
It is worth noting that the title fight did not originally include Penn, rather George St. Pierre. B.J. Penn had lost in his UFC return agaisnt St. Pierre at UFC 58 which earned St. Pierre his second title shot agaisnt Matt Hughes.
But a groin injury pulled St. Pierre out of his long-awaited rematch with Hughes, allowing Penn capitalize—only to be beaten in the process.
St Pierre was finally able to position himself as the kingpin of the welterweight division on November 18, 2006 when he defeated Matt Hughes at UFC 65, becoming UFC champion by TKO at 1:25 of round two.
While the welterweight division was turned on its head, with Hughes losing his belt for a second time, the sense of a new era felt firmly in place.
That notion was quickly evaporated when Matt Serra turned the entire MMA community on its head with the biggest upset in UFC history.
On April 7, 2007, at UFC 69, TUF 4 finale winner Matt "The Terror" Serra rocked Georges St Pierre by technical knockout at 3:25 of the first round to become the latest UFC welterweight champion.
In loss, St. Pierre was forced to take a fight with Josh Koscheck at UFC 74 while Serra got to bask in the glory, albeit momentarily.
Matt Serra was supposed to defend his title against Matt Hughes at UFC 79 but injuries prevented him from doing so. In stepped St-Pierre, fresh off his win over Koscheck.
St. Pierre would defeat Hughes for a second time to claim the interim welterweight title on Dec. 29, 2007 and
While a second win over Hughes was rewarding, the only thing Georges St-Pierre had on his mind was beating Serra to unify the two belts and once again be crowned undisputed welterweight champion.
He got that chance April 19, 2008 at UFC 83 which took place in his hometown of Montreal, Quebec. The rematch looked nothing like their first fight.
In an effort to avoid Serra's knockout power, St. Pierre took Serra down at will and pounded him on the ground. The referee finally intervened at 4:45 of Round Two to stop the barrage of knees St. Pierre was delivering to the body of Serra.
St. Pierre has had defended his belt twice since. The first defense came against Jon Fitch at UFC 87. Fitch was gritty in defeat but was completely outworked by St. Pierre in route to a lopsided decision loss.
In one of the most hyped fights in UFC history, B.J Penn moved up to welterweight to exact revenge upon St. Pierre at UFC 94. It didn't happen, not in the least. St. Pierre trounced Penn through four rounds until Penn was forced to throw in the towel and sit dejected on his stool.
That brings us to UFC 100 where St. Pierre will look to defend his belt for a third time. While many feel that St. Pierre has already surpassed Matt Hughes as the best welterweight in UFC history, St. Pierre must still live up to the Matt Hughes's record of defending the belt seven times.