by Jon Grilz …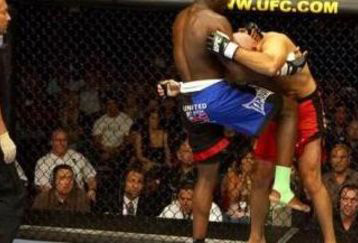 It takes something special for a grown man to yell out the phrase, "Oh momma!" to his television screen. The annual Victoria Secret fashion show is one. The annual Lingerie Bowl is another. A man receiving a vicious knee strike to the testicles the other.
Just under three minutes into the first round of fight against Mostapha Al Turk at UFC 92, Kongo received an unintentional knee strike to the groin. A strike sufficient enough for the heavyweight to take some of his allowed five minutes to regain his composure, and for his testicle to drop out of his abdomen.
Fight again began, the slightest high pitched sigh could be heard from the newly crowned soprano Kongo, who avoided going for the clinch in favor of protecting his reason for living.
The two fighters pawed at each other as Al Turk seemed to be having no success at taking Kongo to the ground.
About a minute later, Al Turk found himself on the receiving end of an "unintentional" knee strike right to his goodie bag. Referee Steve Mazzagati separated the two fighters and could be heard saying, "I hope that was an accident."
Al Turk too took a bit of time to get the taste of his own ball out of his mouth before fighting resumed. Kongo eventually won the fight at 4:37 of the first round, which made for one of the longest first rounds, just over seven minutes, in modern UFC history.
There is no doubt that there was some extra ice needed by both fighters in the locker room after the fight.
So, was either knee intentional? You be the judge; see the video here.