By Derek Harmsworth…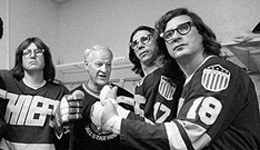 As first reported by TSN's Darren Dreger last night, and now also being run in today's Toronto Star, it looks as though the Toronto Maple Leafs have dipped their toes into the collegiate free agent pool.
It is expected today that the Maple Leafs will finalize a three year entry level deal with Christian Hanson, a star on the Notre Dame Fighting Irish team. He is also the son of Dave Hanson, one third of the famous Hanson Brothers.
Hanson, a 6′4″, 225lbs centre, is considered a two-way player, known for both his offensive flair, and for his defensive ability. He was one of the top faceoff men in the Collegiate system this year.
Aside from his offensive and defensive game, Hanson is also known as a great teammate, and according to one of his former coaches "reeks of character."
If the Leafs are able to ink Hanson today as expected, it would be a real victory for Brian Burke. The Maple Leafs are believed to have beat out 20 teams for his services.
It is also expected that the Maple Leafs will make an aggressive pitch today for Denver College free agent Tyler Bozak. Though early reports were that Bozak could opt to sign with the Avalanche, to stay close to home.
The agent for Tyler Bozak, Don Meehan, said this weekend that his client should make a decision by Wednesday on where he would like to begin his NHL career.
As for Hanson, the Leafs organization reportedly see him as more of a skilled, finesse player, despite his size. There are reports that he may also be tested out on the wing, as it may be the best fit for him at the NHL level.
Should the Leafs sign Hanson today as expected, it is very plausible that fans in Leafs Nation wouldn't have to wait long to see him play.
While he is coming off the end of a long collegiate season, he is healthy, and in game shape. It wouldn't be a surprise to see him suit up for one of the Maple Leafs remaining games left in the season.
Check out Dereks Radio show "Leafs Talk Today" - The show can be heard every Wednesday at 1:30 PM Eastern. For more on the show and to listen live, head over to www.leafstalktoday.webs.com