by Bryan Thiel…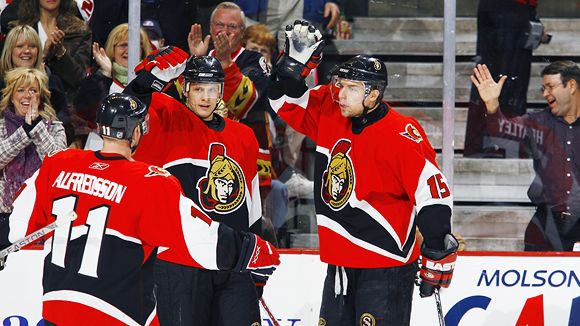 Like the rest of the Northeast, the Ottawa Senators come into the season with a question that, if it gets answered, gives them the best shot at second place.
While the Montreal Canadiens need to find a sustainable level of consistency, the Buffalo Sabres need to find that top-pairing puck-mover, and the Boston Bruins are simply hoping to make a seamless transition to a Kessel-less era, the Sens have the most interesting question ever.
What was this guy prepared to do if Dany Heatley didn't eventually waive his no trade clause?
Ottawa Senators
2008/09 Record: 36-35-11, 83 points, 11th in East

Additions: Jonathan Cheechoo—F (Trade w/San Jose), Milan Michalek—F (Trade w/San Jose), Alex Kovalev—F (2 years/$10 mil)
Subtractions: Mike Comrie—F (FA), Dany Heatley—F (Trade w/San Jose), Alex Auld—G (FA), Brendan Bell—D (FA), Brad Isbister—F (FA), Danny Bois—F (FA)
While many think that the Ottawa Senators didn't get enough in the Dany Heatley deal, they may have actually gotten just enough.
Yes it would've been nice to see them get a little more, but the package is a fairly good one, given the corner Bryan Murray was forced to work himself out of.
For a disgruntled 50 goal scorer who wasn't going to be convinced to give 100 percent, the Sens were finally able to solve their secondary scoring issues—at least on paper—with two good forwards.
Then again, the San Jose Sharks look pretty good on paper. Maybe we should check back in with Mr. Heatley come May.

And for desert, a chocolate Leclaire…
Over the past few seasons, the Senators' crease has resembled more of a revolving door than anything.
Last year, Brian Elliot (31), Alex Auld (43) and Martin Gerber(14) split time for the Sens. The previous two years it was Gerber (57 and 28) and Ray Emery(31 and 59), while in 2005/06 Dominik Hasek (43) and Emery (39) split time.
Really, the Ottawa Senators haven't had a real starting goalie carry the load since Patrick Lalime shouldered the load into 2002/03—the year before Martin Prusek truly threatened to take his role.
Oh Martin Prusek…those were the days.
Contingent on whether or not he can stay healthy, the Sens may have finally found their man in Pascal Leclaire.
The biggest detraction about Leclaire, as everyone knows, is his injury problems. There have been three instances in his career where Leclaire has missed double-digit games with injury. All three have been more than 20 games, while last year's missed games total broached 50 (48 games).
When he's healthy however, Leclaire has top-level talent. In 2007/08, the then-Blue Jacket went 24-17-6 with nine shutouts, while posting a 2.25 goals-against average and a .919 on a 12th place team that went 34-36-12.
Although Mason played more games (61 to 54 in his favor) Leclaire's tangible statistics were better than Mason's last year, while Mason had the advantage in wins and winning percentage. These are things I think you should know.
The question that needs answering for Ottawa, is whether or not Leclaire is fully healed from the plethora of problems that have dogged him the past few years.
If he is, this team can jump up the standings. If not, it's once again up to Brian Elliot.
While Elliot played admirably in Ottawa last year going 16-8-3 for the Sens, the jury is still out on his long-term potential. His athleticism, poise, and confidence kept the Senators in a lot of games early on last year, but he's going to have to replicate that this season to prove that he can handle a bit of increased time.
In the instance of injury (and let's face it…it's a very real possibility) the Senators are fairly thin. Andy Chiodo hasn't played NHL hockey since 2003 (eight games with Pittsburgh) and was seen backpacking through Europe post-lockout, while Mike Brodeur still has yet to see NHL ice, leaving the Sens hopeful that Leclaire stays healthy.

You can't keep Karlsson and Kuba under wraps for long…
Before we get to any returning players, the Sens may have one of the best (if not the best) up and coming rookie defender in the league.
The most talked-about Swedish defender not named Victor Hedman (At least who isn't currently playing in the NHL) has to be Erik Karlsson. The first round pick in 2008 carries the puck with poise and his feet always seem to know where to go. He has one of the easiest skating strides most have ever seen, and carrying the puck out of his own end he looks like Toronto's Tomas Kaberle.
Karlsson's passing ability and offensive instincts will immediately make the Sens defense better (as well as shoot him up the depth chart), as aside from mid-season acquisition Chris Campoli, no defenseman other than Filip Kuba registered more than 22 points last year.
Speaking of Campoli, he produced a nice bounce-back season after seeing his 2007/08 campaign cut short by shoulder surgery.
If Campoli receives the offensive responsibilities that he did late last season with the Sens rather than his time with the Islanders (13 points in 25 games with the Sens, 17 points in 51 games with the Islanders), a second-straight 30-point campaign is more than attainable.
Along with Kuba, the Sens have three good offensive defensemen: One with moderate upside (Campoli); one whose most-likely a future superstar (Karlsson); and one who can move the puck well (84 assists over the past three seasons) and shoot it (Kuba has a shown that can quarterback a powerplay if the Sens choose to use him that way), but is still a little soft in his own end.
If a little more offense is required, the Sens could look towards Brian Lee. The rookie defender made his much-anticipated NHL debut last season and proved that he could stick, netting 13 points in 53 games and playing fairly well.
Obviously Lee has a long ways to go in terms of development, but the fact he was able to keep up with the NHL game last year while owning a projectable offensive game could make him an attractive low-to-mid pairing defender as he acclimatizes to the NHL.
From there it comes down to the team's two shutdown defenders: Anton Volchenkov and Chris Phillips. While many don't give Phillips his due, last year seemed to be (at least statistically) a down year. His -14 rating was astronomically low after a string of seasons of very high +/-'s.
Even under the argument that he was playing on some offensively inclined Ottawa teams, Phillips has been a strong defender before there was the volatile offense. Phillips is also one of the more consistent Sens, having missed just 14 games in the past five seasons.
Volchenkov meanwhile has the ability and size to be a great defender, he's just periodically set back by minor, yet nagging injuries. Ideally the Sens would like to have him around for 75-78 games because of his ability to steer the play in his own end and clear out the front of the net, which is going to be a big asset to Leclaire.
The best thing about Volchenkov, is that he's fearless in the physical game. He'll not only lay the body, but he'll block a ton of shots as well, making him a confident deployment for Clouston and Co.
From there, Alexandre Picard will help to fill in on the lower pairings while providing a little offense as well from the back end, giving the Sens some consistent depth.
Alfie the Clown? Kovie the Clutz? Spezza the…spaz?
Alright…sometimes alliteration goes a little far. Jason Spezza isn't a spaz. It's simply hard to find other words with the letters 's','p', and 'z' in them. Either that or I'm lazy and didn't try hard enough, but you don't know that.
Spezza suffered through a down-year like most of the Senators last year, falling from the 90-point plateau to 70. A player who's always displayed prominence passing and shooting, Spezza's goal-scoring never left him last year, it just seemed like his passes (Assists went from 58 to 41) weren't finding players to put them in the back of the net anymore.
When you look at Daniel Alfredsson, a big reason for Spezza's drop in production could be the fact that Alfie was one of those who was missing the back of the net.
While there was bit of a disparity in his shot totals between last year and two years ago, it's not nearly large enough to account for a 16 goal difference, meaning the totals may simply be a result of an "off-year", although some may even question if it has something to do with his age.
Expect both Alfredsson and Spezza to bounce-back however, as the Senators finally got something they haven't had for years.
Secondary scoring.
Through the Heatley trade, the Sens were able to acquire Milan Michalek and Jonathan Cheechoo. Michalek is the biggest draw in this deal, as he can (and already has been in preseason) bumped up to the first line—a role he was shrouded from by Joe Thornton in San Jose.
Michalek has proven to have all of the tools to score as a second-line center, and if he's given the opportunity to play with top line talent like Spezza or Alex Kovalev, he could net at least 75 points.
Speaking of Kovalev, if paired with Cheechoo, he may be what helps him get back to some kind of level of productivity. After one of the fastest falls from a 50-goal season, a change of scenery along with the attention that someone of Kovalev's talents requires on the ice may be just what he needs to open up the ice and the goal vault he's seemingly fallen into.
That doesn't even take into account Kovalev's play-making ability.
With the way Nick Foligno has performed lately, the former Sudbury Wolf may be in line to rake in some OHL-like numbers. Although his 70 and 80-point seasons may be out of reach, Foligno could reach the 20-goal mark this year while settling into the 50-point neighborhood.
With the improvements on the top two lines, Mike Fisher may be able to sneak back onto the 40-point map as well, as the balanced scorer has been victimized in recent years by such a concentrated top-line attack in Ottawa.
The re-signing of Chris Neil ensured Sens fans that they'll be keeping a bit of sandpaper around, along with the likes of Jarkko Ruutu and Chris Kelly. While the three of them won't light the world on fire offensively, at least 20 points from each of them and an agitating presence is enough for the Sens.
As a prominent AHL scorer, Ryan Shannon's abilities will find a home in the NHL this season, but he's going to have to earn consistent ice time for the offense to settle in too. 20 points in 35 games last year is a great way to start, and if some of the younger talent can crack the Sens' roster and produce a little with him, there could be chemistry.
When you talk about those potential players, Josh Henessy, Cody Bass, and Zach Smith seem to be at the forefront of those lists, while Jesse Winchester (once he returns from injury) will get some time as well.
While Bass is a scrappy winger that'll endear himself to Ottawa fans and Hennessey has scored goals at every level, Zach Smith may be the prospect the sticks. Battling for time with playmaking Peter Regin, Smith's big bad style is something that Ottawa has lacked from their top line players, and Smith has the potential to be one of those.
Of course you also can't forget flex option Christoph Schubert, who can line up at both forward and defense. Where it is up front or in behind, Schubert brings great defensive instincts to this team that will be needed for support.
Although Schubert's offensive plateau may fall within the 25-30 point range, so long as he can help out all over the ice in keeping the puck away frm the net, the Sens have other places to get the offense.

So what does it all mean…
The question for Ottawa (as we've been dealing with each Northeast's team questions) is: If Pascal Leclaire is healthy, do they get the 2007/08 Leclaire?
If Leclaire is on top of his game, then the Sens have a great starting goalie that they can build around.
If not, then that's where the holes start, while lacking a true number one defenseman (at least until Karlsson fully grows into that role) will hurt as well.
Don't underestimate the scoring however: They're going to score more than the 213 goals they netted last year.
In Ottawa, the firepower is still there—or at least coming back. Now the goaltending just needs to follow suit, which will give Ottawa their shot at second place.

5th in North East
By Mark "The Hard Hitter" Ritter…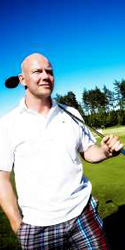 Say what you will about Mats Sundin; today, one of the classiest players to ever don an NHL jersey retired from hockey, and the NHL is weaker for having lost him.
Sundin played 1,346 NHL regular season games and along the way collected 564 goals and 785 assists, good enough for 1,349 points. For the record, that ranks Sundin 25th overall in NHL history, just behind legendary Montreal Canadiens forward Guy Lafleur, who had 1,353 points in 1,126 career NHL regular season games.
Sundin, who was arguably the best player to ever don the Blue and White, will always be remembered as a player who constantly (at least until the whole trade deadline debacle) put the team before himself and a guy who could flat-out play.
Congratulations Mats. With all due respect, with a bride like yours, I think most NHL players would be happy to stay home and be put out to "stud." Enjoy your retirement!
With Mats out of the fold, many Swedish NHL hockey fans will have their satellites tilted towards Tampa Bay in hopes of catching a glimpse of homegrown rookie defenseman Victor Hedman. Hedman has the size and abilities to be a top-tier NHL defenseman, and he gets my early vote as this season's rookie of the year.
You gotta love some Leaf fans. Recently, I wrote a piece warning Leaf fans not to anticipate a great start to the season. October will be tough for the Leafs with games against Ottawa, Montreal, Washington, Pittsburgh, and the New York Rangers, just to name a few. My prediction? A .500 record would be admirable.
Well, it seems Leaf fans don't care what I think; currently, 47.5 percent of all Leaf fans/readers believe the Leafs will go 6-4-2 in October. Go figure!
Sticking with the Leafs, it seems Brian Burke and Ron Wilson have elected to go with three alternate captains for this upcoming season. Francois Beauchemin, Tomas Kaberle, and Mike Komisarek will all be wearing an "A" when the puck drops Thursday night when the Leafs play host to the Montreal Canadiens at the Air Canada Centre.
In the end, it is expected that sophomore defenseman Luke Schenn will eventually be selected to be the Leafs' captain, but for now, Kaberle, Komisarek, and Beauchemin are great selections and should perform admirably. For the record, the Leafs have not employed a captain since the departure of Mats Sundin.
And now, the Montreal Canadiens…disgruntled forward Sergei Kostitsyn has been suspended by the club for refusing to report to the Canadiens' AHL affiliate Hamilton Bulldogs and, as such, has requested a trade. Guess that means Kostitsyn is off the short list to become the Canadiens' captain.
They said it was going to be different in Montreal this season—seems to me the soap opera has already begun…the Captaincy controversy, rumors that Bob Gainey's head is on the chopping block, many NHL pundits questioning the Canadiens' offseason spending, and now this? Oh boy…it's going to be another long season for Montreal fans!
Until next time,
Peace!
by Laura Bridgman…

The Toronto Rock Lacrosse Club have signed Kasey Beirnes, Scott Campbell, Phil Sanderson, Sandy Chapman and Dave Cutten for the 2010 National Lacrosse League (NLL) season.
Kasey Beirnes and Scott Campbell will remain in a Toronto jersey for the next two seasons. In 2009, Beirnes recorded 23 goals, 15 assists and scooped 86 loose balls for Toronto while Campbell scored five goals, assisted on two others and picked up 93 loose balls.
"I expect Kasey to be one of our go-to guys," said Toronto general manager Terry Sanderson. "He's an underrated offensive player and I'm excited we have him for two years."
Sanderson remembers why he originally traded to get Campbell in a Rock jersey back in the 2005 off-season.
"Over the years Scott has proved that he plays for the team; he'll always put the team before himself," said Sanderson. "He shows great leadership and just keeps getting better."
The Rock also signed Phil Sanderson, acquired in July from the Buffalo Bandits, to a two-year deal. Sanderson became a member of the Toronto Rock in 2005 winning the NLL Champions Cup with the team that year. He stayed in Toronto until mid-way through the 2007 season when he was traded to the Buffalo Bandits.
"Phil is an unbelievable leader in the dressing room and on the floor," said Rock Head Coach Troy Cordingley when the Rock first acquired Sanderson. "He is a proven winner who has won at every level of lacrosse that he has played in."
Sandy Chapman returns to the Rock roster on a two-year deal after playing with the Rochester Knighthawks for four seasons. The Toronto-born Chapman was the Rock's first round pick in the 2001 NLL Entry Draft. During his time with the Rock, the defender won the NLL Champions Cup three times ('02, '03, '05), recorded 37 points (12 goals, 25 assists) and collected 124 loose balls in 44 games played.
"Sandy has to be one of, if not the most, underrated players in the League," said Sanderson. "They just don't come any better."
Toronto has signed Dave Cutten to a one-year deal. Sanderson knows Cutten's quick and physical style will prove difficult for any opponent.
"He's the kind of guy any player wants on his team, but never wants to play against," said Sanderson. "Cutten hasn't had the chance to play in the NLL yet, but we've watched him extensively in the summer season. He runs the floor really well and is what we call a ball hound."
A member of the KW Kodiaks for Major Series Lacrosse, the defender recorded one goal, seven assists and 18 penalty minutes through 16 games this summer.
The Toronto Rock open their 2010 home season on January 15 against the Boston Blazers at the Air Canada Centre. Season tickets are now available for all eight Rock home games. For more ticket information please contact the Rock office at .
by Dustin Pollack…

Ok Leaf fans don't exit the screen just yet, here me out first.
Like most other Maple Leaf fans from about 2004-2008, I wanted to pull my hair out at almost every transaction former GM, John Ferguson Jr. made.
Andrew Raycroft, Jason Allison, Jeff O'Neill, Eric Lindros, Brian Leetch, as well as many others were players picked up by Ferguson, were basically disasters or were signs of plain bad managing.
Raycroft was as good as having Carlton the Bear in between the pipes, Jason Allison was as speedy as former Toronto Raptor, Oliver Miller (if you don't remember Miller click here for a photo and you can picture how fast he was on the hardwood), and Brian Leetch's tenure in Toronto was as almost as long as Alonzo Mourning's.
Yes, I could go on for days about giving Tuukka Rask away for Justin, unloading 10 draft picks (including three first rounders), and giving Pavel Kubina, Tomas Kaberle, Mats Sundin, and Darcy Tucker no trade clauses, but why bother?
Ferguson is gone and finally the Leafs are moving in the right direction. I don't think I'm alone when I say the preseason has been a breath of fresh air watching the young kids dominate all over the ice.
But where did they all come from?
Yes, Christian Hanson and Tyler Bozak were picked up by Brian Burke near the end of last year and Nazem Kadri was drafted 7th overall this past summer, but what about the others?
After all, as of right now only one (forward Viktor Stalberg who scored six preseason goals) of the so called "kids" has gotten the nod from coach Ron Wilson to be a part of the lineup come the season opener on Thursday.
Another so called "kid" made a name for himself on the backend even with the strong forces they already have. Carl Gunnarsson, who had a goal, an assist, and was a +3 in eight preseason games.
But where did these two "kids" come from?
Stalberg, 23 and Gunnarsson, 22 are both too old to have been drafted this past summer or even the summer before that when Cliff Fletcher was in control.
For those of you who haven't been able to figure it out here's a hint, JFJ.
John Ferguson drafted both Stalberg and Gunnarsson while GM of the Leafs. Unfortunately Ferguson didn't hang on to his job long enough for him to watch both of them develop.
So I guess no matter how many mistakes Ferguson made, as we look to the present, with Stalberg rumored to be playing on the top line with Stajan and Blake and Gunnarson most likely atop the Toronto Marlies defense core, I guess we kind of have to say…
Thanks John.
check out my sports blog at www.dustinsdleague.com
by The Captain…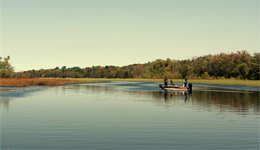 Fish Blast has blasted off to a successful start. I take people fishing to my favourite lake in the Kawarthas, Lake Dalrymple. On Friday I had the pleasure of having Aisling, her boyfriend James and her dad Dave come fishing with me. Aisling and James are from London, England and were transplanted to Toronto by their companies. They have been here for 18 months; Dave is Aislings father and is here for a two-week visit. Aisling found me by googling "fishing, Kawarthas", and she booked a weekend for the three of them.
I picked them up at 7pm at Wilson Subway station and in a few minutes we were on the 400 and on our way. Dave is from Ireland and is an avid fisherman, mackerel and trout he tells me. This was his first experience at fishing in Ontario/Kawarthas. James is from Nottingham Forest area, Robin Hoods hang out, and he has never fished in his life.
The weatherman was scaring us with a wet forecast. After a quick stop in Orillia for food and brown pops we were on our way to Dalrymple. Friday evening was just lovely, perfect night to gaze at the stars and enjoy a few brown pops. After chatting about anything and everything we hit the sac.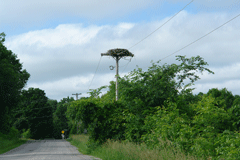 Saturday morning was overcast but warm. I provided the tackle and asked them what and how they wanted to fish… I gave them the option of working the rod and reel or getting some live bait and doing some lazy man fishin', as I like to call it. Lazy Man fishing it was, after a quick stop at the minnow shop we were on the lake, the first hour produced a couple of perches but nothing substantial. After a great BBQ lunch, we headed back and hit the lake at 5pm. After a few minutes Dave was stuck in the weeds, at least that's what everyone thought, accept Dave, he new he had a whooper. After a 20-minute fight he landed what was his first ever northern pike, 26″ and a fatty. After a few photo ops we send the pike on its way. Not sure who was more excited, Dave, Asling or I. I was glad that at least one big monster landed in the boat. Dave couldn't stop talking about his catch. A few minutes later I landed a largemouth bass and just before we were ready to head back a catfish, nice size too. We headed back to a pork chop BBQ. The rain starting just before we got settled to watch "The Perfect Storm". Thought-out the movie, Dave was rubbing it in to his future son in law, about his lack of luck on the lake, all in good fun.
Everyone slept in, and by the time we got the coffee and breakfast, thanks to Aisling for a tasty one, we we're on the lake at a respectable 11am, all the fisherman have gone for the day and we were getting started. Everyone was happy to take a few photos, watch the Osprey fish, with no expectations. Well 20 minutes later, boom, James caught his first ever pike/fish, than another 15 minutes later. Well there was a lot of excitement from Dave telling James how to land the fish, Aisling taking video and holding the net to bring it in. Dave made sure to take the hook off and get a few photos of himself with the fish. James was ecstatic.
After a great chicken breast BBQ, if I do say so myself, we decided to go back out for another hour and do some more fishing. The sunset was great as always, and everyone got himself or herself in a picture. The loons were out fishing and nature provided an amazing backdrop as the leaves started to change colour. Just before heading back in we had a few strikes but didn't land anything until James caught his third pike of the day and declared himself the champion of the weekend. Dave did point out that his one was bigger than the three James caught put together.
The weather held out, a little rain, but overall another great weekend. The company was great, the Lake produced as always (I practice catch and release and encourage everyone to do so too) and the food was outstanding. On the way back we talked about the fish and the ones that got away. I dropped them off at home, we said our goodbye's and they promised to send me the pictures of the fish. After a group hug, Dave tells me he'll be back next year and might bring a couple of friends with him next time.
"Fish Blast" is a T.O. Sports Magazine's sponsored event. Every day we take you fishing. It's our NOboat, NOcar, NOproblem promotion. We provide everything (you bring your own food and brown pops). Round trip transportation, two nights accommodation, boat, fishing rods and tackle too, if you don't have your own. The cost is a very down to earth $219/pp. We are booking for next year already and have a "daily fish blast" package for $129/pp. Same as the weekend accept only one night accommodation. Get in touch with us, and come fishing to the Kawarthas…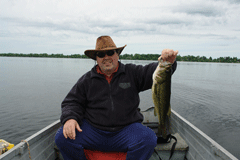 by Bryan Thiel…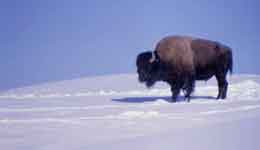 While the Bruins do have a question to answer in who replaces Phil Kessel and how successful they are, we also have to consider that they were always planning for this a little bit anyhow—after all, they had to be prepared that he was going to be out until November, so they can just extend the contingency plan.
The rest of the Northeast has questions; big questions. The Sabres are just one of those teams with questions and whoever answers them is going to lay claim to second in the division.
Buffalo Sabres
2008/09 Record: 41-32-9, 91 points, 10th in East.

Additions: Mike Grier—F (FA), Cody McCormick—F (1 year/$550k), Joe DiPenta—D (1 year/$550k), Steve Montador—D (2 years/$3.1 mil).

Subtractions: Jaroslav Spacek—D (FA), Mikael Tellqvist—G (FA), Maxim Afinogenov—F (FA), Dominic Moore—F (FA), Teppo Numminen—D (Retired).
The Buffalo Sabres are the lost sister in the Northeast Division.
While everyone talks about the Boston Bruins' defense of their division crown, the Ottawa Senators' potential rebound goalie Pascal Leclaire, the Toronto Maple Leafs' re-vamped…well…team, and the Montreal Canadiens' full remodel, the lack of activity seemingly left the Sabres in the dust.
The Sabres, however, are not only in a position to better themselves from within, but this year may very well be the year a ton of young talent makes its mark.

The Miller's Wife Is Churnin' the Butter…
The phrase "winner" is tossed around when people describe NFL Quarterbacks. In fact, on Sunday, Brian Billick was talking about how San Fransisco 49ers QB Shaun Hill may not pile up the stats, but he's a winner—which is what matters in the end.
Ryan Miller is a winner.
Last season, if not for an ankle injury that derailed his month of March, Miller could've thrust the Sabres into the playoffs by himself.
With just one win in those 13 games he missed, Miller could have posted his third-straight 35+ win season. To put that in perspective, only two other goalies (Miikka Kiprusoff and Henrik Lundqvist) currently hold that streak, while Miller ranks behind Kiprusoff (166), Martin Brodeur (154), Roberto Luongo (150), Marty Turco (144), and Lundqvist (142) for wins (he has 140) post-lockout.
Not bad company, eh? Expect more of the same out of Miller this year, as he's stayed fairly consistent throughout his career: Year-to-year, his goals-against average has never moved more than .15 away from the previous year's total, while the 12-point jump last year (.906 to .918) is the biggest jump ever in his save percentage (previous years it's been within .05, which, admittedly is a little high).
Behind Miller, it'll be a battle between Patrick Lalime and Jhonas Enroth.
While Lalime brings a veteran presence to the Sabres' backup role, his effectiveness has diminished since his soul was crushed by Joe Nieuwendyk in the playoffs. The highly-touted Swede, Enroth, had a great year in the AHL last year and even if he can't steal away the backup job, starting in the AHL will have him fresh and ready to come up in case of injury or back up next year.

On a Defense That Lacks Offense…

The Sabres come into this season lacking one big thing: a solid, top-pairing, puck-moving defenseman.
With the loss of Jaroslav Spacek, the highest-scoring carry-over from last season is Craig Rivet. While Rivet does provide the Sabres a solid, experienced defender to help bring the youngsters along, Rivet has just one season of 30+ assists (30 in 2007-'08 in San Jose) and just three seasons of seven or more goals.
To provide that offensive presence, it'll be a slew of youngsters trying to bridge the gap.
The most experienced of which is Andrej Sekera. Sekera not only has no reservations about shooting the puck, but he's also very good at moving the puck. He's shown consistent improvement at the NHL level and with a full season, he could reach 30 points. Sekera just needs to remember about staying responsible in his own end.
QMJHL graduate TJ Brennan may not be able to rack in 30- or 40-assist seasons, but the New Jersey native carries a heavy shot from the point and will help Buffalo try to maintain last year's seventh-ranked power play.
Another highly-touted offensive defenseman is Tyler Myers, however Myers is trying to jump straight from the WHL (He had 42 points in 58 games last year), so he'll definitely have to impress. His ability to move the puck around the ice is definitely something that the Sabres need and might not be able to overlook if he can make the transition.
Marc-Andre Gragnani's AHL experience may help him beat out Myers, especially because it's difficult to continue throwing a defenseman in the minors with this career line: 154 games played, 23 goals, 80 assists, 103 points, and nine power play goals. Granted the -15 rating (although he had a 14 point improvement to -1 last year) is a little disenchanting, but Gragnani could be exactly what the Sabres need to maintain that power play.
Defensively, Chris Butler will give the Sabres a solid defensive defenseman. Butler came to the NHL in the midst of an up-and-down season in the AHL, but once he entered the pro ranks, Butler settled in. Although his point production may never reach the heights it did in Denver (0.4 points per game), defensively, Butler could shoot right up the depth chart.
Right alongside him will be another solid defender in Mike Weber, who'll be big in stabilizing the defense for years to come. Weber has a good frame (6′2″), but he's also got a little ways to go in terms of filling out, but definitely has the edge.
Looking at the veteran presences on the defense (outside of Rivet), Joe DiPenta will be providing depth for the Sabres while Steve Montador is a good low-pairing defensive solution.
Leading the back end will be Henrik Tallinder and Toni Lydman, both of whom are sound, stable defensemen who are able to chip in with 20-25 points each year. Neither are going to blow anyone away with their point production, but their poise is what they are paid for.
Lydman especially is underrated, as he can play an effective 22 minutes a game—his steadiness is just overlooked when compared to some of the bigger names in the division and conference.

Up to Increasing the Population of Pominville?
Up front, the Sabres have three prominent young scorers.
Thomas Vanek has been a big time goal scorer since he entered the league with 25 goals in his rookie season. From there, Vanek has posted seasons of 43, 36, and 40 goals and could one day be a 50-goal man easily.
Along with Vanek, Derek Roy has grown into a consistent scorer, but he's also developed into a dangerous two-way threat that is a dynamic play maker as well (133 assists in the past three seasons and not afraid to shoot), while Jason Pominville also has deft playmaking ability off the wing.
From there, the Marian Gaborik-esque Tim Connolly will be required to provide some auxiliary scoring. While Connolly has a ton of potential and is a point-a-game player, he's simply never stayed healthy enough to put it together for a full season since 2002-'03.
If he can, then the Sabres have (potentially) an 80-point player and four devastating forwards. If he can't stay healthy, then Connolly will probably produce as many points as games played.
Speaking of big-time potential, Nathan Gerbe is the same, but simply put in a Martin St. Louis-sized frame. Gerbe is a fairly balanced scorer who loves to shoot the puck, but can set up his teammates as well, meaning he may be good alongside Drew Stafford.
Outside of the big three, Stafford took the most shots out of any Buffalo forward and his 20-goal campaign may just be the beginning.
Even if not paired alongside Gerbe, Stafford's production should inch up like it has in previous seasons, as he may broach 50-point/23-goal territory.
Staying down the wing, Clarke Macarthur continued along his own path of development, doubling his production from the 2007-'08 season. Macarthur's 17 goals last year may be right around where he levels off, while Daniel Paille should be walking along his own "bounce back path" as he looks to get back to the 19-20 goal range.
Providing more experienced depth, Jochen Hecht could bounce back to the low 40s neighbourhood in production, while still providing a great two-way presence.
Along with him, Mike Grier will be providing leadership to the young Sabres as well, but his production is more low-line rather than rivaling Hecht's, who should be in second line territory (although if Hecht can't get back to the 40+ point plateau, he may get bumped for a youngster).
Paul Gaustad will be providing a "rough 'n' tumble" approach from back on the fourth line, while Patrick Kaleta will be right there along with him and Matt Ellis can grind it out as well.
Because Adam Mair won't be starting the season with the team (he had surgery late in the offseason), there is a bit of room up front.
Michigan State alum Tim Kennedy might be fighting for some room up front after an outstanding rookie season in the AHL that saw him net 69 points in 73 games.
Along with Kennedy, the burly Marc Mancari has proved to be a steal in the seventh round, having scored 73 goals in the past three AHL seasons combined. Mancari is the prototypical power forward that the Sabres need and if his transition to the NHL goes as well as his time in the AHL, the Sabres will have a powerful weapon.
Much like Tyler Myers, Tyler Ennis is taking a shot at making the team straight out of Junior Hockey. Although the Sabres are stocked with a ton of bodies up front, Ennis just put up back-to-back seasons of 43 goals and 91 and 83 points, respectively, for Medicine Hat. In other words, Ennis is proven to have real gifts and if those gifts can, they'll translate into an NHL career ASAP.

So What's It All Mean…
Even though the Sabres lack that big time puck mover on the back end, they still have a ton of pieces to work with.
With three qualified scorers up front, one who'll be dangerous once he stays healthy, and a top-level starting goalie, the Sabres have the pieces to get back into contention.
While the defensemen might be the on-ice problem, the off-ice one might be that no one believes in them. With each team having their own issues in the Northeast, though, the Sabres have a great shot at capitalizing.
Buffalo's question: Who's going to score from the back end?
If they can get an answer to that question, they can make second place.

Predicted Finish: Second in Northeast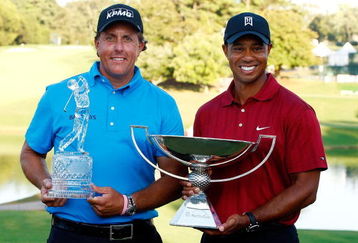 by Michael Fitzpatrick… The proverbial "they" say that a picture can speak a thousand words.
I had heard the phrase before but never paid much attention to it until yesterday evening when I saw the picture of Tiger Woods and Phil Mickelson standing side-by-side on the 18th green at East Lake Golf Club.
The two greatest golfers of this generation each holding seperate trophies while standing side-by-side on the 18th green —I wonder who the big winner was?
Well, who do you think?
This one single photo accurately captured the careers of these two golfing heavyweights.
Mickelson posted a bogey free round of 65 and won the Tour Championship going away, yet Woods still managed to walk away as the big winner.
Woods was given the larger, sleeker looking trophy and will see an additional $10 million on his next bank statement for winning the FedEx Cup. Mickelson, on the other hand, was left standing with an inferior looking trophy and will receive just $1.35 million for winning the Tour Championship (plus the additional $3 million he earned for finishing second in the final FedEx Cup point standings).
Woods was sporting his billion dollar smile (literally) while Mickelson had that ever-present awe-shucks look on his face.
The Nike swoosh seen on Woods' trademark Sunday red shirt has earned him significantly more money over the years than Mickelson's KPMG, Barclays, and Callaway gear.
By now, it's well known that despite being one of twenty greatest golfers of all-time, Mickelson has had to take a back seat to Woods for the past 13 years, and yesterday was no different.
Not only did this photo sum up the Woods/Mickelson rivalry, but it also exposed the one major flaw still present in the FedEx Cup playoff system.
How can a player win the Tour Championship and not win the FedEx Cup title?
Is it possible for an NFL team to win the Super Bowl but not win the Lombardi Trophy?
"I like the way today went," Mickelson said sarcastically. "I was two back of him, I beat him by three. He gets the $10 million check, and I get $1 million. I've got no problem with that."
Well Phil, as I'm sure you are painfully aware of, all is not fair in the Tiger Woods' era and the PGA Tour's FedEx Cup playoffs.
But then again, considering that Mickelson's wife and mother have both beaten cancer this summer, perhaps defeating Tiger Woods on the golf course isn't quite as important as it used to be.
Could there be more important things in life than taking down Woods and winning the 2009 FedEx Cup?
I'm fairly certain that Mickelson's answer to that question would be a resounding 'yes', as it should be.
(Photo by Scott Halleran/Getty Images)
by Stephen Brotherston…

Chris Bosh, Toronto Raptors premier power forward, all-star, and all around best loved player is about to enter what should be the biggest contract season of his young NBA career.
And yes, when one is talking about young veteran all-star sports figures, the salaries being discussed are unbelievably huge, gigantic, and even monstrous. But these contracts do fall under a collective bargaining agreement ("CBA") made between the NBA and its players.
When Chris Bosh, Dwyane Wade, and LeBron James signed their contract extensions a few years ago, their agents knew what they were doing. After 7 years of NBA ball, the CBA sets the maximum salary a player can receive at $11,000,000 or 30% of the Cap (which would be $16,224,600 this season). The maximum salary limit for 6 year players is more than $2,000,000 less.
What the players, the agents, and even the league didn't see coming was a decline in the salary cap this season and projections to decline again next season. So the strategy really didn't work. Fortunately for the players, there is a floor under which the maximum salary a player can be offered will not fall below at 105% of their last year's salary.
So they'll make a little less money than their agents anticipated. Not to worry, they'll still be okay!
Under a new contract at the maximum salary permitted, Chris Bosh would earn about $16,500,000 next season. (The numbers will be rounded; they're so big it hardly matters.) Because the Toronto Raptors are Bosh's current club, they can offer him 10.5% raises in each year of the contract. So in the sixth year of the deal Bosh would be earning about $27,000,000.
Another club trying to pry Bosh away from the Raptors can only offer 8% raises and a five year deal. So Bosh would have to leave that guaranteed $27,000,000 at risk of injury, changes to the CBA, or just an inability to get a team to pay him that much! This is the real explanation for why players who can sign these deals don't run off and sign with another club.
And in case someone might have noticed, the league might just want to lower those maximum raises built into the current CBA when it's renegotiated. There are not a lot of guaranteed 8% to 10.5% raises out there in rest of the world.
So Chris Bosh could be entitled to sign a $130,000,000 contract at the end of this season. The question that should be on every fans mind and more likely on MLSE and Bryan Colangelo agenda is can they give it to him?
Where does Chris Bosh stand in terms of being the center piece of the Raptors and should he command over 1/3 of the team's salary cap space on average over the contract.
No one should question the fact that Bosh has been a very good player over the past 4 seasons. His averages of 22.5 points, 9.7 rebounds, 2.5 assists, 1.1 blocks, 0.8 steals, while shooting 49.5% put him in the upper echelon of players in the NBA.
Last season on a per game basis Bosh was 11th in points, 12th in rebounds, 99th in assists, 54th in blocks, and 115th in steals. On an 8 category basis, Bosh was the 23rd best fantasy player in the NBA.
But more straight forward and revealing was Bosh ranked 8th amongst all players on a combined total of points, rebounds and assists per game with a score of 35.2. The players who scored higher were:
LeBron James 43.3
Dwyane Wade 42.7
Chris Paul 39.4
Kobe Bryant 36.9
Dirk Nowitzki 36.7
Dwight Howard 35.8
Al Jefferson 35.7
Some notables scoring lower: #11, Tim Duncan 33.5; #13 Deron Williams & Carmelo Anthony 33.0; and, #18 Pau Gasol 32.0. (stats available at NBA.com)
The only blemishes on Bosh's record are the 11 games per season that he didn't play in and his team's failure to make the playoffs last season.
From a statistical standpoint, Bosh's agent is going to be able to make a strong case for his player to be paid the max.
Bryan Colangelo and MLSE have a challenging decision ahead. The initial 3 years of a new max dollar contract should be very manageable for the Toronto Raptors' organization. The final 3 seasons represent a leap of faith that both the player maintains his productivity and team's revenues continue to increase at much higher than the rate of inflation of 2% to 3% per year. (Will the fans pay more, much more each season?)
There is also a risk of being trapped under a long term contract at much higher dollars than will be available when the CBA is renegotiated. A max contract could be ensuring the Raptors are a luxury tax paying team for many seasons.
In several interviews now, Bryan Colangelo has indicated that he will be presenting a max contract to Chris Bosh at his earliest opportunity. In fact he is even trying to extend Bosh's current deal now rather than waiting. (This makes the most sense for the team as an extension would be for fewer years.)
Bryan Colangelo has also said that he would be willing to help Bosh get his deal with a sign and trade scenario. And fortunately for Raptors' fans, this time the team has an experienced GM who will not get hosed in the exchange of a star player. Comparing the Joe Johnson sign and trade to the Vince Carter deal.
There are a lot of games yet to be played and anything can happen in the NBA. But it seems that Chris Bosh will become a $130,000,000 man next season.
The questions that appear to be in need of answers are: will Chris Bosh be a $130,000,000 man playing in Toronto; and, should the Raptors be investing in a $130,000,000 player?
Most Raptor fans are going to be answering that with an unequivocal, Yes!
Check out…Brothersteve's Green & Red Raptor Blog
by Micheal Malcolm…

These five players are at a career crossroads. We're looking primarily at young players who've been high draft picks and shown flashes of promise, but haven't been able to sustain their success for a variety of reasons.
Will they figure it out or continue to tease clubs with their potential? Next year could go a long way toward providing the answer.
The NBA's reliance on younger players means more peaks and valleys. Most of these guys have seen the valley. Will they work their way back toward the peak in 2010.
Comments and discussion are encouraged - Please feel Free!
Center – Andrew Bynum – L.A. Lakers
Armed with a 5\65 Million dollar contract, Bynum has more than set him self up financially for the rest of his life. However it is highly unlikely that he will become "the best center ever" as he proclaimed a few short years ago. Height and talent you cannot teach, but Bynum will not get a chance to showcase his skills with virtually the entire Lakers roster returning. Perhaps Bynum will assert himself to seize the Center position that he has no competition for. Over the past couple of years Bynum has flashed the talent and potential to be the next dominate center of the NBA, the injuries to his knees wrist and shoulders have caused numerous setbacks to what should be a fruitful NBA career.
This year Bynum needs to show that he is worth the investment, while he is still young (21) the Lakers and their fans historically do not have a tremendous amount of patience for underachievers.
Power Forward – Emeka Okafor – New Orleans Hornets
Do you remember when there was a choice between Okafor and Dwight Howard for the number one pick? Now Howard is a superstar and Okafor only seems to have just found the ability to play an entire season in the NBA. Okafor's numbers have regressed to 13 points and 10 rebounds game which is unacceptable for a player of his talent, and salary.
Okafor is an excellent defensive player that is willing to play defense which will be much appreciated in New Orleans. His scoring should also improve with Chris Paul throwing lob passes in the flow of the offense. Okafor is still very young (26) and while I am unconvinced he'll ever join the top tier of NBA Centers he should be able to become a complimentary piece in New Orleans.
Small Forward- Luol Deng - Chicago Bulls
Deng has been largely ineffective since the 2006 playoffs which earned him his big money contract. While Deng is not deserving of that money I would be greatly disappointed to see Ben Gordon get that type of money.
Chicago is rumored to be willing to trade the veteran as he has not been the player that many saw in that fateful Miami series. Deng is on a downward slope of a career that has seen him injured or ineffective for the past couple of years. Deng claims to be in the best shape of his career after various back, leg, and Achilles injuries that limited his effectiveness.
This year without Ben Gordon Deng needs to be able to step up and assist Derrick Rose in the continued renaissance of basketball in Chicago.
Shooting Guard – Manu Ginobili – San Antonio Spurs
Manu has and is an established star in the NBA, and a mainstay during the Spurs championship runs. However Manu is coming off an injury plagued years, in addition to the 10-15 games he tends to miss per year.
As his contact is expiring this year, and after a summer full of potential trade rumors Ginobili needs to re-establish his dominance on the floor this year. Ginobili's creativity and recklessness has been a staple of the Spurs every year and they are clearly not the same team with out him. (Re-watch last year's loss to the Mavericks in the playoffs for a great example).
Richard Jefferson may have been acquired to offset Manu's absence for any injury he may have, but Ginobili is integral to the Spur's championship aspirations this year.
Point Guard – Gilbert Arenas – Washington Wizards
Arenas has always been one of the NBA's premier showmen, and for the past two years 'Hibachi' has been silent on the court, after suffering two knee surgeries in consecutive years. Gilbert has proclaimed that he his healthier and better than he was two years ago when he averaged 27.7 ppg.
While there is much to be desired for Arenas's ability to become a prototypical point guard, when you are making 111 million you are considered the franchise player. Gilbert must use this year to show that he is still amongst the NBA elite.
At this point Gilbert should be looked upon as the Baron Davis of the Eastern Conference – Oft injured, and self-indulged.
by J.A. Allen…

"My greatest point is my persistence. I never give up in a match. However down I am, I fight until the last ball. My list of matches shows that I have turned a great many so-called irretrievable defeats into victories."
— Bjorn Borg
Former world No. 1 and Swedish teen sensation Bjorn Borg brought fame, fortune, and much-needed publicity to tennis in the mid-'70s, when he began to play. His long blond hair, smoldering good looks, and rock-star status elevated tennis in the hearts of teenage girls, if not the media corps.
There was a rhythm, a dance in his cat-like movements along the baseline as he swayed back and forth, shifting his weight from one foot to the other, tensed, ready to pounce as his opponent hit the ball over the net—like a cat playing with a mouse.
Borg understood the necessity of being in shape, of being as strong at the end of matches as you were at the beginning. This athleticism allowed him to dictate matches and gave him five Wimbledon championships and six French Open titles, often won back-to-back. Borg was the author of the modern game built on talent but bolstered by strength and endurance.
His reign on these natural surfaces highlighted his strengths: his speed, his endurance, and his reaction time. His arsenal included a wicked two-handed backhand with heavy topspin that aided his accuracy, as well as an underrated serve.
Perhaps his greatest attribute was his coolness under pressure. Because of his unflappable concentration, Borg was nicknamed the "Ice Man," or "Ice Borg." He never let anything or anyone take him out of his game.
On Wimbledon grass and Roland Garros clay Borg seemed invincible, but Borg had an Achilles' heel: a game that fell flat-footed in New York at the U.S. Open. Bjorn Borg was a finalist in New York four times, but he never won there.
U.S. Open 1975 - Semifinal
U.S. Open 1976 - Finalist
U.S. Open 1978 - Finalist
U.S. Open 1979 - Quarterfinal
U.S. Open 1980 - Finalist
U.S. Open 1981 - Finalist
Why was this the case? What was it about the U.S. Open that stopped Borg dead in his tracks?
In 1976, a teenage Borg played Jimmy Connors in the finals of the U.S. Open, which was then played on clay. Borg lost in four sets, 6-4, 3-6, 7-6 (11-9), 6-4. It was the loss of the third-set tiebreaker that turned the tide against Borg and gave Connors the incentive to slam the door on the youthful Swede.
In 1978, Connors once again found himself across the net from the ice man Borg in the finals of the U.S. Open. But this time Borg was totally outmatched and Connors shut out the lights early, 6-4, 6-2, 6-2. By now, the Open was being played on hardcourts.
Between 1978-1980 the Swede reigned supreme and won three back-to-back doubles at the French Open and Wimbledon, paving the way for a sweep—a calendar year Slam.
All Borg needed was to succeed at the U.S. Open and then journey down under to capture the Australian Open, which was then played in December instead of January.
In 1980, the Swede faced another loud-mouthed American, this time it was the up-and-coming John McEnroe—the same McEnroe who had taken him to five sets at Wimbledon earlier that summer.
It was widely known that Borg was not fond of New York and the U.S. Open tournament. New York was as far from the staid grounds of Wimbledon as a tennis traditionalist can get. The fans were noisy and boisterous. Then too, the Open was played on hardcourts…not Borg's favorite.
The tournament officials scheduled night matches for the fans and for a television audience in prime time. Borg did not like night matches. As a tennis purist, Borg felt tennis should only be played during daylight hours. Actually, he had a hard time seeing the ball as well at night.
In fact, he felt jinxed every time he played in New York—which probably explains why he never won because he had lost in his head before he began, even though he struggled through to make four finals.
For a Borg fan, the U.S. Open of 1980 was a living nightmare. In the quarterfinals Borg met Roscoe Tanner, who defeated him in 1979 during this very round. At Flushing Meadows, Tanner had faith in his ability to defeat Borg.
In '79, of course, they played under the lights. This year's match was in broad daylight and Borg managed to win 6-4, 3-6, 4-6, 7-5, 6-3 in five tough sets.
Borg's next opponent in the semis was Johan Kriek—one of the craziest players on the court, according to Lesley Visser of The Boston Globe. Borg should have beaten Kriek without too much difficulty. Instead, he lost the first two sets and was down, 4-6, 4-6, before coming on to win the last three sets, 6-1, 6-1, 6-1.
Borg had not lost a five-set match since 1976, winning 14 in a row. In the meantime, Jimmy Connors and John McEnroe were slugging out their own five-set match, which McEnroe won by a 6-4, 5-7, 0-6, 6-3, 7-6 score.
In the finals, Borg was on track to be the first man in 11 years to win a Grand Slam—if he could win his match against McEnroe and then capture the Australian Open in December. If McEnroe won, he would be the first man to win back-to-back U.S. Open titles in 20 years. There was much at stake in the 1980 U.S. Open final.
Borg should have won the first set, serving twice for it at 5-4 and 6-5. He lost both, as well as the set at 6-7. In fact, the coolest competitor in tennis lost his temper when, at 2-2 in the tiebreaker, McEnroe served an ace that Borg felt was long.
He lost his concentration and awoke to find himself down another set at 1-6. Borg said that he didn't know what happened—all of a sudden he had no feeling for the ball.
Borg fans faced a grim situation, however, when it appeared that Borg would go down in straight sets to McEnroe. He was not playing with his usual calm and unruffled demeanor. He was disastrously close to losing the third set when he rallied to take it 7-6, and the fourth set 7-5.
There was relief in the fact Borg hung in there, arriving at a fifth set. It was well known that Borg did not lose five-set matches; after all, he had not lost a five-set match since 1976.
But this was neither Wimbledon nor Roland Garros. This was the U.S. Open, where McEnroe reigned and Borg faltered. So it was that here in the fifth set where Borg usually prevailed, he stumbled and lost to McEnroe, 6-4.
When Borg lost, it didn't sink in right away. That was because it was so hard to accept. There must be more, his fans kept thinking, because otherwise—he had lost and McEnroe had won. They felt numb.
It was a devastating loss because Borg fought all the way back and then succumbed to McEnroe, who seemed to be assured he would win. Borg lacked a similar conviction because this was the U.S. Open.
Borg was finished for 1980, at least as far as the majors were concerned. He would not go on to play in Australia in December because he was only interested in winning the Grand Slam, and losing the U.S. Open in 1980 meant Australia was irrelevant.
For most male tennis professionals in 1980, Australia was generally regarded as unimportant. It was not a highly regarded Slam when compared to Wimbledon, the French Open, or the U.S. Open. Today, of course, that is no longer true.
It is fair to say that players like Connors, Borg, and McEnroe—who generally skipped the Australian—might have a much higher total of Slam victories had they bothered to make the trip down under.
Borg would play more tournaments in the fall of 1980 and even win the Masters in January 1981. There were stirrings of a new threat on the horizon named Ivan Lendl. But for the majority of his fans living in the United States, tennis would not begin again until May of 1981, when it was time to start the French Open Championships.
Little did his fans—or the tennis world—suspect that 1981 would mark the end of the road for Bjorn Borg. 1980 foreshadowed the ultimate demise of the Ice Man.
Stay tuned for Pt. 2 of Bjorn Borg: The Beginning of the End.