by Stoker MacIntosh…

The Prudential Center in Newark, N.J., will be rockin' on March 27, as the big boys of the Ultimate Fighting Championship roll into town for an interim title match to settle once and for all who could be the next heir to the UFC heavyweight throne.
Depending on a much anticipated announcement from current title holder Brock Lesnar and his camp, Frank Mir or Shane Carwin could be destined for a title shot at the mammoth former wrestler sometime later this year.
The other match on the card—also a great one, and one that could be seen as Canada versus the UK—unfortunately seems more like a no-brainer,…at least on paper.
The current UFC welterweight champion and elite French-Canadian pound-for-pound fighter Georges St-Pierre will be looking to get past a man who, with a win here, could become the future pride of the UK.
That man is UFC 170-pound No. 1 contender Dan Hardy.
The surprise announcement today doesn't come from those stories, but from AHN Sports reporter Matthew Harvey, found here.
The article states that recent bad boy/sore loser Nate Diaz will be moving upward to welterweight in order to challenge Rory Markham in a fight that will reportedly also take place in Jersey, at UFC 111.
Diaz, who recently lost a decision to top '55 contender Gray Maynard, has gone on record to adamantly complain about the unfortunate loss.
A loss which he feels was a corrupt decision by the ringside UFC judges and the PPV on-air commentators.
Diaz firmly stated (on a recent YouTube.com video which has since been removed) that he feels he had the majority decision in his pocket, if the fight had been ruled fairly.
In any case, the mean-looking younger of the two fighting Diaz brothers has now decided to pack on some much-needed beef and will be moving from 155 pounds to 170.
In the well-written AHN Sports article, Mr. Harvey suggests the reasoning behind the Diaz voyage into the shark-infested waters of 170 are simple.
At 155 pounds, the young Diaz resembles the proverbial human laboratory skeleton, and he's grown tired of literally "starving himself to death" to remain at that weight.
Also, Harvey says, the move upward in weight would be accompanied by more strength—and some much-needed knockout power.
I tend to agree.
by Stoker MacIntosh…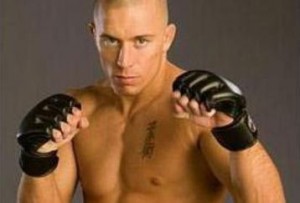 Ariel Helwani is a video reporter and mixed martial arts writer for fanhouse.com, and in his latest video interview—which can be found at the end of this article—he talks to the Ultimate Fighting Championship's 170-pound champion and elite pound-for-pound cagefighter Georges St-Pierre.
St-Pierre, in the new video interview, dispels many rumors, including the recent allegations by UFC 155-pound champion BJ Penn that he had been using steroids.
At the time of these allegations, which was just before the holidays, it almost sounded as if Penn and his trainer Rudy Valentino may have had one too many sips from the Christmas egg-nog bowl.
The controversy erupted during an on-air interview with Sports Illustrated journalist Josh Gross of SI.com's Gross Pointe Blank, when—with the smell of egg-nog still on his breath—Penn's trainer (Valentino) openly claimed St-Pierre had undoubtedly been using PEDs (performance-enhancing drugs) on a regular basis.
Wait, that's not all, Valentino also claimed that GSP would stop "cycling" the drugs just long enough to "test cleanly" for his title defenses.
The allegations, he said, originated from St-Pierre's past opponents; no doubt the same ones who—after losing—said GSP may have felt a little "greasy" to the touch.
Rumors which now, to say the least, seem ludicrous and extremely asinine.
GSP, in the Helwani Fanhouse video, says he is now contemplating a move upward into the uncharted waters of the UFC's 185-pound middleweight division.
However, he firmly stated that it's a one-way ticket up there, and that "once he goes to 185, there is no returning to 170."
He also said his walking-around weight, which is now at 193, would have to be increased to well over the 200-pound mark.
The elite French-Canadian fighter also stated that he has friends and training partners who fight at the UFC middleweight division, so he has to also consider the circumstances involving that.
Saying adamantly that he would "never fight a friend," the admirable cagefighting champion then explained why.
GSP stated that if he found himself needing to perform the "coup de grâce," which he says may include a (skull-splitting, laceration-causing, and possible skull-fracturing) elbow from the top, he would refuse to do it.
Who could blame him?
Here's the video; please enjoy.
by Stoker MacIntosh…
According to TopMMANews.com, it's been confirmed by credible sources close to the fighter that rising 170-pound UFC contender—and my fellow Dartmouth, Nova Scotia, native—TJ Grant will be facing Johny Hendricks at UFC 113 in Montreal on May 1.
Joining Pittsburgh Penguins hockey superstar Sid "The Kid" Crosby, Grant was the newest "hometown boy makes it big" story here last January, after signing a four-fight deal with the UFC.
The 26-year-old Grant, who is 15-3-0 with two knockouts, is coming off an impressive KO of the Night victory at UFC 107 over Kevin Burns, and his win against Ryo Chonan at UFC 97 last April was voted among the UFC's Top 10 Best Upsets of 2009.
Hendricks, who is a native of Ada, Okla.—and also aged 26—shared a victory with Grant on the very same UFC 107 card in his last outing. Hendricks remains undefeated at 7-0 with the impressive win over Ricardo Funch.
One of the top Canadian prospects out there, Grant made his big show debut at UFC 97, which was sold out here in Canada at Montreal's famous Bell Centre.
Grant is a tough young welterweight who (besides Chonan and Burns) holds notable wins over UFC vets Forrest Petz and Chad Reiner.
Other Canadians on the card include Patrick Cote, who will be back in action after a disappointing loss his last time out to elite 185-pound superstar Anderson Silva.
This time Cote will be facing another tough customer in Alan Belcher, a well-respected stand-up fighter who recently defeated Wilson Gouveia by TKO at UFC 107 last December.
The recent win over Joe Lauzon at UFC 107 by London, Ontario's Sam Stout has awarded him, among other things, "new star potential."
Stout will certainly be looking to build on that recently acquired momentum this coming May 1 in Montreal, when he takes on Jeremy Stephens.
And last but not least, Jonathan "Road Warrior" Goulet.
Goulet will be looking for a win at UFC 113 to get him back into contention; he is slated to face the tough but slumping UFC "human punching bag," Marcus "Irish Hand Grenade" Davis.
Good luck to all fighters.
by Stoker MacIntosh… "Ok…. Yall keep asking me when my next fight is going to be. Who on here wants to really know??"
"My [email protected] and I met with Scott Coker and Richard Chou with strikeforce on Monday. So I believe this is where…"
Those were the latest "tweets" from 26-year-old mixed martial artist and UFC lightweight cagefighter Roger Huerta's Twitter account.
Huerta, a Salvadoran and Mexican descendant, was once one of the top rising stars of the UFC's 155-pound division, and—after waging a three-round war with Leonard Garcia at UFC 69 in April of 2007—he became the first MMA star to grace the cover of the illustrious Sports Illustrated.
However, last January, following a loss to Kenny Florian at UFC 87 in August of '08, Huerta announced an indefinite hiatus from cagefighting to further pursue an acting career.
With one fight remaining on his contract, Huerta finished off his Ultimate Fighting Championship commitment at UFC Fight Night 19 in September of last year with an unfortunate loss to rising young contender Gray Maynard.
By adding Huerta to its lineup, Strikeforce will undoubtedly add some much-needed "firepower" to its already respectable lightweight division.
The fledgling Strikeforce promotion has also recently acquired UFC top middleweight legend Dan Henderson.
So, along with highly regarded Gegard Mousasi and heavyweight urban legend Fedor Emelianenko, Strikeforce is well on its way to building itself a reputable army of excellent fighters.
One that may one day rival the world's top cagefighting organization, the UFC.
by Stoker MacIntosh…
With a few more thrilling victories under his belt, the Ultimate Fighting Championship's newest light-heavyweight contender Jon "Bones" Jones could well be on his way to joining a highly regarded and special class of fighters.
The class includes such men as Georges St-Pierre and BJ Penn, who are—by any and all standards, in a league of their own.
They have used thier dominance and expert fighting skills to virtually "clean-out" their entire respective weight divisions, and have done so with a seemingly minimal amount of effort.
Yet if I were attempting to describe to you the skills of young Jones, neither of these great fighters comes to mind.
However, there is one who does.
It's a guy with the boxing skills of Roy Jones Jr. and the athletic ability of a marathon runner, a fighter who, like Penn and St-Pierre, has already fought and dispatched of some of the best MMA cagefighters the world has to offer.
Yes, "no bones about it," the newcomer Jones reminds me in great detail of the Ultimate Fighting Championship's middleweight "top dog" and "Pound for Pound" greatest fighter on the planet, Anderson "The Spider" Silva.
After having studied fight tapes of both men, I feel strongly that Jones has the necessary hand speed, raw skill, and most importantly, the excellent wrestling ability to cause problems for and possibly defeat the Elite Champion Spider.
Therefore it may be a "pipe dream," or wishful thinking on my part—and yes, I know they reside in two different weight divisions—but before the latter retires, I would love to see the two someday square off in the UFC octagon.
A boxer at heart, with a pro record to boot, the Spider has made it quite clear—to anyone who would listen—that he would like to someday end his reign of terror in the UFC and pursue a dream match with his hero and legendary boxer Roy Jones Jr.
He also seems very disinterested and somewhat reluctant to continue to embarrass the UFC's mid-level opposition.
This fact may also explain why the real Brazilian phenom, Silva, seems less than motivated regarding his future opponent, the "other Phenom," Vitor "The Phenom" Belfort, who he will face sometime this year.
Add to that his refusal to fight his close friend, Lyoto Machida, who is the crowned ruler of the UFC's 205-pound division, a division which is inhabited by the Spider on occasion, and also one where young Jones currently competes.
Hindsight being what it is, the Spider, it seems, has somewhat of a love/hate relationship with the UFC. So it remains unclear—at 35 years of age, which regarding retirement is usually the last "prime year" of most fighters—whether the Spider will seek a new fight contract.
The "powers that be" in the world's top cage-fighting organization were extremely disappointed in the Spider's prior performances against my fellow Canadian Patrick Cote and Thales Leites.
Those two less than thrilling displays could have been the "real" reason why the controversial UFC president Dana White made a decision, based on fan appeal, to match him with the "human punching bag," Forrest Griffin.
The matchup—which could have been called the "Forrest Gump" or "running man" Griffin fiasco—may have been the UFC's way of testing him against a guy, in Griffin, who would be more than happy to become a "lamb for the slaughter," so to speak.
The cage-fighting Spider has openly stated in the past that he is not happy with merely defending his belt and that he would like to fight the "upper echelon" of MMA fighters only—super-fights, so to speak, against super-skilled opponents.
In this writer's opinion, greatness isn't something that can be punished or tested in the way that the UFC attempted to test or punish the Spider. Greatness rises up on its own and conquers any foe.
So, whatever punishment the UFC sought to deal out to Silva, it certainly backfired.
Or maybe it was a win-win situation; as Silva got the KO, the fans were thrilled, and the UFC's higher powers ultimately accomplished their task, but unfortunately, all at the expense of Griffin.
The Silva-Belfort match is now tentatively scheduled to headline UFC 112 in April; as of yet an exact date and location has not been determined.
Bones Jones also has a featured future fight date scheduled for March 31 in Denver, Colorado against Brandon Vera at UFC Fight Night 21, which will be televised live on Spike TV.
Maybe, just maybe, if Silva dispatches of Belfort, and Jones deposes of Vera in thrilling form, they will allow Silva to decide for himself what he would like to do with the remainder of his contract.
The fight—whether it be a victory or defeat for the Spider—would serve to "pass the torch" to a new and thrilling talent.
Possibly the UFC would also get their much desired, "more willing to engage" type of fighter they so desperately seek.
Whichever the case, the fans are sure to be the ultimate winners.
by Stoker MacIntosh…
The great Roberto Duran—a retired professional Panamanian boxer now widely regarded as one of the greatest lightweights of all time—was sometimes affectionately known as "Manos de Piedra," which translates to "Hands of Stone."
Duran retired for good in January 2002, at age 50, finishing his career with a professional record of 119 fights, 103 wins with 70 knockouts, and the current state of the "sweet science" suggests that there may never be another boxer as great, or as famous, as boxing's "Manos de Piedra."
There is, however, another young up-and-coming prizefighter—a cagefighter, to be specific—who carries the nickname with pride and is more than willing to keep this MMA version of the famous moniker alive and active.
The label "Hands of Stone" now belongs to 24-year-old Canadian fighter Sam Stout.
Stout is a tough young mixed martial arts prospect originating from Canada's TKO kickboxing promotion, yet he now fights exclusively for the UFC and has a somewhat deceiving MMA record of 15-5-1.
The Ultimate Fighting Championship's 108th event will be held at the MGM Grand Garden Arena in Las Vegas this Saturday, and Stout will be on the main PPV card in a fight that promises to bring plenty of action.
Stout will face Joe Lauzon, who is just now coming back from a long layoff after invasive surgery for a torn ACL kept him out for most of the year.
Although Lauzon notably has won five of his last six fights and comes into the bout with an impressive 17-4 MMA record, he is also another in a long line of Spike's Ultimate Fighter reality TV show fighters, so don't bet the farm on him.
Lauzon's weapons of choice are the left hook and ground submissions; he also likes the "heel hook," and has great takedowns.
If he is smart he will try and get Stout to the canvas ASAP, as I'm doubtful he can win by trading bombs with Stout's considerably faster hands—hands that also carry greater firepower.
Stout made his UFC debut in the 155-pound lightweight division at UFC 58, the "Canada vs. United States" event. He was originally scheduled to face Kenny "Ken Flo" Florian, but the Boston native unfortunately withdrew from the fight due to a back injury.
Spencer Fisher stepped up to take the place of Florian, and he and Stout fought an exciting but brutal three-round war. Stout showed incredible courage, resilience, and toughness in this bout, and won it by a razor close split decision.
With an impressive win here over Lauzon, he would be well on his way to becoming one of the toughest young prospects in the lightweight division.
Stout has had his losses, to Rich Clementi and Kenny Florian, but has since rebounded back nicely, with a strong performance last time out at UFC 97, where he defeated "Handsome" Matt Wiman and was awarded $70,000 for a "Fight of the Night" bonus.
Stout is as tough as nails, with an "iron jaw" and that tremendous fighting heart to boot. The young eastern Canadian warrior has also never been knocked out.
The London, Ontario, native's fighting heart—and his capability to absorb tremendous punishment undeterred while throwing his own barrage—makes him one of my favorites.
He also consistently pleases the crowd with his great stand up performances; which is possibly the reason why the UFC brings him back time after time, even after being handed close, thrilling, but unfortunate defeats.
Earlier I stated that Stout's fight record is deceiving, as he's actually better than it may indicate. Well, the same could also be said of this weekend's event; it does indeed have considerable potential, and some excellent matchups despite the absence of big name recognition.
Good luck to all the fighters involved.
by Stoker MacIntosh…

"I think the fans have come to know what he is like. He is very emotional and says things emotionally that he doesn't need to say."
"He is respected for what he has done for the sport, but at the same time, in many ways he is holding the sport back. Mainly by 'bullying' the smaller shows—which could bring new fans—and potentially 'burying' them."
"It's also funny, and makes me chuckle, when I hear someone say 'no hard feelings, nothing personal,' and then they ban my clothing line, and totally erase me from their Web site—as if I had never existed!"
— Dan Henderson
"Hendo" was speaking to Yahoo.com's Steve Cofield regarding the—highly controversial, and somewhat questionable—contract negotiatons of Ultimate Fighting Championship's president Dana White.
I've given my opinion on this drama so many times in past articles that I felt it would be redundant to print it one more time.
After all, who would you rather hear it from, me, or from the man himself?
Here is the full interview:
by Stoker MacIntosh…


Many "ill-informed" detractors of former two-time Ultimate Fighting Championship heavyweight champion cage fighter Frank Mir have accused him of cockiness and of displaying an overabundance of arrogance and ego.
Yet in the following video, which I have posted here, you will hear a very humble Mir, in eloquent fashion, relate his true feelings regarding his potential future rubber match with his arch-nemesis, the now critically sidelined Brock Lesnar.
Mir is a fighter who has personally overcome one of the worst adversities life could throw at him: a debilitating automobile accident in 2004 which robbed him of his UFC title and could have also taken his career, or even his life, if he had let it.
However, Mir instead of rolling over, has slowly worked his way back, and not until recently has he been able to perform at his personal best.
Also most notably, Mir remains the only fighter to have defeated Lesnar, although unfortunately a humiliating rematch loss to the behemoth followed.
Now, Mir it seems, has made it his life's mission to obtain a "rubber match," in the coming year, which could once again award him the UFC title belt.
A belt that was once his, and one also that he has never lost in a championship match.
Mir has proven in his latest wins over Minotauro Nogueira, Lesnar, and his recent early knockout of Cheick Kongo that he has indeed rallied back from the pits of hell and back into UFC heavyweight title contention.
And also that he undoubtedly can, and will, continue to thrill fans with his devastating knockouts and bone-wrenching submissions.
However, in order for Mir to achieve his personal goal, the current UFC champion Lesnar—who has been diagnosed with a severe lower intestinal disease—has to regain his health, strength, and most importantly, his great size.
That, my friends, is the question at hand, and one which only time can answer.
by Stoker MacIntosh…

Although I'm no huge fan of Country music, sometimes there are songs in the genre that really do "hit the nail on the head."
One such tune was singer Travis Tritt's popular ditty " Ten Feet Tall and Bulletproof, " which hovered near the top of the charts in the mid 90's.
It was a song about the empowerment of "demon Rum," and it's somewhat notorious propensity for making one believe he is tougher, stronger, and of-course faster, than he actually is.
Now, don't get me wrong, I'm not saying here that BJ Penn and his trainer Rudy Valentino have been dipping into the Sauce, however, during a recent on air interview with with Josh Gross on SI.com's Gross Pointe Blank it sounded like the coach may have had "one too many" glasses of Xmas egg nog.
I find it extremely funny how a win over a "mid level TV champion"—with questionable mental issues—Diego Sanchez—can have the same effect as drinking a dozen bloody-Marys; however, it has seemingly awarded this lightweight cage fighter with a renewed sense of welterweight power, strength, and size.
It seems that Penn, and possibly his trainer Valentino, are still somewhat bitter, and weren't entirely convinced by the last decisive "ass whooping" victory administered to Penn by the accurate, and lethal hands of elite Ultimate Fighting Championships welterweight title holder Georges St. Pierre.
And so now out of sheer revenge, and a "personal beef," they are preparing to embark on another foolhardy leap off the 170 ft. cliff.
"It's Georges St. Pierre who Penn wants, and that's no matter if he has the title or not," said Valentino.
" I think in 2010 he (Penn) might fight a couple of more lightweight matches, and then move up, That's what he is talking about."
"I think it's because of his (St. Pierre's) so-called steroid use, and all of that, that B.J. felt it was an unfair fight. Just the whole thing about not being fair, and fighting fair, you know. That's what B.J. wants to get off of his back; The greasing stuff, the steroids, and all of that.
"We heard from certain people that used to train with him, telling us what he did in the past. That's why, we had a heads up on that. When you cycle steroids, you're not going to to test positive. You can cycle it right up to the time of the fight and not test positive on that. That's what we suspected he did in this fight."
Sour grapes ?
You tell me.
~ When I start to feel like Superman, well then I pick a fight—Only to find that my opponent's "Holding kryptonite," You'd think I'd learn my lesson But, I'm still paying dues Each time I drink and start to think I'm ten feet tall and bulletproof— T.Tritt
by Stoker MacIntosh…
In the game of high-stakes poker, a player either holds high cards or he doesn't. If he has them, great, he wins; if he doesn't, though—in an attempt to fool the rest of the players around the table—he can chose to bluff.
Cung Le (6-0, 6 by KO) is a 37-year-old undefeated Vietnamese/American cagefighter hailing from San Jose, Calif., who was once also the Strikeforce middleweight champion before leaving the cage in search of a more lucrative acting career.
Now, however, the former Strikeforce middleweight champion—and unorthodox Sanshou-style cagefighter—is about to lay his cards upon the table once more.
I have a hunch that Le does indeed have the "royal straight flush" and isn't bluffing. However, he will need prove it this weekend against tough cagefighter in Scott Smith when they headline the Strikeforce mixed martial arts promotion's latest venture, "Evolution."
Most fans of Le first became acquainted with the Sanshou (which is a Chinese martial art) kickboxer when he became the promotion's middleweight strap-holder by defeating MMA veteran Frank Shamrock via TKO in a fight co-promoted by Strikeforce and EliteXC.
They say that "styles make fights," and the Le vs. Shamrock matchup was arguably one of the better made contests of that year, stylistically speaking.
Yet, in every great contest there has to be a winner and a loser, and in this historic "slug and kick fest," a long hard battle ensued in which Le eventually became the champion.
Shamrock, however—after suffering courageously through a fractured right arm from a series of lethal kicks from Le—took the pain-filled loss.
However, on Sept. 17, 2009, Strikeforce owner and top cagefight promoter Scott Coker shocked the fight world by announcing that Le had relinquished his championship title in favor of securing another major motion picture deal.
It was then decided by Coker that a interim title bout should be held between Jake Shields and Jason "Mayhem" Miller, which was won by Shields earlier this year.
So today, "'tis no longer a kung fu movie"; this is reality, and for Le, it's quite possibly a new beginning—a comeback of sorts.
The "Strikeforce Shanshoe warrior," and former champion, must now face the next challenge of his career, and he will have to "show his cards" to Strikeforce and to the rest of the world, if he intends to be a "high stakes" main-event player in the increasingly popular and growing sport of cagefighting.
In boxing, coaches will warn you to never "go in without your stick," meaning your jab. However, Le likes to kick first—to establish and create distance. Then he will fire his rapid, Power-Point hand strikes at his opponent's body and head.
This is a great technique, and one which has worked equally well for other great cagefighters such as Anderson Silva and the undefeated Lyoto Machida, who are both highly respected for their knockouts and elite prowess, albeit in a higher promotion known as the Ultimate Fighting Championship, or UFC.
Smith has plenty of firepower in his own right, but he has the bad tendency, in this writer's opinion, of throwing single shots while looking for that elusive "one-punch KO."
Although Le may have put the movie deals behind him for the time being, I'm expecting to see the MMA version of Hang 'Em High or Gunfight at the O.K. Corral this weekend.
Only in terms of weaponry, Smith will pack a .44 caliber Smith and Wesson, and Le will hold tightly to an M-16, attached with a grenade launcher
Now it seems appropriate, since Le is a movie star, that I leave you with a scene from one of my favorite movies.
So "say hello to the M-16 with the attached grenade launcher," and if I'm wrong I'll become a renewed fan of "Dirty Harry" and once again have faith in "Magnum Force."