By Stoker MacIntosh…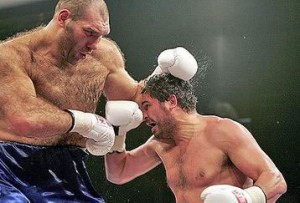 To all of you great fight fans who may be a little feint of heart, please don't be alarmed by the photo, the smaller man was left unharmed, and no need to phone the authorities, I assure you it's not a recent " Big-foot" sighting either.
It's simply Heavyweight boxer Nikolay Valuev (50-1, 34 KOs) who is scheduled to square off in a highly (non-anticipated) rematch with Ruslan Chagaev (25-0, 17 KOs), this weekend at the Hartwell Arena in Helsinki, Finland.
The fight is supposed to determine which of these two Europeans is the true heavyweight title holder of one of the many worthless sanctioning bodies; which—for reasons I don't care to disclose—I won't bother wasting your time by naming.
After all, it is the opinion of most fans and also this writer—that The Bible Of Boxing, The Ring Championship belts—should be the only truly recognized titles in the world.
That being said, we still have to put up with antics from the alphabet boys, such as this Saturday nights "freak show" spectacle in the great boxing Mecca of Helsinki (sarcasm.)
At 7′1″ and nearly 300lbs, Nikolai Valuev's boxing gloves fit him like a small child's mittens; he once killed a wild Boar with his bare hands, and eats somewhere in the vicinity of a side of beef and 12 dozen eggs a week.
His 11th rd. win over Monte Barrett in 2006 was eloquently described by a fellow sports writer as resembling something similar to a large grizzly bear mauling a flailing camper.
I once thought that perhaps Valuev would be good for the sport, a modern day Primo Carnera perhaps; he seemed to be involved in movies and books and shouldn't we thank him for ridding us of Johnny Ruiz?
However, after witnessing Evander Holyfield—one of the all time greatest heavyweights—give the big Valuev a dominant trouncing and yet somehow emerge on the losing end, my opinion has taken a drastic turn to the left.
Another factor for my disdain, and one that I may as well get off my chest here and now, is that during my 35 years or so of being a hard core boxing fan, one thing has always remained constant; whenever Don King is involved in a match it is destined to be marred by some sort of controversial decision.
Valuevs fight with Holyfield was no different, Holy won every round on my unofficial score card, yet somehow Mr king managed to once again work his magic, and sway the judges to score it in favor of his fighter.
Carnera had his first fight in 1928, and by 1933, he had secured a title shot against Champion Jack Sharkey. The Championship date was the 29th of June, at New York's Madison Square Garden; Carnera became World Champion by knocking out Sharkey in round six.
Primo Carnera would eventually lose the title to Max Baer, and then to a promising young contender who was waiting in line at the time named Joe Louis Barrow.
Valuev has lost to Chagaev once previous, in a—snooze-filled, man-hugger matchup back in April of 2007, maybe, if he beats him again this weekend, we can all move on with the true heavyweight championship, which will take place later this summer between Wladimir Klitschko and David Haye.
I won't go into great detail regarding how bad his skills are however, you can watch the fight and see for yourself.
My honest opinion, for what it's worth, is that the only existing possibility of Valuev scoring a knock-out victory over Klitschko or Haye in the unforeseen future, is if by chance he happens to fall on one of them.
Do you know Charlie Walser who has the farm east of Sanderson? Well, you know how they used to slaughter beeves, hit 'em with a maul right here to stun 'em… and then up and slit their throats? Well one day Charlie has one trussed up and he is all ready to drain him and the Bull comes to ! It starts thrashing around, six hundred pounds of very pissed-off livestock if you'll pardon me… Charlie grabs his gun there to shoot the damn thing in the head, but what with the swingin' and twistin' it's a glance-shot and ricochets around and comes back hits ol' Charlie in the shoulder. Charlie, still can't reach up with his right hand to get his hat… Point bein', that even in the contest between a man and a steer the issue is never certain. ( Tommy Lee Jones in No Country For Old Men)