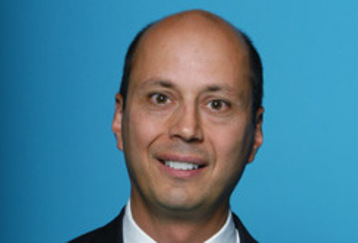 I recently got the opportunity to interview current Chicago Bulls and former Toronto Raptors play-by-play announcer Chuck Swirsky. Here's what he had to say:
Q. What inspired you to get into sports broadcasting?
A. Well, I wasn't a very good athlete so I had limited options in terms of wanting to play. When I was a little boy I became intrigued by turning on the radio and hearing a voice describing what was going on with baseball, football, soccer, and basketball games. Suddenly, at the age of five, I knew exactly what I wanted to do and that was to be a broadcaster.
Q. You've been in the business for nearly 30 years and yet you still seem as passionate as ever. What's your secret?
A. It's down to the enjoyment and the enthusiasm of being around the game, the sport itself, and the players, and the atmosphere. You're right, I've never lost that passion. The day I do I'll probably decide to go into another line of work, but I don't foresee that as I enjoy waking up in the morning and being blessed to be in a position to call NBA games with some of the greatest athletes in the world.
Q. What's it like to be back in the Windy City after ten years away?
A. It's a wonderful, world class city—by far the best sports city in America. The passion that fans have in Chicago for all sports is unprecedented. It's great being back.
Q. If you think back over your years of calling Chicago games, what are your best memories from on the court?
A. The first time I was in Chicago after 15 years, before I moved to call the University of Michigan games, and then the Toronto Raptors'. I was the public address announcer for the Bulls, originally But the Bulls before Michael Jordan arrived when they struggled on the floor and struggled to sell tickets.
Then all of a sudden Michael Jordan gets drafted and you know the rest of the story there! He is the greatest player that ever put on a pair of basketball shoes. Just being around that environment, day after day, was incredible.
Q. Speaking of Michael Jordan, his induction speech caused a lot of controversy. What are your thoughts on that speech?
A. I understood what people were saying, but that was his moment. He elected to do it and I can't speak for him. Every player, coach, and contributor who goes into the Hall of Fame; that's his moment and so for me to second guess, criticise, or ascertain why he did it, or the direction he went, would probably be foolish on my part.
Q. During your time in Toronto calling Raptors' games, you became a Canadian citizen. This obviously shows how much you love the place, but what do you miss most about the city?
A. The mosaic atmosphere and the multi-cultural dimension of the city. The people are great. It's an unbelievable place—we spent ten years there and loved it. As you say, I became a Canadian citizen and I thought I'd spend the rest of my life there, but things come up that you don't foresee and we moved on.
The Raptors' organisation is first class, but we're in Chicago now and making the most of it. The Bulls are very similar to the Raptors from the standpoint of great ownership. The men and women who work behind the scenes are all top-class so I'm very thrilled to have been involved with two organisations that do it the right way.
Q. You were back in Toronto recently to call a game and the organisation took the opportunity to honour you. What was going through your mind?
A. It was very humbling. The organisation was extremely supportive while I was there and I can't begin to thank them for their kindness and their appreciation of what I tried to do on a daily basis. I was moved.
While in a sense I'm very excited about the future and thrilled about the past, I live in the moment and for that moment in Toronto, it was certainly one of my highlights.
Q. I recently read in your blog that you miss the fact there's no basketball anymore in Seattle or Vancouver. Looking at the Seattle situation in particular, and the circumstances surrounding their departure to Oklahoma, what are your thoughts on how it happened?
A. Well, I'm disturbed, to be honest with you, because I think the Vancouver situation was poorly handled by ownership and I wish the league had been a little more patient. I understand that it's a business, but I think Vancouver is an outstanding city.
I know the dollars are different between the United States and Canada, and it fluctuates from time to time, but it's unfortunate Vancouver's no longer in the league.
The same with Seattle. That whole thing was a mess. I realise you can't just get $600-$700 million and ask for a loan from the state or the city. I don't know exactly what happened or how much was willing to be given up by the owner for a new arena in the Pacific Northwest for the Sonics, but to not have Vancouver and Seattle in the league is, I think, a travesty.
Q. The Chicago Bulls came over to England during the summer to play a preseason game against the Utah Jazz. How did you find the experience?
A. We had a tremendous time in London. The people were outstanding. The co-operation we received, the group, everything was first class and the people in England are the best. I wish them nothing but good health and success.
I hope to get back there very soon. I love London and I want to go beyond the city core and experience other parts of England that I've never been to before, so hopefully I'll get to do that soon.
Q. Our time's nearly up so just one last question. You're well known for your catch phrase, "Bring out the salami and cheese." What was the inspiration behind it?
A. That's the one that ended ball games when the Raptors won. About five or six years ago now, I got a handwritten letter from a guy who watches the Raptors games with his wife.
He said, "You know, Chuck, I get so excited, I can't move away from the TV set. I'm starving and I want to go in the refrigerator to make a sandwich, but I can't because I don't want to miss a play. So when you think the Raptors have won a game and it's sealed, can you just let me know so I can go on my merry way and make a sandwich. Oh, by the way, I like salami and cheese."
So the next game, the Raptors are up by 8-10 points with 30 seconds to go. I feel pretty confident they're going to win the game so I say, "Get out the salami and cheese mama, because this game is over!' The fans kind of bought into it and one thing led to the next.
Q. Chuck, thanks for your time.
A. My pleasure.