By Stoker MacIntosh…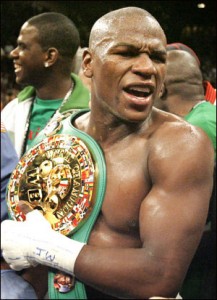 His friends call him "little" Floyd but to most of the boxing world he is known as Floyd Mayweather Jr, possibly the greatest welterweight boxer of all time.
This phenomenal fighter may not be the most popular guy in the fight game but, love him or hate him, most fans are willing to give the former world champion the respect he deserves.
A few months ago I wrote an article asking the question that I felt was in the minds of fans at the time, which was: Will Manny Pacquiao bring Mayweather out of retirement?
That specific question remains un-answered, but according to boxrec.com part of it has come to fruition, Mayweather is scheduled to come out of retirement to face Juan Manual Marquez on July 14 of this year.
It seems the "pretty boy" wants no part of Manny Pacquiao however, and I'm wondering if its the same reason he ducked/avoided Antonio Margarito?
Mayweather won't take a fight unless he feels he can get the lions share of the money and also dominate his opponent for 12 rounds; "Pacman" is a south paw pressure fighter who can also box, which would be Floyd's worst nightmare.
My opinion, for what its worth, is that little Floyd wants to come back not necessarily to fight Pacquiao, but mainly because of the overwhelming media attention that the "Pacman" has received.
Mayweather could possibly be feeling a bit resentful or jealous, knowing there is someone better out there playing around in his weight class who he hasn't beaten.
Someone who is more popular and has completely stolen the lime-light from any other boxer in recent history, including Mayweather.
It's my personal opinion though, that if he ever does face Manny Pacquiao it would be an easy victory for "little Floyd."
However, if my hunch is right, I feel Pacquiao will lose this upcoming fight to Hatton and that in itself will quickly dispell any subsequent fight between them.
To be completely honest, I'd rather see him rematch Hatton than waste his time with Pacquiao who I feel is highly over-rated.
Mayweather has had great victories against Zab Judah, De La Hoya, and Hatton…I say that he should now fight only the top guys to prove he is exactly what he says he is, the best boxer of his era.
And let me say this, if he does fight Marquez, that's a hell of a great start, Marquez is thought by many including myself to be the true No. 1 pound for pound fighter in the world.
I had Marquez beating Pacquiao in both their fights, not just the second one which is also a popular belief.
Let's say that the "Pretty Boy" does somehow manage to get past Marquez, and Hatton beats Pacquiao, maybe we will see a Mayweather Hatton rematch, although quite honestly–even though his boxing has improved under Floyd Sr–I wouldn't give Hatton much chance for victory this time around either.
The Pride of Puerto Rico Miguel "Angel" Cotto would be a great test for Mayweather, it would be much harder for Mayweather to use his defensive ability against a crippling body puncher such as Cotto.
How about the power-punching and tough as nails New York boxer Luis Collazo?
Collazo, in my opinon, would match up nicely with Mayweather, and let's not forget that many people feel Collazo was robbed of wins in his fights with Hatton and Andre Berto.
Another big name super-fight being thrown around is Sugar Shane Mosley vs Mayweather.
Wow! What a fight that would be, Mosley is riding a wave of popularity nowadays and is one of a rare breed of fighters, along with Bernard Hopkins who has seemingly defied the effects of father time.
It will be interesting to see what takes place in the coming months, but with the absence of De La Hoya, Margarito, and Calzaghe, its great to see a big name fighter return, to the greatest sport on earth.
All human actions have one or more of these seven causes: chance, nature, compulsion, habit, reason, passion, and desire. Aristotle
Greek critic, philosopher, physicist, and zoologist (384 BC - 322 BC)