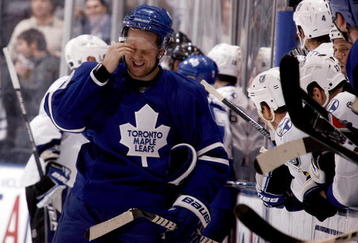 by Jon Neely… The more things change, the more they stay the same.
For the fourth straight game the Leafs were tied after 60-minutes and went into overtime and for the fourth straight time the Leafs lost in or after that extra frame.
But not all is lost; in fact things are looking up in Leaf land with points in five-straight games, and the addition of Phil Kessel who finally made his debut in the lineup Tuesday night against Tampa Bay.
He played exceptionally well, recording 10 shots and causing problems around the Tampa net all night. His speed and skill with the puck were on display every time he stepped on the ice, but he just couldn't light the lamp as the Leafs fell 2-1 in overtime.
Needless to say, Kessel's performance was better than you would expect for someone who hasn't played a game in six months, not to mention for a brand new team. Ron Wilson suggested prior to the game that he would ease the 21-year old in to game action, but it turned out to be the complete opposite.
Kessel was on the ice for almost 24 minutes, two minutes longer than the next highest Leaf, Jason Blake. So he wasn't exactly slowly introduced back into the heat of battle, but he sure looked good, even after taking a monstrous hit from Bolts blue-liner Mattias Ohlund on his third shift of the game.
Leaf fans, we finally got to see game one of the Kessel Era, and other than not getting on the score sheet, we saw him play an excellent game fitting in well with his new line mates.
So what did we learn, and what can we expect to see from here on in with Kessel as a member of the blue and white?
Let's dive right in, shall we?
Shots, shots, and more shots
And I'm not talking about Lil' Jon's annoying new song. No, I'm talking about constant rubber aimed at opposing goalies. The Leafs have eclipsed the 30-shot mark in eight-straight games, launching 41 against Tampa, and with the newest Leaf firing at will, you can bet the shots will keep on coming.
Between Kessel and his line mates, Stajan and Blake, they had a combined 16 shots and were buzzing around the net all game.
Once Kessel has completely rounded back into form and starts putting some of those shots into the net, because you know it's going to happen soon, the Leafs can expect to be able to hang with most teams on most nights when it comes to the goal department.
More ice time for certain players
For almost 24 minutes, Kessel was out on the ice on Tuesday night, which means that someone has got to be playing with him. Whoever those players end up being, can expect to start receiving more time on the ice than they've been getting.
Both Stajan and Blake saw their ice-time increase, each playing more minutes than they have all year, while skating alongside Kessel for most of the night. Both players have struggled coming out of the gate (the two combining for only four goals and 14 points on the season so far) and will get all the opportunity in the world to come out of their slide.
If neither player sees much of an improvement while playing more minutes with a much more skilled player than their used to, you can bet that Wilson will do some line-juggling to find someone who is capable of stepping it up along side Kessel.
And less ice time for others
Of course, with Kessel coming in and playing big minutes, it means that someone else is forced to play less. Who that ends up being is yet to be seen, but it was clear who was most affected in Tuesday's game.
Niklas Hagman was hovering around the 19 minute mark in most games coming into the matchup against Tampa Bay. He had been the Leafs most potent weapon so far in the young season, leading in goals with six through the first 12 games.
But once Kessel came in and played some serious minutes, Hagman saw his ice time decrease heavily. He only played 14:31 in a game that included a few minutes of overtime, clearly not seen by the coach as the go-to man now.
The Leafs had eight power plays in the game, and normally Hagman would find himself on the ice for the majority of that time, but spent less than four minutes on the ice while up a man.
Kessel played nine minutes on the PP.
It may not be Hagman who is impacted every night, but you can bet that if Kessel is heating up offensively, Leafs coaching staff won't hesitate for a second to keep on throwing him out there for big minutes.
It'll be up to the rest of the players to keep up if they want to see their fair share of game action as well.
Lethal power play potential
It didn't result in a goal, but the Leafs power play with the addition of Kessel looked good.
Really good.
With Kaberle and Stempniak on the point, and Blake and Stajan roaming around with him, Kessel came close a number of times with man-advantage and was repeatedly found open around the net, but couldn't get the puck past Niittymaki on his numerous chances.
With Kaberle and Stempniak forming an excellent duo together on the point, and the addition of Kessel to the already sixth-ranked power play, the Leafs could be lethal when up a man.
If they can gel together as a line they could be one of the most dangerous teams on the power play.
Speed kills
One thing that was very obvious throughout the entire game was how the Leafs used their speed. Mikhail Grabovski and John Mitchell were noticeably quicker on the ice, and after watching Blake and Kessel blow by them down the ice on various occasions, you can imagine they were eager to impress as well.
With Kessel's ability to break down the wing at a very quick pace, line mates will once again have to learn to catch up or get out of the way. The Leafs as a team seemed much quicker as a whole, and the addition of Kessel was a major reason for it.
Every time he got the puck and headed up the ice, the players around him bolted towards the net in hopes of gobbling up a rebound or receiving a pass.
In the NHL today speed can play a huge factor with the crack-down on clutching and grabbing. Kessel is fast, we know that, and now the rest of the team will need to pick up the pace as well.
With a team built on speed, well, you can expect the Leafs will be off to the races.
The game wasn't perfect by any stretch, but Tuesday night at the Air Canada Center was livelier than it had been since opening night. The fans sense of hope was renewed and they once again had something to look forward to.
Kessel brings a ton to this Leaf team that is crying out for a savior, but he won't be able to solve all the team's woes on his own, he's going to need some help. If help is what the players can give him, then fans in Toronto can anticipate this team to get back into the playoff hunt.
And even though it ended in a loss, fans left the ACC after the game Tuesday night a little happier than they normally would after losing. The potential to be great is there; all this team needs to do now is work together and learn how to win again.
Forget Terrell Owens, there's a new number 81 playing in Toronto this season.
And if the first game was any indication, he won't be dropping the ball.
Abelimages/Getty Images