by JA Allen…

Parity has found its way into men's tennis. In terms of pure talent and potential, the field at the Australian Open seems wide open.
Oddsmakers, of course, factor in experience and past performance—but in Australia, in the land of sunnies and amber fluid anything is possible.
As we unveil our preseason power rankings consider the ramifications of the next two weeks upon the state of men's tennis as the first grand slam of 2010 gets underway.
The Top 10
1. Nikolay Davydenko (Last Power Ranking: 1; ATP Ranking: 6)
Last Four Tournaments: Qatar [Winner], London [Winner], Paris [R16], Valencia [Semifinalist].
Power Ranking Points: 316
Everyone is curious. Has the wiry Russian changed his diet, his training regimen, or his racket? All of a sudden he has become, if not everybody's choice to win the Australian Open—at least everybody's dark horse. At age 28, Davydenko appears to be playing his very best tennis.
As the Australian Open gets underway, many expect Russia's "Invisible Man" to become "Mr. Invincibility," taking this title to win his first major. His quickness makes Davydenko dangerous on the hard courts. He is in Federer's quarter so there may be a potential matchup.
If so, can Davydenko win three in a row over the man he had never defeated until the ATP World Tour Finals when the Russian took out Federer in the semis? He followed that in Doha with a semifinal victory again over Federer and a win over Nadal in the finals. Davydenko is hot, hot, hot!!
2. Novak Djokovic (Last Power Ranking: 2; ATP Ranking: 3)
Last Four Tournaments: London [RR (2-1)], Paris [Winner], Basel [Winner], Shanghai [Finalist]
Power Ranking Points: 239
The Serb is ranked No. 2 in the Preseason Power Rankings based on fumes from the tail-end of 2009 with back-to-back wins in Paris and Basel. The 2008 Australian Open champion hopes to reclaim the title in 2010 as the No. 3 seed. But he has some challenges to get there, potentially meeting Gasquet and later Soderling or Tsonga in the quarterfinals.
Djokovic needs to get by these intimidating challengers before he can even consider facing Federer in the semifinals. For once, he is the man under the radar as the media points to others like Federer, Nadal, del Potro, and even Davydenko. Djokovic knows what it takes to win this title.
The question remains, can he find the "right stuff" to pull off another coronation down under?
3. Marin Cilic (Last Power Ranking: NR; ATP Ranking: 14)
Last Four Tournaments: Chennai [Winner], Paris [Quarterfinalist], Basel [Quarterfinalist], Vienna [Finalist]
Power Ranking Points: 168
Cilic makes his first appearance in the Power Rankings with plenty of good reasons for inclusion at the No. 3 spot. The Croat has climbed steadily, improving his game and his results, making it into the ATP top 20 for the first time—currently sitting at No. 14.
Cilic is fresh off a victory in Chennai and is seeded No. 14 at the Australian Open where he meets Fabrice Santoro in the opening round. The enigmatic Frenchman can be a tough opponent on any occasion. Should Cilic advance as seeded, he would meet the No. 4 seed Juan Martin del Potro in the 4th round.
That could prove to be an enticing matchup of the young guns. Cilic joins the pack of dark horse contenders who may wreak havoc with the establishment in Melbourne.
4. Rafael Nadal (Last Power Ranking: 8; ATP Ranking: 2)
Last Four Tournaments: Qatar [Finalist], London [RR (0-3)], Paris [Semifinalist], Shanghai [Finalist].
Power Ranking Points: 161
It seemed astonishing to see Nikolay Davydenko upset the No. 2 seed Nadal in the final at Doha. In reality, however, the Russian leads in their head to head 5-4. As is more and more the case these days, players have confidence in their ability to defeat Nadal. The aura has evaporated.
But Nadal is returning to Melbourne to defend his only hard court slam championship which the Spaniard won by defeating Federer in five sets last year—another seismic final between the two titans of tennis.
Nadal has some challenges again before he reaches the final. None more so than a potential quarterfinal matchup with the No. 5 seed, Andy Murray.
Along the way, Nadal may face Philipp Kohlschreiber, the German whose run at the 2008 Aussie Open sent Andy Roddick packing. He might also face the giant Ivo Karlovic who is capable of serving anybody off the court or dangerous Radek Stepanek.
Then if he gets past all of these dangerous opponents he could face del Potro in the semifinals. There are no gimmes in this tournament. Is Nadal back? His progress down under should provide a very compelling clue.
5. Radek Stepanek (Last Power Ranking: 9; ATP Ranking: 13)
Last Four Tournaments: Brisbane [Finalist], Paris [Semifinalist], Basel [Semifinalist], Vienna [Quarterfinalist].
Power Ranking Points: 137
For a tour "senior" Stepanek had a great 2009, ending the season in strong fashion with semifinal appearances in both Paris and Basel. Recently, he reached the final in Brisbane where he lost to winner Andy Roddick 6-7, 6-7 in a very tightly contested match.
Unluckily for Stepanek, seeded No. 13 at the Australian Open, he meets Croat Ivo Karlovic in the first match. That is not a favorable draw! Should he survive, he could meet Nadal in the 4th round.
Stepanek has been around a long time and his experience should serve him well getting out of the gates and sustain him as he progresses. He just has to pray that Karlovic has a poor serving day when they meet.
6. Andy Roddick (Last Power Ranking: NR; ATP Ranking: 7)
Last Four Tournaments: Brisbane [Winner], Shanghai [R32], Beijing [R32], US Open [R32].
Power Ranking Points: 131
Roddick has been pretty much "missing in action" since 2009 Wimbledon with hip and knee injuries. But he rocketed back into action by winning the tournament in Brisbane where he met and defeated Radek Stepanek in the final 7-6, 7-6. This should have tested all his extremities and revealed any lingering injuries that might have slowed him down.
Seeded No. 7 at the Australian Open, Roddick's first true test may come against fellow countryman Sam Querry in the 3rd round. Roddick might then conceivably face Tomas Berdych or Fernando Gonzalez. The quarterfinals then would find him face to face with Juan Martin del Potro—assuming both make it that far.
Roddick demonstrated his belief and his desire to win another slam. He is off to a good start down under. It is time for a bit of good luck to be gifted to the perennial top 10 Roddick.
7. Roger Federer (Last Power Ranking: 5; ATP Ranking: 1)
Last Four Tournaments: Qatar [Semifinalist], London [Semifinalist], Paris [R64], Basel [Finalist].
Power Ranking Points: 126
Federer was disappointed in Abu Dhabi losing to Soderling and in Doha where he lost once again to Davydenko. But he remains optimistic of his chances in Australia where he has not won since 2007. Is it time for another title in Melbourne? This is what everybody wants to know.
Federer comes into the Australian Open seeded No. 1. His draw is filled with potential hazards. His first round match is with Igor Andreev, who played Federer extremely tight in their last match at the 2008 U. S. Open with Federer finally prevailing in five.
The Swiss could potentially meet Lleyton Hewitt or Marcos Baghdatis in the 4th round and then either Fernando Verdasco or Nikolay Davydenko in the quarters. That potentially leads to Djokovic in the semifinals. No cake walk for Federer.
2009 was a stellar season for Federer. Anything more is gravy. The great thing for all tennis lovers is that the Swiss is ready to compete and would love to do it all over again.
8. Andy Murray (Last Power Ranking: 4; ATP Ranking: 4)
Last Four Tournaments: London[RR (2-1)], Paris [R16], Valencia [Winner], US Open [R16]
Power Ranking Points: 121
In 2009 Murray seized an ATP World Tour-best six titles and reached a career-high No. 2 ranking in August before finishing the year at No. 4. He enters the Australian Open seeded No. 5, surpassed by del Potro for the No. 4 seed. As of January 18, Murray has recaptured the No. 4 ranking but his seeding will remain.
Murray is in Nadal's quarter of the draw at the Australian Open and has potential matchups with either John Isner, fresh off his first ATP victory in Auckland or with the dangerous Gael Monfils who can produce a first-rate performance at any time.
Murray would meet Nadal in the quarters if both survive into the second week. After so many years of bad luck in Melbourne, will this finally prove to be the year the Scot finds his first major at the Australian Open? His fans are tired of waiting and hoping for Murray to fulfill his potential
9. Juan Martin del Potro (Last Power Ranking: 3; ATP Ranking: 5)
Last Four Tournaments: London [Finalist], Paris [Quarterfinalist], Shanghai [R64], Tokyo [R32]
Power Ranking Points: 121
As one of the few to win a major in the last five years, much is expected of the lanky Argentine. Del Potro won on the much faster hard courts at Flushing Meadows; so if he can withstand the heat and the pressure, why shouldn't he take another slam in Melbourne?
Seeded No. 4, del Potro could conceivably meet Marin Cilic in the 3rd round. Then perhaps either Fernando Gonzalez or Andy Roddick await. His semifinal match might find him across the net from either Murray or Nadal. It doesn't get any easier as the tournament progresses.
With his only scheduled warm-up in Kooyong where the Argentine pulled out with a wrist problem, del Potro may be nursing an injury and his match strength could be in question. His first round match with Michael Russell should provide some clues as to any potential wrist problems.
10. Gael Monfils (Last Power Ranking: 7; ATP Ranking: 12)
Last Four Tournaments: Brisbane [Semifinalist], Paris [Finalist], Valencia [R16], Vienna [Quarterfinalist].
Power Ranking Points: 120
In 2009 Monfils worked his way into the ATP top 10 for the first time in his career. Although he was not able to stay there, he is currently ranked and seeded at No. 12 going into the Australian Open.
This multi-talented but frustrating Frenchman has all the potential to be a champion—but apparently not the discipline or the confidence to go all the way. He seems to find a way to self-destruct, beating himself.
Monfils is in Nadal's quarter of the draw and could very early on meet American John Isner who is seeded with the withdrawal of Frenchman Gilles Simon due to injury. Isner could be a real challenge for Monfils. If the Frenchman survives it may send him directly to face Murray in the 4th round.
Monfils has the game and the talent to win. Perhaps, this will be his finest season in the sun—down under.
by JA Allen…


Starting Dec. 31, 2009 the rivalry between Roger Federer and Rafael Nadal renews itself, shedding the remnants of the old year, and readying for a new year and a new decade.
Abu Dhabi—who else rejoices at the prospect of seeing real tennis being played again?
This is the start of the road leading up to the Australian Open where unexpected results steal headlines and make the tournament "Down Under" one of the most anticipated tennis extravaganzas of the year!
Granted the six male tennis players (Federer, Nadal, Nikolay Davydenko, Jo Wilfried-Tsonga, Robin Soderling and Stanislav Wawrinka) engage in an "exhibition" in Abu Dhabi; still, though, it is live tennis and the players are still trying to win the tournament.
It will be refreshing to read about real tennis instead of lists upon lists discussing the past and its reported relevance upon future tennis events.
The tournament itself is relatively new, dreamed up by the corporate world to promote tennis in the Middle East. In Abu Dhabi of the United Arab Emirates this event, along with tournaments in Dubai, Qatar and Doha, receive worldwide attention and coverage as well as exposure for the Middle East culture.
It provides a tune-up for the regular tennis season which follows quickly as 2010 gets underway
Four of the six players will take the court on Dec. 31 with the tournament ending on Jan. 2, 2010. The top two seeded players, Federer and Nadal, receive a first round bye.
Last year the inaugural Capitala World Tennis Championship was held on Jan. 1-3 with Andy Murray winning the championship by defeating James Blake, Federer, and fellow finalist Nadal. Nadal overcame Davydenko, who defeated Andy Roddick to make it into the second round.
Murray's performance in 2009 at Abu Dhabi and then next at the Qatar Exxon-Mobil Open where he won the title—led to intense speculation that the Scot was the likely candidate to win the 2009 Australian Open. Murray unfortunately ran into the red hot Fernando Verdasco and was taken out in the third round in Melbourne.
This year the tournament will commence with Soderling facing Swiss No. 2 Wawrinka for the honor of meeting Federer in the second round. In the other match Tsonga will meet Davydenko to determine which one of them will face Nadal the next day.
Last year's winner Murray will not be on hand to defend his crown. He will be representing Great Britain in the Hopman Cup teamed with up-and-coming Brit Laura Robson.
It will be a very interesting peek at the usual suspects. Will Davydenko continue the blistering pace he exhibited at the ATP World Tour Finals in London by winning this event and stunning the tennis world once again?
Or, will the promise of Tsonga finally materialize in 2010? Tsonga has been on everyone's "soon to be anointed" list for so long, he may soon grow stale.
Will Soderling amass another amazing upset by taking out Federer, who he has never defeated, in the second round. That assumes, of course, that he can overcome newlywed Wawrinka.
Wawrinka may not have found his "happily married" legs as of yet. His wife is expected to deliver their first child at approximately the same time as the championship match. It is hard to believe that he can concentrate long enough to take out Soderling.
Both Nadal and Federer have much to prove, but especially the Spaniard who spent much of 2009 injured. His depleted rankings (losing his hold on No. 1), and his diminished physique suffered at the end of the season.
Nadal did, however, seem to find rejuvenation on the home soil—clay—while playing for world champion Spain in the Davis Cup Finals.
For Nadal, everything must be looking up after 2009.
For Federer, the year is another layer of icing on his cake. The man from Switzerland retains his competitive spirit and his desire to win the big tournaments. After all, there are records left to be conquered.
The Swiss Maestro is waiting and the first goal on his carefully filled plate is to win this exhibition in Abu Dhabi. It represents a chance that eluded him last year.
After Abu Dhabi both Federer and Nadal head off to the Qatar Exxon-Mobil Open in Doha to fine-tune their games just before the Australian Open. Finally….
by J.A. Allen…
Return with us now to those thrilling ladies matches of yesterday when the heroine overcame an inspired opponent to win against overwhelming odds. Who gave the best performance by a female tennis player in 2009?
This list awaits you arranged somewhat in chronological order. You read, you judge, and then you vote to determine the best.
Contributors in alphabetical order are: JA Allen, Marianne Bevis, Claudia Celestial Girl, and Shye Sentinele.
(1) Victoria Azarenka—Finals, 2009 Sony Ericsson Open
Then teenager Victoria Azarenka, now 20 and WTA No. 7, started 2009 ranked 17th. When she entered the tournament in Key Biscayne, Azarenka was already a winner in Brisbane and Memphis. The lady from Belarus also came into Sony Ericsson with a strong performance at Indian Wells tucked away.
Her appearance in the Sony Ericsson final marked Azarkenka's career-best run at a premier event. The Belarusian had made quite a name for herself on the women's tour for her intense competitive spirit and her quick and often hot temper. Sometimes, however, her outbursts lost her matches.
Serena Williams, on the other hand, had won this title often with five Miami titles added to her career total. Serena managed to reach another final for the seventh time by overcoming her sister Venus Williams in the semifinals and ensured she remained on top of the rankings.
Venus herself had won this championship three times. The question for Serena Williams, as the final got underway, was will the record sixth Sony Ericsson Open title be added to enrich the wonderful year she had enjoyed so far in 2009?
The two had met earlier in the year at the 2009 Australian Open. Azarenka had been leading in her fourth round match with Serena Williams, 6-3, 2-4, and had to retire due to illness. The fact that Williams went on to win the Australian Open must have eaten away at Azarkena. She hates losing.
The day was windy and conditions affected play. Williams lost her serve in her third game of the first set. Williams was not in perfect condition with an injured thigh, allowing Azarenka to take advantage by moving the younger Williams sister around the court—extracting forehand errors. As the set progressed, Williams' serve continued to miss its mark. Azarenka won the first set 6-3.
In the second set, as the match faded away for Williams, she stood blankly in the middle of the court trying to dictate play almost without movement. In her mind she had lost already—Williams quit trying to win and just did what she needed to do to allow the match to continue, with only one person really in it. Azarenka won the second set 6-1.
It was the first big win for Azarenka, who took the victory, regardless of the token opposition displayed by Serena Williams. Azarenka improved her ranking, soaring into the top 10.
It marked the beginning of a wave of new young talent about to emerge in 2009, as older and more familiar faces began the process of fading away. Azarenka will make her presence felt in 2010, no doubt about it.
Nominated by Shye Sentinele
(2) Dinara Safina—Semifinals, BNL d'Italia in Rome
The beleaguered Dinara Safina ended the year with the troubles of the world on her shoulders.
Having struggled with back pain for much of the autumn, she was eventually forced to retire two games into the year-ending Tour Championships, and headed for a long period of treatment and rehabilitation. More unhappily, she exited 2009 with critics' comments still ringing in her ears: How can someone without a Slam to their name be the world No. 1?
But that is exactly what Safina was, on and off, from April until those Tour Championships when she ignominiously lost the year-end No.1 ranking to Serena Williams.
But here is a woman who made the finals of the Australian Open and the French Open, and the semifinals of Wimbledon. She was runner-up in Sydney, Stuttgart, and Cincinnati, and she won in Portoroz. Hardly a poor record.
It was in May, however, when she showed why she deserved her No. 1 spot. She won back-to-back major titles in Rome and Madrid, sealing her 10th and 11th tour titles in quick succession.
And she really showed her metal during the Rome tournament, countering comments that she lacked the mental fortitude for the big moments.
She won her first match against Virginie Razzano in straight sets, but was two points away from falling to Zheng Jie in her second match, rallying from 5-2 down in the third to win—5-7, 6-1, 7-6 (3).
In the quarters she also fought back from 6-4, 3-1 down, against María José Martínez Sánchez, closing out the match with a 6-0 showing in the third.
But it was in the semis that Safina showed her true grit, taking on Venus Williams in a titanic three-hour battle.
Williams took the first set in a tie-break and then broke Safina for a 2-0 lead in the second. But the Russian regrouped to win six of the next seven games and draw level. In the decider Safina was twice up a break, only to let Williams back into the match, but she finally won the decisive break to triumph at 6-7 (3), 6-3, 6-4.
Nominated by Marianne Bevis
(3) Svetlana Kuznetsova—Finals, 2009 French Open Championship
It was the final between two Russian "Queens of Nerves." Dinara Safina, WTA ranked No. 1, carried her nefarious reputation into the match because of her apparent inability to control her jangled jitters during a major final.
She had melted under the weight of pressure during the 2008 French Open final and the 2009 Australian Open final facing Serena Williams in January.
Now here she was back to compete in another French Open final after making her way admirably through six rounds at the 2009 French Open. She defeated Slovakian Dominika Cibulkova 6-3, 6-3 in the semifinals to reach the finals.
Svetlana Kuznetsova, winner of the 2004 U.S. Open Championship, had not made it back to a French Open final since 2006, when she met and lost to Justine Henin, 6-4, 6-4. Her single major title had many dubbing her as a one-trophy wonder.
Kuznetsova had a very tough path through to the French Open finals. During the semifinals she had overcome Samantha Stosur to reach the final, 6-4, 6-7, 6-3.
Coming into the match at Roland Garros, the two Russian women were reigning supreme on clay and enjoyed superb records. Kutnetsova had won 15 of her 17 matches on clay that spring while Safina had captured 20 victories and suffered only one defeat. That defeat had been at Stuttgart against Kuznetsova.
The match itself was an "ugly" affair, lasting only 74 minutes. Safina contributed her inordinate share of unforced errors. It ended anticlimactically with Safina double-faulting.
In the end, with her experience, Kuznetsova managed to hang on to her nerves long enough to win the match. Safina once again came undone at the finish line. The No. 1 ranked Russian fought valiantly, breaking Kuznetsova in her opening game.
Eventually, however, the seventh seeded Russian came back and took control of the match from the baseline, where her powerful ground strokes found their mark and kept Safina pinned to the back of court, running side to side.
Kuznetsova also seemed to reach and return everything Safina threw at her. It was proving to be Kuznetsova's day after all. Because she had suffered similar disappointments in the past, Kuznetsova sympathized with her compatriot's case of nerves. Kutnetsova proved on that day that she was not a one-Slam wonder.
Nominated by JA Allen
(4) Serena Williams—Semifinals, 2009 Wimbledon
"Miss Dementieva; Miss Williams…" They were supposed to have done away with that "old school" approach to refereeing the matches at Wimbledon!
While the umpiring might have been old school, the play was not. This was the best current tennis has to offer, exhibited by two wily old veterans. Power from the baseline. Serve and half-volley. Power serving (120 mph from both players). Great gets. Great "presence" on court from both players. Belief and will on display from both.
Serena exhibited her Rafa Nadal imitation (she admires him), with buggy-whip forehands that imparted spin and accuracy to her shots. Unlike Rafa, however, her UFEs (un-forced errors) can be relatively higher than Rafa's. But not in this match.
Her opponent's game can be characterized by double-faults. But not in this match.
Serena breezed through the tournament up until this point. Poised and composed, effortlessly moving through, working those powerful groundstrokes to precision. Then she ran into Elena Dementieva. Serena seemed dismayed by her opponent's evident self-belief. The quality of play from Dementieva was high from the first point.
This match put on display fantastic midcourt action by both contenders. That is, half-volleys with extreme angles resulting in fabulous gets, and or put-away forehands. I'd never seen either play exhibit such foot speed before.
While the odd UFE cost her the tiebreak in the first set, Serena's will to win was the difference in the balance of this high quality match. She fought off a crucial break point at 3-4 down in the second set.
In the third set, the audience was sure the match would go to Dementieva, as she had match point after a hard fought contest. But it was not to be. Serena fought off match point and prevailed, 8-6, in the longest Ladies' semifinal at Wimbledon in the Open era (and of finest quality).
This was Serena at her best. Her opponent's self-belief was on a par with her gold-medal performance in the Olympics, and her re-tooled serve was working like a charm. But the confluence of psychology and physical ability was still not enough to overcome Serena's equally profound ability convolved with focus on the big points. Advantage Miss Williams.
Nominated by Claudia Celestial Girl
(5) Serena Williams—Finals, 2009 Wimbledon Championships
Venus Williams owned Wimbledon. It was her tournament—her surface of choice. She was doing battle for her third Wimbledon title in a row, her sixth overall. What is more, Venus was once again playing superb tennis, having defeated world No. 1 Dinara Safina, 6-0, 6-1, to reach the finals. In fact, Venus had not lost a set at Wimbledon since the third round in 2007.
Venus was, however, meeting her younger sister Serena in the finals. Serena had defeated Dementieva in a hard-fought semifinal contest to reach this point. It would mark the younger Williams' sister fifth Wimbledon final. Serena had won two of their three on Centre Court. Head to head in finals they stood 10-10, 2-2 on grass courts.
In 2008 the two sisters had met in the Wimbledon final and Venus had been victorious keeping the Rosewater Dish another year.
The first set was a clinic in serving, returning, and powerful ground strokes. The sisters were playing top-notch, all-court tennis. Venus had her leg heavily taped but hung with Serena until the tiebreak.
In the tiebreak, Venus' game began to break down and she lost it 7-3. The first set went to Serena in just under an hour.
In the second set, Venus' first serve began misfiring and she found herself down 4-2 with a break of serve against her. Serena served a love game, going up 5-2. The end was coming fast for the defending champion.
Venus' unforced errors led to an impossible situation. Venus, however, fought off three match points before finally falling on the fourth. Serena Williams played the superior match and won the Wimbledon championship that day, 7-6, 6-2 in 87 minutes. It was one of Serena's best matches ever on Centre Court.
Nominated by the team.
(6) Kim Clijsters—Semifinals, U.S. Open Championships
What a match this promised to be, with Serena Williams the obvious favorite coming into this U.S. Open semifinal contest against "Comeback Mom" Kim Clijsters. Clijsters had only defeated Williams once in her career—at the 2002 WTA Championships. Since then, Williams had won seven matches against the Belgian.
Clijsters was making a return to action after she retired from the women's tour in 2007. Should she win the tournament, her ranking would return to the top 20. The Belgian had received a huge amount of press coverage throughout the tournament because of her stellar play after a long absence on the big stage.
But the day had been long and went, and there were surprisingly few people in the stands when the match got underway. It was almost 9:30 p.m. EDT when play got going. At the same time Yanina Wickmayer was playing Caroline Wozniacki in the other women's semifinal contest. Rain had backed up the schedule of play the second week of the U.S. Open.
Clijsters continued her fastidious play by serving well and causing forehand errors by Williams. With Williams serving at 2-3 and aided by a double-fault, Clijsters broke the American's serve and went up 4-2. Williams immediately broke back, taking the set to 4-3 with Williams serving again.
Clijsters offered no hint of a break on her serve for the rest of this set. Breaking Williams serve in the 10th game, Clijsters took the opening set, 6-4. In anger and frustration, Williams slammed her racket down.
It was the first time she had lost a set in this year's Open. For that, Williams received a warning—one that would play into the drama that unfolded at the conclusion of the match.
Williams opened the second set with grim determination and broke the Belgian's serve; but Clijsters broke right back and the leveled the set at 1-1. Serena garnered another break of serve in the fifth game, leading 3-2; once again, though, Clijsters broke back immediately.
They stayed on serve until Serena was serving to stay in the match at 5-6. It appeared they would be deciding the second set or the match in a tiebreak.
With Williams serving at 5-6 down, 15-30, she was called for a foot fault on her second serve. That meant the score was 15-40, giving Clijsters two match points on Williams' serve.
That is when Williams shouted at the lineswoman, who complained to the chair umpire, who, in turn, assessed a code violation for unsportsmanlike conduct. Because Williams had a warning already assessed, the code violation gave Clijsters a penalty point and the match.
It was a bizarre ending, to say the least. Clijsters really won the match on her play, not on the penalty point. Unfortunately, the match will be remembered for Serena Williams' conduct and not Clijsters' play. Clijsters went on to win the final and claim the U.S. Open crown.
Nominated by JA Allen
Others to be considered:
(7) Serena Williams—Finals, 2009 Australian Open vs. Dinara Safina
Williams dominated Safina in this match, which the American won by a 6-0, 6-3 margin. The first set lasted 22 minutes, with Safina winning just eight points.
Williams won 95 percent of points when she landed her first serve (20-for-21). Safina had 21 unforced errors, while Williams had seven. The Russian won just seven of 37 points on the Williams serve. Williams converted five of six break point opportunities.
(8) Kim Clijsters—Finals, 2009 U.S. Open vs. Caroline Wozniaki
It was the first Slam final for the teenager Wozniaki, who had played a magnificent tournament to reach the finals. The Belgian with superior experience held off Woznaicki, winning the match and the championship, 7-5, 6-3.
(9) Serena Williams—Finals, WTA 2009 Championships in Doha vs. Venus Williams
Serena Williams got the best of her older sister Venus Williams again—beating her by a 6-2, 7-6 score in the year-end championship tournament. This tournament was marred by player injuries, but, at the end, the two sisters stood ready to battle it out for the final trophy of the season. This has proven to be Serena's year, as she also won the Australian Open and Wimbledon in 2009.
by J.A. Allen…
Serena Williams was fined a record $82,500 for her tirade at the 2009 U.S. Open when she allegedly threatened a lineswoman who called a foot fault against her.
In fact, using very colorful language, Ms. Williams insisted that she would force-feed the tiny lineswoman a tennis ball for daring to make her tenuous foot fault call at such a critical moment in the match—all the while pointing her racket, jabbing it like a sword toward the diminutive lineslady.
The younger Williams sister was serving to retain her U.S. Open crown during a hard-fought prime-time semifinal contest.
The foot fault caused Williams to double-fault, and the subsequent penalty gave the match to Kim Clijsters, who stood by watching it all unfold like a deer in the headlights.
The Belgian, recently returned to tennis, won the match without firing the final shot.
Williams' fine is categorized as a "major" offense, taking place as it did at a Grand Slam event. Plus Williams is on probation for the next two years.
If the younger Williams sister commits such a heinous act again at any of the four Grand Slam events, she'll be barred from competition at a future U.S. Open.
Everyone will be watching Williams like a hawk for further egregious conduct. You can bet that more empty rhetoric on this topic will be forthcoming as commentators scramble to fill air time during her future matches.
Grand Slam Administrator Bill Babcock said a "major offense" under Grand Slam rules is "any conduct that is determined to be the 'major offense' of 'aggravated behavior' or 'conduct detrimental to the game.'"
There is no specific definition of what sort of actions constitute a "major offense." It sounds as if they are making up the rules as they go, with a kind of circular reasoning we often encounter at biased country clubs or movie studios.
Williams had already paid an on-site fine of $10,000 to the USTA.
Undoubtedly tennis authorities had to do something big, since this infraction took place at the U.S. Open during the televised semifinals. It seemed logical to lean heavily on financial assessment.
Williams made over $6 million in 2009, so the $85,000 fine seemed like bubble-gum money in proportion.
Certainly those assigned to take action against the World No. 1 tennis player were also those whose organizations would be severely hurt if the "Grand Slam Committee" banned the popular and powerful Williams from competition.
These tennis authorities need Williams playing in the Australian Open because she is the No. 1-ranked player. To bar her from competition would lessen the tournament the ITF is empowered to oversee. Frankly, it might hurt their purse strings if they denied her entrance into the Aussie Open.
So what does it all mean? Why all the black ink and hysteria over this incident? It is not as though we have not witnessed tirades before…think John McEnroe. Think Ilie Nastase and Jimmy Connors. They were crude, rude, and often turned the air blue with expletives.
But Williams is a woman who apparently uttered the dreaded "F" word in public. Bring out the smelling salts! This is tennis! She is a role model! She is a woman!
Evidently Williams felt free to vent her obvious anger and frustration regardless of the consequences…so much so that we suspect she anticipated none.
Was this typical behavior on the part of the younger Williams sister? No. It was an aberration from her usual on-court demeanor. Both Williams sisters normally accept all calls without comment or incident.
But it did highlight Serena Williams' increasingly aggressive behavior and her highly publicized inability to admit her mistakes with the proper degree of regret or acceptable temperament and attitude.
She wasn't sorry enough…nor did she observe the proper level of remorse for her actions.
But, saints alive, we live in a society of such high moral fiber that people and the press remain outraged by Williams' bullying behavior. Mary Carillo espoused censure.
Never mind that today Carillo and Co. treat John McEnroe's tirades as "the good old days of tennis" and Mr. McEnroe's behavior has been condoned as cute and cuddly.
These high-minded harbingers of purity remain morally incensed by Williams' breach of good conduct. They feared for the life of the tiny and terrified lineswoman. Where was justice when it was called for in this situation?
Justice remained in the counting house…counting out its money. That is why it took the ITF two months of "investigation" to come up with that perfect punishment. Just enough for the public to say "ouch!"
But not enough for Williams to balk and walk away. When the governing body of tennis has so little impact that it cannot separate its disciplinary practices from its financial needs, this is the result.
In this case, Williams is treated as an important cash cow for the women's game, whereas poor Yanina Wickmayer is not.
Wickmayer, from Belgium and currently ranked No. 18, has been suspended for a year from all tournaments—not because she tested positive for any illegal drug, but because she did not report where she would be to tennis authorities.
This is the consequence when individual players become more important than the sport itself. They have created an unequal playing field where some rise above the policies and others are struck down often without review or appeal…or even logic.
When the Australian Open begins in 2010, Williams will be seeded No. 1 with all the advantages still in her corner while Wickmayer will be left home in Belgium, watching the outcome on television as she sits out her year of suspension.
Whose behavior got what it deserved? None in this analysis.
What have we learned besides the fact that: 1. Linespeople need to be replaced by available technology. Who would care if McEnroe, Connors, or Williams went off on a machine; then again, though, why would they? 2. Rules need to be specific and applied uniformly to every player regardless of his or her rank or the financial impact on the sport.
That is asking a lot when a sport's official governing body oversees players whose appearance fills the governing bodies coffers. It just doesn't work—never has, never will.
Regardless of your opinion concerning the actions of Serena Williams at the semifinals of the 2009 U.S. Open, the action taken by the ITF smacks of favoritism and impotence.
by J.A. Allen…

2007
Remember two years ago at the U.S. Open? Remember how happy Novak Djokovic was and how happy he made the New York crowds with his impersonations of Maria Sharapova, Andy Roddick, Roger Federer, and even Rafael Nadal?
While the guys growled, seemingly a little scratchy about his antics, Sharapova loved it and even sat in the Serb's box with his parents! Life was good then, Nole. Wasn't it?
Djokovic made it all the way to the finals of the 2007 U.S. Open, where he faced Federer down. The Serb lost, of course. Nerves. Actually, he lost in straight sets to Federer, but the match was closer than it looked on paper. That's what everybody said, anyway.
After mixed reviews, Nole faded fast in the 2007 fall indoor season—tired no doubt from all that instant fame and the rocket ride to the top of the men's game at age 20. He could barely hold up a racket during the 2007 Masters Season-Ending Championship in Shanghai. Noticeably, he didn't win a rubber.
Extreme fatigue.
2008
By the Australian Open in 2008, Nole was ready to roll again. He did that by powering his way through to the final. In the process, he defeated his former foe, Federer. This time, Djokovic won in straight sets and sent the shocked Fed man home without a trophy. This took place in the semifinals, as Jo-Willy Tsonga was doing something similar to Nadal.
The culmination of this epic victory will forever be marked by the utterance of Nole's sweet old mom, who cried out, "The king is dead!" This, of course, referenced the newly deposed Roger Federer. Such remarks endeared her forever to the legion of Federer fans.
In the final, the Serb swept Tsonga aside, the Frenchman overcome by the occasion. Djokovic had won his first Grand Slam tournament, and, according to the pundits, there would be many more trophies gathering dust on his mantle before his career was over.
The 2008 Australian Open marked the beginning. The following months seemed to punctuate the Serb's early success. Djokovic won Master's Series Tournaments in Indian Wells on hardcourts followed by another victory in Rome on clay.
He closed in on Nadal, constantly nipping at his heels, but Djokovic could never surpass the No. 2 player, even though many speculated that soon Nadal would fade away. That is ironic when you think about what really happened.
Because after Rome, Djokovic began to fade. The Serb mysteriously quit in a match with Federer in Monte Carlo. This occurred after Federer apparently shushed Nole's parents during the match.
Djokovic's reputation began to unravel. He was criticized for his rush to retirements when he was losing.
The Serb made it to the semis of Roland Garros but was dismissed early at Wimbledon by Safin. His early defeat registered as a real shocker, especially after much musing about how important Djokovic was to the "triumvirate" at the top of the men's game.
Djokovic met Federer again—this time in the semifinals of the 2008 U.S. Open. He lost in four sets, 6-3, 5-7, 7-5, 6-2. During the match, Djokovic seemed a bit shell-shocked and timid. At the conclusion of this match, there were no comments by Nole's mom.
In fact, this time, Djokovic did his own damage by berating the New York crowd for supporting Roddick, who had poked fun at the list of all of Nole's supposed ailments prior to their quarterfinal match. The New Yorkers did not take well to his scolding and booed him.
If you look at the year between the 2007 U.S. Open and the 2008 U.S. Open, Djokovic dipped. His confidence seemed to drop off the chart.
He was still ranked No. 3, but his prospects did not appear quite as rosy as they did in 2007. Andy Murray subsequently forced himself into the group as a member of the top four. The Scot was closing in fast on the No. 3 spot.
Even after winning the year-end championships in 2008, Djokovic was pretty much the forgotten man at the start of 2009.
2009
In January, at the Medibank International in Sydney, all the Serb had to do was defeat Jarkko Nieminen in the semifinals and he would have been the No. 2 ranked tennis player in the world. But he lost, letting Federer off the hook. Another golden opportunity wasted.
As defending champion at the Australian Open, Djokovic had to retire in the quarterfinals against Roddick—the man who had speared him with his comments in New York. At this point, the criticism for his actions came from on high, as even Federer noted that Djokovic had retired in three of four grand slam tournaments.
For the rest of the year at Masters Events, Djokovic became the best man—coming in second—to Andy Murray in Miami, to Rafael Nadal in Monte Carlo and in Rome. After Rome he dropped to the No. 4 ranking while Nadal retained his grip on the No. 1 spot for the time being.
In Madrid, Djokovic again lost to Nadal in the finals. At Roland Garros, Djokovic was beaten in the third round by Philipp Kohlschreiber and at Wimbledon in the quarterfinals by a red-hot Tommy Haas.
At the Cincinnati Masters, Djokovic made it to the finals before losing to Federer, coming in second best as was the Serb's custom. Then, once again, Federer took Djokovic out during the U.S. Open semifinals.
When the season headed indoors for the remainder of 2009, Djokovic began to make his move on the field. He won the China Open and once again reigned as the No. 3 ranked player in the world, knocking Murray back down.
At the Shanghai Masters, he lost in the semifinals to eventual champion Nikolay Davydenko but then went on to steal away Federer's home tournament in Basel, defeating the Swiss in the final.
To capitalize on his improving status, Djokovic captured the final Masters tournament of the year, BNP Masters in Paris, defeating Frenchman Gael Monfils in the final.
There is much speculation as to the outcome at this year's Barclay's ATP World Tour Finals in London. Can Nadal overtake Federer for the No. 1 spot with only 945 points separating them? Can Djokovic supplant Nadal with a 1295-point spread between them? An undefeated champion picks up 1,500 points. The possibilities loom large.
Subtle traces of maturity have surfaced as the good-humored demeanor returned to the very talented Serb's repertoire. The world still awaits the promise the 20-year-old exhibited in 2007.
The fun-loving, carefree guy didn't handle his instant fame well. He took his personal life with him onto the court. When potential continues to override commitment, hard work is set aside. You can never rise to the top on talent alone. Now Djokovic seems at long last to have figured out his priorities.
Djokovic has natural talent to burn. He moves better and serves better than most at the top of the game. At last these tools are going to take him out of being third best, but the question remains—who will surge ahead in London and who will get passed standing in line?
by J.A. Allen…
It only makes sense that Serena Williams, who finally reclaimed the No. 1 WTA ranking, should also regain the No. 1 Power Ranking, ending 2009 as the reigning top player.
She won the year-end tournament in Doha, which turned out to be an endurance contest rather than a tennis tournament. There was as much tape wrapped on legs, knees, feet, elbows, wrists, and fingers as there are miles of road leading to Doha.
It gives the debate about scheduling more teeth as the tour heads into 2010. Week after week in 2009 the top pros were pulling out of tournaments or trying to play hurt because of the impossible schedule imposed upon them.
This is a monumental problem for both the women and the men. It is hard to deliver when you have no legs to stand on. But some did. Regardless, the final 10 for 2009…
The Top 10
1. Serena Williams (907 points) Current WTA Ranking: 1. Last Power Ranking: 10
Last four tournaments: Doha [Winner], Beijing [R16], U.S.Open [SF], Toronto [SF].
Serena mowed down all the competition she faced in the season-ending WTA Tournament in Doha. She went 3-0 in the round robin and defeated Caroline Wozniacki, the No. 4 seed, in the semifinals and her sister Venus Williams [6-2, 7-6] in the finals. She proved to all that she deserves the No. 1 WTA ranking and she ended the calendar year on top of the Power Rankings for 2009.
While all the other women were dropping like flies with injuries, Serena hung on, leg heavily taped, and made her way into the winner's circle and hopefully into the 2010 season with a great outlook and a more cautious demeanor on court.
2. Svetlana Kuznetsova (416 points) Current WTA Ranking: 3. Last Power Ranking: 3
Last four tournaments: Doha [RR went 1-2], Beijing [Winner], Tokyo [R32], U.S.Open [R16].
After a long-layoff, Svetlana Kuznetsova surfaced at the WTA year-ending tournament in Doha where she predictably faded quickly in the round robin but not before knocking Elena Dementieva out of the running—helping to secure Venus Williams' place in the semifinals. Kuznetsova ends the year injury-free, ranked No. 3 in the world.
2010 promises to be a good year for the enigmatic Russian who this year won the French Open as her surprise of the season. We wonder what unexpected result Kuznetsova will spring on us next year! How about the Australian Open??
3. Venus Williams (412 points) Current WTA Ranking: 6. Last Power Ranking: NR
Last four tournaments: Doha [Finalist], Beijing [R32], Tokyo [R64], US Open [R4].
Last year's champion in Doha, Venus Williams, had an opportunity to repeat, but she had to go through her sister Serena Williams to do it. Venus did not quite manage the feat as the youngest Williams sister Serena won the contest 6-2, 7-6.
With Serena's left leg severely taped and Venus' knee tightly wrapped, they provided living proof of what was left of the walking wounded on the women's tour. Venus fought hard the whole tournament but came up short on her last outing.
Venus' fortunes fell off at the end of 2009 with constant niggling injuries. Hopefully, she can put herself back together in time for the tour to restart in January, which, as they say, will be here before you know it.
4. Jelena Jankovic (398 points) Current WTA Ranking: 8. Last Power Ranking: 7.
Last four tournaments: Doha [Semifinalist], Moscow [QF], Beijing [R32], Tokyo [Finalist].
You have to give Jankovic credit. Even though her roller coaster performances all year have kept her rankings and her game on the edge, she hung in there. After squeaking by and gaining entry into the prestigious year-end tournament in Doha, she qualified for the semifinals by winning her round robin.
She faced Venus Williams and lost a hard-fought contest 5-7, 6-3, 6-4. Like most others on the tour, Jankovic has had to fight injuries. She is looking to regain her form and her preeminence as a top contender in the women's game. 2010 offers her an opportunity to begin again.
5. Marion Bartoli ( 351 points) Current WTA Ranking: 12. Last Power Ranking: 8
Last four tournaments: Bali [Finalist], Osaka [QF], Beijing [SF], Tokyo [QF].
Bartoli made it to the finals of the Commonwealth Bank Tournament of Champions in Bali, Indonesia. She fought her way into the lead in the first set but had to withdraw after losing it with a left quadriceps strain. The injury ruined a spectacular run for the French woman and once again interrupted her rise to the top of the women's game.
Injury sidelines Bartoli too often as she attempts to make her way into the top 10 rankings. Like all the aspiring women on the cusp, Bartoli is hoping for better results in 2010.
6. Aravane Reza i (308 points) Current WTA Ranking: 44. Last Power Ranking: N/R
Last four tournaments: Bali [Winner], Linz [R1], Luxembourg [R1], Beijing [R1].
Aravane Rezai had a perfect tournament in Bali where she ran through her round robin 2-0 and then defeated Maria Jose Martinez Sanchez 6-2, 6-3 in her semifinal match. She met and defeated Marion Bartoli in the final, taking the first set 7-5 as Bartoli was forced to retire with an injury. It was a great win for the younger French woman.
With her first appearance in the Power Rankings this season, Rezai could very well be a future champion in the making. We shall keep an eye on her for 2010.
7. Caroline Wozniacki (299 points) Current WTA Ranking: 4. Last Power Ranking: N/R
Last four tournaments: Doha [Semifinalist], Osaka [Semifinalist], Luxembourg [R1], Beijing [R1].
Wozniacki has made it back into the Power Rankings after taking some time off with recurring injuries. It looks as though she tried to come back too soon. She did make it to the semifinals in Doha where she had to retire against Serena Williams when she could not continue because of a left abdominal strain.
Wozniacki has had quite a year reaching the finals of the U.S Open and entering the ranks of the WTA top 10. This youngster holds lots of promise and we expect her to continue her winning ways as she moves into 2010.
8. Agnieszka Radwanska (288 points) Current WTA Ranking: 10. Last Power Ranking: 4.
Last four tournaments: Doha [Alternate - 1 win], Moscow [R32], Linz [SF], Beijing [Finalist], Tokyo [SF]
As a reserve in Doha, Radwanska saw action against Victoria Azarenka seeded No. 6 whom she defeated. But the Pole did not make it into the semifinal round. Radwanska did end the year in the top 10 and has hopes of improving her game in anticipation of the ongoing hard court season as it moves outdoors in 2010.
Like the others, Radwanska continues to play with a heavily taped left leg. Perhaps the wrapping will finally be removed, freeing her movement and opening up her game.
9. Kim Clijsters (257 points) Current WTA Ranking: 17. Last Power Ranking:5
Last four tournaments: Luxembourg [R16], U.S.Open [Winner], Toronto [R16], Cincinnati [QF]
Kim Clijsters renounced her retirement during the summer of 2009. Then she won the U.S. Open—her first major since her return to the game. After that, Clijsters regrouped, entering the tournament in Luxembourg but going out in the second round, in three stiff sets, to Patty Schnyder.
With the anticipated return of Henin and the continued improvement of Sharapova, the women's tour looks to the future by building on these past champions and awaiting the arrival of the new players as they make their way up the ranks.
10. Victoria Azarenka (252 points) Current WTA Ranking: 7. Last Power Ranking: N/R
Last four tournaments: Doha [RR 1-2] Beijing [R2], Tokyo [Quarterfinalist], U.S.Open [R3].
Azarenka has battled injury for most of the year. Her fiery determination and explosive reactions reveal her great desire to win. While she has no major weapons, Azarenka never quits. If "will" has a "way," then Azarenka will find a way to win. The 2010 season promises a heavy dose of the gal from Belarus in the big moments.
Author's Thoughts On Power Rankings…
As the women's tour takes a hiatus, so do the Power Rankings for the women's side. The men will continue through the end of the month. In 2009, we have covered the Rankings every week starting last spring to keep you up to date on the current movers and shakers on both sides of the net.
The women's tour has seen many new faces as well as old ones come and go depending on the surface and the time of year.
Contributors Rob York, Rohini Iyer, Feng Rong, Rajat Jain, Clarabella Bevis and yours truly JA Allen have all contributed to the Power Rankings for the women. Many, many thanks go to Feng Rong for coming up with our special ranking formula—it makes the process here quite unique and has contributed to the success of this series.
For the women, farewell until January!
by Long John Silver…
Why do you play a game?
Among the infinite answers possible, at the core, the answer to it is probably twofold. For the sheer love of the game, and just as importantly, to win.
The former leads to the latter. I guess all the athletes I have ever been drawn to have always had one consistent quality in them, the uninhibited, unrestrained, insatiable, almost inhuman blood lust to win.
Ayrton Senna and Michael Schumacher are probably two of the best examples. Here is what Senna had to say about racing when asked about why he ran into so many competitors with time, pure and simple .
Time and again a certain Scarlet clad German won the year end championships by a hairline, because even with an inferior motor car, torrential weather and pit stop disadvantages, Schumacher simply refused to go away.
His graphic desire to win has been witnessed on the grid many times, when he continuously pushed that lines that separate hard but fair and ruthless but foul .
He is a polarizing figure and you either like him or you don't. Most champions of such essence are polarizing: Stephen Waugh, Jimmy Connors, Pete Sampras, Justine Henin, Saurav Ganguly, Michael Jordan, Maria Sharapova, Mike Tyson and Kobe Bryant. Wasn't it Ganguly who said, "Being second is just first in the long string of losers."
That's why Roger Federer is unique. He isn't anywhere near polarizing as Schumacher, Ganguly or any others on that list.
In fact, he wishes good luck to the new kids on the block when he plays them the first time. But once the optic Wilson is in play, I am very sure no one mistakes Federer for a priest. You almost need that raw, pristine ragged edge—concealed well in the case of Federer, but make no mistake, it does exist—to be as successful as he is in his craft.
That sense of drive is one of the simplest phenomenon in the world. Any person,who is half smart wants to be good in what he or she does. Whether you are an artist, editor, architect, poet, writer, analyst, designer, or scientist, your craft might be different but our purpose is singular, to be the best in what we do.
In a mutually exclusive world such as sport, that directly translates to one end, to win.
One of the low points of my tennis reading was when Andrea Jaeger—tennis player turned nun—admitted that she allowed her opponent to win a slam final after the rain break, because she saw how much it affected her opponent in the locker room during the rain break. Get over it.
If you are in the shark feeding business, you probably should not feel bad about dead fishes, but that's just me.
It's a tremendous disservice you do the game, fans, and yourself. It's why in the world of Rafael Nadal and Federer, we admire Nikolay Davydenko and Lleyton Hewitt just as much for their desire to compete ever so honestly in an attempt to win.
I understand that players play to achieve that microsecond of salvation, when you picked a coin spot on the court on the sideline, and drill an inside out forehand screamer that lands on that very spot. That is an isolated moment of consummate liberation.
Even Nadal, whom I think is the most improved player from the time he joined the tour, sure loves the process. But that process has a purpose—to win.
Hence the process or the act of playing magnificently is a conduit to attain the eventual purpose. It's a subset of the larger purpose. Top athletes are always driven by purpose. They don't just do things, they do them for a reason. The rationale that drives every single action in their career is designed for them to win more.
The possible exception to this essence is Marat Safin. I am a huge admirer of the mercurial, tortured Russian. He went to the press and once said, "I just want to enjoy my matches, I want to play without any problems, then win or lose … go home." Let us leave aside that irresistible soulful dark brooding cynicism for now.
Think about the matches this year, when the person who ended up on the wrong side of the scoreboard played just as well as the winner. Think about the numbers: F-VED in Aussie semis, De-Joker in the Madrid semis, R-Andy in the London final and Elena Dementieva in the London semis. That's four, out of hundreds of matches played this year.
On those occasions, if you went to F-VED, Nole, Andy and Elena and asked them, would you have rather played this well today and lost, or would you have much rather won playing a shade or two lower? Any guesses on their responses?
Their answer is the crux to your question.
Process is a crucial and an imperative part of the sport for continuous improvement. But it eventually is a subset of winning, as in it's the driving force of winning. And in those rare few instances when you play just as well as your opponent and lose, you would have preferred to have won anyway.
Winning isn't everything—it's the ONLY thing.
Cheers
For Nostalgia: Suzuka 2000 (great clip)
by J.A. Allen…
Finally the end of another agonizing year for the women's tour is upon us. As the eight top seeds in the women's game head off to Doha, the tournament will reveal once and for all who will end 2009 ranked numero uno.
Poetically, Dinara Safina surpasses Serena Williams to once again be ranked No. 1 as they enter the season-ending Sony Ericsson Championships that begin on Oct. 27 in Qatar. Safina is currently ranked five points behind Serena Williams.
As of Oct. 26, when the new rankings come out, the points from last year's championship will come off the totals. Safina has earned more points than any other player after winning titles in Rome, Madrid, and Portoroz, as well as reaching six finals. Therefore, she has earned the No. 1 seed.
Players earn points throughout the year, but only the top eight players are awarded entry into the Sony Ericsson Championship Tournament. For doubles, it is the top four teams that gain entry into the year-ending championship.
Who Is in?
No. 1 Dinara Safina 7,731 points
No. 2 Serena Williams 7,576 points
No. 3 Svetlana Kuznetsova 5,772 points
No. 4 Caroline Wozniacki 5,475 points
No. 5 Elena Dementieva 5,415 points
No. 6 Victoria Azarenka 4,451 points
No. 7 Venus Williams 4,391 points
No. 8 Jelena Jankovic 3,555 points
Jelena Jankovic just squeaked into the final eight this week when Vera Zvonareva lost to qualifier Tsvetana Pironkova in Moscow during the second round. The two were battling it out for the final eighth spot. Zvonareva blinked first and the feisty Serb is back in contention.
In 2008, Venus Williams won the tournament as the No. 7 seed, fighting for the championship against the No. 8 seed, Vera Zvonareva, 6-7, 6-0, 6-2. They both went through their respective round-robins undefeated.
What Will Happen in 2009?
At the year-end championships, the eight top players will be divided into two teams of four. Starting on Tuesday and going through Friday, the two groups play in a round-robin format, meaning each participant meets each player once in their group. The matches are all best of three sets.
The two players that have the best performance out of each group go on to the final phase. This takes place on Saturday and Sunday. In the semifinals, the first-placed woman from one group meets with the second-placed woman from the other, with the winners advancing to the final.
The doubles portion of the tournament is a straight win or lose affair. The winning team must move through the semifinals and finals with victories. There is no second chance in doubles. Teams qualifying: (1) Cara Black/Liezel Huber with 9100 points, (2) Serena Williams/Venus Williams with 6700 points, (3) Nuria Llagostera/Maria Martinez with 6396 points, and (4) Samantha Stosur/Rennae Stubbs with 5048 points.
Who Will Win This Year?
No. 1 Seed—Dinara Safina [55-15]
Dinara played well the first part of the year and her game excels on clay. On hard courts—nada! Dinara will not win the year-end championship and she will not be ranked No. 1 at the end of the season. You can take that to the bank.
No. 2 Seed—Serena Williams [45-12]
Just like every other tournament she enters, the Sony Ericsson Year-End Championships could be Serena's if she chooses. She needs, however, to be interested long enough to stay engaged on court.
One must wonder about the potential waste of such a great talent. Perhaps if she could blog or Twitter or pose on court, that would pique and sustain her attention. Even with that degree of reservation, Serena Williams might just win. She could end the season ranked No. 1 in spite of herself.
No. 3 Seed—Svetlana Kuznetsova [42-14]
What a thrill for Sveta to win the French Open this year. The only consistent thing about the talented Russian is her inconsistency. Like Serena, she has the talent and probably the resiliency for this format, but you just never know what game she will bring from day to day. I would not bet the farm on Kuznetsova winning this tournament.
No. 4 Seed —Caroline Wozniacki [65-21]
Her debut in Doha at the year-end championships will surely be a milestone of some importance in her young career. The event will be overwhelming, plus she enters the tournament with some niggling injuries that will not adjust well to the constant play required with this format.
Great experience for the future, but do not count on the beautiful, young, talented woman to win.
No. 5 Seed—Elena Dementieva [54-16]
You root for her and try to push her over the top, but Dementieva will not win a slam nor will she win this tournament—in spite of her ever improving serve and her determination.
She started out 2009 on a tear, winning in the early going before injuries stalled her progress. It is the big events—the slams—that seem inevitably to stop her dead in her tracks. It would be a great reward for her to win this championship, but the odds are that she will not find the right stuff.
No. 6 Seed—Victoria Azarenka [44-13]
Azarenka is a smart player with subtle tactics and the ability to move you around but without enough power to blow you off the court.
This is also her debut at the year-end championships and it will be enough for her to have made it into the final eight—although she will never give up trying to win. But she won't this year. Give her a year or two to tighten her offense.
No. 7 Seed—Venus Williams [36-13]
Last year as the No. 7 seed, Venus won this tournament going undefeated and it set her off on a splendid road in 2009 as she won her first 14 of 15 matches and ended up ranked No. 3 for most of the year.
She has not fared well of late, but seems rested and hopefully injury-free for the moment. Venus has proven she can do anything and she might just pull off winning this championship again.
No. 8 Seed—Jelena Jankovic [47-16]
All year, we have wondered what happened to the Serb's game. Something is largely missing—at least on offense. Her defensive skills are still first-rate, but she fails to capitalize on her serve and on her ability to move from defense to offense.
At one point, ranked No. 1 after Justine Henin left the game, Jankovic has failed to move forward. She is grateful to have made it into the top eight. Hopefully that will be enough to satisfy her because she will not win this tournament.
The victory chorus will be sung no doubt by one of the Williams sisters again—just as in any big event. It will be interesting to see if they win the doubles, too.
2010 offers new adventures as Kim Clijsters hits her stride while Henin's promised return beckons on the horizon. Maria Sharapova will find her service motion once again, and with all of these added factors, the women's game seems primed for the year ahead.
The year-end championships in Doha are not bringing down the curtain—rather, the tournament serves to usher in a new beginning…
by J.A. Allen…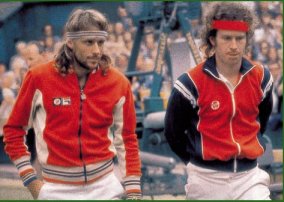 It was the best of times, tennis in the '80s, when the thrill of tense tiebreaks entered everyman's domicile, highlighted by exotic locales like Paris, Melbourne, London, and New York.
The decade also ushered in exciting yet exasperating players whose on-court conduct thrilled, engaged, and enraged fans across the globe.
The '80s energized the popularity base, taking tennis out of country clubs and landed estates into public parks and arenas. It became a sport, in contrast to an amenable pastime.
The arrival of tennis on the world stage and its subsequent impact during the '80s and beyond is the subject of this article series, inspired and conceived by Rajat Jain.
J.A. Allen will write about how the '80s immensely helped in the popularization of the game. Leroy Watson will follow by discussing how tennis has changed since the '80s, and Clarabella Bevis will conclude the series discussing the role of media during the era.
Setting the Stage
On the men's side of the game, after years of haggling over sponsorships and professional contracts the struggling players finally formed a union of their own that allowed them to be free agents.
At last players selected their own tournaments and guided their own destinies. Although there were some lingering entanglements, anxieties, and even resentments, male tennis players of the '80s could finally pour their energies into playing tennis, striving to win the Grand Slams and becoming world ranked No. 1!
Professional tennis for women does not have as extensive a history of controversy as the men's game provides, but it was equally as fractious during the Open era, finally resolving itself into the formation of the WTA in 1973.
The elimination of the division of labor between amateurs and professionals allowed the best men and women to play tennis at all of the big events. It opened the game wide up and participation soared to new heights in the '80s.
The bigger the names, the bigger the games, and even more to the point, the larger the demand—televised coverage of the Grand Slams became a staple. And not just the finals but extended coverage of matches leading up to the finals.
It was a perfect storm of exposure, enthusiasm, and artistry, because the '80s opened up the floodgates and just look at who came pouring through…
The Men
The No. 1-ranked men's player in 1980 was Bjorn Borg, who had been playing tennis since the age of 14. He was renowned for stunning good looks, long blond hair and mythical mystique. Borg alone brought hundreds of young men flocking to play the game because the Swede was a babe magnet, to use the '80s' vernacular, and they aspired to follow in his footsteps.
Borg was more physically fit than the tennis players of previous generations, and this factor was one of his main contributions to the men's game in the '80s and beyond.
Borg's main competitor was No. 2-ranked John McEnroe. Borg and McEnroe's tightly contested matches drew huge crowds, record-breaking numbers of television viewers, and an unending demand for more.
McEnroe's outrageous behavior, his serve, and his volley game laid waste to the staid and steady traditions of the past, blasted into orbit by McEnroe and his American contemporaries. The tennis world did not quite know how they felt about the red-faced, hot tempered—but extremely talented—American.
Borg won his fifth consecutive Wimbledon Championship in 1980 but lost the U.S. Open again. He won the French Open for the sixth time in 1981 but lost both Wimbledon and the U.S. Open.
Seemingly invincible, Borg burned bright then dimmed out completely in 1981, leaving the game shrouded in that same mystique that cloaked him throughout his career.
McEnroe reigned atop the tennis world in 1981, 1982, 1983, and 1984, holding the No. 1 ranking during each of these years. After Borg's departure, McEnroe's main competition came from the equally explosive and volatile Jimmy Connors, who had a dominating two-handed backhand, a blistering return of serve, and a willingness to die before giving in.
But there was a new brand of tennis being introduced and a new No. 1 being groomed—Ivan Lendl of Czechoslovakia. Lendl ushered in the era of power tennis that still survives today, utilizing heavy topspin and reliance on pure strength and accuracy—which is possible now with new racket technology.
His running forehand allowed him the choice of going down the line or cross-court. In that respect, his game was comparable to Borg, and like Borg, the Czech was physically fit. It took Lendl some time to grow into his game and achieve success, but once he won that first major by defeating the serve-and-volleyer John McEnroe at the French Open in 1984, Lendl never looked back.
Lendl was the No. 1 player in 1985, 1986, 1987, and 1989. His only interruption came at the hand of Mats Wilander, who knocked him off his perch temporarily in 1988.
Following in McEnroe's shoes were other serve-and-volleyers who generally made their mark at Wimbledon, a tournament Lendl could never win—nor any of the tournaments on hard courts. Serve-and-volley players never fared well on red clay.
Boris Becker won Wimbledon at age 17 in 1985 as an unseeded player with his Boom-Boom serve, net play, and heavy forehand. His reign at No. 1 was measured in weeks, as Becker always sat just behind Lendl in the rankings.
In addition to Becker, Swede Stefan Edberg was ranked No. 1 in the early '90s. Breaking into the top 10 in 1985, Edberg had the most beautiful-to-behold serve-and-volley game accelerated by an impeccable kick serve.
The roll call for serve-and-volley players who graced the grass in the '80s when their game reigned supreme extends to include Pat Cash and Henri Leconte. There were other gifted athletes like Yannick Noah, whose pure athleticism set them apart.
Basically, the '80s were divided ito baseliners—headed by Lendl and Wilander—and serve-and-volleyers, led early by McEnroe, and later by Becker and Edberg. The game was changing because of the equipment evolved, and players were becoming more physically fit, stronger, and more imposing.
On the horizon, the baseliners saw new Americans emerging—

Andre Agassi and Michael Chang. The '90s would see the emergence of perhaps the best serve-and-volley player of all time, Pete Sampras, who had been paying attention to the fortunes of players like Boris Becker and Stefan Edberg, and thought he would give their game a whirl…
The Ladies
The '80s, dominated by Chris Evert, Martina Navratilova, and Steffi Graf saw the rise of newcomer Monica Seles blow the lid off their carefully constructed game as the '90s rolled into view.
To equate them to their male counterparts: Chris Evert dominated on clay like Borg with a carefully crafted and extremely accurate game. She was rigorously fit and quietly determined with an iron will equal to ice-man Borg's on any given day.
Evert won 18 Grand Slam singles titles on all surfaces, but was most proficient on clay where she won a record 125 consecutive matches on the surface. One imagines that, had Borg extended his playing life, his record on clay might have equalled the "Ice Maiden's."
Martina Navratalova's rise equalled John McEnroe's with her prowess as a serve-and-volley player. Once Navratilova became fully fit and adopted a graphite racket, the former Czech player became perhaps the greatest player in the history of the game, man or woman.
Her battles with Evert were as monumental in their way as the Borg-McEnroe matches—except the ladies' matches went on for years. Navratilova dominated on grass, winning nine Grand Slam titles at Wimbledon.
Like McEnroe, Navratalova also had a superior doubles game and won 31 Grand Slam doubles titles. Navratalova was the No. 1-ranked player from 1982-1986.
Her reign at the top was interrupted when a 17-year-old German named Steffi Graf appeared on the scene. Much like Ivan Lendl's appearance, Graf's game focused on power, countering the effectiveness of the serve and volley play.
Graf had an amazing inside-out forehand that became her weapon of choice as well as tremendous foot-speed. Her serve, angles, and mental strength combined to make her one of the greatest athletes ever to play the game of tennis, winning 22 Grand Slam singles titles—the most of any man or woman except Margaret Court, who won 24.
As Graf rose to No. 1 in 1987, 1988, and 1989, Navratilova fell to No. 2. Graf remained the No. 1-ranked player for 377 weeks by the WTA, the longest of any player—man or woman—since tennis professionals began ranking players.
As the '80s began to fade, a new player from Yugoslavia named Monica Seles brought new firepower and aggression to the women's game. Change was becoming the order of the day.
On the men's side, along with Andre Agassi and Michael Chang, newcomers Jim Courier and Pete Sampras were beginning their new tennis careers aided by fantastic new technology and unlimited boundaries.
In the '80s, because of increased television coverage, new technology, exciting and controversial players, and unending opportunities, tennis exploded in popularity.
The era ended as serve-and-volley play began its inevitable death march and power tennis began to dominate…Stay tuned as Leroy discusses how tennis continued to change in the '90s and beyond.
by J.A. Allen… The Iceman Melts Away…
It was like being evicted from your neighborhood playground where you practiced ball all of your life, where you reigned as King of the Mountain, swatting down the little kids who scrabbled toward you to reach the top. That is what Bjorn Borg felt like after being dethroned during the trophy presentation at the conclusion of Wimbledon in 1981.
This new kid, this John McEnroe, was taking away his perch and making him feel ordinary. So what do you do when someone invades your kingdom and steals your crown? You storm his castle and try to take what belongs to him—tit for tat or an eye for an eye.
This, according to Lesley Visser of The Boston Globe (Sept. 1, 1981), caused Bjorn Borg to declare that winning the U.S. Open was his greatest passion—which he had been trying unsuccessfully to accomplish since he was 16 years of age.
At the time he uttered this fateful sentiment, Borg was 25 years of age and had been playing professional tennis for 11 years, since the age of 14.
Coming into the U.S. Open ranked No. 2, the rumor mills were buzzing. Many players whispered that Borg was finished, generally blaming his marriage. How typically male to always blame the woman for the man's downfall.
At this point in time, Borg and McEnroe had met 13 times, with Borg barely holding the edge at 7-6. Within those matches, however, Borg and McEnroe each had won 20 of the 40 sets played.
But it was in New York where the American out glowed the Swede. At the U.S. Open, McEnroe, 22 of 24, had only lost twice, while Borg stood at 34-9.
The Tournament
Borg took the first step in his Herculean task of winning his first U.S. Open in 1981 by playing and defeating Swiss Marcus Gunthardt. Borg followed that by defeating David Carter of Australia to reach the round of 16.
So far, so good on his noble quest to seek the one jewel not cemented onto his legendary crown.
Later edging his way into the quarterfinals, Borg took out Yannick Noah, 6-7, 6-4, 6-3, 6-3. Borg would next face big serving American slugger Roscoe Tanner. Tanner always gave Borg fits at the Open.
After quietly disposing of Tanner in the quarters, Borg readied himself to face another traditional foe in the form of Jimmy Connors. Connors overcame Eliot Teltscher to reach the semifinals.
The other semifinal would see John McEnroe square off against fellow American Vitas Gerulaitis. The New York crowd would love the matchups which featured three Americans out of four.
Inevitably, the dream match became reality and U.S. Open fans were delighted at the prospect of witnessing the two greatest tennis players on the planet face each other once again in another monumental showdown.
After being 0-9 would this finally be the year that Borg would conquer his demons and win the Open? That's the thing about demons, however, they cannot often be denied their devious intent.
Borg might have pulled it off if he did not have to face McEnroe, who had owned this tournament for the past two years, hoping to make it three championships in a row. McEnroe would become the first man since Bill Tilden in the 1920s to win three consecutive U.S. Open titles.
The Match
The inevitable match lacked something in the end. It lacked the fiery determination and calm demeanor of the coolest Swede ever to wield a tennis racket.
The traditionally confident Borg quickly faded from view as McEnroe established his superiority early in the match. The brash American had an answer for everything the Swede threw at him. It seemed McEnroe could even read Borg's mind.
In the first set, however, Borg delivered 72 percent of his first serves while McEnroe managed only 48 percent. Borg broke McEnroe at love in the seventh game and went on to take the opening set.
But after that sterling first set, Borg only managed 40 of 81 first serves—hardly the quality that was going to keep McEnroe at bay. Once Borg's serve began to fade, so did his resolve and he appeared strangely absent from the proceedings as the match wore on.
In the second, serving at 2-5, Borg doubled-faulted twice to lose the set. In fact, Borg tossed in seven double faults in the match.
McEnroe was playing the match of his life, well-behaved with his temper totally under control. But it was the breadth of his game, the total gamut of his shots that took the life and the legs out from under the Swede that was so astonishing in this contest.
Take the eighth game of the third set, for example. Borg had broken McEnroe's serve and led 3-2, holding his own serve to go up 4-2. McEnroe then held serve—taking the set to 4-3. Borg was serving to go up 5-3.
On a Borg second serve, McEnroe hit a deliberate backhand cross-court pass for a winner. Then Borg evened it to 15-15 when McEnroe hit a forehand wide. Borg decided to infuse aggression into his game to combat the McEnroe attack.
Borg hit the ball then rushed to the net. To counter, McEnroe tossed in a delicate forehand topspin lob and Borg was unable to get to it. It was now 15-30.
Borg moved in again after his serve and this time McEnroe blew it past him with a backhand cross court with immaculate touch. On break point, the American spun another lob over Borg's head.
Borg's features sagged a bit after being run ragged by McEnroe. The American held serve and then broke Borg in the 10th game to take the third set.
Finally, the inevitable pressure came to bear on the mighty Swede. Pressure that normally Borg exuded just standing on the other side of the net came down full force on the Swede who could not brush it aside or retaliate.
The left-handed McEnroe with his high-kicking serve pierced the Borg reserves and left him defenseless against an unending assault.
As Borg's spirits sank, McEnroe's soared, sensing he could do nothing wrong—he was in the zone. Borg never totally arrived in the fourth set, although he remained alive long enough to break back once.
Essentially the match was finished once the eighth game in the third set was over. That game broke Borg's spirit and his faith in his ability to win. Once confidence is lacking and you begin second guessing yourself, you can kiss victory goodbye 99 percent of the time.
In the end, McEnroe won the 1981 U.S. Open, 4-6, 6-2, 6-4, 6-3.
Then things got really bizarre.
The End…
Borg left the court and did not return. McEnroe was hugging his parents and accepting the polite applause of the New York crowd who really pulled for Borg to win this one.
They had nothing against the American, but they wanted Borg to have the U.S. Open as part of his resume.
For Borg, he just wanted out—out of Flushing Meadows, out of Queens, out of New York, out the the U.S., and, although he did not realize it at the moment, out of tennis for good.
The idea of accepting that little runner-up trophy and standing around while McEnroe pranced for the television audience and the crowd was too much for Borg to witness, let alone be part of—as the main residue of the ceremony.
Borg showered quickly and sneaked out the kitchen with the press following in hot pursuit. The enigmatic, tight-lipped Swede said nothing—just faded out of sight in the back of a Volvo station wagon.
There was talk of death threats and Queen's Task Force operatives as escorts.
But the real tragedy of this final was the death of Borg's illustrious tennis career. With 11 majors, including six French Open championships and five Wimbledon titles, Borg was finished.
He had nothing left to give. His confidence was gone, as was his will to change and work harder.
He was the fittest man on tour, but he could read the writing on the wall as newcomers like McEnroe and Ivan Lendl began to better and best him on the court.
All of your life you have been taught how to win. What do you do after you have been beaten and know you will never be the best again?
For Bjorn Borg, the answer was obvious. You leave the game and try something else.
Tennis was never quite the same without the Swede…believe me…