by English Paul…

Another day and yet another story linking the Buffalo Bills with a move to a new city. This time, the rumour mill has them relocating to Los Angeles.
John Semcken, managing partner of Majestic Reality Co. and the developer behind a potential new stadium in Los Angeles, has stated that Buffalo and Jacksonville are his prime candidates.
"Jacksonville and Buffalo are two teams in very, very small markets," he told the Associated Press.
Personally, I do not see the Los Angeles scenario coming to fruition. Apart from the fact that this news is coming out of California rather than Buffalo, no stadium has actually been built yet.
Also, any potential new owner would have to meet all of the numerous strict relocation rules in place before any move could be considered. There is a lot of work to be done before it gets anywhere close to this stage.
Add to this the fact that Jacksonville is in a much worse position than Buffalo and this story is a non-starter.
Having said that, Buffalo's residents must be sick of these constant rumours surrounding their beloved franchise. They already have enough on their plate worrying about where the Toronto experiment may eventually lead.
However—and this is easy for an outsider to say—maybe the people of Western New York do not need to worry so much. That's because Buffalo has the backing of only the most powerful man in the NFL: Commissioner Roger Goodell.
Goodell was more than happy to approve the deal for Buffalo to play eight games over the course of five years in Toronto. However, this decision was not made with the intention of eventually moving the team north of the border full-time.
Instead, Goodell felt that having annual games played in Southern Ontario would mean enough additional revenue to help the team stay in Buffalo long-term.
"I think their step to Toronto has helped strengthen that," Goodell said, according to the AP. "And I see the Buffalo Bills being in Western New York for a long time."
For anyone still not convinced that Goodell has any real interest in keeping the Bills in Buffalo, it is worth noting that he was born in nearby Jamestown, and spent his early years growing up in the area.
Of course there are no guarantees in life and no one knows for sure what will happen when Ralph Wilson passes on. However, with the commissioner on board, you can be assured that he will do everything within his power to keep the team in its rightful place.
By English Paul…
According to various reports, Brian Billick is the latest big name to be linked with the head coaching job in Buffalo.
However, unlike Mike Shanahan and Bill Cowher, there appears to be a possibility that Billick is seriously considering the role, which is good news for any Bills fan. This is because, if history is any indication, once the former Super Bowl-winning coach sets his mind to something, it's as good as done.
This mentality can be traced all the way back to the Ohio native's college days when, after spending his freshman year at the United States Air Force Academy, Billick transferred to BYU.
It turns out that he made this decision after learning that his height and weight stopped him from ever becoming a fighter pilot (something which he didn't find out until after he had enrolled).
Another example of Billick's focused approach came when he made the decision to become a head coach in the NFL. He was considered "hot property" at the time and was apparently the top candidate for the Cleveland Browns job.
Billick was offered an interview but decided to meet with the Baltimore Ravens first. Within 24 hours of his initial interview, he had signed up for the job. Once again, Billick had made a firm decision.
One other interesting facet to Billick's make-up is his adaptability. While with the Minnesota Vikings, he forged a reputation as an offensive genius. His crowning achievement was the 1998 season, when the Vikings set a then-NFL record for most points in a season (556).
However, once Billick was installed as the Ravens' top man, he adapted his philosophy to suit the personnel on the team. Only two seasons after setting the offensive mark, he did the same with the defense, which allowed an NFL record 16-game low of 165 points.
Unfairly, critics state that anyone could have had a productive offense or defense when you have the likes of Randy Moss and Ray Lewis to work with. But this just proves the ignorance of people.
During the 1998 season with the Vikings, there is no doubting that Randy Moss had a spectacular rookie campaign. However, this would not have been possible without the rebirth of quarterback Randall Cunningham.
Earlier in his career, Cunningham was better known for his scrambling abilities. However, under the guidance of Billick, the former Philadelphia Eagle developed into a pocket passer and enjoyed the most productive season of his career.
Likewise, Ray Lewis and the Ravens defense had ranked no higher than 22nd before Billick's arrival. Suddenly in 1999, Baltimore jumped all the way up to second, which was surely no coincidence. Billick can flat-out coach.
Apparently, Billick is currently putting a coaching staff together. If this is true, it shows that once again Billick has his mind set on something and will do everything within his power to make it happen.
The only question is whether this vision includes the Buffalo Bills.
By English Paul…

As the CFL enters the final stretch of the regular season, the West Division has once again provided the most interest in what has been a particularly exciting year.
In 2008, all four Western teams went to the playoffs, with one of the teams taking away a spot from the East via the crossover. However, as we approach crunch time, people have gone from thinking all four teams will make the playoffs again to the possibility that the club who took the crossover place will miss out altogether: The Edmonton Eskimos.
You have to forgive Eskimo fans if they can subconsciously hear Tom Petty's 'free-falling', playing in the background. The green and gold has been at or near the top of the division for the majority of 2009.
Unfortunately, they picked the worst possible time to go into a major funk, losing three straight to fall to the bottom of the standings with a 6-8 record. Edmonton now have as many losses as all of last year and currently find themselves in a three-way tie with Hamilton and Winnipeg for the last two-playoff spots.
This loss of form has been very puzzling, especially given the talent-level on the team; Ricky Ray, Arkee Whitlock, Fred Stamps, Maurice Mann, Maurice Lloyd, Jason Goss, Byron Parker and so on. The potential is there for everyone to see, as was perfectly illustrated in Edmonton's comprehensive 33-19 win against the best team in the league, Montreal, earlier in the season.
So what's gone wrong? Despite having one of the most explosive offensive attacks in the game, there's no hiding the fact that Edmonton are dead last in defence in terms of yards, points, touchdowns and first downs conceded. The pass-defence has been especially awful, not a good sign when you have to deal with the pass-happy attacks of the CFL.
What is especially surprising about this is that Richie Hall was hired as head coach, in part because of his credentials on the defensive side of the ball. In his eight years as defensive co-ordinator of Saskatchewan, the Rough Riders defence was normally one of the more dominating units in the league.
If you want to sum up the current disarray of this Eskimos' team, look no further than last week's home defeat to the B.C. Lions. No matter how good Geroy Simon is, there is no way that you should be giving up a 62-yard touchdown play in the last 12 seconds of a game.
Edmonton knew that B.C. had to throw the ball; Edmonton knew that B.C needed a touchdown as they were down by four; and yet they still allowed the score. Unforgivable.
Forget the fact that the two defenders collided with each other to give Simon his path to the endzone, we've all seen that type of thing happen before. The issue is how deep the Eskimo defenders were, or in this case, weren't. Simon had a step on both players because they weren't deep enough, but Hill knows better than anyone one of the golden rules of playing against 'Hail Mary' passes. However far you think the quarterback can throw the ball, get your safeties to retreat the necessary distance and then make them go back another twenty yards.
Another reason for the defensive problems is the fact that the team began 2009 with eight new starters. Injuries have since increased this number to eleven, making it difficult for the players to attain some continuity and rapport with each other.
So how's it going to turn out for the 'city of champions'? It's too soon to write Edmonton off, despite the current run of defeats, especially when you look at their remaining opponents.
Two of the games are a home and away split with the worst team in the league, the Toronto Argonauts. As much as it pains me to say this, you can chalk them up as two wins right away.
The other two games are away at Calgary and B.C. The match-up with the Stampeders will most probably result in a defeat. The last time the Eskimos played at McMahon Stadium, it wasn't even close, as they were dismantled 32-8.
With a possible record of 8-9, the chances are that it would come down to the final weekend and the game in Vancouver against the Lions. B.C. surprisingly won 40-22 at Commonwealth Stadium when these two teams last played way back in week two.
However, with a playoff spot potentially on the line, I can't believe Edmonton would not be up for the game, especially with a quarterback seasoned in playing important, pressure-packed games. As long as the offence plays to it's usual standard and the defence can show at least some improvement in the final four games, the franchise will be ok.
Lets put it this way I refuse to believe that the Eskimos will be beaten to a playoff spot by the Winnipeg Blue Bombers!
Week 16 Picks.
(The home teams are in capitals.)
Edmonton over TORONTO (Edmonton favoured by 4)
CALGARY over Saskatchewan (Calgary favoured by 3.5)
MONTREAL over Hamilton (Montreal favoured by 12.5)
B.C. Lions over WINNIPEG (Winnipeg favoured by 1)
Paul Taylor can be contacted at:
Jamal Robertson, Willie Pile, Rob Murphy, Dominique Dorsey, Adriano Belli, just some of the big names on Toronto's roster.
Do you want some more? Jonathan Brown, Zeke Moreno, Justin Medlock, Dominic Picard, P.K. Sam, the list goes on.
How does a team packed with this type of talent find themselves with the worst record in the entire CFL? The answer is a simple one: Head Coach Bart Andrus.
Of course, it's too easy to just point the finger at Andrus as the majority of people have. It's only fair to delve a little deeper into this issue and see how exactly Andrus is to blame for the mess the Double-Blue currently find themselves in.
The Arland Bruce III saga
The loss of Arland Bruce III for Toronto cannot be underestimated. Without one of the league's best playmakers, the Argonauts have struggled to move the ball all season, no matter who has been behind centre.
In some respects, Andrus had no choice but to get rid of the disgruntled receiver. Bruce's behaviour became more and more detrimental to the team with every passing day. Benched for disciplinary reasons, publicly criticising his head coach and starting quarterback, told to stay away from the team and so on.
However, if you look at this objectively, if Bruce was that much of a cancer, why had he managed to 'survive' the previous five years in Toronto? This is not to say that there hadn't been the odd problem with the enigmatic wide receiver, but nothing to this extent.
Bruce, a popular person in the Argonauts locker-room, alluded to the fact that other players have also expressed problems with the way Andrus runs the ship. Until recently, no one else had stepped forward to rip the head mans coaching style, but you only have to look at the product on the field to come to your own conclusions on this issue.
Bart Andrus: the offensive 'genius'
Handicapped by the loss of their number one wide receiver, Toronto has struggled through the air all year, ranking second last, just ahead of Winnipeg. Overall, the team has averaged under 300-yards a game, unforgivable in a league which is renowned for it's explosive offensive football.
When you consider that Bart Andrus was brought in for his offensive mind, this is very concerning. For anyone saying that he is limited by the talent-level on offence, this is once more another reason why the Argonauts should have tried harder to resolve the Bruce issue.
Another baffling and frustrating issue has been Andrus's stubborn refusal to use the running game more. Robertson has proved to be one of the more effective rushers in the league and can be very productive, when given the opportunity.
I appreciate that the CFL is a passing league, but if the team is not moving the ball consistently through the air and has a runner capable of churning out the yards, give him the rock.
The starting quarterback
Talking of the CFL being a passing league, the quarterback situation has been a nightmare in 2009. Since Bruce was traded away to the Hamilton Tiger-Cats, the team has only managed to win one game.
Kerry Joseph, the very player who Bruce said needed to get his act together, was replaced in the line-up by Cody Pickett, hardly a world-beater. Now, despite Andrus stating that Pickett is still the main man he has been replaced by Joseph in the last couple of games.
There is no doubting that Joseph was struggling in the early games, but surely the production of the offence in general throughout this year shows you cannot put all of the blame on his shoulder. Again, this is a worrying sign when you consider Andrus's offensive reputation.
It appears obvious that the offensive scheme does not suit the personnel on the roster. Surely it is up to the head coach to revamp the system and try to get more out of the players at his disposal. Least we forget Joseph was the MOP of the CFL in 2007.
Interestingly, it's also worth noting that Joseph, renowned as a team guy, has now stepped forward to criticise Andrus's decision to not yet name his starting quarterback for this week's game.
Another CFL All-Star traded away
Another sign that all is not well in Argoland was the recent move to trade cornerback Byron Parker to the Edmonton Eskimos. Parker was unhappy about the amount of playing time, or lack thereof that he had received since rejoining the team four weeks ago.
Here is a guy who had played four seasons previously for the Argonauts, nabbing 18 interceptions and making 101 tackles.
Now you could understand if it was just a matter of the cornerback struggling to break into a secondary, which had helped the Argonauts to the second-ranked defence in the entire CFL. However, this was not the case.
Interestingly, Andrus declared that Parker would see more playing time once he was familiar with the system. And yet, the two-time all-star contradicted this statement, advising that the scheme was not that hard to pick up, comparing it to a Pop Warner football level.
So once again, a productive player who had been perfectly happy with the organisation in previous years', suddenly had a change in attitude and another all-star is shipped out. Coincidence, I think not. Clearly, Andrus has not coped well with the change from the NFL scene.
Discipline…or lack thereof
Andrus promised that he would run a tight ship and discipline would be of the highest order. This in part explained his reasoning behind getting rid of Bruce.
However, this so-called strict approach does not appear to be working. The Argonauts have been penalised more times than anyone else, for the second most yards.
Nowhere was this lack of discipline more evident than the recent 29-24 loss in Winnipeg. In a game, which featured several scuffles, the worst incident occurred during the fourth quarter. A turnover by Toronto turned into mayhem as players shoved and fought with each other, ending in four players being ejected.
Overall, 12 players were fined by the CFL, including seven Argonauts. If the team on the field is a reflection of the head coach's work off it, then this incident pretty much sums up Andrus's reign in Toronto.
Conclusion
It's not in anyone's interest to sack Andrus at this late stage of the year. Any change at this point will just cause more unnecessary upheaval.
However, the organisation needs to make some big changes in the off-season to turn this team around and bring it back up to where it belongs. Two successive disastrous seasons is unacceptable for a team with a proud tradition, including the most Grey Cup victories in CFL history.
An Apology
Unrelated to the above, but I need to apologise for not entering my picks for week `4. Circumstances beyond my control meant I physically did not have the time to put it together.
In any event, here are my picks for the week 15 games. The home teams are in capitals.
EDMONTON over B.C. Lions (Edmonton favoured by 4)
SASKATCHEWAN over Toronto (Saskatchewan favoured by 10.5)
Calgary over MONTREAL (Montreal favoured by 6.5)
HAMILTON over Winnipeg (Hamilton favoured by 6.5)
By English Paul…

Record: 25-19
Another week and another slate of tight, hard fought games. Even the Winnipeg at Montreal match-up was close…until the second quarter.
Calgary's loss in Hamilton made we realise once and for all, there's no way of knowing who is going to end up winning this year's Grey Cup. Every time a team appears to be standing out as champions elect, they lose a game they (theoretically) should win and vice versa.
As long as the eight clubs continue to produce this standard of product on the field, 2009 will go down as one of the most memorable and exciting seasons in CFL history.
Before we look ahead to the week thirteen action congratulations to head coach Wally Buono on securing win number 232, the most in CFL history. Anyone questioning Buono's credentials need look no further than the coaching job he has done this year, keeping a team minus several key players (some of who left in the off-season and others injured this year) competitive.
The other big news of the week also involves B.C. No one envisioned them bringing back their old quarterback, Casey Printers.
Despite being the 2005 most outstanding player when he was last with the Lions, this is a surprising turn of events, given the circumstances surrounding Printers departure from the team. The ex-Hamilton player was previously regarded as selfish and disruptive by people within the organisation.
Printers has been signed to a practice roster contract, but stay tuned for any further developments. Current starter Buck Pierce has a history of being injury-prone and Jarious Jackson is out for up to five weeks,
Okay, lets preview the games.
All times eastern
Montreal Alouettes (9-2) at Hamilton Tiger Cats (6-5)
Friday, 7:00pm kick off. Montreal favoured by 4 points
Hamilton is tough to beat at Ivor Wynne Stadium, as evidenced by their home victories against the two best teams in the Western Division, Edmonton and Calgary.
Now we get to see if they can deal with the threat of the top team in the East. Actually, if there's ever a good time to play Montreal this season, it's now.
The Alouettes are still the best team in the CFL, but they have not been nearly as dominant as they were earlier in the season. Having said that, it's tough to keep up the intensity they showed earlier this year for an entire 18-game schedule.
But then all I need to do is look at the statistics and we see a team, which is number one in yardage gained and given up, points conceded and only one point behind Calgary for points scored. Of course there is more to this game than stats and figures, but it makes for some impressive reading.
If it's possible, Hamilton suddenly looks even stronger at the quarterback position. As well as Quinton Porter and Kevin Glenn, even Adam Trafalis came into the game last week and look impressive. In fact, Trafalis was directly responsible for the winning points in Hamilton's 24-17 victory over Calgary.
This is the game of the week for me. It's tough to decide which team will ultimately emerge victorious. However, I'm going to go with Montreal. You have been warned Alouette fans.
B.C. Lions (5-6) at Calgary Stampeders (6-5)
Friday, 10:00pm kick off. Calgary favoured by 8 points
Just when Calgary looked like they were slipping back into last year's Grey Cup winning form, they lose at Hamilton. Admittedly, the Tiger Cats are much improved in 2009, but any team with aspirations of winning the big game has to step it up at this time of year.
Luckily for the Stampeders, they now get to play at home in a key match-up. This will be a surprisingly tough game for the home team and they'll need all the help they can get.
Henry Burriss easily had his worst game of the season, which was especially shocking, considering his play of late. However, Burriss wasn't helped by the numerous mental lapses on offence. It will be interesting to see how the offensive line copes with a defence, which has almost come out of nowhere to lead the league in sacks.
B.C. has been up and down this season, and yet, they are only one win from the top of the West Division. Upon closer inspection, the Lions have improved considerably of late, going 4-2 in their last six games, including two impressive performances against Montreal.
Pierce replaced the injured Jackson for the 23-17 win against Toronto and performed well enough. However, the chances are he will have to rely on the running of Martell Mallett to keep the momentum going for the Lions offence.
This is an important game for both teams. When push comes to shove, Calgary will show their true mettle, leaving B.C. two wins off the pace and more worryingly, only one game ahead of the winner of the Toronto versus Winnipeg fixture.
Saskatchewan Roughriders (6-5) at Edmonton Eskimos (6-5)
Saturday, 6:00pm kick off. Edmonton favoured by 3.5 points
Saskatchewan gets an immediate chance to seek revenge against Edmonton. The Roughriders did well to recover from a 21-10 halftime deficit and were leading 27-24 with little over a minute to play.
Then, Ricky Ray and company did what they do so well, scorching the home team for a 68-yard touchdown play, with only 69 seconds remaining. That Maurice Mann was able to get behind the Roughrider secondary so late in the game was unforgivable.
To be fair though, on the whole Edmonton was the better team. Ray was unbelievable, especially in the first half, when he completed all 16 of his passes. And their dominance looked set to continue in the second half, driving to increase on the 21-10 advantage, when the ball was fumbled away and returned a CFL record 108 yards by Omarr Morgan, for a touchdown.
Edmonton has won both games against Saskatchewan so far in 2009, tellingly both on the road. Darian Durant has continued to impress with his development this year, but the defence has taken a step back from recent seasons, despite showing signs of life before this last game.
In short, I cannot see the Eskimos losing at home. They have a hex hanging over the Roughriders and it will continue after this weekend.
Toronto Argonauts (3-8) at Winnipeg Blue Bombers (3-8)
Sunday, 9:00pm kick off. Winnipeg favoured by 1 point
I think we can safely say that this is the least attractive match-up of the weekend, between the two teams with the worst records in the CFL. If either team is to make a final push for an unlikely playoff spot, then this is the best place to start.
As such, this is a pressure game for both teams, even if it ultimately just decides who finishes with the worst record at the end of the 2009 season.
Winnipeg has been in freefall since scoring a shock 37-10 win in Vancouver. The Blue Bombers have lost three straight, with an average score-line of 13-39.
After initially providing a lift for the team, Michael Bishop has failed to deliver recently, with Winnipeg having the worst passing game in the league by far.
Bishop hasn't been helped by the decreased production of the running game. The rushing attack still leads the CFL, but the average yardage per game has dipped considerably over the past month.
Talking of running games, Toronto currently sports the worst one in the entire league. However, this is partly because Bart Andrus and company do not utilise it enough. Heading into week thirteen, the Argonauts have rushed the ball fewer times than everyone else.
The defence is still playing hard, ranking second in the league in terms of yards conceded. The return of Byron Parker has been a welcome addition.
Despite playing on the road and being slight underdogs, Toronto have played better than Winnipeg of late and as such, I pick them to win. And just to reiterate, I am now purely making Toronto predictions with my head.
Paul Taylor can be contacted at:
Record: 23-17
Wouldn't you know it, a week after deciding to give up on the Argonauts, they stop me from going a perfect 4-0 by defeating Hamilton. No matter that it took overtime to complete the task, a win is a win so congratulations to them.
Overall, it was an exciting weekend for CFL action, with every game going down to the wire, except for Saskatchewan versus Winnipeg. With eight games remaining, bets are being on who will finish with less wins, the Blue Bombers or the Argonauts.
A couple of things to keep in mind when deciding which team to pick; first, Winnipeg head coach Mike Kelly has been given the dreaded vote of confidence by team president Lyle Bauer. Second, all-purpose threat Dominique Dorsey has resigned with Toronto. His return will provide an immediate boost to the struggling team.
Let's look ahead to this week's games.
All times eastern
Calgary Stampeders (6-4) at Hamilton Tiger Cats (5-5)
Friday, 7:30pm kick off. Calgary favoured by 4.5 points
This is the game of the week between one team on the rise and another edging back towards their championship form of last season.
Calgary looks back on track after winning two straight games against archrivals Edmonton. Last weeks victory was hard earned and yet fortunate at the same time, trailing by twenty points heading into the final quarter.
Henry Burriss overcame three picks to end up with nearly 400 yards through the air and three touchdown passes'. His play was impressive, given that there was virtually no support from the running game. Overall though, Calgary's offence is now clicking into place, leading the league in points scored and yards gained.
The defence also put in a decent effort against Edmonton, despite allowing 34 points. To hold an explosive passer like Ricky Ray to 185 passing yards is no mean feat.
Hamilton can consider themselves unlucky after losing a tight one in Toronto, 25-22 in overtime. Nick Setta's extra point block in the first half ended up costing the Tiger Cats.
Kevin Glenn continues to look solid, sending the game to overtime with a spectacular 18 yard run at the end of the fourth period. Bear in mind though that Quinton Porter is now recovered and will press for playing time.
This should be a tight game. Both teams have balanced offences', which should be able to move the ball. Hamilton is headed in the right direction, but Calgary will get the win as they look to build momentum in the defence of their Grey Cup championship.
Toronto Argonauts (3-7) at B.C. Lions (4-6)
Saturday, 10:00pm kick off. B.C. Lions favoured by 7.5 points
Now that Toronto has got the monkey off their back, they go in search of a two-game winning streak. A trip to a 4-6 ball-club appears, on the surface at least, to be an excellent opportunity to get that second-straight victory.
However, this B.C. Lions team is much improved from their early season woes. Look no further than the last two weeks against the best team in the league, Montreal. B.C. won the first one at home and were unlucky to lose the return game.
Toronto will be boosted by last week's game, with Cody Pickett securing his first CFL win and head coach Bart Andrus gaining his first home win. Andrus finally saw reason and gave the running game a chance, with Jamal Robertson gaining 117 yards on the ground. Surely it's no coincidence that the Argonauts at last won a game after losing five straight.
The Lions offence is playing with more confidence with Jaruis Jackson looking comfortable behind centre and balanced support being provided by Martell Mallett in the backfield. The key to their future though lies in the play of the defence, which has been, too this point, erratic.
Armed with the recent additions of Byron Parker and Dominique Dorsey, Toronto will be full of optimism. The Argonauts will also point to the Lions recent collapse at home to the Blue Bombers as evidence that they can win this game. Ultimately though, B.C. will emerge victorious.
Winnipeg Blue Bombers (3-7) at Montreal Alouettes (8-2)
Sunday, 1:00pm kick off. Montreal favoured by 14 points
Winnipeg tries to recover from their shocking 55-10 defeat last week with a trip to Montreal. Fans will be concerned about what the future holds for this team. The offence is anemic at best and the defence is beginning to struggle as it suffers under the weight of trying to keep the team in games.
This appears to be the easiest game of the week to predict with Winnipeg coming off a demoralising blow out loss, despite playing at home. So it stands to reason that Montreal should have no problem disposing of the Blue Bombers.
Winnipeg may like their chances, factoring in that Montreal had more trouble than expected against the B.C. Lions last week. They shouldn't. The Alouettes will win this game with something to spare.
Edmonton Eskimos (5-5) at Saskatchewan Roughriders (6-4)
Sunday, 4:00pm kick off. Saskatchewan favoured by 3.5 points
Fresh off their demoralising defeat at Commonwealth Stadium, Edmonton travels to Saskatchewan, looking to bounce back from their current two-game losing streak. The main concern will be the play of their pass defence, which has been shredded apart in recent weeks.
The Roughriders defence has begun to look more like the one from recent seasons. Admittedly, shutting down the Winnipeg air attack is done with great regularity by most teams. However, the way they controlled the Blue Bombers number one rated rushing game was extraordinary. Overall, they are now ranked second in the league, only giving up 8 more yards per game than Montreal.
Saskatchewan will be up for this one, with memories of their collapse the last time these two teams clashed still fresh in the mind. The Roughriders somehow surrendered a 22-0 lead and ended up losing 38-33. In the process, the result also ruined the home teams celebration of their 1989 Grey Cup championship.
Look for Saskatchewan to get revenge on Edmonton and come out with a close-fought victory.
Paul Taylor can be contacted at:
By English Paul…
The Bills missed out on a golden opportunity to prove all the pre-season doubters wrong, giving up an 11-point lead inside the last three minutes of their season-opener against the Patriots. Tom Brady, returning from a knee injury, finished the comeback with only 0:50 remaining in the game, throwing his second touchdown pass to tight-end Ben Watson.
For Bills fans, the loss brought back memories of a similar meltdown in a 2007 Monday night showdown against the Dallas Cowboys. Amazingly, that game also finished 25-24, with Buffalo losing on a Nick Folk 53-yard field goal as time expired, after giving up another 11-point fourth quarter lead.
The turning point of this Monday night encounter came after New England had closed to within 5 points on Brady's first touchdown pass to Watson. Leodis McKelvin decided to return the ensuing kick-off out of the end zone, fumbling the ball away into the welcoming arms of New England's kicker, Stephen Gostkowski and setting up the winning drive.
Despite starting three players who had never played a down in the NFL, the offensive line held their own throughout the game. Quarterback Trent Edwards looked composed, calmly directing the no-huddle offense and completing 60 percent of his passes for 212 yards and two touchdowns.
Terrell Owens did not have the desired impact, catching just two passes for 46 yards. In fact, together with Lee Evans (3 catches for 25 yards), the Bills receivers were kept quiet most of the night by the Patriots defense.
After New England missed an early opportunity to take the lead, with Gostkowski missing a 41-yard field goal attempt, Buffalo responded immediately. Moving down the field in eight plays, the drive finished with Shawn Nelson diving into the end zone to give the Bills a 7-0 lead, after a play-action pass from Edwards
The Bills defense was also impressive, especially given how much time they spent on the field. The 441 yards allowed was not a fair reflection of the effort put forward.
Aaron Schobel provided the defensive highlight of the night, somehow managing to pluck a Brady pass out of the air for a stunning 26-yard interception return and a 14-7 lead. The play swung the momentum back in Buffalo's favour after they had allowed New England to tie the game at seven on Fred Taylor's one-yard run.
Behind the revamped Bills offensive line, Fred Jackson had an excellent night, finishing with 140 total yards and what appeared to be the game-clinching 10-yard touchdown reception with 6:11 left in the fourth quarter. Unfortunately, fate and McKelvin had other ideas.
Asked after the game about his decision to bring the ball out of the end zone, McKelvin remained defiant. "I'd do the same thing 100 times again. I thought the momentum might have taken me in the end zone, but I wasn't sure. So I had to take it out."
Bills coach Dick Jauron was unsurprisingly devastated after the way the game ended. "That group of guys got out there and fought for sixty minutes. It tears my heart out that that's the way the game ends."
Jauron went on to say, "You've got to finish games in this league particularly against teams as talented as this team is with the experience they have. You've got to tip your hat off to them, but just an awful feeling in that locker room."
Bills safety Donte Whitner summed up the feeling for the Bills, openly crying in front of his locker. "It's tough man. We played really, really hard. We came up short. I want to shut everybody up that thinks we're not a good football team and we had the opportunities and we let it go."
Buffalo now returns to Ralph Wilson stadium for their home opener, hoping to get the campaign back on track against the Tampa Bay Buccaneers.
Paul Taylor can be contacted at:
Record: 20-16
With my mini-rant from yesterdays article firmly in the rear-view mirror, we can finally look ahead to week eleven's games.
All times eastern
Hamilton Tiger-Cats (5-4) at Toronto Argonauts (2-7)
Friday, 7:00pm kick off. Hamilton favoured by 1 point
It was good to see that Hamilton fan's finally realised their team is for real, as evidenced by the 30,293 sell-out at Ivor Wynne Stadium, the first since 2005. Obviously, a visit by their archrivals helped.
After the first quarter, it was all Ticats, despite the lack of a running game. Kevin Glenn continues to produce at quarterback, meaning there is no need to rush Quinton Porter back from his injury. In turn, this gives head coach Marcel Bellefeuille more time to make a decision on who to pick as his starter.
Former Argo Arland Bruce III was also happy, after contributing 6 catches for 115 yards in the rout. The only disappointment was that he did not score a touchdown, meaning we didn't get to see how he would have celebrated.
The play of the defence was equally impressive, holding the Argonauts to 258 total yards while forcing five turnovers and three sacks'. If anything, the 34-15 final score didn't truly reflect the extent of Hamilton's dominance.
The discipline, which Bart Andrus said he would bring to the double blue, continues to be lacking, as evidenced by the 17 penalties for 153 yards. This is a team in disarray and the head coach is losing control.
Toronto has the tools in place on defence to compete, but they appear to have few playmakers on offence, especially after the loss of Bruce to Hamilton. The one player who does come to mind is running back Jamal Robertson, who quite simply is not being used enough.
Yes, I know I'm sounding like a broken record, but the facts speak for themselves. Toronto actually started off the game focusing on utilising Robertson, and it worked as they took the lead on their second drive of the game.
However, Andrus then started to look elsewhere and the game began to get away from them. Cody Pickett was under constant pressure all day and he continually threw short passes due to a lack of any open targets downfield.
On the plus side, some good news may be coming Toronto's way in the form of Dominique Dorsey. The explosive special team's playmaker has been released by the Washington Redskins and if no other NFL team makes a move, expect to see him back in an Argonaut's uniform.
Unfortunately, the potential signing will not come soon enough for this Friday's rematch at the Rogers Centre. I actually expect Toronto to put up a better effort, but it will not be enough to stop Hamilton leaving town with the victory.
Calgary Stampeders (5-4) at Edmonton Eskimos (5-4)
Friday, 10:00pm kick off. Calgary favoured by 2 points
Calgary received a double boost this past week. Firstly, the city sold out this year's Grey Cup in record down, 12 weeks before the big game.
More importantly for the team's immediate future though, they managed to secure a much needed, well deserved, 32-8 victory over their arch rivals, squaring up the season series at 1-1. The defence was outstanding, holding one of the best offences in the league to two points until the game was out of reach.
My feeling is that it will be one of these two teams, which ends up winning the West Division. As such, this next game is vital. Edmonton will be glad to be back at home as they look for revenge. However, Calgary has a score to settle themselves.
The last time they were in Commonwealth Stadium, the Stampeders were less than a minute away from an impressive road win. Ultimately though, Ricky Ray drove the Eskimos down the field to steal victory with only 9 seconds remaining. Don't forget that Henry Burris also torched the Edmonton secondary for 479 yards through the air.
Without doubt, this will be the game of the week. I fully expect a close-fought battle, similar to the first meeting between these two teams. Edmonton is always strong at home, but the one team that is capable of matching them on a consistent basis is the reigning Grey Cup champions. It's a tough one, but I'm picking Calgary to land the body blow and leave town with a victory.
B.C. Lions (4-5) at Montreal Alouettes (7-2)
Sunday, 1:00pm kick off. Montreal favoured by 10 points
Just like that, the B.C. Lions are back in the race for a playoff spot. After the previous weeks 37-10 annihilation by Winnipeg, no one picked them to beat Montreal. And yet, they won 19-12, providing us with more evidence of the unpredictable nature of this season.
And with Calgary's victory over Edmonton, the Lions now find themselves only win off the pace in the West Division. The question is can they do it again in Montreal?
If Vancouver's finest are to repeat their surprise success, they will need a similar outing from Martell Mallett. The running back had a franchise record 213 yards on the ground. He proved to be a perfect compliment to the passing game, which produced 217 yards through the air and managed to avoid interceptions.
Montreal will be itching for the rematch after losing the game in Vancouver in controversial fashion. Head coach Marc Trestman showed impressive restraint after the game, advising he would leave it to the league to explain what happened. Equally as puzzling as the way the game ended, the Alouettes still have not won in Vancouver since 2000.
At least Montreal will get an immediate chance to provide a response. The offence was able to move the ball last weekend; they just need to do a better job of finishing off drives' once they get into scoring territory. They will.
And the league's number one rated defence should also bounce back, spurred on by a sell-out crowd at Percival Molson Memorial Stadium.
Congratulations to Wally Buono, who managed to tie Don Matthews for the all-time lead in CFL victories for a head coach. However, Buono will have to wait at least another week to get number 232, as Montreal will get their revenge with a home win.
Saskatchewan Rough-Riders (5-4) at Winnipeg Blue Bombers (3-6)
Sunday, 4:00pm kick off. Saskatchewan favoured by 1 point
I won't lie to you; this is the game that has me least excited this week. Michael Bishop did not have a happy homecoming to Saskatchewan, throwing three interceptions in a losing cause. Once again, the perception that Bishop is too inconsistent to be a top-notch quarterback has reared its ugly head.
Darian Durant continues to improve, evidence of where hard work can get you. It also justifies the Saskatchewan front offices decision to pick him over Bishop. However, it still remains to be seen if Durant has what it takes to lead the Rough Riders to the promised land.
Saskatchewan's defence was equally impressive, holding Fred Reid, to under 50 yards on the ground and stuffing the Blue Bombers at the goal line in a key series just before halftime. It will be interesting to see if they can produce more of the same two weeks running against the leagues second leading rusher.
I do think Reid and company will play better in front of their fans. However, it won't be enough to stop Saskatchewan clinching an important road win.
Paul Taylor can be contacted at:
by English Paul…
I hope everyone has recovered from Labour Day weekend. Personally, I'm writing this piece in a bad frame of mind, caused by a few subjects I wanted to touch on before we look ahead to the week eleven games'.
As such, I thought it best to split this week's column into two parts. I will use part one to talk about what's on my mind and will then make my predictions in part two, once I have calmed down. Ok (deep breath), here goes.
I have now officially given up on the Toronto Argonauts. I keep expecting them to turn it around but they continually let me down.
In their last two games, my head has said 'the other team is going to win', but I have dismissed this and gone with the heart, convinced that Toronto could get the victory. I will not be making this mistake again, especially as it has cost me two correct predictions. Okay, I guess I'm a bit annoyed with myself as well.
Despite having improved the talent level from last year, Bart Andrus is starting to look like a man who does not have what it takes to get this programme back on the right track.
Interestingly, Arland Bruce III alleged recently that he wasn't the only person to have problems/disagreements with the way Andrus was running the ship. Of course, this could just be the words' of a bitter ex-employee (although I wouldn't be complaining after going to a better team), but it's hard to ignore this claim when you consider how the season is going so far for Toronto.
It was good of Montreal to allow themselves to be dragged back into the pack by the parity of this season. However, they were unfortunate not to have the chance to at least go into overtime in their loss against the B.C. Lions.
As you most probably all know by now, the Alouettes had a last minute touchdown taken away from them after a mistake was made by the replay official at head office and the supervising official at the stadium. Both officials incorrectly thought the game clock should have read 1:05, not 1:00.
However, Lions head coach Wally Buono had called a time-out at the 1:00 mark. Unfortunately, despite the time on the field being correct, the Montreal touchdown was called back, because whistles blew during the play (as a result of a page from the upstairs officials regarding the time discrepancy.)
I appreciate that we all make mistakes at one time or another, but this is not acceptable. My main gripe is, once the play has started, that should have been the end of it, right or wrong. For example, if a team wants to challenge a call, they have to throw the flag before the next play begins otherwise it becomes null and void.
I may not be the biggest Alouettes fan in the world, but I'm with their fans on this one. They were robbed.
However, I don't agree with the conspiracy theories being thrown around by fans. For example, the game was NOT fixed to help Buono get his record equalling win. This is a ridiculous thing to say. It was just a case of incompetence by officials, pure and simple.
Despite growing up as an NFL fan, I have gone on record numerous times, stating that I find the CFL just as enjoyable as it's 'big brother' across the border. However, I have a question for the CFL, TSN or whoever has the final say on kick-off dates/times: "Are you mad?"
The NFL season starts this weekend, and yet it was decided to have two CFL games played on the Sunday, starting at 1:00pm and 4:00pm. The CFL is an enjoyable game to watch, but they must surely realise that a lot of Canadians who would normally tune in for the games, will be turning over to watch NFL action instead.
This is not an attempt to be negative; it's just a fact of life. As I have said previously, I love the CFL, but we have to be realistic when trying to sell it to the rest of North America (and the world.) Going head-to-head with the NFL on their opening kick-off weekend is not the answer, or indeed a smart decision. Much like having a league where 75 percent of the teams make the playoffs (but that's another story.)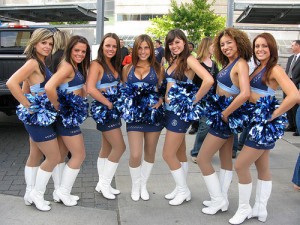 Right, I think I have everything off my chest. Either way, it's best if I stop now, before I say something I might regret. Tune back in tomorrow for my week eleven predictions.
Paul Taylor can be contacted at:
By English Paul…

Record: 18-14
Considering there were only two games played, week nine was eventful to say the least; both games going down to the wire, 'Pacman' Jones 'he's signed/no he hasn't' situation with Winnipeg and the B.C. Lions fining themselves!
Looking at the 'Pacman' non-signing, I don't wish to spend too much time on this topic. Pure and simple, the man is an idiot, who's had about fifty second chances. Winnipeg may have benefited from Jones undoubted talent, but there are too many issues surrounding the former Tennessee Titan mental state. The guy didn't even know which league he was going to play in.
And don't believe the Winnipeg organisation when they say they just changed their mind about 'Pacman' after evaluating the situation. The Blue Bombers had every intention of signing Jones until Canadian immigration refused to let him cross the border, because of previous legal problems.
Moving on, the B.C, Lions made news this week after fining themselves for gestures made against the Blue Bombers. Following pre-game introductions, the Lions players gathered at centre field and made a chopping motion towards Winnipeg's bench.
This past Tuesday, the Lions organisation publicly acknowledged that their behaviour was embarrassing and would not be tolerated. No word yet on whether they meant the chopping gesture or the performance in the 37-10 loss to Winnipeg.
The end result was that B.C. apologised to the Blue Bombers organisation, with head coach Wally Buono and all 42 players receiving a self-imposed fine. The amount of the fine is unclear, but the proceeds will be used to allow underprivileged youths to attend an upcoming Lions game.
Okay, let's have a look at this weeks games, including a Labour Day double-header.
All times eastern
Montreal Alouettes (7-1) at B.C. Lions (3-5)
Friday, 10:30pm kick off. Montreal favoured by 6 points
Montreal has not won in Vancouver since 2000. Some might say that they're long overdue. This much we do know; the Alouettes will never have a better chance to end the losing streak.
The Lions just don't seem to be able to get out of their current funk. The manner of the home loss to Winnipeg was shocking. And the controversy over their pre-match antics before the Blue Bombers game will not have helped.
If the Lions are going to have any chance of winning this game, their best bet is to exploit the Alouettes through the air, using Geroy Simon and Paris Jackson. Despite having the number one rated defence through nine weeks, Montreal's secondary looked vulnerable in their last game against Saskatchewan.
B.C. head coach Wally Buono will not allow his team to play so badly two games in a row, but ultimately, they will not have enough to stop Montreal improving on their league-leading 7-1 record.
Winnipeg Blue Bombers (3-5) at Saskatchewan Rough-Riders (4-4)
Sunday, 4:00pm kick off. Saskatchewan favoured by 8 points
After an eventful week, Winnipeg now gets to concentrate on actually playing a game of football. They will go into Saskatchewan full of confidence after their dismantling of the Lions.
The Rough-Riders will have their hands full with the Blue Bombers running game, easily the best in the league. At least the home team can concentrate on the rushing duo of offensive player of the month for August, Fred Reid and Yvenson Bernard. Despite having the number one rated rushing attack, the Winnipeg offence is still ranked dead last in the CFL.
Having said that, Michael Bishop will be keen to prove that Saskatchewan made a mistake in letting him go. This time last year, Bishop was starting for the Rough-Riders. The key for the Green and White will be to stifle the running game on first down and force Bishop into second and long situations.
Despite starting in his first ever Labour Day game, Darian Durant will have the support of a home crowd pumped up to the max. Look for Durant and the rest of the team to feed off of the energy and clinch the victory.
Toronto Argonauts (2-6) at Hamilton Tiger-Cats (4-4)
Monday, 4:00pm kick off. Hamilton favoured by 5 points
Going into the latest instalment of this intense rivalry, I firmly believe the Argonauts are not as bad as their 2-6 record indicates. This belief ending up costing me a win last week, but they came close, only giving up the lead in the final minute of their 23-20 loss to Calgary.
Cody Pickett continues to surprise with his production. In two starts, he has thrown for over 300 yards in each game, completed 67 percent of his passes with three touchdowns and avoided the dreaded interceptions.
However, if you're trying to find a reason why Pickett has lost both games, look no further than the running game: only 18 carries for 43 yards combined. It's no secret that you need a balanced offence to keep the defence off guard. Again, head coach Bart Andrus needs to have more patience in the rushing attack, especially when you have a player with the talent of Jamal Robertson at your disposal.
In a game, which never needs any extra hype we have it anyway. This will be the first time Arland Bruce III gets to line up against his former team. Bruce will be looking to stick it to Andrus in a big way. Expect him to play like a man possessed.
And he has a talented squad to back him up. The Tiger Cats are one of the better 4-4 teams in the league and were unlucky not to claim a win in Edmonton, leading most of the way before losing 31-30.
In a battle of two teams on losing streaks, I have a feeling that Toronto will finally get their act together. Look for the Double Blue to score the upset win on the road as long as Andrus gives the running game a chance to shine and wear out the Hamilton defence.
Edmonton Eskimos (5-3) at Calgary Stampeders (4-4)
Monday, 7:30pm kick off. Calgary favoured by 4.5 points
This is the game of the week, with every chance to be as good as the previous match-up between these two teams. Calgary will be out for revenge after losing in the final minute at Commonwealth Stadium.
More than that though, this is a chance for the Stampeders to get back on track in their defence of the Grey Cup. The offence is as explosive as ever, ranking second in the CFL in both yards and points scored. The defence needs to show some improvement, but overall the team will be fine if they can show more consistency on both sides of the ball.
The Eskimos actually have the top-rated offence in terms of yardage, but have problems on the defensive side, ranking second-worst. As I have previously stated, this team has all of the tools to win the championship this year, but needed all of their experience (and luck) to squeeze past Hamilton last week.
The atmosphere at McMahon Stadium will be electric for the final game of the Labour Day weekend. It should be another classic and Calgary will strike a critical blow by winning another shoot-out, setting things up nicely for the return game in Edmonton.
Paul Taylor can be contacted at: