By Mark "The Hard Hitter" Ritter…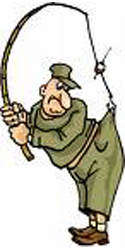 The Montreal Canadiens seem to be in the middle of a goaltending controversy.
Here's the skinny—Jaroslav Halak has started 23 games, posting a record of 14-8-1 with three shutouts, a goals against average of 2.43 and a save percentage of .927. Comparatively, Carey Price has started 32 games, posting a record of 11-17-4 with no shutouts, a GAA of 2.73 and a SV percent of .913.
Am I the only one who doesn't see a controversy here? Given the numbers, Jarolsav Halak should be the Canadiens goaltender of the future, not the often moody and inconsistent Price.
Sure, Price has more cache than Halak on the trade market, but why would you want a goalie that seems to have a chip on his shoulder and inferior statistics to boot? If the "Price" is right, the Canadiens should ship Carey out of town.
Not only are the Washington Capitals 9-1-0 in their past 10 games and just two points out of first overall in the league, the Capitals also boast seven of the top 20 players in plus/minus rating.
Alex Ovechkin leads the way with a league-best +32, followed by teammate Jeff Schultz, who is the leagues highest rated defenseman at +27. Nicklas Backstrom +23 (8th), Mike Green +22 (11th), Alexander Semin +20 (14th), Eric Fehr +18 (16th) and Brendan Morrison +18 (17th), round out a very impressive lineup that may very well be the best in the NHL.
San Jose Sharks forward Patrick Marleau is currently leading the NHL in scoring with 35 goals, comparatively, the Vancouver Canucks Henrik Sedin leads the League in points with 76. Well boys, it's been nice while it's lasted, it says here Alex Ovechkin—who sits second overall in both categories with 34 goals and 73 points respectively, will be number one in both categories within a week.
As everyday passes, it's looking more and more as if the Phoenix Coyotes 2007 first round draft pick (third overall), Kyle Turris, is a bust. Through 46 games with the San Antonio Rampage of the AHL, Turris has registered nine goals and 26 points. Is this the year the Coyotes consider trading the young centre?
Do you think Toronto Maple Leafs general manager Brian Burke had to hold back his laughter when Jamal Mayers' agent called him up and suggested it was time for Mayers to move on from the Blue and White?
Mayers, who has just one goal and five points to go along with his -7 rating, through 42 games, would be lucky to get picked up by a KHL team, never mind another NHL team. I said it earlier this year, I'll say it again, thanks for the memories Mr. Mayers, but it's time to hang 'em up!
Keeping with the Leafs, if Burke wants to add a first line centre via free agency this summer the pickings will be slim. Sure, Patrick Marleau will be available, but you have to think he'd check out other options before he'd ever consider joining the Leafs. Olli Jokinen is also available—but the Leafs have enough underachievers already, so scratch that…
That leaves the likes of Saku Koivu—who is all but finished, Chris Higgins—who is not a first line player, Mike Comrie—see Higgins comments and elder statesmen, such as, Mike Modano—who will probably retire, John Madden—career third liner, Doug Weight—too old, and Toronto's own Matt Stajan—a player that is destined to be a second or third liner his entire career.
The only logical signing would be Montreal Canadiens centre Tomas Plekanec. Plekanec, who has 13 goals and 39 assists through 55 games with the Canadiens this season, would be a great fit with Leafs sniper Phil Kessel.
A Plekanec-Kessel duo would be a formidable one, one that Burke could build an offense around. That said, a Plekanec signing would be a risky one, especially if he is commanding $5-6 million a year on a long-term deal.
On another note—for all you Leaf fans out there that are holding onto hope that Brian Burke will somehow turn the likes of Alexei Ponikarovsky, Niklas Hagman, Lee Strempniak or Matt Stajan into a first round draft pick, think again.
The only way the Leafs could possibly acquire a first round draft pick would be to ask defenseman Tomas Kaberle to waive his no-trade clause, something that Brian Burke continually insists he will not do.
Every NHL team understands the value of building through the draft. As such, the odds of Toronto stealing a first round draft choice from another team is slim to none. Sorry Leaf fans, the rebuild is going to be painful to watch, especially if the Boston Bruins end up with a top five pick at this years draft…
What it all means is that IF the Leafs are going to improve dramatically, they will likely need to do it from within the organization or through trades—two areas the Leafs have historically been challenged in. Then again, there's always the draft….never mind….
Until next time,
Peace!
By Mark "The Hard Hitter" Ritter…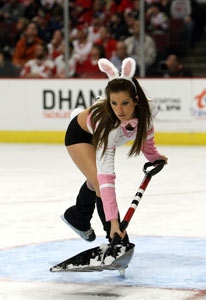 Every four years, Canadian hockey fans wait impatiently for the announcement of Canada's hockey roster. In the end, regardless of the names on the back of the sweaters, the expectation is always the same—a Gold Medal.
Historically, Canada has fared well at the Olympics, but they are hardly the unbeatable force that many hockey fans label them to be.
Canada's hockey teams have a proud Olympic history, one which has seen Canada bring home two Bronze Medals (1956, 1968), four Silver Medals (1936, 1960, 1992, 1994), and seven Gold Medals (1920, 1924, 1928, 1932, 1948, 1952, 2002).
A little quick math tells us that Canada has earned 13 medals in total. That means Canada failed to medal (never mind bring home the Gold) on ten occasions.
What it all means is this—regardless of expectations—Canada is no "lock" to win the Gold, or a medal of any color for that matter. With that in mind, what should Canadian hockey fans be expecting from this group of NHL players turned Olympians?
First, let's take a look at Canada's roster:
Forwards: Patrice Bergeron, Sidney Crosby, Ryan Getzlaf, Dany Heatley, Jarome Iginla, Patrick Marleau, Brenden Morrow, Rick Nash, Mike Richards, Corey Perry, Eric Staal, Joe Thronton, Jonathan Toews
Defense: Dan Boyle, Drew Doughty, Duncan Keith, Scott Niedermayer, Chris Pronger, Brent Seabrook, Shea Weber
Goaltenders: Martin Brodeur, Roberto Luongo, Marc-Andre Fleury
Up front, Canada will ice one of the most intimidating rosters of all-time.
Sidney Crosby, Rick Nash, Patrick Marleau, Joe Thornton, Dany Heatley and Jarome Iginla are expected to lead Canada offensively, with Mike Richards, Brenden Morrow and any of Eric Staal, Ryan Getzlaf and Corey Perry taking on the task of shutting down Canada's opponents.
Patrice Bergeron—who recently sustained a hand injury—and Jonathan Toews can play in all situations, solidifying their spot on this team, which underlines their value in a short tournament such as the Olympics.
The strength in Canada's forwards lies with their abilities to play in all areas of the game and in any conceivable situation. Staal, Richards, Getzlaf and Perry can easily move up to the first or second lines in a pinch. Likewise, Nash, Iginla, Thornton, and Crosby can be played on the third line and even kill penalties if need be.
Canada has the luxury of icing an offensive lineup that boasts scoring prowess, physical play, grit, skill, speed, and leadership. On the surface, there are no weaknesses—Canada will ice a very balanced attack—which should serve them well at the 2010 Olympics in Vancouver.
Canada struggled to score goals at the 2006 Olympic games in Turin, scoring just 15 times in six games, finishing seventh overall. Canada scored 22 goals in six games during their Gold Medal effort in 2002 in Salt Lake City.
Goals are at a premium at the Olympics, with that in mind, if Canada is to be successful in 2010, the forwards will have to find the back of the net on a regular basis—especially if Canada plans on beating the likes of Russia and Sweden, two teams that are poised to score at will.
On paper, Canada's top six forwards are as good as any other nation's. The trick is converting that perceived strength and converting it into results. Canada's position of biggest strength comes in the form of their bottom six forwards, which, in my opinion, are the best in the world.
Final Thoughts
Canada's special teams will be very strong—especially the power play. Scoring will be tough to come by, but Canada should emerge as one of the strongest offensive teams. Defensively, Canada's forwards should provide the biggest challenge for opposing nations—keeping them at bay and winning the battles in the corners.
Ranking The Forwards
Overall offensive rank—Second (Russia first)
Overall defensive rank—First
Canada's defense boasts a unique combination of skill, toughness, and speed. Veterans Chris Pronger and Scott Niedermayer are expected to be the main cogs in Canada's last line of defense, while youngsters Drew Doughty, Duncan Keith, and Brent Seabrook should inject a measure of energy.
Dan Boyle and Shea Weber cannot be overlooked. Weber is one of the game's best hitters, while Boyle brings a tremendous amount of offense to the fold.
Much like Canada's offense, Canada's defense is a position of strength. While each defenseman brings certain intangibles to the team, there is not much to choose between any of the seven—an argument can be made for all seven to be dressed on any given night.
Once again, Canada's depth is a huge advantage and, in my opinion, gives Canada the edge as the best defensive corps in the world.
Pronger, Weber, Seabrook, and Keith (sometimes Niedermayer) should be given the duty of shutting down the opposition—both five-on-five and on the penalty kill—with Niedermayer, Doughty and Boyle chipping in offensively, especially on the power play.
Final Thoughts
Canada's defense will perform at a high level in all areas of the game. The added offense from the back end will be a difference-maker on most nights. Given Canada's offensive troubles in the past their defense will have to be excellent—failure to keep the likes of Russia and Sweden at bay may very well cost Canada a chance at the Gold Medal.
Ranking The Defenses
Overall defensive rank—First
Overall offensive rank—First
Canada's goaltending is also a position of strength. Martin Brodeur—arguably the best goaltender in NHL history—is expected to get the nod as Canada's starter. His cool demeanor, tremendous reflexes, competitive spirit, and uncanny ability to seemingly always be in position put Brodeur head and shoulders above any other goaltender in the world.
Sweden's Henrik Lundqvist, Finland's Miikka Kiprusoff, Team USA's Ryan Miller, and Russia's Evgeni Nabokov are all excellent goaltenders. That said, at the end of the day I suspect most hockey fans would take Brodeur in net in a one-game playoff, which is why I feel Brodeur is still the game's best.
Canada boasts two well-rounded backups in Roberto Luongo and Marc-Andre Fleury. Luongo is widely regarded as one of the games premier back-stoppers and is more than capable of stepping up if Brodeur should falter. Fluery, who back stopped the Pittsburgh Penguins to a Stanley Cup victory in 2008-09, is an easy going goaltender who lacks ego, making him the perfect teammate and another candidate to lead Canada if Brodeur falters.
It's tough to predict which goaltender will be the best at the Olympics. Miller has been hot all season long, while Nabokov has been exceptional for the San Jose Sharks. Mental toughness will be a huge factor, as will experience.
For that reason, I have to give the nod to Brodeur, making him my pick as the Olympics' best goalie.
Final Thoughts
We can argue the merits of Lundqvist's Gold Medal effort with Sweden in 2006 and the strength of the team in front of him, but when you look at the total package—abilities, experience, mental toughness, past accomplishments, and strength of team defense in front of him (including the forwards)—Brodeur gets the nod, hands down.
Further, if any of Lundqvist, Kipprusoff, Nabokov or Miller goes down there is likely to be a noticeable difference in quality if their countries need to call on their second or third string goalies—once again, Canada's depth is a factor when considering the tournament's best.
Ranking The Goaltenders
Overall goaltending rank—First
Canada's depth at every conceivable position is what puts this nation's hockey team above all others. Russia will bring a great offensive lineup (maybe the best ever), but they lack defense. Sweden will bring a more balanced attack, but their roster is not as impressive as Canada's.
Team USA, Finland, the Czech Republic and Slovakia will all ice decent rosters, but on paper, none of them compare to Canada's roster, much less Sweden's or Russia's.
The final piece of the puzzle may be the advantage of playing at home in Vancouver. The Pro-Canadian crowd should give Team Canada a boast, especially in those tough close games.
Capturing a Gold Medal in 2010 will be no easy task, but Canada has all the tools to make it happen and, for that reason, Canada remains the favorite to win it all at the 2010 Olympic games in Vancouver.
Prediction—GOLD MEDAL
By Mark "The Hard Hitter" Ritter… With the Olympics just a few weeks away, every Canadian citizen with a pulse awaits the drop of the first puck and with it, the renewed opportunity for Canada to bring home a Gold Medal, a feat Canada has not accomplished since 2002.
Heading into the Olympic hockey tournament, the Canadians are the consensus pick to win Gold. That said, don't expect the Gold medal to be uncontested. Russia, Sweden, Finland, and the United States are expected to give Canada all they can handle, with the greatest challenge expected to come from Alex Ovechkin and the rest of the offensively deep Russian squad.
With all the stiff competition coming Canada's way, it's a good thing that the Canucks are deep at every position. The legendary Martin Brodeur is expected to get the nod as Canada's No. 1 goaltender. Brodeur will be joined by Roberto Luongo and Marc-Andre Fleury, two goalies that are capable of rising their game should Brodeur falter.
All three of Canada's goaltenders have impressive resumes. Martin Brodeur—arguably the best goaltender in NHL history—has won three Stanley Cups (1995, 200, 2003), four Vezina Trophies (2003, 2004, 2007, 2008), has played in 10 NHL All-Star Games (1996, 1997, 1998, 1999, 2000, 2001, 2003, 2004, 2007, 2008) and boasts two Silver Medal efforts at the World Championships (1996, 2005) and, most importantly, one Gold Medal at the 2002 Olympics in Salt Lake City.
The Hockey News recently voted Brodeur as the decades greatest NHL goaltender, and with good reason.
Brodeur owns several NHL records—including, most regular season wins, most shutouts—regular season and playoffs combined, most overtime wins, most consecutive 30-win seasons, most consecutive 35-win seasons, most 40-win seasons (of which he has seven!), most games played by a goaltender, most shut outs in a playoff and most shutouts in a Stanley Cup final, amongst others.
Brodeur's ability to remain calm, cool, and collected is legendary as is the confidence he gives those in front of him. Known as the games best puck-handler, Brodeur prides himself in forever progressing his craft. Brodeur is a winner, a pioneer, a visionary and one of the finest NHL citizens of all-time.
Perhaps the best positional goaltender in NHL history, Brodeur plays a hybrid style (a mix of both standup and butterfly). At age 37, Brodeur's reflexes are still second to none and his glove hand is as good as it gets.
In nine career starts at the Olympics, Brodeur has a record of 6-2-1, with a goals against average under 2.00. In 26 combined games Internationally, Brodeur has amassed a record of 16-6-2 with a 2.19 GAA and one shut out. Impressive, to say the least.
With all of Brodeur's accomplishments, records and experience there really is just one choice for Canada's starting goaltender. You can bet that, barring injury, Brodeur will be between the pipes for Canada, and a big reason for their success.
Until next time,
Peace!
By Mark "The Hard Hitter" Ritter…
The fact that more people are not talking about New Jersey Devils goaltender as the NHL's MVP is enough to make me sick to my pants.
Brodeur is sitting with a record of 28-10-1 with five shut outs. His 28 wins is tops in the league, his five shut outs are tops in the league, his 2.11 GAA ranks him sixth, his .924 SV percentage ranks him 7th and Brodeur is ranked 1st amongst NHL goalies in games played and minutes play.
His numbers are good enough to be amongst Brodeur's best ever, which is very impressive. All this on a team that many predicted would not make the playoffs.
What more do you want people?
I'll be the first to admit it, I didn't think for a second that Henrik Sedin would be leading the NHL in points at the halfway mark. Yet, there he is a top the NHL scoring leaders with 58 points. Impressive!
Through 43 games, Sidney Crosby is ranked 20th overall in assists with 25. A quick calculation reveals to us that Crosby is on pace to net somewhere around 48 assists on the season, which would tie Crosby's career low which he set during the '07-'08 season (just 48 assists in 53 games).
On the flip side, having scored 24 goals over 43 games, Crosby is on pace to score over 40 goals for the first time in his career. So, I ask you, is Crosby now a goal scorer?
There has been a lot of talk about the Edmonton Oilers players refusal to pay their full New Years eve tab at a Calgary restaurant. While I am not defending their actions, clearly there must be another side to the complaint.
I have heard that the Oilers were promised an all-in price which the restaurant owner reneged on, I have also heard the whole thing was a misunderstanding. Either way, the easy thing to do is to pay up and avoid all the negative publicity. I mean, we are talking about a couple thousand dollars, which, by NHL standards, is a drop in the bucket.
Keeping with the Oilers, if I were a player on that team I'd pack some extra underwear. Clearly, with the team marred in one of the worst losing streaks in team history, there are going to be changes coming.
Everyday I look at the NHL articles there is yet another Ilya Kovalchuk rumor out there. The thing is, even if the Atlanta Thrashers find a way to make Kovalchuk's contract work I am not convinced they could afford to pony up for the supporting cast that it will take to make the Thrashers a legitimate contender.
To me, Thrashers GM Don Waddell has one move and one move only- trade Kovalchuk for a legitimate scorer and a boatload of prospects and enter the free agent season loaded with cap space and make your splash there. The alternative is just not plausible.
You gotta hand it to Team USA, they were full value for their win against Team Canada Tuesday night. Team USA also beat the Canadians in the under 17 tournament, which should serve notice that the States should be a force to be reckoned with for years to come at the World Junior Championships.
Team USA beat the Canadians with speed, which, judging by Team USA's Olympic roster, is exactly how the States intends to compete against the mighty Canadians in Vancouver as well.
Clearly, Canada is still the favorite to win the Gold in Vancouver, but where there was little worry about the States a week ago, there certainly is some now from Canada, Russia, Finland and the Swedes, all of whom are favored to compete for a medal.
Speaking of the Olympics, it is interesting to note that the NHL's trade deadline has been set for March 3, 2010. This should complicate matters for many NHL clubs and general managers as the deadline is just a few days after the conclusion of the Olympics.
Historically a lot of trades take place on deadline day, but could you imagine getting word that you are on the move while competing at the Olympics? Clearly, this would be a huge distraction for any player, especially in light of the considerable pressure these players will be under trying to bring a medal home to their Countries.
Riddle me this? Is Paul Kariya the most overpaid player in the NHL right now? Through 38 games, Kariya has netted eight goals, adding 11 assists along the way. Kariya also sports a minus -5 rating, which, combined with his poor offensive numbers, makes his $6 million contract look pretty ugly.
Keep an eye on the Nashville Predators. With both Pekka Rinne and Dan Ellis becoming unrestricted free agents at the end of the 2009-10 season you gotta think they will deal one of their goaltenders. Best bet? Dan Ellis is moved.
One player that can expect a big raise over the summer is Montreal Canadiens forward Tomas Plekanec. Plekanec, 27, is making $2.75 million this season and will become an unrestricted free agent this summer. With 46 points in 45 games, he has established himself as one of the NHL's elite players and he will be rewarded handsomely for his efforts.
One last note: to all you sad Canadians out there, let us not forget, Canada has not failed to bring home a medal from the World Junior Championships since 1998 and, with 15 Gold medals in their history, Canada still holds the record for most tournament wins.
Another stat to make you feel better. Canada has won five Gold Medals in a row twice (1993 through 1997 and 2005 through 2009). In comparison, Team USA has only earned five medals in total (two Gold, one Silver and one Bronze).
The thing is, despite Team USA's tremendous victory over Canada on Tuesday night, they have a long way to go before we mention them alongside Canada and Russia as elite hockey Nations.
Until next time,
Peace!

By Mark "The Hard Hitter" Ritter…
With my Eastern Conference Buyers and Sellers article completed, my thoughts now turn to the Western Conference. As the saying goes, "the best is the West," and this season, the NHL's Western Conference has proved that beyond a doubt.
The margin for error in the Western Conference is slim. As such, when one team makes a move at the deadline, the others will follow.
Look for the majority of acquisitions to come from Western Conference teams, trying their best to shorten the gaps and/or lengthen them, depending on the team.
Chicago Blackhawks: Buyers
Sitting with a 31-10-3 record through 44 games, the Hawks appear to be poised to go deep into the Stanley Cup playoffs. With that in mind, I find it hard to believe that the Hawks will make any earth-shattering moves, but the word on the street is that the Hawks are looking to deal.
Recent rumors have suggested that the Hawks are trying to work out a deal with the Atlanta Thrashers for All-Star forward Ilya Kovalchuk. There have also been whispers out there that the Hawks were looking at Carolina Hurricanes forward Matt Cullen, Montreal Canadiens goaltender Jaroslav Halak and many others.
For the Hawks to make any significant deal, they would have to deal one of their prized players, including the likes of Patrick Sharp, Dutin Byfuglien, Kris Versteeg, Adam Burrish or even defenseman Cam Barker.
Those are some impressive names, so if the Hawks want to ship out one or more of these players, there will be plenty of suitors. To be fair, the Hawks seem to be in on just about every trade rumor, and despite the lack of movement thus far, they may be poised to make a few deals.
The Hawks goaltending seems to have solidified itself with both Cristobel Huet and Antti Niemi playing inspired hockey. Niemi looks to be the goaltender of the future for the Hawks, but I suspect they will hang on to Huet and roll with him throughout the playoffs.
The Hawks are ranked second in goals per game, first in goals against, own the eighth-ranked power play and the second-ranked penalty kill. When you look at the numbers you understand why I think the Hawks should stay status quo, but anything is possible.
What do the Hawks need? Maybe a depth defenseman or perhaps another scoring forward, but to me, if it ain't broke you don't fix it and the Hawks ain't broke…
For more trade rumors on the Chicago Blackhawks check back with Tab Bamford of the Bleacher Report. Tab always has his ear to the ground and provides some of the best coverage on the Hawks anywhere
San Jose Sharks: Buyers
Much like the Blackhawks, the San Jose Sharks boast some of the best statistics in the league. Through 44 games, the Sharks are ranked fourth overall in goals scored per game, eighth in goals allowed, ninth on the power play and fourth on the penalty kill.
If the Sharks need anything, it's maybe another puck-moving defenseman to help out the power play and perhaps a veteran forward to add some depth in the playoffs.
The first line of Joe Thronton, Patrick Marleau and Dany Heatley has been solid, and by all accounts, the Sharks look deep enough through lines 2-4 to get the job done in the playoffs.
A move for a player like Atlanta's Nik Antropov, Carolina's Ray Whitney or perhaps a defenseman like Jordan Leopold may be in the cards for the Sharks. Wouldn't New York Islanders forward Doug Weight look good in a Sharks uniform this playoff season? Don't expect the Sharks to make too many moves; why mess with a good thing, right?
Calgary Flames: Buyers
Due to some poor playoff performances, the Calgary Flames have kind of become the Rodney Dangerfield of NHL hockey clubs: They get no respect.
Through 43 games, the Flames have a record of 25-13-5, which puts them on pace for a hundred-point season—something that's not easy to do in today's NHL. That said, the buzz around the Flames is that they do not have enough to get past the likes of the Blackhawks or Sharks in the playoffs. As such, Flames fans are looking for management to make a deal for some more grit and scoring.
Several rumors involving defenseman Dion Phaneuf have surfaced over the past few weeks, all of which have been fodder thus far.
If the Flames were to deal Phaneuf, they would want a lot back in return. Bleacher Report's Daniel Sallows suggested last week that the Flames and Thrashers may get together on a deal involving Phaneuf and Kovalchuk, but I suspect the Thrashers will be looking for more in return than Phaneuf, who may not be the best fit in Atlanta anyway.
Calgary always seems to struggle to put the puck in the net come playoff time, and goaltender Mikka Kiprusoff, who has been lights out all season, always seems to falter in the playoffs as well.
With that in mind, it would be smart of the Flames' management to inquire about some goaltending depth. New York Islanders netminder Marty Biron will likely be available, as will Nashville Predators goalie Dan Ellis.
The Flames may also elect to add a decent scoring forward, such as the Toronto Maple Leafs' Lee Stempniak or Tampa Bay's Martin St. Louis, who would be a huge addition to the Flames.
Phoenix Coyotes: Undecided
If this were any other team, I would say they should shop aggressively at the trade deadline. That said, this is the Phoenix Coyotes we are talking about here, so don't expect much in the way of movement.
The Coyotes are arguably the NHL's biggest surprise thus far. Through 45 games, the 'Yotes have put together a record of 26-15-4, and by all accounts, they look poised to make a significant run in the playoffs behind the excellent play of goaltender Ilya Bryzgalov, who has been exceptional between the pipes this season.
Phoenix is ranked 26th in goals per game, so a solid offensive forward would be an excellent addition for the club. One thing the Coyotes have plenty of is cap space. If they can get a hold of some spending cash, they could add some impressive players to the fold.
With the fanbase seemingly dwindling, a successful playoff would go a long way in getting the fans to invest in season tickets next summer. With that in mind, expect the Coyotes to do whatever they can to acquire a few players that can help them go deep in the playoffs.
The Coyotes do have a few prospects to offer, including the likes of Viktor Tikhonov, Kyle Turris, and struggling forward Peter Mueller—who may benefit from a change in scenery.
Vancouver Canucks: Buyers
On the surface, with a record of 27-16-1, one would think the Canucks are having a good season. The Canucks sit fifth in the Western Conference, eighth overall—good, but not as great as was expected from this team.
Injuries have taken their toll on the Canucks, with Daniel Sedin's injury being of greatest concern. Roberto Luongo has been on-again, off-again all season long, and the inconsistencies of the defensemen are well documented.
Offensively, the Canucks look good, averaging 3.20 goals per game—good enough for third overall in the NHL. The Canucks' power play has also been exceptional, humming along at a 22 percent proficiency rating, ranking them fourth overall.
Defensively, the Canucks have also been good, averaging 2.39 goals against per game, ranking them seventh overall. At 81.8 percent, the Canucks' penalty kill has struggled a bit. Ranked 13th overall, the Canucks' PK could use another veteran defenseman to help get them out of a jam.
Mattias Ohlund was never properly replaced, and it showed early on in the season. There is no replacement for a steady 20-minute-per-game veteran defenseman; that said, the Canucks would be wise to search out a veteran D-man for the playoff run.
Candidates may include the New York Islanders' Brendan Witt; the Montreal Canadiens' Marc-Andre Bergeron, who has been a force on Montreal's power play and is great moving the puck; Atlanta's Pavol Kubina, who has won a Stanley Cup; or perhaps a bigger move to acquire the likes of Sheldon Souray out of Edmonton.
One thing is for sure, the Canucks will likely require an upgrade if they are to compete with the Sharks and Blackhawks, two teams that will outclass the Canucks in a seven game series.
Nashville Predators: Undecided
Through 44 games, the Predators sit in ninth place overall with 55 points, with a seven-point cushion on the 16th and final playoff spot.
Steve Sullivan has struggled to put the puck in the net this season, bulging the twine just 10 times. Jason Arnott has also struggled, netting 12 goals in 37 games.
If the Predators are to be successful in the playoffs, they are going to have to rely on forwards Patric Hornqvist, who leads the Preds with 16 goals; Martin Erat, who has two goals in 20 career playoff games; David Legwand; and J.P Dumount.
Defensively, the Predators look good with a deep lineup of punishing defensemen, such as Shea Weber, Dan Hamhuis, and Ryan Sutter. But when we delve into the stats, it's a different story, as the Preds have struggled defensively all season long.
The Predators are ranked 12th in goals per game, 16th in goals against, 25th on the power play and 27th on the penalty kill.
Goaltender Pekka Rinne leads the team in wins with 17, and by all accounts, looks to be back in his 2008-09 season form. Backup Dan Ellis may be offered around the league as trade bait, with the Preds looking to bring back a stay-at-home defenseman or a scoring forward in return.
Nashville is a streaky team, so be surprised if they fall into the 12th-16th position by the time the playoffs roll around. Their streaky nature, combined with some poor stats, make Nashville an undecided team.
Colorado Avalanche: Undecided
Outside of the Phoenix Coyotes, the Colorado Avalanche are easily the NHL's biggest surprise this season. Much like the Coyotes, the Avalanche were not expected to make the playoffs this season, which, to the Av's credit, is the case right now.
Led by the strong goaltending of Craig Anderson, through 44 games, the Avalanche have earned a record of 24-14-6. The Av's are ranked eighth in goals scored per game, 14th in goals against, 15th on the power play and 18th on the penalty kill.
Clearly, the Avalanche will have to improve their special teams if they intend on making a long run in the playoffs. My bet is the Avalanche will make a few minor moves on or before the trade deadline but will resist any big deals as, after all is said and done, this is still a club that is retooling.
If the Avalanche chose to go in the other direction, they may explore trading veteran forwards Darcy Tucker, Marek Svatos, and/or veteran defensemen Adam Foote and Ruslen Salei, all of whom are free agents after the the season.
Los Angeles Kings: Buyers
Despite being marred in a 4-6-0 slump, I suspect the Kings will turn things around and be a contender when playoff time rolls around.
The Kings are ranked ninth overall in goals scored per game, 13th in goals against, seventh on the power play and 20th on the penalty kill.
While talented on the back end, the Kings could use a solid stay-at-home defenseman to shore up their goals against and the penalty kill. The Kings have some of the most coveted prospects in the league, so expect them to be in on numerous deals as the trade deadline approaches.
Could an Ilya Kovalchuk deal be in the works? Don't count the Kings out. Los Angeles loves its "Gucci" players, and given the offense Kovalchuk could provide, the Kings would likely fall all over themselves trying to get a deal like this done.
The Edmonton Oilers may be looking for a major shakeup. The Kings may get into the picture if the Oilers are willing to offer up defenseman Sheldon Souray or forward Ales Hemsky, both of whom would be great additions for the Kings.
Is this the Kings' year? Hardly, but they could learn a lot by winning a couple of playoff series— something, with a little tweaking, the Kings are more than capable of doing.
Detroit Red Wings: Undecided
With all the injuries the Red Wings have had to endure, it's easy to say it's not the Wings' year.
Through 43 games, the Wings have a record of 22-15-6, which, given their injury woes and struggles, is pretty decent. Rookie goaltender Jimmy Howard has established himself as a No. 1 goalie, and with veteran Chris Osgood in the fold, anything is possible come playoff time.
With Johan Franzen expected to be back in the lineup around the Olympic break, one has to expect his presence will give the Wings a boost. The Red Wings have proved before that adding a veteran here and there at the trade deadline can make a huge difference; with that in mind, look for the Wings to make a minor move or two.
If the Wings chose to go the other direction, they could take offers on veteran forwards Todd Bertuzzi, Tomas Holmstrom, Kirk Maltby, and Brad May, all of whom are free agents at the conclusion of the season.
Would the Red Wings ever dare exploring offers for Nik Lidstrom??? Now that would be interesting…
Dallas Stars: Sellers
Sitting one point out of the 16th and final playoff spot, the Stars have their work cut out for them in the second half.
Through 43 games, the Stars have accumulated 47 points, posting a record of 18-14-11. With 11 overtime loses already in the books, one has to think that the Stars have been lucky to escape disaster thus far.
Relying on overtime and the shootout to win games is bound to catch up to you. A better effort five-on-five is essential for the Stars' success and may very well be the difference between hitting the golf course and the playoffs come the end of the regular season.
Dallas is in a unique position, as they are not really a retooling franchise, but they can hardly be regarded as contenders either. They are somewhere in the middle, and that muddies the waters considerably.
Long term, it would be most beneficial for the Stars to unload some contracts and continue to build toward a winner.
The Stars are ranked 11th overall in goals per game, 23rd overall in goals against, 13th on the power play and 25th on the penalty. By all accounts, the Stars are a very average team without much of a chance of making a decent run for the Stanley Cup.
Of interest to other teams, forwards Mike Modano, Jere Lehtinen, and Steven Ott are all free agents in 2010-11 and seemingly available to the highest bidder, with goaltender Marty Turco also being in the same vote.
Turco has put together a decent season, but his time, not unlike many other veterans on the Stars, may be over. Time to move on.
Turco may bring back a handsome return. His playoff experience is invaluable, and he is capable of getting hot and stealing a few wins in a playoff series. Modano would be a huge leadership addition to any younger clubs trying to make an impression in the playoffs, such as the Kings, Hawks, and Capitals.
Minnesota Wild: Sellers
Through 44 games, the Minnesota Wild have put together a record of 21-20-3. By all accounts, the Wild are right where we all expected them to be—on the perimeter of a playoff position.
The Wild are ranked 22nd overall in goals per game, an unfamiliar 19th in goals against, 22nd on the power play and 12th on the penalty kill.
The transformation from defensive stalwarts to offensive juggernaut has not been a smooth one for the Wild, and from what we have seen thus far, this team is still in a retooling phase.
Veteran forwards Owen Nolan, Peter Sykora, and Eric Belanger may attract some offers from clubs, as will defensemen Marek Zidlicky, Kim Johnsson, and Shane Hnidy, all of whom are free agents after the 2009-10 season.
The Wild would be best to seek draft picks, free up some cash and attack the free agent market in the summer. It's time for a changing of the guard, and with the playoffs looking more and more like a pipe-dream, there's no time like the present.
Anaheim Ducks: Sellers
En route to miss the playoffs, the Ducks will undoubtedly look to unload at the trade deadline.
Through 44 games, the Ducks have a record of 18-19-7 and are ranked 13th in goals per game, 25th in goals against, 12th on the power play, and 23rd on the penalty kill. Needless to say, the Ducks are struggling to find their way, and as such should be sellers at the deadline.
Saku Koivu would be a nice addition for a team looking for scoring and leadership, and if there was a team that thought he still had something to offer, Teemu Selanne sure makes for an interesting pickup at the deadline.
The biggest name that may be available at the deadline is Ducks defenseman Scott Niedermayer.
At 35, Niedermayer appears to have slowed down a little, but his positioning is still excellent and his experience and leadership skills are unparalleled.
Any offer for Niedermayer would likely include roster players and draft picks, with a first rounder being a must. It is unclear if Niedermayer will play again next year, which means he may be just a rental player for the team that acquires him.
Clearly, while the price would be high for a player of Niedermayer's ilk, the rewards could be that of a Stanley Cup—which, in the end, is what all teams are playing for.
You have to think numerous teams would be interested in Niedermayer, with the Hawks, Kings, New Jersey Devils, Washington Capitals, Calgary Flames, and Vancouver Canucks being the most interested.
Might Niedermayer consider heading back home to New Jersey to take one more run at the Cup with longtime friend and Olympic teammate Martin Brodeur? Time can only tell, but it's fun to speculate.
St. Louis Blues: Sellers
Picked by many "experts" to compete for the Stanley Cup this season, the St. Louis Blues have struggled mightily.
Through 43 games, the Blues have a record of 17-19-7. The Blues are ranked 27th overall in goals per game, 20th in goals against, 26th on the power play, and a surprising third on the penalty kill.
Brad Boyes is on pace to score 15 to 20 goals on the season—a far cry from his 33 in 2008-09 and a 43 goal effort in 2007-08. Andy McDonald, Keith Tkachuk and David Backes have all struggled, as has veteran forward Paul Kariya, who, in my opinion, is the NHL's most overpaid player.
Kariya is an unrestricted free agent at the conclusion of this season, so he may attract an offer or two at the deadline, as will Keith Tkachuk. Veteran defenseman Darryl Sydor may attract some offers from teams looking for depth at the defense position, but don't expect much in return for any of these players.
Columbus Blue Jackets: Sellers
Surely, Columbus Blue Jacket fans are getting sick of hearing this, but the Blue Jackets are going to be sellers again this year.
The Blue Jackets managed to make the Stanley Cup playoffs for the first time in team history last season. It was short-lived, but it gave fans hope for the future.
By all accounts, the Blue Jackets' Steve Mason looked to be a franchise goaltender, solidifying Columbus at that position and giving the management team a place to build from.
This season, Mason has suffered from the sophomore jinx, posting a record of 11-15-6 through 33 games with a paltry .890 save percentage and a lofty 3.31 goals against average.
Mason's struggles have contributed to the Blue Jackets' free fall, but there are other players that have let the team down as well. The Blue Jackets are ranked 21st overall in goals scored per game, 26th in goals against, sixth on the power play (which continually saves their bacon), and 14th on the penalty kill.
It doesn't take a genius to figure out the Blue Jackets need to be better five-on-five. Defensively, Columbus has been horrific, and that translates to defensemen and forwards alike.
Last season seems to have been a case of good luck rather than good play, and as such, Columbus needs to retool and will, in all likelihood, hire a new coach, firing head coach Ken Hitchcock in the not-so-distant future.
The Blue Jackets do not have a lot in the way of players to peddle. Raffi Torres may get some interest, but if Columbus wants to make big strides, they will have to do it at the draft table or in a bigger deal involving R.J. Umberger, Kristian Huselius, or Antoine Vermette.
Edmonton Oilers: Sellers
The off-season saw the Edmonton Oilers hire head coach Pat Quinn and sign veteran goaltender Nikolai Khabibulin. Both moves were supposed to elevate the Oilers' play to the point that they would make the playoffs.
To the surprise of few, both moves have been questionable, and to date, they have not worked out. If not for a breakout season from Dustin Penner, things could be far worse.
The Oilers are ranked 19th overall in goals per game, 28th in goals against, 17th on the power play, and 29th on the penalty kill.
Clearly, the only way is up for the Oilers, and the retooling will all start on or before the trade deadline.
Veteran defenseman Sheldon Souray has two years left on his contract, which carries a $4.5 million cap hit. His abilities as a puck mover and a power play specialist are well documented, and judging by the need for such a defenseman by many contending teams, Souray could fetch a handsome return for his services.
The reality is, the Oilers have been spinning their wheels for years, and unless they are able to attract some superstar talent, they will have to try to build within a defensive trapping system with less known, if not more hardworking players.
Besides Souray, forwards Ales Hemsky, Patrick O'Sullivan, Fernando Pisani, and Gilbert Brule could be made available at the deadline, as could defensemen Steve Staios, who fits the mold of that "stay-at-home" defenseman everybody needs in the playoffs.
One thing is for sure: The current crop of players is not getting it done, and unless the Oilers are prepared to take a few risks at the deadline, this is a team that may be beyond repair.
Until next time,
Peace!
By Mark "The Hard Hitter" Ritter…
Every year, NHL fans from coast to coast wait impatiently for the trade deadline. This year is no exception, and while it is only the halfway mark in the 2009-10 season, I thought it would be fun to take a look at the Eastern Conference teams and which teams fall into the category of buyer or seller?
New Jersey Devils: Buyer
Through 41 games, the Devils are ranked 10th overall in goals scored per game, second in goals against per game, fifth on the power play and 11th overall on the penalty kill.
Led by the incredible goaltending of Martin Brodeur, the Devils have a record of 30-10-1. By all accounts, they should continue to play at a consistently high level, leading many to speculate that Lou Lamoriello will stand pat at the deadline.
Clearly, when you consider the incredible stats the Devils boast, there are no weak spots in the Devils' lineup. The Devils have six players in double-digit scoring, with Zach Parise (18) and Jamie Langenbrunner (13) leading the way.
Defensively, the Devils have what many refer to as a "no-name defense," which may be the only area the Devils look to upgrade before the playoffs commence.
If a veteran defenseman is available at the deadline, at a decent price, the Devils may get into the bidding. But don't look for New Jersey to give up too much in return as they are amongst the most frugal franchises in the NHL.
Buffalo Sabres: Buyers
Expected by many "experts" to struggle to make the playoffs, the Sabres have defied the odds, currently sitting second overall in the Eastern Conference standings.
Much like the Devils, the Sabres are led by the stellar goaltending of Ryan Miller, who has stood on his head all season long. The Sabres sport a record of 27-11-4, and by all accounts are showing no signs of going into a downward spiral.
Historically, the Sabres have been sellers at the deadline with numerous big name players being sent packing due to salary cap and money restraints.
This year, the Sabres look to have a legitimate chance of hoisting Lord Stanley's Cup, so it would be great to see the Sabres ownership and management reward the fans with a nice pickup at or before the trade deadline.
Through 42 games the Sabres have four players tied with 11 goals (which leads the team) and two others with 10 goals apiece.
With six players in double digit scoring one would think that the Sabres would not require additional scoring to compete in the playoffs, that said, given the fact that the Sabres are ranked 15th overall in goals per game it's safe to say they could use an injection of offense.
Look for the Sabres to go after a mid-level two-way forward and perhaps a player with scoring abilities. Toronto Maple Leaf Alex Ponikarovsky (who is a free agent at the end of the season) would fit the bill and he could likely be had for a second-round pick and/or a prospect.
Washington Capitals: Buyers
On the surface, the Capitals look to be a complete hockey team. Like many other Stanley Cup-contending teams, the Capitals may look to add some grit and depth, both at the forward and defense positions.
With a record of 25-11-6, the Capitals have met expectations, but they haven't necessarily exceeded them. The Capitals are ranked first overall in goals scored per game and 13th overall in goals against per game.
With Nicklas Backstrom, Brooks Laich, Tomas Fleischmann and Brendan Morrison in the lineup, the Capitals are loaded at Centre. Look for the Capitals to keep their eye on a third line winger with some "jam" and/or another stay-at-home defenseman.
The Capitals may also opt to add another puck moving defenseman to off-set Mike Green—just in case he has another tough playoff run.
Pittsburgh Penguins: Buyer
Through 44 games the Penguins have had a bit of an up and down season. Injuries have contributed to their 27-16-1 record, which, by Penguins standards, is a bit of a disappointment.
The Pens have struggled on the power play. To date, the Pens PP is crawling along at a 14.7 per cent success rate, which ranks them 30th overall.
As puzzling as the Pens power play is, their offense has been decent averaging three goals per game, ranking them sixth overall. Defensively the Pens have been decent, averaging 2.68 goals against per game, which ranks them 10th overall.
The Penguins should be looking for a power play specialist, either at forward or on the back end. Special teams can go a long way in determining a teams success in the playoffs and, as it sits right now, the Pens are vulnerable there.
You have to think the Pens are kicking themselves for not exploring the possibility of signing puck-moving defenseman Marc-Andre Bergeron to a contract.
In 38 games played with the Montreal Canadiens, Bergeron has 10 goals and 23 points. Six of his goals have come on the power play, four of his goals have been game winners.
If a player of Bergeron's ilk is available the Pens should snap him up.
Boston Bruins: Undecided
The Bruins do not have a lot of flexibility salary cap wise, thus it is doubtful they will be able to pull off any major moves. Through 42 games the Bruins have a record of 22-13-7, a far cry from last season's performance, but good enough to make them a top five team in the Eastern Conference.
Offensively the Bruins have struggled, averaging 2.52 goals per game, ranking them 25th overall. The Bruins would love to add another scoring forward, preferably one that could help their 17th ranked power play out.
Ottawa Senators: Undecided
Through 43 games the Ottawa Senators have a record of 22-17-4, good enough for sixth overall in the East. As it sits right now, the Senators occupy the 15th spot overall, which means they will have to pick up their play if they are going to make the playoffs.
The Dallas Stars, Montreal Canadiens, Minnesota Wild, and, to a lesser extent, the Philadelphia Flyers are all making a push for the playoffs. All of these teams have the ability to pull off a big deal, especially the Flyers who have been a part of many trade rumors thus far.
The Senators could go either way, buyer or seller. The Senators made their big splash when they dealt Dany Heatley to the san Jose Sharks this offseason, leading me to conclude that any big trades are not in the cards for the Senators.
It is my belief that the Senators will fall off in the second half, miss the playoffs, and stay status quo.
Would anyone want to take a shot on Alex Kovalev? Don't count on it, but if the phone rings and the NHL GM on the other end of the phone is interested in Kovalev, the Senators ought to make that deal. Kovalev is a floater and needs to be shipped out of town if possible.
New York Rangers: Undecided
Blessed with one of the best goaltenders in the NHL, if the Rangers are close to a playoff spot they will try to acquire some depth.
Free-agent acquisition Marian Gaborik is having a career year, leading many to believe that Gaborik, combined with some strong goaltending by Henrik Lundqvist, could steal a playoff series for the Rangers, two if they are lucky.
The Rangers are ranked 20th overall in offense, which has to have head coach John Tortorella concerned. The Rangers have a number of good prospects in their stable, so if they wanted to pull off a mid to high level deal they probably could.
Look for the Rangers to go after a rental player that supplies offense and grit if they can, something that will be no easy trick. More likely, the Rangers will try to add some depth in the form of Ray Whitney from Carolina or Lee Stempniak from Toronto, to name a few candidates.
Montreal Canadiens: Undecided
The storyline on the Montreal Canadiens is yet to be written. All-Star defenseman Andrei Markov has been exceptional since his return from injury. His presence makes the Canadiens a better team and gives the Habs a reasonable shot at the playoffs.
If the Canadiens are within striking distance of the playoffs they are sure to be buyers. If not, the Canadiens will try to unload some aging forwards, such as forward Glen Metropolit and defenseman Jaroslav Spacek, who, at 35 years old, may not fit into this young teams future plans.
Don't be shocked if the Canadiens trade 24-year-old goaltender Jaroslav Halak, who, despite his strong play this season, has been on the block for a good portion of the season.
Halak could bring back a decent ransom, so, if the Habs are in the hunt, Halak may bring back enough for the Habs to make the final push needed to make the playoffs.
New York Islanders: Sellers
Despite a decent season, the Islanders should not lose their focus, which is that of a rebuilding team.
Through 44 games the Islanders have earned an 18-18-6 record. At .500 on the season, the Islanders are not quite good enough to make a serious run at a playoff spot, which may annoy the Islanders fans, but is in their best interest nonetheless.
The Islanders will likely be busy receiving offers on or before the trade deadline for the likes of Forward Doug Weight, defensemen Andy Sutton and Brendan Witt as well as goaltender Marty Biron, all of whom could help a number of teams looking to bulk up for the playoffs.
The Islanders did well for themselves by acquiring numerous draft picks last season. Look for the Islanders to stick with the long term plan and stock up on second and third rounders, the price they will be asking in return for their veteran trade-bait.
Philadelphia Flyers: Buyers
Call it intuition, hope, or an act of stupidity, somehow I think the Flyers are about to get hot.
The Flyers had one of their worst December's in team history, going a paltry six and nine over 15 games, including a seven-game losing streak from Dec. 10-21.
It wasn't so much the six and nine record that had me bothered, rather the way the Flyers lost the games that had me concerned. The Flyers seem to have turned the corner, bought into coach Peter Laviolette's system—which is to roll out four strong lines and to rely on speed to overcome your opponents strengths.
By all accounts, the Orange and Black are having fun again, which should serve them well heading into the stretch run. Blair Betts, Darroll Powe and other gritty players on the Flyers' roster are getting it done, so I suspect they will be safe, no matter what the odds of the Flyers making the playoffs are.
Ray Emery is expected back any day now, which should do wonders for the Flyers' confidence. That said, the Flyers will need more offense if they are going to make the playoffs and, considering the Flyers are up against the salary cap, it may be tough for them to acquire such a player.
If the opportunity presented itself the Flyers could be players in the Ilya Kovalchuk talks, with Jeff Carter going the other way. The Flyers have several good prospects they can package off in a deal, which makes them one of the favorites to make a big trade if need be.
If the Flyers look to be out of the running look for them to offer up defenseman Ryan Parent, Dan Carcillo (who may very well bring back a handsome return) and Arron Asham in a trade scenario with draft pick's coming back the other way
Atlanta Thrashers: Sellers
It has always been my opinion that, even if they wanted to, the Thrashers would be wise to hold off on signing Ilya Kovalchuk to a new deal and trade the talented forward to the highest bidder.
If the Thrashers do manage to sign Kovalchuk, they will severely hinder their chances of surviving financially. And with little funds left available after the Kovalchuk signing, Atlanta all but guarantee it will not be able to supply the superstar forward with enough talent around him to be a successful franchise.
As many as ten teams would be serious bidders in any Kovalchuk sweepstakes with the Philadelphia Flyers, Buffalo Sabres, Chicago Blackhawks, Washington Capitals, Los Angeles Kings and Edmonton Oilers all expected to make serious bids for the talented Russians services.
Forwards Nik Antropov, Vyacheslav Kozlov, Colby Armstrong, defenseman Pavol Kubina and goaltender Kari Lehtonen could also be traded, leading to a complete makeover and, given the talent they would get back, a bright future for the Thrashers.
Tampa Bay Lightning: Sellers
Steven Stamkos is the future in Tampa Bay. As such, the Bolts would love to trade the likes of Vinny Lecavalier and/or Martin St. Louis.
Lecavalier will be tough to deal as he is set to make $10 million in each of the next four seasons. St. Louis will have one year left on his contract at $4 million, making him attractive to a number of teams, not only for the playoffs, but as a valuable, and reasonably priced, addition to their 2010-11 lineup.
The Lightning may also offer up the likes of forwards Alex Tanguay and Jeff Halpren as well as goaltender Mike Smith, all of whom may bring back a decent return, including prospects and mid to high level draft pick's.
Florida Panthers: Sellers
The Florida Panthers desperately want to make the playoffs, something they have not done since 2000.
Despite having a few bright spots this season, the team has struggled to find it's consistency. Panthers fans are growing impatient, as such, a move to unload players will be very unpopular, yet necessary for the Panthers future success.
Hard Working forward Dominic Moore, and defensemen Dennis Seidenberg and Jordan Leopold are all free agents in 2010-11, which makes them all expendable.
None of these players will bring back much in return, so, for Panthers fans, an exercise in patience will be the order of the day…again!
Toronto Maple Leafs: Sellers
Being a Leaf fan, I would love to see the Blue and White make a splash at the trade deadline.
That said, the Leafs have no shot at the playoffs this year, which leads me to believe that GM Brian Burke will be looking to unload a few players in an attempt to free up some valuable cap space so he can do some free agent shopping next summer.
Through 44 games the Leafs have managed to put together a 15-20-9 record, which, by all accounts, will not provide them with a decent enough start to parlay into a playoff spot down the road.
The Leafs badly need a playmaking centre, and upgrade on the wings and some goaltending depth. Considering how late Brian Burke came into the Leafs situation last season, this is year one of a lengthy effort to turn around the misfortunes of the Leafs, a process that may very well take another two to three seasons.
Free-agent forward Alex Ponikarovsky, Lee Stempniak, Matt Stajan, defenseman Garnet Exelby and goaltender Vesa Toskala will all likely be on the block on or before the trade deadline, each one receiving mild interest from suitors.
Of the five players, Stajan, Stempniak and Ponikarovsky could all fetch good value as each one could be a valuable addition to any team making a push for the playoffs.
Avoiding a bottom five finish would seem to be a priority for the Leafs as, after trading their 2010 first-round draft pick to the Boston Bruins in the Phil Kessel deal, the Leafs would hate to be handing over a lottery pick to the Bruins.
That said, what's done is done. Kessel will be a genuine 35 goal scoring threat for over a decade and there is no guarantee any of the players drafted in the top five will ever reach that status.
With that in mind, Burke will do what's best for the Leafs, no matter what the consequences are in the standings.
Carolina Hurricanes: Sellers
After a tremendous playoff run last season the Carolina Hurricanes have fallen considerably short of expectations, which were to not only make the playoffs, but to compete for the Stanley Cup as well.
With a record of 11-23-7 through 41 games, the Carolina Hurricanes looked poised to finish in the "coveted" 30th overall position in the league, giving the Hurricanes a great shot at landing the No. 1 overall pick in the 2010 NHL Entry Draft.
Given the Hurricanes overall record, it's no surprise to see the Hurricanes ranked so poorly in every conceivable category. The 'Canes are ranked 30th overall in both goals for and goals against per game and 26th on both the power play and penalty kill, respectively.
Outside of forwards Eric Staal, Brandon Sutter, Zach Boychuk, Jiri Tlusty, defensemen Tim Gleason, Joni Pitkanen and Andrew Alberts and goaltender Cam Ward, no player would seem to be safe on the Hurricanes roster.
The Hurricanes would love to be able to part ways with Erik Cole, Ray Whitney, Sergei Samsonov and Matt Cullen, with each player bringing back various degrees of assets to the Hurricanes.
Despite their poor record, the Hurricanes may very well bounce back in 2010-11, once again playing the role of contenders instead of bottom feeders. In order for this to happen the Hurricanes will have to make a considerable amount of player movement, with salary dumps and acquiring draft pick's being the priority.
Look for the Hurricanes to try to be very active at the deadline, but don't be surprised if they have difficulty ridding themselves of their veteran contracts.
Check back with me on TOsports.ca for my Western Conference pick's, you may be surprised which teams will be selling.
Until next time,
Peace!
By Mark "The Hard Hitter" Ritter…
Entering their matchup on Wednesday, the Philadelphia Flyers and the Toronto Maple Leafs were only separated by two points in the standings. Considering that, one would have thought that the Flyers and Leafs were in for a close, hard fought game last night.
As fate would have it, nothing could be farther from the truth as the Flyers routed the Leafs by a score of 6-2. Daniel Briere scored twice for the Flyers, with Mike Richards, Daniel Carcillo, Danny Syvret, and rookie James Van Riemsdyk all netting goals.
The Flyers dominated the Leafs all night and were red hot on the power play, going three for six on the night.
It was a chippy affair at the Wachovia Center, with the Flyers and Leafs engaging in four fights on the night. That said, for the Leafs, it was yet another night of misdirected aggression, as all the fighting did absolutely nothing to change the complexion of the game.
The Flyers dictated the pace of the game all night, and were seemingly in the Leafs' heads, frustrating them both on the ice and on the scoreboard. It was clear the Flyers were dominating the Leafs right form the get go, as witnessed by their 4-0 lead by 1:22 of the third period.
To be honest, despite a surge in the third period where the Leafs scored two goals in 51 seconds, the Leafs were never in this contest. And while the Leafs did score two goals in 51 seconds, they also gave up a goal to the Flyers in between—the old "two steps forward, two steps back" credo.
Leafs goaltender Jonas Gustavsson battled hard all night, but struggled to find his groove. The three power play goals didn't help matters, and the Leafs defense looked very shaky all night, that said, Gustavsson was off and it showed.
At the other end of the rink, Flyers goaltender Michael Leighton was solid in between the pipes, stopping 30 of 32 shots and slamming the door on the Leafs in the second period, a period in which the Leafs had 14 shots on net.
In the end the Leafs undisciplined play cost them the game. That said, the Flyers were full value for the win and can now use this victory as a building block to get themselves back into playoff contention.
Next up, the Flyers take on the Pittsburgh Penguins at the Igloo. Pittsburgh owns a record of 4-6-0 in their past ten games and they own the worst power play in the NHL.
On the surface, it would seem as if the Penguins are ripe for the picking. A win against the Pens could do wonders for the Flyers shaky confidence, not to mention the two points, which the Flyers badly need.
The Flyers are zero for three against the Penguins this season, including back-to-back loses in December of 6-1 and a 3-2 overtime loss. Clearly the Penguins have the Flyers number this season, so the Flyers better bring the "A" game.
The Leafs will take on the surging Buffalo Sabres on Friday night. The Sabres have a record of 7-1-2 in their past ten games and have won five straight. The Leafs lost 3-2 in overtime to the Sabres the last time out and probably deserved a better fate. On the season, the Leafs are zero for four against the Sabres.
Until next time,
Peace!
By Mark "The Hard Hitter" Ritter… For many Canadians, tonight's game against the United States at the World Junior Tournament was more than just a game. Hockey has long been Canada's game and, as such, Canada has dominated the World Junior Championship for the past five years.
On the other hand, the Americans have been hard at work developing players and changing up their preparation for the tournament in an effort to compete/beat Canada.
Hockey has grown to it's full potential in Canada. With that in mind, given Canada's utter dominance of the WJC, (Canada had lost only one game in the past six years heading into tonight's action) there were some analysts suggesting an American win would be good for the exposure of the tournament in the United States.
Tonight's festivities began with the noticeably pro-Canadian crowd passing around the familiar massive Canadian flag around the arena- a tradition that is bound to be met with some apprehension when the World Juniors switches venues to Buffalo next year.
Throughout the tournament there has been a big push for the Canadian crowd to adopt the "Eh! O'Canada Go!" chant. To their credit, Tuesday night's crowd resisted using the God awful chant, opting to chant the familiar "Go Canada Go!" instead.
The American's came out with an abundance of energy, using their speed and agility to get behind the slower Canadian defense. Fortunately, Canada did not succumb to the Americans quick start.
In fact, Canada opened the scoring in the first period when Jordan Caron fed Luke Adam with a great pass, ultimately leading to Adam putting a backhand shot past American goaltender Michael Lee, who looked weak on the play. 1-0 Canada!
Canada continued to apply pressure after they scored, but were caught trying to make cute passes a few times. Team USA used their speed to intercept Canada's labored passes.
Team USA held it together, weathered the storm from Canada and, with Canada's defense seemingly asleep at the wheel, scored the tying goal when Chris Krieder shot a bullet past Canadian goaltender Jake Allen.
Just 36 seconds later, the Americans got their first lead of the game when Jordan Schroeder shot high on Allen, beating the young netminder.
To their credit, the Canadians responded right away when Nemisz slid the puck along the ice, beating Lee and marking the second time Lee looked bad on a goal.
Canada would end the period on the penalty kill when defenseman Alex Pietrangelo inexplicably nailed American forward Jeremy Morin from behind, leading to a two minute penalty and a ten minute misconduct to boot.
The Canadians were outshot by the Americans by an embarrassing 13-5 mark and, by all accounts, outside of a few bad breaks, the Americans outplayed the Canadians.
Early in the second period, with Canada on the penalty kill, American defenseman John Carlson scored a power play marker at 18:22, putting the Americans up for the second time in the game.
Once again, Canada responded quickly when Tyler Hall scored for Canada at 16:04 in the third. That was all she wrote for American goaltender Michael Lee, as he was pulled in favor of Jack Campbell. No question about it, Lee looked shaky all night, giving up three weak goals.
At the other end of the ice, Canadian goaltender Jake Allen has made a few good saves, but he has looked tentative at times and seems to be fighting the puck. Still, Canada elects to stick with him (which would be a mistake).
Canada and the US exchanged power play opportunities, with both teams coming up short. Campbell, who barely had time to break a sweat at this point, stood on his head for the Americans, thwarting several Canadian shooters.
Alex Pietrangelo finally came back into the game at 11:03 of the second. From that point on Canada seemed to play with renewed confidence, clearly Pietrangelo's presence was a huge boost for the Canadians after losing him for a full ten minutes.
Nazim Kadri continually hit the offensive zone with vigor. He was not afraid to take the shot when it presented itself, establishing himself as a major scoring threat. Jordan Eberle was also a consistent threat around the net, leading many to speculate that he may once again be Canada's hero.
The biggest hit of the period belonged to Canadian defenseman Ryan Ellis who lamb-basted American forward Ryan Bourque along the boards, a hit that resinated throughout the arena, albeit partially drowned out by the Cheers from the crowd.
Unlike the first period, Canada dominated the late going, pumping the American goaltender with shots and hitting Team USA's forwards at will. In the end, the two teams left the ice knotted in a 3-3 tie, which set the stage for yet another memorable third period.
Canada outshot the Americans 14-8 and had a much better period, taking the game to the Americans and dominating the offensive zone.
So, with hearts pumping at both ends of the ice, Canada and USA faced off for the coveted Gold Medal.
Canada started the third period with an early power play. Campbell continued to stand on his head in net and the American defensemen did a great job of blocking shots, ultimately shutting Canada's power play down.
Shortly after killing off the penalty, the Americans had a two-on-one. Jerry D'amigo took a pass, which he deposited into the back of the net behind Canadian goaltender Jake Allen. 4-3 USA…
The Americans would add another goal, this time scored by Derek Stepan, when Allen misplayed the puck (a la Marc-Andre Fleury) and with that, it was now 5-3 USA…
The goal led to the games second goaltending change as Canada put Martin Jones in net to replace the shaky Allen.
With 4:01 left in the third period Kyle Palmieri took a goaltender interference penalty, which ultimately led to Canada scoring it's fourth goal, putting them within one.
It was the prelude to one of the biggest comebacks in Canadian history, when with the Canadians swarming the Americans net and with one minute to go, Jordan Eberle scored to tie the game at five goals apiece. What an incredible comeback!
If he wasn't a legend already, Jordan Eberle is one now. First, his huge tying goal against Russia in last years semi-final, his efforts on New Years Eve and now another huge goal against the United States to give Canada another shot at the Gold.
The American's started the Overtime period off with a great scoring chance from Ryan Bourque (son of former Boston Bruin legend, Ray Bourque). Fortunately for Canada, Jones was up for the challenge, stopping Bourque and corralling the rebound.
Canada responded with some good pressure in the American's zone, but the Americans would prove to be too much on this night, when coming off a great save by Campbell at the other end, the Americans broke out into a two-on-one, leading to the winning goal by John Carlson, which beat Jones on the short side.
And, with that, Canada's drive for six Gold medals was over. For the second time in their history, Team USA are Gold Medal winners!
Jordan Eberle took player of the game honors for Team Canada and will likely receive plenty of consideration for tournament MVP. Derek Stepan took player of the game honors for Team USA.
Taylor Hall, Jordan Eberle and Alex Pietrangelo were picked by the Canadian coaching staff as their three stars. The top three players for Team USA were, Tyler Johnson, Derek Stepan and Jerry D'amigo- a Toronto Maple Leaf draft pick.
Benjamin Conz of Switzerland took top goalie honors, Canada's Alex Pietrangelo took top defenseman honors and Jordan Eberle took top forward honors.
Anything can happen on any given Sunday, or, in this case Tuesday night. Team USA was full value for their win. They played as well as the Canadians throughout the tournament and, on this night, were the better team.
Kudo's go out to Team USA. Their speed was incredible and, given their penchant for blocking shots, they paid the price for victory, which is admirable. Canada last allowed more than four goals in the Gold medal game in 2002, a game they lost to the Russians, once again proving goaltending is the key to victory, something Canada lacked on this occasion.
For the record, despite giving up two late third period goals, American goalie Jack Campbell stopped 32 of 34 shots en route to the Gold Medal win…any questions?
In the end, this was an epic battle. What we witnessed was a great battle with both teams giving one hundred percent. It was, a classic, a game that both Canadians and Americans, albeit for different reasons, will not likely soon forget.
Of note, the Americans also won the under 17 tournament against Canada yesterday, serving notice that Team USA is for real, establishing themselves as a Country that should be able to compete for Gold for the foreseeable future.
Until next time,
Peace!
By Mark "The Hard Hitter" Ritter…

There are plenty of rumors surfacing in NHL circles that the Philadelphia Flyers are looking to make a major move. Most of these rumors seem to start and stop with struggling centre Jeff Carter.
It's no secret that the Toronto Maple Leafs have long coveted Carter and his scoring prowess; question is, with Carter marred in one of the worst scoring slumps of his career, would Leafs general manager Brian Burke still be willing to explore the possibility of adding the 24 year old to the fold?
Carter scored 29 goals in 2007-08, 46 goals in 2008-09 and is on pace to score between 25 and 30 goals this season. Thirty goal scorers do not grow on trees, so Carter still has some legitimate value on the trade market, regardless of his struggles this season.
Recent reports suggest the Flyers have approached the Atlanta Thrashers about the possibility of landing Ilya Kovalchuk. Needless to say, it will take a lot more than just Carter to bring Kovalchuk to Philly, but the Flyers are more than capable of putting together a package of roster players, prospects and draft picks for Kovalchuk, adding some validity to the rumors.
To be fair, the Thrashers are in good shape this season. Free agent acquisitions Maxim Afinogenov has registered 31 points in 35 games, including 12 goals and former Maple Leaf Nik Antropov has 31 points in 35 games, including nine goals.
Averaging 3.20 goals per game, Kovalchuk, Antropov and Afinogenov are the main reasons the Thrashers are ranked third overall in NHL scoring. Clearly, subtracting Kovalchuk from the Thrashers would be a difficult decision, but with rumors that Kovalchuk is looking for a ten year deal in the neighborhood of $11 million per season, he may have out priced himself for the financially struggling Thrashers.
If the Thrashers were to entertain moving Kovalchuk I suspect they would be looking for a first line forward with scoring abilities, a characteristic that, in the right situation, Carter could bring to the Thrashers. That said, there is no guarantee that Carter would mesh with Afinogenov or Antropov (who has played plenty of wing in the past), which is a huge risk for the Thrashers, who are on the cusp of their first playoff since 2006-07.
In the end, one has to believe that the Thrashers will do everything in their power to keep Kovalchuk in Atlanta, and ultimately you have to think they will find a way to keep him. With that in mind, perhaps it's time that Burke picked up the phone to inquire about landing Carter from the Flyers?
The Leafs gave up two first round draft pick's (2010 and 2011) to the Boston Bruins in order to acquire Phil Kessel, so any trade involving Carter would likely involve a number of roster players and perhaps a prospect.
The Flyers have inquired about Tomas Kaberle in the past, but the Czech defenseman has thus far balked at the idea of playing in Philadelphia, refusing to waive his no-trade clause, which has put the kibosh on any previous trade speculation.
If Kaberle was willing to waive his no-trade clause, I suspect a deal could be worked out. Having said that, Burke has stated on countless occasions that he likes the skill set Kaberle brings to the Leafs and, considering Kaberle's low cap hit ($4.250 million in 2009-10 and 2010-11), Burke feels Kaberle is underpaid and thus brings great value to the Blue and White.
If Kaberle once again refused to move to the Flyers, there are other players the Leafs could consider moving. Defenseman Luke Schenn has had a tough sophomore season, but nobody doubts his overall skill set and upside. Once thought to be the next captain of the Leafs, could Burke now entertain moving Schenn in a package to acquire Carter?
Matt Stajan (11 goals, 28 points through 36 games) is a decent playmaker and penalty killer and may be a decent addition for the Flyers. At $3 million per season through 2011-12 Niklas Hagman (15 goals, 25 points through 36 games), has played well in stretches this season and may very well be attractive to the Flyers.
Would a package of Schenn, Stajan and Hagman get a deal done? Probably not, but it does offer a good starting point for these two teams and, in my mind, is not far off what the Flyers would be looking for.
Clearly, Carter has tremendous trade value, so you have to suspect that numerous NHL teams would be willing to make an offer on him.
If Burke could sell Flyers GM Paul Holmgren on the idea that adding three players to the roster for the price of one could turn around the fortunes of his team, we may have the makings of a deal. That said, it's still a long shot and, in all likelihood, unless the Leafs can find a way to get Kaberle to move his no-trade, all bets are probably off.
In the end, something has to give for the Flyers. It will be interesting to see how this all shakes out. One thing is for sure, there will be plenty of rumors where the Leafs and Flyers are concerned, Carter to the Leafs is just one of them.
Until next time,
Peace!
By Mark "The Hard Hitter" Ritter…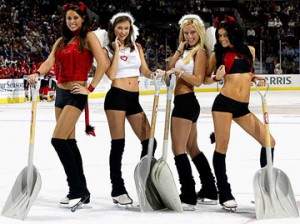 Every season we see a number of players that were virtual unknowns turn into household names. For some, the accent to star status is nothing more than a blip in their otherwise very average hockey careers, but for others, a great season serves as the beginning of their super-star status and, in most cases, a change in their teams fortunes.
Let's take a look at 10 players that have come out from under the radar to be recognized as having what it takes to be a future NHL star.
Jonathan Quick, Goaltender, Los Angeles Kings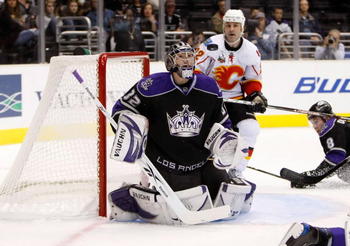 In 2008-09, Jonathan Quick put together 21 very quiet wins with the Los Angeles Kings. Through 34 games in 2009-10, Quick has a record of 20-11 and, by all accounts, looks poised to put together a 40-win season, which many NHL fans would have thought unimaginable for Quick.
To be fair, the emergence of Anze Kopitar, Drew Doughty, and the veteran presence of Ryan Smyth have contributed largely to the Kings' good fortunes, but, for many NHL teams, success starts and stops in net, and, on more nights than not, the puck stops when Quick occupies the net for the Kings.
Tomas Plekanec, Centre, Montreal Canadiens
There were plenty of headlines in Montreal newspapers this summer, specifically the offseason additions of Mike Cammalleri, Brian Gionta, and Scott Gomez. At the time of the signings, many Montreal Canadien fans were hoping either Cammalleri, Gionta, or Gomez would emerge as the team's offensive leader.
To the surprise of everyone in Montreal, Tomas Plekanec, a player who has shown glimpses of greatness in the past, has roared onto the NHL's top scoring list, as he currently sits with seven goals and 36 assists, which is good enough for 43 points and makes Plekanec the sixth highest point producer in the NHL thus far.
Plekanec's 36 assists ranks him second overall in that department and ahead of a number of NHL stars such as: Martin St. Louis (34), Brad Richards (32), Ryan Getzlaf (31), Niklas Backstrom (28), and Sidney Crosby, who uncharacteristically has just 24 assists thus far.
Patrick Marleau, Centre, San Jose Sharks
Let's face it, Marleau is already a star in the NHL. That said, given the San Jose Sharks offseason acquisition of Dany Heatley and the move to take the Captaincy away for Marleau, there was a lot of concern that Marleau's game would tail off.
To his credit, Marleau has established himself as one of the NHL's most feared scoring threats, and, with 23 goals in 37 games, he sits third overall in that department. Given his strong play, Marleau has gone from also-ran to legitimate candidate for Canada's Olympic roster, something almost nobody thought possible at the beginning of the season.
Steven Stamkos, Centre, Tampa Bay Lightning
Blessed with so many tools, it was just a matter of time before Stamkos established himself as one of the League's best forwards. Through 37 games, Stamkos has registered 21 goals and 35 points, which ranks him seventh and 26th, respectively.
Stamkos, who played much of last season behind Tampa Bay Lightning legend Vincent LeCavalier, has supplanted Lecavalier as Tampa Bay's number one centre, a feat he accomplished in this, just his second NHL season. Stamkos is a star…
Drew Doughty, Defenseman, Los Angeles Kings
The key to many NHL teams' success can be traced to how well their defensemen can move the puck. For the Los Angeles Kings, Drew Doughty is a key reason the Kings are where they are in the standings.
Known as an offensive defensemen, Doughty has proven this season that he can play in any scenario, as he clearly has the ability to emerge as one the NHL's best overall defensemen and quite possibly a Norris Trophy candidate as early as this season.
Duncan Keith, Defenseman, Chicago Blackhawks
Through 36 games, Keith has posted six goals and 31 points. His point totals rank Keith second on a team that is full of offensive juggernauts such as Patrick Kane, Patrick Sharp, and Jonathan Toews, which is impressive to say the least.
The offensive totals only begin to tell the whole story about Keith. His ability to dominate in all areas of the game is quickly becoming known in NHL circles, and, not unlike Doughty in Los Angeles, Keith should emerge as a Norris Trophy candidate for many years to come.
Antti Niemi, Goaltender, Chicago Blackhawks
Chicago has a problem every NHL team would love to have: two goaltenders that are both capable of being a number one goalie. I suspect if it wasn't for Cristobal Huet's bloated salary, we would be seeing a lot more of Chicago's "other goalie", Antti Niemi, in between the pipes, but for now, Niemi will have to bide his time before he can emerge as Chicago's number one.
Niemi already has some very impressive stats and, by all accounts, may be Chicago's best goaltender. Through nine starts, Niemi has an exemplary record of 8-1-1 with four shutouts. His 1.59 Goals Against Average is incredible, and his .937 Save Percentage is off the hook.
Clearly, Niemi has arrived and before too long might just give the likes of Ryan Miller, Martin Brodeur, and Marc-Andre Fleury a run for their money where the Vezina Trophy is concerned.
Marc-Andre Bergeron, Defenseman, Montreal Canadiens
I am sure to get a lot of flak for picking Marc-Andre Bergeron as one of the most surprising players in 2009-10, but until you look at the whole story, only then can you truly understand the strides that Bergeron has made.
Known as an offensive defenseman with very average defensive abilities, Bergeron did not receive a contract offer this summer. When Montreal Canadiens franchise defenseman Andrei Markovov went down for an extended period of time with injuries, the Canadiens needed to find a replacement fast. Enter Bergeron.
To be fair, you don't replace a player of Markov's ilk. That said, with 20 points in 32 games, Bergeron leads all Canadiens defensemen in points, goals, and power play goals, and, with four game winning goals, he has established himself as a very valuable player for this team.
Bergeron is ranked 16th overall in point production amongst all NHL defensemen, which is not bad for a guy who nobody wanted this summer and is making next to nothing for his services.
Dustin Penner, Right Wing, Edmonton Oilers
At 6'4" and 245 pounds, Justin Penner was always thought to have all the physical attributes to be a star player in the NHL. In his first full season with the Anaheim Ducks (2006-07), Penner posted 29 goals and added 16 assists for 45 points. By all accounts it looked as if Penner had arrived.
It's one thing to score in the NHL and quite another to be a complete player. In 2007-08, Penner joined the Edmonton Oilers; while his point totals improved by two, his plus/minus rating went from a minus two to a minus 12, which is something that concerned the Oilers.
The following season (2008-09), Penner's point totals plummeted to a paltry 17 goals and 37 points. Sure, his plus/minus totals spiked to a career high plus 7, but his overall game left the Oilers and many others in NHL circles wondering if Penner had what it took to bring a complete game.
The 2009-10 season was thought to be a make or break season for Penner, and thus far he hasn't disappointed. Through 37 games, Penner has lit the lamp a total of 19 times and added 19 assists, bringing his point totals to 38.
With a plus 11 rating, Penner has shown he can play a complete game, and by all accounts he has gone from a ghost to a major threat who can crack team Canada's Olympic lineup.
Ilya Bryzgalov, Golatender, Phoenix Coyotes
It would have been easy to talk about the Buffalo Sabres goaltending sensation Ryan Miller or maybe even the Colorado Avalanche's Craig Anderson, but to me, the biggest splash in the goaltending community has come from Ilya Brzgalov.
With so much offseason turmoil surrounding the Phoenix Coyotes, Bryzgalov has shut out the negativity and "brought it" on a nightly basis. Through 31 games, Bryzgalov has a record of 21-10-2 with a sparkling 2.02 GAA and a mind-boggling .926 save percentage.
Add to those totals the fact that Bryzgalov has posted five shut-outs, and you have yourself a legitimate NHL super-star goaltender.
Remember, many NHL pundits had the Phoenix Coyotes finishing 30th amongst 30 NHL teams, which further underlines just how great Bryzgalov has been this season.