by Sachin Arora…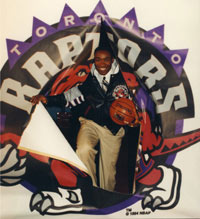 This week wasn't much different defensively for the Raptors. Inconsistent, weak, and showing little or no passion summarizes it in short.
But another problem rose this week with the Dinos.
They only reached over 100 points once, with their offense struggling badly against sub par defenses of the T-Wolves and Bucks.
The reason for this is evident: Jose Calderon's injury. Calderon is a very secure point guard, who will always make good passes and take care of the ball. He runs the offense and makes it go.
Calderon looks like he might be out for a while and we will have to rely on Jarrett Jack, who is a good point guard but isn't as smooth as Calderon and is more of a shoot first type of player.
After barely beating the Timberwolves and losing to the Bucks, the Raptors got pounded by the Atlanta Hawks once again, but then followed up with a strong win against a banged up Houston Rockets team.
One thing that I would like to comment on was an incident in the game against the Rockets.
Trevor Ariza deliberately tried to punch rookie DeMar DeRozan because of frustration after DeRozan stole the ball from him. Ariza was immediately ejected and many Raptors clogged in and stood up to Ariza. This is a good sign of fire and passion, which are some things the Raps will need if they want to succeed.
Week Seven Record: 2-2
Performance on a Scale of 1-10 : 5.5
Positives: Sonny Weems has started to get some minutes and he has made the most of them. We have needed a spark off the bench and he's provided it. The Raptors finally showed some passion against the Rockets and hopefully it will carry on.
Negatives: I think this is the first time that offense has been in the negatives. If the Raptors don't score over 100 points, they have a very low chance of winning. The Raps only topped 100 once this week, and they came away with the win.
The other win of the week was against the Timberwolves, where they scored less than 100, but the Raptors should easily be scoring over 100 against a team like that.
I would also like to point out that when the Raptors have limited teams to under 100 points they are undefeated. If their defense could be a little bit more consistent, then it would do wonders for this team. Another concern was that against the Rockets, Jarrett Jack was the leading rebounder. That can't be happening.
Overall, this was a pretty dissapointing week. I was hoping they could beat the Bucks to finish 3-1, but they failed to show any grit and luckily finished 2-2.
GO RAPS!
Next Report: Sunday, December 20th
by Sonia Sache…
Where oh where has our beloved captain gone? Where oh where can he be? Somewhere along the line, Mats Sundin, our beloved Toronto Maple Leaf captain lost his passion for the game of hockey. He became seemingly more interested in staying in Sweden, committing himself to his family, friends and fiancée than play the fervent game of hockey; a game that not only made him a millionaire, but a superstar in Toronto. To the keen observer, this came as no surprise.
Gone is the hefty leaf-on-the-sleeve, don't want to play anywhere else liege, who stoned walled any trade at the deadline this past February, invoking his "can't make me clause", which many will never forgive. Mats hid behind the "mask" of loyalty to Toronto; standing firm that he could not, would not join another team midway through the season as allegiance to a team means training camp all the way to the bitter end . Oddly, Sundin did not accompany the squad, his mates, his on-ice family on its final road trip! He ended his existing Toronto tenure alone, not there to skate off the ice in Montreal with his chums. His response to the criticism of his (lack of) action was, "it was over by then anyway". Things that make you go, hmmmmmm.
If Sundin's priority was really his teammates, the team, and his fans, then why did he decline the TEAM'S request that he waive his no-trade clause? Toronto sought to trade him for younger players or draft pics, which could have helped the faltering leafs. He was an attractive short-term option for teams seeking help for the stretch of the regular season and the playoffs. In fact, Sundin said, "I have spoken to and listened to my family and those closest to me about this issue". The Toronto maple leafs were not part of the equation. And go to another team? Where the regular season may be extended? To a team that could make the playoffs? Have you gone mad? That would mean less time with his family and he couldn't do that! Where else, but in Toronto, can the captain of a major league team continue to be an idol, but barely lead his team to the playoffs and NEVER win the cup? Working past the regular season would mean less quality time with his family……in Sweden.
Sundin claims that Toronto is his home. But, where is Mats Sundin during the off season? Not in Toronto, that is for certain. Fans never see him attend a Blue Jays or Raptors game to promote other sports in Toronto.
And now, everyone is waiting with baited breath as to where or if Sundin will play this year. Montreal has offered Mats a $15 M, 2 year deal while Vancouver has offered him a $20 M, 2 year deal. Oh yeah, Toronto has also made an offer…a one year deal estimated at $7 M. "I have always believed I would finish my career as a Toronto Maple Leaf" are the words Sundin used to explain his decision to assert his no trade clause. Does this mean that if he returns to the land of hockey, it will be in Blue and White, or were his actions made in vain?
We shall soon see……
by Sonia Sache…

Is this the beginning of the end for some NHL teams? In case you haven't heard, the new salary cap for the new NHL season (2008/09) is now $56.7M US. And the new base or "floor", which is the minimum each team MUST spend, is now $40.7M US. The salary cap and the new floor have risen by $6.4M US. So, who cares? Well, the NHL should. Since it "seemed" that the profits from last year increased and that losses decreased, a salary cap increase was initiated. But, how much of this was due to the fact that the Canadian dollar went up? Of course Canadian NHL teams noticed a surplus. Our dollar was finally at par with the US! What will happen to the smaller market teams when the Canadian dollar falls? How will these Canadian teams (except Toronto, of course) be able to compete then?
And if the new salary cap isn't bad enough for the smaller Canadian markets, the absurd contracts some NHL teams are giving under-achieving players are! Take for example Jeff Finger. He was a "career minor-leaguer" before being signed to Colorado for $475,000. He plays a total of 94 games in the NHL, is not a proven talent by any means, and Toronto signs him to, (are you ready for this?) a $3.5M contract, for not one, but 4 YEARS!! Wasn't it this type of stupidity that got former Toronto GM, John Ferguson, fired after signing three defensemen to savory contracts? It is not to say that Toronto is single-handedly responsible for the future demise of the league. It is however this "more money than brains" mentality that is spreading throughout the bigger markets of the NHL that is. In Montreal, Michael Ryder, their former right winger who was paid $2.95M, goes from scoring 30 goals in 2005/06 & 2006/07 to 14 goals in 2007/08. So, did Boston over-value Ryder or did GM Chiarelli not get the memo? For 2008/09, Boston ultimately signed Ryder to a whopping $4M/year, three year contract! Based on his track record, Ryder does not warrant a 26% pay raise when he produced half as many goals. Smaller markets can't compete with that. I know I'm shaking my head too.
The facts please, just the facts. The motivation for this irrationality is, not surprisingly, the "Fantasy Analysis". It seems that if the player's agent can sell the possibility of talent to a GM that is all that matters, as evidently the current performance of a player is irrelevant. Boston's GM, Peter Chiarelli said, "There is a chance Ryder re-emerges as a 30 + goal scorer alongside Marc Savard". In the future, this may be true. But it isn't right now. Yes, one must take risks; educated, calculated risks. How many mistakes can a business make before it is too late?
Can anyone save the NHL owners from themselves? This remains to be seen. In the meantime, the public and the smaller market Canadian teams, have to watch anxiously as mediocre players get wooed with big money and long contracts by bigger market teams. Why, because they can!