by Yoshi Farhi…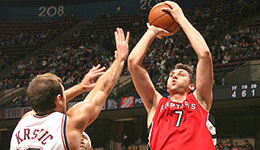 Despite the Raptors' dismal year, I remain optimistic toward the future.
Here's why—the long awaited emergence of Bargnani as a legitimate player in this league is HUGE for this team.
He has put up very solid numbers of 19.2 points and 6.4 rebounds in 35.5 minutes per game since January, which would put him at 27th in the league in points per 48 minutes (right behind Joe Johnson).
Il Mago's emergence gives the Raptors the possibility of having the highest-scoring big-man duo in the league. While it takes more to win than just points, Bargs is showing steady improvement all around, including rebounding and toughness.
Even though his game is far from perfect—his post game, rebounding, and defense still leave much to be desired—he has been the single bright spot this season and leaves hopes of a big turnaround next year.
Furthermore, Brian Colangelo is a proven GM in this league. Yes, he messed up with the JO trade last offseason, but Colangelo is a risk taker and risks don't always pay off.
Even though JO was a bust, Colangelo has managed to soften the blow substantially. Similar to his first season, Colangelo has a large sum of money to work with this offseason and he knows the goal—a tough-minded slasher who can defend and score.
There are a number of free agents Colangelo is likely to look at this summer: Grant Hill (too worn out), Hedo Turkoglu (too much of a shooter?), Trevor Ariza or Odom (will the Lakers let either go?), Jamaal Crawford (could work, too risky maybe), Ron Artest (also risky), Ben Gordon (too much of a shooter?), and Iverson (expensive, but would work).
Since the list isn't that impressive, Colangelo might needto facilitate some sort of trade—maybe a sign-and-trade of Marion—with all the cap room the team has and teams looking to unload cash before the big 2010 free-agent class.
Finally, the one good thing about the Raptors' record is their presence in the lottery. While the Raps most likely won't find their starting wing player in this poor class, there will surely be enough players in the lottery picks capable of holding their own as bench players.
The future doesn't look so bad after all.