by Mike De Marco…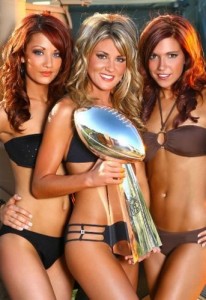 With a week off before the Big Game we take a look at some of the best proposition bets you might find in next week's game. Here are my favourites:
1st Sack of the game – Pittsburgh -130
I strongly believe that the Steelers game plan will be to rattle Warner early, and that is done by blitzing. The Steelers will probably try to establish the run on the opening drive where as the Cards will pass. Warner is very much less mobile than Roethlisberger.
Player to score first TD of the game – Anquan Boldin +750
The Steelers will be double and triple teaming Larry Fitzgerald, this leaves Boldin with a ton of one on one coverage. All though he will not be the target of choice for Warner, it won't prevent the savvy veteran from throwing to single coverage. Warner wants to win period.
Longest completion of the game: Over under is 39.5 yards – Over
The Cards will be throwing all game long and the Steelers have hit big plays in both of their playoff games. Both quarterbacks might hit this and it would not surprise me to see more than two plays go above this total. Take a look at the NFC Championship where there FOUR plays above this number.
Kurt Warner pass completions: 22.5 – Over (Power Prop)
For Arizona to win Warner will have to air it out all game. The Steeler D will be coming all game, but Warner is a tough cookie who will stand in the pocket and take a hit to make a throw. This number is way too low for my liking.
Will the game go into overtime? Yes +800
The Super Bowl has never had an overtime game. It is due.
by Mike De Marco…
Many people are in agreement that championship Weekend is the most entertaining of the entire NFL season, including the Super Bowl. I am one that agrees with that assumption, and am greatly looking forward to this weeks match-ups. There are many possible Super Bowl story lines that will come to fruition Sunday night. An all Pennsylvania Super Bowl? Ray Lewis or Donovan McNabb back in the show? Ken Wisenhunt against his former employer? Thing is, you can't bet on story lines.
Arizona +4 over Philadelphia:
For the first time in NFL history a road team is favored by more than 3 points in a Championship game. I am totally against the notion that the Eagles are favored in this one. This line has been posted on nothing other than Public perception. You see, the Eagles are the Chic pic after road wins in New York and Minnesota. The Cards have been very impressive in disposing the Falcons and Panthers. The home crowd will be very very loud in Arizona and I for see Arizona lighting up an Eagles secondary that has not been tested at all in the Post Season. Kurt Warner nows how to attack a secondary and will be dangerous if the Eagles decide to blitz too much as they have been guilty of in the past. Home Cooking prevails here as the Cards make their first ever Super Bowl appearance.
Baltimore +6 over Pittsburgh:
To be honest I like the Steelers to prevail in this game, just not by 6 points. This will be heck of a physical contest where defense will prevail for both sides. The Raven defense has been exceptional down the stretch, and the Steelers D ranked number 1 in the league against both the run and the pass so as you can see points will be at a premium. These teams have met twice this season with the Steelers winning both. One in Overtime, and the other on a last second touchdown that is still being questioned. Can it be "Third times a charm" for the Ravens? In my opinion it will come down to which quarterback makes the play to win the game and I know Ben Roethlisberger has been there before. Joe Flacco? Not sure if he will handle the pressure of playing a road Championship game. I am calling an Arizona-Pittsburgh
Super Bowl.
Make sure to check in next week where I will have all my Prop selections for you.
by Mike De M
arco… 64-57-3 (Power Picks 15-4)
The Power Picks continue to roll having won seven straight, but as last week proved, it's not always easy to pick 'em in the post season. I had the Vikings to use screen passes to beat the Eagles last week and they were there for the taking but for one reason or another not one was called. Ironically, it was the Eagles who scored on a screen midway through the fourth that sealed the deal.
This week we break down the divisional matchups.
San Diego +6 over Pittsburgh (Power Pick)
Not having L.T in their line-up kind of scares me a little bit, but just not this week. I know the Steelers boast the games number one run stopping units, but I know the Chargers wil use Darren Sproles in many different ways to counter the Steelers aggressive style. I am not sold that Pittsburgh quarterback Ben Roethlisberger is going to be 100 percent in this one and you can bet San Diego will try to rattle him early. Philip Rivers is on a mission and he will have his team close enough in the fourth quarter to maybe pull out the outright victory!
Baltimore +3 over Tennessee:
This is such a simple game to handicap. The Ravens are probably the hottest team in football right now, and the Titans were just 3-3 over the last six weeks of the season. The Ravens D will pose many problems for a Titans offense that is the most one dimensional offense of all playoff teams. Kerry Collins will be put in a position to have to win the game through the air and I don't think he can do it. The Ravens will score just enough on offence to WIN this game outright!
NY Giants -4 over Philadelphia:
I don't give two hoots if the Eagles are hot, or that they won a playoff game in Minnesota, or that they have beaten the Giants in New York already this year. Fact is; the Giants are a better football team then the Eagles. The key in this match-up will be how well the Eagles play in the trenches. If they can stop the pass rush of the G-Men and stop Brandon Jacobs on defense then they have a chance, thing is….I don't think they do either. This game cries Eli Manning and Donovan McNabb, but the reality is they don't have as much impact on this game as you might think. G-Men reastablish themselves here.
Caroplina -10 over Arizona:
Yeah so the Cards win their first playoff game in a Jazillion years big whoop! Fact is Arizona is horrible on the road, and even worse on the East Coast going 0-5 this season. Couple that with the fact the Carolina run game poses huge mismatches for the Cards it's becomes really clear to why I like the Panthers so much. I know the Panther secondary is suspect, and Kurt Warner disected them for 381-yards in an earlier loss to Carolina, but I have a very good feeling the Julius Peppers and co. will not be affording Warner the time he had in that meeting. This game is the lone blowout this week.
by Mike De Marco… 62-54-3 (Power Picks 14-4)
Well it's Wild Card weekend and as many of you know, it is aptly named. With that in mind I really feel the games are not that difficult to handicap. For the first time in NFL history, all four road teams are favored in a single playoff weekend. Let's get to the picks:
Baltimore -3 over Miami (Power Pick)
I truly believe the Dolphins have improved leaps and bounds this season, but I also truly believe they have done it in a very unconventional fashion. I am not quite sure just how good Chad Pennington is or has been. This will be by far his biggest test of the season, going up against a Raven defense that is led by players who have been here before. Hello Ray Lewis….Ed Reed? The Ravens bring an imposing defense along with their bruising rushing attack and I feel they will control the tempo and field position enough to give them an advantage come the fourth quarter. The slipper falls off here for Miami.
San Diego +1 over Indianapolis:
I have touted the Chargers all season long and as soon as I gave up on them they start to play outstanding football. Bottom line is this: Is there a better 8-8 team in NFL history? The answer is no. This Charger team is capable of winning the Super Bowl and though the Colts are as well I feel the Chargers running game has finally rounded into form at just the right time. They really do resemble the Giants of a year ago who put it all together at the right time. Stopping the run has been the Achilles of the Colts for quite some time and I believe the Chargers will use the ground game to keep Peyton Manning and that potent offense off the field. Indy may be the hottest team entering the playoffs having won nine straight, but it ends here in San Diego.
Atlanta -1 over Arizona:
The Cards were 6-0 within their division, and 3-7 against everyone else. Problem is the Falcons are not in their division. Arizona looked like gangbusters at times this season, and thought they are capable of winning on any given Sunday, they do not possess the traits of a good playoff team. The Falcons on the other hand do. Fantastic running game and a quarterback with poise (even though he is a rookie). The Cards have been one dimensional on offense for years and that will become a problem this week. Same as the Chargers, the Falcons will use their run game to keep Kurt Warner and co. off the field. The Falcons continue their Cinderella season with a big road playoff win.
Minnesota +1 over Philadelphia:
I really like this game for one simple reason. The Vikings have a huge edge in the trenches in this one, and when it comes down to it; that is what usually wins football games. Who can control the line of scrimmage better? In this game the Vikings offensive and defensive lines are huge mismatches for their Eagle counterparts and that will show late in the game. Look for Adrian Peterson to have a monster game, especially on the screen pass. Eagles D coordinator Jim Johnson loves to blitz, so I see the Vikings countering that with several screens to their prized back, and those will be big plays for Minnesota. Tavaris Jackson will need only to manage this game to win, Donovan McNabb on the other hand will need to carry the Eagles if they are to win, and I am convinced he chokes in big games.
Bowl Selections: (5-2)
Texas Tech – 4.5 over Mississippi
Alabama -9.5 over Utah
Texas – 8 over Ohio Sate
by Mike De Marco… overall record: 58-50-3 (Power Picks 13-4)

Being the last week of the NFL season, it can be difficult to predict many games as spreads are skewed based on certain scenarios. For instance the Giants are getting 6 and a half points in Minnesota, something that would never take place on any other week. So with that in mind I will try to handicap the games as best as possible.
Arizona – 6 over Seattle: (Power Pick)
The Cardinals locked up the NFC West weeks ago, but I like them for other reasons. They have not played well for weeks and you can bet every cent in your piggy bank that they do not want to enter the postseason on a losing note. I expect the starters to play at least a half, and I am not worried to have Matt Leinart as my quarterback in the second half. The Seahawks packed it in weeks ago. This is the easiest game on the board.
Indianapolis +3 over Tennessee:
If I know one thing, it is that Peyton Manning will get some time in this game, the question is how much? The Titans have locked up the AFC's number one seed but I still expect their starters to play some, as they have a first round bye and don't want to have their starters idle for three weeks. Having said all of that this was a game the Colts had circled all year and want to prove to the league that they are a definite sleeper come playoff time. Take the Colts.
San Francisco -3 over Washington:
With the news of a permanent hiring for Head Coach Mike Singletary you can bet he will have his players ready for this one. The Redskins have lost all hope after a quick start to the season and have to make the long trip out West for a game they just want to be over. Singletary really wants a victory to take with him into the off season.
Other Selections:
Atlanta -14 over St. Louis:
Falcons still have a shot at the NFC's number two seed. Best performance here.
Dallas +1 over Philadelphia:
Dallas wins and their in. I don't trust McNabb in big games.
NY Jets – 3 over Miami:
Winner potentially takes AFC East crown. The slipper falls off for the Dolphins.
Houston –3 over Chicago:
The Bears defense is a shell of what it was, the Texans score more than enough.
Bowl Selections: (4-0)
Wisconsin +4 over Florida State
Northwestern/Missouri Over 66
LSU +4 over Georgia Tech
Check in New Years Eve for all New Years Day Bowl Action!!!!
by Mike De Marco… 53-44-3 (Power Picks 12-4)
The Power Picks keep on hitting so here is hoping we can make everyone some Holiday cash.
Tennessee +1 over Pittsburgh: (Power Pick)
I will be the first to admit that I myself have not been the biggest Titans fan this year, but having not played well the last couple of weeks has me believing that Jeff Fisher rode his players all week in practice. Couple that with the fact the Steelers once again pulled a rabbit out of the hat last week, and are playing their one millionth quality opponent in a row, my money is going on the Titans. They too play good defense, and should do enough to slow down a what "must be tired" Steeler team. This is one of the Steelers "off" games.
Carolina +3 over NY Giants:
It is plain for the world to see; the G-Men just are not the same team with Brandon Jacobs and Plaxico Burress. Carolina on the other hand IS the most balanced team in football. This is a colossal match-up for both teams as both are in the running for the NFC's number one seed. I love for the Panthers to send a strong message to the league that they are legitimate Super Bowl contenders and will beat the Giants at their own game: Run the football, stop the run. Nobody in the league (even Pittsburgh) is playing as well as the Panthers are and it continues this weekend.
Houston -7 over Oakland:
I have had a few people say to me they feel this is a "letdown game" for the Texans but I strongly disagree. The Texans have been playing their best football of the season, and their momentum towards a winning season will help them blow out an Oakland team that packed it in weeks ago. Gary Kubiak knows exactly how to attack this Oakland defense having served as the Broncos offensive coordinator for years and playing the Raiders twice a season. His expertise on Oakland will create many mismatches for his offense. Texans score more than enough to cover.
Other selections:
Detroit Lions +7 over New Orleans:
The Lions are not losing because lack of effort. The Saints have nothing left to play for. This will be a close game.
Kansas City +3.5 over Miami:
It will be REAL COLD. The Fish don't play well in the cold.
Cincinnati/Cleveland over 32.5:
That is the lowest number posted all season, and it is reflecting the fact that we have a back-up and a third stringer as the quarterbacks. I don't care, it will be much more offense than you think.
Denver -6.5 over Buffalo:
The Broncos have not covered at home yet this season. They need to win in order to clinch division. No letdown here.
Bowl Selections:
Wake Forest -3 over Navy
Fresno State/Colorado State over 60.5
Notre Dame +1 over Hawaii plus over 48
By Mike De Marco…
It has bee a long time coming for NFL fans in Toronto. Finally, a game that matters is being played in the greatest sporting city in the World without an NFL Franchise to call their own. The Buffalo Bills and owner Ralph Wilson are in the midst of a deal that will see the Bills play eight games over the next five years in Toronto. Five of the eight games are regular season affairs. Is this just a bone being fed to Toronto? On the surface it may appear exactly that way, but from what I hear in the city, this is more of a market testing deal.
The NFL, and Toronto have been brought up several times, and for many reasons no relationship has been formed other than the one American Bowl that was played here way back in 1996. So what is the point of this? Well, for Ralph Wilson it is nothing other than money. You see, the Bills owner is collecting more than 9-million per game from Rogers Communications to have the games played in Toronto. That is much, much more than he would make if the games were played in Buffalo. It is business and nothing but for Wilson.
In Toronto it's much more than business. Former Toronto Blue Jays CEO Paul Godfrey who was instrumental in bringing Major League baseball to Toronto has a fascination with bringing the Worlds greatest sporting league to Toronto, and has networked and pulled strings to get this current deal to come to fruition. You see in Godfrey's mind this excursion will prove to the NFL that Toronto is a football market. And to be truthful it IS a football market. Anywhere you go in the city, football is loved, and all though the CFL exists in Toronto, it is still very much an NFL town. On any given Sunday you can walk into any sports bar in the city and you will find tons of fans watching the myriad of games being played. More-so, the fans have a very close allegiance with whatever team they follow. Trust me I know.
There seems to be one problem. Ted Rogers; who is footing the bill has shelled out some big bucks to have this happen, and for him; EVERYTHING is about business. So in order to make any sort of profit, ticket prices have been priced out of the normal fans range. It has become corporate. Prices are ranging anywhere from just under a hundred dollars to over $400 for the primo seats. Can you afford that? I know I can't, so what is a die hard to do?
During the pre-season game in the summer, tickets were GIVEN away just before game time because not many were bought, and I can understand why, at those prices. The left over tickets were given away so organizers wouldn't have egg on their face and have an empty building. I truly believe that during the regular season game here in a couple weeks the stadium will be full, but that's just because all the corporate companies will use the tickets to woo clients. There seems to be a common denominator here. Money! It's always about the Money.
Truth is; the NFL could easily succeed in Toronto if done properly. There are much more football fans here than in Buffalo, or say Jacksonville for instance. If tickets were priced properly they were be a sellout faster than Wilson could scream BLACKOUT! But the NFL has other issues on their docket that are deemed more important, like how to get a team in the second largest US market. Hear of Los Angeles anyone?
Truth of the matter is the only way Toronto would ever get an NFL franchise is if the Bills relocated. A big portion of their fan-base resides in Toronto, but Owner Wilson will never move the team here. Wilson is old, real old, and the notion going around is that once Wilson is gone, a new owner may consider moving the team here, as the market is much, much bigger. Once again; it's all about the dollars. That would then bring more issues to the table. For instance, Toronto's current stadium, the Rogers Center does not hold enough seats to satisfy league mandate. Furthermore, a Toronto franchise would probably have to secure a television deal of their own. I can't see all the other franchises willing to share their precious television revenue with a franchise that can't contribute to it.
These are just some of the issues Toronto would face if the NFL were to plant a flag here. It is a long shot yes, but definitely a possibility. Toronto would serve the NFL well.
by Mike De Marco… 49-42-3 (Power Picks 11-4)
San Francisco +6.5 over Miami: (Power Pick)
I am really impressed with thye way the 49ers have been playing football of late, and even though the Dolphins are in the midst of a playoff chase here, I feel the 49ers give Miami a worst case opponent. San Francisco knows their season is done, but that has not stopped them from playing their best football of the season. Quarterback Saun Hill has risen some eyebrows the last couple of weeks, and the 49ers have already won on the East Coast this year. I love the 49ers to keep this game close.
Baltimore -3 over Pittsburgh:
This just might be the most fierce football game of the season. It will be a hard hitting blue collar affair, with the winner feeling risidual effects for some time to come. There is a ton at stake in this game, pride not being one of them, but when these two defenses hook up it is ALL about pride. I strongly feel the Steelers have played to many good teams and have had lady luck on their side for over a month. It all stops here. I see the Raven defense putting more pressure on Ben Roethlisberger than the Steelers do on Joe flacco. It will not come down to who makes the big play offensively in this one, but rather who makes the big play defensively. Here says it's Baltimore!
Dallas-3 over NY Giants:
This is the game the Cowboys have had circled on their calendar since last seasons playoff defeat to the same Giants. I know there is a small T.O scandal going about, but in my opinion I think it's just T.O trying to make the Giants think that something is wrong. As we speak Tony Romo, and Terrell Owens are drawing up plays right now on how to exploit that Giant secondary. On a serious note, the Cowboys minus Romo played well enough to win in Pittsburgh last week, and if the team gives out that same effort this week, and Romo plays his game, they will beat a Giants team who on offense look like they sorely miss Plaxico Burress.
Other selections:
San Diego - 5 over Kansas City:
Chargers will play until officially eliminated.
New England/Oakland Over 40:
This is the game where Matt Cassel gets comfortable in the pocket again.
Houston +3 over Tennessee:
Crazy? Maybe, but the line looks like a trap, so I'm going the other way.

by Mike De Marco… 46-38-3(Power Picks 10-4)
Baltimore -5 over Washington: (Power Pick)
All seems to be lost for the Redskins as their once mighty West Coast offense has gone by the wayside. Jason Campell has struggled the last four games as the Skins are averaging just 11 points per game over that span. Baltimore on the other hand is heading in the opposite direction. The Ravens offense has been putting up numbers not seen in over two decades while the defense has remained one of the leagues better units. I don't think the Redskins offense will have much success moving the ball as the Raven secondary matches up tremendously with the Redskins receivers. The Ravens have thoughts of catching Pittsburgh for the division lead, and just might find themselves there after this weekend.
Dallas +3 over Pittsburgh:
NFC East rivals Philly, and the Giants have already beaten the Steelers this year, and when you look at the film you see they both did it by sending everything but the kitchen sink at Ben Roethlisberger. Look for the Cowboys to do the same with DeMarcus Ware rushing on every single passing situation. I strongly feel that Dallas might be peaking at the right time, and if they play the way they did against Seattle last week, there in not a team in the league that will beat them. THAT'S RIGHT… ISAID IT!!! WHAT??? Pittsburg defense will need to play the game of the seasonto slow down the Dallas offense, and I don't think they get it done. They have played too many good teams, and this is one they will not win. Dallas wins the game outright!!
Indianapolis/Cincinnati Over 42
The Colts have not had a good game of offense since their dismantling of Baltimore a month and a half ago. This is the perfect spot to see the Colts roll up some big numbers; they are at home, against one of the most porous defenses in football. Cincinnati's season is done, but they will try to match the Colts on offense.
Other Selections:
Denver -8.5 over Kansas City:
Denver will do everything in their power to not let this one get away a la Oakland. They remember what happened week three.
New Orleans -3 over Atlanta:
The Saints must win or their season is over.
Dallas/Pittsburgh Over 38.5:
The Cowboys will score points forcing the Steelers to throw more than usual. This number is extremely low.
Chicago -6.5 over Jacksonville:
The Jags are a lost group right now. The Bears are still fighting for the Central Division crown and the playoff berth that comes with it.
by Mike De Marco…
New England: So are you more smoke and mirrors than we though?
New York Jets: Was that an aberration?
Buffalo: Are you ready for Toronto?
Miami: See above. Happy the roof will be closed?
Indianapolis: Are you looking ahead of your next two opponents?
Jacksonville: How long does Jack get to stay? And what in the world are you doing dressing like a pimp on the sidelines?
Tennessee: Was your running game that good, or was the Lions D that bad?
Houston: Can someone tell me why Slaton wasn't drafted earlier?
Pittsburgh: Can I safely say that if you beat Dallas, you are the AFC's best team?
Cleveland: Ken Dorsey? Is that who Romeo Crennel wants saving his job?
Baltimore: Is this the best offense you have had since Kosar, Newsome, and Slaughter?
Cincinnati: You haven't been kicked out of the league yet?
Denver: Is this the best draft class in team history?
San Diego: Have you just packed it in?
Oakland: Win in Denver, lose at home to the Chiefs. Can we get 2 complete games from you?
Kansas City: Do you inquire about a certain Browns quarterback now? Or do you wait?
Dallas: You finally put them together, offense and defense. Can you put together back to back games?
Philadelphia: What message were you trying to send Donovan?
NY Giants: Will Domenik Hixon make Giant fans forget Plax?
Washington: Can I safely say your offense was a fraud?
Green Bay: Does Mike McCarthy have any consequences for that brutal play-calling?
Minnesota: Can you survive without the Williamses?
Chicago: Minny is in trouble. The Packers are in trouble. What are you waiting for?
Detroit: YOU DON'T DESERVE A QUESTION!
New Orleans: So does Brees have to score 40 points a game now for you to win?
Tampa Bay: Is the cover-2 not the most underrated defensive scheme of all time?
Carolina: Does DeAngelo Williams not belong in the M.V.P talk?
Atlanta: Is your bubble ever going to burst?
Arizona: You have a huge lead in the division. Do you play out, or go into cruise control?
San Francisco: That was spunky. Does Mike Singletary not earn another shot next year?
Seattle: You're healthy on offense, so what's your excuse now?
St. Louis: Is Haslett prepared to re-haul this team?
See you next week!