by Dave Muise…

He may not have been Brian Burke's first choice, but Jason Allison was a superstar when he played for the London Knights back in the day. Now he is lacing the skates up once again, hoping to stick handle his way back into the new and improved Leafs lineup currently being sculpted by G.M. Brian Burke.
Most folks are giving Allison a snowball's chance in hell of making the team. He's too slow, they advise. He has been away from the game for too long, they say.
Really? Don't tell Jason Allison that.
These so called experts are the same critics who remind us that the Leafs do not employ a top-six forward. Four years ago, at the age of 30, Allison was a top-six forward for the Leafs. He played in 66 games that year and scored 60 points.
But wait. Ironically enough, he missed almost three years of hockey before that season due to a serious neck injury and concussion followed by the lockout year. He returned to the game in style when he produced nearly one point per game for the Leafs, who failed to make the playoffs.
Some will argue that defensively he was a terrible -18 while others will talk about how slow he is. If I'm a Leaf fan, I don't care if it takes him six minutes to skate from one end of the ice to the other end so long as he can still put up all-star numbers. Let's not forget that the Leafs had a poor defense back in 2005-06 compared to what Burke is icing this season.
Allison has size. He has hands. He is tough. He is a former captain of the Boston Bruins and a class act. He is the type of player that Burke loves.
If there is one good reason to give him a tryout, it is because perhaps the worst G.M. in Leafs history, John Ferguson Jr., didn't believe Allison was good enough.
That year, Ferguson Jr. and Paul Maurice assumed that speed was the main ingredient for success and that poor management was an asset.
Today, arguably the best G.M. the Leafs have ever had, Brian Burke, is giving Allison a chance to return to glory.
Burke claims, "He had some personal issues and some major physical issues at that time. He has solved all of those. In my mind he is a guy who might give us a lift and he deserves that opportunity."
Everybody loves a good comeback story and this could be the feel good story of the year for an NHL that is looking more and more ridiculous with its handling of the Coyote's disaster.
At 34, Jason Allison could have another 13 years of good hockey left in him if you ask Chris Chelios. Sorry, I couldn't resist.
Brian Burke may get his London Knight star after all. Not the one he originally had in mind, but one who had 142 points in 56 games for that team in 1993-94.
All fans of the game should be pulling for Allison in the coming weeks. Not only could he be good for the Toronto Maple Leafs, he could be good for the league as a whole.
Stay tuned.
by Dave Muise…
Just how much is the distraction of managing and coaching Team USA's hockey team for the 2010 Vancouver Olympics going to affect the roles of G.M. Brian Burke and Coach Ron Wilson in their quest to rebuild the Toronto Maple Leafs?
Is it possible for the dynamic duo to be successful at both endeavors or will the Team USA gig slow down the process in Toronto?
On the surface one would have to assume that the Leaf's growth and development will be curtailed because, arguably, the two most important men in the organization will have to split their time between the two time consuming programs. By virtue of that they are taking away from the Leafs development. It is not possible to give 100 percent to any two projects at any one time.
I'ts fairly certain that most Leaf fans would prefer to see a dedicated G.M. and Coach after so many years of failure in Toronto.
The love affair with Brian Burke in Leafland is not going to last forever. Many of those fans are already crying foul because of the perceived failure in Burke's desire to upgrade his draft pick in an effort to land John Tavares as well as signing a top six forward. He also appeared to fumble his way through a failed trade attempt with Boston involving Phil Kessel and Tomas Kaberle.
Is it fair to slam Burke for those events. Likely not, in fact it's somewhat refreshing to see a G.M. who is willing to share his thoughts with the press and not care if the plan fails to reach fruition. At least the fans are aware of the game plan which is something that they have not been privy to in the past.
The pressure may be on Burke and Wilson to ice a team for the Olympics that will exceed expectations, after all Burke made it clear that the same strategy he is implementing with the Leafs will be used for Team USA.
Many fans and doubters alike will envision the results in Vancouver as a sign of things to come this season in Toronto.
Regardless of those results, Leaf fans should look at the fact that since Team USA has that much faith in Toronto's G.M. and Coach that the Leafs organization is on the right track in the building process, right from the foundation up.
The experience will likely help Burke and Wilson better prepare for the NHL season ahead if not just by adding to their levels of knowledge. For example, Wilson will get a good look at Mike Komisarek and both men can create relationships with the top USA players in the world without being accused of tampering.
From a scientific standpoint no one can compare both teams nor the results of Team USA's success in Vancouver to the Toronto Maple Leafs upcoming season. In fact, it's a silly idea, but hey, August is a slow news month in the NHL so take it for what it's worth.
by Dave Muise…
Yesterday was the final day of the clause in Tomas Kaberle's contract with the Toronto Maple Leafs, which would allow General Manager Brian Burke to trade the all-star defenseman without having the no-trade clause blessed and waived by the player. The window was opened when the Leafs failed to make the playoffs last season.
Brian Burke was not shy in making it clear that he no longer has any intentions of moving Kaberle any time soon. Barring the "Kessel from the Bruins" trade fiasco highlighted at this years entry draft in Montreal, there has been very little in the way of talk about any transactions involving the 31-year-old.
And those of you in Leaf Nation should understand that by not making a deal involving Kaberle, it is almost guaranteed to be a great move that will help the team.
Yes, there is a chance that the Leafs could have landed a top-tier forward in exchange for the defenseman, but those pickings are slim and sometimes it's better to settle for the devil you know.
The move to pick up a star forward or two will eventually happen in any number of other ways, such as trading a different defenseman, or by using the available cap space.
No, Kaberle is not a physical, on-ice terror. However, Burke has taken care to fill the holes around Kaberle with big, tough defenseman that will allow him a little more freedom to do what he does best: move the puck out of the zone and generate some offense.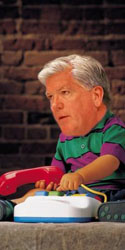 Had Kaberle been moved, Burke would have put himself into a position to replace him with a similar offensive-defenseman. That made no sense and would have been no simple task.
Look at the positives. Kaberle, although quite passive, was the closest thing to a Captain that the Leafs had last year. His season was shortened by injuries yet in 57 games he accumulated a very respectable 31 points, many of which came on a less than talented power play.
Kaberle's ability to move the puck makes him one of the finest power play specialists in the league, and as an overall defenseman, a top-10 guy.
The move, or lack there-of, shows that Burke is not afraid to reverse his train of thought if he feels that there is another way, and on this occasion he made a great decision.
Did he have offers? Who knows? Did he make any attempts to find Kaberle a new home? No!
Did he make the right move by keeping Kaberle in Toronto. Absolutely!