by Micheal Malcolm…

With the new fantasy basketball season almost upon us, we are always looking for that breakout player that can be the difference between bragging rights and another year of listening to the winner rave about their GM skills. Everyone knows how valuable the Kobe's, Lebron's, and Wade's are but in the 6th round of your draft do you select Marc Gasol, or Darko? There is no specific focus on position but on the actual player. Whether you play single season or in a keeper here are another 10 players you should be looking out for in the later rounds in your draft when the dust has settled for the first couple of rounds. Happy Drafting!
*As usual comments and conversation are always welcome*
11. J.R Smith – Guard
While Smith offers you above average production in the 3PT FG% category (39% last year) it is his ability to tease you with his potential that makes him a sleeper. He is a high risk\high reward option so be careful where you draft him generally backup G position would be ideal, as the Nuggets have no alternatives at SG other than Arron Afflalo so the job at SG is his for the taking.
12. Nene – F|C
Nene made a great return on the owners ready to draft him last year with consistency each month, he certainly tired down the stretch but continue to shoot at a high percentage (61% FG) and provide steals (1.2\gm) at a premium fantasy position. He increased his blocks (1.23\gm) while lowering his fouls per game. There is always a risk of injury with Nene but when he is healthy he is one of the better fantasy players available.
13. Luis Scola – PF
With Yao out for the season and McGrady's production\contributions an uncertainty, Scola will be looked upon for scoring and leadership this year in Houston. Scola had a dominating performance at the World Championship's this year (22ppg) and stepped up with Yao's injury during last year's playoffs (16.2 ppg & 7rpg vs Portland)with limited options for offense you can look for Scola to average at least 17 ppg with 8rpg per game.
14. Ramon Sessions – PG
Sessions has always had an ability to post great numbers when given the chance (18.5ppg 7.4apg 4.1rpg in February) and has always been great at distributing the ball. If Coach Rambis goes with Flynn as the starter apparently Sessions is learning to play the SG position as well look for points, reasonable FG% but a high turnover rate as well.
15. Kevin Love – PF
Need rebounds? Love is your man. With ridiculous rebounding-per-minute rates and high offensive rebounding number Love is still working on the offensive part of his game, showing flashes of his offensive potential in March of last year (16ppg-9rpg in 17 games) however he will lose minutes to Al Jefferson sliding back to his natural position of PF this year stash Love away till the later rounds.
16. Courtney Lee – SG
Lee is going to get you lots of 3's and steals, the X factor is the scoring he can provide as he started to show an offensive game later on in the year. (11ppg in February and March)Granted in Orlando he wasn't going to get a lot of opportunities to score however on an up-and-coming youthful Nets squad this will be his first chance to show is all around game, at this point he is a solid backup SG for your team.
17. Brook Lopez – C
Arguable within the top 10 Centers in fantasy, and possibly the NBA with his rookie season alone. Lopez continued to improve each month averaging a double-double by year's end. Without Carter around to take 21 shots a game it appears that Lopez may become a 20-10 player this year, additionally he's above average in FT% and Blocks department. Others will take the big names…stick with Lopez and reap the rewards!
18. Ronnie Brewer – SG
Brewer stepped into and secured the opening at SG and established himself as a premier defensive player by swiping over 2 steals per game. Brewer will give you steals and blocks and a bit of scoring, however until he learns how to shoot properly he'll be confined to that 12-15ppg range.
19. Charlie Villanueva – F
I have never been a fan of Charlie V and personally I think the contract he got was unfounded however the Pistons look like they are handing the starting PF spot to him. Charlie V can be injury-prone, but had a very solid season last year with the Bucks in limited minutes and a crowed frontcourt. Between January and March there wasn't a more consistent player on the Bucks (19.5ppg 6.9rpg 38% 3PT in 30 mpg) When C.V is motivated he can fill numerous categories. The question will be for this season is he motivated?
20. Anthony Parker – G
Originally I wouldn't have had AP on this list however with Delonte West's personal issues (Bi-Polar Disorder) cropping up before the season it likely means at least in the early going AP will be responsible for the majority of the SG minutes in the early going. Parker isn't a fantasy stud or potential one however he does a little bit of everything to get you to top up your categories across the board (13.6ppg, 4.9rpg, 4.6apg in January).
by Micheal Malcolm…
With the new fantasy basketball season almost upon us, we are always looking for that breakout player that can be the difference between bragging rights and another year of listening to the winner rave about their GM skills. Everyone knows how valuable the Kobe's, Lebron's, and Wade's are but in the 6th round of your draft do you select Marc Gasol, or Darko? There is no specific focus on position but on the actual player. Whether you play single season or in a keeper here are 10 players you should be looking out for in the later rounds in your draft when the dust has settled for the first couple of rounds.
1. Russell Westbrook – PG
Started to turn heads last year with his big month of February (20.6ppg, 5.9apg, 6.1rpg) he'll reach the cusp of fantasy stardom this year with a more consistent approach.
2. Jeff Green – PF\SF (depending on your league)
Like Westbrook played extremely well in February (20.7ppg, 9.5rpg) he will take the next step this year.
3. Emeka Okafor – PF
It is very likely that playing with Chris Paul will give Okafor some extra easy points this year; he has always been a strong rebounder and likely will slip into the middle rounds this year.
4. Chris Duhon – PG
There isn't a serviceable backup option in the Knicks backcourt which will lead to Duhon playing heavy minutes again. He had career season last year and the D'Antoni effect will allow him to post similar numbers again this year (11.1ppg, 7.2 apg, 39% 3PT in 79 games)
5. Stephen Jackson – G|F
Versatile performer can give you a combination of points, steals, rebounds and assist. Is one of the few options on a weak Golden State team, averaged 20.7ppg, 5.1rpg, 6.5apg last year, durable, and extremely consistent.
6. Jason Kidd – PG
This is Kidd's last year as a viable backup option due to his age (36) and declining numbers. Kidd makes a great backup PG, however your team is in trouble if you are drafting him as a starter. Still a triple double waiting to happen (however with less frequency these days) currently battling an ankle injury according to Dallas Morning News (Oct.8)
7. Boris Diaw – F
After being freed of the defensive and confusing philosophies of Terry Porter last year, Diaw displayed the talents that allowed him to receive his contract from the Suns after being traded. Essentially Diaw is good for 15-5-5 per game and has shed the injury bug that has plagued him previously.
8. Jason Thompson – PF
A cheap source of rebounds and points coming off the bench, likely will start this year however there are questions about his passion and his unwillingness to mix it up inside. Started off strong (14ppg 8.5rpg in October), and finished strong (14.1ppg 10.2rpg) in April)
9. Andris Biedrins – C
Every year Biedrins becomes less of a sleeper and secret in fantasy play, among the leaders in double-doubles is the Warriors only real low post threat you can guarantee a double-double average, high FG percentage, and blocks. An ankle injury stopped his career season (11.9ppg and 11.2rpg) and he should be even better this year.
10. Al Horford – C
Despite playing out of position at Center it was an encouraging rookie season from Horford, played especially well at the end of the season when injuries hit the Hawks and they continued to fight for a playoff spot (15.2ppg 10.3rpg) Should become more of a focal point in the offense this year.
Watch out for Part Two!
by Micheal Malcolm…

These five players are at a career crossroads. We're looking primarily at young players who've been high draft picks and shown flashes of promise, but haven't been able to sustain their success for a variety of reasons.
Will they figure it out or continue to tease clubs with their potential? Next year could go a long way toward providing the answer.
The NBA's reliance on younger players means more peaks and valleys. Most of these guys have seen the valley. Will they work their way back toward the peak in 2010.
Comments and discussion are encouraged - Please feel Free!
Center – Andrew Bynum – L.A. Lakers
Armed with a 5\65 Million dollar contract, Bynum has more than set him self up financially for the rest of his life. However it is highly unlikely that he will become "the best center ever" as he proclaimed a few short years ago. Height and talent you cannot teach, but Bynum will not get a chance to showcase his skills with virtually the entire Lakers roster returning. Perhaps Bynum will assert himself to seize the Center position that he has no competition for. Over the past couple of years Bynum has flashed the talent and potential to be the next dominate center of the NBA, the injuries to his knees wrist and shoulders have caused numerous setbacks to what should be a fruitful NBA career.
This year Bynum needs to show that he is worth the investment, while he is still young (21) the Lakers and their fans historically do not have a tremendous amount of patience for underachievers.
Power Forward – Emeka Okafor – New Orleans Hornets
Do you remember when there was a choice between Okafor and Dwight Howard for the number one pick? Now Howard is a superstar and Okafor only seems to have just found the ability to play an entire season in the NBA. Okafor's numbers have regressed to 13 points and 10 rebounds game which is unacceptable for a player of his talent, and salary.
Okafor is an excellent defensive player that is willing to play defense which will be much appreciated in New Orleans. His scoring should also improve with Chris Paul throwing lob passes in the flow of the offense. Okafor is still very young (26) and while I am unconvinced he'll ever join the top tier of NBA Centers he should be able to become a complimentary piece in New Orleans.
Small Forward- Luol Deng - Chicago Bulls
Deng has been largely ineffective since the 2006 playoffs which earned him his big money contract. While Deng is not deserving of that money I would be greatly disappointed to see Ben Gordon get that type of money.
Chicago is rumored to be willing to trade the veteran as he has not been the player that many saw in that fateful Miami series. Deng is on a downward slope of a career that has seen him injured or ineffective for the past couple of years. Deng claims to be in the best shape of his career after various back, leg, and Achilles injuries that limited his effectiveness.
This year without Ben Gordon Deng needs to be able to step up and assist Derrick Rose in the continued renaissance of basketball in Chicago.
Shooting Guard – Manu Ginobili – San Antonio Spurs
Manu has and is an established star in the NBA, and a mainstay during the Spurs championship runs. However Manu is coming off an injury plagued years, in addition to the 10-15 games he tends to miss per year.
As his contact is expiring this year, and after a summer full of potential trade rumors Ginobili needs to re-establish his dominance on the floor this year. Ginobili's creativity and recklessness has been a staple of the Spurs every year and they are clearly not the same team with out him. (Re-watch last year's loss to the Mavericks in the playoffs for a great example).
Richard Jefferson may have been acquired to offset Manu's absence for any injury he may have, but Ginobili is integral to the Spur's championship aspirations this year.
Point Guard – Gilbert Arenas – Washington Wizards
Arenas has always been one of the NBA's premier showmen, and for the past two years 'Hibachi' has been silent on the court, after suffering two knee surgeries in consecutive years. Gilbert has proclaimed that he his healthier and better than he was two years ago when he averaged 27.7 ppg.
While there is much to be desired for Arenas's ability to become a prototypical point guard, when you are making 111 million you are considered the franchise player. Gilbert must use this year to show that he is still amongst the NBA elite.
At this point Gilbert should be looked upon as the Baron Davis of the Eastern Conference – Oft injured, and self-indulged.
by Micheal Malcolm…

Name: Amir Jalla Johnson
Birthplace: May 1, 1987
Height: 6'11
Weight: 225lbs.
School: Westchester High School
NBA Experience: 4 Years
Previously Played For: Detroit Pistons, Milwaukee Bucks
How He got Here: Amir Johnson was traded along with Sonny Weems to the Toronto Raptors for Roko Ukic and the rights to Carlos Delfino.
Season Outlook: Johnson is third on the depth chart for both the power forward and center positions.
Assessments: Johnson has never really had an opportunity to showcase his plethora of talents in Detroit or Milwaukee last year. While Johnson's offensive game doesn't seem to venture outside of the dunking variety. His long arms and leaping ability give him the opportunity to be a disrupting force on the defensive end.
According to ESPN's John Hollinger, Johnson is a fountain of untapped potential. A couple of years ago Johnson was among the league leaders in rebound rate, and blocks per minute. The knock on Johnson has always been game experience – he's always been limited to garbage minutes and that is just not acceptable in the development of a player that has been likened to Andris Biedrins. Some of Johnson's weaknesses include his propensity for turnovers and lack of a shot to keep defenses honest. However in limited action Johnson has been extremely productive, and Raptors fans can look forward to several explosive and some extremely questionable moments from Johnson this year.
Johnson gets a clean slate in his arrival in Toronto and because he is in a contract year, Toronto fans can look forward to see the best that Johnson has to offer…if he shows that he can handle the responsibilities of a being a rotation regular.
Overall: The acquisition of Amir Johnson is a good (potentially great one) due to his raw talent and youthful age. Perhaps he wont be a "special player" as former coach Larry Brown once said but in Toronto where the prospects are the brightest they have been in several years Johnson should endear himself to becoming a part of the Raptors bright future.
by Micheal Malcolm…

Here is this weeks edition of "This week in the NBA and 5 Things I think." I attempt to re-capture and bring to light the small and quirky stories reported on the web concerning NBA activity this week Enjoy!
It is shocking the amount of people that drink the Lebron James Kool-Aid. I respect Lebron as an athlete, however as a co-author? Please. The fact that Clevelanders are camping out for a book signing is one of the many funny things that happen in that city.
After two weeks of negotiations, it looks like NBA referees will be locked out. As with baseball, the skill level that will be apparent if the regular season commences with replacements will not be good, if you think Lebron and Wade got calls now…
Apparently Bruce Ratner the embattled New Jersey owner is seeking help through Russian Billionaire Mikhail Prokhorov in order to get the Nets to Brooklyn. Ive heard of extracting interest but for about 700 million Prokhorov will apparently get a stake in the team.
The recent group of NBA players that made the trip to South Africa for 'Basketball without Borders' have made a tremendous impact on the South African community, if you want to see the good that the younger generation of stars are capable of this would be a great one.
There were enough opinions from Michael Jordan's HOF speech to cover over 100 years of distaste between Yankee and Red Sox fans. People like Rick Reilly now no longer idolize him, and ESPN's J.A. Adande looked at it as MJ just being MJ.
Oh and he may play Bryon Russell one-on-one soon enough.
The Miami Heat are finally retiring Tim Hardaway's jersey. Hardaway as some of you may remember made a homophobic comment in 2007 he is one of the best players in Miami Heat history regardless of his personal social preferences. But he is beginning to change in one writer's opinion.
On the political side of things Celtics co-owner Stephen Pagliuca is running for the late Edward Kennedy's senate seat. With a focus on job creation and civil rights Pagliuca can make KG is co-hair of the FUN police seeing how Garnett may not be ready to start the season.
Apparently there is at least one Sacramento fan that is upset with Desmond Mason signing with the team. Subsequently there is also at least one person who is pleased with his addition.
David Stern clearly does not fear losing players to overseas, on the other hand Matt Moore of Hardwood Paroxysm raises another valid point to combat Stern.
Perhaps Pat Riley knows something that we don't but last time I checked the 'young core" of the Miami heat was less that satisfactory, especially with the main player Beasley still in rehab.
Kobe Versus. Carmelo but not the way you'd like to see them.
Finally someone has signed Luther Head!
I am shocked that Terrance Williams has a huge fan club before the season starts.
Houston fans continue to support the Rockets despite losing their two best players
For all the Kobe Bryant fans that need a fix, and for the detractors that say he's a selfish basketball player.
Who said the NBA wasn't biased? Stephen Jackson and Ron Artest are not in the same league as Shaquille O'Neal and Kobe Bryant but Al Harrington?
Finally condolences to the family of Mel Simon, the former Pacers owner, here is a piece that describes the impact the brothers have had in Indianapolis.
My 5 Non-NBA Thoughts of the Week
I am incredibly impressed with Judge Andrew Nastoff ruling against former standout Ohio athlete Dwayne "DeeJay" Hunter handing down a sentence that removed Hunter's ability to play sports in lieu of his felonious assault against a 15 year old boy shooting him twice in the face with a BB gun. The terms: 180 days in jail, 500 Hours of community service, and 5 years probation seem a little bit harsh (I think they are) however the message being sent will hopefully get Hunter (who was being recruited for football and track by practically every Division I school before the incident) back on the right path to becoming a productive member of society.
Jake Delhomme will throw for at least 2 touchdowns this weekend against Atlanta and the Panthers will win period, keeping the Carolina faithful off his back for at least for one week.
While I am an avid boxing fan I am not interested in watching Floyd Mayweather Jr. fight anymore, this looks like nothing more than a money grab to me. Personally if Mayweather was attempting to cement his legacy he'd attempt to topple Manny Pacquiao. Somehow I feel that maintaining his perfect record is more important to him.
After watching three games of the Rockies\Giants series, I am speechless. I rather have those two teams in the playoffs than the HGH-Ramirez led Dodgers. The pitching of Tim Lincecum is phenomenal I haven't witnessed such dominance since Pedro had that video game like season for the Sox back in 1999.
My Football picks for the week (just the winners as I don't have access to the spread at the moment)
Carolina, Minnesota, Green Bay, Tennessee, Oakland, New England, New Orleans, Washington, Arizona, San Francisco, Buffalo, Pittsburg, San Diego, Denver, DALLAS (sorry personal preference) and Indianapolis.
Until Next Week!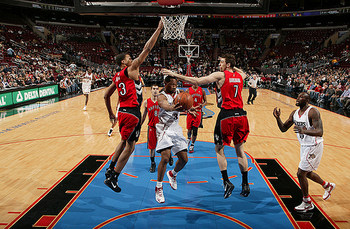 by Micheal Malcolm… This will be a part of a series taking a look at the Raptors' division and their opponents.
Besides looking at the players, benches, and scheduling differences, the always underrated intangibles will also be analyzed.
The Toronto Raptors have certainly re-made their roster and hopefully the third time will be the charm for Canada's only respectable sports franchise.
However, the road to an Atlantic Division title will have the Raptors contending with the likes of the 76'ers, a team with a history of derailing the continued upswing of Raptors basketball.
The Philadelphia 76'ers have had a terrible off-season.
They have lost point guard Andre Miller to the Trailblazers, hired Eddie Jordan as their new coach, (without the personnel to run his Princeton-style offense) and have one of their marquee players, Elton Brand, coming off of a serious knee injury. What is really going on in Philadelphia?
The Raptors first meet the 76'ers on January 8th in Philadelphia, followed by dates on February 10th (in Toronto), March 7th (in Toronto), and April 3rd (in Philadelphia).
My Prediction: If the Raptors want to be considered an elite team they should win at least three of these games. Based on the history the Raptors have with inferior opponents they are more likely to go 2-2.
Let's take a look at how these teams match-up.
Agree? Disagree? Are you an angry Philly Fan who believes your team is better than the Raptors?
Sound off below.
Center: Andres Bargnani vs. Samuel Dalembert
Advantage: Bargnani
Without question Bargnani, even in his somewhat inconsistent stage, is a much better player than Dalembert. Dalembert has shown flashes of a player that can dominate, with a 15 point 23 rebound showing against the Warriors in March and an 18 point 20 rebound performance against Indiana in February.
After looking at Dalembert's game logs from last year it would appear that he gives you at least one monster game per month and he appears to have great games against the Raptors.
Dalembert averaged a double-double playing Toronto last year with 12 points and 11 rebounds a game. These are not normally earth-shattering numbers but against the Raptors late last year Dalembert posted numbers of 19 points and 13 rebounds in a March match up, and 18 points and 12 rebounds in April.
These numbers are indicative of a weak Toronto front court, along with an inability to keep up with a player not known for any offensive game whatsoever.
This will hopefully be nullified by the presence of Bargnani attempting to become the best center this franchise has ever had. While Dalembert has the ability to keep up with Bargnani to a certain extent, he lacks the consistency to do so.
Bargnani is superior in every offensive category, and is gaining ground defensively. They are different players but Bargnani actually appears to want to get better, whereas Dalembert has regressed dramatically since signing that over priced contract.
2008 Key Numbers
Bargnani—15.4 PPG, 45% FG, 41% 3PT
Dalembert – 50% FG, 2.6 Offensive Rebounds per Game, 8.5 RPG
Power Forward: Chris Bosh vs. Elton Brand
Advantage: Bosh
Even without looking at Brand's current injury situation Bosh still has the advantage.
Bosh's length and ability to shoot with consistency from the outside have often given Brand trouble. Elton is no slouch, averaging 20 points and 10 rebounds per game against the Raptors but at 30 years of age and coming off two knee surgeries, I believe he is on the downside of his career.
This coupled with the running style of offense that new coach Eddie Jordan will install this year does not bode well for Brand's future.
Bosh's numbers against the 76'ers are very good with 24 points, 9 rebounds, and 3 assists per game. The 76'ers do not have a lot of length, which plays to Bosh's strengths, as long armed defenders like Tayshaun Prince, Rasheed Wallace, and Kevin Garnett bother him greatly and are able to defend him due to possessing similar skill sets.
The only player on the 76'ers roster that likely would give Bosh some trouble in the future would be Thaddeus Young who is shorter than Bosh but possesses the length to bother him on the defensive end.
2008 Key Numbers
Bosh—22.7 PPG, 49% FG, 10 RPG
Brand—13.8 PPG, 45%FG, 8.8 RPG
Small Forward: Hedo Turkoglu vs. Andre Iguodala
Advantage: Draw
I am sure this choice may open up some controversy.
I think that these two players play completely different styles and what they do similar (shoot poorly and rebound at substandard levels for their positions) they do pretty much the same, hence the tie.
Turkoglu will be looking to justify the contract the Raptors gave him. However Turkoglu's role with the team is not to be a secondary scorer. Essentially Turk is expected to run the offense as a point-forward and assist Calderon in facilitating ball-movement and with the fast break offense of the Raptors.
As I've previously stated, Turkoglu is not known for his shooting in any aspect, thought his numbers against Philadelphia are very good as he averages 38 minutes, 45% FG, 46% 3PT, 18 points, six rebounds, and six assists per game.
This bodes well considering that the Raptors have a stronger overall team than the youthful 76'ers. Iguodala is a known high-flyer and showman. His game is based off of his other-worldly athleticism and evidenced by his numbers against Toronto, 40 mpg, 40% FG, 31% 3PT, 17 ppg, eight apg, six rpg.
I personally feel that despite his numbers, if he could reach league normal levels with his FG%, his dominance would be even more apparent. Iguodala believes he is, and is paid as, a franchise player; however his overall numbers are more in line with a 3rd-tier scorer, or sixth man in the NBA, in my opinion.
Each player will have aspects that they will specialize in and I feel that Turkoglu is the superior player with more success, experience, and is more integral to his teams success than Iguodala.
2008 Key Numbers
Turkoglu—16.8 PPG, 5.3 RPG, 4.9 APG, 35% 3PT FG
Iguodala—18.8 PPG, 5.3 APG, 5.7 RPG 30% 3PT FG
Shooting Guard: Marco Belinelli vs. Willie Green
Advantage: Belinelli
Firstly let me state that for Drew Shears, who will likely comment on this slideshow, this would be the basis of his argument that neither the Raptors nor 76'ers have a chance to make the playoffs this year.
Why?
This particular match-up. I cannot recall a playoff team in recent memory that has had an extremely weak, or untested player at the SG position.
I am high on Belinelli as he is still a very young player with potential. He is, however, unproven and his small sample size is not enough to figure out what we can expect of him on a yearly basis.
Willie Green has been in the league for some time, and despite the six years he's been kicking around, I cannot quite understand what, if anything, Willie Green does?
With unimpressive numbers (43% FG, 31% 3PT, two apg, and two rpg) last year was in line with his career numbers. While Green is apparently a great defender, even a leading defensive player like Bruce Bowen, turned himself into at least a complimentary offensive player over time. Green does not show any of that potential at this point.
Belinelli shoots very well, which is his main strength, and his all around game is something that will have to be observed in the coming year. Based on the small sample numbers so far however, he should still be better than what Green could ever offer.
Key 2008 Numbers
Belinelli—44% FG, 40% 3PT, 8.9 PPG
Green—43% FG, 31% 3PT, 8.5 PPG
Point Guard: Jose Calderon vs. Louis Williams
Advantage: Calderon
In one of the more one-sided matchups between these two teams, Calderon is an actual point guard whereas Lou Williams is a scoring point (and not a very good one at that).
With the departure of Andre Miller to Portland, the current status of the Philadelphia point guard position has never been in such dire straits.
For some reason the franchise is calling Williams a shooter, or at least someone who can run the team. I disagree with that assessment as his 39% FG, 29% 3PT, and five assists per 40 minutes are less than satisfactory and not indicative of someone who is capable of running an NBA offense. Some minor consolation is that he is at the 80% FT mark. Calderon on the other hand is the ideal point guard…except he has an inability to stop a door from closing.
Defense is not why Calderon is a 40 million dollar man; his exceptional shooting percentages (49%FG & 40% 3PT) and the ability to take care of the ball are great ones.
Bench Players and Intangibles
Without question the Raptors bench players are superior in overall talent and depth led by Jarrett Jack. The 76'ers counter with Thaddeus Young and Marreese Speights two very young players that eventually will become the leaders of this team at their respective positions. Jason Smith of the 76'ers provides toughness and rebounding and there is some hope for his offensive game.
I am a huge Jrue Holiday fan though I strongly believe he should have stayed in school for at least two years and let his game develop. Judging where he dropped to in the draft, at least some NBA scouts agree with me.
The Raptors boast an overall depth not seen in Canada for sometime. Some would state this is the deepest Raptor team of all time. The Raptors possess the necessary players required to make a playoff run. Toughness and rebounding (Reggie Evans and Amir Johnson), secondary scoring from the bench (Jarrett Jack and possibly Quincy Douby), and youth/athleticism (DeMar DeRozan and Sonny Weems).
Again, as I've already stated, the Toronto Raptors will likely have to sweep the season series, or win 3 of 4 in order to be taken seriously and to win games that will affect the seedings come playoff time.
by Micheal Malcolm…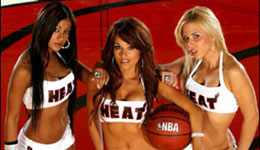 Here is this weeks installment of 'This Week in the NBA and 5 Things I Think' Enjoy it! Comments are ALWAYS welcomed.
It was great to see the NBA take a stance against players regarding to off-season issues with the suspension of Phoenix's Jason Richardson, and Denver's J.R Smith. Too many times throughout the year you hear of players driving impaired, or some form of trouble regarding them and their car.
NBA referees seem to be drawing a hard-line stance with the league regarding a new deal. In a depressed economy holding out will not win you many fans or sympathizers. While it's being reported that the referees will not be working the pre-season, or regular season I believe a deal can be done that will appease both sides before the start of pre-season.
Michael Beasley is apparently in rehab, however what has not been publicized too much was that is was NBA imposed, and Beasley has complied with the leagues wishes.
There is hope in Milwaukee, as draft pick Brandon Jennings is displaying a passion to put in the work required to become an impact player in this league. While I will not deny Jennings talent, the work he puts in will dictate how good he'll become this is a good start.
Apparently according to one Toronto Columnist the Atlanta Hawks signing of Joe Smith, cannot be measured in his stats (or lack thereof) but in the intangibles he provides. Joe Smith is unfulfilled potential, however I agree that his leadership is invaluable and will be an asset to an up-and-coming Hawks team.
Embattled Billy King, former GM of the 76'ers sounds off on Allen Iverson here, and I can assure you it's seems like he's getting some things off his chest.
Courtney Lee wants you to know Orlando fans that especially against you, he will make sure you regret trading him.
David Lee is caught in the middle of the Knicks attempt to woo Lebron James, and attempting to 'contend' this year. Lee may just end up holding out because he has no options at this point.
The Clippers have a new TV deal, and apparently it's a better deal than the Lakers (at least according to Ralph Lawler) and will swing some support to Clipperville.
Someone's interesting idea to eradicate performance enhancing drugs in sports.
The draft-rich (or lucky) Spurs standout Tiago Splitter's performance at the FIBA Tournament.
This is one of the many reasons I am extremely happy to see Jannero Pargo back in the NBA.
Ricky Rubio not coming to the NBA this year is not a big deal, even if he signs overseas with another team the Wolves can just wait it out and still get a young 21-23 year old player with potential.
Scouting is a crucial part of the game, and honestly with lack of a scouting department next year you will see more lopsided games, a suggestion would be to stop hiring all those special consultants that are former players, what do they actually do?
Look out Clipper fans apparently you will be getting a focused, motivated Baron Davis this year.
Who should be the best team over the next 10 years? This team is making an interesting care.
For anyone who is remotely interested in announcer Marv Albert.
My 5 non-basketball thoughts of the Week
For anyone that feels that once you make it to big leagues in any sport that your life is perfect this simply is not the case for every Lebron, or even Robert Horry who makes a significant amount of money in their career, there is some one like baseball player John Ericks who used to be pretty good once upon a time that has nothing to show for their efforts due to no fault of their own.
Jay Cutler is an idiot and his ex-teammate Brandon Marshall is not far behind. Unlike Denver, fans in Chicago will have Cutler on a silver patter if he does not deliver this year. Calling out your receivers (regardless whether they are good or not) is not the way to go in providing leadership or team chemistry. As for Marshall if I were him I would keep my mouth shut and play, Marshall who is in the final year of his contract can enter free agency next year unrestricted why not just play out the final year of his contract?
Albert Pujols is my MVP for the NL, and Joe Mauer wins for the AL. I'm sorry I know that there are some players having some outstanding years and some that others feel are more deserving however take away Pujols and the Cardinals revert to some type of AA team with that lineup, as for Mauer he has kept his batting average near .400 for the entire year while leading the league in slugging percentage – this from a man who never played in spring training.
Patrick Kane having to write an apology with regards to his altercation with the taxi driver is nothing more than a slap on the wrist for someone who already has begun to think too highly of himself. This response to what amounts to an assault is a mockery of the legal system.
Im not sure why there is so much infighting in the senate, and congress about the new healthcare reform, anything that can help millions that do not posses any type of healthcare, get it cannot be a bad thing. Sometimes you have to bit the bullet in the name of progress. Mr. Obama get it done.
by Micheal Malcolm…
This
will be apart of a series taking a look at the Raptors division and their opponents, along with the advantages or disadvantages each teams possess. Besides looking at the players, benches, and scheduling differences, the always underrated intangibles will also be analyzed.
Toronto Raptors certainly have re-made the roster and hopefully the third time will be the charm for Canada's only respectable sports franchise. However the Road to an Atlantic Division title will have to go through Boston. The question remains if the Raptors can outlast the former Champs
The Boston Celtics won the NBA Championship in 2008 however it's the 09-10 season and things have changed with some strong additions in Marquis Daniels and Rasheed Wallace, the Celtics have attempted to remake their roster slightly still focusing on extending the small window of opportunity surrounding the 'Big 3'
The Raptors and Celtics will meet on November 27th in Boston for their first match up, followed by games on January 2nd (in Boston), January 10th (in Toronto) and April 7th (in Toronto).
I predict the Raptors will go 2-2 against the Celtics this year. Let's look at how these teams match up.
Center: Andrea Bargnani vs. Kendrick Perkins
Advantage: None
While Bargnani and Perkins are two different types of players, Bargnani has the edge in the offensive department, while Perkins is vastly superior defensively. While good defense nullify good offense, both players have a history of disappearing at critical moments either with a silly foul, or a missed defensive assignment. Bargnani will be looking to prove his new contract was worth every penny, while Perkins will be looking to solidify is reputation as a hard nosed, rebounder and defender as his opporunity for a big pay day is fast approaching as one of the few legitimate centers in the NBA.
2008 Key Numbers
Bargnani - 15.4PPG, 45% FG, 41% 3PT
Perkins – 8.1 RPG, 2.2 Offensive RPG, 57% FG, 1.97 BLK
Power Forward: Chris Bosh Vs. Kevin Garnett
Chris Bosh vs. Kevin Garnett
Advantage: Garnett
Bosh and Garnett are franchise leaders and set the tone for their teams with their play. Bosh historically has never really fared well against Garnett over the years with a slew of poor showings against Garnett's defense (9 points on 3-8 FG in 40 minutes, 15 points 5-16 FG in 38 minutes, and 18 points 6-11 FG in 45 minutes) Bosh just had not been able to rise to the occasion against the Celtics and in order for the Raptors to have a chance he has to put up his regular numbers or impact the game another way. Garnett has been used to all the heavy lifting with his years in Minnesota, however with this Celtics team he has the support he never got their and in lieu of averaging 20 points and 10 rebounds he has changed his game to reflect more of his defensive nature. The knee injury that he suffered last year has me concerned however by the end of the year he should be back to his dominate defensive self.
2008 Key Numbers
Bosh – 22.7 PPG, 49% FG, 10 RPG
Garnett – 53% FG, 8.5 RPG, 84% FT
Small Forward: Hedo Turkoglu Vs. Paul Pierce
Hedo Turkoglu vs. Paul Pierce
Advantage: Pierce
Pierce has planted himself in the discussion of All-Time Boston greats with his play and leadership through some very trying times. (Anyone care to remember the Rick Pitino years?) Pierce has risen to the occasion during some very critical moments, additionally has been very durable and proficient averaging over 22 points per game (44% FG) and 73 games played per season for his career. Turkoglu is one of the new additions. Turkoglu can conjure up memories of Magic Johnson with his team-oriented Point-Forward Game. Turkoglu has never been a strong shooter 42% FG for his career, however the court vision, and length helps to hide some of his deficiencies. Regardless his lack of defensive conscience will be exposed by Pierce as it was during last year's playoff series. Come to think of it the fact that the Raptors are paying 50 Million for a player who is not a scorer, not quite a rebounder, and not really a passer, what did they pay for?
2008 Key Numbers
Turkoglu – 16.8 PPG, 5.3 RPG, 4.9APG, 35% 3PT FG
Pierce – 20.5 PPG, 46% FG, 39% 3PT FG, 5.6 RPG
Shooting Guard: Antoine Wright Vs. Ray Allen
Antoine Wright vs. Ray Allen
Advantage: Allen
First let me state that placing Wright as a starter is my personal opinion and nothing more. Regarding the options (Jack, DeRozan, Douby, and Weems) he makes the most sense, but that is another article in it's self. Wright provides great on-the-ball, and man-to-man defense and likely would help nullify Allen's proficient shooting. Allen reminded people of his clutch shooting during the playoffs last year hitting numerous big shots against the Bulls. Allen still has the ability to carry a team for stretches, a trait that will be needed with Garnett's continued recovery from knee surgery, and Pierce on the downside of a brilliant career. Wright does not bring much to the table from an offensive standpoint, however he has displayed a deft shooters touch in College (15.4ppg with 37% 3PT FG). So there may be untapped offensive potential that may have yet to show. Ultimately Allen is the better player however with Wright at 6'7 he'll have a tougher time scoring than he usually does.
2008 Key Numbers
Wright – 7.3 PPG, .71 STL, .42 BLK
Allen - 18.2 PPG, 45% FG, 40% 3PT FG, 89%FT
Point Guard: Jose Calderon Vs. Rajon Rondo
Jose Calderon vs. Rajon Rondo
Advantage: Rondo
While Calderon is a good point guard, he has no defensive conscience to speak of which is the distinct advantage that Rondo has over him. From an offensive standpoint Rondo can't shoot but his speed allows him dominate both ends of the floor. Calderon simply has the court vision that most GM's want their floor leaders to possess which Rondo doesn't really have (this is despite the 8.2 APG he posted last year as anyone could have couldn't that amount playing with the Big 3 no question). This is in addition to being one of the NBA's surest ball-handlers and an excellent efficiency rating of 18.80 according to ESPN's John Hollinger's matrix. Frankly the defensive aspect is major difference between these two players. Both Calderon and Rondo can be considered amongst the elite point guards of the East.
Key 2008 Numbers
Calderon – 8.9 APG, 1.1 STL, 50% FG, 40% 3PT FG
Rondo – 8.2 APG, 1.9 STL, 50% FG, 5.2 RPG
Bench Players & Intangibles
The Raptors bench appears to be much improved and superior to the Celtics bench however with key additions Rasheed Wallace, and Marquis Daniels the gap in talent is not that much. Much like the Raptors the Celtics bench has scoring, rebounding, 3-point shooting and defense. However unlike the Celtics the Raptors have depth behind their backups. With the recent acquisition of Amir Johnson the Raptors clearly boast the deepest roster in franchise history. This is not determent to the Celtics as the addition of Wallace, and the resigning of Glen Davis do not make them pushovers either. The schedule will play a small role as the Raptors have a slightly tougher schedule than the Celtics. So when Toronto travels to Boston for there November 27th match-up. The Raptors will have played their schedule against mostly (projected) over .500 teams, unlike the Celtics who have a much easier opening schedule. In fact according to basketball-reference.com the Celtics have an incredibly easier schedule, so the idea behind that train of thought that they will be 'fresher'. While the prediction game is always a crapshoot I will boldly state that the Celtics will win November 27th match-up, followed by the Raptors, then Celtics, then Raptors. The Celtics boast the marquee names, however one of the best facets of basketball is that five non-descript players can beat a bunch of marquee names if they work together and execute their strengths while limiting their mistakes, the Raptors do have the personnel to beat the Celtics on a somewhat consistent basis. Can't wait till the season starts! What's your opinion?
by Micheal Malcolm… I hate this time of year.
Essentially because of the recession and GMs supposedly becoming more fiscal, there is only an trickling of news concerning the NBA (Leon Powe's signing should not be the topic of the day), let alone the Raptors.
So, with that in mind, I am looking forward to training camp; with some minor issues that need to be addressed, I am interested in how these scenarios will be handled: namely, the rebounding and defense aspect.
Outlook: The Raptors have a team whose key pieces have largely been in place for some time. However, the Raptors have long since had an inability to play defense and rebound for several years running.
With the addition of Reggie Evans and continued improvement from Andrea Bargnani in that area, the hope is that there will be enough rebounding for the team to compete nightly. Additionally, with the hiring of noted defensive guru Marc Iavaroni (former assistant for the Suns and head coach of the Grizzlies) the team should play better overall defense.
Reality: Reggie Evans is only one person, and is not a starter. Bargnani still has some work to do to shed the 'soft' label that has plagued him, and most other international players, since his inception into the NBA.
Evans also has always played very well in when given more than 20 minutes a game.
History is certainly on Evans side, as he has typically (almost single-handedly) raised the statistical rebounding rate ranking of each team he has played for.
In his prime at 29, relatively inexpensive, and with the Raptors needing to rebound in order to win, I am hoping that the coaching staff will find a place for Evans to make an impact.
This senario is implausable, however, with the Raptors 'franchise player' being the starting power forward. With Evans being too slow to play small forward, and too small to play center, I'm concerned that he will not truly get the opportunity to do what he does best, which is rebound the basketball.
With Iavaroni on staff, the Raptors should be better defensively, and when I say 'better,' I mean there is a greater chance that they will display a much improved team defense philosophy, in lieu of a couple of lockdown defenders.
I have high hopes for the Raptors on the defensive end this year with the addition of Iavaroni and Evans. Any improvement from Bargnani from a rebounding or defensive standpoint will be an added bonus; he's still young and can improve greatly in those areas.
The other issue I have read in various places, such as CBS Sports and other Toronto-based sports blogs, is the conversation pertaining to DeMar DeRozan's position.
Personally, I feel that at this current time DeRozan would be better suited to play at the shooting guard position instead of small forward.
My reasons for this center around DeRozan's summer league play, which had him playing remarkably better at the shooting guard position than he did at small forward, where he overwhelmed opponents with his size, athleticism, and skill.
The SF position, where longer, similarly athletic players dwell, has given DeRozan some problems (see summer league games against L.A. and Detroit, for reference).
At this point, getting DeRozan comfortable and confident in his NBA game is the first priority for this team, as this will pay dividends throughout the season in spurts. Based on what information I could find on DeRozan, it would appear that his learning curve maybe smaller than we may all think.
by Micheal Malcolm…
Brandon Roy is not a max player, sorry Portland fans I understand you may be upset as Roy has contributed to the team's current success greatly, but with all those great young players to re-sign I guarantee you this is the beginning of the end for Portland
However the Blazers got great value for Andre Miller and his leadership will rub off on the other Blazers.
Ron Artest's phone number if you want to talk to him for whatever reason, I'm sure he'll change it soon but for now call away.
Apparently the Grizzlies have one of the toughest schedules in the NBA while the Cavilers, and the Magic have the easiest how does this make ANY sense?
Rashard Lewis has been suspended. So what? It was only a matter of time anyways before someone got caught again the NBA, and we thought jumping eleven feet in the air was natural?
Marvin Williams will be re-signing with the Hawks, congrats Hawks fans looks like your management team stopped fighting long enough to sign a good young player and another piece of the foundation for the Hawks continued resurgence.
Russell Westbrook spent his summer working on his vertical, anything that will help him shoot better works for me.
Kurt Rambis apparently is a finalist for the Minnesota coaching position, what David Kahn couldn't get Lenny Wilkens to commit?
Seattle fans have not given up in their attempt to get the NBA back to Seattle apparently James Donaldson represents the best chance to make that happen.
The Grizzlies apparently are one of the few teams in the NBA to actually make money, who knew Owner Michael Heisley could run a profitable franchise?
Allen Iverson remains unsigned; 'the answer' has turned into the question regarding his declining skill set, and prima-dona attitude.
Al Harrington apparently doesn't like Don Nelson, Congrats Harrington you've got a lifetime pass to NBA employment to the Dallas Mavericks!
Lebron wants to wait until next year to decide his future, no surprise have you ever had that girlfriend\wife\boyfriend\husband that was indecisive? That is what Lebron is and, no it's not necessary.
Ben Wallace is contemplating a move back to Detroit, albeit over 60 million dollars richer, this is the way to go home in style.
Carlos Boozer is a disgrace to the NBA. Never have I seen someone who believed he was better than he actually was. I sympathize with Boozer's children's health which was pretty terrible a couple years ago but to openly campaign for a trade the Jazz were already working on only lowers his value and makes the situation even more toxic than it needs to be. When the Grizzlies want Zack Randolph instead of you it's a cue to keep quiet
Paul Shirley is one of the more interesting people I have ever read about, while his NBA career may be over, Paul's sense of humor and willingness to report injustices, and try new things keep me coming back.
Derrick Rose believes that not saying anything will make situations go away, Derrick as a leader and face of a franchise you need to understand you will be held more accountable than most people because of who you are, get it grip and grow up.
Lastly Jerry Stackhouse is working out for the Knicks, for all the drama and problems Stackhouse has cause over his 14 years in the NBA, his longevity cannot be questioned nor can his willingness to sacrifice in the name of the team. Can you imagine what could have happened had he learned these lessons in Philly?