By Bryan Thiel…

This season, the most important date for the Toronto Maple Leafs is March 3, 2010—in other words: this season's trade deadline.
If it wasn't for the swap of this year's first round draft pick (along with this year's second and next year's first) in exchange for Phil Kessel, most would say that the day of the draft—June 25 and 26—would surpass that in importance.
But however you feel about Toronto's situation—whether you're happier with Kessel or you'd rather see the Blue and White with a chance to draft the game-changing Taylor Hall, forward Tyler Seguin, or the premier blueliner Cam Fowler—the day that situation will change, if it does, is most likely the Trade Deadline.
That's when, if Brian Burke chooses, he can try to sell the farm for the second straight year in hopes of clearing the cap and preparing for free agency and stockpiling draft picks and getting the Leafs back into the first round.

Sidenote: While many go on and on about the opportunity the Leafs' would have had to acquire a talent such as Taylor Hall, I think that Cam Fowler would be just as big an acquisition, especially with the potential of him lining up alongside Luke Schenn, although you couldn't go wrong with either Windsor star.
But to put this in perspective, let's give a little bit of draft history. Since 1990, teammates have been drafted in the top ten picks twelve times. The most recent example is last year when John Tavares went number one to the New York Islanders and Nazem Kadri went number seven to the Leafs, both of them London Knights.
Brandon Wheat Kings' teammates Brayden Schenn and Scott Glennie went at number five and eight last year, marking just the second time since 1990 that two sets of teammates were chosen in the top ten.
In that time frame, no teammates have been chosen at number one and number three. We've had first and sixth (2007), first and fifth (2006), and first and ninth (1990), but never first and third.
For argument's sake, we've also had teammates taken two and three in 1999—the Sedin Twins—as selected by then-Canucks GM Brian Burke. This really had nothing to do with the article….it's just interesting.
But like last year, you have to look at what exactly the Maple Leafs have to sell.
The most marketable pieces that the Leafs have—defenseman Tomas Kaberle and Kessel—are unmovable. Burke has said that Kaberle earned his no-movement clause an earth-shattering deal may not even be enough to convince Burke to approach the 11-year Leaf.
And Kessel? Unless Burke can get three first rounders in return, the Leafs' have a better chance of coaxing Patrick Roy out of retirement than seeing Kessel leave.
Jason Blake still has two years on his contract, and even though his salary is only $3 million, his cap hit is $4-mil—a number that's tough to swallow for any team when you don't know whether the cap is going up or down in the future.
Meanwhile Nik Hagman, a holdover from the Cliff Fletcher era, has been one of the leading goal scorers for the Leafs over the past two years, ranking second in that category with 40. While he's movable (and affordable/attractive at $3-million a year), it's hard to tell the direction Burke will take with the Finnish winger.
The man who leads Hagman in goals over the past two years by one (41) though, may be an attractive pickup for a playoff-bound team. Alex Ponikarovsky has developed into a solid winger, as he's four goals away from his fourth 20-goal season in the last five years.
Poni will also get his first taste of unrestricted free agency following this season, and it's hard to see Burke letting anyone skip town for free if he's got no interested in keeping him around.
The same can be said for Matt Stajan. Stajan is on pace for his first 20-goal season and a career-high 59 points, but it hasn't stopped him from being a consistent target for trade rumors and hot and cold reactions from Leaf fans, while Lee Stempniak (on pace for his first 20-goal season since 2006/07) could be gone as well thanks to his impending unrestrictedness.
But the name that intrigues me the most is Ian White's.
For a player who was told a 5-foot-10 defenseman weighing 190 pounds wearing lead shoes would have trouble making it, White has flourished. For a guy who had to battle his way to get into Ron Wilson's defensive rotation (even spending a few games on the wing last season and scoring a few goals), he's earned his time.
But that three-year deal that White signed in 2007 is reaching it's end after this season, and his rights can still be controlled as a restricted free agent.
Compounding all of that is the fact that, at just $950,000, he's probably the most affordable defenseman with 40-point potential this season.

Sidenote: Here's the list of cheap, potential 40-point defensemen this year: Drew Doughty, 35 points, $875,000; Tyler Myers, 27 points, $875,000; Marc-Andre Bergeron, 25 points, $750,000; Michael Del Zotto, 24 points, $875,000; Anton Stralman, 24 points, $665,000.
You want to know how many of those guys are available? Assuming White is, there MAY be two. And that's assuming Montreal slips further than two points out of the race for eighth in the East and starts selling.
The troubling thing is that while the Leafs' have some defensive depth on the farm (Phil Orsekovic, Jonas Frogren, and Carl Gunnarsson—who's still up with the parent club), there's really no dynamite offensive option that's on the rise in Toronto other than Juraj Mikus with 16 points in 38 AHL games.
At 25 (26 in June), White is the youngest offensive defenseman the Leafs have that's NHL-calibre, or even NHL-ready.
Kaberle, despite his offensive genius, will be eyeing an expiring contract after 2010/11, and he'll be 32 at the start of March. Francois Beauchemin is 29, but he's never had more than 36 points in a season (2005/06) and has never posted back-to-back 30-point campaigns.
Then again, White doesn't have a 30-point campaign either, but he does have a 10-goal season to his credit, and he may have two of them in a row—neither being a stat Beauchemin can flaunt.
So what do you do? One of the easiest to move and most valuable players you have on your roster if you go the trade route is also one you can control for one more contract, and the one who's given you some of the most consistent efforts offensively from the blueline in his 20+ minutes the past two years.
Then again, White will be due a big raise this year. The days of him making six digit pay checks will be over and that may play in to his future with the Buds as well.
Despite all of his perceived shortcomings, Ian White has become an NHL-level defensemen, proving (for this year at least) the critics wrong that said he couldn't replicate his success.
The choice Brian Burke has, is whether White continues to replicate that success in Toronto or a new market come March.
by Bryan Thiel… In Theoren Fleury's book Playing with Fire , Fleury goes on record saying that he would've liked playing in Toronto, except for one thing.
The media.
According to Theo, and this is very apt, the media always keys on a low-point for the team. They could have won 16-straight and there would be something to find a problem with.
So, with the team at an all-time low, why not look for a few positives? And what better time than after they've gotten out of a putrid month?
1. The Power Play
Currently, the power play for the Toronto Maple Leafs is the top-ranked in the league, which is kind of surprising as they've had a few problems scoring (14 of their 30 goals have been on the power play this year).
Whats even more impressive is that they've actually been better on the road with the man-advantage, clicking 30 percent of the time.
2. Put the Puck on Net
Granted bad shots don't get you many places in the league, but they can sometimes get you somewhere. So far, that hasn't been a problem for the Leafs.
Currently ranking 12th in the league in shots-for (395), the Leafs are at least getting pucks to the net in hopes that one day an opposing goalie has a John Gosselin-sized breakdown.
3. The Record Can't Last Forever
When out-shooting opponents, which has occurred in seven of their 11 games, the Leafs are 1-4-2.
If they keep putting the pucks on net and they eventually start going in, then the record will follow.
4. The Play of Jonas Gustavsson
It's fairly safe to say that Gustavsson is the most athletic goalie to play for the Leafs since the Felix Potvin/Curtis Joseph era.
In watching Gustavsson, he moves laterally very well, he's quick, and he's flexible—in other words—exactly what the Leafs need.
5. The Return/Arrival of Phil Kessel
Leafs' Nation is finally going to reap the rewards of their biggest offseason acquisition just over a month after the season has begun.
With a slew of final tests today, Kessel is awaiting word on whether or not his shoulder has reached playing strength. If it has, the Leafs will have another player to put the puck on net.
Hopefully he's as good as he was last year, because the sky will fall if he isn't.
Remember that girl from high school? The one you continually bothered for a date and never got it. Then when you suddenly got it, you were over the moon. Well from there it goes two ways: Either you lived happily ever after until three weeks later the girl from California transferred to your school, or the date went terribly, you blogged about it, and you sulked in disappointment over the next four years.
Either way, the wait is over and the date is at the door.
6. The Play of Tomas Kaberle
After tallying 10 assists and 12 points over the past four games and receiving the NHL's First Star of the Week award, all of the sudden Kaberle is back in the saddle after a slow start to the season and an injury-riddled campaign last year.
Granted, the 116 point pace won't be kept up for much longer, but for a defense that needs a scoring presence, Kaberle is the one to keep that going strong.
7. The Goal Scorers
Even though they've struggled to score goals as a team, the guys who are paid to do so are doing so.
With 11 combined goals, Alex Ponikarovsky and Niklas Hagman are leading the team offensively, and it's a matter of the rest of the team catching up to them.
These aren't flukes either—last year they combined for 45 goals and Hagman wasn't even healthy for the whole year.
8. Winning Faceoffs
While the Leafs aren't leading any categories in faceoffs, there is one positive:
They're currently one of just seven teams in the NHL to not feature a player in the top-30 in shorthanded faceoffs lost—a small victory for a team 25th in the league in overall faceoffs won.
9. Points are Points
I'm the first to admit that the Edmonton Oilers of 2007 proved that overtime losses and single points are no way to make the playoffs. Sure they help, but you need to win along the way.
If the Leafs can start to win though, they would have been able to get themselves a few points over the last few games.
After that 6-3 win over Anaheim, the Leafs rattled off three straight extra-frame appearances and counting against Dallas, Buffalo, and Montreal.
Is it monumental? No. But it's a start.
And every great story needs a beginning.
10. Sticking It to Montreal Canadiens Fans
Three minutes and 55 seconds to go with a two-goal lead, the always-boisterous Montreal fans started bidding the Leafs adieu.
Then Alex Ponikarovsky struck.
And then? The aforementioned Kaberle.
Troublesome month or not, a moral victory is a moral victory.
by Bryan Thiel…

There have been a lot of things said over the past few weeks: The Leafs don't have enough offense to compete, the goaltending simply isn't there to carry them, and wondering when are all these pieces going to mesh.
Some of questions are easy to find answers to. These problems need Carnac the Magnificent and a large express envelope to solve.
While other teams have solved the problems of the past with a quick turnaround, combining effective drafting and quality free agency signings, the Leafs may need to look past that and, in fact, look to the past.
The problem the Leafs face isn't a lack of talent. Simply put, there are a lot of talented players there who are simply learning the NHL game.
Luke Schenn was the toast of the town last year because of great positioning and his physical play, but he's off to a slow start this year. Nikolai Kulemin has the tools to be good, but it's applying them like he did when he played with Alexander Ovechkin and Evgeni Malkin in Russia, while Jiri Tlusty, Christian Hanson, Tyler Bozak, and Viktor Stalberg need the time to develop.
What the Leafs lack is an attitude. That's what they need to look to the past for.
Over the past two weeks, the Leafs have brought back two of the most defining players in the team's history.
Earlier this week, the team honored the recently deceased Ted Kennedy.
Quite possibly one of the most honorable players in the history of the NHL, Kennedy came a long way from the player who said the price tag wasn't high enough for him to play for Montreal.
The price tag that he was willing to pay though was the price of success: Hard work.
That's what's written on the wall of the Leafs' locker room, and it seems that some of the players should look up once in a while.
Over the course of the year so far, fans have grown frustrated with the perceived lack of effort on the part of a number of players on this team. Some players aren't willing to go hard into the corners after pucks, choosing rather to coast. Others simply aren't going in to the corners and staying out on the perimeter.
You also don't win one ring, let alone Kennedy's team-record five, without recognizing what the sport requires.

"It was never about 'I' or 'me'…it was always 'we.'"
Simply put. Kennedy said it best.
But that most recent trip down memory lane isn't what the Leafs can learn from the most.
Over the offseason, Toronto GM Brian Burke said his team wouldn't be pushed around like it was last year. Burke went out and added toughness and aggression.
In hockey circles, it's called goonery.
What the Leafs need more of is what the man who dropped the puck on last Tuesday's game against Ottawa brought to the team.
There was a reason that Gary Roberts was such a big hit in Toronto. It's because he brought the leadership qualities and attitude of Kennedy, along with edge and scoring ability.
When a player went down, Roberts always stepped up his play. The best example of which was the 2002 playoffs, when he and Darcy Tucker threw the team on their backs—the weight of which led to dual shoulder surgery for Roberts that off-season.
Roberts was willing to run through a wall, whether it was to get to the opposition or score a goal. The player closest to that attitude and abilities is John Mitchell, but he doesn't have the touch around the net just yet.
After that, they're divided by a fine line. Their players are either the offensively talented or physically bruising—making the return of Darcy Tucker (another such player) on Tuesday night—when Kennedy was honored—slightly ironic.
Currently, the Leafs are left with a good enforcer in Colton Orr and a pinball in Mitchell. If the rest of the team can't get on the same page, Mitchell's efforts be in vain. Orr, while he's an effective and enticing fighter, simply looks like a goon without reason, due to the fact that no one is worthy of that enforcing right now.
Gene Hackman said it best in The Replacements : The team needs heart.
That's what they're missing, and that's what they need to find.
And this time there's no halftime reporter to confuse, because everybody knows
by Bryan Thiel…

Last year, I started to distance myself from Don Cherry.
Not in any specific way, but (Before this became the "it" article to write) I started to feel as if we were on two very different wavelengths—which is always unfortunate when you find yourself distanced from someone who was so influential to you.
But sometimes, a distance brings two people together.
As I listened to Coach's Corner on Saturday night, Cherry began with his assessment of Vesa Toskala, and I found myself nodding along in agreement—something I've done a little less of over the years.
And why was I nodding? Because he was exactly right.
Cherry said that Toskala has been jerked around so badly as of late, that he (essentially) couldn't differentiate between his hockey pants and a swimsuit.
He looked at the fact that Toskala was playing deep in his net—a sign of a goalie low in confidence—and then continued to defend him, saying that the Leafs have given him no reason to be confident, whereas the fans point the finger to say that V-Tosk hasn't given them a reason to be confident.
The fans have been critical of the man between the pipes so far, but maybe that's because it's easier to point one finger at a time than it is to point six.
For a team that spent so much money on their defense in the offseason, there's been no hint of it early on in the season.
The Blue and White are 0-3-1, and while the accusations have been fast and furious towards Toskala, it's not his burden to bear alone. Those who are paid to protect the net should be getting accused, identified, or (maybe worse) benched as well.
Granted Toskala hasn't been great, but is it really that surprising that a goalie that ended last season with surgery on his groin and hip has been rusty to start the year? What's surprising about this is that a defense with an added 974 games played at the NHL level hasn't helped this team improve at all.
Sure they've allowed fewer shots to this point in the year (129 in 2008/09 to 115 this year) but the goals-against are up there (12 last year to 17 this year), and the penalty-killing is worse, working at just a 53.8-percent clip compared to last year's 73.9-percent through four games.
Yes it's a two-way street: Toskala needs to be better so that the defensive efforts aren't wasted, but he needs to be able to trust those ahead of him if he's ever expected to regain his confidence.
Leaving Sidney Crosby alone at the side of the net on the powerplay (twice) is no way to do that.
Getting shoved off the puck in behind their own-net is no way to do that either.
The fact is that a market that's always expected immediate results hasn't gotten what it wanted. They saw the additions made to the defense and assumed that all of the issues the Leafs had last year would be done away with, and there was a magical fix.
Eventually there very well might be, but right now there's one thing that can fix it, and it's a word that is a mortal enemy of any Leafs fan: Time.
For the masses that call themselves Leafs Nation, they've given it time. They've given it nearly 43 years and they haven't seen anything different.
In fact, now they're dealing with rumors that had them nearly losing their team during the 1980's.
For them, time is no friend. For the team however, it's the only antidote.
For a defense featuring so many new parts, it'll take time for Head Coach Ron Wilson to find the pairings that will work. For the players, it'll take them time to get accustomed to the new system. For Toskala, it'll take time for him to trust them, and time for them to trust him.
Unfortunately with the ways that both have played thus far, time is acting more as an enemy than anything.
But if this turns out well, perhaps it can say something for the old adage of "keeping your enemies closer".
If not, time will only become more of an enemy for this team as it wears on the nerves of the fans and they become even more impatient. And don't even get them started on the 'P' word.
by Bryan Thiel…
Each and every year, fans everywhere anticipate the NHL season.
Everyone wants to see their big free agent acquisition get acclimatized to his new surroundings or which draft picks outshine proven veterans and earn themselves a spot in training camp.
On top of that, you've got the prospective title defense, the wonderment over a "Stanley Cup hangover," and nay-sayers praying that they get to utter the phrase "bust" or "sophomore slump" as early as possible.
But what exactly do these things mean so early on in the regular season?
Coming out of the gate last year, the defending Stanley Cup Champion Detroit Red Wings went 2-1-1 in their first four games. It's a very respectable record, but the St. Louis Blues owned the division with a 3-1-0 record, while the Wings were just a point ahead of 2-2-0 Nashville and Columbus.
Obviously, that situation wasn't ideal for an established team such as the Red Wings, but the season didn't end that way for them, as they were able to finish eight points ahead of their nearest division opponent, the Chicago Blackhawks.
Those exact Blackhawks started the season with one of the worst records in the NHL at 1-2-1, and ended up finishing fourth in the conference.
In fact, the 'Hawks were one of two teams who started the season with just one win and ended up making the playoffs (the Calgary Flames were the other), while the Philadelphia Flyers started the season 0-3-1 and ended up tied for fourth in the East (fifth in the conference).
On the positive end of the spectrum (record-wise and early on), five teams started the season without a regulation loss, and only one—the San Jose Sharks—ended up being anywhere near that successful by the end of the year. The New York Rangers and Montreal Canadiens stumbled to the end of the year and low seeds in the playoffs, while Minnesota, Edmonton, and Buffalo fell short of the playoffs.
Two weeks doesn't make a season, even though you can trace a missed playoff birth back to some missed opportunities early.
In other words: Just because New Jersey, Carolina, Detroit, and Vancouver are lining the bottom of the league right now, doesn't mean that things will necessarily stay that way.
The likelihood of Roberto Luongo and Martin Brodeur struggling enough to keep their teams in the basement of their conferences is unlikely, and if Detroit misses the playoffs then…well…I guess whatever happened after the 1989/90 season will happen again.
If it involves a sequel to The Forbidden Dance,I'll be worried, so here's hoping we don't chance that.
Up at the top, while the Colorado Avalanche will be hard-pressed to continue leading the West and the Phoenix Coyotes could win the Cup and the big "for sale" sign on top of the team would still get all the headlines, it's a team that looks down at the rest of the East that may have trouble holding on.
While the Montreal Canadiens started the season off with two wins on the scoreboard (and were victimized in a big way against Vancouver), it's a big loss on the ice that's going to hurt them moving forward.
Last year, Andrei Markov was the big producer on the Montreal power play and he nearly led the team in scoring. This year? He's out until after the Olympic Break thanks to Carey Price's Rick Flair impression.
Heading into the trade deadline last year, the Habs added Mathieu Schneider as insurance on the power play. Over the offseason they added Jaroslav Spacek in hopes of off-setting that offensive loss, as Schneider walked via free agency, but now Spacek is going to have to step up in a big way.
With Markov out, Montreal is going to have to look to Spacek to lead the defense offensively, while call-up Yannick Weber and recent signee Marc-Andre Bergeron will have to get their legs quickly and start contributing.
All of this brings up a very good question, though: If you can't bank on the health of our stud defenseman, the spoils of a hot start, or a slouching contender, what can you bank on?
Well, you can probably bank on two Russians: Alexander Ovechkin will always score goals, and Evgeni Malkin will produce. Remember, Ovechkin came up with 56 goals last year after a slump to start the year, and he's already started the season hot, making 70 a very likely possibility.
Malkin, meanwhile, started last year with three points in four games—a slow start for an eventual 113-point scorer—and he's got just (I repeat…JUST) two points (as if that's disappointing) so far this year.
You can also bank on the fact that, no matter what happens, the Sedins will finish within five points of each other—something that's happened five of eight times over their careers.
And if Marian Gaborik wasn't the second-highest scorer on my fantasy team, I'd tell you that he's due for an injury.
But he is, so he's not. And he's going to score 40 goals this year. That's just the way it is.
For fans frustrated by slow, disorganized starts, remember that your teams are still trying to integrate new faces into the system, while those players are antsy themselves.
Last year, the Tampa Bay Lightning opened up the season on a troubling losing streak after remodeling their team in the offseason.
Granted, they didn't climb the standings over the next 76 games, but there were plenty of auxiliary distractions—meaning that a team like the Toronto Maple Leafs, who continue to look a little cris-crossed in their own zone, should be able to fix that fairly soon.
Misguided illusions about fantasy-impacting injuries and fretting over team defense after two of the top four on your team just finished their third game in new colors aside, putting too much stock in the first week of the season isn't an ideal strategy for fans. It'll lead to a ton of indigestion, lost sleep, and grey hairs.
In other words: Wait until Christmas to ask for that Just for Men colour gel.
by Bryan Thiel…

While the Boston Bruins and Buffalo Sabres didn't change much about their team's appearance, settling more on replacing missing players from within and integrating youth into the NHL game, the Montreal Canadiens pulled a Tampa Bay Lightning (Circa 2007/08) and remodeled the entire team.
Now they have a whole new first line, a few new faces on defense, and an untouched goaltending scenario (although there was one minor move that got blown out of proportion over the summer).
Montreal Canadiens
2008/09 Record: 41-30-11, 93 points, 8th in East—Swept in first round by Boston Bruins
Additions: Jaroslav Spacek—D (3 years/$11.5 mil), Hal Gill—D (2 years/$4.5 mil), Mike Cammalleri—F (5 years/$30 mil), Brian Gionta—F (5 years/$25 mil), Paul Mara—D (1 year/$1.675 mil), Travis Moen—F (3 years/$4.5 mil), Scott Gomez—F (Trade w/New York Rangers)

Subtractions: Mathieu Schneider—D (FA), Patrice Briesbois—D (FA), Marc Denis—G (FA), Saku Koivu—F (FA), Alex Tanguay—F (FA), Robert Lang—F (FA), Francis Bouillon—D (FA), Alex Kovalev—F (FA), Tom Kostopoulos—F (FA), Mike Komisarek—D (FA), Chris Higgins—F (Trade w/New York), Doug Janik—D (FA)
With a disappointing 2008/09 in the books, the Montreal Canadiens knew they needed change, and change is what they got.
Former Northeastern rival Jacques Martin was lured away from the Florida Panthers to return behind the bench in hopes that he could revive a team that slowed after a powerful 2008.
After that, the Habs were a boob job away from being Pamela Anderson: They got a fresh pair of legs (well…a few), a new face of the franchise, and something around 6% of what the original product was still remains.
Does this mean I'm saying Anderson is 94% plastic? You're damn right I am. Who knew Aqua's one hit song was biographical.
Sorry….I just got caught watching it…

Insert generic Bob Barker jab…
The picture at the beginning of the article captures Carey Price's year perfectly.
With failure already deemed "not an option" for the 21-year old, Price was put on an island all year long: Either succeed or feel the wrath.
Many hoped that the lackluster bow-out from the 2008 playoffs wouldn't carry over into Price's season last year.
Initially it didn't look that way. Price started hot for the Habs, losing just once in regulation over his first eight games (6-1-1).
From there, Price stayed fairly consistent until the end of 2008. Once 2009 hit, it was a very different scenario.
Once the calendar flipped, Price won consecutive games only twice, but each time it was only two straight. Price ended up going 7-12-5 in that streak and shouldering a sweep at the hands of the Bruins in the first round, while he also did his best Patrick Roy impression.
Although some of his struggles may be attributed to a lingering lower body injury, fans were still nipping at the heels of Price, and doing their best to convince management on Jaroslav Halak.
Halak played outstanding hockey for the Canadiens last year, but even the fact that he offers Price one of the best backup options in the league didn't stop many from wondering if he would be traded.
Especially after the signing of Curtis Sanford.
How long the talented Halak can last as a backup will be a developing storyline for the Canadiens' this year, but they at least have a very strong tandem, and if they need to shakeup the roster even more, Halak can be used in that process.
It may be in the best case for both parties as well, because don't expect Carey Price to struggle as often, or as mightily this year.

Five out and three in…
While there was the exodus of a few very familiar faces up front, the losses on the back end may be more limiting to the Canadiens.
Going back to last season, Mathieu Schneider was acquired specifically to help out the Habs powerplay. Well he was able to do that, and this offseason the Habs went out and acquired the Rokycany version of Schneider.
Along with hurting their divisional opponent Buffalo (As the lack of offensive defensemen becomes Buffalo's biggest question mark), Montreal was able to nab a good defenseman who can move the puck and keep the it low from the point in the acquisition of Jaroslav Spacek.
Spacek should slide in perfectly alongside Andrei Markov (offensively) on defense, and his presence will take pressure off of Roman Hamrlik, who was thrust into a number two offensive role last year.
Hamrlik is a quality offensive defenseman with a good shot, but when the drop off between your leading defensive scorer and your second-place defenseman is 31 points, adding in that balance with Spacek was definitely needed.
While Washington and the New York Islanders are the only other teams with comparable differences between their top-scoring defenseman and the rest of the pack, they both also feature one of the premiere defensemen in the league—much like the Canadiens.
The aforementioned Andrei Markov has a great shot from the point, tremendous vision on the ice, and the well-rounded abilities that only a few NHL defensemen posses—underscored by the fact that he was nearly the only defenseman in the league to lead his team in scoring (He probably would have if not for a late-season knee injury).
Offensively, the other additions don't add much, but they do bring great size to the blueline. Both Hal Gill and Paul Mara are at least 6'4 and 210lbs (Mara is 6'4/212lbs and Gill 6'7/250lbs) and have experience in defensive roles. While Gill is knocked for being slow-footed, he's physical and mean, and plays a very responsible game. Mara skates much better than Gill and has a little more offensive flexibility, becoming more of a late bloomer.
With that in mind, don't expect Mara to be rivaling Andrei Markov any time soon, but he'll provide a little bit of offense while providing another good, solid, defensive presence.
Josh Gorges is another reliable player who'll be expected to help replace Mike Komisarek's top-pairing defensive ability. Gorges is a little slower and still learning the ins and outs of the big-league game, but he should provide another steady presence on the Montreal blueline.
On the depth front Ryan O'Byrne will be battling it out with Yannick Weber and P.K. Subban to stay on the roster. The allure may be too much to turn down from the two youthful offensive defensemen, but with O'Byrne as a backup the Canadiens retain a little toughness on the back end while Shawn Belle and Mathieu Carle could be quality call-up options to keep the defense fresh.


A First-Time First line…
It's not often that a team goes out and completely restructures their ranks of go-to forwards, but that's what Montreal did this offseason.
Familiar faces are gone and brought in were the play-making Scott Gomez, the tough scorer Michael Cammalleri, and the minute Brian Gionta. The fortunate thing, is that Gomez may finally have the linemates he needs, as Gionta and Cammalleri would rather fire home the passes they get from Gomez than try to return the favor.
The main concerns about all of the forwards that were brought in was their sizes, as none are above 6'0 and just one is taller than 5'9 (Gomez).
It's not like this is unheard of in Montreal however.
Andrei Kostitsyn is just 6'0, but he's another forward who loves to shoot. So long as he and brother Sergei can keep their heads on the ice and stay out of off-ice trouble, Sergei could jump to the 40-point range (he certainly has the talents provided he starts in the NHL), while Andrei could stay within the 23-26 goal range.
Travis Moen's physicality and 6'2 frame adds to the advantage the French fighter Georges Laraque already provides, but with trouble protecting both the forwards and Carey Price last year, the added size and toughness is certainly welcome.
Looking for improvement, the Canadiens will also look to give bigger roles to Maxim Lapierre who could blossom into the 40-point range, and Tomas Plekanec who should be primed to return to 60-70 point range with an improved supporting cast that will include Glen Metropolit as a good low-line depth option.
To help out offensively, Guillame Latendresse will need to put his instincts to good use and round off his playmaking ability while hopefully breaking the 20-goal barrier for the first time. Matt D'Agostini meanwhile, will have to find a consistent level of production at the NHL level and develop his play-making ability as well.
Most of those forwards can't take anything for granted however. Ben Maxwell had a good year in the AHL and could be a good low-line option until he finds his NHL legs. Max Pacioretty's speed could definitely come in handy in a low-line matchup for the Habs, but he needs to find a concrete level of production, as does Kyle Chipchura.
Chipchura put up good numbers in the WHL, and if he can transition those to the NHL, then the Habs will net a quality center, capable of putting up 35-45 points along with 15 goals.

So what's it all mean…
Even with all of the new forwards, the returning players for Montreal need to find an increased level of production if they want to get back to the plyoffs.
The defense will be better at moving the puck with Spacek and they'll be meaner and more protective of Carey Price, but unless Andrei Markov puts up 90 points, having him as the leading scorer of this team at the end of the year will be simply unacceptable.
That being said, which all of the new offensive talent it's unlikely that'll happen, but that is where the Canadiens' big question lies however.
Chemistry. If Gomez/Gionta/Gill/Cammalleri/Spacek have trouble working together out of the gate, then the Habs are going to be in trouble. If they mesh, they have one of the most dangerous and shifty first lines in the league that aren't tall enough to ride Behemoth (A Canadian roller coaster).
That's what the preseason is for though, and Habs fans better hope that this science experiment lasts long term, as that's what the Habs need to jump into second.

3rd in Northeast
by Bryan Thiel…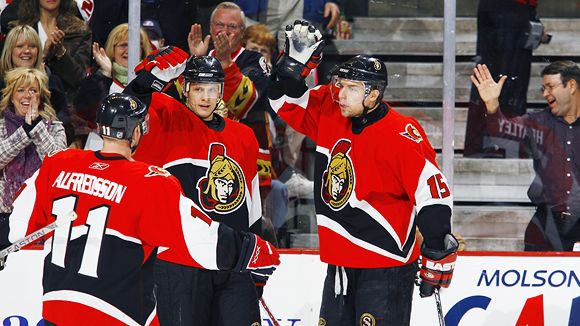 Like the rest of the Northeast, the Ottawa Senators come into the season with a question that, if it gets answered, gives them the best shot at second place.
While the Montreal Canadiens need to find a sustainable level of consistency, the Buffalo Sabres need to find that top-pairing puck-mover, and the Boston Bruins are simply hoping to make a seamless transition to a Kessel-less era, the Sens have the most interesting question ever.
What was this guy prepared to do if Dany Heatley didn't eventually waive his no trade clause?
Ottawa Senators
2008/09 Record: 36-35-11, 83 points, 11th in East

Additions: Jonathan Cheechoo—F (Trade w/San Jose), Milan Michalek—F (Trade w/San Jose), Alex Kovalev—F (2 years/$10 mil)
Subtractions: Mike Comrie—F (FA), Dany Heatley—F (Trade w/San Jose), Alex Auld—G (FA), Brendan Bell—D (FA), Brad Isbister—F (FA), Danny Bois—F (FA)
While many think that the Ottawa Senators didn't get enough in the Dany Heatley deal, they may have actually gotten just enough.
Yes it would've been nice to see them get a little more, but the package is a fairly good one, given the corner Bryan Murray was forced to work himself out of.
For a disgruntled 50 goal scorer who wasn't going to be convinced to give 100 percent, the Sens were finally able to solve their secondary scoring issues—at least on paper—with two good forwards.
Then again, the San Jose Sharks look pretty good on paper. Maybe we should check back in with Mr. Heatley come May.

And for desert, a chocolate Leclaire…
Over the past few seasons, the Senators' crease has resembled more of a revolving door than anything.
Last year, Brian Elliot (31), Alex Auld (43) and Martin Gerber(14) split time for the Sens. The previous two years it was Gerber (57 and 28) and Ray Emery(31 and 59), while in 2005/06 Dominik Hasek (43) and Emery (39) split time.
Really, the Ottawa Senators haven't had a real starting goalie carry the load since Patrick Lalime shouldered the load into 2002/03—the year before Martin Prusek truly threatened to take his role.
Oh Martin Prusek…those were the days.
Contingent on whether or not he can stay healthy, the Sens may have finally found their man in Pascal Leclaire.
The biggest detraction about Leclaire, as everyone knows, is his injury problems. There have been three instances in his career where Leclaire has missed double-digit games with injury. All three have been more than 20 games, while last year's missed games total broached 50 (48 games).
When he's healthy however, Leclaire has top-level talent. In 2007/08, the then-Blue Jacket went 24-17-6 with nine shutouts, while posting a 2.25 goals-against average and a .919 on a 12th place team that went 34-36-12.
Although Mason played more games (61 to 54 in his favor) Leclaire's tangible statistics were better than Mason's last year, while Mason had the advantage in wins and winning percentage. These are things I think you should know.
The question that needs answering for Ottawa, is whether or not Leclaire is fully healed from the plethora of problems that have dogged him the past few years.
If he is, this team can jump up the standings. If not, it's once again up to Brian Elliot.
While Elliot played admirably in Ottawa last year going 16-8-3 for the Sens, the jury is still out on his long-term potential. His athleticism, poise, and confidence kept the Senators in a lot of games early on last year, but he's going to have to replicate that this season to prove that he can handle a bit of increased time.
In the instance of injury (and let's face it…it's a very real possibility) the Senators are fairly thin. Andy Chiodo hasn't played NHL hockey since 2003 (eight games with Pittsburgh) and was seen backpacking through Europe post-lockout, while Mike Brodeur still has yet to see NHL ice, leaving the Sens hopeful that Leclaire stays healthy.

You can't keep Karlsson and Kuba under wraps for long…
Before we get to any returning players, the Sens may have one of the best (if not the best) up and coming rookie defender in the league.
The most talked-about Swedish defender not named Victor Hedman (At least who isn't currently playing in the NHL) has to be Erik Karlsson. The first round pick in 2008 carries the puck with poise and his feet always seem to know where to go. He has one of the easiest skating strides most have ever seen, and carrying the puck out of his own end he looks like Toronto's Tomas Kaberle.
Karlsson's passing ability and offensive instincts will immediately make the Sens defense better (as well as shoot him up the depth chart), as aside from mid-season acquisition Chris Campoli, no defenseman other than Filip Kuba registered more than 22 points last year.
Speaking of Campoli, he produced a nice bounce-back season after seeing his 2007/08 campaign cut short by shoulder surgery.
If Campoli receives the offensive responsibilities that he did late last season with the Sens rather than his time with the Islanders (13 points in 25 games with the Sens, 17 points in 51 games with the Islanders), a second-straight 30-point campaign is more than attainable.
Along with Kuba, the Sens have three good offensive defensemen: One with moderate upside (Campoli); one whose most-likely a future superstar (Karlsson); and one who can move the puck well (84 assists over the past three seasons) and shoot it (Kuba has a shown that can quarterback a powerplay if the Sens choose to use him that way), but is still a little soft in his own end.
If a little more offense is required, the Sens could look towards Brian Lee. The rookie defender made his much-anticipated NHL debut last season and proved that he could stick, netting 13 points in 53 games and playing fairly well.
Obviously Lee has a long ways to go in terms of development, but the fact he was able to keep up with the NHL game last year while owning a projectable offensive game could make him an attractive low-to-mid pairing defender as he acclimatizes to the NHL.
From there it comes down to the team's two shutdown defenders: Anton Volchenkov and Chris Phillips. While many don't give Phillips his due, last year seemed to be (at least statistically) a down year. His -14 rating was astronomically low after a string of seasons of very high +/-'s.
Even under the argument that he was playing on some offensively inclined Ottawa teams, Phillips has been a strong defender before there was the volatile offense. Phillips is also one of the more consistent Sens, having missed just 14 games in the past five seasons.
Volchenkov meanwhile has the ability and size to be a great defender, he's just periodically set back by minor, yet nagging injuries. Ideally the Sens would like to have him around for 75-78 games because of his ability to steer the play in his own end and clear out the front of the net, which is going to be a big asset to Leclaire.
The best thing about Volchenkov, is that he's fearless in the physical game. He'll not only lay the body, but he'll block a ton of shots as well, making him a confident deployment for Clouston and Co.
From there, Alexandre Picard will help to fill in on the lower pairings while providing a little offense as well from the back end, giving the Sens some consistent depth.
Alfie the Clown? Kovie the Clutz? Spezza the…spaz?
Alright…sometimes alliteration goes a little far. Jason Spezza isn't a spaz. It's simply hard to find other words with the letters 's','p', and 'z' in them. Either that or I'm lazy and didn't try hard enough, but you don't know that.
Spezza suffered through a down-year like most of the Senators last year, falling from the 90-point plateau to 70. A player who's always displayed prominence passing and shooting, Spezza's goal-scoring never left him last year, it just seemed like his passes (Assists went from 58 to 41) weren't finding players to put them in the back of the net anymore.
When you look at Daniel Alfredsson, a big reason for Spezza's drop in production could be the fact that Alfie was one of those who was missing the back of the net.
While there was bit of a disparity in his shot totals between last year and two years ago, it's not nearly large enough to account for a 16 goal difference, meaning the totals may simply be a result of an "off-year", although some may even question if it has something to do with his age.
Expect both Alfredsson and Spezza to bounce-back however, as the Senators finally got something they haven't had for years.
Secondary scoring.
Through the Heatley trade, the Sens were able to acquire Milan Michalek and Jonathan Cheechoo. Michalek is the biggest draw in this deal, as he can (and already has been in preseason) bumped up to the first line—a role he was shrouded from by Joe Thornton in San Jose.
Michalek has proven to have all of the tools to score as a second-line center, and if he's given the opportunity to play with top line talent like Spezza or Alex Kovalev, he could net at least 75 points.
Speaking of Kovalev, if paired with Cheechoo, he may be what helps him get back to some kind of level of productivity. After one of the fastest falls from a 50-goal season, a change of scenery along with the attention that someone of Kovalev's talents requires on the ice may be just what he needs to open up the ice and the goal vault he's seemingly fallen into.
That doesn't even take into account Kovalev's play-making ability.
With the way Nick Foligno has performed lately, the former Sudbury Wolf may be in line to rake in some OHL-like numbers. Although his 70 and 80-point seasons may be out of reach, Foligno could reach the 20-goal mark this year while settling into the 50-point neighborhood.
With the improvements on the top two lines, Mike Fisher may be able to sneak back onto the 40-point map as well, as the balanced scorer has been victimized in recent years by such a concentrated top-line attack in Ottawa.
The re-signing of Chris Neil ensured Sens fans that they'll be keeping a bit of sandpaper around, along with the likes of Jarkko Ruutu and Chris Kelly. While the three of them won't light the world on fire offensively, at least 20 points from each of them and an agitating presence is enough for the Sens.
As a prominent AHL scorer, Ryan Shannon's abilities will find a home in the NHL this season, but he's going to have to earn consistent ice time for the offense to settle in too. 20 points in 35 games last year is a great way to start, and if some of the younger talent can crack the Sens' roster and produce a little with him, there could be chemistry.
When you talk about those potential players, Josh Henessy, Cody Bass, and Zach Smith seem to be at the forefront of those lists, while Jesse Winchester (once he returns from injury) will get some time as well.
While Bass is a scrappy winger that'll endear himself to Ottawa fans and Hennessey has scored goals at every level, Zach Smith may be the prospect the sticks. Battling for time with playmaking Peter Regin, Smith's big bad style is something that Ottawa has lacked from their top line players, and Smith has the potential to be one of those.
Of course you also can't forget flex option Christoph Schubert, who can line up at both forward and defense. Where it is up front or in behind, Schubert brings great defensive instincts to this team that will be needed for support.
Although Schubert's offensive plateau may fall within the 25-30 point range, so long as he can help out all over the ice in keeping the puck away frm the net, the Sens have other places to get the offense.

So what does it all mean…
The question for Ottawa (as we've been dealing with each Northeast's team questions) is: If Pascal Leclaire is healthy, do they get the 2007/08 Leclaire?
If Leclaire is on top of his game, then the Sens have a great starting goalie that they can build around.
If not, then that's where the holes start, while lacking a true number one defenseman (at least until Karlsson fully grows into that role) will hurt as well.
Don't underestimate the scoring however: They're going to score more than the 213 goals they netted last year.
In Ottawa, the firepower is still there—or at least coming back. Now the goaltending just needs to follow suit, which will give Ottawa their shot at second place.

5th in North East
by Bryan Thiel…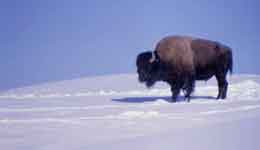 While the Bruins do have a question to answer in who replaces Phil Kessel and how successful they are, we also have to consider that they were always planning for this a little bit anyhow—after all, they had to be prepared that he was going to be out until November, so they can just extend the contingency plan.
The rest of the Northeast has questions; big questions. The Sabres are just one of those teams with questions and whoever answers them is going to lay claim to second in the division.
Buffalo Sabres
2008/09 Record: 41-32-9, 91 points, 10th in East.

Additions: Mike Grier—F (FA), Cody McCormick—F (1 year/$550k), Joe DiPenta—D (1 year/$550k), Steve Montador—D (2 years/$3.1 mil).

Subtractions: Jaroslav Spacek—D (FA), Mikael Tellqvist—G (FA), Maxim Afinogenov—F (FA), Dominic Moore—F (FA), Teppo Numminen—D (Retired).
The Buffalo Sabres are the lost sister in the Northeast Division.
While everyone talks about the Boston Bruins' defense of their division crown, the Ottawa Senators' potential rebound goalie Pascal Leclaire, the Toronto Maple Leafs' re-vamped…well…team, and the Montreal Canadiens' full remodel, the lack of activity seemingly left the Sabres in the dust.
The Sabres, however, are not only in a position to better themselves from within, but this year may very well be the year a ton of young talent makes its mark.

The Miller's Wife Is Churnin' the Butter…
The phrase "winner" is tossed around when people describe NFL Quarterbacks. In fact, on Sunday, Brian Billick was talking about how San Fransisco 49ers QB Shaun Hill may not pile up the stats, but he's a winner—which is what matters in the end.
Ryan Miller is a winner.
Last season, if not for an ankle injury that derailed his month of March, Miller could've thrust the Sabres into the playoffs by himself.
With just one win in those 13 games he missed, Miller could have posted his third-straight 35+ win season. To put that in perspective, only two other goalies (Miikka Kiprusoff and Henrik Lundqvist) currently hold that streak, while Miller ranks behind Kiprusoff (166), Martin Brodeur (154), Roberto Luongo (150), Marty Turco (144), and Lundqvist (142) for wins (he has 140) post-lockout.
Not bad company, eh? Expect more of the same out of Miller this year, as he's stayed fairly consistent throughout his career: Year-to-year, his goals-against average has never moved more than .15 away from the previous year's total, while the 12-point jump last year (.906 to .918) is the biggest jump ever in his save percentage (previous years it's been within .05, which, admittedly is a little high).
Behind Miller, it'll be a battle between Patrick Lalime and Jhonas Enroth.
While Lalime brings a veteran presence to the Sabres' backup role, his effectiveness has diminished since his soul was crushed by Joe Nieuwendyk in the playoffs. The highly-touted Swede, Enroth, had a great year in the AHL last year and even if he can't steal away the backup job, starting in the AHL will have him fresh and ready to come up in case of injury or back up next year.

On a Defense That Lacks Offense…

The Sabres come into this season lacking one big thing: a solid, top-pairing, puck-moving defenseman.
With the loss of Jaroslav Spacek, the highest-scoring carry-over from last season is Craig Rivet. While Rivet does provide the Sabres a solid, experienced defender to help bring the youngsters along, Rivet has just one season of 30+ assists (30 in 2007-'08 in San Jose) and just three seasons of seven or more goals.
To provide that offensive presence, it'll be a slew of youngsters trying to bridge the gap.
The most experienced of which is Andrej Sekera. Sekera not only has no reservations about shooting the puck, but he's also very good at moving the puck. He's shown consistent improvement at the NHL level and with a full season, he could reach 30 points. Sekera just needs to remember about staying responsible in his own end.
QMJHL graduate TJ Brennan may not be able to rack in 30- or 40-assist seasons, but the New Jersey native carries a heavy shot from the point and will help Buffalo try to maintain last year's seventh-ranked power play.
Another highly-touted offensive defenseman is Tyler Myers, however Myers is trying to jump straight from the WHL (He had 42 points in 58 games last year), so he'll definitely have to impress. His ability to move the puck around the ice is definitely something that the Sabres need and might not be able to overlook if he can make the transition.
Marc-Andre Gragnani's AHL experience may help him beat out Myers, especially because it's difficult to continue throwing a defenseman in the minors with this career line: 154 games played, 23 goals, 80 assists, 103 points, and nine power play goals. Granted the -15 rating (although he had a 14 point improvement to -1 last year) is a little disenchanting, but Gragnani could be exactly what the Sabres need to maintain that power play.
Defensively, Chris Butler will give the Sabres a solid defensive defenseman. Butler came to the NHL in the midst of an up-and-down season in the AHL, but once he entered the pro ranks, Butler settled in. Although his point production may never reach the heights it did in Denver (0.4 points per game), defensively, Butler could shoot right up the depth chart.
Right alongside him will be another solid defender in Mike Weber, who'll be big in stabilizing the defense for years to come. Weber has a good frame (6′2″), but he's also got a little ways to go in terms of filling out, but definitely has the edge.
Looking at the veteran presences on the defense (outside of Rivet), Joe DiPenta will be providing depth for the Sabres while Steve Montador is a good low-pairing defensive solution.
Leading the back end will be Henrik Tallinder and Toni Lydman, both of whom are sound, stable defensemen who are able to chip in with 20-25 points each year. Neither are going to blow anyone away with their point production, but their poise is what they are paid for.
Lydman especially is underrated, as he can play an effective 22 minutes a game—his steadiness is just overlooked when compared to some of the bigger names in the division and conference.

Up to Increasing the Population of Pominville?
Up front, the Sabres have three prominent young scorers.
Thomas Vanek has been a big time goal scorer since he entered the league with 25 goals in his rookie season. From there, Vanek has posted seasons of 43, 36, and 40 goals and could one day be a 50-goal man easily.
Along with Vanek, Derek Roy has grown into a consistent scorer, but he's also developed into a dangerous two-way threat that is a dynamic play maker as well (133 assists in the past three seasons and not afraid to shoot), while Jason Pominville also has deft playmaking ability off the wing.
From there, the Marian Gaborik-esque Tim Connolly will be required to provide some auxiliary scoring. While Connolly has a ton of potential and is a point-a-game player, he's simply never stayed healthy enough to put it together for a full season since 2002-'03.
If he can, then the Sabres have (potentially) an 80-point player and four devastating forwards. If he can't stay healthy, then Connolly will probably produce as many points as games played.
Speaking of big-time potential, Nathan Gerbe is the same, but simply put in a Martin St. Louis-sized frame. Gerbe is a fairly balanced scorer who loves to shoot the puck, but can set up his teammates as well, meaning he may be good alongside Drew Stafford.
Outside of the big three, Stafford took the most shots out of any Buffalo forward and his 20-goal campaign may just be the beginning.
Even if not paired alongside Gerbe, Stafford's production should inch up like it has in previous seasons, as he may broach 50-point/23-goal territory.
Staying down the wing, Clarke Macarthur continued along his own path of development, doubling his production from the 2007-'08 season. Macarthur's 17 goals last year may be right around where he levels off, while Daniel Paille should be walking along his own "bounce back path" as he looks to get back to the 19-20 goal range.
Providing more experienced depth, Jochen Hecht could bounce back to the low 40s neighbourhood in production, while still providing a great two-way presence.
Along with him, Mike Grier will be providing leadership to the young Sabres as well, but his production is more low-line rather than rivaling Hecht's, who should be in second line territory (although if Hecht can't get back to the 40+ point plateau, he may get bumped for a youngster).
Paul Gaustad will be providing a "rough 'n' tumble" approach from back on the fourth line, while Patrick Kaleta will be right there along with him and Matt Ellis can grind it out as well.
Because Adam Mair won't be starting the season with the team (he had surgery late in the offseason), there is a bit of room up front.
Michigan State alum Tim Kennedy might be fighting for some room up front after an outstanding rookie season in the AHL that saw him net 69 points in 73 games.
Along with Kennedy, the burly Marc Mancari has proved to be a steal in the seventh round, having scored 73 goals in the past three AHL seasons combined. Mancari is the prototypical power forward that the Sabres need and if his transition to the NHL goes as well as his time in the AHL, the Sabres will have a powerful weapon.
Much like Tyler Myers, Tyler Ennis is taking a shot at making the team straight out of Junior Hockey. Although the Sabres are stocked with a ton of bodies up front, Ennis just put up back-to-back seasons of 43 goals and 91 and 83 points, respectively, for Medicine Hat. In other words, Ennis is proven to have real gifts and if those gifts can, they'll translate into an NHL career ASAP.

So What's It All Mean…
Even though the Sabres lack that big time puck mover on the back end, they still have a ton of pieces to work with.
With three qualified scorers up front, one who'll be dangerous once he stays healthy, and a top-level starting goalie, the Sabres have the pieces to get back into contention.
While the defensemen might be the on-ice problem, the off-ice one might be that no one believes in them. With each team having their own issues in the Northeast, though, the Sabres have a great shot at capitalizing.
Buffalo's question: Who's going to score from the back end?
If they can get an answer to that question, they can make second place.

Predicted Finish: Second in Northeast
by Bryan Thiel…
Like the Montreal Canadiens, Ottawa Senators, and Buffalo Sabres, the Leafs have a shot at second place if they can answer the questions they came into the season with.
These teams may still be a little ways from competing with the Boston Bruins, but it'll at least be intersting top-to-bottom in the Northeast this year.
Toronto Maple Leafs

2008/09 Record: 34-35-13, 81 points, 12th in East;
Additions: Phil Kessel—F (Trade w/Boston), Wayne Primeau—F (Trade w/Calgary), Garnett Exelby—D (Trade w/Atlanta), Jonas Gustavsson—G (FA), Colton Orr—F (4 years/$4 mil), Francois Beauchemin—D (3 years/$11.4 mil), Mike Komisarek—D (5 years/$22.5 mil), Rikard Wallin—F (FA), Joey MacDonald—G (FA),

Subtractions: Pavel Kubina—D (Trade w/Atlanta), Anton Stralman—D (Trade w/Calgary), Kris Newbury—F (FA), Jeremy Williams—F (FA), Tim Stapleton—F (Trade w/Atlanta), Justin Pogge—G (Trade w/Anaheim), Jamie Sifers—D (FA), Brady May—F (FA), Curtis Joseph—G (FA), Boyd Devereaux—F (FA), Martin Gerber—G (Europe).
There were two ways I can go with this article.
One way is that I can start a counter on how many times I use the words "truculence" and "belligerence" in describing this Maple Leafs' team, or the other way is that being the only time I say those words this article and keep it that way.
I'm going with option two and I'll tell you why.
Did the Leafs get tougher over the summer? Definitely. Are they going to be one of the meanest teams in the league to play against? Undoubtedly. Are fans going to the Air Canada Center more likely to see someone get punched in the throat rather than a player end up with a four-goal game?
Well, that depends how many people (or who) get punched in the throat, and whose shooting the puck (or in net for the oppsotion), so we'll go with probably.
The point is, I've put up with those two words all summer. I'm sick of them, and I'm a Leafs fan. Granted these previews aren't a source of literary wealth, but even I can sneak a peak at a thesaurus every so often.
So no more with those two words. At least from me. I promise.

We're Poggin' the plug on the lights so that the Monster can come out to play…
It's really unfortunate that was traded.
To be honest, despite the fact that the most consistent thing about him last year were his struggles with consistency, I think another year in the system would've been fine to wait for him. After all, the guy is 23-years-old and cursed by all of those early successes (Like the World Junior gold medal).
I don't know if this is the last we hear of him or not in the NHL, but frankly I hope it isn't.
Moving on to goalies that are still on the Toronto roster, the Leafs are in a very curious predicament.
On one hand they have Vesa Toskala. Two years ago Toskala showed the promise that he could be a top-15 starter in the NHL. On a porous (See? That's the thesaurus at work…) Leafs team that allowed the fourth-most goals against, many saw sanctuary in Toskala.
Last year they felt that, if he was able to continue playing like that, then maybe the Leafs could sneak into eighth place.
Well, a lack of confidence from the coaching staff and management in his ability to prepare, an immobile defense that left him out to dry on a handful of goals per game, and nagging hip and groin injuries stunted Toskala's growth as a starter, and his season eventually ended prematurely leading to the Gerber Baby Food experiment.
I hate strained peas.
So this season, after trading away the former "Goalie of the Future" in Pogge, the Leafs went to Sweden (Brian Burke literally went there) to bring back netminder Jonas Gustavsson.
"The Monster" brings a ton of promise with him from the land of Sundin and Salming, and could take over the starter's role from Toskala after V-Tosk's contract ends.
While there's a ton of potential there, the Leafs need one of either Toskala or Gustavsson to take the reigns this year and lead from the crease out because if both falter, Joey MacDonald could stand in for a little, but a seasons worth may be a bit too much.
Bouncing Beauchemin back and forth on the Blueline…
In no particular order here's what the Leafs defense is going to look like:

Mike Komisarek: Good shut down defenseman with a good contract (when I heard about the signing my first fear was "overpaid", but $4.6 mil per year is manageable). Playing alongside Tomas Kaberle gives the Leafs a great top-pairing.
May have his face broken by Milan Lucic.

Garnet Exelby: Will score about as many points as ex-Leaf Gary Valk's jersey number (10). Runs around a little too often looking for a big hit, but the kind of defenseman teams love to have.
May be able to break Milan Lucic's face.

Mike van Ryn: May be a victim of a numbers game on the Toronto blue line. Was great when he was healthy last year, but that was the key: Him being healthy.
He may also be scared of Milan Lucic.

Francois Beauchemin: Spent four seasons in Anaheim winning a cup, tearing an ACL, and playing behind two of the best in Scott Niedermayer and Chris Pronger. A cannon of a shot from the point, revitalizing Tomas Kaberle's set-up pass on the power play.

Tomas Kaberle: Takes over coaching when Ron Wilson gives up (See: Pierre McGuire's story during Tuesday night's Pens/Leafs game about how Wilson told Kaberle to "show the team how to pass right"). One of the premier offensive defensemen in the game who doesn't get enough credit in other markets, and too much in the Toronto market.
Can do this, but doesn't shoot.

Ian White: Probably the cheapest 30-point defenseman in the world, making him the most trade-able player the Leafs have much to my chagrin. Like van Ryn, the numbers game kills him.
Seriously. We've just done six defensemen in point form and we're at least four away from being done.
Jeff Finger is a great penalty killer and shut-down guy who still owns a slightly confusing contract. He's a great 3/4 guy, but good luck finding that kind of ice time without someone running into a wall of injuries.
Then you've got Jonas Frogren and Phil Oreskovic who are out of the same mould as Finger, and are probably benefited by the fact that they have two way contracts so that they can at least get big time minutes with the Toronto Marlies.
Oh, and there's also that Luke Schenn kid, but who really needs to talk about a guy who logged the second-most ice time amongst rookies, was the best defender on the entire team last year, is a future captain, and if not for the rambunctious Cal Clutterbuck, he would have led rookies in blocked shots and hits.
And he still fights even after Burke brought in sandpaper. Go figure.
The Oddest Assessment in the world…
For some reason, people keep saying that a team in the top-10 in the NHL in scoring needs to add more of it.
Granted, Mikhail Grabovski and Nikolai Kulemin aren't household names, but the spunky Europeans did fairly well in their first full seasons. Kulemin had 15 goals and 31 points, which is admirable for a higher-scoring version of Darcy Tucker, while Grabovski could have been a Calder candidate if not for a seven-game scoreless streak to start the season and a 17-game goal-less drought partway through the season.
Meanwhile, the Leafs are also carrying over veteran scoring leaders Jason Blake (whose immovable contract led the team with 63 points) and Alexei Ponikarovsky who was two goals away from sharing the goal-scoring lead with Blake.
While neither are franchise material, both are solid scorers who'll add to the attack, but not push it overboard.
Along with that, last year's big-time signing Niklas Hagman was also out to prove his contract year was no fluke and I'm fairly certain he did. Coming off of a career-high 25-goal performance in 2007/08, Hagman played 17 fewer games and came up just three goals short of that mark while battling head injuries much of the season.
Speaking of proving themselves, Matt Stajan was able to prove that he had the offensive ability to be a top-six center-man (he just needed the opportunity), while John Mitchell simply wanted to prove he belonged in the NHL. Mitchell certainly endeared himself to Toronto fans with his gritty, all-out style of play, so expect him to stick around for a while.
The addition of Wayne Primeau immediately helps the penalty kill (Which needs it—the Leafs were last in the league when down a man last year), while Rickard Wallin will probably take on much of the same role—especially if his production matches his Minnesota years.
Colton Orr is getting paid $5,000 per penalty minute (or $1,000 a shift), while Jamal Mayers provides solid, low-line leadership and grit, chipping in with the occasional goal and assist in another penalty-killing role.
Then we get in to the youth.
While Ron Wilson said that Nazem Kadri has to score two goals a game to even think about making this team, that doesn't change the fact that he's had a great camp for an undersized 18-year old forward. Then again, Victor Stalberg, Tyler Bozak (Who'll be a great Stephane Yelle-type if his offensive game can't make the big leagues), and Christian Hanson (a superb penalty killer and a big talent to watch) have had great camps too (Even forming the FROSH line), while Jiri Tlusty is expected by many to make the jump and stick this year.
And we haven't even gotten to the draftmate of Tlusty, Mr. Phil Kessel.
While I may be soured on the price of two first-round picks thanks to a history of ineptitude and unfortunate results when trading first rounders, the Kessel trade is, simply put, Burke's defining trade.
If Kessel comes in, scores 30 goals in the four seasons following this one (I'm not sure what to expect this year coming off of his shoulder surgery), and helps the team win a bunch of games, then Burke is a hero. If he comes in and produces along the lines of Lee Stempniak (Who was, and still might, supposed to find his mojo once again in Toronto) and Leafs fans are treated to watch Boston nab two high selections in consecutive years, all of the work he did in revamping the goaltending and defense will be a mere footnote
So what's it all mean…
Here we go, the Toronto Maple Leafs season.
Like teams two through four in this division, the Leafs have an equal shot at making it as high as second in the Northeast.
If the young forwards prove that they all didn't have fluke years last year and Vesa Toskala is recovered while the Monster acclimatizes quickly (Hopefully on both counts), the Leafs are set.
If the goalies falter and, for some reason, they start to buy into all this hype that they "don't have scoring" and, ergo, don't score…well…then they're in trouble.
For right now, I have them low in the Northeast for the sake of my sanity (would you actually read these if I just put "FOUR WAY TIE FOR SECOND" for everyone?). Don't be surprised if they can put it together and jump into the top 10 in the conference though.
4th in Northeast
by Bryan Thiel…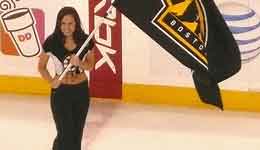 It's finally here: The end is in sight.
After five weeks we've made it through the Central, the Atlantic, the Northwest, the Southeast, and the Pacific.
Now? We're simply left with the Northeast. And it looks like I've saved the hardest for last.
To be honest, there's no predetermined way that this division can finish. For many, Boston is a foregone conclusion to finish on top, but after that there are so many intricacies facing the teams that two through five is completely up for grabs.
Right now I feel like if I had done this division first I wouldn't have these questions, but then where would the fun come from?
Probably this. Although he uses the transition too often, it's still worth spending three months of your life doing.
Boston Bruins
2008/09 Record: 53-19-10, 116 points, First in East—Lost to Carolina Hurricanes in seven games in second round

Additions: Derek Morris—D (1 year/$3.3 mil), Steve Begin—F (1 year/$850k), Dany Sabourin—G (FA)

Subtractions: Stephane Yelle—F (FA), Shane Hnidy—D (FA), Steve Montador—D (FA), Manny Fernandez—G (FA), Peter Schaefer—F (FA), Phil Kessel—F (Trade w/Toronto), Aaron Ward—D (Trade w/Carolina), Patrick Eaves—F (FA), P.J. Aexelsson—F (FA)
The Boston Bruins took the league by storm last year with a slew of young scorers, a mobile and exciting defense, and a goalie whose style is electrifying.
Then they ran into a Carolina Hurricanes team that was simply winning in playoff style.
Mark Recchi has faith that the younger players on the Bruins will be better and that this team will be well-prepared to battle for the cup this upcoming season—otherwise he wouldn't have resigned.
The faith from one of the most-respected NHL veterans and another year of experience for the young players could soon turn this into the Big, Bad, Bruin Crew.

Timmy T, Tuukka Rask, and the Prevention of the Tickled Twine…
There is not a person who follows the NHL that isn't familiar with Tim Thomas' name now.
After two solid (full) seasons in Boston that saw him net 30 and 28 wins respectively, the well-traveled netminder made his mark and proved that he belonged at the NHL level last year.
Not only did he lead qualifying netminders in save percentage and goals-against average, but Thomas lost the fewest games (11) in regulation of any goalie in the top fifteen in wins (Thomas had 36 wins in sixth place).
Based on that track record its no wonder Thomas won every conceivable piece of hardware for a goalie last year.
While Thomas is a very athletic (and very unorthodox) goaltender whose effectiveness was unquestioned last year, his age (35) and the fact that he only played in 54 games last season are detractors, no matter how minute.
It's not to say that Thomas' age will hinder him, because if his numbers stay in the 50-60-start range it's very manageable for a goalie of his abilities. The Bruins are just fortunate that they have a goalie of Tuukka Rask's abilities backing him up.
Unfortunately, there are more than a few players around the NHL that have Leafs' fans holding their heads in dismay that they got away from the franchise. One of those is Rask.
Rask's one start in the NHL last year was a shutout, he had a 2-1 record in the NHL the year before, and he's looked outstanding in his AHL stints over the past two seasons.
Then with the way he's played early in the preseason, Rask looks like a bona-fide starter in net for the Bruins, and Thomas' age and Rask's development may work perfectly in tandem, one day offering the B's a seamless transition.

Channel Your Inner Chara…
If Zdeno Chara couldn't skate, his physical presence alone would still be intimidating people, just probably as a bouncer in a club or that guy that runs the lines at amusement parks. Would you cut in Zdeno Chara's line? I don't think so.
Also scary is the fact that, without skates, he's still taller than most NHL'ers ON skates.
The man with the biggest frame in the NHL is also one of the most complete defenseman.
Although he's a little slow-footed at points (Then again you try dragging around a 6'9 frame), Chara can throw the puck up ice to start the rush, rip a humongous shot from the point, or erase the scoring threat of the opposition with his physical presence.
The NHL's reigning Norris-winner is the ideal defenseman as he can do it all, but his physical gifts prevent him from being controlled by many, if any.
Going from the tallest, the Bruins then feature a few smaller defensemen.
While Dennis Wideman will never be a physical imposition on anyone, he has outstanding mobility and vision. Going back to his time in London, Wideman has always been a gear through which the offense turns, and as he gains experience in the NHL that will only continue (Although that 50 points will probably settle between 35-40).
Solidifying the top four is the acquisition of Derek Morris. Adding another top-end puck-mover to the defense only makes the Bruins harder to play against, because Morris offers a third defenseman who can move the puck effectively.
The discouraging factor, is that he's not as flashy as he could be as he has been saddled with a lack of talent and ineffective players the past few years.
Morris also has a big shot from the point, increasing the danger of both Bruins' powerplays and ensuring that, whomever Wideman lines up alongside, there will be someone for him to slide the puck to.
After that there's a little more youth on the Bruins roster. Mark Stuart is a big, strong player who played a strong 82 games last year posting a +20. Stuart is known for being strong physically, as well as in his own end, which will give the Bears a strong, balanced presence on the blueline.
There's also the offensively developing Matt Hunwick whose a strong, productive low-pairing defenseman with the ability to jump up the depth chart, while Andrew Ference will always be able to add that gritty dimension to the game.
Johnny Boychuk is coming off of a 66-point year in the AHL, which may go to prove that the Bruins are going to have to make room for him in the NHL sooner, rather than later, while Andy Wozniewski, Andrew Bodnarchuk, Jeffrey Penner, and Adam Mcquaid will have to battle for the same spot.
If injuries strike, they each may get a look at the NHL level, but Penner, Bodnarchuk, and Mcquaid will be better served by getting big-time minutes in the AHL and playing consistently rather than trying to crack a tough rotation.

Yes I can Make the Kessel Run in Five Parsecs…
First of all, no I don't know how long a parsec is. I don't even know if I spelled Parsec right. Is it even capitalized? I think so, but these are the questions you SHOULD be asking during NHL previews.
Second of all, if there was the opportunity to make a "Wookie" joke with a player's name on the Bruins, I would have—Wookie is simply a funny word. That and it rhymes with nookie. Awesome.
Third of all, yes, I am a Star Wars nerd. Leonard Nimoy just stopped reading in disgust.
I think it's an all-but foregone conclusion that Phil Kessel is done with the Bruins (I wrote this a week before the trade. I kept this line in to prove I can tell the future). That being said, he will be missed in Boston for his abilities (not his attitude), as it's hard to replace 36 goals.
With that out of the way, Boston may be one of the only teams with the resources able to do so.
You're looking at a team that features dynamic young players Zach Hamil, Brad Marchand, Joe Colborne, and Mikko Lehtonen, and those are the guys who haven't even played in the NHL yet.
Sticking with the youth, Milan Lucic is a fan favorite of the NHL and it's no wonder why. The Vancouver-native is the epitome of old-school NHL: A hard-nosed player who can fight, hit, and put up his fair share of points. Although he's more likely to score a Gordie Howe hat-trick than score like Gordie Howe, Lucic is the next in a long line of players to define the Boston Bruins.
That definition could put him on a list including Bobby Orr, Phil Esposito, Ray Bourque, and Cam Neely. While it remains to be seen if he has the talent to match them, you still have to be a very special player to earn a place in Boston sports lore.
Another Bruin who's benefited from the expanded ice time early on is David Krejci. Put into a scoring role, Krejci has shown deft playmaking ability with 71 assists in 144 NHL games. Although he may not score much more than those 22 goals a year, Krejci's vision will make up for it, especially if he's placed along goal scorers like Blake Wheeler.
Wheeler exploded with 21 goals in his first NHL season and if he continues to develop as an NHL winger, his shot will get better and that shooting percentage will go up—a great thing for a young winger with great size and strength.
Wheeler will have to learn to play against opponents who are constantly scouting and changing approaches, and his ability to last an entire year will be questioned his first few seasons, but improved condition will only be another tool for the young Boston winger.
Even some of the veteran NHL forwards on this roster aren't what you'd call "veterans". The 27-year old Chuck Kobasew has played over 300 games in the NHL, but he's seemed to find a niche in the NHL as a pure goal-scorer, netting 20 goals in three of the past four seasons.
Patrice Bergeron even seems like more of an NHL veteran than he actually is. The 24-year old took baby steps in recovering from a serious concussion two years ago, but questions will always remain about his health. After all, Bergeron missed 15 games last year with another concussion, so how will head injuries effect this world-class talent in the long run?
While his production (39 points) was just above the halfway point of his last full season (70 points in 2006/07), Bergeron will have the time and opportunity to get his legs back.
It does help that Marc Savard's world-class playmaking ability takes away a lot of the attention, while veterans Marco Sturm (Who they only got 19 games from last year), Michael Ryder, and Mark Recchi will be shouldering some of the load as well.
The first two carry 25-30 goal potential, while Recchi could be in line for at least 55 points given the way he played with Boston down the stretch.
There's also some grit in Shawn Thornton and Steve Begin, who could be saddled with the job of protecting Bergeron if teams get too rough with him, while Byron Bitz is a great Boston sports name and a great grinder as well.
So what's it all mean…
The Bruins have the most well-rounded package in the Northeast.
They've got great goaltending in both Thomas and Rask, a puck-moving defense that also has a great physical aspect, and their forward lines are dangerous up and down the roster.
Against a division that's a bit of a mish-mash in places, the Bruins may have a little more trouble than last year, but a second Northeast title should be attainable.

1st in Northeast