by Anthony Lopopolo…
Perhaps Brock Lesnar mistook the octagon for a wrestling ring after seeing his belt returned to him amid a successful title defence against challenger and interim champion Frank Mir.
Lesnar certainly used the canvas as his personal stomping ground, trampling on it with the menace and effusiveness of a feral, 265-pound primate.
Add shots of saliva to the image, too.
But there was definitely a reason for him to rejoice, with his tool of vengeance—a brace of abnormal hands and customized mitts—used to strategic and jarring expedience.
There was obviously the lasting spectre of his previous encounter with Mir, the one Lesnar repeatedly attributed to the intervention of luck rather than naivety, lingering in the air.
There was the realization that he had conquered Mir on the ground, the touted area of authority for the eventual loser.
There was the underlying hate and animosity between two combatants ready to engage in a rematch not only signifying a unification of belts, but one that would determine the face of the UFC's heavyweight division.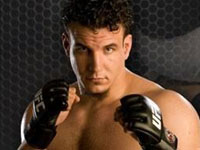 And out of it all, MMA fans in the U.S., Canada and worldwide are conferred a villain and common target of derision.
"I love it," Lesnar said in acknowledgment of the crowd's jeering. "Keep it coming."
Like Dan Henderson's needless punch on Ultimate Fighter rival Michael Bisping early in the pay-per-view lineup, Lesnar sent an irritable finger-flip in the direction of the fans simply for good measure.
He basically turned into a flea circus, an act UFC boss Dana White has discouraged from his prized fighters.
"Straight WWE," White told Dan Wetzel of Yahoo! Sports after the post-fight conference. "Brock went so far over the top tonight I can't even describe it. I don't think in the history of the UFC we've ever done anything like that."
Not that having a scoundrel running rampant is necessarily a bad thing; it's just accentuated when that same specimen happens to hold the title and actually have some credentials. Because abhorrence, a la show business, can generate so much interest.
But Lesnar has only experienced four fights in the UFC, and has been in a title position twice. That goes to show that the 32-year-old champion represents little in the way of other fighters and how they have established their careers.
"Hell, I might even get on top of my wife tonight," a smug Lesnar said to commentator Joe Rogan immediately after his defence, a statement for which he later apologized. It was White who had coaxed Lesnar into repentance to demonstrate that derogatory remarks and disrespect aren't tolerated in the UFC.
Controversy aside, here is a lumberjack of a man in Lesnar, a gigantic athlete now with his wrestling seemingly adapted to the confines of the octagon in—still—the beginning stages of his MMA career with possibly no one but a remote Fedor Emelianenko, who is in the final months of his contract with Affliction, capable of stealing the heavyweight title.
Another bout against Mir, to cap off a trilogy, would be more of a headline than a legitimate threat to the overwhelming prowess of Lesnar—unless Mir can rejuvenate his training regimen and avoid making hasty errors like the flying knee in the second round.
An undefeated Shane Carwin may be worth calling, but he has yet to fight elite talent. Nor has Cain Velasquez, but he is still regarded as the next prodigious fighter in the UFC.
Before last night, however, Lesnar was an athlete with a profound background in wrestling—in the entertainment aspect of it as well as the mastery of its technique. He fought a fleeting Randy Couture and won in UFC 91—an upset, but one that could be argued against.
His frame did match the size of his ego, but all of that lacked substance. The bravado he gave off had the effect of steam from a train, apparent but later vaporised or gone unacknowledged.
There the man was, proprietor of the title but still in need of proving he can avenge and deal with the biggest loss in his petite career that has incidentally yielded so much.
Mir was hammered down like an upright nail, and now Lesnar is looking for the next one.
But White knew exactly what would happen when he signed Lesnar to a contract. The villainous qualities were inbred in the fighter's appearance and antagonistic speech.
"Brock hasn't made himself very lovable," White said, an understatement at the very least. "They hate Brock."
And White was then the one who immersed Lesnar into the upper echelons of the heavyweight class like a match lit hurriedly. This personality—the by-product of Lesnar's rapid ascent—was unleashed.
The PR game is intensifying, though. The sport is feeling the ride of a projectile into mainstream recognition, and White, it seems apparent, must pursue signing Fedor to keep Lesnar and his weight division away from entering the checkmate position it may inhabit.
The image Lesnar exudes is only healthy when there's some else there prompt to derail him.
By Anthony Lopopolo…
Toss Francois Beauchemin into the newly assembled core of defensemen, which will be on display next season.
Except Tomas Kaberle may not be a part of it come training camp.
The signing of the 29-year-old Quebec native from the Anaheim Ducks, with whom he won a Stanley Cup under the managerial direction of Brian Burke in 2007, holds nothing new in the way one would perceive the reconstruction of the Leafs.
Burke's preference for players who have a gritty exterior is reflected in the acquisition of Beauchemin, and coincides with the theme of signings already completed since the free agency window opened on Jul. 1.
However, the Leafs now own 10-plus potential defensemen all capable of or determined to crack the final roster—all of whom are cast-iron fixtures behind the blue line, but possess no penchant for generating offense.
Of course, the latter statement would insinuate the departure of Kaberle via trade in order to restock the Leafs' current makeup of forwards.
The possible swap for Boston Bruins sophomore Phil Kessel is pending, but it nonetheless demonstrates the kind of return that would have to be proposed.
A player of Kessel's standards would undoubtedly enhance the Leafs' plane of offense, especially if the player that is received for Kaberle in fact is a centre—a position in which the Leafs' are in dire need.
But it would remove the only mobile defenseman within the roster as the lining of coarse skin that will surround Vesa Toskala, or maybe even Jonas Gustavsson, if he so chooses to make a lot of starved fans a bit more optimistic and Burke a securer man.
And they don't boast particularly great vision nor the ability to send out a two-line pass idiosyncratic to Kaberle's game.
The moves made by Burke alone are not exciting in the loosest definition of the word, and perhaps, at this point, it shouldn't create the buzz and enthusiasm that Hedo Turkoglu has for the Air Canada Centre's other primary tenant.
It is phase one, ground zero—call it what you will.
The time allotted for this project gave the franchise some buffer room and dampened short-term expectations.
Yet adding layers of ferocity may only suggest more minutes will be spent developing or toiling in the practice of penalty-killing scenarios.
Goal scoring, as it appears in the team that took a skate today for the first time since the end of the season, is a notion that has been totally neglected in Burke's endeavour to lure the aforementioned Swedish netminder and build a steady fortress around the crease.
The Leafs lost 147 points of man power on the Mar. 4 trade deadline in conjunction with the trade involving Pavel Kubina to the Atlanta Thrashers, suggesting that the abundance of defensemen owned by the Leafs will at least be put to the test.
The rookies are coming through the system and may fill the spectre of the Leafs' lost point getters. They too, however, aren't of A-list and assured quality, considering the collegiate merits of Tyler Bozak and Christian Hanson.
So the excitement, it seems, may simply belong to the plausible dismay of the Leafs' next season in the form of a heightened draft position, of course.
Like the fact that the name of a Francophone will finally adorn the backside of a Leaf jersey, the equivocal direction of the Leafs' rebuilding process isn't being fully realized.
Consulting Beauchemin's term of contract, the three-year signing suggests a time span much shorter than that afforded for attaining the status of a contender.
Or will he not be part of the equation when the Stanley Cup is a viable thought?
And the irony of all this haziness is that Burke, out of candour or swagger, has been more vocal than any other GM in the last month.
By Anthony Lopopolo…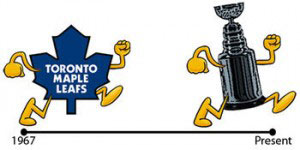 When Brian Burke made his first official transaction in January to acquire the services of brawny left winger Brad May, the direction of the Toronto Maple Leafs' reconstruction was realigned. It was only fitting that the Anaheim Ducks, for which May formerly plied his trade, was involved, considering Burke's success with the team before heading a massive overhaul in Toronto.
That move stills stands as a microcosm of the mentality harboured by Burke, whose aim to perfect his current project disregards the common Western adherence to and obsession of time—except for the number of minutes posted in the penalty box.
"I don't give a rat's ass what they do in Pittsburgh or Detroit," he told reporters last week after being questioned about the lack of grit employed by the two Stanley Cup finalists. "There's been four different Cup winners the last four years, and I got one of them (Anaheim) and it was a fighting team. We're playing it that way regardless."
It was evident he approached July 1 in that way.
After the Sedin twins—both of whom Burke sought to sign—were announced and secured as Vancouver Canucks for another five years at a deserved $6.1 million cap hit per season, Burke immediately began to pursue other players required to enhance the foundation of his franchise.
Colton Orr, who recorded 193 penalty minutes last season with the New York Rangers, was signed to a four-year, $1 million deal as the first addition on Free Agent Frenzy.
Then there was a moot trade consummated later in the evening when Pavel Kubina and his $5 million cap hit were sent to the Atlanta Thrashers in exchange for Garnet Exelby and Colin Stuart, both recognized for their size and ability to use their weight as a hitting mechanism. Although roughly $2 million has now been cleared for the Leafs to manoeuvre, it is expected that it will be exploited for a future asset.
Part of the allocated cap space was handed to Mike Komisarek, as he inked a five-year, $22.5 million contract, the sole singing made by the Leafs for a coveted player and shutdown defenseman known across the league.
To be sure, these guys haven't been selected for their flair; all four players have accumulated a meagre total of 22 goals in 963 games. But when there aren't goals to be scored, then we are to assume their aggregate 1,556 penalty minutes are part and parcel of their character and attributes, primarily the stock into which Burke bought.
However, this is not the appropriate juncture to begin comparing the Leafs' newfound aggression and value to that which was seen in Anaheim.
We can be assured Burke is using his former team as a template, but it has also had talent in players such as Corey Perry, Scott Niedermayer, Teemu Selanne, Ryan Getzlaf and Andy McDonald. Some were inherited; some were obtained through the entry draft.
The Leafs are in a similar position, but they are lacking a few requisite add-ons before their identity as a contender is fully realized.
Jonas Gustavsson now becomes a must-sign for Burke, who was not able to land a legitimate backup to Vesa Toskala. Even collegiate stars like Tyler Bozak and Christian Hanson—if they're to become the great players of whom so many scouts projected—have somewhat of a heightened onus to live up to their billing, considering that the Leafs are replete with secondary and tertiary scoring.
Freshly drafted Nazem Kadri is expected to hone his skills for one further year in the OHL; while the Leafs' AHL affiliate will have to do a great job moulding their prospects in order to verify the merits of their promotion.
The abundance of defensemen on the Leafs' roster—with the new signings, there are about 10 potential d-men—suggests Tomas Kaberle may be expended in order to garner that elusive elite forward the Leafs are missing.
But there is also that sentiment dictating that if Kaberle was dealt, the team would be bereft of any puck-moving or offensive defensemen. Another avenue would be consulted to retrieve someone of his stature, and Burke has stated his impetus on keeping Kaberle should no deal "blow off my socks."
The trading route will pose difficulties, too, with Kaberle being the only reasonable option that would bring in a significant return.
The Leafs also have ample cap room, and Burke could still play that card this month if a team would like to unload a few unattractive contracts.
It is obvious, though, that Burke no longer wants to see his team be tossed like a top and no longer be courted as the loveable loser. For Leaf fans, there should be vested confidence in the structure and strategy implemented so far by Burke and co., which has yielded modest, but fundamental signings.
"It was apparent from the time Brian Burke took the job, he wanted the Leafs to be tougher," said assistant GM Dave Nonis. "We wanted players who would not just fight, but play hard. We think we accomplished that."
A lot is still on the table, however, and Burke would be wise to confer with all his outstanding priorities by the end of this offseason.
Check out more at Sports Caddy