By Adam Greuel…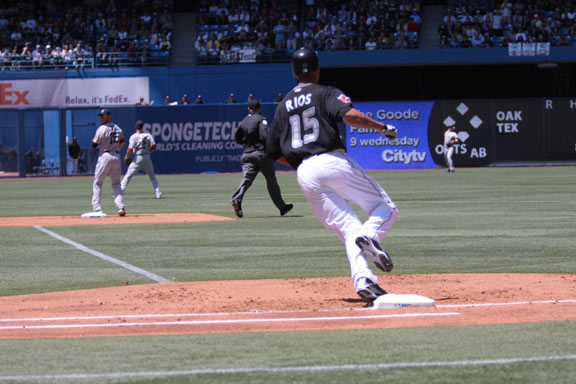 Well, we are finally at the midway point of the 2009 regular season and it is very easy to describe the Toronto Blue Jays so far. The season has been up-and-down and the Jays are extremely inconsistent.
With the injuries and struggles this team has had, 11 different pitchers have started a game for this years team and 22 pitchers have appeared in a game this year.
After starting the season 27-14, the Jays have gone 15-27 since May 19, the beginning of a brutal nine-game losing streak. While this season turned from great to severely disappointing, there has still been many positives this year to look forward to.
Position Players
Rod Barajas- .267 AVG, .303 OBP, 8 HR, 39 RBI
Grade: B
Barajas has been better then expected this year and had an average above 300 not to long ago. He handles the pitching staff extremely well, as evidenced by the fact that the pitchers ERA is half a run better when Barajas catches then when Michael Barrett or Raul Chavez catch.
Lyle Overbay- .264 AVG, .384 OBP, 9 HR, 41 RBI
Grade: B-
He looked like he was finally starting to turn the corner after breaking his hand two years ago, but he has slowed down a bit in the last couple of weeks. He has given the Jays superb defense at first base and has been a lot better this year then last year.
Aaron Hill- .299 AVG, .340 OBP, 19 HR, 56 RBI
Grade: A
Hill was a mystery heading into this season due to the fact that he missed most of last year with a bad concussion after colliding with former Jays short stop David Eckstein. His play this season has answered all doubters as he has been the best hitting second basemen in the entire American League.
Marco Scutaro- .282 AVG, .382 OBP, 6 HR, 33 RBI
Grade: A
Many people doubted that Scutaro would be able to get the job done as the lead-off hitter and every day shortstop, but he has proved many people wrong. He is among the league leaders in walks and has even provided some pop in the leadoff position. He has also provided some good defense and speed on the base paths.
Scott Rolen- .332 AVG, .392 OBP, 6 HR, 30 RBI
Grade: A
Scott Rolen has been a pleasant surprise this season and has made trading Troy Glaus for him before the 2008 season easier to handle. While he doesn't have the power he used to, Rolen's high average and good defense is great to have. He just recently extended his hit streak to 21 games.
Adam Lind- .310 AVG, .385 OBP, 17 HR, 55 RBI
Grade: A-
Lind has emerged this season as a young slugger that will be a force to reckon with for years to come. Linds surge has been great for the Jays and if Snider can turn things around, they will have a nice one-two punch for an extremely long time.
Vernon Wells- .252 AVG, .303 OBP, 8 HR, 37 RBI
Grade: F
Wells season has been extremely disappointing this year as he has struggled to just keep his on-base percentage above 300. Despite being the highest paid player on the team, he has had the worst season of any starting position player so far this year.
Alex Rios- .260 AVG, .318 OBP, 9 HR, 38 RBI
Grade: D
Rios has been another huge disappointment this season, but he still has been better then Wells. He is maddeningly inconsistent and has been able to show some flashes of brilliance. He still may be able to turn it around during the second half of the season.
Rotation
Roy Halladay- 10-2, 2.56 ERA
Grade: A
Halladay is well on his way to once again being a top contender for the AL Cy Young award, but might not win it due to an injury that has cost him four starts and at least a couple of wins. I don't know what the Jays would do without this guy!
Brian Tallet- 5-6, 4.38 ERA
Grade: B
Tallet started the season in the bullpen, but was moved to the rotation after a season ending injury to Jesse Litsch. Tallet has been inconsistent as a starter, throwing a gem one night and then getting rocked in his very next start. Control has been a big issue with him.
Scott Richmond- 6-5, 3.69 ERA
Grade: B
Richmond started off the season extremely well, even winning rookie of the month award in April. Although he has slowed down considerably, he has proved to be a good option for the Jays and has shown that he still can have a good start every now and then.
Ricky Romero- 6-3, 2.85 ERA
Grade: B Plus
Another rookie regular on the Jays pitching staff, Romero has excelled at the major league level this year despite never being able to put together a good season during his time in the minors. Romero has been a nice surprise and will be a fixture in the rotation for years to come.
Bullpen
Jesse Carlson- 37.1 IP, 5.06 ERA
Grade: D
After last seasons emergence, Carlson was expected to be a huge part of our bullpen, but he has really struggled. Teams have started to pick up on his funky delivery, and I am not sure if he will reutrn to last years form.
Brandon League- 36.1 IP, 5.45 ERA
Grade: D
League has great stuff and untapped potential, but he has never been able to put it together and he is another reliever who has struggled mightily this season. He has the stuff to turn it around though.
Shawn Camp- 35 IP, 4.11 ERA
Grade: C Plus
Camp will never be a top reliever in the major leagues but he has been pretty good for the Jays this season. He has done good in long relief situations and his ERA right now is the best he has had in any season throughout his career.
Jason Frasor- 27.2 IP, 1.95 ERA
Grade: A
Frasor came into this season with a new pitch in his arsenal- a changeup. It has turned him from one of the worst relievers in the bullpen to the one Cito Gaston likes to turn to most. Frasor has been absolutely dominant this season and a great surprise for the Jays this year.
Scott Downs- 27.1, 1.98 ERA
Grade: A
Scott Downs has been absolutely filthy this season, especially after taking over the closers role from the struggling BJ Ryan. Unfortunately, Downs rolled his ankle while batting in an inter league game and hasn`t pitched for a while. But, when healthy, Downs and Frasor are the best one-two punch in the Majors.
Photos by Paolo Cescato and James "The Lens" Patterson