www.FISHblast.com - The Head River runs roughly parallel to the Monck Road, traversing the southern reaches of the Canadian Shield from east to west. For the most part there is no evidence of human activity along much of the length of the river.
The vistas are frequently stunning and an abundance of wildlife will be in evidence. Please note that parts of the Head river will require fairly high skill levels, and are not for the inexperienced canoeist. We have added a road map and a few topographical maps to let you get a better idea of the terrain and vegetation.
Wildlife is abundant and it is virtually guaranteed that you will see some, especially if you have learned to paddle soundlessly. The many picturesque falls and rapids make excellent photographic opportunities as well. If you go there with the idea of taking your time and letting your senses absorb what is available you will enjoy it despite some areas that take a little effort.
We will look at the river in sections as if we were to start in Head lake and paddle downstream. To enter the Head River from Head Lake you must start further down the lake and paddle up to the river because the road is private where it crosses the bridge and the locals are vigilant and they mean private.
The first half of the trip from the lake to 503 (Monck road about 2 km east of Uphill) is wide, flat and generally swampy along the sides. There is a small dam and then life gets much more interesting. There are multiple rapids and small falls. Only a few of these are runable and some require 50- 200 meter portages. The only difficulty is that there are no portages so bushwhacking with a canoe on your head really describes it better. Several of the rapids and falls are very picturesque. Fallen logs are plentiful so lift outs or scraping under are common also. You can expect turtles, ducks, warblers, beavers, otters and muskrats and a good chance of spotting some larger mammals. Including lunch by a pretty little swift, it takes about 5-6 hrs.
From the Monck Road to County Rd 35 south of Uphill takes 2-3hrs. You start by ducking your head to get under the culvert and then wishing you had a saw to cut some of the branches and tangles that confront you. Before long you emerge into what I have called the Uphill swamp which is most of this part. The river takes a tortuous course and the vegetation is extremely green. There are lots of ducks including some eared grebes (which are supposed to be out west). They had nested and had young. River mammals are common and we saw some deer when we were there. Before you reach 35 there is a slightly faster little swift (not enough to call a rapid.) If you take out there you will find poison ivy on the downstream side of the bridge and an owner on the upstream side who is not a believer that the road allowance belongs to the County. –Take your choice.
From 35 to McKenzie Rd is a beautiful stretch. In June the wildflowers are out, the water is warm, the sky is azure and beside the periodic gurgling of the water and the territorial birds there is a great silence, broken only occasionally by a gust of wind in the tree tops This section is virtually uninhabited so if you have problems you are along way from help. There are multiple sets of delightful rapids and a few falls over limestone ridges. Cross river deadfalls are common also. Only experienced white water people should tackle this piece of river. There are no recognizable portages. I had a couple of different events happen. In one place I could see a fish struggling under water. On closer scrutiny a snapping turtle had bitten into its belly and was not going to let go. In another place I could see something white as I approached a small swift. As I passed over it I could see that it was a deer skeleton with the head impaled on a snag and the rest of the bones and ligaments still intact waving in the current –ghostly! Presumably it had fallen through the ice in the winter and all the flesh had been devoured since then. Time accumulated to this point is about 6 hours.
From Mckenzie Rd to Lake Dalrymple Rd. for many years was more or less my own private white-water
domain. The last few years a number of white water canoe groups have started to use it for the spring runoff. Its hard to keep a secret that good. Again there are several rapids of different grades The largest is a grade 3-4 depending on the volume of water. It is 150-200 meters long with a 3-4 ft falls in the middle and curves around 2 corners. The total drop would be 20-25 ft -fun and a challenge too. Incidentally there is a place along the way that comes close to the road where you can stop for a butter tart. This is the prime white water area so be aware. 2 hours
After lake Dalrymple Road quiet water for the most part with one exception to get your attention. The Head River creek from Lake Dalrymple comes in from the left before you get to the Monck Road again. It might be an interesting diversion to paddle up there a bit. Expect wildlife. 2-3hours
The Monck Rd (at Young's lake) to Sadowa Rd north of Sebright has some gentle rapids but nothing worrisome. The creek from Young's lake which enters from the left is full of fish if you are lucky enough to be there in the spring. On the right Cranberry River enters. It is generally full of logs and bush and is not recommended. It is a long, long way to Cranberry Lake and besides it is privately owned.
The most commonly used part of the river is from the Sadowa Road. bridge to Hwy 69 near the wilderness campground southeast of Washago. This is the Black river by then, the Head having joined several km's upstream. Most paddlers with some experience can enjoy this section. The first 2 rapids are the most difficult and there are easy portages on the left side of both. They are quite close together so portage both at once if you are not going to run them. There is some good fishing in this section. Strangely enough if you do this section just after the ice goes out you may be able to take a shortcut through the trees for about a ½ Km and avoid the junction Its a lot like skiing the glades. It comes out into a little pond off the left side of the Black that is usually full of ducks. Be aware that in the spring runoff the Black is powerful with lots of boils and eddies so watch those eddy lines. 3 hours – The most important thing of all is to go prepared, give yourself lots of time and relate to the wilderness. The rewards are immense.
By Dr. Harry Hall… (reprinted from The Prairie Smoke 3.3)
by Jeremy Gibson…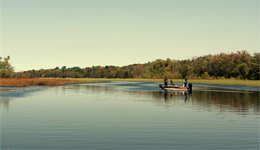 Sports fans in Canada will forever be closely aligned with our neighbours to the south. Like it or not, virtually every sports league is heavily US based and influenced, meaning a constant flow of Americanized media. Each November this flow hits its peak, with American Thanksgiving inspiring hundreds of articles about things we should be thankful for in the sporting world. When the calendar reaches December the sports media bombards readers with year-end columns, such as "Best of" or "Worst of", making this a very reflective time of year for the sports fan.
Unfortunately for Toronto sports fans, this is not a year worth reflecting upon. Looking back at 2009 should come with a warning message – "Do so at your own risk." It was an awful year for the city, and unless you enjoy pain and misery there is little to be thankful for. Pick your poison – the last place Rock, Argos, or Maple Leafs, the crumbling Jays, the bumbling Raptors, or the monumental collapse of Toronto FC. The results are enough to make grown men cry.
But while it was an abysmal year for a Toronto sports fan, it was a fantastic year for a sports fan. I realized just how great a year it was while watching the insane ending of the 97th Grey Cup last Sunday. The swing of emotions on the last play was unbelievable, a perfect ending to a wild game. Having a game end in that fashion is great for a league, but to have that finish come in a Championship game is even more special. There is nothing better than leaving fans with a good taste in their mouths before heading into a long, dry off-season.
Upon reflection, 2009 was a great year for sports, full of drama, excitement, and unbelievable finishes. Almost every sport saw its season end with a bang, the best game of the year being saved for last. Here is a look back on a year that should be known as the "Year of the Finish."
Football
The Grey Cup brought the CFL season to a breathtaking end. For the better part of the evening the game was a blowout, a disaster for the crown jewel event of a sports season. But a furious 4th quarter comeback by the Alouettes set the stage for the wild final play; the Damon Duval missed, and then made, field goal. It was the most exciting Grey Cup since the 2005 game went to overtime, and might even top that game considering the emotional conclusion.
Similarly, the NFL concluded its season with a tremendous finish in Super Bowl XLIII, in a game almost identical in nature to the Grey Cup. Through three quarters in Tampa the Steelers were running away from the Cardinals, on top 20 – 7. But when the ever resilient Kurt Warner hit Larry Fitzgerald for two fourth quarter touchdown passes, Arizona suddenly had a three point lead with just over two-and-a-half minutes remaining. That set up one final drive for Pittsburgh, culminating in a Ben Roethlisberger TD pass to Santonio Holmes in the back of the end zone. The unbelievable, tip-toe dragging catch with 35 seconds left on the clock stood up as the winning play, giving the Steelers their sixth title, and the NFL a dream finish to the season.
Baseball
To be honest, the MLB playoffs were a vast disappointment. Every series was a blowout, and though the World Series went to six games, it was essentially over after the Yankees took a 3 – 1 lead. But even though the playoffs were a bust, there were two dynamic finishes this year in the national pastime, beginning with the last game of the regular season. While game 163 is known as a one-game playoff, technically the tiebreaker between the Twins and Tigers counts as a regular season game. The 6 – 5 Twins victory lasted 12 innings, featured four lead changes, and was called "the greatest game I have ever been a part of" by Minnesota shortstop Orlando Cabrera.
Secondly, though it took place in March before the season began, the World Baseball Classic lived up to the "Classic" part of its name. The US rode a miracle bottom of the 9th inning comeback over Puerto Rico to the Semi Finals, before falling to Japan. Though the Japan / South Korea final lacked many marquee names, the game itself was a back-and-forth nail biter, featuring a dramatic Korean late inning comeback, and an extra inning victory for the Japanese, their second straight WBC title.
Golf
2009 was perhaps the best year in recent memory for golf's four majors. All four remained tight to the end of the fourth round, and each featured some of the biggest names in the history of golf in contention. At the Masters, Angel Cabrera, Chad Campbell, and Kenny Perry survived a furious charge from superstars Tiger Woods and Phil Mickelson. A late round collapse by Perry set up a three way playoff, with Cabrera emerging victorious and becoming the first Argentinian to win the Masters. The US Open saw sectional qualifier Lucas Glover outlast Mickelson to capture the championship, but only after Mickelson made a huge comeback to tie for the lead late in the fourth round. At the PGA Championship, unknown journeyman Y.E. Yang of Korea refused to be intimidated by Tiger, and stole the title out of his grasp.
But July's British Open was the best tournament of the year, and featured the most heartbreaking finish in any sport in 2009. Tom Watson, the 59-year old PGA legend, came to the 72nd hole needing only a par to become the most improbable winner of a major since Jack Nicklaus in 1986. He was eleven years removed from his last PGA tour victory, and had not won a major since the 1983 US Open. However, a bogey at the last dropped him into a tie with Stewart Cink, who won the ensuing four-hole playoff with ease. It was a brutal way to end the biggest feel-good story of the year, and left tears in the eyes of fans and players alike.
Soccer
The major competitions in the beautiful game lacked a certain amount of drama. The English, Italian, and Spanish title races were decided with several fixtures to spare, and while the semi final matches of the Champions League were intense, the final fizzled out into a fairly dull Barcelona victory. However the final of UEFA's second tier competition, the UEFA Cup, was a brilliant game, with Ukraine's Shakhtar Donetsk using extra time to knock off Germany's Werder Bremen. But thrilling as that was it did not compare to the conclusion of three other events.
The Confederations Cup may not carry the same type of weight and hype as the World Cup or European Championships, but it is still a major international competition, pitting the defending World Cup champions against the champions of each FIFA region. With teams such as Italy, Egypt, Spain, and Brazil involved, the US was given little to no shot at advancing past the first round. But massive wins against Egypt and Spain put the Americans in the final against Brazil. They took a 2-0 lead into the second half but couldn't hold on as Brazil produced some of the most incredible, eye pleasing soccer of the year, storming back for a 3 – 2 win. It was possibly the game of the year.
Qualification for the 2010 World Cup in South Africa wrapped up last month, and again the best game was saved for last. Thierry Henry's handball propelled France into the tournament at the expense of Ireland, a terrible call that tainted the end of an extremely intense and well played game. Finally, closer to home, the MLS season followed suit and wrapped up with a bang. Eighth seeded Real Salt Lake completed an improbable playoff run by knocking off the star-studded LA Galaxy of Landon Donovan and David Beckham. The final went through extra time all the way to a penalty shootout, an event where Beckham usually fails spectacularly. While he managed to convert his kick, reigning MLS MVP Landon Donovan wore the goat horns by blasting his over the crossbar to end the season and hand Salt Lake a miraculous victory.
Hockey
No better place to wrap up the tour than with Canada's favourite game. 2009 will go down as a great year for the NHL, a year when the torch was officially passed to the next generation of players. The regular season was good, the playoffs were excellent, but the best hockey, best drama, and best action were saved for last – the Stanley Cup Final. Pittsburgh and Detroit put on an incredible show, topping the drama they produced in the 2008 final. The series went the full seven games with six decided by two goals or less. It ended with one of the greatest Stanley Cup Final games of all time, a 2 – 1 thriller that saw Pittsburgh become the only team in the series to win a game on the road. The final seconds produced an image that will go down in history, a sprawling, Superman-style lunging save by Marc-Andre Fleury. The save sealed the series for Penguins and gave Sidney Crosby his first career Cup.
As good as that series was you have to go all the way back to January to find the best finish of the year. In fact, the best finish of the year was also the first finish of the year. And though in a way it breaks the rules of this column because it wasn't the Gold Medal game, the semi final of the 2009 World Junior Hockey Championship between Canada and Russia was by far the game, and finish, of the year. Two long time, bitter, and ferocious rivals squaring off in the capital city of Canada on a cold January night, with the winner getting the chance to play for gold. Neither team could manage a two goal lead the entire game, and as soon as one team scored, the other responded within a few minutes, each and every time. It looked bleak for Canada when Russia took a 5 – 4 lead with under two-and-a-half minutes to play, but Jordan Eberle joined Paul Henderson, Mario Lemieux, and John Slaney as iconic Canadian goal scorers by netting the tying goal with 4.8 seconds left in regulation. When Canada finished the Russians off in the shootout, the entire world already knew the Gold Medal game was over, that Sweden had no chance.
And with that game, 2009 – "The Year of the Finish" – was off to a fine start.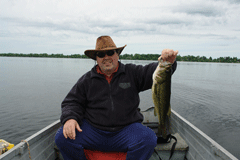 That's right Toronto Sports Fans; The Captain brings you the ultimate Fishing Experience. Spend a day or weekend fishing in the Kawarthas, long considered one of the best places to fish in the whole wide world… we've partnered up with fishing fanatic's at the Fishing Lure Lodge to bring you The T.O. Sports "NOboat NOcar NOproblem"

A Few Packages are offered - The Weekender and The Daily
The Weekend Fish n' Relax - cost $199.00/pp *
Transportation - We pick you up at Wilson Subway on Friday at 7:30pm; drive you to our secret fishing destination, one of the best fishing lakes in the Kawarthas… approx 90 minutes from Toronto. We provide: Accommodation (Friday and Saturday). A boat to fish on. A BBQ to cook up the catch or maybe a steak or some chops. Casino Rama is 20 minutes away, just in case you're really feeling lucky.
We come back to the city on Sunday, by 6pm or so, still giving you plenty of time to fish that day, and come back to the city to show photos of the awesome time you had and the big fish you caught… Priceless!
Sign up NOW, send an email to and book your weekend
The Daily Fish Blast - $129/pp- Every Day Starting April 26
That's Right "Every Day" a Bus is waiting at Wilson Subway at 7:30pm to take you away for a fun and relaxing day of fishing… yes, I said every day. You've had a stressful day it's 4pm, guess what? You've got time to get on the bus and go fishing, get out of the city and into the country. The air smells better, the food tastes better… I'm telling you, you'll feel a lot better!

Get away for a day… We leave Toronto's Wilson Subway for our daily fish trip at 7:30pm in the evening, provide accommodation, a boat, and get you back in the city by 7:30pm or so the next day. You can even tell the boss you were sick… he'll never know you spent 24 hrs relaxing, recharging the batteries… he might even benefit from it…we're not telling.
The Daily is available any one day Monday to Friday, starting April 26, 2010. (Just so their is no confusion I'll spell it out for ya!! See if you wanna fish on Tuesday we pick you up Monday at 7:30pm, provide accommodation. You fish all day Tuesday, we get you back to T.O. by 7:30pm or so… it's that easy… got it!!).
Book your "Fish n' Relax" weekend or daily today… you'll be a better person for it and have yourself a blast. You don't have to be an expert fisherman to enjoy this. MAKES A GREAT GIFT!!
Come to the Carden Plain - There's no place like this in Ontario!
There is a limited supply of these packages, so once the van is full thats it… dont miss the boat, or van, book now and come up for a hell of a good time.
This is a T.O. Sports Magazine special!
and book yourself a blast of a time! You can call too
*Please note: Add 10% for high season between June 26th and September 6th
by Jeremy Gibson…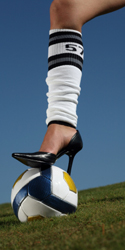 I was recently asked a very interesting question: why would anybody want to be a referee? It is not an easy question to answer, especially in this day and age of modern technology. In reality, referees and umpires have perhaps the most difficult job in all of sports. They are continually asked to make important, game altering decisions in real time, often while running or skating to keep up with the action. It is a thankless job. Referees are very rarely commended – there is no "Umpire of the Year" award – but fans and players are quick to lambaste them when they make mistakes. Unfortunately for referees and umpires, 2009 has been a year full of lambasting.
Front and centre in this awful year for officials was the MLB playoffs, a performance so awful that it has been discussed, debated, and dissected in numerous sports magazines and websites. Going into the playoffs, the odds that a casual fan had ever heard of Phil Cuzzi, Dale Scott, or Tim McClelland were slim to none. But thanks to four blatantly obvious calls going spectacularly wrong, the three are now household names. Cuzzi was the left field umpire who stared directly at a Joe Mauer fly ball as it landed fair, yet called it foul. Scott and McClelland blew three calls on the basepaths in Game 4 of the ALCS – in a span of eleven batters! Luckily for Major League Baseball the blown calls did not directly impact the outcome of a game. In the end, the Yankees won the World Series because they were the better team, not because of (or in spite of) poor umpiring.
Unfortunately the same cannot be said about the latest case of horrendous officiating. The refereeing mistake in a World Cup Qualifying match between Ireland and France did directly impact the outcome of the game. Because of the blunder, the Republic of Ireland lost more than just the game – they lost their dreams of heading to South Africa to compete in the biggest event in all of sports, the 2010 World Cup.
To set the stage: France had the advantage in the tie after a 1-0 road victory in Ireland on Saturday, but Ireland's 1-0 victory after 90 minutes set up two 15-minute periods of extra time, and if necessary a penalty shootout. In the 13th minute of extra time France was awarded a free kick in Irish territory, which seemed to trigger a complete meltdown in the competence levels of the match officials. Just before the kick was taken, two French players jumped offside – something missed by both the referee and the linesman. As the ball sailed towards the box, it skipped past a number of players and appeared to be heading out of bounds for an Irish goal kick. However, French striker Thierry Henry instinctively put his hand out to stop the progress of the ball, cupping it twice with his hand before dropping it to his foot. The resulting cross was headed into the net by William Gallas. Somehow, Swedish referee Martin Hansson missed the blatant handball, and despite vigorous protests from the Ireland defenders, allowed the goal to stand.
The extra time goal gave France a 2-1 aggregate victory and sent them through to South Africa. It also unleashed a tidal wave of emotion and activity. For the Irish, two years of practice, training, coaching sessions, and qualifying came to a crashing and premature end. Players were heartbroken, coaches were furious, and fans were a mixture of both. The irate Irish Football Association petitioned FIFA to have the game replayed for reasons of fairness, an action given worldwide support after Henry's post-game admission that he had indeed used his hand to control the ball. Referee Hansson has even been condemned by papers in his home country of Sweden.
While the error by Hansson was enormous, and the mistakes by Cuzzi, Scott, and McClelland were embarrassing for their sport, it is shameful to place all of the blame for these incidents on the officials. It is easy to forget that announcers and home viewers have the luxury of super-slow motion along with dozens of high definition cameras following every square inch of the field. To us, the correct decision is easy to see. For referees and umpires it is not that easy – they do not have access to that technology.
And there lies the most difficult fact for fans to comprehend, and why most of the blame must be placed on the organizing bodies MLB and FIFA. If the technology is available, which it clearly is, why not use it? Where basketball, football, and hockey have embraced technology with video reviews in the past few years, both baseball and soccer remain infuriatingly stubborn in their resistance. Sure baseball has adopted a review process for disputed home run calls, but that barely scratches the surface of the myriad of problems that have the potential to be resolved. Plays that can be extremely difficult for umpires to see, such as close plays at the plate or fair/foul balls, have the ability to be called accurately nearly 100% of the time. This degree of accuracy should be more important to soccer, a sport where goals are rare and carry an enormous amount of importance. Any piece of technology to ensure that all goals are valid should be welcomed by FIFA, not resisted. The organization recently discarded new technology that would, with 100% certainty, tell an official if the ball crossed the goal line – a curious, almost backwards-thinking, decision.
Why do baseball and soccer continue to lag behind the rest of the sporting world? There are three popular theories: 1) they have more history and tradition than other sports; 2) they are extremely popular, so why mess with a good thing; 3) replay would slow down the flow of the game. To an average fan, those are poor excuses, and come across as nothing more than baseball and soccer arrogance. Hockey and football fans have proven that they will tolerate a short delay in a game if they are rewarded with a correct call. After all, fans are attracted to sport because of the fairness of the competition. Refusing to eliminate bad calls from games does nothing but jeopardize that sense of fairness. Just ask the Irish.
By Adam "Sully" Sullivan… I figure that with the shape the United States is in right now, it's only a matter of time before we lose one of the four major North American sports leagues. I'm not saying this will happen tomorrow, or even at all, but it's a risk. Now we all know that the NFL and MLB aren't going anywhere, so really it will probably be either the NBA or the NHL if it happens.
I hate the fricken NBA. Let me just get that out there from the get-go so there is no question of my bias against pro basketball. The first three quarters in an NBA basketball game do not matter in the least. It's like that bullshit show Family Feud where no matter how much ass a family is kicking, they still risk losing it all in the "Triple Round". An NBA 4th quarter is a cheap knock-off of Family Feud's "Triple Round."
Then there's the ridiculous pre-game ritual of everyone giving each other a ghetto hug. What. The. Fuck? Sports are about competition and wanting to win so bad that you would rip your opponent's brain out of their skull if you had the technology. Apparently this isn't the case in the NBA. Apparently in the NBA, everyone is good friends and they all play tag in the arena before the game.
I just realized that if I keep writing this rant I'm pretty much going to ruin the whole point of this post: An NBA/NHL comparison. If one of these leagues has to go, I believe the American people should consult this comparison before doing anything drastic. The point system is based on whatever the fuck I want and is as follows: The NBA is going to lose. If you are an NBA fan, go into this with no hope whatsoever…

1. Mullets VS Cornrows
The Mullet:
The Corn Row:

Result:
Both of these are retarded hair styles. One makes your head look like a 70's porn actor's bush and the other makes your head look like a heroin addict's forearm. I'm going to have to give this one to the mullet because you can roll out of bed, run your hands through it a couple of times, and you're good to go. With cornrows you need 4 hours of spare time and a loud, black aunt.
NHL +1
2. Extensive Padding VS. Sleeves on Only One Arm
NHL Shoulder Pads:
NBA Arm Sleeves:

Result: Can you even believe we have to do this? "This" being: Compare a sport like hockey to a "sport" like basketball? Hockey players go out on the ice decked head to toe in armor that would rival the baddest medieval knight, meanwhile basketball players shield themselves with…a sleeve…on one arm only. Jesus. Christ.
NHL +1
3. Missing Backcheck Support VS Missing Child Support Checks
Result: The cardinal sin for a forward in hockey is not hustling back to their zone on the backcheck. In basketball, the cardinal sin is paying out even a dime of support to your vast amounts of bastard children.
NHL +1
4. Bob Probert VS Latrell Sprewell
This is Bob Probert:
This is Latrell Sprewell:
Result: Bob Probert was arrested for cocaine possession and crashed his motorcycle while driving it drunk, both while still an active player in the NHL. In recent years he was also arrested for breach of peace, resisting arrest, and assaulting a police officer. On the ice he was just as dangerous. He fought NHL enforcer, Stu Grimson, 13 times. He once had a fight with Marty McSorley that lasted over 100 seconds. If you're saying, "that doesn't sound like a long time," I encourage you to go stand on a sheet of ice and throw haymakers at a speed bag for 100 seconds.
Latrell Sprewell was a notorious choker and that's saying nothing about his ability to perform in the clutch. It all began when he treated his coach, P.J. Carlesimo, like a $3 hooker choking him and shaking his body around violently. A couple years ago he was also charged with choking a 21-year-old female on his luxury yacht. Additionally, he was sued for $200 million in child support for four children. See? NBA Players don' take care of their little bastards, I told you man. Sprewell is now broke and contemplating a return to the NBA.
Both of these guys are bat shit fucking bananas. It's a tie.
Tie
5. Players That Look Like Old Lesbians VS Players That Look Like New Lesbians
Here's some NHL players that look like old lesbians…

Now here are some NBA players that look like new lesbians:
Result: In the game of lesbian doppelgangers, no one wins.
Tie
6. Puck Bunnies VS The WNBA
Here are some puck bunnies aka NHL groupies:

Result: First of all, I'm pretty sure that last one is Tracy Morgan in drag. Anyways, the puck bunnies win this one easily. The NBA has Eva Longoria. Big deal. The NHL has Hilary Duff, Elisha Cuthbert, and Rachel Hunter.
NHL +1
7. Sean Avery VS. Dennis Rodman
This is Sean Avery

This is Dennis Rodman (click for enlarged version):

Result: Sean Avery is The Pest. Dennis Rodman was The Worm. Tremendously flattering nicknames, I know. Avery is famous for getting in the faces of goaltenders, pissing off opponents, and ridiculing his peers publicly.
Dennis Rodman is famous for grabbing rebounds and being a general weirdo freak. He got married in a woman's wedding dress. He also has a ton of tattoos and piercings, and once wrestled in the WCW. Yes, that is Karl Malone in the ring with him in that picture.
Both of these men are utterly repulsive. Tie Again.
Tie
8. Penalties VS. Fouls
Here's what an NHL penalty looks like:

Now let's take a look at an NBA foul:
Result: One of these things looks like a massive wreck of carnage and blood and guts; the other one looks like what a 7th grader does to a 5th grader before he takes his lunch.
Look at the pain in Kobe's eyes while that other guy slaps his elbow. What a pussy. Now look at Martin Erat getting his face grated between a 200-pound man on skates and his own shoulder blade.
When NBA players get fouled, they have tears in their eyes. When NHL players are the victims of a penalty, they have blood in their eyes.
NHL +1
9. NHL Fights VS NBA "Fights"
Observe an NHL fight:
Okay now here's a link to an NBA fight because they are so rare I couldn't even find one to embed in this post:
Result: Yeah that NBA one is about as rough as it gets (Palace of Auburn Hills fiasco notwithstanding). That Pacers/Pistons brawl is an outlier, and it doesn't count since fans had to get in there and take matters into their own hands to see some fists fly. NBA fights are what I'd imagine two gymnastics teams mixing it up would be like. When your "sister" league is more violent than your own, you deserve negative points.
The NHL, on the other hand, is a ruthless bloodsport with no holds barred. It's badass enough to be sponsored by Jean Claude Van Damme. In the video above, Nick Kypreos has his career ended during the course of one single fight. I could go through the spectrum of violence in the NHL, but there's way too many things to link to. Just go explore on youtube.
NHL +1
Results
NHL 6-0.
If it has to be one or the other, please make it the NHL. It is SOOOOOO much better.
by Joshua Murray…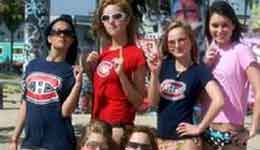 Regardless of records or standings we are constantly the fodder of jokes and ridicule about our team. Memories of the last time the Leafs won the head to head match-up, and even verbal abuse are thrown in our direction any time that the opportunity presents itself to waiting fans of the Maple Leafs.
Now, I should note that not all of the members of Leaf Nation are like this. It's the same as the Red Sox Nation hating on the Yankees. The feelings are all there, but only a few feel the need to come right out and spew the profanities.
But it's tough for us strong, proud fans of the Montreal Canadiens to fight back. Every Maple Leaf fan is aware and used to the fact that their team hasn't won a Stanley Cup since 1967. And while we aren't pleased with the fact that the Habs haven't won since Sir Patrick led the way in 1993, at least we can remember beating Gretzky and the Kings… after they beat the Leafs to get to us.
Because Leaf fans have been hit over the head with the 1967 stick so hard for so long they don't even feel it anymore. And they don't even seem to care sometimes. Don't get me wrong. I know that they desperately want to win. And some may say that they deserve to, but time and talent will have to determine that.
We have to drop down to the level of attacking their goaltenders (weak) and ownership (greedy) and media over coverage (not their fault) to show how much we dislike them and love us.
There are fans of the Bleu, Blanc et Rouge hidden in pockets all over the country. At any time on the next Habs game day log on to your Twitter account and search #gohabsgo I promise that I won't be the only flashing the symbol.
I live in Toronto now and grew up about an hour east of the city by way of highway 401 and I have always been a Habs fan. It was handed down like an heirloom from my father to my brother and me. And we both ran with it. There are Habs things at my mom's place still even though neither of us has lived there in years. There's almost always a Canadiens calendar somewhere in either his or my possession. And right now being a Habs

fan in Leaf country is a tricky thing to do safely..
I have 2 Canadiens sweatshirts and a hat at home in the apartment just waiting for game day.
School wasn't always easy, everyone was cheering for the Leafs except for me and one dude that loved him some Boston Bruins hockey. We may have been the most unlikely alliance ever formed among hockey fans, but we made it work. Until our teams had to face-off of course.
On my grade 8 class trip we visited the then Molson Centre (now Centre Bell) and got to see the press room, set of Coach's Corner, the Stanley Cup banners hanging in the rafters and the home dressing room. It was one of the most amazing things that a little Habs fan could have seen and experienced.
Then we get back to now, to reality, to a place where the Leafs are the number one news no matter what the reason. Hockey is King in Canada, and in Toronto the Leafs are first class citizens and everyone else in the proletariat.
But no matter what we're told, we'll continue on. We, the proud fans of the 100 years old Montreal Canadiens will continue to cheer for our boys and wait for the glory days to return. And we're all hoping they come to us before they come to the Leaf Nation.
By English Paul…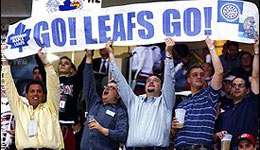 What makes someone a serious sports fan? Given that the average supporter has been gradually priced out of going to the games, combined with the current recession, its unfair to expect someone to have a season ticket and/or go to watch their team play on a regular basis.
However, there should still be rules in place to help determine if someone is a true fan of their team. Therefore, I've complied a list of the top ten rules to see what fits the bill for being considered a loyal and dedicated supporter of your team(s). Any comments/submissions alluding to other potential guidelines for the list will be considered (semi) seriously.
1) You must support the team from the area where you grew up. The only exception to this is if your city has no team, but you enjoy watching the sport/league in question. A prime example is obviously in Toronto where people follow the Buffalo Bills, as there is no NFL team in Southern Ontario. (Did I hear someone say 'Yet'?)
2) In the event that your city does eventually get a franchise, you're allowed the choice of sticking with your current team or following the new one. However, you can only pick one, you can't support both. I understand you may have trouble deciding which one to follow, much like dating two girls at once. But continuing to divide your loyalties just shows that you're not serious enough about either of them. It doesn't matter if one of them plays two big ones up front while the other is nice and tight at the rear. I'm talking about deciding between two Soccer teams of course.
3) No bandwagon jumping. You stick with the team through the good times and the bad. I realise that certain franchises have more downs than ups. However, much like family, you're stuck with them.
4) When you grow up, if you move to another city for further education or work reasons, you're not allowed to change your allegiance to the team in that area (unless the city where you grew up had no professional team. See rule one.) By all means go to the games, but you can't pick them as your new team. Like your wife, it's 'till death do us part.' (Speaking of the missus and partners in general, you can't swap over to following her team 'just to keep the peace' or because your pussy-whipped. This move automatically brings into question your very manhood and deserves a bitch slap.)
5) Even if your favourite player is traded away/signs elsewhere as a free agent, you cannot start supporting his new team. Much like moving cities, you can watch his new ball-club whenever they play, (as long as it doesn't clash with your team's schedule) but that's it.
6) On the flip side, and I wouldn't wish this on anyone (Seattle fans), but if your franchise moves to another city, all bets are off. The chances are that you would be so devastated, you wouldn't want anything else to do with the sport in question, unless the city is promised a new franchise down the line (similar to Cleveland when Art Modell moved the team to Baltimore after the 1995 NFL season.)
7) A free pass comes into effect if a family member plays professionally for a team from another city. Again though, you can only support the one franchise. Of course, this could get complicated if the relative in question is a career journeyman backup quarterback.

This mostly applies to anyone from areas such as Los Angeles, New York and Chicago, but if your city has more than one team in a particular sport, you're not allowed to support both teams. You are basically hedging your bets', which is not allowed. (See rule two.)
9) You can have the season tickets; you can be an emotional wreck every time you're team plays; you can stay up until one o'clock in the morning watching games played on the West Coast, but under no circumstances should you ever buy a jersey and get your own name put on the back. Also, try to limit the use of the word 'we' when referring to your team. As passionate as you are (rightly so), you do not, and never will, play for them.
10) There is no justification whatsoever to be a Boston Celtics, New York Yankees, Pittsburgh Steelers AND Montreal Canadians fan. Unless you grew up in Montreal, moved to Pittsburgh while growing up because your dad got a better job offer and have two brothers, who play for the Celtics and the Yankees. In which case, you have my sympathies, because you think you're French, are depressed and suicidal because you had to move to fucking Pittsburgh and you got the short end of the stick in your family when the athlete genes were being handed out.
So there you have it. Now go out there and be the best fan that you can. Or not. I'll leave it up to you.
Paul Taylor can be contacted at:
by Jeremy Gibson…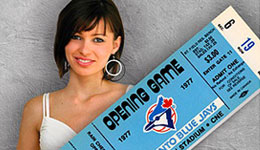 Monday September 7th, 2009 – a day that will live in infamy for the Pittsburgh Pirates. That was the day the Pirates lost their 82nd game of the '09 season, clinching a losing record for the 17th consecutive year. Such a feat of futility has never before been accomplished in North American professional team sports.
The last time the Pirates had a winning baseball season was 1992. They were lead by a slim and trim Barry Bonds, won the NL East division, and came within one out of reaching the World Series. In that year, baseball only had twenty-six teams and the Wild Card did not yet exist. Sidney Crosby, the city's current hero, was five years old. In Toronto, Jack Morris and Joe Carter took the Jays to their first World Series, and Grant Fuhr backstopped the Leafs to a last place finish. That was a long, long time ago.
A losing season in professional baseball is forgivable. Injuries, underperforming players, and bad luck are among a variety of factors that can unexpectedly go wrong. Even the best teams will occasionally suffer. But seventeen seasons in a row is a colossal failure. Consider an analogy: an awful poker player will sooner or later win a hand, and a hopeless fisherman will eventually catch a fish. How can Pittsburgh continue be so bad? Even the Kansas City Royals fluked a winning season in 2003, helping to re-energize their beleaguered fan base for the short-term.
A few weeks ago I wrote a column detailing how the Jays would be wise to follow the Florida Marlins, a small market team that has expertly rebuilt itself time and again. The column can also be seen as a lesson about how not to become the Pittsburgh Pirates. Toronto is entering a rebuilding mode, an area where Florida has succeeded and Pittsburgh has continually failed. Though 2009 is only one losing season, look deeper at the Blue Jays and they appear to be more Pirate-esque than you might think. The reason is due to the ineptitude of management. Baseball is played on the field by players and coaches, but management is responsible for assembling the team. In Pittsburgh, Cam Bonifay (1993 – 2001) and Dave Littlefield (2001 – 2007) failed on a gigantic level. In Toronto, though he entered with fanfare and delivered a moderate amount of success, J.P. Ricciardi has turned the team into a crumbling mess.
There are two key aspects of baseball operations that general managers fully control: the drafting and trading of players. Historically, Pittsburgh has been awful in both of these areas, while Toronto has been excellent. But further investigation shows that this is starting to change.
Drafting
The baseball draft is a crapshoot and virtually impossible to predict. It has many problems, from the sheer number of rounds and players involved, to "signability" issues due to player agents. That being said, it is not unreasonable to expect that a first round draft pick will reach the major leagues within five years of being selected. That gives plenty of time for the prospect to grow and improve in the minors. Taking a historical look at Pittsburgh's first round draft picks from 1993 through 2004 it is obvious that their drafting has been woeful, five year window or not. In those twelve drafts, they had eleven selections in the top-20, seven in the top-10, and twice chose first overall. As demonstrated below, they do not have much to show for it:
| | | | |
| --- | --- | --- | --- |
| Year | Pick | Selection | Career Major League Stats |
| 1993 | 22 | Charles Peterson | Did not make majors |
| 1994 | 11 | Mark Farris | Did not make majors |
| 1995 | 10 | Chad Hermansen | 139 games, .199 average, 12 HR, 29 RBI |
| 1996 | 1 | Kris Benson | 43 - 49, 4.26 ERA, 6.3 K/9 |
| 1997 | 8 | J.J. Davis | 53 games, .163 average, 1 HR, 7 RBI |
| 1998 | 15 | Clint Johnston | Did not make majors |
| 1999 | 8 | Bobby Bradley | Did not make majors |
| 2000 | 19 | Sean Burnett | 7 - 8, 4.54 ERA, 5.3 K/9 |
| 2001 | 8 | John Van Benschoten | 2 - 13, 9.20 ERA, 6.5 K/9 |
| 2002 | 1 | Bryan Bullington | 0 - 3, 5.89 ERA, 3.9 K/9 |
| 2003 | 8 | Paul Maholm | 37 - 43. 4.39 ERA, 5.8 K/9 |
| 2004 | 11 | Neil Walker | 5 games, .200 average, 0 HR, 0 RBI |
Total snapshot? Pitchers: 89 – 116 record, ERA of over 4.00. Hitters: 197 games played, batting average below .200. Only two of those selections are still on Pittsburgh's roster, and four never made the big leagues.
In contrast, over that same period Toronto has drafted relatively well. Except for Kevin Witt (1994) and Miguel Negron (2000), every Toronto first round pick played for the Blue Jays and contributed. Some (Vernon Wells, Alex Rios, Roy Halladay, Aaron Hill, Billy Koch) made a profound impact at one point, some (Felipe Lopez, Gabe Gross, Russ Adams, David Purcey) contributed marginally, and others (Chris Carpenter) found stardom elsewhere. Receiving some return on those draft picks is possibly the biggest reason why Toronto has remained competitive and much better than Pittsburgh, despite being a small market team and playing in the most difficult division in baseball.
However, a disturbing trend has developed over the past few years, as seen below:
Year

Pittsburgh

Current

Toronto

Current

2005

Andrew McCutchen, OF

NL Rookie of the Year Candidate

Ricky Romero, P

AL Rooke of the Year Candidate

2006

Brad Lincoln, P

AAA: 6 - 2 record

Travis Snider, OF

.227 avg, 8 HR

2007

Daniel Moskos, P

AA: 11 Wins

Kevin Ahrens, 3B
JP Arencibia, C

Ahrens - A: .217 avg 4 HR
Arencibia - AAA: .236 avg, 21 HR

2008

Pedro Alvarez, 3B

AA: .333 avg, 14 HR

David Cooper, 1B

AA: .258 avg, 10 HR
While the '05 and '06 drafts appear to have been fairly solid for both teams (Snider's struggles included), the next two years are a different story. Pittsburgh's two prospects are tearing up the minor leagues, and Alvarez was recently featured in Sports Illustrated, shown as a "saviour" to the franchise. While there is a lot of talk that Arencibia is the catcher of the future, Toronto's continual reluctance to promote him to the majors potentially says a lot about his ceiling. Can he really succeed, or is he destined to be another "catcher of the future" flameout, a la Kevin Cash and Guillermo Quiroz? The fact that Kevin Ahrens has failed to rise above single-A and David Cooper is struggling mightily in double-A does little to inspire confidence. Add the debacle that was the 2009 draft (the Jays failed to sign three of their first four picks) and you see a franchise on the down slope. Pittsburgh looks to be moving ahead.
Trading
MLB's annual trade deadline splits teams into two labels: "buyers" and "sellers". Pittsburgh has been in the "sellers" column for seventeen consecutive years, and in many of those years they have had very attractive and highly sought after players. Names like Aramis Ramirez, Brian Giles, Jason Kendall, Jason Bay, and Xavier Nady come to mind. In each case, however, Pittsburgh has failed to acquire fair market value for their assets, generally settling for quantity (three or four low ceiling prospects to stock their system) over quality (one highly touted prospect). What's worse, they failed each year to completely strip their team, trading away the higher profile players but keeping mid-tier veterans, veterans who hold much more value for contenders. The annual result was an endless circle – a team not good enough to compete, but not young enough to grow and get better.
That changed this year when new GM Neal Huntington took over the franchise. He traded all-star Nate McLouth to Atlanta, recognizing that it was time for top prospect Andrew McCutchen to take over in centerfield. He moved several veteran players that a young rebuilding team did not need, but a contending veteran team did (Eric Hinske, Freddy Sanchez, Jack Wilson, John Grabow, Ian Snell, and Adam LaRoche). The remaining team is one full of young prospects with high ceilings, and an enormous amount of salary relief that can lure free agents to Pittsburgh in the off-season. The half-rookie/half-veteran days appear to be over, and the Pirates appear to have turned the page.
Toronto, on the other hand, failed miserably at the trade deadline – not so much for the trades they did make, but for those they did not. Roy Halladay, Marco Scutaro, Rod Barajas, Scott Downs, Jason Frasor, and even Kevin Millar had enormous market value for contending ball clubs, a value they will likely never have again. But Ricciardi failed to move all of them. The time was ripe for J.P. to turn the team over to Hill, Lind, Romero, and Snider, just like Huntington did in Pittsburgh. Instead Toronto is left with a number of veterans who they might not be able to re-sign, a bare farm system, and a collection of players, young and old, without any idea where the franchise is heading.
"The players have to be mentally beaten down by the franchise. They thought the players they had were better than they were. They have to get better in development. They need to get their grunts in order. There is, right now, no identity to the Pirates, nothing that ties a face to the city."
That is a quote from a major league scout taken from an article on espn.com. Pirate GM Neal Huntington is doing his absolute best to refute that comment through a bevy of baseball moves aimed at improving his floundering team. Now, take a moment to re-read that quote, but this time change the word Pirates to Blue Jays. If Toronto trades Roy Halladay, the only marketable player on the roster (as they should), and ends up with a second straight losing season next year (as they most likely will), that quote can easily apply to this city. The team will have no identity, and no face to tie to the city.
The debacle that is the Pittsburgh Pirates should be a lesson to J.P. Ricciardi or whoever comes in to take over the Blue Jays. Toronto is a baseball market that can not afford a seventeen year losing streak. Our fans in this city are fickle and we crave a winner. And, unlike Pittsburgh, our stadium isn't nice enough to distract us.
by Stephen Brotherston…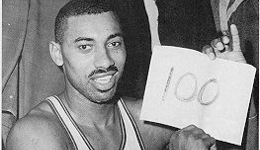 Wilton Norman "Wilt" Chamberlain (August 8, 1936 – October 12, 1999) also known as "Wilt The Stilt", "The Big Dipper", amongst other nicknames, played 14 remarkable seasons in the NBA from 1959 to 1973.
Physically, Wilt Chamberlain was as big as any of the league's giant centers and more athletically gifted than most. At 7' in socks, weighing 275 lbs when he entered the NBA, and 300 lbs later on. Wilt was credited with being able to bench press 500 lbs, run a 440 yard sprint in 49 seconds, and high jump 6' 6''.
Perhaps he was most famous for scoring 100 points in a game, but that single amazing scoring accomplishment should be considered as only the inevitable highlight of the game's most unstoppable offensive player.
Wilt's famous quotes and his contemporaries unbelievable stories about him are worthy of their own re-telling. There are many stories of Wilt stopping altercations by picking up players weighing over 230 lbs like they were children and advising them that there would no more of that.
Suffice it to say Wilt was perhaps the strongest athlete to ever suit up for an NBA game and his life was as colourful as any who has ever played.
Even after 35 years, many of Wilt Chamberlain's personal bests still represent the highest ever achieved in the NBA and it is highly unlikely that many of them will ever be surpassed.
One has to wonder just how much higher Chamberlain's stats could have been if it were not for the NBA's rule that prevented players from entering the league until after 4 seasons of college ball.
Wilt would have been an obvious candidate to jump straight to the NBA out of high school. In his freshman year at Kansas, already 7' tall and 225 lbs, Wilt led his freshman team to victory against the varsity squad, scoring 42 points.
It could be argued that Wilt Chamberlain would have easily added 10,000 points and 6,000 rebounds to his already unbelievable career totals by playing 4 more years at the start of his NBA career.
The NBA did not officially include block shots and steals until after Chamberlain's retirement thus denying him the opportunity to hold official records for those stats or some of the numerous special statistical categories that we follow today. Chamberlain and his contemporaries would have likely held many of those records to the present day.
Following are some of the astounding statistics in points, rebounds, assists, special stats, and minutes played held by one of the greatest players to ever grace the NBA.
Chamberlain, A Scoring Machine
Over Wilt Chamberlain's NBA career, Wilt scored 31,419 points, 4th in league history and averaged 30.1 points per games, effectively tied for 1st with Michael Jordan (a slight percentage point advantage to Michael).
Chamberlain led the NBA in scoring for 7 consecutive years, a feat that has only been matched by Jordan. Wilt's season, total points, and points per game were as follows:
1959-60 2,707 37.6
1960-61 3,033 38.4
3. 1961-62 4,029 50.4
4. 1962-63 3,586 44.8
1963-64 2,948 36.9
1964-65 2,534 34.7
1965-66 2,649 33.5
1966-67 1,956 24.1
1967-68 1,992 24.3
1968-69 1,664 20.5
1969-70 328 27.3
1970-71 1,696 20.7
1971-72 1,213 14.8
1972-73 1,084 13.2
Chamberlain's 1961-62 and 1962-63 seasons' scoring remains the highest offensive output to ever be recorded in the NBA. Wilt's 1961-62 season surpassed Michael Jordan's best season (and 3rd all-time) by almost 1,000 points. No player has ever approached the 4,000 point in a season mark since and no one reasonably expects this standard to ever be surpassed.
The closest present day player to Wilt Chamberlain's scoring record is Kobe Bryant at 7th with 2,832 points in 2005-06. Shaquille O'Neal's best season was in 1993-94 with 2,377 points, good for 57th all-time.
Chamberlain's individual game scoring records are equally spectacular. Including the record holding 100 point game, Wilt Chamberlain scored 60 or more points a record 32 times. Kobe Bryant and Michael Jordan are tied for 2nd surpassing 60 points 5 times each.
When Wilt Chamberlain scored 100 points in a game, it took several days for the accomplishment to sink in. Everyone had expected Wilt to break his own record of 78 points set early that season and scoring 60 or more points in a game had become something less than special.
Wilt scored over 50 points, 118 times, set the rookie record for points in a game at 58 and still holds the highest rookie scoring average of 37.6.
Chamberlain holds multiple NBA records for consecutive game scoring too.
40+ points, 14 games
30+ points, 65games
20+ points, 126 games
Chamberlain was more than volume shooter; Wilt was a skilled finisher and always shot a high percentage, averaging 54% for his career. Wilt holds an NBA record with 18 consecutive field goals.
In his final 2 seasons, Wilt Chamberlain set records for field goal percentages that still stand. In 1971-72, Chamberlain made over 68% of his shots from the field, good for 2nd best all-time. In his final season, he bettered this making 72.7% of his shots, the highest mark ever achieved.
Wilt "The Stilt" Rebounds
Being tall doesn't hurt, but being tall and athletic makes prolific rebounding numbers possible. Wilt Chamberlain collected 23,924 rebounds over his career, averaging 22.9 boards a game, both NBA records.
Playing in an era with one of best rebounders in league history, Chamberlain led the league in rebounds for 11 of his 14 seasons. Only the Celtics Bill Russell managed to break Chamberlain's dominance in 1963-64 and again in 1964-65.
Chamberlain played in only 12 regular season games in 1969-70 due to a serious knee injury thus losing the rebounding battle to HOF player Elvin Hayes who had "only" 1,386 boards.
Chamberlain's rebounding numbers, by season, rebounds, and rebounds per game were as follows:
1959-60 1,941 27.0
1960-61 2,149 27.2
1961-62 2,052 25.7
1962-63 1,946 24.3
1963-64 1,787 22.3
1964-65 1,673 22.9
1965-66 1,943 24.6
1966-67 1,957 24.2
1967-68 1,952 23.8
1968-69 1,712 21.1
1969-70 221 18.4
1970-71 1,493 18.2
1971-72 1,572 19.2
1972-73 1,526 18.6
Wilt Chamberlain holds the 7 highest rebounding season totals by any player in the NBA (shown in bold). He also holds the rookie rebounding record of 45 boards in a game.
Playing against one another for most of their careers, Wilt Chamberlain and Bill Russell combined for the 18 highest rebounding seasons ever.
For comparison: Dennis Rodman at 28th for his 1991-92 season with 1,530 boards; Kareem Abdul-Jabbar is 48th with 1,383 rebounds in 1975-76; at 119th was Dwight Howard 2 seasons ago with 1,161; and Shaq's best season places him 141st with 1,122 boards in 1992-93.
Chamberlain also set some astounding individual game rebounding marks. Wilt set the all-time individual mark of 55 rebounds against the Boston Celtics on November 24, 1960.
Between 1959 and 1967, Chamberlain tore down 40 or more boards in a game on 15 separate occasions. Bill Russell is the only other player to have ever breached the 40 rebounds in a game barrier in the NBA.
Assists and Special Stats From the Big Dipper
In the 1967-68 season in Philadelphia, Wilt Chamberlain set another NBA record unlikely to be to matched. Wilt Chamberlain led the NBA in assists with 702, beating out HOF point guard Lenny Wilkens.
While there is nothing particularly outstanding amount the number of assists, it was the only time a center has led the NBA in assists. Also, it is likely the first, and possibly the last time any player will, over the course of their career, lead the league in scoring, rebounding, and assists in different seasons (or at all).
Special stats are the sizzle that stirs the drink for many NBA fans. Double-doubles, triple doubles, and quad-doubles are the expected flavours. How about double double-doubles, or triple double-doubles, or quadruple double-doubles. (better than 20 and 20, 30 and 30, or 40 and 40, in points, rebounds, assists, steals, blocks)
Wilt Chamberlain made double-doubles, yawn. He made them so often he ended every single season of his NBA career with a double-double average in scoring and rebounding, or better.
For his career, Wilt averaged 30.1 points and 22.9 rebounds over 1,045 games, a double double-double average. No other player in NBA history has even come close to averaging a double double-double. (Only 2 players have ever averaged more than 20 rebounds per game over a career.)
The NBA didn't officially record stats like block or steals when Wilt Chamberlain played and the NBA doesn't provide double-double stats for players from the era either. However, logic would tell you Karl Malone's 779 double-double record would be in serious jeopardy if someone were to count the double-doubles made by players from earlier years.
Chamberlain is the only NBA player to ever record a quadruple double-double (40 & 40) and he did it eight times.
The triple-double represents a unique challenge to the players of Wilt Chamberlain's era as the NBA didn't officially count blocks or steals. However, as Chamberlain's game developed, he became a real triple-double threat.
In the 1967-68 season, Wilt managed 9 consecutive triple-doubles, an NBA record and 31 triple-doubles, second only to Oscar Robertson's NBA single season record of 41. Chamberlain sits in 4th place all-time with 78 triple-doubles, an amazing accomplishment for a center of any era.
On February 2, 1968, in a game against Detroit, Wilt Chamberlain managed a double triple-double of 22 points, 21 assists, and 25 rebounds, a stat line unlikely to be ever seen again.
Chamberlain was known for his ability to reject a shot. It is unfortunate that we only have unofficial stats with which to give us an idea of his unique abilities.
Unofficially, in Wilt Chamberlain's first NBA game his stat line was 43 points, 28 rebounds, and 17 blocks*. Unofficially, in game 5 of the NBA finals in 1972, Wilt, at the age of 35 and playing with a fractured wrist, led his team to the championship playing all 48 minutes with 24 points, 29 rebounds, and 10 blocks*. Unofficial* means this information is not readily available and not verifiable by using NBA provided stats. But it should be apparent; Wilt's full stat line is grossly understated by today's standards.
Chamberlain, The Marathon Man
An often overlooked aspect of Wilt's game is just how many minutes he actually played. Most impressive is the 48.5 minute per game average from the 1961-62 season. Wilt played 79 complete games for 3,882 minutes during that regular season, a record that still stands. He ended the season playing 47 complete games in a row.
Chamberlain led the league in minutes played for 8 seasons (bolded). But he always played more minutes than anyone would expect a modern player to average over a season. Over the course of his career, Chamberlain averaged 45.8 minutes per game.
His career minutes played and average minutes per game were:
1959-60 3,338 46.4
1960-61 3,773 47.8
1961-62 3,882 48.5
1962-63 3,806 47.6
1963-64 3,689 46.1
1964-65 3,301 45.2
1965-66 3,737 47.3
1966-67 3,682 45.5
1967-68 3,836 46.8
1968-69 3,669 45.3
1969-70 505 42.1
1970-71 3,630 44.3
1971-72 3,469 42.3
1972-73 3,542 43.2
The closest modern day players to rack up these types of minutes are: 34th, Latrell Sprewell's 3,533 minutes in 1993-94; and, the 47th place, Allen Iverson's 3,485 minutes in 2002-03.
Comparisons between players for minutes per game stats are not provided by the NBA prior to 1986. However, the players with the most minutes in their careers, Kareem Abdul-Jabbar (57,446 minutes, 36.8 minutes per game) and Karl Malone (54,852 minutes, 37.2 minutes per game) did not come close to averaging the minutes per game played by Wilt Chamberlain (48.5), Bill Russell(42.3), or Oscar Robertson(42.2). In only 13 seasons of work, Wilt Chamberlain is 4th all-time in minutes played.
And, Wilt never fouled out of a game in his NBA career!
The oft made compliant about the stats from Chamberlain's era is the speed of the game was much faster providing the stars more opportunity to obtain better stats. Outside of Chamberlain and Russell, no one has ever averaged 20 rpg over a career and only 3 other players have ever done it in a season, from any era.
The pace may have been faster, but one would have expected this to have a negative effect on scoring from the center position. Russell only averaged 15 ppg over his career, but Chamberlain was different. An athletic center that could and did play complete games at that accelerated pace. Would we expect any of our modern day centers to play complete games, high pace or not?!
Summarizing the "Big Dipper"
The NBA's Wilt Chamberlain (1959-1973) at a glance.
The NBA's rookie leader with season averages of 37.6 ppg and 27 rpg. And single game highs of 58 points and 45 rebounds.
A career double double-double of 30.1 ppg and 22.9 rpg.
Only player to average over 50 ppg and score over 4,000 points in a season.
Only player to score 100 points in a game. Scored 60 or more points 32 times.
Owns the best field goal percentage for any season of 72.7%.
Holds the rebounding records of 55 in a game, 2,149 in a season, and 23,924 in a career.
Holds the record for consecutive triple-doubles at 9.
Has the only double triple-double of 22 points, 21 assists, and 25 rebounds.
Has the only quadruple double-double (8 times).
Only center to lead the NBA in assists.
Played 79 complete games in a season.
Won his second NBA Championship with a fractured wrist, playing all 48 minutes and had an (unofficial) triple-double.
Never fouled out, ever!
Thanks to:
http://www.nba.com/history/players/chamberlain_bio.html
http://www.apbr.org/wilt.html
http://www.basketball-reference.com/leaders/
http://www.basketball-reference.com/players/c/chambwi01.html
http://www.sportingnews.com/archives/wilt/index.html
http://www.answers.com/topic/wilt-chamberlain
http://www.answers.com/topic/list-of-national-basketball-association-players-with-60-or-more-points-in-a-game
http://www.answers.com/topic/list-of-national-basketball-association-players-with-40-or-more-rebounds-in-a-game
http://www.answers.com/topic/triple-double#NBA_triple-double_facts
http://www.lakersuniverse.com/players/wilt_chamberlain_profile.htm
http://wiltfan.tripod.com/index1.html
by Geoff Zochodne…
We enter the Toronto Blue Jays' clubhouse. Roy Halladay is watching game film of his last start against the Boston Red Sox. It is 3 a.m. and the only other person in the room is a drunken John McDonald who is trying to catch self-tossed, beer bottle, pop fly's. He snags every. Single. One.
Roy Halladay: Well, that wasn't a great start last night. I can do much better, nay, I WILL do much better. Maybe if I just-
Roy Halladay's Arm: Roy, listen to me for a second.
RH: What is it Arm?
Arm: I'm tired man. Maybe it's time for an "anxiety" trip to the DL, no?
RH: Sorry arm. I owe it to this organization and my loyal fans. I'm all they've got right now and I need to be the man.
Arm: But you've tossed five complete games already! First in the American League! Your WHIP is lower than a chandelier in a dog house. You've pitched more innings than is allowable by the Geneva Convention. I'm pratically falling off here.
RH: Cram it, I'll get the soldering iron out in a bit.
Roy Halladay's Brain: Roy, I think it's time to call it a season buddy. Let's go A.J. Burnett all over this town.
RH: What did you just say to me? (Brain begins cowering) Brain, you just get back to watching film. I gotta bounce back and win this next start.
Brain: What for? No one cares anymore. I want to get back to curing cancer and putting a man on Mars. You promised me we could do those things Roy.
RH: I know Brain, but I must pitch well. I can't not try hard, I mean that's like sacrilege to me. The team and the fans appreciate my effort, I just know it.
Roy Halladay's Stomach: Not according to me. Your gut instinct is saying it's time to move on, and also to get a chicken parm sandwich.
RH: No I've got to get back to work. There's no time for sand-
Stomach: NO TIME FOR SANDWICHES?!?!?! HOW DARE YOU!
Brain: Listen, there will be plenty of time for sandwiches (Stomach growls in approval). Let's just focus on getting the hell out of Toronto first. Roy, the team is going to trade you in the offseason and the rest of the league already knows how good you are. Arm needs a break, I need to think, and stomach needs food. Do I hear a ringing? Because I think it's time to start phoning it in.
RH: Well… if you put it that way, maybe it is time for a little break.
Roy Halladay's Conscience: ROY! How dare you? I'm ashamed to be your conscience. You get back to work. It's time to start preparing for your next start.
Brain: Hey, the team is going nowhere. That nice guy who played right field…what's his name? Allan? He got dumped for nothing! They couldn't even sign all their draft picks for crying out loud! There's no plan in place, it's time to bolt.
Stomach: I think his name was Alex…
Brain: SILENCE. Let me speak. Think for a second: The organization is cutting costs while saying they're going to increase payroll, there are whispers about selling the team, they traded away your best defensive asset in Scott Rolen, Cito's lukewarm about returning, the rotation has a guy with a name I can't spell AND WE'RE STILL IN FOURTH PLACE. Did Frankie just go to Hollywood? Because it's time to relax, pal.
RH: NEVER. I didn't get to where I am by relaxing. I will persevere and this team will win, for I am Roy Halladay: Defender of the Blue Jays. Randy Ruiz will be a good DH, the rotation will blossom, we'll be just as good defensively, Cito will stay, I'll win the Cy Young, the organization will spend money and the Snidawg's back. Snidawg, Brain. SNIDAWG.
Brain: Ugh. Fine you jerk, be that way. Start throwing more curveballs inside to lefties.
RH: Thank you, Brain.
Enter J.P. Ricciardi, cue up music: Fastball's "The Way"
J.P. Ricciardi: Hey Roy, can we talk?
BRAIN: KILL.
Arm: PUNCH.
Conscience: RUN.
Stomach: EAT.
RH: Sorry pal, I'm a little busy getting ready for my next start.
J.P.: Oh, well can you write me a letter of recommendation later? Things aren't looking too good.
RH: Of course J.P.
J.P.'s Stomach: I'm starving. Where did you put Halladay's soul?
John McDonald (spotting J.P. through a veil of alcohol-induced tears): I got your letter of recommendation right here J.P. (He gestures towards a PG-13 area of his body). Why would you re-sign me and then just have me pinch run? WHY?!?!
(Note: All screenplay inquiries should be forwarded to . The working title is, "Look Who's Chirping Now")