by Sachin Arora… I have a feeling that this article is going to have a lot of hater comments about the Raptors. But people, face the facts: the Raptors have it rolling. After losing to the Cavs in Cleveland in a game which they should have taken, and losing one on the road to the Bucks, the Raptors responded by taking down the Bucks and Lakers at home.
This team has shown grit, toughness, and is finally looking like an elite team. Imagine what will happen when Turkoglu actually starts performing.
Record: 2-2
Performance on a scale of 1-10: 8.5
Positives
Marco Belinelli has been stroking off of the bench, and the Raptors are finally showing some inside presence. The Raptors have stayed with the top teams in the NBA, and have beaten the No. 1 team in the league, the LA Lakers. Everyone is finally playing as a team and the Raps have finally found a formula for success.
Negatives
Hedo Turkoglu still isn't playing well. Sure, he hit two big free throws against the Lakers, but he's still shooting a low percentage and isn't playing well at all.
Overall, the Raptors had a great week. They have shown that they can compete with any team, even the league's best.
I really think that Jose Calderon needs to get back into the starting lineup. To me, Jarret Jack is a great player, but he doesn't create offense for others. He's quick and can score, but doesn't run the offense like Calderon.
Let's hope that this type of play can continue and the Raptors can secure the fifth spot in the East.
GO RAPS!
by Sachin Arora…
That's right, I said it. The Raptors are playing like one of the best teams in the NBA. Really. And with a healthy Reggie Evans and a performing Hedo Turkoglu, this team could be a serious contender. The Raptors are just killing opponents, one after another, picking defenses apart, and actually playing some good defense.
The Raps are tied with the Heat for fifth in the East, and while Atlanta may seem out of reach, if this type of play continues you never know.
The Raptors had a good week, other than a late collapse in Indiana. They have looked dominant in every game and are playing like they can beat any team.
Record: 2-1
Performance on a scale of 1-10: 8
Positives: The Raptors have looked simply dominant, coming up with a huge win at home vs. Dallas, one of the best teams in the league. The defense has been good, offense great, and Jose Calderon has provided a great spark off the bench. The killer B's (Bosh, Bargnani) have really been spectacular and have sparked our offense.
Negatives: That collapse in Indiana shows some concern, blowing a 23-point lead can't happen. Hedo Turkoglu still hasn't been able to get it going and Jay Triano must do something to get himself going. Bench him!
Overall, this team has been doing great things and I am hoping this type of play can be continued.
The Raptors once again have that one-two point guard punch, and it is working great.
GO RAPS!
by Sachin Arora… To me, this week was great for the Raptors considering the opponents that they have faced. They came away with two road wins, where they have struggled—one against the reigning Eastern Conference champs and one against a struggling Philadelphia team who managed to put up a good fight and make it close.
This team has showed incredible toughness and finally has everything working.
Jose Calderon has returned from injury has looked great off the bench.
Only a game back from the fifth seed, the Raptors are looking better than ever. The loss against the Celtics to end the week sort of put a damper on things, but the Raps have won eight out of 10 and are playing some good basketball. To start the game, the Celtics ran over the Raptors with a 10-0 run, but in a game that had the looks of a blowout, the Raptors made it close.
Record: 2-1
Performance on a scale of 1-10: eight
Positives: The Raptors defense is quickly getting rid of that "worst in the league" tag and going to "mediocre." With the offense of this team, I think that we'll take that happily. Offense certainly hasn't been a problem, and Chris Bosh and Andrea Bargnani have been spectacular, pouring in the points.
Negatives: Hedo Turkoglu has been looking more and more like a bust. He has been nothing but mediocre this whole season. Imagine the things this team could do if he was actually playing to his potential. If the Raps could play tough throughout the whole game and be a little more consistent, that could push them over the top.
Overall, this team has been playing some great basketball. If they get the win vs. Boston, their weekly rank goes from eight to nine or even 10.
Jarrett Jack remains the starting point guard, but it hasn't seemed to affect Jose Calderon. He's been great off the bench, but it would be nice to see Jose back as a starter.
Jack is great off the bench because of his versatility.
If the Raps keep playing this way the rest of the season, they should have the 5th seed.
GO RAPS!
by Sachin Arora…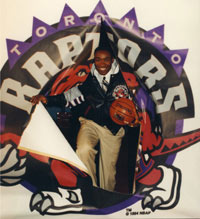 The Raptors had another good week, improving to 17-18. They have had many off days which has helped them quite a bit and have looked fresh out of the gate and have been keeping themselves in games.
This is the Raptors we have all been waiting for and things are only going to keep improving.
Record: 2-1
Performance on a scale of 1-10: 7
Positives: The strong defensive play of the Raptors is continuing and it seems like they can actually compete if they want to. Chris Bosh is becoming a physically monster. I would like to point out particularly in the game against the Spurs when Bosh stopped superstar Tim Duncan, then posted Duncan up for the score.
Negatives: Intensity on the road has been a huge problem, as the Raptors can't seem to play well on the road. Hedo Turkoglu is injured, and there is still no status on Reggie Evans.
The Raptors lost to a beaten up Boston team, who didn't have Paul Pierce, Kevin Garnett, or Rajon Rondo. That's a game that they have to win, but they came out of the gate playing soft and taking jumpers despite the fact that they knew the Celtics were lacking inside presence.
The Raps came up huge against the Spurs at home, and that's the type of game they will have to play consistently. Chris Bosh has officially passed Vince Carter to become the all time leading scorer of the Toronto Raptors franchise. Hopefully he will continue to build on that record for many more years.
Overall not a bad week, despite the tough loss to the Celtics, but look for the Dinos to keep improving.
GO RAPS!
Next Report: Sunday, January 10
by Sachin Arora…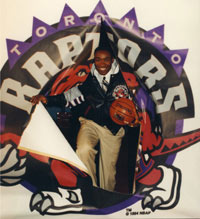 The Raptors had a short week this week playing only two games, both against the Pistons, in a home and home series. The Dinos swept em away, extending their winning streak to a season high 4 games, and are looking better than ever.
The Raptors are finally starting to come together and honestly, I wouldn't be surprised if the streak keeps going. This team is hot, finally playing some defense, showing some urgency and is actually winning.
Week 9 Record: 2-0
Performance on a scale of 1-10: 8.5
Positives: Defense, offense, and toughness. The Raptors are finally looking like they want to win, and even with injuries to Reggie Evans and Jose Calderon, the team is playing well. Sonny Weems has emerged as a solid role player and Hedo Turkoglu is starting to show some grit.
Negatives: Rebounding is the main one. Bosh and Bargnani have to show some toughness inside and show some presence. This isn't really a negative, but the winning streak hasn't exactly been against contenders, and at least they are taking advantage of the schedule.
Overall, when you go undefeated you know you have had a pretty good week. I'm going to keep this report short because of the two game week, and hopefully the Raptors can keep bringing out their game.
GO RAPS!
Next Report: Sunday, January 3rd