My how time flies, it seems like only a few short months ago that Michael Dwayne Vick was playing quarterback for the Atlanta Falcons. Fast forward 23 plus months and Micheal Vick has been signed a two year deal with the Philadelphia Eagles. Michael Vick might be the biggest signing of the NFL off-season, with the Eagles moving into a legit team capable of winning the Superbowl.
However, Michael Vick has not played organised football in over two years, as he has been locked down in the federal penitentiary for owning and operating a dogfighting ring. His reinstatement into the NFL requires him to miss out the first six games of the regular season. As with most criminal proceedings involving celebrities, Vick got off pretty easy. Serving only two years for the torture and mutilation of "Man's best friend", for his own financial benefit. His reputation has haunted him since he entered the NFL in 2001, his latest dogfighting act only further damages it.
Since being the first black QB drafted first overall in 2001 by the Atlanta Falcons, Vick has dealt with drug issues, been suspended for obscene behaviour and knowingly spread genital herpes to his sexual partner. On the field, his play made him a top-5 quarterback in the NFL for years. In less than eight NFL seasons, Vick ranks fourth all-time in QB rushing yards and he has a bullet of an arm as well. If he plays to his potential, the Eagles will cakewalk to the title. The Eagles, already a formidable team with Westbrook and McNabb, added a run first QB to their roster, the best run first QB in NFL history.
Vick tried to stay in shape while in prison, he played basketball and worked. Known for his outstanding athletic ability, Vick was also drafted into the MLB by the Colorado Rockies, I believe that Vick will be NFL ready before most "experts" predict.
The former Pro-Bowl (all star) and runner up for the 2004 NFL MVP award, has spent the prime of his life behind bars. He had to wake up in a cell each morning, the size of one of his closets. With his imprisonment, he lost out on millions of dollars in endorsement deals, with coca-cola, Kraft, Powerade and Rawlings opting to not further pursue a business relationship with him. He lost respect among the general public and NFL fans alike. Vick had nothing but time to recognize his mistake and try to rectify things in his life by getting back on the grid iron. Professional sports has a way of letting every and any scandal simmer into the background. The casual observer will only recognize Vick as the rich heathen who hurt animals. Micheal Vick is a human and made a mistake.
Old number 7 is two years older, much wiser and more mentally prepared for the 2009 season than anyone else in the league. Physically, Vick will have plenty of practice time to get acquainted with his teammates and the Eagles playbook. Vick came into the league with as much hype as Peyton Manning. While Manning has rewritten the NFL statistic records, Vick has not lived up to expectation. A great runner and a good playmaker, Vick has a great arm but his aim is questionable and there are times when Vick makes bad decisions. Vick's blazing speed was the centerpoint of the Falcons offence because the Falcons did not surround Vick with the type of talent Peyton, Eli Manning or Brady. With the Eagles, Vick is a piece of the puzzle. He is not the entire puzzle. Vick and McNabb on the field together is a lethal mix that no defence can withstand. I believe that Vick will florish with the Eagles and that Vick has a lot of NFL still left in him. He turns 29 this year. Vick might finally show us what we were expecting from him in 2001. If Vick plays well, people will overlook his questionable past, you know Kobe Bryant, right?
By Ranhvir Samra…
Rewind back to the 2006-07 NBA season. Allen Iverson, at 32 years of age, was still putting up impressive numbers on a upcoming Denver Nuggets team. He looked active, quick and his body was holding up despite years of wear and tear. He averaged over 25 points per game during his two plus seasons in Denver and combined with Carmelo Anthony to form one of the most potent offensive combinations in the league. Then Iverson got traded to the Detroit Pistons for Chauncey Billups.
While Chauncey instantly turned Denver into a top five team, the Pistons could not wait to get Iverson off it's roster. The 2008-09 season was the worst season of Iverson's career. He averaged a career low 17.4 points per game, shot 41% from the field and averaged just over 5 assists a game. Stats don't lie and Iverson was not his flashy, fearless self in Detroit. Playing on a team which places utmost emphasis on defense and a team who shares the offensive load, Iverson was out of place. He wanted more shots, more playing time, more offensive freedom and he clashed with the coaching staff and his teammates. Iverson, one of the top six offensive players of all-time, was insulted when the idea of him coming off the bench was suggested. Iverson, still a dangerous player, did not buy into the "Team concept" required to win a championship. Perhaps it was a bad fit in Detroit. The Pistons have been a lathargic offensive team for many years and have relied on their defensive toughness for victories. Allen Iverson, who had a back injury, was benched in late March and did not play for the remainder of the season. Allen Iverson is a score first type of player. With five scoring titles to his credit, the Pistons gambled and lost big on Iverson. Despite Iverson cutting off his trademark cornrows and wearing the unfamiliar jersey number (one instead of three), Iverson showed glimpses that he is not done in this league.
At 6 feet tall and barely 160 pounds, Iverson has taken the ball to the hoop like he was Lebron James, for years he did this. When he came into the league, Iverson made the crossover famous, even crossing up the great Michael Jordan. Iverson soared above the rim, like no other six footer before him, I recall him dunking on Marcus Camby while playing at Georgetown University and later again at the Skydome. The 11 time all-star and 2001 league MVP has been a legend on the court. Off the court is another matter.
With the 2009-10 season coming up, Iverson is a free agent with only a few takers. His attitude has been questioned during the course of his career. He has had run ins with the law regarding marijuana, gun possession, domestic problems with is wife. He has clashed with many coaches including his love/hate relationship with Larry Brown. He has questioned the importance of practice and his clothing style led Commissioner Stern to adopt an NBA dress code. But is it fair to leave Iverson in the cold? At 34 years of age, Iverson continues to put up many shots and his shooting percentage is no better than it was a decade ago. The Pistons don't want anything to do with Iverson. That seems to be the sentiment among most teams in the league. Rumours have been flying that the Miami Heat and the Chicago Bulls are interested in Iverson. Iverson has stated that he would not mind playing for the Memphis Grizzlies. Why? Well Iverson can stack up the statistics, play a starting role and possibly make another all-star team. The Lakers, Cavs and Celtics would be gambling team chemistry if they were to take the risk of acquiring Iverson. For the first time in his career, "The Answer" has no response to the lingering questions about his physical ability to play in a team concept.
Iverson needs the ball in his hand to be successful, he needs to put up many shots to get his 27 points per game. However, do not forget that Iverson is a great playmaker, great athlete and an underrated defensive player. Maybe Iverson should join a legitimate championship contender, come off of the bench and take that one last hit to his statistics for a chance to win that elusive championship ring. Either way, maybe retirement is around the corner. With such an outstanding resume, one would think that Iverson would have all the teams lusting after him. However, professional sports is a cruel world. The only thing the teams are concerned with is "what you can do for my team?", "What have you done lately?" and in Iverson's case "What can you still do?" The questions remain, will Iverson have the Answer once again?
By Ranhvir Samra…
2008-09 was a very successful season for the Cleveland Cavaliers and it's main star Lebron James. The Cavs set a franchise record with 67 wins, including a 39-2 home record, the Cavs were one of the NBA's biggest attendance draws and the Cavaliers were destined to win the Eastern Conference Championship and ultimately defeat Kobe and the Lakers in the NBA finals. But it's funny how things work out.
The Cavs, who were a much improved team from last year, rode the coat tails of Lebron James and his sidekick Mo Williams to the tune of two straight sweeps in the first two rounds of the 2009 NBA playoffs. The team looked just as dominate in the postseason as they did all year long. However, when they faced off against the Orlando Magic in the conference finals, the Cavaliers faced their toughest task, Dwight Howard. "Superman" dominated the paint and his supporting cast did what was expected of them: hitting clutch shots, playing hard and playing smart. Coach of the year Mike Brown, seemed more like Bill Walton behind the bench, in other words he had no answers for the Magic. The Cavs bowed out disappointedly in six games to the upstart Orlando Magic. Lebron was his MVP self, having accumulated three 40 point games in the series, one triple double and a game winning three pointer in game two. However, it was not enough to ensure success.
Undoubtedly one of the two best players in the league, Lebron James will be the most sought after free agent in 2010. That leaves one more season in Cleveland for Lebron. The NBA would love to keep James in Cleveland, as he is singlehandedly carrying the Cavs franchise. Before Lebron, the Cavs were not selling out games and people didn't give two hoots about the Cavs. In a short time span, Lebron's #23 jersey is the most sold jersey worldwide, his Nike's are sold out almost immediately and anything he touches turns to gold. This worldwide appeal is likely to lead Lebron to greener pasteurs once his contract expires.
The New York Knicks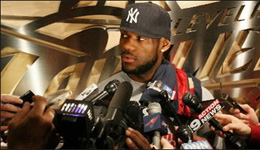 have cleared enough salary cap space to offer Lebron the richest contract in NBA history, and only a fool would turn that down. Lebron is already a recognizable celebrity, but his presence in New York will lead to more money for him, the Knicks and the NBA. Lebron has said that he wants to stay in Cleveland and has put on a brave face for his fans, but in reality, he is as good as gone. Had the Cavs made a legitimate threat to win the title this year, the story might have been different. But after a heartbreaking early exit, Lebron is as good as gone.
Cleveland has been an overated team this entire season. When they faced adversity they bowed down. Anderson Varajeo, Ben Wallace, Zydrunas Ilgauskas and the rest of the team did absolutely nothing when it counted. Even "All-Star" Mo Williams was sparsely present during the Magic series. You cannot win a championship riding the shoulders of only one player. Lebron was the only consistent player on the squad during the playoffs. Even Michael Jordan needed Scottie Pippen, Hakeen needed Clyde and Shaquille needed Kobe. Lebron has no one in Cleveland, so why stay? If Lebron was traded to New York today, he would be surrounded by better talent than he has in Cleveland. All the NBA greats played in large metropolis cities such as Chicago, L.A., New York and even Houston and San Antonio. Cleveland is a small market, much too small for the immense talents of a Lebron James.
Having grown up in Ohio and playing his entire career in Cleveland, Lebron deserves to leave his backyard. The fact that Jay-Z is at every Cavs game, only adds to the speculation that Lebron is heading to New York.
The Cavs have enjoyed amazing success with Lebron in their lineup, they have made a NBA finals appearance, have won the division title twice and owned the best record in the league this season. Regardless of this success, Lebron is missing a championship ring and that is what he is after. A big city like New York has the financial resources to surround Lebron with quality players and has the big city appeal to attract big name talent and celebrity fans, unlike Cleveland. What else does Lebron need to accomplish in Cleveland anyway? He has won the rookie of the year award, MVP award, All-Star Game MVP award and has carried this lowly franchise to the cusp on NBA greatness. I would bet that the Cavs will have an equally successful season next year, and will try to boost the lineup with a few new players, however this season will remain with Lebron. He was destined to be a champion with the Cavs in 2009. James isn't looking forward to the grind of another NBA season in Cleveland, what he is looking forward to is hanging in New York with other big name celebrities in 2010.
By Ranhvir Samra…
The only sport that truly awards its Most Valuable Player award to the best player is in baseball where big time statistics overshadows team success. The NBA awarded its 2008-09 Most Valuable Player award to Cleveland Cavs Forward Lebron James. He had a great season leading the Cleveland Cavaliers to the best record in the NBA and home court advantage throughout the playoffs. James received the award that he should of won last season. Lebron averaged 28.4 points per game, 7 boards and 7 assists per game while shooting 49% from the field during the 2008-09 season. Last year Lebron averaged 30.0 points per game, averaged more rebounds and shot 48.4% from the field, losing a close MVP race to Kobe Bryant. Lebron James was the best player on the best team in the NBA this season, and that is why he was awarded the MVP award. Compare Lebron's statistics to those of Miami Heat Guard Dwyane Wade and one can see that Lebron is a worthy MVP but not overwhelming worthy.
Without a doubt this season's MVP race was a very close one. The top three players in the league lived up to their Olympic gold medalist reputations. Along with Lebron James, Dwyane Wade and Lakers Kobe Bryant all were deserving of MVP consideration. However as the season progressed, it became apparent that the race for the MVP award was only a two horse battle, Lebron and Dwyane. Dwyane led the league in scoring with a 30.2 points per game average, was second in the league in steals with 2.2 per game, averaged a NBA top eight 7.5 assists per game, shot 49.1% from the field and averaged 1.3 blocks per game as well, and he's only 6″3! All these statistical measures were higher than Lebron's. As well as the impressive stats, Wade was on the highlight reel just as often as Lebron was, if not more. He made more spectacular plays than anyone else in the league this season on both ends of the floor.
Wade accomplished so much this season, with a bunch of scrubs as teammates. The Heat were a one man team and still managed a 5th seed in the Eastern Conference. How many times did you see Lebron throw down a slam on a breakaway? Many times, and how many times were they set up by a teammate like Mo Williams? Many times. Dwyane Wade had many breakaway dunks, but most of them resulting from a Dwyane Wade steal (2.2 per game average), big difference. The Cleveland Cavaliers lineup boasts two all-stars in Lebron and Mo Wiliams, as well as two former all-stars in Ben Wallace and Zydrunas Ilgauskas. The Heat have Dwyane Wade and a bunch of young players. Each night Dwyane Wade was the focus of the opponents defence. He still managed to shoot at a higher percentage than Lebron James, both from the field and at the line, while leading the league in scoring. Offensively Dwyane can do more than Lebron. Defensively Dwyane can do more than Lebron. And stats back this up, so why was Lebron awarded the MVP award this season? Was it because in 2003, a young Lebron was billed as the next great one, as the one who should win many NBA championships and many MVP awards and breaking many records. Even the greatest (Michael Jordan) couldn't live up to these expectations, at least not right away. Now with Lebron appearing like he might leave Cleveland for New York after 2010, the NBA is trying to keep Lebron as happy as they possibly can. Without Lebron there is no thriving NBA scene in Cleveland, Ohio. Lebron sells many jerseys and Lebron has stated that if the Cavs don't win a title he's gone.
If Dwyane Wade was in Lebron's position, the Cavs would be just as good and if Lebron was in Miami, the Heat would be just as good as they are now. That's how close the MVP race was this season. If you consider that Wade missed 30 games last year and 30 games the year prior to that due to injuries, this makes Wade an even more worthy candidate for MVP. Nobody takes the ball to the hoop like Wade, nobody, and that includes King James. Dwyane is 6″3 and Lebron is 6″8. Ask someone who truly follows basketball and they will tell you that Dwyane Wade was the best player on the U.S. Olympic mens basketball team. His play carried over into the regular season and he continued to be the best player.
Just as Kobe "stole" the MVP award from Lebron last season, Lebron has done the same to Wade in 2009. There is no doubt that the voters for the MVP award are biased journalists, some having personal relations with players, who do not have an objective view of the NBA. How else can you explain how Lebron AND Kobe both ended up with more MVP votes than Dwyane Wade? Yes, I agree that the NBA and basketball is a team game and team success is more important than individual success, you know, there is no "I" in team type of logic. The NBA has an award for team success, it's the NBA championship trophy. I agree that the Cavs have a great chance of winning the title this season, and if they do so, Lebron will be Finals MVP. Lebron had a fabulous season, however his title as NBA MVP is arguable. This season's best player was Dwyane Wade. With double digit 40 point games and 4 50 plus point games, Wade was the man. He was top 16 in the league in scoring, rebounds, assists, steals, blocks and field goal percentage, the only player in the league to do so. On a team that was eliminated in the first round of the playoffs, here's hoping Dwyane Wade gets what he deserves in 2010.
By Ranhvir Samra…
I remember a few things from 1992, the Blue Jays won the World Series, the mushroom cut was cool, the US Dream Team dominated at the Olympic basketball competition and a young 7′1″, 300 pound Shaquille O'neal was drafted into the NBA by the Orlando Magic. He was touted as having the potential to dominate the NBA and go down as one of the best ever from a very young age. Through his stints in Orlando, Los Angeles and Miami Shaquille has proven he is a winner, more specifically a NBA Champion. With four titles to his credit (and three finals MVP awards), Shaquille has won four more titles than Karl Malone, Patrick Ewing and Charles Barkley combined. Shaquille has won a scoring title, a MVP award, three All-Star Game MVP awards and an Olympic Gold Medal. He has been the face of the NBA during the "Post Jordan" era and only recently was replaced by Lebron James as the game's biggest stars.
He came into the league as a slim and athletic big man, over time Shaquille has bulked up and now stands at 330 pounds plus. His quickness has diminished, his hand eye coordination is less accurate, he is playing less minutes and taken less shots. Despite all this, Shaquille has stood the test of time and is playing at a level that very few would have predicted. At 18.2 points per game and 8.7 boards a game, Shaq is helping to carry the load left by the injury to Amare Stoudamire. Though Phoenix is currently on the outside looking into the playoff picture, Shaquille is still going strong at age 37. His career averages of 24.9 points per game, 11.3 rebounds per game and career 58% field goal percentage rank among the greatest of all time.
Recently, torching up the Raptors (like everyone else) for 45 points and then leading the Suns to a victory over LA with the help of 33 from O'neal, he is definitely deserving of his All-star game appearance. It goes without saying that the NBA will miss Shaq when he decides to hang up the shoes. Converting over 60% of his field goal attempts, O'neal leads the league in that category. Had Amare been injured a week earlier, Shaquille might be a Cavalier right now. Imagine that, Shaq with Lebron. Shaq has had his fair share of superstar teammates including Dwyane Wade, Kobe Bryant and Penny Hardaway. As he climbs up the all time scoring list, let us not forget the zany and off the wall stylings of O'neal on and off the court.
Now Blue Chips was a pretty good movie, but Kazaam and all the other movies? Despite his lame attempts at acting, Shaq did release a couple Rap albums and even collaborated with the great Notorious BIG on a track. His beef with Kobe Bryant lasted for years and was based on jealousy more than anything else. With the Hollywood media buzzing, the two openly feuded with one another, taking shots through the media at one another. But just like his career, Shaquille has resurrected his relationship with Kobe Bryant, as witnessed at this year's All-Star game. If nothing else, the two were overcompensating for their harsh pasts, falling just short of holding hands. The two were sharing jokes, playing one on one during the warmups, exchanging pleasantries on the court, I couldn't believe my eyes at one point.
One "beef" that is not so well known is the one between Shaq and his one time Orlando teammate Penny Hardaway. Penny entered a cushy situation in Orlando, with the media following Shaq like bees to honey, Penny quickly became an All-Star, co-starring with Shaq in Blue Chips and attaining endorsement deals. All was dandy until Nike wanted to make a Penny Hardaway shoe. Shaq was sporting Reeboks and they were not selling so well, the Penny shoe outsold the O'neal shoe and Penny was gaining popularity. O'neal changed his demeanor with Penny and criticized him for taking so many shots.
Time brings change, that is inevitable. Over time, Shaq has amassed many awards and accomplishments. He stands in the top 10 All time in scoring, rebounds, blocks and field goal percentage. Shaquille has morphed into a well respected, gentle giant who still demands respect in and around the paint. In 1995, a young Shaquille lead the Orlando Magic to their first NBA Finals appearance. In game one, Orlando forward Nick Anderson is at the free throw line. With a three point lead he needs to hit just one free throw to seal the game for the Magic. He misses both, gets his own rebound, is fouled again, only to miss two more free throws. Had Nick Anderson hit one of those four attempts, the Orlando Magic would have won game one and the series over the Houston Rockets. The beginning of the Orlando Magic dynasty with Shaq and Penny leading the squad?
Things didn't work out that way and the cards have settled. It is pointless to think about what may have happened if….. because then people get emotional. Like what if John Starks didn't have a horrendous game 6? Or McSorley didn't have an illegal stick? And Jordan didn't retire in 1993? The NBA fans will miss Shaquille more than Shaquille knows, his addictive personality, good natured sense of humour, eye for the spotlight, the occasional offensive comment, his breakdancing moves and larger than life image are irreplaceable. The end of the O'neal era is upon us. The Diesel is running low on fuel and the nearest gas station is miles away, if Shaquille drives conservatively and doesn't hit traffic he just might make it for another fill up in Phoenix.
By Ranhvir Samra…


It goes without saying that the 2008-09 NBA season has been a big disappointment for the Toronto Raptors. With a 23-40 record the Raptors have struggled to stay out of the basement of the Eastern Conference. The Raptors have looked like an expansion team at times this season, often getting blown out in the first half. Yes, the Raptors have lost a few close games but they have lost so many games end of story. Ex-Coach Sam Mitchell brought toughness and grit to his Raptor teams. Chris Bosh held his head high and respected Mitchell as a person and a coach. After leading the Raptors to an Atlantic Division title and two playoff appearances, the one time NBA Coach of the year was unceremoniously let go after a sub .500 start to this season.
In his place, Raptors assistant Jay Triano. It makes for a good story, Canadian Jay Triano coaching the Canadian Toronto Raptors, however the results have been much worse. The Raptors have played with no heart, no consistency and have forgot what Defence means at many points this season. Chris Bosh has had another All-star season but as the leader of this team, he has been a big disappointment. Whether or not the rumours of his impending trade are true, one thing is for certain, if Sam Mitchell was still coaching the Raptors, Chris Bosh would not be in the trade headline and the Raptors would be battling with Chicago for the eighth seed in the East.
Jermaine O'neal lived up to much of the hype, when he was healthy that is. Unfortunately that wasn't often enough. However, his size and strength was the only line of defence the Raptors have had this season. Offensively, Jermaine and Bosh clashed. His trade for Shawn Marion, will only exemplify the fact that Shawn Marion is an overated basketball player. The Raptors are notoriously bad at making trades. It began with the Damon Stoudamire for Kenny Anderson trade (where Anderson didnt even suit up for the Raps), then the Vince Carter for nothing trade with the Nets and now Jermaine O'neal for Shawn Marion can be added to that list. Perhaps the only positive aspect of the 08-09 season is the emergence of Andrea Bargnani as a legitimate NBA player. The mark of an emerging star is consistency and Bargnani has consistently put up 20 plus points and 10 plus rebounds.
With just under twenty games to go the Raptors are six games behind the Chicago Bulls for the last seed. The future looks bleak for the Raptors, Bosh is not happy in Toronto, Triano is a temporary coach, the Raptors lack size and the list continues. Even if the Raptors sneak into the playoffs, they will get blasted by the Cavs or Celtics. So what is the point of the next 20 games? A higher draft pick perhaps?
GM Bryan Colangelo was a God not too long ago, now some question his decision making skills.
By Ranhvir Samra…
Through
the first 30 odd games of the 2008-09 NBA season,
there have been a few surprises. The inconsistency of the Raptors, the torrid pace of the Boston Celtics and the slow but obvious decline of Shaquille O'neal's career are just the tip of the iceberg. The biggest surprise this season has to be the utter domination of Miami Heat Guard . Without a doubt, Dwyane Wade is the leading candidate for the 2009 MVP award. He has returned to his cut throat type of playing style, slashing and slicing his way to the rim and rising above all competitors to the hoop. After being sidelined for most of the previous season with injuries, he leads the league in points per game and is among the top ten in steals and assists this season. All while playing for a Miami Heat team which relies on Wade's multitude of skills just to stay competitive.
The Heat are 16-12, but imagine how many games they would have won if Wade was not playing? Probably 4 or 5 wins. Wade's closest competitor in the MVP race is his close friend . Really it is a two man race. Lebron is having another amazing season, second in the league in points per game and top ten in steals. The Cleveland Cavaliers are a deep team with many talented players including Mo Williams, Ilgauskas and Ben Wallace, and their record indicates this. At 27-5, the Cavs are off to their best start in franchise history. Even though Lebron continues to dominate the highlight reels, his effectiveness and importance to the Cavaliers has declined over the past season. While dominating the league last year, James lost the MVP award to Kobe Bryant. This year, James is playing less minutes, putting up lower numbers and yet the Cavaliers are winning moreso in comparison to 2007-08.
Dwyane Wade was the best player in the Olympics, he led the U.S. team in scoring and steals and was the leader of the gold winning squad. His play has continued at this pace, as Dwyane Wade is on the path towards the 2009 MVP award. At 28.8 points, 7 assists, 2.2 steals and 5.1 rebounds per game, his stat line is the best in the league. Lebron James, in comparison, is averaging 27.5 points, 6.7 rebounds and 6.6 assists per game. One thing to remember is that we must not take things for granted. An injury can permanantly effect a players career, just as Penny Hardaway. Last year Lebron should have won the MVP award, but it was given to Kobe Bryant instead. The thought was that Lebron has many "MVP-type" seasons left in his career, while Bryant does not, thus Bryant was awarded his first MVP award. This year, no player has been more valuable to his team than Dwyane Wade and his statistics only reinforce this fact. Not only is Dwyane Wade the MVP of the year thus far, he is also the Comeback Player of the year as well.
By Ranhvir Samra…
On paper, the Toronto Raptors looked like a team that could contend for the Eastern Conference Championship. Prior to the 2008-09 season the Raptors had a bonafide superstar in Chris Bosh, rising point guard star Jose Calderon and ex-U.S. Olympian Jermaine O'neal, their newest addition. The hopes and expectations of the Raptor Fans was at an all time high. The problem with paper is that it doesn't always translate well in real-life. The Raptors have struggled throughout the early part of the 2008-09 campaign. The Raptors have a record of 12-20 and do not look like the playoff bound team everyone in Toronto expected. Chris Bosh has been inconsistent, Jose Calderon has battled injuries and so has Jermaine O'neal. The Raptors have lost eight of their last ten games.

Long time Coach, and best coach in Raptors history Sam Mitchell was fired abruptly. It was too early in the NBA season to fire a coach that has endured so much throughout his years as Raptors coach. Mitchell, replaced by Jay Triano who has done nothing to improve the Raptors situation. In fact, the Raptors are worse record wise, with Triano. Coach Mitchell cannot be blamed for the Raptors lacklustre play. Guard Anthony Parker is known for his defence, but he has allowed Vince Carter, Lebron James and Dwyane Wade each score over 35 points against him. Point Guard Jose Calderon is putting up good numbers (13.3 ppg, 9 apg) but he has not been the on court leader, like he was last season.

Outside of Jermaine, their is no one on the Raptors that can guard an opposing big man. Andrea Bargnani is a weak defender despite his 7 foot frame and Bosh is too soft to bang with the Amare Stoudamire's and Lebron James. Even offensively the Raptors have struggled, relying too heavily on an outside game which has been inconsistent all year. When healthy the Raptors have shown signs of brilliance. Jermaine O'neal has been anchoring the Toronto Defence, which sorely lacks size and toughness. Unfortunately, he has endured a plethora of injuries throughout his lower torso this season which has hindered his play. As for Chris Bosh, he has been a disappointment as well. He came out the gates on fire, at one point this season Bosh was averaging close to 30 points points per game and ten plus rebounds per game. With Bosh tearing it up and Jermaine providing backup, the Raptors were winning games and exciting the fans of "Canada's" basketball team. Chris Bosh began getting some early season "MVP" chants at the ACC and that went straight to Bosh's head. He even stated that he wanted to be MVP this season. Well, the competition must of heard him because since that point he has barely been averaging 20 points per game and nine rebounds with shooting percentages lower than his career average. The Raptors lost a few close games, one to Portland at home and an overtime loss to Vince Carter and the Nets. The Raptors are heading into 2009 on a sour note. The Eastern Conference is not the weaker conference any longer and the Raptors will not get far into the playoffs with a .500 record. That's if they reach .500.

The East is filled with teams that are big, athletic and deep. The Pistons, Cavs, Celtics and Magic have played like they were expected to. Dwyane Wade has been the MVP of the NBA thus far and has carried the Heat to a respectable level. We expected the Raptors to be among the top four teams in the East. With the Raptors currently standing twelfth out of fifteen teams, they have proven that they are an overrated team which lacks, size, toughness, depth and leadership. If the Raptors don't start winning soon, they'll be on the outside looking in once again.
by Ranhvir Samra…
In an era where Major League Baseball is struggling with rule changes and steroid use, the accomplishments of baseball's best player lurks in the shadows. Each year Seattle Mariners superstar outfielder Ichiro Suzuki puts up "MVP like" numbers, 200 plus hits, batting average over .300, top five in stolen bases, triples and doubles. He has an outstanding throwing arm and covers the center field like the police presence at a metallica concert, top to bottom. However, his outstanding numbers almost remain unnoticed, more so this year than any of his previous 8 seasons. Could it be that Ichiro is so great that anything not record breaking is overlooked? Is it because of the city he plays in, Seattle, a small city (by U.S. standards) isolated in the Pacific northwest? Could it be that excellence has become expected of this man? It is a fact that the Mariners franchise have not enjoyed much success since their inception, even with Randy Johnson, Ken Griffey Junior and a young Alex Rodriguez the Mariners couldn't even muster a world series appearance in the 1990's.
When Ichiro arrived from Japan in the year 2001, the Mariners were struggling.
Seats were empty and rumours swirled that the team were going to move to another city. Ichiro, already a veteran of the Japanese league, came to Seattle and singlehandedly saved the franchise. He led the league in batting average, hits and stolen bases his rookie year and became the first rookie to win both the rookie of the year and MVP award since the early days of baseball (pre-1960's). Since that time, his play has only climbed to new heights. He owns the major league baseball record for most hits in a season (262 in 2004), the highest career batting average among active players (.333) and with 25 more hits this season, he will join Willie Keeler as the only players to ever accumulate 8 seasons of 200 plus hits. Consider that Ichiro has had at least 200 hits every year he has been in the major leagues, this only exemplifies his greatness. In his first 8 years, Ichiro has done what Wade Boggs, Tony Gwynn, Ty Cobb and the rest of the hall of fame members couldn't. Yes, Ichiro has not caught the injury bug and has remained relatively injury-free his entire career, this hasn't hurt his numbers, but Ichiro is a tough cookie. He doesn't speak much and has a quiet, confident demeanor. He is a small man, but very quick, muscular, possessing the hand-eye co-ordination of a cat.
To say that Ichiro's play goes unnoticed is an exaggeration, he has been a gold glove winner and a member of the American League All-star team each of his eight seasons, but one thing remains constant, the Mariners are still a losing franchise and an eternity away from making a world series appearance, let alone win. Fans in the Pacific Northwest readily identify the number 51 with Suzuki, but the rest of the baseball world aren't so observant. If Ichiro played in New York, L.A. or Chicago he would be a household name, how else can one explain how Derek Jeter or Jason Giambi manage to make so much money in salary and endorsements, while putting up numbers that pale in comparison to Ichiro? Jason Giambi is a joke, just look at that moustache he grew to bring him luck after struggling at the onset of the 2008 season. Ichiro also struggled early this season hitting only .259 for the month of April. Instead of acquiring new facial hair growth, Ichiro stuck to his convictions and got right back on the saddle. As of late August 2008, Ichiro is batting .311.
Ichiro has to be the greatest leadoff man in the history of baseball, even better than Ricky Henderson. He is the youngest player ever to amass 3000 hits (including Japanese league) and If all goes well this season, Ichiro will have NEVER had a season in MLB where he batted below .300, had less than 200 hits or less than 100 runs. His numbers are Gretzky-like but nobody seems to notice. At 34 years of age, Ichiro has a few great years ahead but will he fizzle out after reaching a certain age (See "Aging Athletes") or sustaining an injury? I sure hope not, Ichiro needs to be recognized as the most consistent and skilled baseball player today and perhaps of all time. In an era with instant replay, high definition television, satellite, television and radio coverage of all major league baseball teams, print media, blackberries and the almighty internet, how can it be that one of the all-time greats remains relatively unknown while the casual sports viewer knows who Jose Canseco, Babe Ruth or Barry Bonds is? Japan is known for creating high quality products which are reliable and high functioning, Ichiro Suzuki might be the greatest Japanese export and that is saying a hell of a lot.
By Ranhvir Samra…


It seems like we humans believe in "best before" dates. Like a loaf of bread, where Dempsters recommends consuming the product before a set date for optimum taste and freshness. The same can be said about sports and athletes. Wayne Gretzky, Michael Jordan, Joe Montana are a few of the athletes whose play deteriorated after reaching the age of thirty. Now many might say that Gretzky led the 1993 L.A. Kings to their only Stanley Cup Finals appearance at the age of 32, but anyone who follows hockey would also note that Gretzky struggled all throughout the 1992-93 NHL regular season and could not even lead the Kings to a playoff appearance the next season.
The wear and tear that a professional athlete goes through season in and season out is something that very few of us will ever understand. These athletes endure long hours of practice, pre-season games, training, road trips and worst of all, injuries. Professional sport is a business, first and foremost. Owners want to sell as many tickets as they can, for as much as they can. Athletes make much more money today than ever before and the expectations of the athletes are higher than ever before. When a fan pays $250 for a nosebleed seat to watch Peyton Manning and the Colts play, he or she wants to see Peyton pass for 300 yards, a few touchdowns and a Colts win. These lofty expectations are hard to achieve, even by the world's greatest athletes. So when an athlete such as Gretzky, Ken Griffey Junior, Jordan are not putting up numbers like they use to, fans become disappointed and so do the athletes.
When the L.A. Kings went downhill following their 1993 finals appearance, Gretzky wanted a change of scenary. He wanted out of L.A. because his one time loyal fans were expecting too much from an aging Gretzky. Injuries had taken a toll on his body yet his mind believed that he was still capable of leading a team to a Stanley Cup. Unfortunately this did not happen and Gretzky retired at age 38 scoring only 9 goals during his last NHL season. The same can be said of Michael Jordan. Arguably the greatest athlete of all time. Jordan retired in 1993 at the age of 30, he was a high flying, high scoring basketball God. When he returned in 1995, he was slower, less athletic and scoring much less. Despite winning another three NBA titles, he was no longer "Air Jordan". After retiring again in 1998, Jordan returned and played another two seasons for the Washington Wizards, where he did not do much and retired for good at the age of 40.
Nobody is to blame, age influences all of us. I've heard that "30 is the new 20″, however this adage cannot apply to professional athletes. We all would like to remember Jordan as he was in 1991 or Gretzky with the Oilers, Joe Montana with the San Francisco teams of the 1980's but we cannot forget the twilight of their careers either. What these athletes did on a regular basis during the prime of their careers, is what we expected them to do all throughout their careers, and despite this not occurring as often as we would like, we cheered with delight when the athlete showed glimpses of his "old self". So next time you see Alexander Ovechkin, Sidney Crosby, Lebron James, Peyton Manning play, enjoy the moment. Very few athletes reach their prime after the age of 30 and a setback or injury can prevent a "prime" from even occurring, just ask Michael Vick.