by Micheal Malcolm…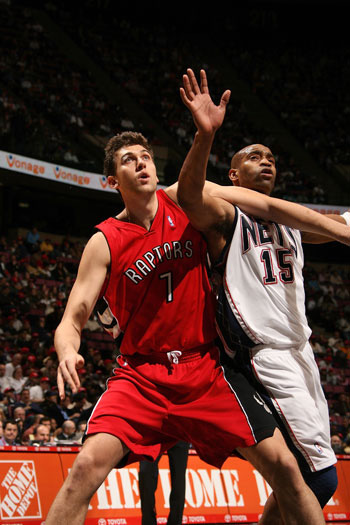 I would definitely say that the feeling in Toronto is beyond euphoric at the moment. Our fearless leader has certainly taken last year's edition and turned it in to a dynamic athletic squad with toughness and improving depth. I would think that all would be well in Raptorland…except in looking at the new contracts of our newest toy Hedo Turkoglu, and the extension given to our still improving big-man Andrea Bargnani I discovered something that has caused me to re-evaluate the situation completely.
We are all aware of the contracts that players receive in the NBA they make more money than most of us will in our lifetimes, they come with perks like private jets, tickets for friends and family, specific accommodations on the road, and the list continues. While I'm sure that Bargnani and Turkoglu got those wonderful add-ons to their contracts there is one small problem: It's called the early termination clause.
This clause cause Kobe to hold the Lakers hostage for more than two years, it allowed has saved Carlos Boozer from losing huge dollars in an economic depressed market. Frankly these clauses can unravel all the good will that can be built up during the course of the season.
Here is the breakdown Turkoglu's contract can allow an opt out in 2013 that's only 3 years from now granted it is unlikely he will re-enter the market considering that a 32 year old 'point forward' will likely be able to command sizable contract although his skill set will begin to erode after two years (you heard it here FIRST). So it appears that the Raptors may not be as safe in that regard. Turkoglu is not a guarantee to remain a Raptor for the duration of his contract.
Bargnani's contact poses more of a problem, as (I am assuming Bosh does not resign). A youthful Bargnani can opt out when he is 27. So basically the core of the Raptors would need to be rebuilt as Jack (provided he signs) contract will be complete, DeRozan will be seeking his first big contract at 22, Turk will be 33, Calderon will be 31. Four years does not seem like a large window in order to build a champion, only a reasonable contender.
So think about it we may have only three years of our 'savior' Turkoglu and four total of Bargnani. What is there to be excited about. Remember the key to long term success in the NBA is not a open checkbook but continuity. The game has changed but three years does not a NBA champion make, again it's just something to keep in mind.
While nothing is guaranteed in the NBA (where amazing, criminal, inept refereeing, and cover-ups happen) I have severely tempered my expectations based on this new information. It would have been great to not have to give these opt-out clauses to our key players but such is the nature of the business. It will be great to watch this team next year, and even the following one depending on who Colangelo will get in lieu of Bosh re-signing if he elects not to. However in year three I would be hard pressed to find a Raptors team at a championship level with the core aging rapidly and not enough youth other than DeRozan to be served. If this off-season is any indication I will withhold judgment against Colangelo until the time comes, as he has a way of foreseeing the landscape before any of us can.