by Christian Butzek…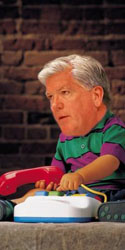 Leaf Nation breathed a sigh of relief when Brian Burke was announced as the club's new General Manager. The no-nonsense, straight-talking Burke was supposed to lead a turnaround for a franchise that's been a smash at the box office but a bust on the ice.
Sports lawyer Gordon Kirke scoured the hockey world in search of a saviour for a franchise which last celebrated a championship in 1967. Kirke initially set his sights on Detroit's Ken Holland, but his advances were rebuffed, so settled on Brian Burke, the man who many consider the best hockey mind in the game.
One year into his tenure, Burke has shown more bravado than good judgment, a flair for the coveted sound bite and a knack for showmanship.
In the off-season, he drew headlines with his headlines, vowing to pursue a deal for the Islanders first overall pick. "Whoever has the top couple of picks, we are going to go after them. We'll immediately attempt to move up," Burke said. "We're going to talk to everyone between us and the first pick and see what the landscape is."
Burke threw his colleagues a bone, dangling roster players and prospects to move up in the draft. But his fellow GMs wouldn't bite, and he walked away from the draft empty-handed.
His lack of moves were a blessing. Rumours abound that Burke tried actively to peddle all-star defenseman Thomas Kaberle as part of a package only to be denied. Where would the hapless Leafs be had he succeeded in moving Kaberle, one of the game's best puck-moving defensemen and the team's leading scorer?
Burke abruptly signalled a shift in strategy. No longer would the Leafs build through the draft; instead, Burke would pursue proven, young talent. Phil Kessel, a speedy winger caught in a contract dispute with the Bruins, was identified as a future 40-goal scorer and worthy of an offer sheet.
The irony of such a tactic was apparently lost on Burke who two summers ago publicly skewered Edmonton's Kevin Lowe for a similar move, calling Lowe "gutless" for signing Dustin Penner to an offer sheet with the Ducks up against the salary cap.
Throughout the summer, Burke sent Toronto sports fans scrambling for their dictionaries as "truculence" became the theme for the new-look Leafs. The off-season additions of Colton Orr, Grant Exelby, Mike Komisarek, and Beauchemin were supposed to make the Leafs tougher to play against.
Those moves raised eyebrows in Montreal where Bob Gainey and Jacques Martin questioned the Leafs physical approach. "It's a little out of character to where the NHL is going," Gainey said on the eve of the season.
Martin wasn't much impressed either. "They have a new (defence) and a physical presence there, but you look at the first three lines and they don't have any fighters there…you look at Detroit and Pittsburgh…they went to the Cup final (on skill, not fighting). That's the goal, to win the prize," he said.
Burke was adamant that he'd assembled a playoff calibre team. "We have higher expectations for this group. It's not the same group. We've made some changes. It's our goal and our intent to make the playoffs," he said confidently. Four months later, the Leafs are third from the bottom with no first round pick.
Somewhere along the line, Burke made a gross miscalculation on the talent level of this team. Last year's edition of the Leafs, defensive problems aside, scored in bunches. Part of Toronto's offensive woes is the result of Burke dumping 20-goal scorers Dominic Moore and Nikolai Antropov at last year's trade deadline.
Of course, the season didn't start without another controversy landing on Burke's lap. This time he was involved in a dust-up with Canucks GM Mike Gillis who filed tampering charges against Burke, who revealed the players involved in a potential Canucks-Lightning draft day deal.
Burke is no stranger to spilling the goods. Two years before, Burke drew Gainey's disdain for disclosing the latter's private discussions at the 2007 entry draft.
At the close of last season, Burke spoke with the media about what he called "Blue and White" disease, a term he used to describe players who had grown too complacent playing in Toronto. One wonders whether Burke confused "Blue and White" disease with "foot in the mouth."
And so as the season inches forward, the albatross around Burke's neck grows heavier with each Leaf loss. Has he indeed, unwittingly, dealt the first overall pick to the Boston Bruins? Worse still is the prospect that the Leafs flounder again next year and lose another top draft pick. But fate could not be so cruel as to deny the Leafs two first overall picks.
In a short span, the on-ice product has gone from bad to worse, thanks in no part to Burke's moves, acquisitions, strategy, and approach. And with no draft picks, this year or next, the immediate future looks bleak.
The GM renowned for his intellectual acumen and front-office skills has dug himself into a quagmire with the Kessel deal. Time will tell whether he can dig himself out.
More than 1,000 boats and hundreds of booths showcasing the newest boating products, accessories and services, will fill the Direct Energy Centre January 9-17, 2010 at the 52nd annual Toronto International Boat Show. With special deals on everything from canoes and cruisers to engines and electronics, plus the Discover Boating Centre, find out why life is better with a boat! Get ready for the return of everyone's favorite show-stopper, The Lake, and find out why the Toronto International Boat Show is the ideal place to enhance any boating experience and kick off the 2010 boating season.
"There is no other boating event in Canada that gives new and experienced boaters the opportunity to shop the best and biggest selection of boats and accessories while allowing them to experience all the fun that the boating lifestyle has to offer," noted Cynthia Hare, show manager. "With thousands of products to choose from at unprecedented deals, the 2010 show offers something for every lifestyle, activity and budget."
2010 Toronto International Boat Show Special Attractions
The Lake is back!
– The world's largest indoor recreational boating venue is returning to the 2010 show at Ricoh Coliseum. Novice and experienced boaters can get their feet wet by taking advantage of free boat rides from Discover Boating in canoes, kayaks, paddleboats, and for the first time, inflatable boats. The Lake also features spectacular wakeboarding demonstrations from the pros; boat handling demonstrations and more. Containing more than one million gallons, The Lake takes three days to create and offers an educating and entertaining experience second to none.
Discover Boating Centre
– Whether an experienced boater or a novice, there's something for everyone at the Discover Boating Centre. Learn from experts about what boat is right for your lifestyle;receive information on courses and boating destinations; plus much more.
NEW! Pre-Show Shopping
– The Toronto Boat Show's newest online offering allows attendees to pre-shop the 2010 show for the greatest deals on the newest boats by visiting TorontoBoatShow.com. Show goers can plan ahead and search boats by brand, model and more, in addition to scheduling dealer appointments onsite or at the dealership


New Product Showcase
– If there's a new product on the market, one of the first places to find it is on the floor at the Toronto International Boat Show. The latest and most innovative products fromeye-caching boats to handy new boating accessories will be featured at individual exhibitor booths. Just look for the "New Product" starburst sign.
Wakeboarding and Wakeskating
-
The buzz was everywhere, the show was totally wet and wild last year and they're set to do it all over again! The Winch Jam is reloaded and the boarders and skaters are ready to entertain at The Lake with spectacular grinds, tricks and flips on the world's largest indoor lake.
Return of Henry's Fish House of Georgian Bay –
This January, the famed Henry's Fish House returns to the show with a temporary restaurant set up ready to freshly prepare their world famous fish dishes. Henry's is a favourite destination for thousands of boating enthusiasts looking for a taste of summer. Henry's permanent location is on an island in Georgian Bay, open only in summer with access by boat or seaplane. Plan to meet your friends at Henry's with its licensed bar, vibrant atmosphere, plenty of seating and great food!
Duma, the Waterskiing Dog Returns! -
Back by popular demand, Duma is making waves again at the Toronto Boat Show. This five year-old Jack Russell Terrier not only water-skis but also drives the boat on The Lake. It's an awe-inspiring, entertainment-packed show perfect for the entire family. Duma will meet her fans for photos and more after each show, twice daily, January 15-17.
Great Canadian Fish Tank
- Canada's top anglers, including the legendary fisherman and TV host Bob Izumi, will reveal the mysteries that lie beneath the surface of Lake Ontario during daily seminars at the Great Canadian Fish Tank, a 40-foot long aquarium filled with 5,000 gallons of water and stocked with native Ontario marine life. The host of Bob Izumi's Real Fishing Show will conduct two exclusive seminars with an autograph session from 1:30pm to 3:30pm on January 16th presented by BoaterExam.com.
Kids Boating Zone –
The love of boating can start at any age so why not start them young at the Kids Boating Zone where the Toronto Boat Show has created a safe and fun place for kids to take a break from navigating the show floor. Mom and Dad can watch as the kids enjoy paddle boating on a mini-lake specially designed for kids only.
Kids Fishing Zone
- Parents can share the thrill of hooking a big one at the Kids Fishing Zone—a live trout pond at the Toronto Boat Show.
Expert anglers and television hosts Leo Stakos and Ron James of Rogers Sportsnet—Fish TV will take children from their first cast to their first catch with plenty of laughs in between.
FREE Boating Seminars
– Some of the biggest names in boating share their insight, experience and expertise to help boaters of any age or stage expand their knowledge. With something for everyone, the Presentation Centre (just outside Hall B in the Direct Energy Centre)is the place to sharpen any boating skill.
Sailfest
– The feature area hosts a variety of sailing yachts, all open for boarding, plus the latest dinghies and inflatables. Yacht clubs, sailing associations and cruising destinations are also on hand for every sailor's needs.
Cottage Country
– Boating and cottages go hand-in-hand, and the show's Cottage Country provides everything for the home-away-from-home. Located in the East Annex (next to The Lake), Cottage Country showcases water skis, wakeboards, canoes and kayaks. Just look for the full-size cottage built by Confederation Log Homes.
Build-a-Boat Contest
- Parents get in FREE when their kids make and bring a mini-homemade boat, which will be on display throughout the show. A panel of judges will select the top ten, and then a random draw will be held to determine the two grand prize winners – prize consists of a "turbo paddller" paddle boat donated by Do It Industries.
Boat Show Specials
- Watch for "Boat Show Special" signs highlighting great bargains available only during the Show. "The best place to see boats is the best place to buy one!"
When
: January 9 -17, 2010
Saturdays 10:00a.m.- 7:00p.m.
Sundays 10:00a.m.- 6:00p.m.
Weekdays 11:00a.m.- 8:00p.m.
Where
: Direct Energy Centre, Exhibition Place
$20 unlimited weekday evening pass (4:00-8:00p.m.)
Youth 16 and younger get in FREE (when accompanied by an adult)
Discounts: $2 off advance tickets available for purchase online Jan. 9-17; Toronto Star Tuesday $3 discount; $3 discount coupon from Pizza Pizza
Info
: Consumers interested in learning more about the 2010 Toronto International Boat Show can visit TorontoBoatShow.com for complete details or call
.
Twitter
– Follow us for frequent news and exciting updates.
Facebook
– Become a fan of the .
About the Toronto International Boat Show
The Toronto International Boat Show is produced by the National Marine Manufacturers Association (NMMA), the world's largest producer of boat shows. NMMA is the leading association representing the recreational boating industry in North America. NMMA member companies produce more than 80 percent of the boats, engines, trailers, accessories and gear used by boaters and anglers in Canada and the United States.
The Toronto International Boat Show is a proud member of the International Federation of Boat Show Organizers (IFBSO), a prestigious organization of recreational marine event organizers who provide a forum for the worldwide exchange of ideas and global cooperation.
by Oliver Suarez
… Although it is not etched in stone yet, the probability of the most anticipated fight since Oscar De La Hoya vs. Felix Trinidad happening is very good, according to recent reports.
There have been a number of great fights throughout the years, but few come close to the drama and storylines that this fight provides.
I can't remember a fight of this magnitude, involving two fighters who are so different from each other in so many aspects. You have arguably the most arrogant and talkative fighter facing the most humble fighter in the sport.
Also, has there ever been a bout between the best defensive fighter and most feared offensive fighter who are both also considered as the best pound for pound fighter? The only matchup that might come close is the first bout between Ali and Frazier.
But was Joe Frazier considered the most feared and best pound for pound fighter at the time? George Foreman was probably feared more than Frazier as he was knocking guys out left and right during that time.
What makes the fight more fascinating is that this is not your typical fight between a pure boxer and a slugger. Both possess extraordinary athleticism and are complete fighters in their own way. It's not a light hitting Pernell Whitaker against a slow Julio Cesar Chavez.
There is also a sense of irony when you analyze their career. Pacquiao keeps on surpassing all the expectations bestowed upon him and has arguably reached the greatness many expected from Mayweather. Mayweather's career and greatness, on the other hand, seems to have reached a plateau because of the decisions he has made.
Just imagine the story lines preceding the fight. The 24/7 episodes might attract more viewers than most pay per view fights in recent years.
This matchup reminds me of a Rocky movie. You have an arrogant, flashy, and talented fighter going against a fighter who came from nowhere to achieve greatness that many did not expect from him. There's no doubt that this fight will be talked about for years to come, even if it doesn't live up to the hype.
Now let us analyze the popular opinions from both fighters' loyal and boisterous fans.
The Myth:
Mayweather can only win via a decision.
The Fact:
Mayweather may not be a puncher of the caliber of Cotto or Mosley, but he does have some pop to go along with unbelievable hand speed. The main reason he hasn't knocked out more people is because of his safety first style. If Pacquiao discounts Floyd's power and becomes too reckless, then he might be a victim of his own medicine via a punch he didn't see coming courtesy of Floyd's lightning fast hands.

The Myth:
Mayweather can easily outbox Pacquiao all 12 rounds en route to a convincing decision victory.
The Fact:
It's often stated that Morales' win and Marquez's competitive fights against Pacquiao provided the blueprint to defeat Pacquiao. But why has nobody beaten Pacquiao since the first Morales fight? Marquez and Cotto found success when they boxed from a distance and used their counter punching ability to control Pacquiao. Why couldn't they sustain it for the whole fight?
It's because Pacquiao's improved his boxing skills and ring generalship tremendously since the first Morales fight. Pacquiao also forces his will on his opponents with his constant motion and fluid combinations from all angles.
Furthermore, he's an unorthodox fighter whose offense is probably his best defense. He can punch on his toes and throw combinations while moving side to side or in and out. His fast twitch muscles in his legs also allow him to close the gap between him and his opponents quickly.
You think you're at a safe distance, but then he hits you with his naturally loaded gloves and follows it up with a flurry. Mayweather may have faced fast fighters before, such as Judah, but none of them posses the quickness of Pacquiao.
All of this, combined with his incredible stamina, forces his opponents to become hesitant to pull the trigger and throw counter punches consistently. Even with his defensive skills and patented shoulder roll, Mayweather will definitely be forced to fight at some point.
The Myth
Mayweather can cruise to a victory by fighting the same way as he did against Marquez.
The Fact:
If Mayweather thinks he can continue to throw only a few punches a round and potshot his way to a victory against Pacquiao, then he's bound to be disappointed at the end as Pacquiao will win via a decision by outworking him. For Mayweather to defeat Pacquiao, he needs a multifaceted game plan, which might include being more aggressive and attacking Pacquiao at times to change the pace.
If he doesn't, then Pacquiao can adjust and find his rhythm, which could spell disaster for Mayweather. He can't rely on his defense alone, especially if he's on the ropes, as Pacquiao will keep throwing punches and punish him unless he wants his shoulder roll to be called the separated shoulder roll at the end.
The Myth:
Pacquiao's straight left will be as successful against Mayweather as it was against his past opponents.
The Fact:
Mayweather's 5" advantage in reach, along with his defensive skills, will make it difficult for Pacquiao to land his patented straight left. De La Hoya enjoyed a reach advantage too, but he didn't fight tall by not using his jabs enough and often fought looking like the hunchback of Notre Dame.
Mayweather has a great jab, and what cannot be overlooked is his ability to throw a punch while keeping his head back at a safe distance, which makes it hard for his opponents to counter him upstairs. Manny Pacquiao will need to use angles and throw more combinations to the body and then maybe follow it up with another flurry upstairs ala Aaron Pryor.

Prediction: I will hold my prediction until the contract for the fight is finalized and the specific date is set. Unbeknownst to some, Manny didn't leave unscathed in his last fight. He suffered a few injuries such as a swollen hand and broken eardrum.
The tentative date of Mar. 13, 2010 for the fight may be too soon for Pacquiao's injuries to fully heal. We also have to take into account that he is running for Congressman and will surely be busy campaigning.
Check out Oliver on his blog Sportz Hype Boxing
by Nadia Rosa Cescato…

The Toronto Maple Leafs seem unable to string together three wins in a row, dropping a 3-0 game to the Buffalo Sabres. Buffalo goalie Ryan Miller was outstanding in his 15th career shut out. Leaf Komisarek returned after being off 8 games due to injury and in the second period Gunnarsson went off with what appears to be a serious shoulder injury. Tonight Toronto plays Montreal.
by Michelle Dunn… One year
ago tonight the anthem played for Individual Gold medalist Eric Lamaze,
and this year it played for his Olympic Silver medal team-mate Jill
Henselwood. She was a hair too fast opening night, and a hair too slow
the second night, but managed to get it just right tonight to win the $100,000 CN FEI World CupTM Qualifier Grand Prix
at The Royal Horse Show. Fellow Canadian and past Olympian Beth
Underhill picked up second and Ireland's Dermott Lennon held on for
third.

Twenty-four horses started the class tonight, over
the extremely challenging course designed by Anthony D'Ambrosio of Red
Hook, New York. Just five were able to master the first round to
qualify for the jump-off, over a shorter but more challenging course.
D'Ambrosio most notably designed this year's Rolex FEI World CupTM Final, in Las Vegas, USA.

"It was a real riders course," said Beth Underhill following the class.
"It was very visual for the horses with lots of colour and you really
needed scope to get through the combinations. You had to be spot on –
the distances, angles and widths were tough."

Both riders
agreed you had to know your horse and know going into the ring what
your strategy was going to be, if you were to elude trouble.

"You have to have enough experience to know what your horse does well,
and what he finds hard," explained Henselwood. "I've known Bottom Line
for a long time, I've trained the owner Jenn Serek and the horse for
years. I know she's naturally a little 'hot', and I know she needs a
mental re-group at spots on course. So I had to go inside to the second
jump or I was going to have another time fault!" she laughed, referring
to her opening weekend in the Canadian Championships.

"I
decided against going inside to the second jump," said Underhill,
outlining why her strategy was opposite to that of Henselwood's. "I
thought it was a bad decision for my horse because he tends to jump a
little high at times and not cover the width. I think going around to
the second fence just found me a better rhythm and better course
overall."

Earlier in the evening, Greg Aziz and family, the
owners of Underhill's mount Top Gun, were honoured in a special
presentation naming them the Jump Canada Owners of the Year. Aziz
bought his first show jumper in 1999 and has been an avid supporter of
Canadian equestrianism ever since. His Iron Horse Farm has also
supported youth agriculture at The Royal for many years.

This
afternoon also saw the Grand Prix phase of the CDI 3* Dressage
presented by Dominion Regalia with 2008 winners Ashley Holzer and Pop
Art were once again at the top of the pack with a final score of
71.830, more than five points better than their closest rivals.
When asked about her short and long-term plans, Holzer responded: "My
total focus is on the FEI World Equestrian Games that will be held in
Lexington, Kentucky next year, nothing else."
Her partner,
Pop Art is an 11-year-old Dutch Warmblood gelding that she imported
when he was six. "It is a very special partnership," Holzer enthused.
"He's a terrific horse. In just over a year he has travelled to Hong
Kong, Florida, Las Vegas, New York, Hickstead and now Toronto."

The hugely popular Freestyle to music headlines the Royal Horse Show Thursday evening, following the inaugural $50,000 Royal Team Challenge for International Jumpers.
This year's Royal Horse Show continues all week with a full slate of International jumper classes including the $50,000 Weston Canadian Open
Friday evening. The event runs through November 15th. By the time the
competition ends, nearly $750,000 will have been awarded in prize
money, making The Royal the most prestigious and hotly contested event
of the season. For more information, media accreditation, live
webcasting, complete schedule, results and to purchase tickets, please
visit www.royalfair.org.
$100,000 CN FEI World CupTM Qualifier Grand Prix

Rider / Hometown / Horse / Faults:Time
1. Jill Henselwood / Oxford Mills, ON / Bottom Line / 0.00 : 36.35
2. Beth Underhill / Schomberg, ON / Top Gun / 0.00 : 37.86
3. Dermott Lennon / Ireland / Hallmark Elite / 0.00 : 39.36
4. Ljubov Kochetova / Russia / Aslan / 0.00 : 39.36
5. Charlie Jayne / Elgin, IL / 8.00 : 37.27

Attached Photo: Olympic Team Silver medalist, Canada's Jill Henselwood took top spot in the $100,000 CN FEI World Cup Qualifier Grand Prix with Bottom Line.

Photos © Michelle C. Dunn 2009.
by Mike Blakoe…
Have you ever seen a Snowmobile Fly?
…Well you will on the weekend of October 16, 17 and 18 at the Toronto International Snowmobile, ATV & Powersports Show!
In its 22nd year, the Toronto International Snowmobile, ATV & Powersports Show is the world's largest Snowmobile & ATV show with a world-class reputation. With over 500,000 square feet of "everything snowmobiling and everything ATVing", there is something for everyone.
TD Insurance Home and Auto has returned as the presenting sponsor. "We are thrilled to be onboard again this year and show our support to snowmobile and ATV enthusiasts across Canada". Said Alyson Dimitriw, Vice President, TD Insurance.
The Toronto International Snowmobile, ATV & Powersports Show has grown to encompass Halls 1, 2, 3, and 4 in 2009. Just outside the Snowmobilers Clubhouse in Hall 4, is the Outdoor Events Area, sponsored by Royal Distributing. It will feature the Ultimax Freestyle Snowmobile Event with; Two-time Winter X Games Gold Medalist Joe Parsons; World Record holder, Snowmobile Back Flip of 117 feet, Sam Rogers; and Canadian Jeff Mullin. They will thrill crowds while performing extreme stunts including, back flips & tricks on their modified snowmobiles all weekend long. Former Gold Medal Winner, Chris Burandt will be signing autographs and announcing this thrilling demonstration of skill and agility. This year is proving to be our most exciting show yet.
New to the 2009 show is the Can-Am demo track, where attendees will have the opportunity to ride Can-Am ATVs. There will be ATV and Snowmobile racing, manufacturer corporate displays, kids racing and fun for the entire family. Come out and be part of this exciting and fun filled weekend at the 22nd Annual Toronto International Snowmobile, ATV & Powersports Show!

The Toronto International Snowmobile, ATV & Powersports Show takes place on Friday October 16, Saturday October 17 and Sunday October 18th, 2009 at the International Centre. Doors Open Friday at 1:00 pm. For more information visit www.torontosnowmobileatvshow.com or call
.
by Laura Bridgman…

Hard to believe it has already been four years, but Canada is looking to stand atop the medal podium yet again. No, we're not talking Vancouver 2010. We've got our eyes fixed on the World Lacrosse Championships. This is one battle that will be decided on the field.
Toronto Rock players Stephen Hoar, Phil Sanderson, Tyler Codron, Garrett Billings, and Joel Dalgarno have been invited to the 2010 Team Canada selection camp taking place this weekend from Friday, October 9 till Monday, October 12 at St. Michael's College School in Toronto.
The five Rock members are amongst a list of 59 men vying for 23 spots on the final national roster. The team will compete in the 2010 Federation of International Lacrosse World Championships in Manchester, England from July 14 to July 24, 2010.

Having already tasted Gold with Team Canada in 2006, Hoar heads into tryouts with some stiff competition.
"It will be really tough," said Hoar. "There are four or five guys competing for my position. They are all great players that will compete hard."
The selection camp will be a chance for the other Rock invitees to make their first appearance on Team Canada.
"A proven winner at all levels of lacrosse" according to Rock head coach Troy Cordingley, Sanderson made his professional field lacrosse debut in May with the Major League Lacrosse Toronto Nationals. As a member of the championship summer team, Sanderson traded his box short stick for the field game's more traditional defensive long-pole.
Western Canada is represented by Billings and Dalgarno, two of the newest Rock additions. Both drafted in the first round of the National Lacrosse League 2009 Entry Draft at the beginning of September, the B.C. pair bring with them field experience from the University of Virginia and Ohio State University, respectively.
Codron, a Port Coquitlam, B.C. native, will be sidelined at tryouts due to injury. While playing football with the University of British Columbia Thunderbirds, Codron tore his ACL and will undergo surgery this month. The Rock picked-up the young defender with the second overall pick in the Portland LumberJax's dispersal draft this off-season.
National tryouts will feature some other NLL familiar faces like Brodie Merrill, John Grant Jr. and Mark Steenhuis, and will be ripe with the fresh talent of youngsters Bobby Snider, Brock Sorensen and Jamie Lincoln. No matter the outcome of the selection camp, Team Canada looks to defend their title in England in the summer of 2010.

"I think it should be a close group of guys, like in '06," adds Hoar. "It will again be about the 'team' and not about any of the individual players."
The Team Canada selection camp at St. Michael's College School is open to the public and free of charge. Come out Saturday, October 10 and cheer on your Rock players as they work for their spot on Canada's team. The first Red vs. White scrimmage is from 9:00 a.m. to 12:00 p.m. and scrimmage two will be played from 6:00 p.m. till 8:00 p.m.
For more information on the Team Canada selection camp visit their website at www.teamcanadlacrosse.com
by Laura Bridgman…

The Toronto Rock Lacrosse Club have signed Kasey Beirnes, Scott Campbell, Phil Sanderson, Sandy Chapman and Dave Cutten for the 2010 National Lacrosse League (NLL) season.
Kasey Beirnes and Scott Campbell will remain in a Toronto jersey for the next two seasons. In 2009, Beirnes recorded 23 goals, 15 assists and scooped 86 loose balls for Toronto while Campbell scored five goals, assisted on two others and picked up 93 loose balls.
"I expect Kasey to be one of our go-to guys," said Toronto general manager Terry Sanderson. "He's an underrated offensive player and I'm excited we have him for two years."
Sanderson remembers why he originally traded to get Campbell in a Rock jersey back in the 2005 off-season.
"Over the years Scott has proved that he plays for the team; he'll always put the team before himself," said Sanderson. "He shows great leadership and just keeps getting better."
The Rock also signed Phil Sanderson, acquired in July from the Buffalo Bandits, to a two-year deal. Sanderson became a member of the Toronto Rock in 2005 winning the NLL Champions Cup with the team that year. He stayed in Toronto until mid-way through the 2007 season when he was traded to the Buffalo Bandits.
"Phil is an unbelievable leader in the dressing room and on the floor," said Rock Head Coach Troy Cordingley when the Rock first acquired Sanderson. "He is a proven winner who has won at every level of lacrosse that he has played in."
Sandy Chapman returns to the Rock roster on a two-year deal after playing with the Rochester Knighthawks for four seasons. The Toronto-born Chapman was the Rock's first round pick in the 2001 NLL Entry Draft. During his time with the Rock, the defender won the NLL Champions Cup three times ('02, '03, '05), recorded 37 points (12 goals, 25 assists) and collected 124 loose balls in 44 games played.
"Sandy has to be one of, if not the most, underrated players in the League," said Sanderson. "They just don't come any better."
Toronto has signed Dave Cutten to a one-year deal. Sanderson knows Cutten's quick and physical style will prove difficult for any opponent.
"He's the kind of guy any player wants on his team, but never wants to play against," said Sanderson. "Cutten hasn't had the chance to play in the NLL yet, but we've watched him extensively in the summer season. He runs the floor really well and is what we call a ball hound."
A member of the KW Kodiaks for Major Series Lacrosse, the defender recorded one goal, seven assists and 18 penalty minutes through 16 games this summer.
The Toronto Rock open their 2010 home season on January 15 against the Boston Blazers at the Air Canada Centre. Season tickets are now available for all eight Rock home games. For more ticket information please contact the Rock office at.
by The Captain…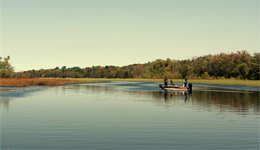 Fish Blast has blasted off to a successful start. I take people fishing to my favourite lake in the Kawarthas, Lake Dalrymple. On Friday I had the pleasure of having Aisling, her boyfriend James and her dad Dave come fishing with me. Aisling and James are from London, England and were transplanted to Toronto by their companies. They have been here for 18 months; Dave is Aislings father and is here for a two-week visit. Aisling found me by googling "fishing, Kawarthas", and she booked a weekend for the three of them.
I picked them up at 7pm at Wilson Subway station and in a few minutes we were on the 400 and on our way. Dave is from Ireland and is an avid fisherman, mackerel and trout he tells me. This was his first experience at fishing in Ontario/Kawarthas. James is from Nottingham Forest area, Robin Hoods hang out, and he has never fished in his life.
The weatherman was scaring us with a wet forecast. After a quick stop in Orillia for food and brown pops we were on our way to Dalrymple. Friday evening was just lovely, perfect night to gaze at the stars and enjoy a few brown pops. After chatting about anything and everything we hit the sac.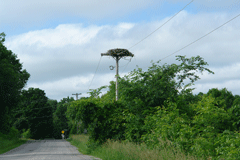 Saturday morning was overcast but warm. I provided the tackle and asked them what and how they wanted to fish… I gave them the option of working the rod and reel or getting some live bait and doing some lazy man fishin', as I like to call it. Lazy Man fishing it was, after a quick stop at the minnow shop we were on the lake, the first hour produced a couple of perches but nothing substantial. After a great BBQ lunch, we headed back and hit the lake at 5pm. After a few minutes Dave was stuck in the weeds, at least that's what everyone thought, accept Dave, he new he had a whooper. After a 20-minute fight he landed what was his first ever northern pike, 26″ and a fatty. After a few photo ops we send the pike on its way. Not sure who was more excited, Dave, Asling or I. I was glad that at least one big monster landed in the boat. Dave couldn't stop talking about his catch. A few minutes later I landed a largemouth bass and just before we were ready to head back a catfish, nice size too. We headed back to a pork chop BBQ. The rain starting just before we got settled to watch "The Perfect Storm". Thought-out the movie, Dave was rubbing it in to his future son in law, about his lack of luck on the lake, all in good fun.
Everyone slept in, and by the time we got the coffee and breakfast, thanks to Aisling for a tasty one, we we're on the lake at a respectable 11am, all the fisherman have gone for the day and we were getting started. Everyone was happy to take a few photos, watch the Osprey fish, with no expectations. Well 20 minutes later, boom, James caught his first ever pike/fish, than another 15 minutes later. Well there was a lot of excitement from Dave telling James how to land the fish, Aisling taking video and holding the net to bring it in. Dave made sure to take the hook off and get a few photos of himself with the fish. James was ecstatic.
After a great chicken breast BBQ, if I do say so myself, we decided to go back out for another hour and do some more fishing. The sunset was great as always, and everyone got himself or herself in a picture. The loons were out fishing and nature provided an amazing backdrop as the leaves started to change colour. Just before heading back in we had a few strikes but didn't land anything until James caught his third pike of the day and declared himself the champion of the weekend. Dave did point out that his one was bigger than the three James caught put together.
The weather held out, a little rain, but overall another great weekend. The company was great, the Lake produced as always (I practice catch and release and encourage everyone to do so too) and the food was outstanding. On the way back we talked about the fish and the ones that got away. I dropped them off at home, we said our goodbye's and they promised to send me the pictures of the fish. After a group hug, Dave tells me he'll be back next year and might bring a couple of friends with him next time.
"Fish Blast" is a T.O. Sports Magazine's sponsored event. Every day we take you fishing. It's our NOboat, NOcar, NOproblem promotion. We provide everything (you bring your own food and brown pops). Round trip transportation, two nights accommodation, boat, fishing rods and tackle too, if you don't have your own. The cost is a very down to earth $219/pp. We are booking for next year already and have a "daily fish blast" package for $129/pp. Same as the weekend accept only one night accommodation. Get in touch with us, and come fishing to the Kawarthas…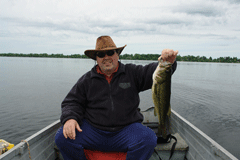 Just to let you guys know that the Sports Film Festival is about to start this Friday. This is the second year of the festival and I hear it's bigger and better, just like South Park, The Movie. I posted the media release I received from them with more information… check it out! for more info check out their web site www.sportfilmfestival.ca
The Canadian Sport Film Festival is proud to announce the inclusion in its 2009 programme of a number of films that highlight the individual challenge of athletic accomplishment.
Paddling for a Cure
A day before one of the most popular athletic breast cancer fundraisers, the Canadian Sport Film Festival is featuring a remarkable group of women, striving to be active while battling a terrible disease. Pink Paddlers profiles a group of women in Singapore who form their own dragon-boat racing team – on the basis of medical advice from a Canadian doctor – to build both physical strength and communal bonds. The women of Pink Paddlers end up competing in the first-ever Breast Cancer Survivor Dragon Boat World Championship. Screens with Long Distance.
>> It is expected that a Canadian competitor will be in attendance and available to the media.
>> Saturday, October 3, 4pm, Innis Town Hall: Pink Paddlers, Long Distance
Can-con: Two Canadian features presented in partnership with the National Film Board of Canada Mediatheque
From sea to shining sea, journeys across the breadth of Canada are the stuff of national mythology. For Mike Beauchamp it was one long bike ride, and far from romantic. The trials and tribulations of his journey are the subject of The Cross Canada Project, an intimate cinematic diary.
>> Director Mike Beauchamp is in New Zealand and unavailable, but another cyclist, Ben Verboom (www.cycletohelp.org), will be in attendance, talking about his experiences riding across the country for charity. He will available for media on Saturday.
Next, for a long time the only women in boxing rings were strutting around in bikinis announcing the next round. That isn't true for Savoy Howe and the boxers at Toronto's Newsgirls club. Punch Like A Girl profiles the variety of women who gravitate to the ring, from an amateur hoping for Olympic glory as a way to avoid deportation to the jazz pianist who claims to be Canada's oldest amateur boxer.
>> The directors of Punch Like a Girl are tentatively scheduled to attend the screening.
>> Saturday, October 3, 1:30pm, Innis Town Hall: The Cross Canada Project, Punch Like A Girl