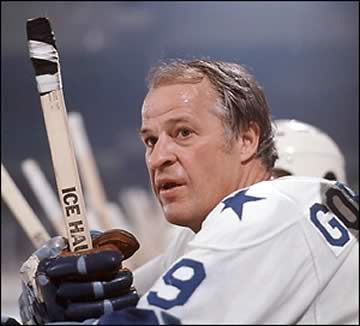 by Ron A. Melihen… Why is it that when a professional athlete decides to retire these days it doesn't really mean they are retiring for good.
These days retiring seems to mean, I am holding a press conference to announce my retirement…but just in case I change my mind I will be back since I feel I can still contribute. Lately I have been following the Brett Favre saga. After a great year where he put up career numbers and almost made it to the Super Bowl Favre decided he has done all he could and the time was upon him to hang up his cleats. Being an NFL fan and an admirer of his I was sad to see him go but also happy with the thought of seeing a great player going out on top. Too frequently do players overstay their capabilities and keep playing only to tarnish a fabulous career, one example that comes to mind is 'his Airness', Michael Jordan.
Jordan hung around way too long and made himself look foolish trying to capture the fame he had since his college days at North Carolina. He even went as far as too try to make the bigs in major league baseball and we all remember how that turned out.
Regular people have the set age of 65 when they are told they can sit back collect old age pension and enjoy the twilight of their life. I understand that many are still productive at age 65 but retiring will open the door for the younger generation to make their mark. How come the same is not said for athletes?
Yes there are phenomenons of nature that at age 40 or more can still productively play pro sports but that's the exception and not the rule. There are only a few Chris Chelios types or Gordie Howes out there. The sad fact is that there are more Evander Holyfields or Mike Tysons out there and they never know when to quit.
Favre is probably still able to play a role on an NFL team, either as a starter or a back-up, but why tell the world you are retiring when you really want to keep playing. Maybe there should be an age limit put on athletes so we as fans don't have to watch a grown man squirt out tears telling us how much he loved the game and now feels the time is upon them to ride out into the sunset.
Do us all a favor Favre and retire now and allow us to remember you for all the two-minute drives you so ably handled and all the tough times in your personal life you overcame to stay strong and do what many of us only dream of. Yes Favre, Clemens and the Neidermayers of the sports world when you tell us all you are retiring make sure it is for good and if not then keep it to yourself and only leave when the fat lady has sung and the music fades out and you really, really mean it.
by Ron A. Melihen…
Turn off the lights the party's over, the fat lady has begun to sing and another season is in the books.
These are all clichés used to signal the end of something in the sporting world, but wait a minute it's only the second week of July and the Blue Jays brass is already looking forward to next season. Isn't that just another way of saying, "we tried this year but watch out for us next year?" We did our best but came up short, it's no one else's fault but our own. These are the words that come out of the mouths of losers.
They are last place in the East division, 12 and a half games out of first, seven teams are ahead of them in the wild card race and half the season is done. Any handicapper would probably say the chances to make the post-season are slim and none and by the way slim just left town.
I would agree, the chances to squeeze into a playoff spot are not realistic but if you are the people running this team why are you already talking about next year. Die-hard Blue Jay fans, the ones that fill the seats at the Rogers Centre, don't want to hear, "well we had a bad season and thought we were a better team but next year will be different." Save those speeches for the end of the year when you really are looking ahead after not making the post-season…again.
Any true fan of their team will always believe they have a shot, if only they can get on a winning streak. Yes that is always a possibility but you have to remember in baseball, unlike many other sports, the teams ahead of you must go on losing streaks while you are winning. That is where the chances start to diminish, since teams that far behind must have many different factors come together to give them a chance to make it.
Even with reality working against the Jay's chances this year, why in heaven
would any coach, manager or any other member of the brass even give the notion to fans this early in the season that they might as well not follow the team since they are not going to the playoffs anyway. The marketing people for the Jays have a hard enough time filling the seats when the team can't even beat the worst team in the majors.
For all the loyal Jay's fans out there, don't throw in the towel because miracles happen and cheering the team on even when the chips are down is what true fans are really all about. Go Jays Go!
by Ron A. Melihen…
Well another Grand Slam event is over and guess who won?
If you guessed one of the Williams sisters then your chances of being right were 100 per cent. Even though they are usually some were around the finals, this year at Wimbledon was one of those times when both Venus and Serena made it to centre court with Venus taking home her fifth Wimbledon singles title.
The sisters are not new to the idea of meeting for the championship, they have faced each other in 7 previous Grand Slam finals, but this year seemed to be the most unlikely since they have not had their best games leading up to Wimbledon.
The All England Club was all abuzz with the two siblings renewing their rivalry and keeping it in the family. Venus has won more Wimbledon singles titles but she has not fared that well against her little sister the last few times. Serena, 26, has held up the gold plate the last two times they met but big sis Venus, 28, was not going to let Serena hoist the gold a third straight time.
Through the years players like Navratilova, Graff, Hingis and Billie Jean King have won championships and dominated the sport but no two sisters/brothers have ever came close to doing what these young ladies are doing right now.
What we are being witness to is absolutely phenomenal and we should all take the time to soak in the euphoria of something that doesn't happen too often in any sport. How many siblings have been able to face each other, even once, in a final of any sport let alone seven times in major competitions? I bet through the years they have played each other in tournaments of lesser stature hundreds of times but to hit the courts together for 7 Grand Slam events, wow! People, take the time to watch these girls play because we are certainly seeing history in the making and I don't think we will witness something like this for a long time.
by Ron A. Melihen…
Get your rod and reel ready because this is the only weekend of the year when you don't need a license to enjoy the great outdoors and get in some fabulous fishing.
If you are looking for a great way to spend the day then you are in luck. No fishing license is required if you plan to do some fishing this weekend. The weatherman says it should be great weather so get the kids and go out and wet a line. There are many great locations right here in the big smoke so you don't have to spend a lot of money on gas to get to prime fishing locales. The TTC can get you right to where the fish are so make a lunch, dust off your tackle and have some fun.
Every year the Ministry allows you to fish without purchasing a license which is great and it helps them promote fishing as well as hoping you learn something about the environment along the way.
I have fond memories of going out with my Dad and I have passed on the tradition to my daughter and have been rewarded with hugs and smiles for my time. Fishing is a pastime that has been enjoyed by father/mother and kids for many years. Once you experience the joy of reeling in a fish the passion is ignited and many years of great memories can begin.
If you are a first timer many fishing holes/locations in the city rent out gear or you can purchase beginners kits for a small investment. You can use live bait such as worms or minnows or you can get a few lures and cast to your hearts content.
Grenadier Pond in High Park or any of the islands on Lake Ontario, right at the bottom of the city, have many types of fish which can be caught right off the shore. They vary from sunfish/bluegills to bass, carp, salmon, trout and even lunker pike can be caught with a little luck.
So don't hesitate if you want to have some fun and spend some quality time, fishing is a sport which can be enjoyed by the whole family.
To get to many of the spots around the GTA just call up the TTC and they will help you plot out the best way to get there. Check out tourism Ontario and you should be able to get a list of the locations right across the city.
Always remember catch and release helps keep the population of fish healthy and allows the sport to thrive and be enjoyed by many for years to come. If you catch a big one, you won't soon forget the fun of reeling it in and telling your friends all about it. Remember fish are always bigger when you tell the story that just seems to be the way it goes.