by Scott Madore…
If the greatest player ever in hockey is indicative of the player with the greatest numbers, then Wayne Gretzky wins hands down. However, if you consider the other intangibles that are a part of the game, such as hitting and physical play, that's where Mr. Hockey comes in.
Gordie Howe did not need a Dave Semenko or a Marty McSorley. Howe was his own enforcer. Mr. Hockey instilled fear in the opposition the way no other superstar ever has. Although his physical contributions obviously took away from even higher offensive numbers, Howe commanded respect and room and was the total package. Love it or hate it, physical play has always been as much a part of hockey as the goals that are scored and Gordie Howe brought both to the table every night.
Had Gretzky played during the 1950's or 60's, he likely would have still led the league in scoring, but not by nearly as dominating of margins as he did in the free-flowing 1980's. You see, it was universally understood that if you ran Gretzky, you would be targeted. In Howe's era, players fought their own battles. There were no designated goons whose jobs were to specifically guard the superstars.
Fans who were fortunate enough to have seen Gordie Howe play swear by him. On the other hand, those who watched Gretzky work his magic; will tell you there is none better. As is the case with all sports debates, this one is no different. There is no definitive answer because it all comes down to a matter of opinion.
by Scott Madore...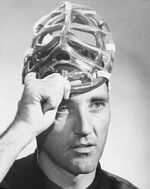 Jacques Plante is best remembered for his backstopping of the Montreal Canadiens to five consecutive Stanley Cups from 1956 – 60. However, some may recall his impact at a much latter stage of his NHL career, right here in Toronto.
Acquired by Toronto from St. Louis for cash, Plante's debut season with the Leafs in 1970/71 was spectacular. His 1.88 goals-against average led the NHL and was the only sub-2.00 GAA that season. In fact, for the next 25-years (1971/72 – 1995/96), Plante's 1.88 GAA was the second-best single-season mark by any goaltender in the league. It was surpassed only by Tony Esposito's 1.77 GAA in 1971/72.
Plante was also selected to the NHL's Second All-Star Team in 1971, an incredible feat considering that he was 42-years-old, a grandfatherly age for a goaltender.
Another impressive statistic about Plante's 1970/71 season with the Leafs is that despite playing in just 40 games, he finished 5th in goalie wins with 24. What makes this achievement even more impressive is that from 1970/71 – 1992/93, Jacques Plante & Mike Palmateer were the only Toronto Maple Leafs goaltenders to place among the top-five in goalie wins in any season.