by Shane House…

Oh my goodness did it finally happen?
Did Brian Burke finally make that big trade, that blockbuster move that defines the Maple Leafs for the next 5-10 years?
Wait…..this all sounds so familiar… (Phil Kessel trade)
But I digress, these are the blockbuster deals that Leafs fans have been waiting and pleading for all season.
First Trade
Dion Phaneuf, Fredrik Sjostrom, and Keith Aulie for Matt Stajan, Niklas Hagman, Ian White and Jamal Mayers.
Second Trade
Jean-Sabestien Giguere for Vesa Toskala and Jason Blake.
Now these are quite the trades for Toronto considering that four of the six players leaving Toronto are forwards, but the Leafs do get tougher and they do get a lot younger, now being one of the youngest teams in the league.
But the best part of this trade is that Brian Burke addressed some key issues with the Maple Leafs that have been plaguing the team all season.
Goaltending, the penalty kill, and a big, hard-hitting defenseman.
Lets start with Phaneuf.
Although he has been slumping and in the doghouse this season, Phaneuf is one of the most exciting defenseman in the game. He has a massive shot from the point, and brings a physical presence to the blueline, something that Mike Komisarek was supposed to bring and something that Luke Schenn was supposed to learn.
Giguere is a former Conn Smythe winner with a Stanley Cup ring to go with it. Although he has been struggling this season, he still has played much better than the other two goalies Toronto had on there roster. He will be reuniting with former goaltending coach Francois Allaire whom he had his best success with, so expect good things coming from the goaltender.
The under-estimated part of this deal is Sjostrom. He is a penalty-killing winger that is one of the fastest skaters in the NHL. He will instantly make the Maple Leafs penalty kill better with his presence.
Finally there is the wild card out of all these deals, Aulie. He is a former World Juniors gold medal winner who is a monster in the back end at 6-foot-6. He hits hard and is not scared to drop the gloves if he has too.
Overall the Leafs did a good job at addressing there major needs. But the one issue that needs to be addressed more so now then ever is there sputtering offense.
In total, 57 of the Leafs 148 goals scored this season so was traded in the span of three hours.
But luckily, Brian Burke did state in a Leafs press conference that he is not finished making trades and that until the next deal is done, those positions will be filled with scratched players and rookies looking to make a mark.
Most likely those rookies will be Viktor Stalberg and Christian Hanson from the AHL affiliate Toronto Marlies.
So even though the Leafs did lose a fan favourite in White and two of the Maple Leafs leading scorers in Stajan and Hagman, the Leafs got help in three areas of their game that have been severely lacking.
Let's hope in the next couple weeks, these players can gel well with the players that they already have.
by Jon Neely…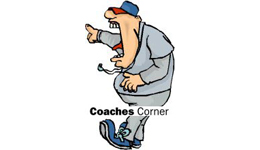 What if?
That's the question so often asked in the world of sports these days, and more especially, in the world of the Toronto Maple Leafs.
Ever since the last Stanley Cup victory in 1967, the loyal fans of the Leafs have been asking that question with only a shoulder shrug in response. There is really nothing anyone can do about what could have been. The past is the past, but there are plenty of opinions on events that changed the course of the team's future, and if the events had happened differently.
And there have been plenty of what-ifs for this team over the past 10 years or so; like what if they never traded away budding superstars like Brad Boyes or Tukka Rask? What if they had a first round pick in this year's draft? But the latter is a question for another day.
There is one question, though, that has been asked many a time that takes Leaf fans back to a better time. A time where winning was the norm, and the playoffs were a time to get excited in Toronto, not to hang up your Leafs jersey for another year.
A time when Pat Quinn was the coach.
He was hired in 1998 after the Leafs had gone a dismal 30-43-9 with only 69 points the season before. His impact was immediate, quickly turning the team from a pretender to a contender.
The Leafs previous style was not working and Quinn, over the course of just one season, turned them from a struggling group of individuals to a team-first, scoring machine with a swagger that commanded respect.
They finished Quinn's first season with a record of 45-30-7 and 97 points, fourth best in the Eastern Conference. A 28-point difference from the season before, but that was just in the regular season.
The real magic came when the playoffs began, as the Leafs played their way into the Eastern Conference Finals against the Buffalo Sabres. They lost the series in five games, but the one-year transformation was complete and Quinn was in full control of the team.
And he had the city in a frenzy of excitement.
He was a runner-up for the Jack Adams Trophy, and was rewarded by being named the general manager along with his coaching duties.
It was officially Quinn's team now, and the city was already in love with the fiery teddy bear that was the Leafs coach now knew that he was in full control as the GM. His second season in Toronto was even better, as his team finished third in the East with 100 points.
They lost in the second-round of the playoffs to the New Jersey Devils, the eventual Stanley Cup champions, but Leaf Nation was alive with realistic dreams of a championship in Toronto once again after that successful 1999-2000 season.
At this point Quinn might as well have been the Mayor of Toronto.
In the next three seasons the team finished with 90, 100, and 98 points, making it to at least the second-round in two of those three years, including yet another trip to the Conference Finals against the Carolina Hurricanes in 2002, which they lost in a hard-fought, six-game classic.
In those first five seasons Quinn had a record of 214-139-57, two trips to the Conference Finals, and the entire city in the palm of his hand. He had a lineup of grizzled old men and up-and-coming rookies, fused with a solid veteran presence in the net, and a determination that was second to none.
Quinn just didn't want to win. He expected it.
The Leafs were finally back to being one of the best teams in the NHL, year in and year out.
But after the 2002-03 season, Quinn was replaced as the GM by John Ferguson Jr. However, Quinn remained as the team's head coach. The Leafs brass felt it was best that someone else came in and looked after the management of the team, while Quinn focused solely on the team on the ice.
That's when things started to change.
Sure, the 2003-04 regular season was the Leafs best under Quinn, finishing with 103 points before losing in the second-round to the Philadelphia Flyers, but there were rumblings of a rift between Quinn and Ferguson about the decisions being made.
After the 2004-05 lockout season the Leafs and Quinn returned in 2005 looking to make it to the postseason for the seventh straight time.
It was a tough year for the team, as they lost Eric Lindros, Jason Allison, and Ed Belfour to season-ending injuries (all three signed the season before by Ferguson) and looked to be out of the playoff picture with 12 games remaining. But on the shoulders of the many young players that were drafted by Quinn, as well as Quinn's trusty veterans, the Leafs went on a 9-2-1 run to finish the campaign and missed the playoffs by just two points.
It was a tough pill to swallow, as it was the first time under Quinn that they finished outside of the playoff picture, but the incredible run at the end that was done without the help of three key members kept the city hopeful for the following season.
There were rumors that Ferguson was going to fire Quinn, something that was figured to have been the plan ever since JFJ became the GM of the team due to the friction between the two, but many Leaf players, including Mats Sundin, publicly supported their coach.
The majority of Leaf fans agreed. One bad season after six great ones was not enough to fire a coach, especially one who was as successful as Quinn.
Or so they thought.
Immediately following the end of that season in 2006, even before the playoffs had begun, Quinn was fired.
He had led his team to the playoffs six out of seven seasons, appeared in two Conference Finals, and was a finalist for the Jack Adams Trophy. He finished with a record of 300-196-78 and a 41-39 record in the playoffs.
His players loved him and the city adored him, but because of one season where the team missed the playoffs by a mere two points, Quinn was shown the door with a simple "thank you for your contributions to the team."
He did absolutely everything you could ask for from a coach, earning the love and respect of everyone who crossed his path. He did what he was supposed to do and then some.
So what if Pat Quinn was never fired? What if Ferguson Jr. was never hired as GM? What if there was no friction between the two? What if Quinn was able to stay on with the team for even just one more season?
What if?
It's almost impossible to say what would have been if Quinn was allowed to stay on as the coach of the Leafs. Sure, the team's veteran players were only getting older and the salary cap meant that the Leafs could no longer afford any player at any time. Sure, the heart and soul players like Darcy Tucker, Curtis Joseph, and Mats Sundin who willed this team to so many wins are long gone.
And sure, the league was smack-dab in the middle of a boom of young talent coming in and taking over, but did Quinn really deserve to be let go? We all know the disaster of a job that Ferguson did as the GM of the team, trading away prospects and draft picks for older players that never really panned out.
So the question of whether bringing in Ferguson was the right move will always remain. He was the reason Quinn was fired; he fired him. He and the higher-ups on the Leafs wanted to put their own stamp on the club.
A stamp that since then has withered and been all but tossed in the trash.
His firing had no merit. Plain and simple.
It may not have made a difference whether Quinn stayed or not, but the Leafs haven't made the playoffs since his departure. In fact, every season since his departure has gotten worse and worse as the team becomes gradually more of a laughing-stock.
He should have been given at least one more shot. After all he had done, one more season with the club was not too much to ask.
There are no more 90-point seasons now. There are no more chants of "we want the Cup" ringing from the crowd at the ACC. The playoffs are simply a dream these days. And though Brian Burke and Ron Wilson have come in and earned some admiration from Leaf fans in their short time as the current coach and GM, there hasn't been anyone as loved and respected as Pat Quinn.
And no one as deserving.
It's a different team now and almost every player that was a member in Quinn's days is long gone. It's a new team now. A younger team. A worse team.
Much worse.
And say what you want about the new NHL, Quinn just had a way of making things work with the players on that team.
The Leafs only remaining game against a Western Conference team this season is against Quinn and his new team, the Edmonton Oilers—one of only two teams worse than the Leafs.
On March 13 he will make his first trip back to the Air Canada Center since standing behind the home team's bench, chewing his gum ever so vigorously, and wearing his heart on his sleeve for the blue and white for seven fantastic seasons.
He will no doubt receive a standing ovation from the ACC crowd, a small gesture of thanks for everything he did during his tenure with the Leafs. He certainly deserves one, at the very least.
While the thousands of fans stand and salute the man that was so successful behind the bench in Toronto, there will no doubt be a video-montage playing back the memories of the days when this was Quinn's team.
A time when fans cheered on a winning team. A time when Toronto was a tough place to play. A time when the mention of the Toronto Maple Leafs wasn't followed with a sarcastic laugh.
The good old days.
What if indeed.
By Mark "The Hard Hitter" Ritter…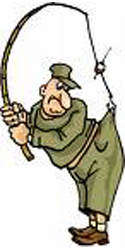 The Montreal Canadiens seem to be in the middle of a goaltending controversy.
Here's the skinny—Jaroslav Halak has started 23 games, posting a record of 14-8-1 with three shutouts, a goals against average of 2.43 and a save percentage of .927. Comparatively, Carey Price has started 32 games, posting a record of 11-17-4 with no shutouts, a GAA of 2.73 and a SV percent of .913.
Am I the only one who doesn't see a controversy here? Given the numbers, Jarolsav Halak should be the Canadiens goaltender of the future, not the often moody and inconsistent Price.
Sure, Price has more cache than Halak on the trade market, but why would you want a goalie that seems to have a chip on his shoulder and inferior statistics to boot? If the "Price" is right, the Canadiens should ship Carey out of town.
Not only are the Washington Capitals 9-1-0 in their past 10 games and just two points out of first overall in the league, the Capitals also boast seven of the top 20 players in plus/minus rating.
Alex Ovechkin leads the way with a league-best +32, followed by teammate Jeff Schultz, who is the leagues highest rated defenseman at +27. Nicklas Backstrom +23 (8th), Mike Green +22 (11th), Alexander Semin +20 (14th), Eric Fehr +18 (16th) and Brendan Morrison +18 (17th), round out a very impressive lineup that may very well be the best in the NHL.
San Jose Sharks forward Patrick Marleau is currently leading the NHL in scoring with 35 goals, comparatively, the Vancouver Canucks Henrik Sedin leads the League in points with 76. Well boys, it's been nice while it's lasted, it says here Alex Ovechkin—who sits second overall in both categories with 34 goals and 73 points respectively, will be number one in both categories within a week.
As everyday passes, it's looking more and more as if the Phoenix Coyotes 2007 first round draft pick (third overall), Kyle Turris, is a bust. Through 46 games with the San Antonio Rampage of the AHL, Turris has registered nine goals and 26 points. Is this the year the Coyotes consider trading the young centre?
Do you think Toronto Maple Leafs general manager Brian Burke had to hold back his laughter when Jamal Mayers' agent called him up and suggested it was time for Mayers to move on from the Blue and White?
Mayers, who has just one goal and five points to go along with his -7 rating, through 42 games, would be lucky to get picked up by a KHL team, never mind another NHL team. I said it earlier this year, I'll say it again, thanks for the memories Mr. Mayers, but it's time to hang 'em up!
Keeping with the Leafs, if Burke wants to add a first line centre via free agency this summer the pickings will be slim. Sure, Patrick Marleau will be available, but you have to think he'd check out other options before he'd ever consider joining the Leafs. Olli Jokinen is also available—but the Leafs have enough underachievers already, so scratch that…
That leaves the likes of Saku Koivu—who is all but finished, Chris Higgins—who is not a first line player, Mike Comrie—see Higgins comments and elder statesmen, such as, Mike Modano—who will probably retire, John Madden—career third liner, Doug Weight—too old, and Toronto's own Matt Stajan—a player that is destined to be a second or third liner his entire career.
The only logical signing would be Montreal Canadiens centre Tomas Plekanec. Plekanec, who has 13 goals and 39 assists through 55 games with the Canadiens this season, would be a great fit with Leafs sniper Phil Kessel.
A Plekanec-Kessel duo would be a formidable one, one that Burke could build an offense around. That said, a Plekanec signing would be a risky one, especially if he is commanding $5-6 million a year on a long-term deal.
On another note—for all you Leaf fans out there that are holding onto hope that Brian Burke will somehow turn the likes of Alexei Ponikarovsky, Niklas Hagman, Lee Strempniak or Matt Stajan into a first round draft pick, think again.
The only way the Leafs could possibly acquire a first round draft pick would be to ask defenseman Tomas Kaberle to waive his no-trade clause, something that Brian Burke continually insists he will not do.
Every NHL team understands the value of building through the draft. As such, the odds of Toronto stealing a first round draft choice from another team is slim to none. Sorry Leaf fans, the rebuild is going to be painful to watch, especially if the Boston Bruins end up with a top five pick at this years draft…
What it all means is that IF the Leafs are going to improve dramatically, they will likely need to do it from within the organization or through trades—two areas the Leafs have historically been challenged in. Then again, there's always the draft….never mind….
Until next time,
Peace!
by Eric Warren…

With only a 63-hour window between the end of the Olympic trade freeze and the official NHL Trade Deadline, there is likely to be more activity leading up to midnight on February 12th than we think.
The reasoning behind this is simple. Teams who are looking to make a move with non-Olympic players will want to take advantage of the time to allow new acquisitions to mesh with their new teams.
While there are quite a few names being thrown around out there, we are likely to see some unsuspecting players shuffled around to make some cap space.
Brian Burke of the Maple Leafs has been quoted as saying that he would be willing to take on some salary for other consideration, and while many think that the Pension Fund would never allow him to take on added salary just to hide it in the minors, I disagree.
By all accounts, the "Teachers" are all for rebuilding as long as they are assured that it will be into a contender. Despite the Board of Governors wanting to make money, they are also well aware of the fact that a winning team, a playoff team, could create even more of it.
OK, back to the trade talks.
Several players in the league have no-movement clauses. The Notables are, Tomas Kaberle, Ray Whitney, Niclas Wallin, John-Michael Liles, Jean-Sebastien Giguere, Paul Kariya, Marty Turco and Vincent Lecavalier.
Whitney, Wallin, Turco and Kariya all become unrestricted in July. If Wallin was half smart, he'd wave his no trade….quickly.
Dallas has an interesting problem in that they have four goal tenders, including Turco an Auld who become un-restricted this season, who'd a 'thunk ?
The Toronto Maple Leafs find themselves in a bit of a unique position as well. Garnet Excelby and Jamal Mayers have both requested permission to seek a trade on their own. Both are un-restricted free agents in July. While both players could provide value to a team in certain area's, the Leafs will not get any kind of value in a trade, so I can't see Brian Burke breaking a sweat trying to help them along.
Stajan, Poni, Van Ryn and Toskala will also be gone. Stajan, Poni via trade most likely, Van Ryn and Toskala to free agency.
The "Big Four" restricted free agents in Toronto, ( White, Gustavsson, Hanson and Kulemin ) will all re-sign. White will get a sizeable raise and Kulemin and Hanson will get one-way deals for two to three years with nominal raises. Gustavsson, will also get a one-way deal and a raise, likely in the neighborhood of two years and $4 million plus bonuses.
I can't see anyone really having a fire sale. As bad as some teams are right now, it is increasingly difficult in a hard cap environment to just wheel and deal like the good old days.
I could go on for hours about who could go where, who I would like to see in Toronto and who I would like to see gone, but let's be honest, no-one wants to do that much reading all at once.
So, here's your chance. Who do you think will move this year? Forget about the cap, there is almost always a way to make it work.
Just sit back, scratch your head and ponder. Let me know what you think below!
By Louis "King of Roncesvalles" Pisano…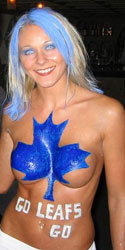 As most of Leafs Nation knows by now, Toronto is not going to make the playoffs unless they go on some sort of miraculous run, which I wouldn't bet on.
So we have to look ahead and try to figure out who will be the impact players for Toronto in the future.
One that has stepped to the forefront of my mind and continually puts himself in a position to make the roster next year is one Nazem Kadri.
Not only did he have a great showing with the Canadian juniors, he has been tearing it up with London Knights of the OHL too.
Kadri has 24 goals and 32 assists for 56 points in 36 games. He added nine points over the weekend to those totals in two games.
Friday he had one goal and four assists against the Erie Otters, and Sunday he had two goals and two assists against the Peterborough Petes.
A definite bright spot!
Jerry D'Amigo is another young guy who had a great World Junior showing and is sure to make an impact once he is given the chance. He can score under pressure, has great speed, and has the skills overall to get a regular shift in the NHL.
Tyler Bozak, who is getting his shot up with the big club as we speak, has shown some sparks of greatness and the ability to adjust to the NHL, and has a respectable five points in eight games.
Obviously Phil Kessel is going to be here in Toronto for a good time to come unless the Edmonton Oilers want to trade two first-rounders and a second-rounder for him. Considering the Oilers are going to finish last overall in the NHL and should draft either Taylor Hall or Tyler Seguin, I wouldn't bet on that trade happening.
Between the pipes it looks like the Leafs are going to be giving the "Monster", Jonas Gustavsson, the reins for the rest of the season, and he has shown sparks of greatness but will need to be signed. Who the other goalie will be is anybody's guess.
The young guys from the Marlies, including Victor Stalberg and Christian Hanson, who have both seen time with the club with varied success, may get more time up and additional ice time.
One guy I have talked about before who never seems to get a chance and who would help address one of the glaring problems the Leafs face as a whole, which is goals against, is Daryl Boyce. He is an excellent two-way forward, great forechecker, and tenacious on the penalty kill. He can also skate like the wind.
It is surprising to most, aside from a few who have followed the Marlies over the last couple years, that Andre Deveaux is leading them in points because of the call ups to the big club. Deveaux is a tough guy, as some of Leafs Nation may have seen when he's had his opportunities up with the Leafs, but he is also great on the boards and in front of the net.
On the back end, Leafs fans may get a look at stay-at-home rugged defenseman Phil Oreskovic and perhaps newcomer tough guy Brennan Evans, who leads the Marlies in penalty minutes with 144 in 45 games.
Leafs Nation is getting a good look at D Carl Gunnarsson, and he sure isn't disappointing, as he is another bright spot for Toronto in the future.
Another young guy who should get a look in the future is Owen Sound Attack D Jesse Blacker, who has four goals and 21 assists for 25 points in 33 games.
There are a few others like F Ben Winnett, F Mikhail Stefanovich, F Jerome Flaake, and F Jimmy Hayes.
I'd really like Leafs General Manager Brian Burke to give some of the players who haven't gotten a fair shake up with the big club their chance to shine.
Burke said it would take time to right the ship, and that's the truth.
The shakeup at the end of this year, with all the free agents and the possibility of moves before the Olympics or before the trade deadline, along with all the offseason signings, will certainly give the team a whole new look when next year begins.
What the Leafs roster will look like is almost impossible to speculate on truly. There are a few faces that will be there, but as a whole the team will have an extremely new look to it, I'd bet, especially after its performance this year.
Leafs Nation, I believe, is more than ready to go young and grow from within, though after missing the playoffs for such a long period of time, immediate success is yearned for as well.
We'll have to see if Burke and the Toronto Maple Leafs management team can bring one or both to the disheartened fans of the blue and white.
by Willie Gannon… It would seem that the soap story at Anfield has taken another twist, after Juventus confirmed that Rafael Benitez is their number one target to take over from the embattled Ciro Ferrara, and wood was definitely thrown on the fire after Rafa's agent suggested the move could happen…
Following Juve's 2-0 defeat to Claudio Ranieri's Roma at the weekend, Jean Claude Blanc, Juventus' President, is expected to wield the axe on Ferrara. Pressure has been mounting on the Italian after Juve made an embarrassing early exit from the Champions League and the loss to Roma seems to be the final straw for the club.
The ironic thing is that Ranieri was sacked from Juve so Ferrara could be brought in, while their chief target Benitez also oversaw an embarrassing exit for this seasons Champions League for Liverpool.
At Liverpool, pressure has been mounting following the worst run of results at the club in decades. Only seven wins in their last 22 games, early exits for the Champions League, the Carling Cup, and the FA Cup, added to a title bid that was over by October mean that Rafa's job is on the line.
He has made a guarantee to the clubs fans that he will deliver fourth place at the least, and his job now depends on that promise.
The news that Juve are interested in the Spaniard will be music to some fans ears but will be the a real needle in the eye for the many Rafaelites who have backed their manager through thick and thin.
His agents ill judged comments will come as a real blow to those who have been most vocal in their support.
"Benitez to Juventus? In football you never know," Quillon said. "Right now, that hypothesis is not correct because he is a very important figure (at Anfield). The idols of the fans are Gerrard, Torres, and Benitez. "I don't know what will happen in four to five months. In football everything changes quickly, but the basic principle is that Rafa still has a four-year contract."
The move will be financed by John Elkan, Juve's vice president, and heir to the Fiat empire. He believes that Rafa would be interested in the terms they could offer him, £3million a year after tax. As it stands, Rafa receives the same amount from Liverpool but has to pay 50 percent of it through tax, leaving him with £1.5million.
Could Rafa be tempted by Juve's offer? Most definitely. Juventus are one of the few clubs that can compete in Europe as well as domestically and the financial package would be very lucrative to say the least.
It is, however unlikely that Benitez will leave before the summer, but with fourth place looking increasingly impossible, the news that Juve have offered Giovani Trappatoni a six month deal to look after the team until their target arrives may suggest that a deal for a new manager is in the pipework.
Is it Rafa? Remains to be seen…
by Christian Butzek…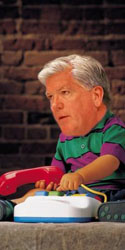 Leaf Nation breathed a sigh of relief when Brian Burke was announced as the club's new General Manager. The no-nonsense, straight-talking Burke was supposed to lead a turnaround for a franchise that's been a smash at the box office but a bust on the ice.
Sports lawyer Gordon Kirke scoured the hockey world in search of a saviour for a franchise which last celebrated a championship in 1967. Kirke initially set his sights on Detroit's Ken Holland, but his advances were rebuffed, so settled on Brian Burke, the man who many consider the best hockey mind in the game.
One year into his tenure, Burke has shown more bravado than good judgment, a flair for the coveted sound bite and a knack for showmanship.
In the off-season, he drew headlines with his headlines, vowing to pursue a deal for the Islanders first overall pick. "Whoever has the top couple of picks, we are going to go after them. We'll immediately attempt to move up," Burke said. "We're going to talk to everyone between us and the first pick and see what the landscape is."
Burke threw his colleagues a bone, dangling roster players and prospects to move up in the draft. But his fellow GMs wouldn't bite, and he walked away from the draft empty-handed.
His lack of moves were a blessing. Rumours abound that Burke tried actively to peddle all-star defenseman Thomas Kaberle as part of a package only to be denied. Where would the hapless Leafs be had he succeeded in moving Kaberle, one of the game's best puck-moving defensemen and the team's leading scorer?
Burke abruptly signalled a shift in strategy. No longer would the Leafs build through the draft; instead, Burke would pursue proven, young talent. Phil Kessel, a speedy winger caught in a contract dispute with the Bruins, was identified as a future 40-goal scorer and worthy of an offer sheet.
The irony of such a tactic was apparently lost on Burke who two summers ago publicly skewered Edmonton's Kevin Lowe for a similar move, calling Lowe "gutless" for signing Dustin Penner to an offer sheet with the Ducks up against the salary cap.
Throughout the summer, Burke sent Toronto sports fans scrambling for their dictionaries as "truculence" became the theme for the new-look Leafs. The off-season additions of Colton Orr, Grant Exelby, Mike Komisarek, and Beauchemin were supposed to make the Leafs tougher to play against.
Those moves raised eyebrows in Montreal where Bob Gainey and Jacques Martin questioned the Leafs physical approach. "It's a little out of character to where the NHL is going," Gainey said on the eve of the season.
Martin wasn't much impressed either. "They have a new (defence) and a physical presence there, but you look at the first three lines and they don't have any fighters there…you look at Detroit and Pittsburgh…they went to the Cup final (on skill, not fighting). That's the goal, to win the prize," he said.
Burke was adamant that he'd assembled a playoff calibre team. "We have higher expectations for this group. It's not the same group. We've made some changes. It's our goal and our intent to make the playoffs," he said confidently. Four months later, the Leafs are third from the bottom with no first round pick.
Somewhere along the line, Burke made a gross miscalculation on the talent level of this team. Last year's edition of the Leafs, defensive problems aside, scored in bunches. Part of Toronto's offensive woes is the result of Burke dumping 20-goal scorers Dominic Moore and Nikolai Antropov at last year's trade deadline.
Of course, the season didn't start without another controversy landing on Burke's lap. This time he was involved in a dust-up with Canucks GM Mike Gillis who filed tampering charges against Burke, who revealed the players involved in a potential Canucks-Lightning draft day deal.
Burke is no stranger to spilling the goods. Two years before, Burke drew Gainey's disdain for disclosing the latter's private discussions at the 2007 entry draft.
At the close of last season, Burke spoke with the media about what he called "Blue and White" disease, a term he used to describe players who had grown too complacent playing in Toronto. One wonders whether Burke confused "Blue and White" disease with "foot in the mouth."
And so as the season inches forward, the albatross around Burke's neck grows heavier with each Leaf loss. Has he indeed, unwittingly, dealt the first overall pick to the Boston Bruins? Worse still is the prospect that the Leafs flounder again next year and lose another top draft pick. But fate could not be so cruel as to deny the Leafs two first overall picks.
In a short span, the on-ice product has gone from bad to worse, thanks in no part to Burke's moves, acquisitions, strategy, and approach. And with no draft picks, this year or next, the immediate future looks bleak.
The GM renowned for his intellectual acumen and front-office skills has dug himself into a quagmire with the Kessel deal. Time will tell whether he can dig himself out.
By Mark "The Hard Hitter" Ritter…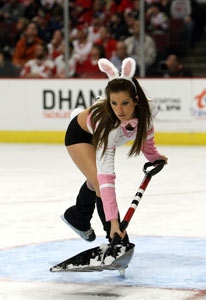 Every four years, Canadian hockey fans wait impatiently for the announcement of Canada's hockey roster. In the end, regardless of the names on the back of the sweaters, the expectation is always the same—a Gold Medal.
Historically, Canada has fared well at the Olympics, but they are hardly the unbeatable force that many hockey fans label them to be.
Canada's hockey teams have a proud Olympic history, one which has seen Canada bring home two Bronze Medals (1956, 1968), four Silver Medals (1936, 1960, 1992, 1994), and seven Gold Medals (1920, 1924, 1928, 1932, 1948, 1952, 2002).
A little quick math tells us that Canada has earned 13 medals in total. That means Canada failed to medal (never mind bring home the Gold) on ten occasions.
What it all means is this—regardless of expectations—Canada is no "lock" to win the Gold, or a medal of any color for that matter. With that in mind, what should Canadian hockey fans be expecting from this group of NHL players turned Olympians?
First, let's take a look at Canada's roster:
Forwards: Patrice Bergeron, Sidney Crosby, Ryan Getzlaf, Dany Heatley, Jarome Iginla, Patrick Marleau, Brenden Morrow, Rick Nash, Mike Richards, Corey Perry, Eric Staal, Joe Thronton, Jonathan Toews
Defense: Dan Boyle, Drew Doughty, Duncan Keith, Scott Niedermayer, Chris Pronger, Brent Seabrook, Shea Weber
Goaltenders: Martin Brodeur, Roberto Luongo, Marc-Andre Fleury
Up front, Canada will ice one of the most intimidating rosters of all-time.
Sidney Crosby, Rick Nash, Patrick Marleau, Joe Thornton, Dany Heatley and Jarome Iginla are expected to lead Canada offensively, with Mike Richards, Brenden Morrow and any of Eric Staal, Ryan Getzlaf and Corey Perry taking on the task of shutting down Canada's opponents.
Patrice Bergeron—who recently sustained a hand injury—and Jonathan Toews can play in all situations, solidifying their spot on this team, which underlines their value in a short tournament such as the Olympics.
The strength in Canada's forwards lies with their abilities to play in all areas of the game and in any conceivable situation. Staal, Richards, Getzlaf and Perry can easily move up to the first or second lines in a pinch. Likewise, Nash, Iginla, Thornton, and Crosby can be played on the third line and even kill penalties if need be.
Canada has the luxury of icing an offensive lineup that boasts scoring prowess, physical play, grit, skill, speed, and leadership. On the surface, there are no weaknesses—Canada will ice a very balanced attack—which should serve them well at the 2010 Olympics in Vancouver.
Canada struggled to score goals at the 2006 Olympic games in Turin, scoring just 15 times in six games, finishing seventh overall. Canada scored 22 goals in six games during their Gold Medal effort in 2002 in Salt Lake City.
Goals are at a premium at the Olympics, with that in mind, if Canada is to be successful in 2010, the forwards will have to find the back of the net on a regular basis—especially if Canada plans on beating the likes of Russia and Sweden, two teams that are poised to score at will.
On paper, Canada's top six forwards are as good as any other nation's. The trick is converting that perceived strength and converting it into results. Canada's position of biggest strength comes in the form of their bottom six forwards, which, in my opinion, are the best in the world.
Final Thoughts
Canada's special teams will be very strong—especially the power play. Scoring will be tough to come by, but Canada should emerge as one of the strongest offensive teams. Defensively, Canada's forwards should provide the biggest challenge for opposing nations—keeping them at bay and winning the battles in the corners.
Ranking The Forwards
Overall offensive rank—Second (Russia first)
Overall defensive rank—First
Canada's defense boasts a unique combination of skill, toughness, and speed. Veterans Chris Pronger and Scott Niedermayer are expected to be the main cogs in Canada's last line of defense, while youngsters Drew Doughty, Duncan Keith, and Brent Seabrook should inject a measure of energy.
Dan Boyle and Shea Weber cannot be overlooked. Weber is one of the game's best hitters, while Boyle brings a tremendous amount of offense to the fold.
Much like Canada's offense, Canada's defense is a position of strength. While each defenseman brings certain intangibles to the team, there is not much to choose between any of the seven—an argument can be made for all seven to be dressed on any given night.
Once again, Canada's depth is a huge advantage and, in my opinion, gives Canada the edge as the best defensive corps in the world.
Pronger, Weber, Seabrook, and Keith (sometimes Niedermayer) should be given the duty of shutting down the opposition—both five-on-five and on the penalty kill—with Niedermayer, Doughty and Boyle chipping in offensively, especially on the power play.
Final Thoughts
Canada's defense will perform at a high level in all areas of the game. The added offense from the back end will be a difference-maker on most nights. Given Canada's offensive troubles in the past their defense will have to be excellent—failure to keep the likes of Russia and Sweden at bay may very well cost Canada a chance at the Gold Medal.
Ranking The Defenses
Overall defensive rank—First
Overall offensive rank—First
Canada's goaltending is also a position of strength. Martin Brodeur—arguably the best goaltender in NHL history—is expected to get the nod as Canada's starter. His cool demeanor, tremendous reflexes, competitive spirit, and uncanny ability to seemingly always be in position put Brodeur head and shoulders above any other goaltender in the world.
Sweden's Henrik Lundqvist, Finland's Miikka Kiprusoff, Team USA's Ryan Miller, and Russia's Evgeni Nabokov are all excellent goaltenders. That said, at the end of the day I suspect most hockey fans would take Brodeur in net in a one-game playoff, which is why I feel Brodeur is still the game's best.
Canada boasts two well-rounded backups in Roberto Luongo and Marc-Andre Fleury. Luongo is widely regarded as one of the games premier back-stoppers and is more than capable of stepping up if Brodeur should falter. Fluery, who back stopped the Pittsburgh Penguins to a Stanley Cup victory in 2008-09, is an easy going goaltender who lacks ego, making him the perfect teammate and another candidate to lead Canada if Brodeur falters.
It's tough to predict which goaltender will be the best at the Olympics. Miller has been hot all season long, while Nabokov has been exceptional for the San Jose Sharks. Mental toughness will be a huge factor, as will experience.
For that reason, I have to give the nod to Brodeur, making him my pick as the Olympics' best goalie.
Final Thoughts
We can argue the merits of Lundqvist's Gold Medal effort with Sweden in 2006 and the strength of the team in front of him, but when you look at the total package—abilities, experience, mental toughness, past accomplishments, and strength of team defense in front of him (including the forwards)—Brodeur gets the nod, hands down.
Further, if any of Lundqvist, Kipprusoff, Nabokov or Miller goes down there is likely to be a noticeable difference in quality if their countries need to call on their second or third string goalies—once again, Canada's depth is a factor when considering the tournament's best.
Ranking The Goaltenders
Overall goaltending rank—First
Canada's depth at every conceivable position is what puts this nation's hockey team above all others. Russia will bring a great offensive lineup (maybe the best ever), but they lack defense. Sweden will bring a more balanced attack, but their roster is not as impressive as Canada's.
Team USA, Finland, the Czech Republic and Slovakia will all ice decent rosters, but on paper, none of them compare to Canada's roster, much less Sweden's or Russia's.
The final piece of the puzzle may be the advantage of playing at home in Vancouver. The Pro-Canadian crowd should give Team Canada a boast, especially in those tough close games.
Capturing a Gold Medal in 2010 will be no easy task, but Canada has all the tools to make it happen and, for that reason, Canada remains the favorite to win it all at the 2010 Olympic games in Vancouver.
Prediction—GOLD MEDAL
by Sachin Arora… I have a feeling that this article is going to have a lot of hater comments about the Raptors. But people, face the facts: the Raptors have it rolling. After losing to the Cavs in Cleveland in a game which they should have taken, and losing one on the road to the Bucks, the Raptors responded by taking down the Bucks and Lakers at home.
This team has shown grit, toughness, and is finally looking like an elite team. Imagine what will happen when Turkoglu actually starts performing.
Record: 2-2
Performance on a scale of 1-10: 8.5
Positives
Marco Belinelli has been stroking off of the bench, and the Raptors are finally showing some inside presence. The Raptors have stayed with the top teams in the NBA, and have beaten the No. 1 team in the league, the LA Lakers. Everyone is finally playing as a team and the Raps have finally found a formula for success.
Negatives
Hedo Turkoglu still isn't playing well. Sure, he hit two big free throws against the Lakers, but he's still shooting a low percentage and isn't playing well at all.
Overall, the Raptors had a great week. They have shown that they can compete with any team, even the league's best.
I really think that Jose Calderon needs to get back into the starting lineup. To me, Jarret Jack is a great player, but he doesn't create offense for others. He's quick and can score, but doesn't run the offense like Calderon.
Let's hope that this type of play can continue and the Raptors can secure the fifth spot in the East.
GO RAPS!
by Stephen Brotherston…
On an early Sunday evening, a crowd of over 20,000 people watched the Toronto Raptors gut out a hard-fought win over the Western Conference's first place team and last season's NBA champion L.A. Lakers.
The game was easily the most exciting and intense of the Raptors season to date: A game won by the Raptors in the final 1:26 by scoring the final five points and defending Kobe Bryant into three missed jump shots.
It was Andrea Bargnani, who scored 12 of the Raptors 24 points in the fourth quarter, driving to the basket and finishing a reverse lay-up plus the foul with 1:16 left to bring the Raptors within one point.
And it was Hedo Turkoglu, who Jay Triano trusted with 11 seconds left in the game, driving to the hoop and getting fouled at least twice as three Lakers converged to stop the lay-up attempt. Turkoglu calmly drained both free throws to put the Raptors up by one with 1.2 seconds left.
And, as Matt Devlin should have said, "How do you like me now!"
Earlier in the season, Raptors TV personalities actually asked Bargnani how he could help Bosh get his game back on track. On two occasions, Triano actually sat Bargnani on the bench and watched winnable games slip away as the Raptors were unable to score.
But now, how do we like Bargnani? Even his biggest detractors have to admit Bargnani has been making huge contributions at both ends of the floor for some time now.
Bargnani's amazing driving lay-ups and dunks have become a part of every Raptors game this season. Multiple block nights are commonplace.
And in this game, Bargnani dueled with two of the league's premier big men and held his own at both ends of the floor. He matched the Lakers young center Andrew Bynum (21 points, nine rebounds, two blocks) with 22 points, eight boards, and a block of his own.
But it was Bargnani outscoring Bynum when it mattered, 12-2 in the fourth!
Bargnani's reverse dunk in the first quarter was something special. And in the fourth quarter, he answered his critics questions about his ability to be the go to guy when it mattered. With Bosh held to just two points over the final 17 minutes, the Raptors went to Bargnani for scoring.
For the month of January, the much maligned Hedo Turkoglu has struggled with his shot. And some fans and media seem to be only able look at the stat sheets to evaluate his performance—they should really get out to a few games!
So how do we like Turkoglu now? Hitting the game winning free throws against the Lakers has to count for something!
Like in the Raptors last win against Milwaukee, Turkoglu contributed a lot more than showed up on the stat sheet.
Turkoglu made the Lakers' Ron Artest the invisible man. Artest was held to just five points on 2-8 shooting, with one rebound and three assists. And when the Lakers took out Artest to go smaller, Turkoglu guarded Kobe and did a good job on the league's best player as well.
Turkoglu did shoot poorly in this game, going 1-6, but he was 6-6 from the free throw line, had five assists and a block. Like in the last game against Milwaukee, Turkoglu helped make the Raptors more effective than their opposition in the fourth quarter.
Anyone complaining about Turkoglu's hard-fought performances over the past couple of games just hasn't been paying attention.
Other players who have felt the fans wrath lately include Jose Calderon and Antoine Wright.
Calderon played in only 15 minutes as it took two stitches to close a gash over his eye after being hit collecting a rebound in the third quarter. But Jose did manage a team high five assists, three of which came in five minutes of the fourth quarter.
Wright played only 10 minutes and collected just one rebound. But he played good defense and was Triano's choice to guard Kobe in the final 15 seconds of the game.
And how do we like them now? We should! They did what was required when it was needed and helped the Raptors win this game. It is hard to know if media and fans appreciate just how much they contributed in limited minutes.
The Toronto Raptors did get off to a poor start this season and it took all of December to make up for it. Only recently has the ACC been filling up again for Raptors games.
But for the second time in January, the Raptors have fought their way back to a better than .500 record by beating the best teams from the Western Conference.
So how do we like the Raptors now? In January, the Raptors have beaten the San Antonio Spurs, Orlando Magic, Dallas Mavericks, and L.A. Lakers.
The Raptors are 7-5 so far this month, only losing games that have been part of difficult back-to-backs, each of which started with either Boston or Cleveland.
While there still seems to be some lingering doubt about just how good this Raptors team can be, it is now well past time to show the hometown Raptors some love.
Brothersteve's Green & Red Raptor Blog