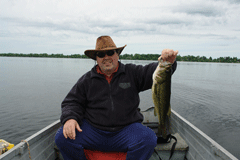 That's right Toronto Sports Fans; The Captain brings you the ultimate Fishing Experience. Spend a day or weekend fishing in the Kawarthas, long considered one of the best places to fish in the whole wide world… we've partnered up with fishing fanatic's at the Fishing Lure Lodge to bring you The T.O. Sports "NOboat NOcar NOproblem"

A Few Packages are offered - The Weekender and The Daily
The Weekend Fish n' Relax - cost $199.00/pp *
Transportation - We pick you up at Wilson Subway on Friday at 7:30pm; drive you to our secret fishing destination, one of the best fishing lakes in the Kawarthas… approx 90 minutes from Toronto. We provide: Accommodation (Friday and Saturday). A boat to fish on. A BBQ to cook up the catch or maybe a steak or some chops. Casino Rama is 20 minutes away, just in case you're really feeling lucky.
We come back to the city on Sunday, by 6pm or so, still giving you plenty of time to fish that day, and come back to the city to show photos of the awesome time you had and the big fish you caught… Priceless!
Sign up NOW, send an email to and book your weekend
The Daily Fish Blast - $129/pp- Every Day Starting April 26
That's Right "Every Day" a Bus is waiting at Wilson Subway at 7:30pm to take you away for a fun and relaxing day of fishing… yes, I said every day. You've had a stressful day it's 4pm, guess what? You've got time to get on the bus and go fishing, get out of the city and into the country. The air smells better, the food tastes better… I'm telling you, you'll feel a lot better!

Get away for a day… We leave Toronto's Wilson Subway for our daily fish trip at 7:30pm in the evening, provide accommodation, a boat, and get you back in the city by 7:30pm or so the next day. You can even tell the boss you were sick… he'll never know you spent 24 hrs relaxing, recharging the batteries… he might even benefit from it…we're not telling.
The Daily is available any one day Monday to Friday, starting April 26, 2010. (Just so their is no confusion I'll spell it out for ya!! See if you wanna fish on Tuesday we pick you up Monday at 7:30pm, provide accommodation. You fish all day Tuesday, we get you back to T.O. by 7:30pm or so… it's that easy… got it!!).
Book your "Fish n' Relax" weekend or daily today… you'll be a better person for it and have yourself a blast. You don't have to be an expert fisherman to enjoy this. MAKES A GREAT GIFT!!
Come to the Carden Plain - There's no place like this in Ontario!
There is a limited supply of these packages, so once the van is full thats it… dont miss the boat, or van, book now and come up for a hell of a good time.
This is a T.O. Sports Magazine special!
and book yourself a blast of a time! You can call too
*Please note: Add 10% for high season between June 26th and September 6th