by Jameson Fleming…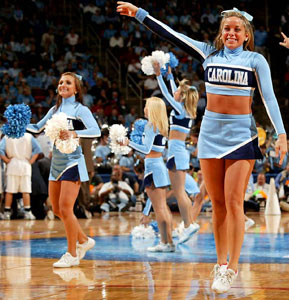 Simply, this North Carolina team is great.
The Tar Heels finished one of the most dominant NCAA Tournament runs of the modern era with a whipping of Michigan State team that had won every NCAA Tournament game by at least nine points.
Roy Williams' squad backed up the pollsters' decision to unanimously vote them the top team in the preseason. It's a squad that everyone knew was the best team entering the season with talent bursting at every seam of their iconic baby blue jersey.
No team possessed the kind of talent the Tar Heels could put on the floor. At least five future NBA players graced the floor of Ford Field in a quest for this group of player's first championship.
How does a team stop a four-time All-American, the country's Bob Cousy Award Winner, two lethal shooters, and an array of deadly post-players? The answer is you don't.
When things mattered, the Tar Heels always pushed forward, established their game and laid a punishment on the puny opponents that stood in their way.
It's fitting that when UNC established its game, the Heels did it not only with offense, but equally decimated opponents with a man-to-man defense. Everyone knew of the juggernaut Tar Heel scoring attack, an attack that featured four players that ranked in the top 50 in the country in offensive efficiency.
But it was the defense that most pundits kept questioning. A defense that supposedly would keep this team from winning a national title.
But it's a defense that all year long ranked in the top 20 in the country. It's a defense that features tremendous athleticism and size. It's a defense that stepped up on the national stage and held four very good offenses—Gonzaga, Oklahoma, Villanova, and Michigan State—to one of their worst games all season.
The defense has allowed the Tar Heels to leave a legacy that will be remembered in a positive light. It's a legacy that extends past the Class of 2009 that features Tyler Hansbrough, Danny Green, and the pesky Bobby Frasor.
Two more core players of the Class of 2010, Ty Lawson and Wayne Ellington are likely leaving to play professional ball while freshman Ed Davis has showed against college basketball's elite he could have started almost anywhere in the country—and dominated.
This class of players entered with such high expectations as they rode the coattails of Roy Williams' first title team in Chapel Hill.
The 2005 team laid the foundations for what could have been one of college basketball's greatest dynasties. But the Tar Heels floundered in the 2007 and 2008 tournaments, only to finally cash in on the talent gap between themselves and the rest of the country.
And as that class and likely also Lawson, Ellington, and maybe Davis, they, like the title team before them, leave a coattail for Roy Williams' next great recruiting class to ride.
Incoming five-star recruits John Henson and Dexter Strickland will try to fill the shoes of Tyler Hansbrough and Ty Lawson. Leslie McDonald will help Carolina fans get over the likely loss of Wayne Ellington.
Incoming power forwards and twins, David and Travis Wear will give UNC the Stanford effect in the frontcourt. As those two could someday become as dominant as Cardinal twins, Brook and Robin Lopez once were.
But back to the present day, UNC also paved the way for the future of college basketball. The Tar Heels won a championship with not only pure talent, but the experience rivaled by few teams.
Six of the top seven players in Carolina's rotation were in the midst of at least their third year in Chapel Hill. For four of those players, they could have been gone to the NBA well before their '09 title campaign. Tyler Hansbrough could have left after his freshman year to be a lottery pick in the NBA draft.
But he stayed.
And stayed again.
And stayed one more year.
For the other three of UNC's stars, last season could have been their last in the Tar Heel State (unless they received the unfortunate honor of being drafted by the Bobcats).
Danny Green, Ty Lawson, and Wayne Ellington all declared for the NBA draft, but made a pact similar to the '06 Florida Gators to all return to school in order to improve their draft stocks, but more importantly win the national title that they didn't want to be remembered as the group of Carolina players that couldn't win the championship that mattered.
If the '06 Gators and '09 Tar Heels are trailblazers in a new era of college basketball, then North Carolina's subsequent blowout in this year's title game may be good for the game as a whole.
If the Heels' performance keeps one group of players in school an extra year, it has done the sport good. Just think what college basketball could look like next if say Cole Aldrich and Sherron Collins stuck around in Kansas, or Jonny Flynn, Eric Devendorf, and Paul Harris stayed at Syracuse or finally Hasheem Thabeet and Stanley Robinson finished their Connecticut careers?
If any of that happens, it is pretty safe to say: Roy Williams' 2009 Tar Heels changed the brand of college basketball.