When you set the hook on a fish, and you feel the tug that you've been waiting for, time seems to slow down. It's probably your brain speeding up, but for that brief moment, relative to what is happening, time does seem to stop.
Our idea is unique in delivering what's first and foremost a fishing trip. You'll have an incredible opportunity to relax and experience the natural beauty of the Kawarthas.
If you're looking for white linen or pampered luxury, you're not going to find it here. But if you're looking for clean, comfortable accommodations, outstanding service, equipped fishing boats on a lake with the most diverse fishing, my friends you've found us.
You'll spend quality time with quality people like yourself and you won't believe what a special lake you fished and the fish you caught. You will leave with a smile on your face that I can guarantee, and if you're like the majority of our guests you will return.
by Willie Gannon… It would seem that the soap story at Anfield has taken another twist, after Juventus confirmed that Rafael Benitez is their number one target to take over from the embattled Ciro Ferrara, and wood was definitely thrown on the fire after Rafa's agent suggested the move could happen…
Following Juve's 2-0 defeat to Claudio Ranieri's Roma at the weekend, Jean Claude Blanc, Juventus' President, is expected to wield the axe on Ferrara. Pressure has been mounting on the Italian after Juve made an embarrassing early exit from the Champions League and the loss to Roma seems to be the final straw for the club.
The ironic thing is that Ranieri was sacked from Juve so Ferrara could be brought in, while their chief target Benitez also oversaw an embarrassing exit for this seasons Champions League for Liverpool.
At Liverpool, pressure has been mounting following the worst run of results at the club in decades. Only seven wins in their last 22 games, early exits for the Champions League, the Carling Cup, and the FA Cup, added to a title bid that was over by October mean that Rafa's job is on the line.
He has made a guarantee to the clubs fans that he will deliver fourth place at the least, and his job now depends on that promise.
The news that Juve are interested in the Spaniard will be music to some fans ears but will be the a real needle in the eye for the many Rafaelites who have backed their manager through thick and thin.
His agents ill judged comments will come as a real blow to those who have been most vocal in their support.
"Benitez to Juventus? In football you never know," Quillon said. "Right now, that hypothesis is not correct because he is a very important figure (at Anfield). The idols of the fans are Gerrard, Torres, and Benitez. "I don't know what will happen in four to five months. In football everything changes quickly, but the basic principle is that Rafa still has a four-year contract."
The move will be financed by John Elkan, Juve's vice president, and heir to the Fiat empire. He believes that Rafa would be interested in the terms they could offer him, £3million a year after tax. As it stands, Rafa receives the same amount from Liverpool but has to pay 50 percent of it through tax, leaving him with £1.5million.
Could Rafa be tempted by Juve's offer? Most definitely. Juventus are one of the few clubs that can compete in Europe as well as domestically and the financial package would be very lucrative to say the least.
It is, however unlikely that Benitez will leave before the summer, but with fourth place looking increasingly impossible, the news that Juve have offered Giovani Trappatoni a six month deal to look after the team until their target arrives may suggest that a deal for a new manager is in the pipework.
Is it Rafa? Remains to be seen…
by Sachin Arora… I have a feeling that this article is going to have a lot of hater comments about the Raptors. But people, face the facts: the Raptors have it rolling. After losing to the Cavs in Cleveland in a game which they should have taken, and losing one on the road to the Bucks, the Raptors responded by taking down the Bucks and Lakers at home.
This team has shown grit, toughness, and is finally looking like an elite team. Imagine what will happen when Turkoglu actually starts performing.
Record: 2-2
Performance on a scale of 1-10: 8.5
Positives
Marco Belinelli has been stroking off of the bench, and the Raptors are finally showing some inside presence. The Raptors have stayed with the top teams in the NBA, and have beaten the No. 1 team in the league, the LA Lakers. Everyone is finally playing as a team and the Raps have finally found a formula for success.
Negatives
Hedo Turkoglu still isn't playing well. Sure, he hit two big free throws against the Lakers, but he's still shooting a low percentage and isn't playing well at all.
Overall, the Raptors had a great week. They have shown that they can compete with any team, even the league's best.
I really think that Jose Calderon needs to get back into the starting lineup. To me, Jarret Jack is a great player, but he doesn't create offense for others. He's quick and can score, but doesn't run the offense like Calderon.
Let's hope that this type of play can continue and the Raptors can secure the fifth spot in the East.
GO RAPS!
by Stephen Brotherston…
On an early Sunday evening, a crowd of over 20,000 people watched the Toronto Raptors gut out a hard-fought win over the Western Conference's first place team and last season's NBA champion L.A. Lakers.
The game was easily the most exciting and intense of the Raptors season to date: A game won by the Raptors in the final 1:26 by scoring the final five points and defending Kobe Bryant into three missed jump shots.
It was Andrea Bargnani, who scored 12 of the Raptors 24 points in the fourth quarter, driving to the basket and finishing a reverse lay-up plus the foul with 1:16 left to bring the Raptors within one point.
And it was Hedo Turkoglu, who Jay Triano trusted with 11 seconds left in the game, driving to the hoop and getting fouled at least twice as three Lakers converged to stop the lay-up attempt. Turkoglu calmly drained both free throws to put the Raptors up by one with 1.2 seconds left.
And, as Matt Devlin should have said, "How do you like me now!"
Earlier in the season, Raptors TV personalities actually asked Bargnani how he could help Bosh get his game back on track. On two occasions, Triano actually sat Bargnani on the bench and watched winnable games slip away as the Raptors were unable to score.
But now, how do we like Bargnani? Even his biggest detractors have to admit Bargnani has been making huge contributions at both ends of the floor for some time now.
Bargnani's amazing driving lay-ups and dunks have become a part of every Raptors game this season. Multiple block nights are commonplace.
And in this game, Bargnani dueled with two of the league's premier big men and held his own at both ends of the floor. He matched the Lakers young center Andrew Bynum (21 points, nine rebounds, two blocks) with 22 points, eight boards, and a block of his own.
But it was Bargnani outscoring Bynum when it mattered, 12-2 in the fourth!
Bargnani's reverse dunk in the first quarter was something special. And in the fourth quarter, he answered his critics questions about his ability to be the go to guy when it mattered. With Bosh held to just two points over the final 17 minutes, the Raptors went to Bargnani for scoring.
For the month of January, the much maligned Hedo Turkoglu has struggled with his shot. And some fans and media seem to be only able look at the stat sheets to evaluate his performance—they should really get out to a few games!
So how do we like Turkoglu now? Hitting the game winning free throws against the Lakers has to count for something!
Like in the Raptors last win against Milwaukee, Turkoglu contributed a lot more than showed up on the stat sheet.
Turkoglu made the Lakers' Ron Artest the invisible man. Artest was held to just five points on 2-8 shooting, with one rebound and three assists. And when the Lakers took out Artest to go smaller, Turkoglu guarded Kobe and did a good job on the league's best player as well.
Turkoglu did shoot poorly in this game, going 1-6, but he was 6-6 from the free throw line, had five assists and a block. Like in the last game against Milwaukee, Turkoglu helped make the Raptors more effective than their opposition in the fourth quarter.
Anyone complaining about Turkoglu's hard-fought performances over the past couple of games just hasn't been paying attention.
Other players who have felt the fans wrath lately include Jose Calderon and Antoine Wright.
Calderon played in only 15 minutes as it took two stitches to close a gash over his eye after being hit collecting a rebound in the third quarter. But Jose did manage a team high five assists, three of which came in five minutes of the fourth quarter.
Wright played only 10 minutes and collected just one rebound. But he played good defense and was Triano's choice to guard Kobe in the final 15 seconds of the game.
And how do we like them now? We should! They did what was required when it was needed and helped the Raptors win this game. It is hard to know if media and fans appreciate just how much they contributed in limited minutes.
The Toronto Raptors did get off to a poor start this season and it took all of December to make up for it. Only recently has the ACC been filling up again for Raptors games.
But for the second time in January, the Raptors have fought their way back to a better than .500 record by beating the best teams from the Western Conference.
So how do we like the Raptors now? In January, the Raptors have beaten the San Antonio Spurs, Orlando Magic, Dallas Mavericks, and L.A. Lakers.
The Raptors are 7-5 so far this month, only losing games that have been part of difficult back-to-backs, each of which started with either Boston or Cleveland.
While there still seems to be some lingering doubt about just how good this Raptors team can be, it is now well past time to show the hometown Raptors some love.
Brothersteve's Green & Red Raptor Blog
by Stoker MacIntosh…

The Prudential Center in Newark, N.J., will be rockin' on March 27, as the big boys of the Ultimate Fighting Championship roll into town for an interim title match to settle once and for all who could be the next heir to the UFC heavyweight throne.
Depending on a much anticipated announcement from current title holder Brock Lesnar and his camp, Frank Mir or Shane Carwin could be destined for a title shot at the mammoth former wrestler sometime later this year.
The other match on the card—also a great one, and one that could be seen as Canada versus the UK—unfortunately seems more like a no-brainer,…at least on paper.
The current UFC welterweight champion and elite French-Canadian pound-for-pound fighter Georges St-Pierre will be looking to get past a man who, with a win here, could become the future pride of the UK.
That man is UFC 170-pound No. 1 contender Dan Hardy.
The surprise announcement today doesn't come from those stories, but from AHN Sports reporter Matthew Harvey, found here.
The article states that recent bad boy/sore loser Nate Diaz will be moving upward to welterweight in order to challenge Rory Markham in a fight that will reportedly also take place in Jersey, at UFC 111.
Diaz, who recently lost a decision to top '55 contender Gray Maynard, has gone on record to adamantly complain about the unfortunate loss.
A loss which he feels was a corrupt decision by the ringside UFC judges and the PPV on-air commentators.
Diaz firmly stated (on a recent YouTube.com video which has since been removed) that he feels he had the majority decision in his pocket, if the fight had been ruled fairly.
In any case, the mean-looking younger of the two fighting Diaz brothers has now decided to pack on some much-needed beef and will be moving from 155 pounds to 170.
In the well-written AHN Sports article, Mr. Harvey suggests the reasoning behind the Diaz voyage into the shark-infested waters of 170 are simple.
At 155 pounds, the young Diaz resembles the proverbial human laboratory skeleton, and he's grown tired of literally "starving himself to death" to remain at that weight.
Also, Harvey says, the move upward in weight would be accompanied by more strength—and some much-needed knockout power.
I tend to agree.
by Laura Bridgman… The Toronto Rock (3-0) beat the Rochester Knighthawks (2-1)at the Air Canada Centre in front of 10,104 fans to remain undefeated.
Rock owner Jamie Dawick announced at the beginning of the game that for every goal Toronto scored, the Rock would donate $1,000 to World Vision for the earthquake relief efforts in Haiti. The domination of Rochester totaled a Toronto donation of $17,000.
Toronto goal tender Bob Watson earned game MVP for stopping 45 of Rochester's 48 shots. Garrett Billings led the Rock with eight points from five goals and three assists.
In goal Pat O'Toole and Aaron Bold combined for 39 saves for the Knighthawks and were led by Shawn Evans with a goal and an assist.
In his first game of the 2010 season Cam Woods scored the first goal of the game followed by defensive teammate Jeff Gilbert. Rookie Garrett Billings struck next to give Toronto the 3-0 lead 5:21 into the game. Mike Hobbins continued to extend the Rock lead scoring the game's fourth. Billings drained his second and third past Rochester netminder Pat O'Toole for the hat trick even before the first quarter finished, causing the Knighthawks to changed goal keepers in favour of Aaron Bold.
Rochester got on the board to start the second quarter from a Scott Evans goal past Bob Watson. After nine minutes of scoreless play, dominated by defence, Billings scored his tenth goal of the season and fourth of the night. Kasey Beirnes posted Toronto's eighth and Mike Hominuck the ninth to end the first half with the Rock leading 9-1.
Captain Colin Doyle opened scoring in the second half, bringing Toronto's donation to the Haiti relief efforts up to $10,000. Shawn Evans scored the Knighthawks' second goal of the game, but Billings answered back with Toronto's eleventh goal, his fifth of the night tying his personal professional career best set in Boston on January 9. Pat McCready, in his first full game in a Rock uniform, dropped a shorthanded goal past O'Toole who was back in Rochester's net. John Grant Jr. finally got past Watson, a wall in Toronto's net, but Blaine Manning struck with 2:04 on the clock in the third to bring the score to 13-3.
Hominuck scored his second of the night to start the fourth quarter, followed by Beirnes' second and third to bring Toronto's tally to 16. #17 Stephan Leblanc was next scoring number 17 for the Rock. The clock would run out leaving the final score 17-3.
The Rock travel to Rochester next weekend to finish their home-and-home series with the Knighthawks. Game time is 8:05 at Blue Cross Arena. The Rock return home to the Air Canada Centre on February 5 when they host the Philadelphia Wings.
by Stephen Brotherston…

Real GM has published yet another story that the Sacramento Kings' Andres Nocioni is available. The Kings have a glut of small forwards and are focusing on the future. The 30-year old veteran is only getting in the way of their younger players.
The rumour that the Kings would like to move Nocioni and are looking for a serviceable a big man is nothing new.
But this year, one of the Raptors "holes" is a decent backup small forward. With no disrespect to Antoine Wright, his skill set is limited.
Nocioni is overpaid at $7.5 million, but he has been a very serviceable SF who can still put up 10 PTS and 4 REB in less than 24 minutes, play decent defense, and start if needed.
Raptors fans may remember Nocioni from his five seasons in Chicago where he was always a steady performer. He is a tough guy who this Raptors squad would benefit from having on the floor.
Nocioni's contract runs three years, declining each season to $6.6 million in 2011-12 with a team option for a fourth year.
A Reggie Evans or Marcus Banks plus Wright for Nocioni trade works (with minor luxury tax concerns that should be able to be overcome).
The Kings are not going to be expecting much for him. He is no longer needed and there is that November DUI issue hanging out there. Plus Reggie Evans may just fit their future needs.
Or an Evans plus Banks for Nocioni plus Sergio Rodriguez deal also works.
A deal for Nocioni represents the kind of minor in-season roster tweaking Bryan Colangelo likes to do.
Something that will not upset player rotations but provides a upgrade at a key position with a team-oriented guy.
Nothing in the wind about this potential trade as of yet, but Raptors fans should be paying attention.
by Stoker MacIntosh…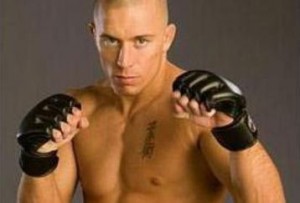 Ariel Helwani is a video reporter and mixed martial arts writer for fanhouse.com, and in his latest video interview—which can be found at the end of this article—he talks to the Ultimate Fighting Championship's 170-pound champion and elite pound-for-pound cagefighter Georges St-Pierre.
St-Pierre, in the new video interview, dispels many rumors, including the recent allegations by UFC 155-pound champion BJ Penn that he had been using steroids.
At the time of these allegations, which was just before the holidays, it almost sounded as if Penn and his trainer Rudy Valentino may have had one too many sips from the Christmas egg-nog bowl.
The controversy erupted during an on-air interview with Sports Illustrated journalist Josh Gross of SI.com's Gross Pointe Blank, when—with the smell of egg-nog still on his breath—Penn's trainer (Valentino) openly claimed St-Pierre had undoubtedly been using PEDs (performance-enhancing drugs) on a regular basis.
Wait, that's not all, Valentino also claimed that GSP would stop "cycling" the drugs just long enough to "test cleanly" for his title defenses.
The allegations, he said, originated from St-Pierre's past opponents; no doubt the same ones who—after losing—said GSP may have felt a little "greasy" to the touch.
Rumors which now, to say the least, seem ludicrous and extremely asinine.
GSP, in the Helwani Fanhouse video, says he is now contemplating a move upward into the uncharted waters of the UFC's 185-pound middleweight division.
However, he firmly stated that it's a one-way ticket up there, and that "once he goes to 185, there is no returning to 170."
He also said his walking-around weight, which is now at 193, would have to be increased to well over the 200-pound mark.
The elite French-Canadian fighter also stated that he has friends and training partners who fight at the UFC middleweight division, so he has to also consider the circumstances involving that.
Saying adamantly that he would "never fight a friend," the admirable cagefighting champion then explained why.
GSP stated that if he found himself needing to perform the "coup de grâce," which he says may include a (skull-splitting, laceration-causing, and possible skull-fracturing) elbow from the top, he would refuse to do it.
Who could blame him?
Here's the video; please enjoy.
by Stephen Brotherston… The Toronto Raptors are getting better as expected. The emergence of Andrea Bargnani as a defensive force, Jarrett Jack proving he can start when called upon, and the emergence of the Raptors "young guns" as a force to be reckoned with (at times), have propelled the team a .500 record overall.
And at the 40 game mark, the Toronto Raptors players have put together their best 10-game stretch of the season thus far.
Jose Calderon
In the 22nd game of the season versus Chicago, Calderon injured his hip and was unexpectedly sidelined for most of the next 13 games.
But since returning to the lineup five games ago, Calderon has re-established his role as Toronto's best point guard, averaging 11.4 points and 5.2 assists in just 24.6 minutes off the bench.
In his last game against the Knicks, Calderon tied his season high in points, with 21 in just 26 minutes of action.
On the season Jose is averaging 11.6 points and 6.0 assists in 29.9 minutes, a significant drop from his 12.8 points and 8.9 assists last season. But with Turkoglu and Jack averaging 4.5 assists or better, it will be difficult for Calderon to hit last season's numbers.
Since his return, Calderon has significantly elevated his level of play and is beginning to look more like the 2007-08 player who captured the hearts of Toronto fans.
DeMar DeRozan
DeMar DeRozan has started every game for the Raptors this season, but what has captured the media's attention is the first ever "dunk-in" contest against Eric Gordon for an invitation to the NBA All-Star slam dunk competition.
After 40 starts in 40 games, DeRozan is averaging 8.1 points and 2.8 rebounds in just over 20 minutes per game. He is shooting 46.8 percent from the field, and his 0.6 blocks and 0.4 steals illustrate that he is active on defense.
In the past 10 games, his scoring has increased to 9.1 points on 56 percent shooting.
The Raptors have drafted a player!
Hedo Turkoglu
Toronto's big free agent acquisition has taken some heat as of late for not living up to his big contract. But a more objective view might be that Turkoglu's play has been wildly inconsistent and the recent complaints are resulting from his slow start in 2010.
By averaging 13.1 points, 4.6 rebounds, and 4.5 assists this season, Turkoglu has disappointed fans and media alike. That's because last season in Orlando, Turkoglu averaged 16.9 points, 5.3 rebounds, and 4.9 assists.
But Turkoglu appears to have been nursing a sore back this season, and most of the drop-off in production can be found on the second night of back-to-back games.
With a more favorable schedule going forward, Turkoglu should be able to return to form in the second half of the season.
Perhaps the bad press has been just a little overstated.
Chris Bosh
Is there any doubt CB4 will be selected as an All-Star for his fifth consecutive season?
With 2009-10 as his best statistical season ever, Chris Bosh is averaging career highs in points and rebounds. After 40 games, CB4 has: 23.9 points, 11.1 rebounds, and 1.1 blocks in 35.3 minutes per game.
Bosh continues to average his lowest number of minutes played per game since his rookie year, and Bosh is playing 2.7 minutes less than last season. Hopefully, the new lighter load will keep Bosh on the floor for all 82 games this season.
Until the game in New York, Bosh had a streak of five games where he averaged over three assists per game, including a six assist game in the two-point win over the 76ers.
As a career 2.1 assist per game player, finding open teammates is perhaps the last offensive hole in Bosh's arsenal.
Andrea Bargnani
Andrea Bargnani has finally broken out and put together a streak of games that shows just how dominant a center he can become in the NBA.
In the past 10 games, Bargnani has averaged 20.1 points on 49 percent shooting to go with 7.4 rebounds and, 2.0 blocks in 38 minutes per game.
And in the past five games, Andrea has averaged 9.6 rebounds, including a career high 17 against Indiana.
The Big B is on track for his best season in the NBA. So far, Bargnani is averaging career highs in points at 17.2, rebounds at 6.5, blocks at 1.4, and shooting percentage at 47.2.
It seems almost everyone has noticed the big improvement in Bargnani's defense and rebounding as the season has moved along.
Why all the surprise?
Jarrett Jack
Jarrett Jack continues to start for the Toronto Raptors, and with the success the team has experienced, why mess with a good thing.
In the five games since Calderon has returned, Jack has averaged 11 points, 3.2 boards, and, 4.2 assists in 28.8 minutes. Combined with Calderon, those represent very impressive numbers from the point guard spot.
In his 18 games as a starter, Jack has averaged 12.3 points, 3.3 rebounds, and 5.6 assists in 32 minutes. While Jack may continue to start, his minutes could drop to his pre-starter's role minutes of 24 to 26 or less.
The signing of Jarrett Jack continues to make Bryan Colangelo look like a very wise GM.
Marco Belinelli
Belinelli has bounced back from his awful previous 10-game stretch of shooting just 31 percent from the field and averaging just 5.3 points to return to his season averages of about 8 points on 39 percent shooting in his past 10 games.
To be fair, we were warned! Belinelli is a player who is usually either very hot or very cold.
But Belinelli has been heating up lately. In his last four games, he has averaged 9.8 points on 50 percent shooting.
Amir Johnson
Amir Johnson has struggled recently.
As Andrea Bargnani's play has improved and his minutes increased by about five per game, Johnson's play has suffered and his minutes have dropped.
Over the first 30 games Johnson averaged 5.3 points, 5.1 rebounds, 0.6 steals, and 0.7 blocks in 17.2 minutes.
In the past 10 games with Johnson averaging 15.3 minutes, and his production has slid to 2.9 points and 3.4 boards.
Plus, Johnson's usually high shooting percentages have been dropping: from 66 percent in November, to 49 percent in December, to 38.5 percent in January.
The only good news comes from a jump in blocks to 1.1 per game over the past 10 games.
Johnson is just 22 years young, and he is still showing the heart, hustle, and potential that has been evident all season. But it would nice to see the young man show some progress on the offensive end of the floor.
Sonny Weems
Sonny Weems has found a spot in the Raptors' rotation, albeit not as big a spot as he initially received when he first sent Antoine Wright to the bench after the Atlanta debacle.
Over the past 10 games, Weems has averaged 5.1 points, 2.9 rebounds, 1.5 assists, 0.4 steals, and 0.5 blocks while shooting 42.9 percent in 15.9 minutes per game.
His recent contributions were likely more representative of Weems' current ability than his initial five games in the rotation when he averaged 8.4 points on 50 percent shooting.
Sonny continues to be effective since being inserted into the rotation and does provide a significantly more athletic back-up wing player than Antoine Wright.
Antoine Wright
The Raptors' defensive specialist made a re-appearance over the past 10 games. In 13 minutes Wright averaged 3.4 points on 45 percent shooting, 1.6 rebounds, and 1.0 assists. But these numbers were grossly inflated by the 35 minutes Wright played against San Antonio.
The past five games are more representative of Wright's current place in the Raptors rotation, with averages of 2.8 points, 1.0 rebounds, and 0.8 assists in 9.4 minutes.
And Wright's 35.7 percent shooting over this period is unfortunately also more representative of his ability.
Marcus Banks
The return of Jose Calderon to the rotation meant the return of Marcus Banks to the bench.
The Raptors should be thankful for his contributions while Calderon was unavailable and be thankful that they are not presently required.
Stay ready Marcus. The Raptors may need you again.
The Rest of the Raptors
Rasho Nesterovic continues to get spot duty and remains surprisingly effective when called upon. Playing in just 21 games and averaging just 9.2 minutes, Nesterovic has put up 4.1 points and 2.1 rebounds per game.
The Raptors are fortunate to have a reserve big man who has put up four double-digit scoring efforts while never knowing if he'll even play that night.
Reggie Evans remains out with a foot injury. His return date is still shrouded in mystery. Maybe next month?
Patrick O'Bryant continues to style from the sidelines in a suit most nights.
Pops Mensah Bonsu played in 16 games for the Raptors before finally getting his release in January. There just wasn't any reason to keep another big man project on the roster.
by JA Allen…

Parity has found its way into men's tennis. In terms of pure talent and potential, the field at the Australian Open seems wide open.
Oddsmakers, of course, factor in experience and past performance—but in Australia, in the land of sunnies and amber fluid anything is possible.
As we unveil our preseason power rankings consider the ramifications of the next two weeks upon the state of men's tennis as the first grand slam of 2010 gets underway.
The Top 10
1. Nikolay Davydenko (Last Power Ranking: 1; ATP Ranking: 6)
Last Four Tournaments: Qatar [Winner], London [Winner], Paris [R16], Valencia [Semifinalist].
Power Ranking Points: 316
Everyone is curious. Has the wiry Russian changed his diet, his training regimen, or his racket? All of a sudden he has become, if not everybody's choice to win the Australian Open—at least everybody's dark horse. At age 28, Davydenko appears to be playing his very best tennis.
As the Australian Open gets underway, many expect Russia's "Invisible Man" to become "Mr. Invincibility," taking this title to win his first major. His quickness makes Davydenko dangerous on the hard courts. He is in Federer's quarter so there may be a potential matchup.
If so, can Davydenko win three in a row over the man he had never defeated until the ATP World Tour Finals when the Russian took out Federer in the semis? He followed that in Doha with a semifinal victory again over Federer and a win over Nadal in the finals. Davydenko is hot, hot, hot!!
2. Novak Djokovic (Last Power Ranking: 2; ATP Ranking: 3)
Last Four Tournaments: London [RR (2-1)], Paris [Winner], Basel [Winner], Shanghai [Finalist]
Power Ranking Points: 239
The Serb is ranked No. 2 in the Preseason Power Rankings based on fumes from the tail-end of 2009 with back-to-back wins in Paris and Basel. The 2008 Australian Open champion hopes to reclaim the title in 2010 as the No. 3 seed. But he has some challenges to get there, potentially meeting Gasquet and later Soderling or Tsonga in the quarterfinals.
Djokovic needs to get by these intimidating challengers before he can even consider facing Federer in the semifinals. For once, he is the man under the radar as the media points to others like Federer, Nadal, del Potro, and even Davydenko. Djokovic knows what it takes to win this title.
The question remains, can he find the "right stuff" to pull off another coronation down under?
3. Marin Cilic (Last Power Ranking: NR; ATP Ranking: 14)
Last Four Tournaments: Chennai [Winner], Paris [Quarterfinalist], Basel [Quarterfinalist], Vienna [Finalist]
Power Ranking Points: 168
Cilic makes his first appearance in the Power Rankings with plenty of good reasons for inclusion at the No. 3 spot. The Croat has climbed steadily, improving his game and his results, making it into the ATP top 20 for the first time—currently sitting at No. 14.
Cilic is fresh off a victory in Chennai and is seeded No. 14 at the Australian Open where he meets Fabrice Santoro in the opening round. The enigmatic Frenchman can be a tough opponent on any occasion. Should Cilic advance as seeded, he would meet the No. 4 seed Juan Martin del Potro in the 4th round.
That could prove to be an enticing matchup of the young guns. Cilic joins the pack of dark horse contenders who may wreak havoc with the establishment in Melbourne.
4. Rafael Nadal (Last Power Ranking: 8; ATP Ranking: 2)
Last Four Tournaments: Qatar [Finalist], London [RR (0-3)], Paris [Semifinalist], Shanghai [Finalist].
Power Ranking Points: 161
It seemed astonishing to see Nikolay Davydenko upset the No. 2 seed Nadal in the final at Doha. In reality, however, the Russian leads in their head to head 5-4. As is more and more the case these days, players have confidence in their ability to defeat Nadal. The aura has evaporated.
But Nadal is returning to Melbourne to defend his only hard court slam championship which the Spaniard won by defeating Federer in five sets last year—another seismic final between the two titans of tennis.
Nadal has some challenges again before he reaches the final. None more so than a potential quarterfinal matchup with the No. 5 seed, Andy Murray.
Along the way, Nadal may face Philipp Kohlschreiber, the German whose run at the 2008 Aussie Open sent Andy Roddick packing. He might also face the giant Ivo Karlovic who is capable of serving anybody off the court or dangerous Radek Stepanek.
Then if he gets past all of these dangerous opponents he could face del Potro in the semifinals. There are no gimmes in this tournament. Is Nadal back? His progress down under should provide a very compelling clue.
5. Radek Stepanek (Last Power Ranking: 9; ATP Ranking: 13)
Last Four Tournaments: Brisbane [Finalist], Paris [Semifinalist], Basel [Semifinalist], Vienna [Quarterfinalist].
Power Ranking Points: 137
For a tour "senior" Stepanek had a great 2009, ending the season in strong fashion with semifinal appearances in both Paris and Basel. Recently, he reached the final in Brisbane where he lost to winner Andy Roddick 6-7, 6-7 in a very tightly contested match.
Unluckily for Stepanek, seeded No. 13 at the Australian Open, he meets Croat Ivo Karlovic in the first match. That is not a favorable draw! Should he survive, he could meet Nadal in the 4th round.
Stepanek has been around a long time and his experience should serve him well getting out of the gates and sustain him as he progresses. He just has to pray that Karlovic has a poor serving day when they meet.
6. Andy Roddick (Last Power Ranking: NR; ATP Ranking: 7)
Last Four Tournaments: Brisbane [Winner], Shanghai [R32], Beijing [R32], US Open [R32].
Power Ranking Points: 131
Roddick has been pretty much "missing in action" since 2009 Wimbledon with hip and knee injuries. But he rocketed back into action by winning the tournament in Brisbane where he met and defeated Radek Stepanek in the final 7-6, 7-6. This should have tested all his extremities and revealed any lingering injuries that might have slowed him down.
Seeded No. 7 at the Australian Open, Roddick's first true test may come against fellow countryman Sam Querry in the 3rd round. Roddick might then conceivably face Tomas Berdych or Fernando Gonzalez. The quarterfinals then would find him face to face with Juan Martin del Potro—assuming both make it that far.
Roddick demonstrated his belief and his desire to win another slam. He is off to a good start down under. It is time for a bit of good luck to be gifted to the perennial top 10 Roddick.
7. Roger Federer (Last Power Ranking: 5; ATP Ranking: 1)
Last Four Tournaments: Qatar [Semifinalist], London [Semifinalist], Paris [R64], Basel [Finalist].
Power Ranking Points: 126
Federer was disappointed in Abu Dhabi losing to Soderling and in Doha where he lost once again to Davydenko. But he remains optimistic of his chances in Australia where he has not won since 2007. Is it time for another title in Melbourne? This is what everybody wants to know.
Federer comes into the Australian Open seeded No. 1. His draw is filled with potential hazards. His first round match is with Igor Andreev, who played Federer extremely tight in their last match at the 2008 U. S. Open with Federer finally prevailing in five.
The Swiss could potentially meet Lleyton Hewitt or Marcos Baghdatis in the 4th round and then either Fernando Verdasco or Nikolay Davydenko in the quarters. That potentially leads to Djokovic in the semifinals. No cake walk for Federer.
2009 was a stellar season for Federer. Anything more is gravy. The great thing for all tennis lovers is that the Swiss is ready to compete and would love to do it all over again.
8. Andy Murray (Last Power Ranking: 4; ATP Ranking: 4)
Last Four Tournaments: London[RR (2-1)], Paris [R16], Valencia [Winner], US Open [R16]
Power Ranking Points: 121
In 2009 Murray seized an ATP World Tour-best six titles and reached a career-high No. 2 ranking in August before finishing the year at No. 4. He enters the Australian Open seeded No. 5, surpassed by del Potro for the No. 4 seed. As of January 18, Murray has recaptured the No. 4 ranking but his seeding will remain.
Murray is in Nadal's quarter of the draw at the Australian Open and has potential matchups with either John Isner, fresh off his first ATP victory in Auckland or with the dangerous Gael Monfils who can produce a first-rate performance at any time.
Murray would meet Nadal in the quarters if both survive into the second week. After so many years of bad luck in Melbourne, will this finally prove to be the year the Scot finds his first major at the Australian Open? His fans are tired of waiting and hoping for Murray to fulfill his potential
9. Juan Martin del Potro (Last Power Ranking: 3; ATP Ranking: 5)
Last Four Tournaments: London [Finalist], Paris [Quarterfinalist], Shanghai [R64], Tokyo [R32]
Power Ranking Points: 121
As one of the few to win a major in the last five years, much is expected of the lanky Argentine. Del Potro won on the much faster hard courts at Flushing Meadows; so if he can withstand the heat and the pressure, why shouldn't he take another slam in Melbourne?
Seeded No. 4, del Potro could conceivably meet Marin Cilic in the 3rd round. Then perhaps either Fernando Gonzalez or Andy Roddick await. His semifinal match might find him across the net from either Murray or Nadal. It doesn't get any easier as the tournament progresses.
With his only scheduled warm-up in Kooyong where the Argentine pulled out with a wrist problem, del Potro may be nursing an injury and his match strength could be in question. His first round match with Michael Russell should provide some clues as to any potential wrist problems.
10. Gael Monfils (Last Power Ranking: 7; ATP Ranking: 12)
Last Four Tournaments: Brisbane [Semifinalist], Paris [Finalist], Valencia [R16], Vienna [Quarterfinalist].
Power Ranking Points: 120
In 2009 Monfils worked his way into the ATP top 10 for the first time in his career. Although he was not able to stay there, he is currently ranked and seeded at No. 12 going into the Australian Open.
This multi-talented but frustrating Frenchman has all the potential to be a champion—but apparently not the discipline or the confidence to go all the way. He seems to find a way to self-destruct, beating himself.
Monfils is in Nadal's quarter of the draw and could very early on meet American John Isner who is seeded with the withdrawal of Frenchman Gilles Simon due to injury. Isner could be a real challenge for Monfils. If the Frenchman survives it may send him directly to face Murray in the 4th round.
Monfils has the game and the talent to win. Perhaps, this will be his finest season in the sun—down under.