by Daniel Reiter… The NFL season is in full swing, quarterback controversies have been mended and some created. The stories of the year have been the early departure of Tom Brady from the Patriots starting offense and the signing of Brett Favre to the N.Y. Jets forcing the departure of Chad Pennington to Miami. You can't blame the Jets for that one.
With so much change and the season well underway lets take a look at the top 10 best QB's in the NFL this season.
#10 – Trent Edwards
By the numbers Edwards is having a pretty good season. He's completing around 66% of his passes and is on pace to pass for around 3000 yards. The real story is that the Buffalo Bills finally made a smart QB decision and went with Edwards over J.P Losman who has had more than enough time at the helm to prove he is not the right man for the job. To begin the season Edwards led his Bills on a 4-0 streak placing them firmly atop the league with comeback victories almost every week before going down with a concussion in week 5. Although the teams they beat were not the best in the league the Bills are finally winning the games they should be winning, and when Losman stepped in against the Cardinals in week 5 it was glaringly apparent why he is the backup and how much the Bills need Edwards.
#9 – Drew Brees
Before the season began it was obvious that the New Orleans Saints were going to be a passing team this season. They made a nice upgrade at tight end grabbing the always controversial Jeremy Shockey who has become one of Brees' favorite targets. The Saints' offence relies heavily on getting the ball to running back Reggie Bush who is almost catching as many passes from Brees as he is rushing, which is most of the reason why Brees is on track to hit 4000 yards passing this season. Brees is almost passing at 70% accuracy and his coach has put all faith in him when behind in games this season. The problem has been Brees' composure under that come from behind pressure, he is just too unpredictable. When behind Brees throws for as many interceptions as he does touchdowns. Brees had the same problem last season as well throwing 12 TDs but 14 interceptions when trailing the opposing team. He is not a proven clutch QB.
#8 – Aaron Rodgers
By now we all know the name and we have all been surprised, right? So Green Bay Packer fans are not use to seeing their team start out at 2-3, and they are not use to seeing Aaron Rodgers in the pocket either but these are a few things they are going to have to accept. Although it is his 4th season Rodgers may as well be a rookie in this league, as this year he has surpassed his career totals from his first 3 years which he spent watching Brett Favre. As much as some people were waiting for him to fail he is actually a decent quarterback. He's fairly composed when blitzed although sacked 11 times this season he hasn't been giving up the ball that much with only 4 interceptions and 1 lost fumble. Rogers is not as accurate as he needs to be with the receivers he is passing to, which has lead to many throws going short or long. Given some time he could develop into the type of QB that could lead a team into the post season, but definitely not this year.
#7 – Jay Cutler
Regardless of who the Denver Broncos are playing each week Jay Cutler doesn't change a thing. He must make pre-game decisions to pass for a crap-load of yards and to not get sacked. In only his 3rd season Cutler is averaging over 300 yards passing per game and completing 65% of passes. He takes calculated risks and executes well as he's rarely sacked and doesn't throw many interceptions. In his first 5 games he has not been challenged by any of the leagues top defenses and somehow managed to lose to Kansas City, mostly due to mistakes and incomplete passes. He definitely plays like a young QB with a lot to learn and a bright future. It will be interesting to see what he does against a top defense.
#6 – Philip Rivers
Rivers is a bit of a dark horse on this list and many would argue that he doesn't deserve to be ranked so high. The Chargers, who were a favorite to go deep into the playoffs this year, have sputtered early on in the season. This however is not a result of Rivers's play. He passed for 11 TDs in the first 5 games, and played phenomenal in his first 3 games of the season although 2 were narrow losses to Carolina and Denver and the third was a spanking of the N.Y. Jets. Rivers is shaky in the pocket at times and tends to have slow starts into each game. He is much improved from last season, but unfortunately for the Chargers LaDainian Tomlinson isn't offering much support to Rivers so far this year.
#5 – Ben Roethlisberger
Consistency is the name of the game for Big Ben who has been consistently winning games thus far leaving no question who is going to lead this Pittsburg team into the playoffs. Starting out with a 4-1 record only narrowly losing to the reborn Philadelphia Eagles while getting sacked 8 times, I'm sure he thanked his offensive line after that game. Now that he's hitting a good stride after passing for over 300 yards in week 5 against the Jacksonville Jaguars Ben will easily hit the 3000 yard mark before the post season.
#4 – Kurt Warner
Kurt Warner is old and in his 11th season and somehow that has not stopped him from finding the form he had back in St. Louis when he was named Super Bowl MVP twice. He has passed for 10 TD's in the first 5 games of the season which has basically led the Cardinals to a 3-2 record despite their sputtering defense. Warner looks very mobile and loose in all game situations and destroyed the Bills in week 5 despite the absence of top receive Anquan Boldin. Warner would be ranked higher but he is in the same situation as Tony Romo with some of the best receivers in the game. Is he making them good receivers or are they making him a good quarterback?
#3 – Tony Romo
Romo like Warner is undoubtedly a future hall of famer and arguably playing on the most talented team in the NFL right now. This certainly makes him a better quarterback, as does playing with Terrell Owens, but Romo has shown that he can make things happen on his own. He engineered an incredible win against the Philadelphia Eagles in week 2 which will probably be the most exciting game of the season, pending the rematch. He pulls very few victories out of where the sun doesn't shine, normally beating teams into the ground offensively. Romo's main issue, which he is growing out of, is that he allows opposing defenses to get in his head. He frustrates easily and loses his cool if an offensive plan fails or he gets sacked or knocked down leading to 4th downs, turnovers, etc. A shining example is last year's Giants vs. Cowboys playoff game.
#2 – Brett Favre
Brett Favre has proven that he is still the QB he was last season when he led the Packers to the NFC Championship game. Now on a less talented squad in N.Y. Favre is still putting up big numbers and making those impulsive plays that still somehow pay off. The coaches have shown that when they want a redzone touchdown they want the ball in Favre's hands and go to the air, Favre had 12 TDs in the first 4 games of the season. If the Jets have any chance of winning a wildcard spot this season it is because of Favre. In his 18th season he still has not missed a game and who knows when he will finally sit one out, but for now anyone who has watched him this year can see that he is the same old Favre.
#1 – Eli Manning
Aside form the fact that Tom Brady is out for the season the reason that Eli tops this list is because he not only led his team to Super Bowl victory last season and was named the MVP, but he has been at the helm of a team that has posted absolutely dominating victories over weak teams in the league and convincing wins over good teams. He's a smart QB with faith in his defense and therefore doesn't force plays into turnovers on 3rd down but allows the punting unit to do its job if his offense comes up short. Aside from Brady, Eli may be the smartest QB in football and watching him on the field is proof enough of that. There is a good chance that he will lead this Giants team to Super Bowl victory again this season, and there is no way they could do it without him.
Wondering where Donovan McNabb and Peyton Manning are? One good game won't get you on this list. Think my list is wrong? Think I'm crazy?
Let's hear what you have to say: https://tosports.ca/?cat=1029
by Daniel Reiter… Sitting in Ralph Wilson Stadium on Sunday watching the Bills and Raiders duke it out to an intoxicated sell out crowd of Bill's faithful, I couldn't help but wish I was sitting in Gillette Stadium watching the Miami Dolphin's offense dissect the New England Patriots.
Don't get me wrong being at just about any NFL game is always a great experience unto itself, unless you live in Kansas City these days, but just to be witness to an upset between 2 teams from opposite ends of the spectrum last season would have been magical. The questions are certainly mounting now that the game is over with Miami coming out on top 38-13. Is New England really that bad without Tom Brady? Did they just underestimate the Dolphins? Have the Dolphins improved that much and just starting to gel?
For starters Matt Cassel is obviously not Tom Brady, but he did have 2 good outings in the first 2 games after Brady went down. Cassel is learning, and watching Tom Brady make it look so easy for 3 seasons now may not have given him the right impression of what it takes to be an NFL QB. The Dolphin defense clearly got to Cassel sacking him 3 times and forcing a fumble which was recovered by the Phins. Cassel was also intercepted by defensive end Randy Starks who scrambled for 8 yards the other way. All things considered it would be easy to place the blame of this loss on Cassel considering he is the one big question mark for the Patriots this season.
The Patriot offense was without star running back Laurence Maroney who injured his shoulder last week and has struggled so far this season averaging only 3.7 yards/carry and no touchdowns. Backup and former Dolphin Sammy Morris had trouble picking up the slack on Sunday rushing for only 27 yards averaging only 3 yards/carry, certainly not enough to help an offense that looks to be quickly losing faith in its QB.
Randy Moss must be shaking his head this season more than anyone. After 3 games he has 12 catches for 163 yards and only one touchdown. Last season after 3 games he had 22 catches for 403 yards and 5 touchdowns.
The Patriots also scored 38 points in each of their first 3 games last year, and astonishingly scored at least 34 points in each of their first 8 games. They haven't scored more than 20 points in any of their games this season and are clearly not playing with the same confidence they had last year.
The blame of this loss should probably be placed on the Patriot defense that looked like they forgot altogether that they were playing in a football game. They gave up 461 total net yards to an offense that could barely put together a first down in their two previous games. The Patriot secondary made Chad Pennington look as good as he was before that serious knee injury a few years back completing 17 or 20 passes for 226 yards and no interceptions. The big story of the day was running back Ronnie Brown who rushed in 4 Dolphin touchdowns for a team record and completed passes to tight end Anthony Fasano for the 5th. He gave the Patriot defense fits all day long as they illustrated perfectly how not to tackle an NFL running back. Brown was almost averaging 7 yards/carry by the end of the game and even the problematic Ricky Williams managed to rush for 98 yards averaging just over 5 yards/carry.
The strangest part of the Patriots defensive woes was the fact that they could not adjust their defense to stop the one play that was killing them. The Dolphins had 6 direct snaps to Brown with Pennington lined up as a receiver resulting in four touchdowns. From what has already been seen this season the Patriots defense is fundamentally sound and should have easily been able to stop this play the second time they saw it. Perhaps they were expecting something different every time, or they were demoralized from the momentum of the Dolphins offense. The bottom line was that they sucked and the Dolphins executed their game plan perfectly.
This game was destined to be memorable with Dolphin defensive lineman Joey Porter predicting victory over the Brady-less Patriots during the week prior to the game. Porter then backed it up on the field with 2 sacks and a forced fumble which was recovered.
So Patriot fans blame the defense this week and give Cassel a break. Hell, take a look at Trent Edwards of the Bills on Sunday. He threw most of his passes behind his receivers and only came up big when it really mattered and was almost too late. The Bills could have had the game in the bag early against a weaker Raiders team if he played a little better. He ended up spending too much time in the pocket only to get rushed out and forced to ground the ball more than was necessary. At least he was avoiding the sack.
To avoid beating a dead horse with stats the crowd around me was calling for his head until the fourth quarter when he led the comeback. He played about as good as Cassel did but came out on top because the rest of his team showed up to play and not just stand around like a bunch of pylons on I-93 just south of Boston.
Quick note to Bill Belichick: Next week is a bye week so you have 2 weeks to talk your players out of the depression they must be in right now. The Dolphins are better than last year and the Patriots are worse than last year, no big surprise here. One thing to avoid should be Buffalo Bills syndrome (i.e. continuously changing up your quarterback, eventually settling on the wrong choice and before you know it 8 post seasons have gone by without you) – up until this year of course as right now the Bills are leading their division.
by Daniel Reiter… ♪Don't call it a comeback I've been here for years…♪
So LL Cool J wasn't playing in week two of the NFL but there were eight games played that involved 4th quarter comebacks to ensure victory. Some games were certainly better than others, but which was the best?
The Buffalo Bills have so far this season reaffirmed themselves as one of the best teams in the AFC no question. This past weekend they took down the Jacksonville Jaguars who last season were one of the best in the NFC and still a solid football team despite their 0-2 record. The game was close throughout and the Bills comeback was complete when receiver James Hardy caught an amazing 7 yard pass from QB Trent Edwards in the end zone to tie it and then take the lead with the point after 17-16 with 4:10 left to play. The Bills sealed it with 0:29 to go with a field goal making it a 20-16 final. Trent Edwards was the clear standout in this game throwing 20-25 for 239 yards and 1 TD to win it. The Bills proved they didn't need the trickery they used in week one to win games, all they needed was faith in Edwards and to ensure that J.P. Losman kept the water jugs full.
So the main reason that the Minnesota Vikings allowed the Indianapolis Colts to comeback and win on Sunday 18-15 was their inability to convert on 3rd down. The Vikings may want to go back to the drawing board on this one as they were a pathetic 2-13 on getting the needed yards when it was 3rd down. Even if they hit 4 or 5 more of those they could have at least guaranteed one more field goal which would have forced a tie when Colts kicker Adam Vinatieri booted the game winning field goal with 3 seconds left. It was a great game if you enjoyed watching teams kick field goals as there were 5 straight Viking field goals to start the game until the Colts finally scored a TD at the end of the 3rd quarter. The score seems to reflect a defensive game, but Peyton Manning still managed to pass for 311 yards, while the Vikings almost rushed for 200 yards.
Entering the second half on Sunday the Chicago Bears were up on the Carolina Panthers 10-3 and then scored at 9:23 of the 3rd to go up 17-3. For most teams in the NFL a lead like this would stand up until the end of the game and even if they played poorly they would most likely get a field goal or two to put it out of reach of a surging opposing offense. Unless you are the Chicago Bears of course and insist on playing Kyle Orton instead of Rex Grossman like you should be. Orton was a miserable 19-32 for 149 yards and played even worse than his stats illustrate. The Panthers scored a TD and a field goal in the 3rd to make it 17-13 and with 3:52 remaining in the 4th, after marching 55 yards in just under 3 minutes, RB Jonathan Stewart rushed the 1 remaining yard into the end zone for his second TD of the game.
The rivalry between Philadelphia and Dallas is well known throughout the league and more so by the fans in each town. Before the coin hit the ground allowing Philly to return the opening kickoff this game was for sure going to be a good one. Both teams shone in their week one games, and regardless of their opponents showed just how powerful they will be this season. The Monday-nighter didn't disappoint as there was 1 kickoff returned for a TD, 1 interception, 2 fumble recoveries (one resulting in a touchdown), 4 sacks, 5 field goals, 7 lead changes, 9 touchdowns, 78 total points, 571 total passing yards, 717 total net yards, but only one winner…barely…the Dallas Cowboys. Oh and one ridiculous play that saw rookie Eagles receiver DeSean Jackson do his best Leon Lett impersonation with a premature end zone celebration losing the touchdown. Little did it matter aside from pride as running back Brian Westbrook rushed the one yard into the end zone on the following play. Westbrook came very close to breaking Al Bundy's record of four touchdowns in one game by scoring 3 and coming close to a fourth in a hook and ladder that ended with Westbrook getting pushed out of bounds after a second lateral to end their scoring threat and basically the game.
The Dallas vs. Philadelphia game was clearly the best comeback of the weekend. Why you ask? Exciting comebacks are high scoring games, with many lead changes, incredible stats and more than one hero. If you are happy enough to see the old storied last second field goal heroic winning kick in perfect sunny no wind conditions comeback then check your pulse. If you want another chance to see a great game incase you missed the Dallas vs. Philadelphia game on Monday then make sure you see their rematch in week 16.
Quick note to the Chicago Bears: If you had listened to just about everyone at the beginning of the season you would probably have beaten a Panthers team that had the same record as you last season and will probably finish below .500 this season. Oh you don't remember what people were saying…Rex Grossman at starting QB ring any bells?
by Daniel Reiter… By now the word about Tom Brady's knee injury has made news across North America as everyone waits in anticipation to see which direction the suddenly vulnerable Patriots will go at quarterback.
Thinking about how this has changed things in the AFC East is mind blowing. The affect it is going to have on the Buffalo Bills and the New York Jets is massive. Without Brady leading the way for the Pats and with damn good performances from the Bills and Jets in week one it seems that any of these 3 teams could win the AFC East.
The Bills came out with guns-a-blazin' against the slightly favoured Seattle Seahawks and blew them out of the water 34-10 with impressive performances all around. The Bills made the clear choice in going with QB Trent Edwards as the starter. He has obviously improved since last season and will probably get better as his confidence improves as the season wears on. As a rookie last season RB Marshawn Lynch was impressive and in week one picked up right where he left off rushing 18 times for 76 yards.
The Jets' big offseason story continues to play out as a fairytale with Brett Favre impressing in his Jets debut taking down an improved Miami Dolphins 20-14. Granted the Dolphins are not a wildcard threat this season but they are not the same team that was circling in the toilet bowl last season. Favre went 15/22 for 194 yards and 2 TDs while veteran RB Thomas Jones is looking towards another +1000 yard rushing season pounding out 101 yards on 22 attempts in Sunday's win.
Each of these teams will play the Brady-less Patriots twice this season, and guess what? Their chances of winning just got a whole lot better. Now all of a sudden the 9-7 Jets could be 11-5 same goes for the Bills, with a little luck the Dolphins might actually pull out a close game or even a win over the Patriots as well. Okay maybe not, but it will certainly be interesting to see how the Pats now perform against teams who they surely would have demolished without Brady in the lineup.
The real test will be in week two when the Jets take on the Patriots in their first full game without Brady and still probably riding a high after finding out that Favre still has something left in the tank.
Let's not take everything away from the rest of the Patriots team though. They are still packed with talent, so who will pick up the slack? Well it certainly won't be at quarterback with Matt Cassel who should be a career backup that might get the Patriots a split over the rest of the season after barely beating the Kansas City Chiefs last week, a team the Pats would normally walk through. Over his 4 year career Cassel has thrown for a whopping 405 yards completing 35 of 57 passes. By comparison Philadelphia Eagles quarterback Donovan McNabb hit 21 of 33 passes on Sunday for 361 yards, only 44 yards shy of Cassel's entire career yardage.
Laurence Maroney should not be overlooked at all. On a team that is dedicated to its passing game Maroney still managed to run for over 800 yards last season, and with Brady's injury can probably expect his first +1000 yard season as they will probably not be going to the air as often.
Randy Moss is also a factor who will make any quarterback look better than they are, but his life was much easier when he was catching passes from one of the game's best. He almost caught 1500 yards worth of passes last season and without Brady in the lineup you can expect that total to drop a little. Pint sized receiver Wes Welker will also miss Brady's presence as he had a breakout season last year with over 1100 yards receiving. His production will probably drop quite a bit as any quarterback taking over will likely not be use to passing to such a small target, regardless of the fact that he puts up big stats.
Overall the loss of Brady can be looked at by just one overwhelming stat from last season, his QB Rating of 117.2. No other QB was even close to this last season with Ben Roethlisgerger coming in at 104.1 but still passing for 1700 fewer yards than Brady. Or how about the 50 TD passes Brady made last season, which eclipsed Tony Romo's second best 36 TD passes with arguably equally good receivers in Dallas, and possibly a better offensive line too boot.
There is obviously no replacing Brady's production and stats aside just having him on the field puts faith into the rest of his offense that he will make something happen when they need it to happen.
So who's left for the Patriots to choose from?
Recently retired Daunte Culpepper may be persuaded out of retirement to play with former teammate Randy Moss, but his knees are a big question mark after failing miserably in Miami and Oakland in the waning years of his career. His time may be passed, but his experience and presence may be what the Patriots need to forge on.
His name hasn't really been passed around either but 44 year old Vinny Testaverde might be a good option to start few games or even back up Matt Cassel to avoid having to go to their third stringer who Testaverde even in his old age is probably better than. Testaverde did have a brief stint with the Patriots during the 2006 season and may be familiar with the offensive system and some of the players.
Other options for the Pats could be more failed Dolphins quarterbacks in Cleo Lemon who is currently backing up David Garrard in Jacksonville and Josh McCown who is third string in Carolina with little chance of seeing the field behind Jake Delhomme. Draft picks might be an attractive lure to either of these teams at this point in the season if the Patriots are willing to part with them.
It is likely that the second Brady walked off the field the big brains in the Patriots head office went to work finding out who was available and explored all the aforementioned options. They came out with the name Chris Simms, formerly with the Tampa Bay Buccaneers; the 28 year old free-agent is 6'4 220lbs with a career QB rating of 71.2 he played most of the Bucs 2005 season alongside Brian Griese clinching the AFC south, but losing in their first playoff game to the Washington Redskins.
Quick note to the Patriot's offensive line: THIS IS ALL YOUR FAULT! It may have been only one lapse in judgment or one missed blocking assignment allowing Bernard Pollard to get close enough to take Brady down at the knee, but it is certainly not Brady's fault because he's just perfect, isn't he?
by Daniel Reiter… With the beginning of the NFL season upon us let's take a look at which games you will need to see this season and which ones you should just wait to see in highlights.
Week one has a few games that should be good matches. For starters the cross conference match between Dallas and Cleveland should illustrate which of these two teams is the real deal. Dallas will likely beat the crap out of Cleveland, but if Cleveland makes it a close game against the league's best they should consider it a step closer to obtaining a wild card come playoff time. This match up will give Cleveland a chance to see if running back Jamal Lewis is still prepared to carry the offensive load, and will give Dallas a chance to see how their upgraded defense handles one of the best running backs in the league.
Other notable games will be between Washington and defending champions New York Giants, Chicago and Indianapolis, and Green Bay and Minnesota on Monday night. If you feel like taking a nap on Sunday afternoon tune in for the snoozer between St. Louis and Philadelphia.
The obvious marquee game in week two is between the New York Jets and New England Patriots. By now Brett Favre has had one week to acclimatize to his new team, but in all likelihood the Patriots will be playing like they did all last season and annihilate the Jets. It will be hard to know what the Jets pass rush will be like this season with starting defensive end Shaun Ellis having the potential to hit double digit sacks, but the rest of the defensive line more geared towards stopping the rush.. It can also be assumed that the Patriots' coaches have watched that Super Bowl game tape more than any other the entire season to find out what went wrong in protecting Tom Brady. They must know by now and too bad for the Jets because they will be on the receiving end. Clearly the big story will be Brady vs. Favre and regardless of performances it will be on every highlight reel the following day.
The Washington/New Orleans game should be entertaining as these teams match up pretty good against each other. If you want to see a slaughter watch the Atlanta Falcons try to avoid embarrassment against the Tampa Bay Buccaneers in the afternoon game.
By the time week three rolls around the good teams should start to be very obvious and the bad teams, well we already know who they are going to be anyway ahem..Philly, Atlanta, St. Louis, Oakland, Baltimore…ahem. The games I'll be watching this week will likely be the Arizona/Washington and Indianapolis/Jacksonville games. Both Washington and Arizona are primed to have breakout seasons and will be looking to prove themselves with every win. I would say the Redskins will probably win this one, but it certainly should be an offensive shootout. The Colts vs Jaguars is a very important AFC matchup that will surely determine who will win the AFC south.
If you want to see a game riddled with turnovers and terrible plays where the big excuse for each team is already lined up as bad weather, watch the Oakland Raiders visit the Buffalo Bills. Neither team will be any good this year and there is no point in making a prediction at this point or at any point because really who cares who wins a matchup as pointless as this.
Week four seems to be a scheduling oasis for anyone primed to make money on these games. There will be more blowouts this week than probably any other week all season, so let me spare you the anticipation. New Orleans will send San Francisco packing. Minnesota is going to fake the right hook and give Tennessee a nosebleed with a strong left. Jacksonville will make Houston feel like they should have spent a few more weeks in training camp. The hype these Cleveland/Cincinnati matchups have is just getting old and this time Cleveland is finally going to change the colour of those stupid helmets the Bengals wear. In the Panthers/Falcons matchup, it's fairly obvious who's getting eaten here, unless you've ever seen a bird eat a fairly large cat. Arizona vs. NYJ might be the only early game worth watching if the two oldest QB's in the league don't break a hip before half time, but go with Kurt Warner and the Cardinals. The Broncos/Chiefs game will be a battle of bad quarterbacks, but at some point experience has to count so go with Jay Cutler and the Broncos. Green Bay vs. Tampa Bay could not be easier to call as the Bucs defense will introduce Aaron Rodgers to a world of emotional and physical pain. In the San Diego vs. Oakland game LaDainian Tomlinson could probably beat the Raiders single handedly as well as perform in the halftime show. The Buffalo/St. Louis game will be a sleeper as the Bills will easily tuck in Rams for a long winters nap. Washington vs. Dallas will be the game of the week, but as good as the Redskins will be and as much as they have improved they are no match for the Cowboys. If Rex Grossman is playing then the Bears will eat the Eagles for dinner. Finally, even if Pittsburg decides to sit Big Ben Roethlisberger because he doesn't like to get up for work on Mondays they will still lay a beating the Ravens.
Going into week five predictions might be a bit ambitious before week one of the season is even over. There will certainly be teams that surprise, and teams that nose dive which are fairly obvious at this point.
Quick note to fans of the San Francisco 49ers: When the 49ers play the Cowboys in week 12, hoping for injuries to Zack Thomas, Adam Jones, Tony Romo, Terrell Owens, and Marion Barber all in one game is just a little unrealistic and will still probably not prevent the rest of the Cowboys' team from setting some sort of NFL record for most embarrassing defeat of the decade against their opponent.
by Daniel Reiter…
The old cliché the best offense is a good defense can be argued up and down the red zone, and putting the stats together to find out how often a top tier defense prevails over a top tier offense would be an exercise in exhaustion. Taking at look at when it matters most will likely tell a similar story and offensive coordinators will likely not embrace the results.
The easiest way to do this is to take a look back at Super Bowl Champions to see how their defense ranks among league leaders compared to their offense. Initially it is pretty easy to see this in effect when considering the results of last season's Super Bowl where the 7th ranked defense of the Giants prevailed over the league's top ranked offense and record setting quarterback Tom Brady. It has been drilled into our heads for the past few months so here is a promise that this will be the last you hear of it here.
In the 2005-'06 season the 4th ranked steel curtain defense of the Pittsburg Steelers was a dominating force that carried them through the playoffs to ultimately take down the Seattle Seahawks, who in their only Super Bowl appearance ever lost 21-10. The Steelers offense was mediocre ranking 16th in the league.
Recently, it has been clear that Patriot teams are not only known for being an offensive marvel but a defensive one as well. Through the 2003-'04 and 2004-'05 seasons the Patriots dynasty rode the leagues 7th and 9th ranked defense to Super Bowl victories over the Carolina Panthers and Philadelphia Eagles. In the 2004-'05 season they did have the all around package with the 7th ranked offense in the league which didn't hurt their chances of winning at all, but the previous season they finished with an offense ranked 18th worst in the league.
Who could forget the 2002-'03 Tampa Bay Buccaneers and their defense lead by Warren Sapp, who has barely been making ripples on defense lately, but was making title waves for the Bucs that year? They came into the Super Bowl against the highly touted and favorite the Oakland Raiders team, led by quarterback Rich Gannon. Gannon had a stellar season to get the Raiders to the big game, but threw a record 5 interceptions against the #1 ranked Bucs defense. The Bucs certainly weren't relying on their 24th ranked offense to win them games, although their one sure thing was kicker Martin Gramatica "Automatica" who at the time was one of the best kickers in the league
Still not convinced of defensive domination? Look at the 2000-'01 season where the Baltimore Ravens laid a beating on the N.Y Giants 34-7. Their defense ranked 1st and their offense ranked 16th. The score doesn't really show the real defensive slaughter by itself until you factor in that the Giants scored their 7 points on special teams. EVERYONE who watched Super Bowl XXXV must remember this touchdown as it was part of 3 touchdowns in 3 plays, a moment in Super Bowl history. All of which were NOT scored by either team's offense. It all started with Giants' quarterback Kerry Collins throwing an interception to Duane Starks which was run back 49 yards for a touchdown. On the following kickoff the Giants' Ron Dixon returned the ball 97 yards for their only touchdown of the game. To prove there was no comeback in the works Ravens' Jermaine Lewis decided to return the next kickoff 84 yards for another return for a touchdown, making Super Bowl history with back to back returns for TD's. Kerry Collins also threw 4 interceptions, which at the time was a Super Bowl record that was since surpassed by the aforementioned Rich Gannon.
There are a few exceptions to everything right? The 2006-07 Indianapolis Colts' defense was ranked 21st while their offense ranked 3rd. They had a fairly easy 29-17 win over the Chicago Bears for the championship. The 2001-02 Patriots also had a terrible defense most of the season that ranked 24th in the league, but came through in the big game against the high powered offense of the St. Louis Rams in a tight 20-17 win. The game was a defensive battle as the two offensive minded teams were fairly shutdown until Tom Brady drove the Patriots close enough to the Rams red zone to convert a game winning field goal on the last play of the game. Another Super Bowl first by the way.
Pending a few exceptions defense has been what matters in the big game. Looking back at the past 15 years to 1993 the winning team's defense has been ranked in the top 10 of the league 12 out of 15 times, the trend is probably similar if the stat is taken further back, but the bottom line is obvious defense wins games, particularly the one that matters most.
Quick note to all those doubters: Think back to arguably most exciting Super Bowl of all time – Super Bowl XXXIV. The Tennessee Titans lost to the St. Louis Rams 23 – 16 by mere inches. Defense came through in the final play of the game when Rams' linebacker Mike Jones tackled Titans receiver Kevin Dyson one yard short of the goal line preventing the game winning touchdown, pending a 2 point conversion of course. It doesn't get much closer than that.
by Daniel Reiter…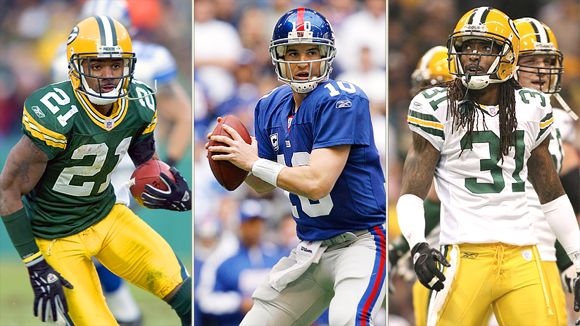 The early 90's are long gone and so is the NFC's 13 game Super Bowl winning streak over AFC teams. The AFC has recently had a strangle hold on the championship game winning 8 of the past 11 when last year the New York Giants took back the title. The Giants are a strong team and came out of nowhere to surprise their whole conference and the league in winning the Super Bowl for NFC. With stacked teams in the AFC like Indianapolis, New England, Jacksonville and San Diego does the NFC stand a chance at a repeat? Do these teams have what it takes to lay down the law in the Super Bowl against teams like these 2 years in a row?
Here are the NFC predictions.
NFC East
The Dallas Cowboys are certainly a favorite in their division and the conference this season. They have picked up some good players in defensive back Adam Jones and line backer Zach Thomas in the off-season and have one of the games best at quarterback in Tony Romo. Let's also not forget about wide receiver Terrell Owens. There are few weak points on this team if Jones is reinstated by the league and the offensive line can protect Romo from his own frustrations.
The New York Giants have lost defensive end Michael Strahan and tight end Jeremy Shockey. Big deal, they were good players, but Shockey's replacement looked good in the Super Bowl and they still have defensive end Justin Tuck on the pass rush who did get 10 sacks last season. Their offense is solid, but their defense won them the Super Bowl last season. This season will write the same story for their team and I am sure their opponents will prepare for the ending.
Brett Favre and the New York Jets beat the Washington Redskins in the preseason. I'll reiterate, the preseason means nothing! The Redskins made some good moves in the offseason and will be a force in the division this year. They got defensive end Jason Taylor which will help keep their defense one of the best in the league. Their offense will be fairly dependent on the performance of running back Clinton Portis as he will be a huge factor again. You can bet that they are also expecting a big season from wide receiver Santana Moss.
The NFC east will likely be the strongest division in the conference which does not bode well for the Philadelphia Eagles. They are a good team but 6 of the 16 games are against the 3 other teams in their division who will all be better than them. Quarterback Donvan McNabb is back and healthy this season but it is doubtful that will be enough to lift the eagles into contention for a wildcard birth. It seems like all their chips are dependent on McNabb staying healthy and with 3 of the best pass rushers in the league in this division it is doubtful that will be the case.
Cowboys (14-2)
Redskins (10-6)
Giants (10-6)
Eagles (6-10)
NFC North
No team has generated as much off-season press as the Green Bay Packers. They gave up on their franchise player to embrace 3 year veteran quarterback Aaron Rodgers who has seen very little field time in his career. Their team has not changed a whole lot otherwise and it is likely they are expecting similar results as last season. Donald Driver and Greg Jennings are good receivers made into great receivers by Brett Favre. Right now Rodgers doesn't have what it takes to lead this team to a conference championship, but may have a bright future.
The Minnesota Vikings were rumoured to be looking at Favre, but have instead put their full trust into Tavaris Jackson. This was probably the best move for the team. He is a young quarterback who will only get better and had a decent season last year with wins over the Giants and Chargers. The Vikings had the best rushing offense and defense in the league last year and that won't change much at all. If they get their passing game going they will probably be facing the Cowboys in the NFC Championship game.
Sadly the Detroit Lions will not have a rushing game again this season. They do have a good receiver in Calvin Johnson and Jon Kitna has thrown for over 4000 yards in the past 2 seasons, so they do have a passing game. Their defense will be lead by linebacker Ernie Sims, but the defensive secondary will likely be the story of the year with a battle for first string positions among 3 solid starters at cornerback: Brian Kelly, Travis Fisher and Leigh Bodden.
The Chicago Bears are walking a line that doesn't need walking, the one between doing something really stupid and not doing it. Two seasons ago quarterback Rex Grossman led them to the Super Bowl, and has now been named as backup behind Kyle Orton. This decision has to be based on preseason play because the only other experience Orton has is his rookie season, in which he only passed for 1800 yards in 15 games. Oh and 3 games at the end of last season when Grossman was injured. Any improvements the Bears have made in the off-season will mean very little if Orton starts the entire season.
Vikings (11-5)
Packers (9-7)
Lions (7-9)
Bears (5-11) *If they sit Grossman all season
NFC South
Jeff Garcia is 38 years old and already injured. It is hard to blame the Tampa Bay Buccaneers for hanging onto him as he is the type of quarterback capable of taking a team to the Super Bowl, but if he gets injured it will be a long season with Brian Griese or Luke McCown at the helm. McCown has the ability to take over and would probably be better suited than Griese in the long term, but immediately it will be a year of learning for the 27 year old. The Bucs had the best defense in their division last season allowing a total of only 270 total points through 16 games. This team could be the dark horse of the conference with a few key upsets in their future.
The most important thing for the Carolina Panthers is probably that quarterback Jake Delhomme's right elbow has recovered from surgery and that Vinny Testaverde has announced his retirement this off-season. Let's hope he doesn't pull a Favre. This is very good news for receiver Steve Smith who is a favorite target for Panthers' quarterbacks and will likely lead the team in receiving again this year. Another bright light for the Panthers could be running back DeAngelo Williams who managed to rush for 717 yards last season without starting a game ahead of DeShaun Foster, who was traded to the San Francisco 49ers. Look for him to have a breakout season although their offense was a black eye on the team last year. It seems like a lot is riding on Delhomme.
The New Orleans Saints' biggest acquisition was Jeremy Shockey, and hate him or not he will have an immediate impact on the Saints offense both in the running and passing game. They already had one of the best offenses in the NFC and Shockey could put them into the same league as the Cowboys. They have also just added a Pro Bowl safety in Lance Schulters to their defense, which was somewhat dismal last season. The Saints also just lost starting defensive tackle Hollis Thomas to an injury. The defense will be an issue.
The Atlanta Falcons were terrible last season and are in the midst of a rebuilding year. They have an unproven running back in Michael Turner who was playing backup LaDainian Tomlinson in San Diego his whole career. They have a quarterback with very little field experience in Chris Redman who will be throwing to a lineup of average receivers who will probably struggle as Redman finds a groove. The defense will be weak as well – rebuilding as well with losses like DeAngelo Hall at corner, one of the best in the league.
Buccaneers (10-6)
Saints (9-7)
Panthers (7-9)
Falcons (2-14)
NFC West
Mike Holmgren will be coaching his last season in Seattle and you can bet he wants to go out with a bang. The Seahawks have lost starting running back Shaun Alexander, which will be the hardest position to fill. The offensive line will likely return to the form it had in 2005 as arguably the best in the NFL, which will make life easier for whoever takes over for Alexander. The defense was one of the best in the NFC and will likely be feared as they were last season.
There are 3 reasons that Matt Leinart, quarterback of the Arizona Cardinals, will look good this season and they are Edgerrin James, Larry Fitzgerald, and Anquan Boldin. Not much else needs saying about their offense as it will be the strong point in their team. This team seems to be constantly rebuilding and struggling for a wildcard spot, and this season will hopefully be better than most even being led by a head coach with just one year of experience in Ken Whisenhunt.
Sadly the San Francisco 49ers will not contend for a wildcard spot this season. None of their quarterbacks are standing out as the sure starter as none have been impressive at all in camp or in past games. They recently signed Pro Bowl linebacker Takeo Spikes which will put their defense on the upswing as there are a few holes still to fill. The hardest thing for this team to deal with must be the quarterback situation, and it will not help having a very average crop of receivers to throw to. The only bright light on offense is the acquisition of running back DeShaun Foster from the Panthers, but he will likely struggle behind an offensive line weak in run blocking.
The St. Louis Rams sucked last season. Marc Bulger was off his career performance from 2 seasons ago and it rippled through the rest of the offense. He will still lead this team and will be looking for help from receiver Torry Holt and contract holdout and Pro Bowl running back Steven Jackson. Their offensive line will be a big question suffering from injuries and weak players. Their defense will likely not improve very much, but the good news is it can't get much worse from last season, so there is nowhere to go but up.
Seahawks (11-5)
Cardinals (10-6)
49ers (4-12)
Rams (3-13)
Quick note to the AFC: Tony Romo and the Cowboys will be winning the Super Bowl this year so now that your best teams have "injuries" at quarterback (i.e. Tom Brady and Peyton Manning) you may want to sit them all season so you have a good excuse for not winning the big game. Just make sure it's not as obvious as the mistake the Bears are making at quarterback.
by Daniel Reiter…
We all know that NFL preseason games are meaningless in more ways than one. They do not have any impact on regular season rankings or really give a good sense of how a team will do in the coming season. The teams do not play many of their core veterans very much because they know they will be starting anyway, so the fans pay for games wanting to see a giant bowl of poutine and they get a plate of cold fries.
Basically it is obvious the preseason allows teams to take a look at those players that are sitting on the fence between the practice squad and the starting roster. Offensive coaches get to see which plays work for which players and which need to be scrapped and defensive coaches find out where their weaknesses are and who trusts who on the field.
Aside from all of that it is a cash grab for the teams, so since the preseason is a bit of BS and has not been on my T.V. as of yet here are a few predictions that don't take the first week of preseason games into account.
AFC East
The New England Patriots will obviously win the AFC East again this season unless Tom Brady goes down with an injury and Randy Moss and Wes Welker forget how to catch. They won't be perfect this year as they haven't really changed that much about their team. They had a few close games with Indianapolis, Philadelphia and Baltimore last season that certainly proved they were not superhuman. The only other competition in the division will come from the New York Jets. Brett Favre even at 38 brings weapons and qualities to the Jets will give them a legitimate shot at the post season. The Bills and Dolphins will not have great seasons again this year. The Dolphins are clearly rebuilding and Bill Parcells' methods could be questioned. He brought in Chad Pennington who might finally solve their problems at quarterback and he decided to cut Jay Feely after he set a team record in field goal percentage, most likely because they didn't get along – pretty stupid. The Bills will reach mediocrity only if they start Trent Edwards at quarterback because if they go with J.P. Losman they will all indeed be lost men.
Patriots (14-2)
Jets (9-5)
Dolphins (5-11)
Bills (5-11)
AFC North
The Baltimore Ravens have not done enough in the off-season to change their fortune so they will be sitting in the basement again. They seem to have some uncertainty at quarterback as well. The Cincinnati Bengals have made some good offseason moves and Carson Palmer will carry the offense again but the big story is the overhaul of the entire defense, which was ranked 27th last season. The Cleveland Browns came close to a wild card last season and will do so again this season possibly challenging the Pittsburg Steelers for the AFC North title. The Steelers will once again ride the arm of Ben Roethlisberger into the playoffs again this season and the steel-curtain defense will make it all that much easier ranked second last season only behind the Indianapolis Colts.
Steelers (11-5)
Browns (10-6)
Bengals (8-8)
Ravens (4-12)
AFC South
This will be the strongest division in the AFC again this season. The Indianapolis Colts will be a powerhouse again no question about it. The Jaguars took out the Steelers in the playoffs last season and will make the playoffs again maybe even challenging the Colts for the division title. Their offensive line conceded only 21 sacks last season on David Garrard and it hasn't changed much so Garrard will be a factor in every game. Don't forget about their interception stats either, they had 20 where opponents had 8 last season. The Tennessee Titans have Vince Young returning at quarterback and if he spreads the ball around like he did last year the Titans will make the playoffs again. The Houston Texans will stay at the bottom of the division. Their receiving stats will not be enough to make up for the terrible defense, oh and Ron Dayne – just incase you wondered what happened to him after all his rookie year hype.
Colts (12-4)
Jaguars (11-5)
Titans (11-5)
Texans (5-11)
AFC West
San Diego will be at the top again, Philip Rivers and LaDainian Tomlinson need I say more. The Denver Broncos have a great coach in Mike Shanahan, but Shanahan has very little to work with to make his team competitive. Jay Cutler hooking up with Brandon "Baby Terrell Owens" Marshall gives them the only offensive threat they have. Elvis Dumervil at defensive end can't compensate for the rest of the holes in their defense that were not addressed in the offseason. The Oakland Raiders are rebuilding and have problems on defense with defensive backs DeAngelo Hall and Nnamdi Asomugha injured. Their bright spot may be their rushing but with 19 wins in their last 80 games optimism is just silly at this point. The Kansas City Chiefs will look to veterans to improve this season. Tony Gonzalez and Dwayne Bowe will lead the receivers again and make life easy for either Brodie Croyle or Damon Huard at quarterback. On defense it sounds like the Chiefs have sorted out their problems with linebacker chemistry and are poised to fill in after losing defensive end Jared Allen and the 16 sacks he got last season.
Chargers (11-5)
Broncos (5-10)
Chiefs (5-10)
Raiders (2-14)
Any team can look good on paper but the real test will obviously be when they take to the field in week one.
Quick note to Baltimore Ravens management: You clean house like Brett Favre retires: you wait and mull over what to do and when you finally make a decision you realize you are old and confused and should have done something a long time ago. Take a lesson from Bill Parcells, he cleans house like Tony Romo picks his girlfriends: fast, reckless, and if it doesn't workout he's the boss so he can just start over (ok so Tony Danza is the boss, but close enough). Have fun week 17 when you are getting it handed to you by the Jaguars and you start to wish you were Tony Romo.
Next week the NFC.
by Daniel Reiter…
The Brett Favre saga is still making media headlines in the NFL, but despite the fact that it is front and centre it is growing tiresome. Much like the Mats Sundin retirement situation in the NHL, which has been going on even longer, fans just want some resolution not more articles restating the same limited rumours and facts over again.
Well you won't find that here. This week let's take a look at the Minnesota Vikings, who seem to be the leading candidate for Favre if things don't work out for him in Green Bay.
So the Vikings have had some contact with Favre, big deal, they didn't break any rules.
What weapons do the Vikings have that will appeal to and compliment Favre?
For starters the Vikings had both the best rushing offense and rushing defense in the league last season. They averaged about 165 yrds/rush on offense and limited their opposition to an average of 74 yrds/rush on defense. Needless to say their rushing attack on both sides of the ball was stellar, which is a lot more than can be said for their passing game.
Offensively their passing was dismally ranked 28th in the league last year averaging only 171 yrds/game a full 100 yrds/game less than the Packers, who were ranked 2nd in passing. Obviously the never injured Brett Favre will make an immediate impact on this pitiful offensive passing game.
The Vikings have a slew of unproven receivers which is probably why they left the ball in the hands of their leading rusher Adrian Peterson last season. Given the potential change at QB some of these receivers could have a breakout season.
Small wide receiver Bobby Wade a 6 year veteran who has only had one season where he caught for more than 500 yards, has the potential for a significant turnaround with a good QB at the helm. His career receiving average is just below 12 yards/rec, which isn't bad considering he has played for the Tennessee Titans and Chicago Bears through the first years of his career, traditionally rushing teams during his time with them.
Another deep target for Favre could be old teammate Robert Ferguson who played with Favre and the Packers for 6 of his seven career season before making his way to Minnesota. Like Wade, Ferguson has only had one season with more than 500 yards receiving, but boasts a career average of 13.3 yards/rec. Ferguson obviously wasn't Favre's favorite target while in Green Bay, but did reach some notable milestone's while there including his first 100 yard game. He has also always been a leader on special teams.
If Favre does come to Minnesota it will certainly not be to sit on the bench as he will likely be replacing and mentoring Tavaris Jackson. Jackson had a notable 2007 season with wins over the N.Y. Giants and San Diego Chargers. In 2006 the Vikings were ranked 23rd in the league and after Jackson leading them through the 2007 season they jumped to 13th position. Although Jackson is a decent QB with the ability to run for TD's as well as pass for them, the experience, savy, and leadership that Favre will bring to the team cannot be matched.
The other man in the pocket behind Jackon is Brooks Bollinger. Never heard of him eh? He is about as well known as Aaron Rodgers was a few months ago. Unless given the chance to have a breakout season on a team that will get him passing for at least 3000 yards Bollinger will likely be a career backup. He had one fairly big season with the N.Y. Jets in 2005 starting 9 games and passing for over 1,500 yards, but that is about it. Bollinger is a solid back up and will likely remain so in the even that Favre is brought on.
If Favre becomes a Minnesota Viking this season he will face the Packers in the first regular season game, which will likely be the most watched game in the first week of the season. Favre may or may not have bad feelings toward the Packers management and coaching staff, but Packer fans will certainly be torn between cheering for their beloved Green Bay team or their beloved former heroine QB.
Favre will undoubtedly improve the Vikings team in many ways and since everyone loves a great story wouldn't it be historic if he led the Vikings to the NFC north title ahead of Aaron Rodgers and the Packers?
Quick note to Tavaris Jackson: You did attend the same high school, Sidney Lanier High in Montgomery, AL, as another Green Bay Packer legend Bart Starr, but that will probably not be enough to catapult you into the starting job if Favre is left in a basket on the Viking's doorstep this season. You could pray for an injury or minor blowout to give you the chance to show everyone that replacing you with Favre was a mistake, but seriously Favre gets hurt as often as Chuck Norris – never.
by Daniel Reiter…
It has happened more times than can be counted in professional sports and will continue happening as long as sports exist. It has been the plot of movies about sports and often the reason for a disgruntled player to leaving their team. That's right the younger, cleverer, handsomer version of an athlete that is given that one chance to prove they have the stuff to take over the starting job excels and becomes the starter. The veteran never takes it well, but some take it like juveniles.
Specifically speaking Jeremy Shockey has been traded to the New Orleans Saints likely to be replaced by rookie Kevin Boss. There was lots of speculation about rifts between Shockey and the Giants organization throughout the playoffs and earlier this off-season, and now all reports have been confirmed.
Maybe Shockey and Boss have had words about who's prettier in their uniform and maybe they haven't, but from what we know about Shockey he has something to say about most things so don't put it past him. For this reason and probably Boss's great playoff performance the Giants decided they didn't need the distraction that is Shockey hanging around their locker room. Shockey was traded to the Saints for 2009 second and fifth round draft choices.
The Giants obviously took the high road and claimed to have many deep conversations with Shockey about his future with the organization and that they mutually decided that the best thing for Shockey at this time would be for him to have a fresh start somewhere else.
The public relations BS continued with Shockey issuing a statement about how he is happy about the weapons that the Saints have and that he can't wait to join his teammates at training camp for a fun year.
Let's interpret for a moment.
What the Giants really mean is that they are thrilled to be rid of Shockey and the nonsense and complaining about the role he was presented with in the Giants organization. Reports have Shockey unhappy about his situation since he went down late last season with a broken leg giving way for Kevin Boss to excel through the playoffs. The drama came to a breaking point at the Giants mini-camp in June with Shockey having a shouting match with Giants' General Manager Jerry Reese.
Now what Shockey probably meant by his statement is that he hopes that the Saints meet the Giants in the playoffs and he gets the chance to show them first hand why he is a former pro-bowler. Additionally he probably wants a shot at playing rush end and exposing whatever weakness's he can against Kevin Boss.
Realistically they will probably not play each other this season or post season. Drew Brees as good as he is, is certainly not Eli Manning and the Saints probably do not have what it takes to make a legitimate wildcard run this season. Additionally, Shockey will likely be injured at some point this season or post season, and if irony has anything to say about it the Saints will be playing the Giants that week.
Kidding aside the trade was a good deal for both parties. As big a distraction as Shockey is he is a great tight-end with the ability to change the pace of a drive through stellar blocking and receiving.
The Giants know they have a great future player in Boss although he is not the blocker that Shockey is and he did gain 20lbs in the off-season and with experience he will likely become a decent tight-end. It is impossible to say at this point if he will ever be at Shockey's level or not, but playing with a quarterback like Eli Manning will surely make him a better receiver.
Overall the Giants have some other problems to deal with if they want to even make it back into the playoffs this season. Statistically, the Giants have not made the playoffs in the three seasons they've had following an appearance in the Super Bowl. They will have to wait a while to see anymore circus catches by wide receiver David Tyree because he has still not fully recovered from off-season knee surgery. Finally, the Giants have another distraction in running back Ahmad Bradshaw who was jailed for a month in the off-season for an old probation violation – the NFL has yet to decide if any disciplinary action will be taken.
The Saints have definitely improved their chances of making the post-season with the acquisition of Shockey as they are a passing team. The problem the Saints have failed to address is that they do not have a 1000 yard rusher or anyone close to a 1000 yard rusher on their team. They may take a more balanced approach this season with Shockey's blocking ability thrown into the mix and run off tackle more often. If this happens then one of their two main running backs may step up and give the Saints the backfield weapon they need.
On defense last season the holes in the secondary are illustrated by the fact that the team was ranked 25th in points against, 26th in yards against, 30th in passing yards against, but only 13th in rushing yards against. The problem is clearly in the secondary and although there are some good players present the Saints' defense is not a succinct unit and will probably be a weakness again this season.
Quick note to Jeremy Shockey: Officially you were traded to the Saints for a second and fifth round draft choice, but the unofficial word on the street is that the people from Kleenex Tissues also had talks with the Giants about a trade for you to be the spokesman for the launch of their new "dry your tears" campaign. Unfortunately after winning the Super Bowl the Giants have nothing at all to cry about and won't be needing a lifetime supply of tissues.