When you set the hook on a fish, and you feel the tug that you've been waiting for, time seems to slow down. It's probably your brain speeding up, but for that brief moment, relative to what is happening, time does seem to stop.
Our idea is unique in delivering what's first and foremost a fishing trip. You'll have an incredible opportunity to relax and experience the natural beauty of the Kawarthas.
If you're looking for white linen or pampered luxury, you're not going to find it here. But if you're looking for clean, comfortable accommodations, outstanding service, equipped fishing boats on a lake with the most diverse fishing, my friends you've found us.
You'll spend quality time with quality people like yourself and you won't believe what a special lake you fished and the fish you caught. You will leave with a smile on your face that I can guarantee, and if you're like the majority of our guests you will return.
Days at the Fishing Lure Lodge start early for most people, a quick breakfast and then its off to the dock – anglers can start fishing soon after dawn.
At mid-day, guests return to the cottage for a BBQ – a chance to share stories from the morning and enjoy a few hours of downtime before the evening fishing, which starts in the afternoon and runs until dusk. Some conversation, a bite to eat, maybe a movie wraps up the long fishing day.
The host is knowledgeable and enthusiastic, and he delights in sharing the information with our guests. Our boats are in shape and do an excellent job transporting around the lake.
We at Fishing Lure Lodge offer the best rates you'll find anywhere. Tell us about better rates and we'll match them, wait, we'll offer you the same rate + a 5% discount.
Weekend - $169/pp

Long Weekend - $249/pp

Five Weekedays (Monday to Friday) - $299/pp

One Week (Sunday to Sunday) - $399/pp
We also offer the use of canoe and bikes.
Please note: Add 10% to above rates in prime busy season (June 26 - September 7)
Please call for group rates
416.821.7090
We offer a community of like-minded people who know that life is short and each day ought to be lived to its fullest. Fishing is about a mindset, to sit back and grasp those moments when life, even for the briefest moments, comes into complete and focused view. We at Fishing Lure Lodge invite you along for the ride.
Regardless of your experience level, it is our goal to make every trip to the Fishing Lure Lodge, a trip of a lifetime. For anglers from novice to expert, our extremely diverse fishery, allow you to experience a trip that exceeds your expectations.

Fishing Lure Lodge services include, accommodation, fishing boat with motor rental and fishing gear, if you need it. Guests fishing on Lake Dalrymple and Pigeon Lake do so self-guided. The host will accompany the guests at the beginning of the trip, and will give an orientation on the basic layout of the two lakes. Next, guests are trained on the safe operation of our fishing boats, and then turned loose to fish the lake on their own. Guided services are available at an addition cost.
Our facility is nestled right smack in the middle on the shores of lower Lake Dalrymple. Stunning views of the lake are had right from our patio including incredible sunsets. Guests sleep in a comfortable bedroom cottages. Our location provides a comfortable spot for relaxing, unwinding after a day's fishing, and enjoying the evening meal.
Our second location, new for 2010, is on Pigeon Lake, with the same award winning service as on Lake Dalrymple. Only a few minutes away from Bobcaygeon. You can catch big musky right from the dock, I'm not kidding. This Lake produces some big fish. The fishing is the best, in the Kawarthas.
Toronto Address

Fishing Lure Lodge

37 Norgrove Cr.

Toronto, ON M9P-3C7

Kawarthas Address

15 Loon Drive

City of Kawartha Lakes, ON L0K-1W0
Fishing Lure Lodge has Two locations in the Kawarthas. Our first is on Lake Dalrymple, long considered the most diverse lake in South Ontario. Our location is only 80 minutes away from the GTA. Only 15 minutes east of Orillia. Located in the Carden Alvar.
Our Second location is located on Pigeon Lake, 10 minutes from Bobcaygeon. Only 80 minutes from the GTA. Both location produce big fish.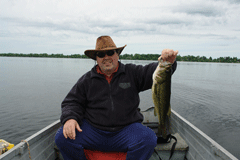 That's right Toronto Sports Fans; The Captain brings you the ultimate Fishing Experience. Spend a day or weekend fishing in the Kawarthas, long considered one of the best places to fish in the whole wide world… we've partnered up with fishing fanatic's at the Fishing Lure Lodge to bring you The T.O. Sports "NOboat NOcar NOproblem"

A Few Packages are offered - The Weekender and The Daily
The Weekend Fish n' Relax - cost $199.00/pp *
Transportation - We pick you up at Wilson Subway on Friday at 7:30pm; drive you to our secret fishing destination, one of the best fishing lakes in the Kawarthas… approx 90 minutes from Toronto. We provide: Accommodation (Friday and Saturday). A boat to fish on. A BBQ to cook up the catch or maybe a steak or some chops. Casino Rama is 20 minutes away, just in case you're really feeling lucky.
We come back to the city on Sunday, by 6pm or so, still giving you plenty of time to fish that day, and come back to the city to show photos of the awesome time you had and the big fish you caught… Priceless!
Sign up NOW, send an email to and book your weekend
The Daily Fish Blast - $129/pp- Every Day Starting April 26
That's Right "Every Day" a Bus is waiting at Wilson Subway at 7:30pm to take you away for a fun and relaxing day of fishing… yes, I said every day. You've had a stressful day it's 4pm, guess what? You've got time to get on the bus and go fishing, get out of the city and into the country. The air smells better, the food tastes better… I'm telling you, you'll feel a lot better!

Get away for a day… We leave Toronto's Wilson Subway for our daily fish trip at 7:30pm in the evening, provide accommodation, a boat, and get you back in the city by 7:30pm or so the next day. You can even tell the boss you were sick… he'll never know you spent 24 hrs relaxing, recharging the batteries… he might even benefit from it…we're not telling.
The Daily is available any one day Monday to Friday, starting April 26, 2010. (Just so their is no confusion I'll spell it out for ya!! See if you wanna fish on Tuesday we pick you up Monday at 7:30pm, provide accommodation. You fish all day Tuesday, we get you back to T.O. by 7:30pm or so… it's that easy… got it!!).
Book your "Fish n' Relax" weekend or daily today… you'll be a better person for it and have yourself a blast. You don't have to be an expert fisherman to enjoy this. MAKES A GREAT GIFT!!
Come to the Carden Plain - There's no place like this in Ontario!
There is a limited supply of these packages, so once the van is full thats it… dont miss the boat, or van, book now and come up for a hell of a good time.
This is a T.O. Sports Magazine special!
and book yourself a blast of a time! You can call too
*Please note: Add 10% for high season between June 26th and September 6th
Kawarthas produce some of the best fishing in the province. With just over 130 lakes in the area, the Kawarthas are a fisherman's paradise and only 90 minutes away from the GTA. The Kawartha lakes region of Ontario is comprised of many lakes, namely Dalrymple, Pigeon, Rice, Canal, Buckhorn, Stoney, Chemong, Sturgeon and Balsam. Most of these lakes are very similar in composition, with the majority being fertile, both with weed and rock structures.
The Kawarthas region provides anglers with an array of fishing opportunities.
Walleye – a.k.a. Pickerel is the most popular and arguably the most beautiful game fish in Ontario, the walleye is best known for its delicious meat. Average weight of walleye in the Kawartha Lakes is 3lbs but walleye over 10lbs are not uncommon.
Bass - Without doubt, the largemouth bass is the best known fish in the Kawartha Lakes. Largemouth are brawling fish, aggressive strikers and are mostly found in the warm, weedy, slow or still waters.
Northern Pike - One of the greatest fighting fish with a vicious strike, the Northern Pike can be found in shallow water along the shores and marshes of Stoney Lake and in Lake Dalrymple. Although their average weight is 2-4lb it's not uncommon for catches over 25lbs to be found in the lakes.
Muskellunge – a.k.a.: maskinonge or muskie. A voracious predator, the Muskellunge has become a Kawartha Lakes legend and has been a hot topic and the centre of conversation of anglers around the area for hundreds of years. These long slender fish average 5-10lbs but catches over 45 inches have been caught in many of lakes.
HOT Spots - Gannon's Narrows (located between Pigeon and Buckhorn Lake) - This area is a definite hotspot come opening day, with many boats and anglers vying for the walleye's attention. The number one choice of lure in this deeper-water area is jig and minnow combination, slowly and deliberately bounced on the bottom.
Burleigh Falls (located on Stoney Lake) - This is another tried-and-true area with the abundant current holding many walleye in place. Jigs and minnows seems to produce best, although casting with minnow baits does pay off in big dividends, especially for those willing to go out after dark.
Causeway (located on Chemong Lake) – Shore casters have been making the journey to this hotspot for years, as it offers a chance for those without a boat to scrape up some walleye. Fishing live bait under floats and casting crank baits seems to be the best presentation during spring.
Weedbeds at Red Rock Island (located on Buckhorn Lake) - Casting crankbaits and jigging in the weeds are the keys to cashing in on this area. Watch for the sudden depth changes, and present you bait at these key spots.
Lake Dalrymple, always produces big fish, real quality lake. Try Upper Dalrymple and you just might be the only boat on the lake.
Fish Blast - come fishing with us, the spring is the best time to catch the BIG ONE!