By Josh Lewis…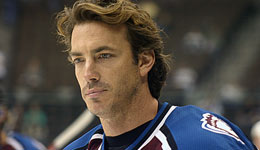 So this is how it feels to lose an old friend.
When Joe Sakic announces his retirement from the NHL on Thursday, hockey will lose one of the best it ever had.
Aside from one of the greatest wrist shots in league history, the game will say farewell to many things when Sakic hangs 'em up.
Class. Integrity. Leadership. Dedication. Pride. Skill.
These words don't even begin to describe the extraordinary package hockey fans were blessed enough to witness during Sakic's 20-year career.
In fact, we may never see such a mixture of ability, class, and success again.
That's just the kind of player and person Joe Sakic was.
There wasn't a person in the game or in the stands who had anything but the utmost respect for him. He made fans and admirers everywhere he went—even Detroit.
Sakic was the kind of player who attracted casual fans to the sport, and not always because of Colorado's success.
My stepmother, as you may imagine, has never been a hockey fan. But during the Avs' heyday in the late 1990s, after watching a couple of games, she started to watch more often to see Sakic play. Not because he had a phenomenal wrist shot, or outstanding vision, or because he and Peter Forsberg comprised the best 1-2 punch in the NHL. And it wasn't because she thought Sakic was cute.
No, my stepmother tuned in because she respected the hell out of Joe Sakic as a human being.
Even now, without the faintest interest in who wins or loses, she makes sure to watch any time Colorado is on the tube.
The word "class" has become one of the most overused words in sports today. It seems anyone without a criminal record is eligible for class act status.
In Sakic's case, the word fits like a glove. He may as well have it trademarked.
But how did Burnaby Joe earn his reputation? Why is he at the head of the class when it comes to hockey's all-time good guys?
Well, there are the intangibles: The way he carries himself, his soft-spoken, respectful approach to the media, his willingness to share the spotlight.
But there are also a few distinctive moments and features of Sakic's career that help to make him one of the greatest ambassadors the game has ever known.
First, he spent his entire 20-year career with the same franchise, starting out with the sad-sack Quebec Nordiques and leading the team up the ladder to two Stanley Cups after moving to Denver. He captained the club for 16 of those years.
In recent memory, only Steve Yzerman and Mario Lemieux can be placed in the same company.
But the one moment that will forever sum up Sakic's class and selflessness in the minds of everyone who saw it came on June 9, 2001, when the Avalanche won their second Stanley Cup.
Tradition calls for the captain to receive the silver mug from the NHL commissioner and hoist it over his head.
This, however, was no ordinary Stanley Cup win.
Sakic held in the urge to raise the chalice, instead handing it to 40-year-old Ray Bourque, who tasted Stanley Cup glory for the first time in his 22 NHL seasons.
The Avs had dedicated their playoff run to Bourque, adopting a slogan of "Mission 16W", referencing the number of wins it would take to get the legend his first Cup.
The moment Sakic handed the Cup to Bourque, 19,309 fans inside the Pepsi Center and millions more in bars and living rooms across North America grinned like Cheshire cats.
It was an unforgettable, immortal moment that brought tears to the eyes whether you were a Colorado fan, a New Jersey fan, or just a hockey fan at all. And it will forever be remembered as the moment when Sakic went from a classy player to hockey's epitome of grace.
So, all that said, it's fitting that Sakic would close out his career in the same manner he played it: with dignity. He didn't hang on like so many others, marring his legacy and hurting his team.
It's unfortunate that his final season was decimated by injury, but Sakic recognized that he could no longer contribute at the highest level. And, despite the tantalizing prospect of playing for his country in his hometown at the Vancouver Olympics, he knew it was time to pass the torch to Matt Duchene, Paul Stastny and the rest of Colorado's future stars.
Of course, there's more to the Avalanche captain than his glowing personal attributes. There are other reasons for him becoming one of the most beloved players in hockey history.
Sakic will go out as the eighth-highest scorer of all-time with 1,641 career points. His 625 goals rank him 14th in league history.
But he cemented his dominance when it mattered: during the playoffs. Sakic is tied for seventh in all-time playoff points with 188 and his 19 post-season game-winners puts him in a tie for third, behind only Brett Hull and Wayne Gretzky.
Most impressive: Sakic is by far the NHL's all-time leader in playoff overtime goals, with his eight doubling that of any other player to ever suit up in this league.
If that doesn't define clutch, I don't know what does.
Of course, Joe Sakic wouldn't be Joe Sakic without his contribution to team success. He captained the Avalanche to two Stanley Cups, including one in their first season in Colorado, capturing the Conn Smythe Trophy that year.
Yes, those teams were stacked with the likes of Forsberg, Patrick Roy, Adam Foote and many others. But Sakic was undeniably the glue that held them together.
At the end of the day, Sakic's most memorable on-ice achievement may have been his role in Team Canada's first gold medal in 50 years at the 2002 Olympics in Salt Lake City.
After a relatively slow start to the tournament, Sakic started to heat up during medal-round wins over Finland and Belarus. But he saved his best for the biggest stage, the gold medal game against the United States.
Sakic scored twice in the final, including the winning goal—courtesy of that potent wrist shot—leading Canada to a 5-2 win and the greatest hockey moment this country has experienced since 1972. He was named team MVP.
But the goal I will never forget was Sakic's second, the one that put the game away with 1:40 on the clock. Bob Cole's call of the goal (beginning at the 2:58 mark) still sends chills down my spine, and it is without a doubt the greatest sports call of my lifetime.
I will always remember where I was at the precise moment Joe Sakic ended Canada's agonizing wait for Olympic glory.
I began to seriously watch hockey in 1994, and with all due respect to Gordie Howe, Sakic was Mr. Hockey to this wide-eyed eight-year-old.
He truly was one of my heroes, and in this age of overwhelming NHL youth, he now becomes the last one to ride into the sunset.
Only one word seems appropriate to sum up what Joe Sakic meant to me, legions of daydreaming young fans and the game itself.