by Roy Steeves…
Justin Pogge will get a second kick at the can when the Toronto Maple Leafs return to action tonight.
Pogge will get the start versus Minnesota. Head Coach Ron Wilson felt it was time to give Pogge another shot in goal because the layoff over the All-Star break kept regulars Toskala and Joseph from skating for four days.
Wilson said that Pogge will return to the Toronto Marlies of the American Hockey League following Tuesday's game, regardless of his performance…to the dismay of Maple Leaf fans everywhere.
Four years after Toronto drafted him 90th overall, Pogge finally got his first shot in the bigs in December when he got the call to replace an injured Toskala. Pogge won his debut, a 6-2 victory over the Atlanta Thrashers.
by Roy Steeves…
Thursday afternoon, the Ottawa Senators placed veteran net minder Martin Gerber on waivers, almost certainly ending his career in the nation's capital.
Gerber was named the Senators started out of training camp this season however after a dismal start to the season he began to ride the "pine pony" in order to make room for back-up Alex Auld. Gerber is having a horrendous season with only 14 games played with only four wins and a .899 save percentage.
If Gerber clears waivers look for him to go play in Europe due to his large cap hit.
Auld has been given the No. 1 job due to the poor play of Martin Gerber. Auld is not playing that much better than Gerber, going 9-11 with a .907 save percentage going into the all star break.
The real bright side of this ordeal has been rookie goaltender Brian Elliot. Since being called up to the big club Elliot has gone 3 and 1 and owns a .924 save percentage. With the struggle of the Senators this season look for this rookie to be the new number one starter in Ottawa.
Senator's assistant general manager Tim Murray had this to say about Elliot "He's part of the (NHL) team now, and he's no longer an American League hockey player as of now".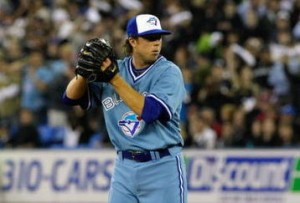 by Roy Steeves…
The Toronto Blue Jays have re-signed right-handed pitchers Jeremy Accardo and Jason Frasor.
Accardo singed a new one-year deal with the Jays worth $900,000. He played in only 16 games in 2008, spending much of his time on the disabled list with an injury to his forearm. Accardo is a steal at $900,000 for a man who had 30 saves only one season ago.
Frasor avoided salary arbitration today by signing a one-year, $1.45 million deal with the Jays. He did not have a good season last year as a starter, with one win and two losses. However, in 49 appearances as a reliever he held the opponents' bats to an average of .208 and only allowed 36 hits over 47 innings of work.
The Blue Jays have also made offers to relievers Brian Tallet and Shawn Camp, and are still waiting to hear back from their respective representation.