by Mike Henderson…
Not for a while will there be a conference with the depth that the Big East had last year. Three #1 seeds for the NCAA tournament, one of which made the Final Four, and a #3 seed that made the Final Four, too. This year's version has less talent but promises to be just as competitive as some teams try to hold onto their spots at the top of the food chain, some try to rebound from off seasons and upstarts try grab not only a spot in the Big East tourney, but the big dance as well.
Predicted Order of Finish:
1.Villanova
2. Connecticut
3. West Virginia
4. Georgetown
5. Louisville
6. Cincinnati
7. Seton Hall
8. Syracuse
9. Notre Dame
10. Pittsburgh
11. St. John's
12. Marquette
13. South Florida
14. Rutgers
15. Providence
16. Depaul
IN
1. Villanova - A Final Four team last year that will miss Dante Cunningham, the Wildcats have every other major contributor returning. Scottie Reynolds leads a pack of athletic guards who can both score and defend.. Antonio Pena returns up front to fill some of the void left by the departed Cunningham. Prized recruits Dominic Cheek and Mouphtaou Yarou will be expected to contribute quickly. Villanova is not a big team - but then again, they never seem to be - just a very good team.
2. Connecticut - This was a tough pick over West Virginia. Both teams are strong but UConn always seems to come up with a shot blocker in the middle. With the departure of A.J. Price, Hasheem Thabeet and Jeff Adrien, the Huskies will likely take a small step back from last year's Final Four team. Kemba Walker takes over the point while Jerome Dyson and Stanley Robinson also return. The hope is that Ater Majok and Alex Oriakhi will fill the void in the middle. Based on their track record for recruiting shot blockers, UConn will be a factor in the Big East race.
3. West Virginia - A very athletic team, the Mountaineers boast one of the top players in the conference in sophomore Devin Ebanks, who could be gone at the end of the season. Joe Mazulla returns to the point after missing last season with an injury, while Kevin Jones and Welllington Smith provide the muscle up front. This is a tough team that rebounds at both ends very well. This team will win a lot of games and get a good seeding in March.
4. Georgetown - Greg Monroe. The two words that you will hear a lot when you hear about the Hoyas. The sophomore will score more, will rebound more and the offence should go through him. After an early season upset of UConn last year, Georgetown's season went south. This year Chris Wright and Austin Freeman return to lead the backcourt. Consecutive games in December against Butler, Washington and Old Dominion will tell a lot about this team.
5. Louisville - Despite the loss of Terrance Williams and Earl Clark, the Cardinals should be fine come March. Samardo Samuel is a solid, improving post player and could be teamed at times with Terrence Jennings in what would be a formidable frontcourt. Veterans Edgar Sosa, Jerry Smith and Preston Knowles will get the bulk of the minutes in the backcourt, provided Rick Pitino doesn't ask Sosa to transfer again. They won't win the conference but they should get back to the dance.
6. Cincinnati - This is the best Bearcat team of Mick Cronin's tenure so optimism is high. Top recruit Lance Stephenson joins veteran Deonta Vaughn and second-year players Cashmere Wright and Yancy Gates to give Cincinnati some star power. This will be a good team, maybe even better than that. An early meeting with Vanderbilt will be an indicator. Transfer Ibrahima Thomas (6′11″) may see some minutes in the post as well.
MAYBE
7. Seton Hall - A perennial has-been for a number of years, the Pirates could surprise this season. Eugene Harvey is the floor leader while Jeremy Hazell is a prolific scorer. Key to this team is the play of three incoming transfers - Keon Lawrence (Missouri) and Herb Pope (New Mexico State) and Jeff Robinson (Memphis). Pope has always had skill but it remains to be seen if can keep it together for a whole season. Could be a sleeper.
8. Syracuse - There is no doubt the Orange will score. Jim Boeheim's teams never have a problem with that aspect of the game. Usually though, they give up a ton as well. Wesley Johnson, transferring from Iowa State, is the prized catch this season. Andy Rautins and Arinze Onuaku return as well. If some of the younger players develop, and Scoop Jardine can play the point, Syracuse could sneak in.
BEST OF THE REST
Hard to imagine leaving Notre Dame, Pittsburgh and Marquette in the bottom half of the conference. As good as Luke Harangody is, I don't think Ben Hansborough gets the Irish into the top eight. Another versatile player, Purdue transfer Scott Martin is out for the year. Pitt was decimated by "graduations" and the early defection of Dejuan Blair. They are always tough at home though, and Jamie Dixon is a good motivator. Marquette was hit hard by the departures of Dominic James, Jerel McNeal and Wesley Matthews and are in a rebuilding mode.
MOST LIKELY TO SURPRISE
If anyone does jump up, look for St. John's. They have a veteran team which is a good thing this year as several of the big boys are retooling. It could be coach Norm Roberts last hurrah unless the Red Storm make a post-season appearance.
by Mike Henderson… Much has been said or written that the return to Kansas of Cole Aldrich and Sherron Collins has virtually assured them of an April visit to Indianapolis in 2010. However, the Texas Longhorns will have something to say about this with one the best recruiting classes and the return of Damion James. Oklahoma doesn't want to be left out either. Yes, Blake Griffin is gone but Willie Warren opted to stay with the Sooners and their potential post peril may be alleviated by one Keith "Tiny" Gallon.
Predicted Order of Finish
1. Kansas
2. Texas
3. Oklahoma
4. Kansas State
5. Oklahoma State
6. Texas A&M
7. Baylor
8. Iowa State
9. Missouri
10. Texas Tech
11. Nebraska
12. Colorado
IN
1. Kansas - The return of the aforementioned duo puts them at the head of the class. The ornery Morris twins, Morris and Markieff, are back with experience and Mario Little will try to make up for a lost season last year. Throw in sophomore Tyshawn Taylor and recruit C.J. Henry and the Jayhawks will be extermely tough. Not many weaknesses here.
2. Texas - Avery Bradley, J'Covan Brown and Jordan Hamilton give Texas possibly their best recruiting class ever and will be bolstered by the addition of Jai Lucas, a transfer from Florida. Damion James, Gary Johnson and Dexter Pittman all return up front. There could be some major fireworks when these two meet in February. The Longhorns also have North Carolina, Michigan State and Connecticut on their slate. A major player this year.
3. Oklahoma - Keith "Tiny" Gallon, 6′8″ and 290 lbs. tries to fill the void left by the departed Blake Griffin. Willie Warren and Tony Crocker return as does Canuck Ryan Wright. I really love the way Jeff Capel's teams play. The Sooners won't slip too far, if at all.
4. Kansas State - A very intriguing team. The Wildcats finished last season very well and return four starters, including guards Denis Clemente and Jacob Pullen. Dominique Sutton returns up front and will be joined by big-time recruit Wally Judge and Connecticut transfer Curtis Kelly. This team could be very dangerous. The Puerto Rico tip-off tourney may provide a couple of early tests.
MAYBE
5. Oklahoma State - Returning James Anderson, Obi Muenelo and the emerging Marshall Moses should make things easier, right? Not when you lose a point guard and leader like Byron Eaton, and not when you will have a distinct size disadvantage in virtually every game you play. The Cowboys could be fifth or tenth this year. I'm thinking that they will be in the upper half of this tough conference.
6. Texas A & M - Seniors Bryan Davis and Donald Sloan anchor the team. A first-round win in the NCAA's was followed by a shellacking by Uconn. Not yet ready for prime time but a few big wins in conference and a win in one of the big road games (Clemson or Washington) could make enough of a statement. The Aggies were awful on the road last year.
OUT
7. Baylor - I keep hearing about Baylor but I don't understand why. They lost too much last year and their deadliest shooter, Lacedarius Dunn, was credited with two assists last year. TWO. Wonder if he's going to shoot? Can't see the Bears at the ball.
8. Iowa State - Craig Brackins is just about as good as it gets but there is very little else to support his efforts. I would love to see someone step up with this kid, but I don't think it's going to happen on a consistent basis.
9. Missouri - Great run to the Elite Eight but followed by some heavy losses in personnel. Mike Anderson's system has been familiarized - he needs the right new players to play it now.
ABSOLUTELY NOT
10-12 These three are going to struggle. For whatever reason (football?), Colorado and Nebraska are tough places when you are recruiting basketball players. Pat Knight is just getting out from the burden of his father, who left Tech with little talent or recruiting pull.
by Mike Henderson…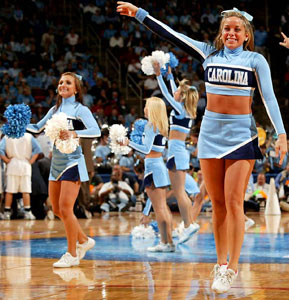 With much anticipation (drooling), the rabid inventors of all things basketball in the free world await the national championship that new coach John Calipari will deliver. As he dodged his way to Lexington from Memphis, just ahead of the posse, Calipari assembled what could be the best recruiting class in college hoops history. Problem is, several of these recruits may not be around longer than one year and at least one of them (John Wall) may not be eligible to play. The plot thickens.
Predicted order of finish:
East West
Tennessee Mississippi State
Kentucky Mississippi
Vanderbilt LSU
South Carolina Alabama
Florida Arkansas
Georgia Auburn
IN
Tennessee - The Vols are bolstered by the return of top scorer and top player Tyler Smith. Wayne Chism anchors the frontline along with Smith, with Bobby Maze and J. P. Prince leading the backcourt. The production and overall improvement of Scotty Hopson is the key to a deep run the tourney. Coach Bruce Pearl knows what he will get from Smith and Chism but a third consistent scorer, along with their overall depth could make for a storybook season.
Mississippi State - Could boast one of the best frontcourts in all of the NCAA. Could. Jarvis Varnado led the country in blocks last year and has improved his offensive game. John Riek, at 7′2″, will join the team after 9 games to give them another defensive presence, albeit a raw one. The big question mark is the status of top recruit Renaldo Sidney, which is currently still up in the air. Point guard Dee Bost and wings Barry Stewart and Ravern Johnson are back as well. This team could be scary. Could be.
Kentucky - With all the talent at his disposal, anything less than contending for a national title would be a disappointment for the Wildcats. John Wall, DeMarcus Cousins, Jon Hood and Daniel Orton lead an unprecedented freshman class. Add outstanding post player Patrick Patterson into the mix and you have a ready-made contender - on paper. Alas, the games are always played on the hardwood and this group will have to mesh quickly. The unknown status of John Wall is also a concern although even without him the 'Cats are very solid.
MAYBE
Mississippi - The Rebels were decimated by injuries last year and still were very competitive in the SEC. The league is decidedly improved this year, at least at the top so the task doesn't get any easier. However, with the return of Chris Warren and Eniel Polynice, plus the emergence of Terrico White, Mississippi has one of the most athletic backcourts in the country. They are not huge up front though, and this may cause some problems in conference play. Their soft schedule doesn't help either, as their only real test before conference play starts is a road game at West Virginia.
Vanderbilt - The Commodores are extremely optimistic about a return to NCAA tournament. Returning big man A.J. Ogilvy anchors the frontcourt while senior Jermaine Beal (12.5 ppg last year) is joined in the backcourt by freshman John Jenkins, one of the country's top recruits. Add in the contributions of Lance Goulbourne and Steve Tchiengang and the crazy home court advantage they have and things could be looking good in March.
South Carolina - Probably one of the "bubble" teams that were left out of last year's tournament, the Gamecocks return a veteran lineup led by potential All-American Devan Downey. Dominique Archie is a valuable contributor and coach Darrin Horn last year made a successful transition from the Sun Belt to the SEC. Though their schedule is not overwhelming, they do play at Clemson and at home to Baylor and three interesting mid-major teams in Richmond, LaSalle and Western Kentucky.
OUT
Florida, Georgia, Alabama, Auburn, Arkansas and LSU all have work to do. Anthony Grant will do a great job at Alabama but may have some growing pains this season. Billy Donovan is discovering once again, despite consecutive national championships, that playing in Florida generally means football.
by Mike Henderson…
Generally, I wouldn't put the Missouri Valley in as a power conference but this year they have a chance to place at least 2 teams into the Big Dance. Similarly, the Atlantic 10 could have another multiple bid season. The other "Big Six" conferences we know about. Today, I'll tell you who's in, who has a shot and who's out in the Missouri Valley Conference and the A-10.
Missouri Valley - Predicted Order of Finish
1. Northern Iowa
2. Creighton
3. Southern Illinois
4. Illinois State
5. Wichita State
6. Indiana State
7. Bradley
8. Drake
9. Missouri State
10. Evansville
IN
1. Northern Iowa Panthers - With everyone back from last year's NCAA team, you have to figure that the Panthers are strong favourites to repeat in the Valley. Seven-footer Jordan Eglseder and forward Adam Koch man the strong frontline while sophomore Johnny Moran looks to build off of a solid rookie season. They will be the team to beat and quite possibly an eight or nine seed come March.
MAYBE
2. Creighton - Almost like a "gimme" pick that the Blue Jays will contend. Coach Dana Altman has a talented cast of guards in Cavel Witter, Kaleb Korver and P'Allen Stinnett, a candidate for Valley player of the year. The frontcourt is anchored by Kenny Lawson Jr., a 6″9′ junior who shoots a high percentage from the field. Depth is always key for the Jays and this will get tested right off the hop with a tilt at Dayton to open the season.
3. Southern Illinois Salukis - Time for Chris Lowery to earn his money, or so critics seem to think. The Salukis have had two very bad years in a row and the Carbondale faithful won't tolerate another. There is hope for this year, however. Kevin Dillard emerged as a fine shooter and playmaker as a freshman, despite having to play way too many minutes. Anthony Booker will hopefully get to show why he was one the highest recruits ever to land in the Valley, after a lost freshman season. Gene Teague is an intriguing player as well. At 6″9′, 290lbs., he could be the low block player SI needs. He redshirted last year at South Florida (Big East) before landing in Carbondale. Also, much needed experience for the backcourt arrives in Tony Freeman, Iowa's leading scorer two years ago before transferring. They need to start fast and hope to gain momentum and confidence or it could be another long season.
OUT
4. Illinois State - Many have them challenging for the league crown but I can't see it. Osiris Eldridge may be the best player in the Valley but he needs some help.
5. Wichita State - This is a team that could move up quickly. A very young team last year now has some experience to go along with a pretty solid finish to last season. The Shockers could easily be the surprise (or maybe not so surprising) team in the league.
6. Indiana State - Another team that has some potential to surprise. Still, I don't like their overall depth compared to some others. Jake Kelly (transfer from Iowa) is not eligible until next season.
7. Bradley Braves - Nobody does more with Les (Coach Jim Les, that is - sorry, couldn't resist). The Braves will have some difficulty at the beginning of the season but much like most Les teams will be tough by the end of the season. Sam Maniscalco is a pretty solid point man, but the Braves need some work beyond that.
8. Drake - Rebuilding continues. They will be decent at home but won't contend for the title.
9. Missouri State - The good news? Many freshmen and sophomores will get heavy minutes for Coach Cuonzo Martin. The bad news? Many freshmen and sophomores will get heavy minutes for Coach Cuonzo Martin. The Bears should be better than last season but are at least a year from competing in the top half of the conference.
10. Evansville - Shy Ely (one of the most underrated names in college hoops), leading scorer in the MVC last year is gone and Marty Simmons is locked in with as many as 9 freshmen and sophomores. After going 8-10 in conference last year, the Aces could step back sharply this year.
Atlantic 10 - Predicted Order of Finish
1. Dayton
2. Richmond
3. Xavier
4. LaSalle
5. Temple
6. Rhode Island
7. Duquesne
8. St. Joseph's
9. Massachusetts
10. Charlotte
11. St. Louis
12. George Washington
13. St. Bonaventure
14. Fordham
IN
1. Dayton Flyers - Four starters return from a 27-8 team that made it to the second round of the NCAA tournament last year, including point guard Rob Lowery and forward Chris Wright. Brian Gregory has plenty of depth and likes to use it. Nine players averaged ten or more minutes last year. The Flyers are looking to get out of the gate quick with a home game against Creighton. The A-10 pick.
MAYBE
2. Richmond Spiders - In addition to returning every regular but one from last year's team, the Spiders regain the services of Dan Geriot, an all-Conference performer who sat out last season with a knee injury. Assuming he comes back at 100%, Richmond will be a very dangerous team that will win those close games that haunted them last season. David Gonzalvez and Kevin Anderson are a very dangerous duo in the backcourt.
3. Xavier Musketeers - Despite the departure of head coach Sean Miller, the early departure of Derrick Brown and only two starters returning, Xavier will challenge for the A-10 crown. Jason Love is the team's top returning scorer (7 ppg) but he will have help from caustic seven-footer Kenny Frease, who played valuable minutes last year as a freshman. Add transfer Jordan Crawford into the mix and the Musketeers should contend.
4. Lasalle Explorers - This may depend entirely on how much Aaric Murray can contribute right away. With four senior starters returning, Lasalle has a very good chance to improve on their 5th place finish from last year. Murray was a highly touted recruit who, because of the experience surrounding him, might not feel the pressure to carry the team but to contribute. Or, he could be a bust. The Explorers need to do it this year.
5. Temple Owls - I'm never counting them out. Consecutive A-10 tournament wins has convinced me. Returnees Lavoy Allen and Ryan Brooks will provide scoring and leadership for Fran Dunphy's squad. This team could be anywhere from first to seventh in this tough conference but another upper echelon finish may be in the cards.
NO
6. Rhode Island Rams - Replacing your top scorer is never easy. The Rams slide could be even greater after a solid 11-5 conference record last year.
7. Duquesne Dukes - A season removed from the A-10 tournament final and Ron Everhart is still looking up. Off court problems have plagued this program but he seems to be able to keep it going. I wish I could be more optimistic about their chances this year.
8. St. Joseph's Hawks - This might be a generous pick unless Phil Martelli has done some serious recruiting. Ahman Nivins is gone and so is any presence they had in the post.
9. Massachusetts Minutemen - Could be the surprise of the A-10. Derek Kellogg's recruiting class was the best in the A-10 and this is a very young team. If not this year, look out for this team in 2010.
DEFINITELY NOT
10- 14 The Rest - Until something remarkable happens, George Washington, Fordham and St. Bonaventure are resigned to be in the bottom tier of this conference. Charlotte is in rebuilding mode but hasn't had much success lately either. Rick Majerus is having difficulty recruiting and his best two players from last year are gone. Yikes.
by Mike Henderson…
Much is made of the "Big Six" conferences and for good reason. No one outside of one of these has won a national title in twenty years (UNLV was the last in 1990). One day another George Mason will emerge but it is hard to imagine that one will ever win it all. Today's version of the Big Six has the PAC 10 lowdown, with quick analysis on the top teams, as well as who's in and who needs to do some work.
PAC 10 - Predicted order of finish
1. California
2. Washington
3. UCLA
4. Oregon State
5. Arizona
6. Oregon
7. Washington State
8. Arizona State
9. USC
10. Stanford
IN
1. California Golden Bears - The Bears return arguably the best backcourt in the country in Jerome Randle and Patrick Christopher. Bangers Theo Robertson and Jamal Boykin also return up front as does 7′3″ sophomore Max Zhang. If coach Mike Montgomery gets anything out of Zhang, the Bears will be very tough and will win the league title.
2. Washington Huskies - Despite the loss of workhorse Jon Brockman, the Huskies are a very talented squad again this season. Freshman sensation Isaiah Thomas returns and welcomes Abdul Gaddy, one of the nation's top prospects into the backcourt. Up front, Quincy Pondexter and Matthew Bryan-Amaning return. They definitely will lose the rebounding edge that Brockman gave them and need to compensate as a team for this. They will, however, be the most exciting team to watch in the conference.
3. UCLA - Before we bury the Bruins, let's give the program, and coach Ben Howland a little credit. After three consecutive Final Fours, last year's second round defeat seemed unseemly. The recruiting crop hasn't been as favourable in the last couple of years and this year will be a challenge as well. Darren Collison is gone, there is no Kevin Love on the horizon and UCLA must go with unproven Jerime Anderson (who recently injured his groin) at the point. Howland hopes that J'mison Morgan and Drew Gordon can step up as sophomores. His teams will defend and in a conference that is down this season they will be able to compete.
MAYBE
4. Oregon State Beavers - A lot of players return from last year's team that finished very well. No real stars but solid team play and multiple contributors for the President's brother-in-law, Craig Robinson. They will have to win some on the road to get into the upper echelon in the league, but a down season for the Pac-10 gives them a shot. I think it is optimistic to think they will be dancing in March though.
5. Arizona Wildcats - Coach Sean Miller inherits former bench boss Lute Olson's mess and it ain't pretty. Nic Wise returns from last year's team, as does Jamelle Horne and little else. Miller did manage to land a couple of decent recruits late, but his team will have trouble finding an identity beyond Wise early in the season. Their streak of 25 consecutive NCAA tournament appearances is in jeopardy this season.
6. Oregon Ducks - Yes, Tajuan Porter is finally a senior. The 5′6″ guard will try to lead a very young Ducks team back to the tourney, where Porter led them to the Elite Eight as a freshman. Coach Ernie Kent is hopeful that 13 (his career at Oregon) is a lucky number for Oregon fans who want to forget last year's 8-23 season. The chances here appear remote but Kent has done good things with young teams in the past.
OUT
7. Washington State - Even with a proven winner like Ken Bone (replacing departed coach Tony Bennett) on the sidelines, the Cougars don't appear to be deep enough to compete for the league crown.
8. Arizona State - Does James Harden have a brother? One big recruiting egg in an otherwise empty Sun Devil basket for coach Herb Sendek. This will be a long year.
9. Stanford - Johnny Dawkins may become a great coach one day but he won't look like it this year. The cupboard is bare.
10. USC - Miller's mess is nothing compared to the one in Southern Cal. Tim Floyd is gone, the NCAA is poised to sanction the school and the best solution they could come up with was to hire Kevin O'Neill as their head coach.
by Mike Henderson…
Low / Mid-major Breakdown
One of the most interesting (and fun) parts of the season has arrived, the one where prognosticators who've been hibernating through the summer (??) reacquaint themselves with hoops facts and stats. The season where champions are made on paper. The season where everyone can be an expert, even me. So, with that segue, here are my bold predictions for the NCAA (yes, that one in March) tourney. I've left out the Big Six conferences and the A-10; a more thorough analysis of those will follow. For now, it's just the schools you rarely hear about, save for a few precious days in the spring.
Also included is my "Top Secret" Top 25, miles ahead of most pundits and some members of my family.
America East
Winner - Boston University Terriers
Main rival - Vermont Catamounts
High Interest - Binghampton Bearcats - 6 suspended in drug fiasco
Atlantic Sun
Winner - Jacksonville Dolphins - three leading scorers return for 2009 regular season champs
Main rival - East Tennessee State - last year's Madness rep from the Sun
Big Sky
Winner - Weber State Wildcats - NCAA berth this time for defending league champs
Main rival - Eastern Washington Eagles
Big South
Winner - Winthrop Eagles - strong league finish last year will carry over
Main Rival - Radford Highlanders - Parakhouski aside, Radford can't overcome the loss of 4 key seniors
Big West
Winner Long Beach St. - murderous non-conference schedule may help in the long run
Main Rival - CSU - one season removed from an NCAA tilt with Memphis
Colonial
Winner - Old Dominion - Top to bottom, easily the best team
Main Rival - Hofstra Pride - top 2 scorers return to help make a run to the post-season
Conference USA
Winner - Houston Cougars - Why not?
Main Rival - Memphis - still good enough to win this conference
Horizon
Winner - Butler Bulldogs - could be a top ten team to open the season
Main Rival - Wright State - their defence always keeps them in it
Ivy League
Winner - Cornell Big Red - someone has to catch them
Main Rival - Pennsylvania Quakers - should be back near the top where Dunphy had them for so long
MAAC
Winner - Siena Saints - still loaded and anxious to be ranked
Main Rival - Niagara Purple Eagles - a great rivalry with the Saints makes it interesting
MAC
Winner - Akron Zips - recruiting haul gives them the edge
Main Rival - Kent State - looking to get back to the 20-win plateau
MEAC
Winner - Morgan State - best recruits and the best coaching
Main Rival - Hampton Pirates - always competitive but looking for a go-to scorer
NEC
Winner - Mount St. Mary's Mountaineers - guard play takes them to the top
Main Rival - Monmouth Hawks - awesome sophomore class will help them contend
OVC
Winner - Morehead State Eagles - repeat behind the athletic Kenneth Faried
Main Rival - Murray State Racers - more consistency is needed but the talent is there
Patriot
Winner - Lehigh Mountain Hawks - Five of top six scorers return
Main Rival - Holy Cross Crusaders - experience and tough D will help them stay close
SWAC
Winner - Alabama A&M Bulldogs - top scorer is gone but others are ready to step up
Main Rival - Arkansas Pine Bluff Golden Lions - a balanced, deep team to contend with
Southern
Winner - Wofford Terriers - top 3 stats stuffers return for the "dawgs"
Main Rival - Davidson - needs to regroup to regain prominence
Southland
Winner - Sam Houston State Bearkats - enough returning parts to win the conference
Main Rival - Texas A&M CC Islanders - could make an interesting push
Summit
Winner - Oakland Golden Grizzlies - peaking with upperclasssmen
Main Rival - Oral Roberts Golden Eagles - will rebound from a sub-par year to make it a "golden" double
Sun Belt
Winner - Western Kentucky Hilltoppers - big things expected from A.J. Slaughter
Main Rival - South Alabama Jaguars - can bounce back after a poor 2009
WAC
Winner - Nevada Wolf Pack - Luke Babbitt is ready to shine
Main Rival - Utah State Aggies - always replacing and producing behind coach Stew Morrill
WCC
Winner - Gonzaga - re-tooling but still going to be tough
Main Rival - Portland - a more experienced team but …..
"Top Secret" Top 25
1. Kansas
2. Villanova
3. Michigan State
4. Kentucky
5. Purdue
6. North Carolina
7. Texas
8. Oklahoma
9. Connecticut
10. Tennessee
11. West Virginia
12. Mississippi State
13. Duke
14. Butler
15. California
16. Kansas State
17. Ohio State
18. Washington
19. Michigan
20. Georgetown
21. Dayton
22. Clemson
23. Georgia Tech
24. Minnesota
25. Oklahoma State
by Mike Henderson… In Montreal on April 18th, one of the UFC's top dawgs, and top-drawing fighters, saw his career come to an end. Chuck "The Iceman" Liddell was stopped thirty seconds from the end of the first round by "Shogun" Rua, ending what has been the modern-day version of "it was the best of times…it was the worst of times."
Liddell ruled the light-heavyweight division for almost three years, defeating soundly all challengers, including the (hopefully) reviled Tito Ortiz in 2006 in the biggest fight - financially - in UFC history to that point. He not only knocked people out, but did so viciously, and in the process became an icon in the sport. No, not a technical genius and not the nauseating "well-rounded" fighter, but a guy who was what the competition purported to be - the ultimate fighter.
I know he has many detractors and I know many are going to say he mopped up in a watered-down division but this was hardly his fault. He fought everyone they put in front of him and did so until this past Saturday. Name any fighter that has fought Wanderlei Silva, Keith Jardine, Randy Couture (3 times), "Rampage" Jackson, Mauricio Rua and finally, Rashad Evans. I know you are going to tell me that his record against the aforementioned is 3-5. I'm just not sure this would have been the case if these fighters had been in the mix three years ago. The problem was, he didn't get any younger and those shots he routinely absorbed in the past were too much to overcome at this stage of his career.
One of the more interesting, and important, I think, UFC cards featured Matt Hughes squaring off against Ultimate Fighting legend, Royce Gracie. The build-up for this fight was intriguing, to say the least. Gracie, whose entire resume consisted of submitting larger fighters, simply said he would put Hughes to sleep, help him up and send him home. Hughes, in all of his painfully false humility, explained that the MMA landscape had changed and that all fighters were versed in all forms stand-up, grappling, jiu-jitsu and wrestling and that Gracie's time had passed. And he was right.
For Chuck Liddell, these past two years have been virtually the same. None of the last 5 fighters he has faced has feared him, an intangible he seemed to have in most of his previous fights. When Quinton "Rampage" Jackson made short work of Liddell in UFC 71, others knew he was vulnerable. So did Chuck. He seemed to fight differently, hesitantly. And it went downhill from there. He did rock Rua but couldn't finish, something that was trademark Liddell in the past. And when he got rocked, he simply couldn't recover. Don't start blasting Liddell, and even if you never did like him, don't celebrate his latest defeat. Don't celebrate the end of his career. Because, if you like the UFC, you have to know that without guys like Liddell, we wouldn't even be watching it.
Adlai Stevenson once said: "We can chart our future clearly and wisely only when we see the path which has led to the present." For Chuck's sake, I hope he has been watching.
by Mike Henderson… Yes, I'll admit it, my early-season Final Fours picks were weak. One (Gonzaga, Sweet Sixteen), by its nature, was destined for inaccuracy. Rarely does choosing your favourite teams pay off. Another (Pitt, Elite
Eight) was grounded by Scottie Reynolds's end-to-end rush and score. One more (Purdue, Sweet Sixteen) was dominated by a bully. And the last (North Carolina) has looked good in making it to the promised land. The Heels and the UConn Huskies have looked great so far and the Villanova Wildcats have beaten the who's who (UCLA, Duke, Pitt) in a very tough bracket.
But wait. There lurks an evil force in Motor City. Despite being a two-seed (and now, we realize, a legitimate two-seed), the Michigan State Spartans throttled Louisville on Sunday to earn a spot, and a distinct home-court advantage, in the Final Four. So complete was the win against the Cards, that Coach Izzo even seemed to be pleased.
Even as the tournament was progressing, it was difficult to Michigan State in the Final Four. Tough wins over USC and Kansas tested their mettle before their dominant performance against overall #1 Louisville. The Cards looked sluggish and beaten halfway through the second half and while this wasn't their best game, the Spartans had plenty to do with that. In fact, that they have posted sixteen wins over top 50 RPI teams indicates not only how good they have become, but how tough their schedule was over the course of the entire season.
While defeats against Maryland and Northwestern seemed a little uncharacteristic, the December 3rd loss by 35 at home (Ford Field, no less) to North Carolina makes one wonder if State has come far enough to compete on this stage. Connecticut presents a huge challenge for the Spartans. With virtually no inside scoring against Louisville, it is going to be at least as difficult to score in the paint against Thabeet and Company. The advantage of being able to control the tempo won't seem as big if outside shots aren't falling. But with potentially 70,000 fans behind them, maybe that won't matter.
The Final: Okay, based on my picks, go with the opposite. I see a UConn vs. North Carolina final. Would I love to see the opposite? Absolutely. But I don't know if either Michigan State or Villanova has the overall skill and depth to stay with these two teams. Villanova has been great thus far in the tournament but Carolina looks as if they have just been waiting for this. UConn, which generally plays with a chip on its shoulder, appears to have a bigger chip, which is trouble for any opponent.
So goodbye to Duke, Texas, Pitt, Kansas and yes, my beloved Zags, for another year. Thanks for the bracket (busted) memories and we'll meet again, maybe in Buffalo, for another bout of Madness.
by Mike Henderson…
Much is made of the seeding process, who should be where, who should be ranked higher and so on. This time, the NCAA committee seems to have been on the mark.
After a relatively tame first weekend in terms of upsets (Wake Forest aside), the Sweet Sixteen prepare to do battle on Thursday and Friday of this week. All of the #1, #2 and #3 seeds advanced. Two #4's, a #5 and a #12 round out the remainder of the field. Not altogether unusual as all four #1's advanced to the Final Four last year, but a little lacking in the Cinderella story department.
The Games
There were some "upsets" but not the types that make you shake your head and tear up your bracket. The biggest was Cleveland State's dismantling of Wake Forest. Strangely, many people were all over this, including coaches John Calipari of Memphis and Rick Pitino of Louisville. They offered their upset "specials" courtesy of Yahoo! Sports and cited the youth of the Demon Deacons as their potential downfall. They must have played this script out before because they were bang on. Wake fell behind early and struggled to keep the game as close as it was. Sadly, State's epic run ended two days later with a loss to fellow underdog Arizona.
I don't know if you can say that Arizona's win over Utah was all that surprising. The Wildcats are a good team provided they don't get into foul trouble. Western Kentucky has shown on a number of occasions that they are a trendy upset pick, but Illinois, without starting point guard Chester Frazier, was the one team seeded far too high. Twice this year they scored less than 40 points in a game, which doesn't cut it in any league. The Hilltoppers came within a hair of taking Gonzaga out in the second round but they too have been sent packing.
Pittsburgh tried desperately to become the first number one seed to go down to a sixteen seed. East Tennessee State outhustled, outworked and essentially outplayed the Panthers but couldn't overcome game-long shooting woes in a game that was much closer than the ten point margin.
Ten seeds enjoyed success in the first round as Michigan, USC and Maryland all won. All are on their respective (un)happy trails home.
One of the best games of the weekend saw the Siena Saints take the Louisville Cardinals to the wire in the second round, coming back from a 12-point deficit to lead by four with seven minutes left. But, as is often the case with a short bench, the Cardinals eventually wore down the Saints, 79-72.
What's left is essentially the best of the best.
Thursday's Games
1 UConn vs. 5 Purdue - The Boilermakers won a tight game against the Washington Huskies. They aren't likely to be as fortunate against these Huskies. UConn has looked very impressive in its first two games. Purdue will be the best team they have faced so far but they will romp.
4 Xavier vs. 1 Pittsburgh - The Musketeers keep grinding out wins, including a methodical 11-point win over Wisconsin in the second round. Pitt has looked, well, un-Pittlike. They were lucky against ETSU and were marginally better against Oklahoma State, who scored 49 points in the first half against a normally tough defense. In spite of this, Pitt has escaped and has some time to prepare. The Panthers win this one.
2 Memphis vs. 3 Missouri - This could be a very interesting game, in an all-Tiger affair. Missouri can score and like to force the pace by pressing and trapping. Memphis hasn't been as stingy defensively as they were in the regular season. This game will come down to turnovers. If Missouri gets more than they give they have a shot. The problem is, Memphis has shown they can score as well. Tigers win - Memphis, that is.
2 Duke vs. 3 Villanova - Best game of the night. Villanova absolutely hammered UCLA and Duke banged out a win against Texas in the second round. If everybody gets into the act for Nova, watch out. The Blue Devils have to limit Dante Cunningham and Scottie Reynolds and force the supporting cast to beat them. I don't think they can do this. Villa Nova wins in a close one.
12 Arizona vs. 1 Louisville - Louisville's depth and the ability of Terence Williams to take games over when it matters will keep undermanned Arizona from advancing any further. They have done a good job to get here, but use only six players. Jordan Hill may be a tough matchup for Samardo Samuels in the post but overall, Louisville is too strong everywhere.
3 Syracuse vs. 2 Oklahoma - I honestly didn't think the 'Cuse could get past Arizona State, but they did so easily. Blake Griffin will be a different story. This will be his last season in college and it is clear he wants to go out in style. Syracuse will have no answer for him inside and has to hope that their outside shooting and transition game is sharp. Jonny Flynn is one of the best to watch in all of college basketball - but he might be playing his last college game also. The Sooners prevail.
3 Kansas vs. 2 Michigan State - Rematch of the January 10th game won by State, 75-62. The Spartans have size, experience, speed and defensive tenacity. The Jayhawks have size, defensive tenacity and speed. Sherron Collins and Cole Aldrich provide the experience. Kansas has done well to get to this point but can they get past the top squad from the Big Ten? Probably not. State pulls away at the end in a war.
1 North Carolina vs. 4 Gonzaga - Carolina looked good when they responded to LSU's second-half run on Saturday. Gonzaga looked terrible against Western Kentucky, despite advancing. They have the players to match up against the Tar Heels and they will score. The question is: Can they rebound enough to stay competitive. If they do, the Zags will match their furthest foray in the NCAA tournament (Elite 8, 1999). If they don't, Carolina wins in a romp.
by Mike Henderson…
Coming down to the wire now, with one week until Selection Sunday, the teams that need to do something to impress the committee have taken the unusual approach of playing poorly. Some teams (Auburn, New Mexico) have jumped into the fray, while others continue to stagger toward the finish line.
On the Way Up
Auburn - Winning eight of their last nine, including victories against Tennessee and LSU, have propelled the Tigers into the tournament conversation. Outside of SEC play, however, they haven't beaten anyone of note. The lack of a surge by anyone else is really helping their chances at this point. Two wins in the SEC tournament and they are in.
New Mexico - Steve Alford's Lobos have the same streak (8 of 9) as Auburn and have beaten all of the Mountain West's big boy (UNLV, Utah, BYU and San Diego State). However, there are no wins that stand out outside of the conference and all of the previously mentioned wins were at home. Still, they tied Utah and BYU for top spot in a tough conference.
Texas A&M - Six wins in row and the Aggies are almost a lock. Big wins over Texas and Missouri stand out, but they also have wins over Arizona and LSU, two teams that look to be in the tourney. They have very balanced scoring and their defense, apart from the second half against Missouri, looks okay. Mark Turgeon had a team like this three years ago (Wichita State) and took them to the Sweet Sixteen.
Michigan - Saturday's win at Minnesota was huge. Road wins are always at a premium, especially at this time of year. Add early wins against Duke and UCLA and the Wolverines could be back in the tourney. Winning at least once in the conference tournament would help.
On the Way Down
Kentucky - Unless they do something special in the SEC tourney, they're going to the NIT. They are three and eight in their last 11, including an incomprehensible home loss to Georgia, who picked up their third conference win of the year. Somehow, I don't think Tubby Smith is sympathetic to what Billy Gillespie must be hearing in Lexington.
Minnesota - Speaking of Tubby, the Gophers are doing their late-season best to dissuade the committee from extending a March Madness invitation. Three and six in their last nine, including a painful loss to Michigan at home Saturday is not what the committee is looking for. Most of what I've read or heard seems to indicate that they will get in but I'm not sure why. The Big Ten is by far the most overrated conference in college hoops. More on that later.
UNLV - The Rebels have on thing to be thankful for: the Mountain West tourney is being held in Las Vegas. That said, if I was a betting man, I would not spend anything more than say, nothing, on them to win. After beating Louisville on the road without Wink Adams, and maintaining a high RPI ranking for most of the season, the Runnin' Rebels have really been mediocre at best. They need to win this tournament to get in.
Cincinnati - Losses in five of their last six have virtually assured the Bearcats of a ticket to the NIT, barring a special run in the Big East tournament. Yes, you can lose to Syracuse without slipping too much, but getting it handed to you by South Florida and then losing to Seton Hall at home won't pay the rent.
The "Who Knows" and "Are You Kiddings?
Wisconsin - One of the thirty-eight teams from the Big Ten that should receive a bid, the Badgers (18-11, 9-8 in conference) seem to have alerted the selection crew that they are ready for the Madness. Ironically, the madness would be having a mediocre team with a mediocre record in a mediocre conference get an at large bid. There are better teams than Wisconsin that won't even get a sniff.
Northwestern - The Wildcats (17-11, 8-9) also reside in the Big Ten. They are also mediocre. Yes they have won some games (Ohio State, Purdue). They have also lost some games (Iowa, Minnesota -73-45). This means they are a competitive team in a competitive conference. It doesn't mean they should be part of the field.
Florida - I think they'll get in, just because we're running out of teams. They're faltering as they did toward the end of last season but had a big win in terms of selection against Kentucky on Saturday.
Creighton - The best case scenario for the Missouri Valley having two teams in might have blown up on the weekend. If the Bluejays had reached the final of their tournament and lost, this may have been the case. However, they were awful, blowing a 20 point lead against Wichita State before winning at the buzzer, then getting waxed by Illinois State. Pins and needles for Dana Altman's crew.