by Dan Silver… Mike-somebody get the license of that Van- Ryn:
So the hottest topic now is listening to people bitch about whose fault it is when a player gets dismembered when hit from behind. Every case is different, but in the Kostopolous Van Ryn collision it's safe to say it's BOTH THEIR FAULTS! Kostopolous is an idiot for going full tilt from behind, and Van Ryn is an idiot for turning his back…end of debate.
What The Ref??
There is nothing more exhilarating than seeing an average defensemen like Carlos Coliaccovo dropping the gloves with Kostopolous moments after the big hit.
Question:
Did anybody notice the fight was broken up by the players and not the referees???? George Laraque was actually concerned for Kostopolous's well being! I'm surprised Carlo didn't get injured from the mere impact of the hit!
I'll Take Hipocrasy For $800 Alex:
Question: "This hockey player said : "It's a forwards job to make sure he doesn't hit a defenseman from behind, even if he turns his back".
Answer: Who is idiotic Ryan Hollweg.
Alex: "Now I've heard everything".
Jeers Cheers and Tears
No disrespect to Don Cherry, I admire the awareness he brings to our Canadian troops, but does he have to cry every single week on Ryan Hollweg?? I get excited waiting for Ron Mcleans hilarious puns only to see the screen fade into blackness with Cherry choked up while we hear the new lame CBC anthem……wait, maybe that's why he's crying!
Method To His Madness
I gotta tell ya, I am loving the ritual benching of players Ron Wilson has enforced, and he stands by his word; If you don't play- you won't play! No more shall the Stajans and the Steens and the Ponikarovsky's of the world take for granted their ice time! And let's face it, nobody…I mean nobody would have predicted a five goal explosive comeback against the Rangers and a 6 goal outing against the habs!
If only Ron was coaching when Hal Gill was considered the Leafs top defenseman, Hal would only need to bring 2 pieces of equipment to the ACC, a sleeping bag and a pillow.
Sid Not The Same Kid
So what's the deal with Crosby and his lack of goal production? Hmmm… is it he hit his prime at 19 and won't get any better? Hmmmmm….Maybe he just can't produce without his fluffy floating fake line-mate Marrian Hossa….doubt it. Or is it because the Pens lost Gary Roberts, Ryan Malone, George Laraque-the NHL's version of C.I.A. hitmen- who can actually skate with The Kid and keep his pretty face intact???
Does Eric Godard have the skills to play on Sid's line? Does he ever win a fight? Perhaps he and Ryan Hollweg should chuck the knuckles…they both can't lose right?
Not Quite Parrished
So the leafs sign ex-Islander sniper Jason blake to a multi-million dollar contract and get absolutely bupkis from him, but when ex-Islander sniper Mark Parrish goes up for grabs for half of Blake's salary, the Leafs pass.
By The Way: Mark Parrish scored a hat trick in his first game with the Dallas Stars!
Now I'm crying…..
Who Said God Doesn't Have a Sense of Humour?
It's every gambler's worst nightmare. For Shane Wilson his nightmare was reality. The average beer drinking football fan picked all 13 winners in the NFL Pro Pick (which is about 500,000-1 odds) which should have guaranteed him at least a few hundred grand.
The problem: Over 1600 people also picked all 13 winners the same night! The odds of that happening just might be in the billions! Whatever religion those people belong to..I'm joining the opposite.
Philosophically Speaking
Why does Ottawa suuuuuuuuuuuuuuck?????????????? Not that I'm complaining, but they're pretty much the same team they were the last 2 years- minus a mouthy goaltender and professional Olympic diver Martin Havlat. Seriously…Why???
Well gotta go-this week I'm gonna try to be a better person. Gonna help old ladies across the street, I'm not gonna secretly make fun of Barista's at Starbucks for pretending to love their job, gonna join a Buddhist Temple……and then finally place my wager on Pro Pick football.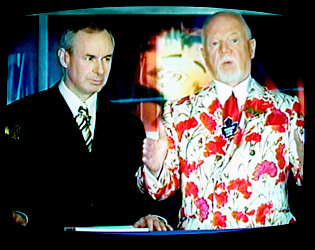 by Dan Silver…
I don't think I've ever laughed so hard during coaches corner as I did during the leaf suck-fest against the Habs. Don Cherry lashed out against the Leaf management for publicly stating their low expectations of the players and organization. Cherry insists the Leafs are much better and stronger than they were last year. Ron Mclean then asked Cherry if the Leafs would make the playoffs in which Cherry responded- "No-not this year".
Welcome to the third line checking unit Don.
Pen Pals
Bryan Dudenhefer was arrested fifteen minutes after being released from prison for trying to steal a car…..in the police parking lot in which he was released. That might give some comfort to the second dumbest person in the universe-that being Ryan Hollweg of course, who annihilated Alex Pietrangelo of the St.Louis Blues from behind.
Hollweg came fresh off a 2 game suspension for annihilating Jay Mckee of the St.Louis Blues from behind a week before. Maybe Bryan and Ryan can one day share a cell together in St.Louis and trade stories. They could even videotape their escape attempts, (most likely minutes after they arrive in sing sing) and send it to America's funniest home videos!
Maybe prison will teach Hollweg the true hart of getting hit from behind.
Idiots.
No Pals Of The Pens
I recently went to a movie called "Traitor" with absolutely no idea what it was about, I just assumed it starred ex-penguin Marrian Hossa leaving his cold battered baby penguins to die.
I mean, to abandon your mates only to join the team who stole the cup from your old ruffled feathers should be considered treason! No trial, no jury, just carve him up like a Turkey and be done with it!
The worst part is how Detroit fans have made him the poster boy for their attempted repeat of being Stanley cup champions. Has anyone done their research on Hossas before squandering millions of dollars?
Hossa just might go down as the worst playoff performer in NHL history! Still don't believe me? The high flying sniper has accumulated a whopping…….are you ready……brace yourselves…….13 goals in 56 games in 7 years of playoff runs!!! That's about one goal every five games!
Just think of all the Octupus one can get for that dough.
Playoffs require hard work, commitment, and sacrifice….three words you won't find in the Slovakian dictionary. If you can't beat 'em might as well join 'em huh Marrian?
Pathetic.
Jolly Green Giant
If we morphed Nik Anthropov and Alexi Ponikarovsky into one giant Eurpoean meatball, it would stand over 13 feet tall, weigh over 5oo pounds, and it still wouldn't hit, fight, or score.
The Habs pulverized the withering buds all night at the home opener, and they did it without Laraque, Higgins, or Francis Boullion!
And the only response from the Leafs was from pipsqueak Dominic Moore who took a ten step running crosscheck into Mike "The Wall" komisarek. Naturally he was penalized for it, and luckily for Moore the dirty hit probably felt like a mosquito bite to Komisarek, which could have had him suspended.
Moore better kiss his wife twice goodbye next time the Habs are in town, if he's smart he should avoid entering Komisarek-ville for a while.
Now That's Gotta Hurt
After re-hab, a long term suspension, and prison, Mark Bell was denied a spot on the "new leaf" roster, and was sent back to prison!…..ok ok maybe not prison, but junior hockey aint too far off.
You telling me a back to back 20 goal scorer for the Blackhawks who hits and fights aint good enough for the Leafs??? The earth shattering hit he layed on Alfredson in the last game of the season last year should have granted him captaincy!
Hell the sound of Alfie's head hitting the ice should be the theme song for Hockey Night In Canada!
For that-I'll always remember you Mark.
Perhaps it's bad P.R. to have 2 guys on the same checking unit with a criminal record. I wonder which dummy will complete the package?