by Brady Rynyk…
By now it should be not surprise that the Leafs are awful. With only two wins in their last ten games the team only has 41 points and is 16-24-9. In other words they are not making the playoffs. So Leafs Nation take off your blinders and start being realistic, Toronto last hoisted Lord Stanley in 1967, and the way things have been going since the move to the Air Canada Centre it might be another 45 years before they win another one.
Lets face it fans, Punch Imach isn't walking through that door…
Apart from the Leafs losing tradition and a plethora of players who surprising seem to achieve success after leaving the Leafs organization, taking the helm behind the bench in Toronto has a disastrous affect on the coaching careers of those who have taken the Leaf position.
Before the glorified hiring of prematurely crowned saviour Brian Burke, interim GM Cliff Fletcher made it his mission to bring in a coach with a winning pedigree – Well that and finding a way to trade away draft picks in order to make an immediate push for the playoffs.
Remember back in September Leafs Nation when the now front office featherbrain GM said, "Bringing Phil Kessel abroad, it's a statement to our players that we intend to be competitive right away."
I guess what he failed to mention was that the team was going to compete for last place.
But I digress.
As it stands right now the NHL's three worst teams are the Hurricanes, the Oilers and the Leafs. Interestingly enough these teams share more than the similarity of locking up their respective division cellars. These once prideful organizations not only made historic Stanley Cup runs, but also employ coaches with recent wining records, that is at least until they accepted jobs in Toronto.
In Leafs nation, Toronto turned to Ron Wilson, the ex-Sharks bench boss and franchise leader in victories and winning percentage with a record of 206-134-45 along with 2 division titles in only 4 ½ seasons. But my what a trip to Toronto can do for ones career. The team is atrocious on all statistical accounts an shows little to no promise, and with Brian Burke's genius managerial moves the teams looks to get worse before it gets any better.
In Carolina, Paul Maurice, who was once the youngest coach in the NHL, guided the Hurricanes to three winning seasons and a birth in the Stanley Cup finals before coming to the Leafs and having back-to-back losing seasons. He was fired after missing the playoffs two years in a row before returning to Carolina. One year removed from reaching the conference finals, the Hurricanes are now nine points behind the dreadful Florida Panthers in the Southeast division.
In Edmonton, both a two-time Jack Adams winner and gold medalist as a coach, Pat Quinn had brief success with the Leafs organization, guiding his team to the postseason. But his success quickly diminished, and his Stanley Cup finals runs in both Vancouver and Philadelphia became distant memories. After taking over for Craig MacTavish, Quinn has taken the promise of a youthful team only three years removed from the Stanley Cup finals to the basement of the Western conference this year.
It even took Pat Burn just over three seasons in Boston to wash away the grime of Leafs defeat from his repertoire before winning a Stanley Cup in New Jersey. Which raises the question, is there any hope for Edmonton or Carolina, because Toronto is certainly a lost cause on all levels – prospects, roster talent, management and the unfortunate demise of good coaches.
by Brady Rynyk…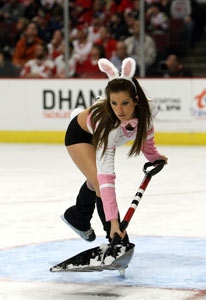 The Tamp Bay Lightning gave new meaning to shirt & skins when during practice the team took part in a game of "strip-shootout" where players removed a layer of equipment after missing on a breakaway.
Left winger, Ryan Malone and centre Jeff Halpern, who got his first introduction to peeler puck in university, organized the challenge in an effort to loosen the mood and build team unity.
Some players seemed to show their inexperience more then others, while some veteran's nerves got the better of them.
Vincent Lecavalier, who hadn't played since his NHL rookie season told a local paper, "Yeah, you start getting nervous after you lose a few pieces of clothing."
The captain's anxiety showed after he was forced to shed his helmet, arm pads and jersey before finally finding the back of the net.
Alas, it wasn't the Montréal native that was made to look like the goat. Martin St. Louis almost stripped down to his birthday suit after getting rid of his elbow pads, gloves, jersey, both leg pads, both skates, both leggings and socks before finally potting one.
St. Louis went so far as to shoot booted in only one skate, and finished wearing sandals launching pucks from the locker room.
Nine of the players ended up baring it all, but gap-toothed forward Todd Fedoruk was asked "Take out the rest of your teeth" after getting blank on his breakaway.
By Brady Rynyk…
After Tuesday night's electrifying 12 inning finish against the Detroit Tigers to clinch the AL Central, the Twins travelled to New York to challenge the Yankees in the division series.
The Twins seemingly running on fumes arrived in the Big Apple shortly after 2am to prepare for the Bronx Bombers on little to no rest.
With momentum and a little luck on their side, Minnesota jumped out to a quick 2-run lead after a few costly errors from the generally dependable backstop Jorge Pasada, allowed a past-ball which advanced and scored runners. Unfortunately the Twins quickly began to show signs of fatigue with some uncharacteristic play and unforgiving mistakes around the diamond.
The Yankees imposing line-up proved to be too much for rookie left-hander Brian Duensing who saw the teams lead quickly evaporate after Derek Jeter wrapped a 2-run homer around the left-field foul pole. An inning later, Nick Swisher cashed in the go ahead run on a RBI single that ignited the 49,464 fans in the ballparks first postseason game.
In the bottom of the 5th, the Yankees would add to their lead when Alex Rodriquez scored Jeter on a 2 out RBI single. The hit broke A-Rod's 0-20 postseason streak, having gone hitless with runners in scoring position.
The Hit would send the Twins rookie pitcher to the showers. Duensing's replacement, the one-time phenom Fransisco Liriano didn't fare much better, giving up a 2-run homerun to Hedeki Matsui, the first batter the relief pitcher faced.
A-Rod would pad the teams lead in the 7th with another RBI single as girlfriend Kate Hudson & hip-hop icon Jay-z took in the sights from the third baseline.
After going 6 2/3 innings and striking out eight twinkie batters with a menacing slider, Yankees ace CC Sabathia handed the ball over to the bullpen with a four run lead. New York's strong relief core, including Phil Hughes, Phil Coke and Joba Chamberlain made short work of the Minnesota line-up before turning things over to Mariano Rivera close thing out with ease. Despite an almost jovial demeanor, the convincing 7-2 victory shows that Yankees mean business and are already sizing up their fingers for a new championship ring.
The teams have an off-day before heading back to the Metrodome Friday for game 2. But with the Yanks long list of arsenal arms to hit the mound, Jeter playing MVP caliber baseball, A-Rod breaking through his post season drought, and an almost endless series of batting threats including Mark Teixeira waiting to make contact with the bat, the Yankees look like the closest thing to a sure bet in the first round of post season play. Not even a miracluous overnight recovery from MVP and Homerun derby champ Justin Morneau would be enough to even keep the series interesting.
By Brady Rynyk…
Sunday, October 4th marked the 18th annual Canadian breast Cancer Foundation's CIBC Run for the Cure, a fundraiser race that takes place in 56 communities across the country. This year, close to 30,000 participants gathered together in Toronto at Nathan Phillips Square to raise awareness and funds for breast cancer research.
The event brought together people of all ages and walks of life to help show their support by participating in a 5km run that stretched down University Ave and wrapped around Queen's Park, and a 1km walk that concluded at the same finish line as the run.
Sandra Palmaro, CEO of the Canadian Breast Cancer Foundation – Ontario Region said, "Each year the Run inspires thousands of people to join together to support a cause that affects so many in communities in the GTA, across the country and around the world."
The field of runners included close to 1000 teams and individual runners flooding the downtown core dressed in a wide variety of pink tutu's, hair dyes, headbands, hats, rocker wigs and mohawks to show their spirit and help draw spectator support to the cause.
Spectators and supporters lined the street to help motivate the runners with an endless supply of cheers and inspirational signs. In addition, at random spots along the course just past the 2km marker, local musicians including a steel drum band, some horn blowing UofT students and a group of rock bands pumped up the participants with their own up beat tunes while the recording sensation Jersey Boys kicked off the closing ceremony.
Today, breast cancer is the most common cancer attacking females as it affects one in every nine Canadian's during their lifetime resulting in 22% of all women between the ages of 20-59, while accounting for 37% of all new cancer cases.
Studies show, that in 2009 alone, approximately 23,000 Canadian women will be diagnosed with breast cancer which will result in an estimated 5,400 deaths (and an additional 50 deaths in men).
With so many women and families affected by this insidious decease, the CIBC Run for the Cure has lead to so many advances in research and treatment since the first event run in 1992 at Toronto's Hyde Park that drew 1,500 participants and raised $83,000. At the close of today's race a total of $26.5 million was raise across the province, including a $4.1 million from the Toronto event at Nathan Phillips Square. Leading the charge was Richard Nesbitt who won the Determination Award after raising $13,150 and Roseys Friends and Family Team who raised $36,000.
Sunday's Run for the Cure, the kick-off to October's Breast Cancer Awareness month proved to be a great success and demonstrated just how runners gather together to help make a difference.
For more information on how you can help or donate please visit www.cbcf.org
With Donovan McNabb sidelined for the second straight week with a broken rib, Philadelphia looks to hand the ball over to their the willing arm of Kevin Kolb. Despite putting up just over 390 yards in his first career start against New Orleans in week two, there is uncertainly surrounding the inexperienced quarterback. Thoughts around the league suggest that Kolb is still susceptible to mistakes without having much on field play, and could likely have a few interceptions lined up come Sunday.
The bigger news for the Eagles is what lurks on the sidelines, the team's preseason acquisition Michael Vick who is finally ready to play after being out of the league for two years and after serving his both league suspension and jail time. Many analysts feel that the one-time poster boy of the NFL is still not ready or fit enough to play after seeing the ex-convict's unbalanced play in the preseason against the Jaguars and Jets. Having seemingly not lost a step in his run attack, the three-time pro bowler showed signs of rust with arm accuracy and some poor decision making after not playing professionally for 18 months. Vick has recently said that his role on the team unknown and will likely used as a decoy. It is suspected that the Eagles will utilize the reformed Vick in a similar fashion to the Steelers use of ex-quarterback Kordell Stewart who lined up on the field as wide-receiver, runningback and QB.
One of the other questions surrounding the quarterback position is the Eagles most recent signing of the always able Jeff Garcia. Garcia who in his last stint with the team back in 2006 lead Philadelphia to the post-season after McNabb went down with an injury forcing the ex-CFL'er to start 6 games. For reasons unknown, Garcia has received unwarranted reputation as a quality starter in the NFL despite being both a four-time CFL All-star and NFL pro bowler. Even though the California native is definitely familiar with the Eagles playbook, he still took a back seat to Kevin Kolb in week two, which raised some criticism from Garcia supporters especially after the team lost to New Orleans in week #2.
Come game time tomorrow there is no question that Kevin Kolb will get the start at QB. But rest assured with the talents sitting on the sidelines, chances are pretty good that if Kolb isn't on the ball and causes turnovers, coach, Andy Reid will look Garcia to take the rains for the offence. It is also predicted that the self proclaimed "wildcat originator" will get about 12 touches out of the wildcat-set and hopefully generate similar results to the Miami Dolphins who produced 107 yard out of the formation against the Colts this past Monday night.
The Philadelphia Eagles are getting set to take the field against a weak Kansas City Chiefs team, and the only thing that is certain is that whoever ends helming the team will not be challenged by the opposing defensive unit. Looking beyond week three, if all three quarterbacks are successful, further questions will be raised upon McNabb's return and who the coach will give the full-time job to.
After a week of trash talking where Jets safety Kerry Rhodes decreed the teams defence would hit New England's Tom Brady over 6 times and would embarrass the Patriots, New York took the field on Sunday and backed up their smack.
New York made their presence felt almost immediately on the defensive end of the ball, confusing Brady with an arsenal of schemes with a mix of 4 & 5 man rushes. The Jets were able to keep the Patriots out of the end zone, limiting the team to just 3 field goals.
On the other side of the ball, the proclaimed Jets saviour Mark Sanchez got off to a slow start going a dismal 3-for-5 with a total of 15 yards in the first half, only to jump out of the gate in the second half. After a 43 yard kick return from Leon Washington, the rookie quarter back lead the team on a three play drive first connecting with wide receiver Jerricho Cotchery for a gain of 45 yards and followed it up with a touchdown pass to tight end Dustin Keller.
Sanchez finished the day with 163 yards and the one TD completion, but came close to padding his stats when he launched a bullet into the end zone to Chansi Stuckey. After review, the touchdown was overturned and ruled incomplete because the wide receiver failed to get both feet inbounds after making the reception.
Despite chances to take the lead, New England failed to execute on many of their third down possessions including a deflected end zone tip that Randy Moss could not hold onto and a costly interception proved to be the difference after the Patriots failed to convert on their last drive in the final two minutes of the game.
After the game the golden boy, Tom Brady said, "We just didn't execute in that 2-minute possession. It's something we've been good at, but the Jets were better at it today. It's frustrating. I think we had really high expectations for this game. We just didn't put it together very well."
After last seasons firing of the mangenius, new head coach Rex Ryan seems to brought new confidence and swagger to the team as the new power house in the AFC-East.
"The big deal is, we're a football team that should be respected," Ryan said. "Sometimes we talk a little bit, but only because we have confidence in our football team."
Ryan who had earlier sent out a voicemail to all season ticket holders encouraging the Jets faithful to be extra loud, gave the game ball to the fans, insisting that they made all the difference.
The 16-9 victory brings the Jets to 2-0 start to the season and the marks the first time the team has won at home against the Patriots since the beginning of the Belichick-era in 2000.
The team hopes to build on its momentum and continue to soar as they face off against the Houston Texans next week, while the Patriots look to leave the game behind them and get their revenge back in Massachusetts in week 11.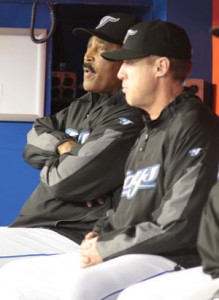 By: Brady Rynyk…
What a great day for a ball game, as 36,926 people gathered under the sun to watch the Blue Jays break their three game losing streak. Toronto's bats were active and making contact with the ball throughout the game, giving fans lots of souvenirs.
Canadian Comedian Sensation Russel Peters was on hand to throw the ceremonial first pitch - And it's a good thing he tells jokes better then he throws, 'cause a 8-yr old girl probably has a better delivery.
After a quick 3-up 3-down first inning the Jays began to find their rhythm, collecting 8 hits and driving in 6 runs off Boston's starter Brad Penny. And if Penny's day couldn't get any worse, in the bottom of the 3rd Sox pitcher almost lost his manhood after Jays catcher Raul Chavez lined a shot right at Brad Penny's junk – luckily he was able to get his glove up in the nick of time or its safe to say he might be talking a couple octaves higher.
With the bases loaded in the second and no out Kevin Millar walked to the plate and grounded into a 6-4-3 double play, scoring Scott Rolen which capped off the Jays steady flow of run support for their pitcher.
Toronto sent the crafty lefty Marc Rzepczynski to the mound to combat the potent Red Sox line-up. In the rookie's second professional start, Rzepczynski, whose last name was actually shortened down from 21-letters, K'd four Sox including Canadian Jason Bay and heavy hitter Kevin Youkilis who both struggled in the batters box Saturday.
After the game Rzepczynski said the mixture of his fading 2-seam fastball and change-up, which he focused a lot of his pre-game bullpen time, were his main go to pitches. Today's finish marks Zep's (as his team-mates call him) first big league win.
When asked what he was going to do with the winning ball, which had to be retrieved from a fan, Zep stated with no uncertainty, "Keep it!" He later added that he would likely give it to his parents.
As the game wore on the Jays hurler had difficulty finding the strike zone and walked struggling batters on consecutive pitches, and was done after the 6th only giving up one run on 109 pitches.
After the game the clubs manager Cito Gaston commented on Zep's ability to handle the pressure shows the potential for him to a promising career.
Cito Added, "he got himself into a little bit of trouble out there but he got through it."
Unfortunately his replacement, Jesse Carlson didn't fare half as well giving up homerun to the Sox 8th batter Jed Lowrie on one pitch. Luckily for Carlson, his team was defensively behind him. Aaron Hill made sprawling stop to prevent a single and with the shift on, Scot Rolen made a high light real diving grab that brought the crowd its feet. The ball clubs manager Cito Gaston quickly made a trip out to the mound and gave Carlson the hook for the recently shaky Jeremy Accardo, and was closed out by Scot Downs.
Red Sox nation came out in full force to support their team, and after Jason Bay's double in the 2nd inning they made their presence felt with Boston cheers that flooded the stadium. But by the 3rd inning Toronto fans came to life and emphatically cheered on home town with every hit. The Rogers Centre rallied behind the team after Jose Bautista's double in the 4th that scored 2 runs to build the teams lead to three runs, and erupted after Adam Lind knocked his 20th Homerun of the season. The 2-run long ball snapped a 59-inning homerless drought for the Jays.
The Jays go into tomorrows game with Roy Halladay taking the mound, and one can only hope that today's win sparks a Colorado-esk winning streak to keep the team in contention as the second half of the season rolls on.
by Bryan Thiel…
Just accept it. We're all strange.
Every single person has a voice inside them that screams for the impossible, a feeling that yearns for the unlikely, and a passion for the stretches of life.
If this wasn't true, then why would Michael Bay be allowed millions of dollars to make a movie about 100-foot transforming robots, and why would we all pay to see it? Why would the market of comic books have as much of a following as it does? Why would we sit through soap-operas when the main plot line deals with my second-cousin's twin brother sleeping with my step-mother who was in a coma for four years because she was supposed to marry my uncle, but his ex-wife came back into the picture and knocked her unconscious?
Because for every reality and for everything that keeps us grounded, we want something outrageous; something that could never happen, but keeps our minds turning just thinking about it.
Maybe this explains our addiction to rumors.
Every day when we go to our computers, it seems that there are at least 20 new "tidbits" as to what's going to happen in the world of sports: Who is signing where, which player is retiring or getting busted for trying to smuggle copious amounts of crushed Advil out of the country, and which team might be interested in trading for a disgruntled star.
It's gotten so out of hand that people have begun to make a lot of money out of this by reporting whatever they want.
The only problem is, they don't source it.
The most famous line in all of rumor-mongering is "according to my sources", which is almost always followed by "who chooses to remain unnamed at this time."
Is anonymity important?
In the world of professional sports, it certainly is. You can't go around showing your face in the media and spouting off about any player or else you'll end up with a tampering charge.
Just ask Ron Wilson.
The problem with not sourcing the rumor's home however, is that there's no proof that you have these sources. Unless you have specific "ins and outs" with a team that is at least publicly known (you've attended a few practices, talked to scouts or GMs for public interviews), then it's hard for anyone to believe that you actually have these "sources."
And that's another point at which we get into trouble.
People have become so wrapped up in their favorite teams and their idolized players, that they begin to take these rumors personally. Whether it's some schmuck producing Internet filth for reads or an accomplished journalist publishing a lead, if it's not to someone's liking, they'll slam it—which is exactly the kind of thing we've come to expect in this world of impersonal communication.
Thanks to people like Eklund who seem to be no more than you or I—simply fans—reliable people such as Darren Dreger of TSN are forced to deal with skepticism for everything they're told and allowed to pass on as a courtesy to those interested.
I make no secret about the fact I used to work for a rumors site. In fact, it's how I got my start in writing. However, without any team sources at that time, I was reserved to the fact that I was less of a reporter and rumor manager, and more of a "pass along" between places like TSN and Sportsnet, and our site.
But with everything I posted, there was a link along with it, so I lived and died by my source if they ended up being right or wrong. As it should be today, but isn't.
Now though, the source is nothing more than a phantom—someone that we think is there but aren't entirely sure—while the "reporter" is simply the man behind the curtain pulling all the strings, whether they're the right ones or not.
So it leaves us with only one thing left to do. To take the rumor for what it is and move on, because there isn't enough time in the day to spend concerned with people who can't do their job the right way.
by Brady Rynyk…
In a sea of Cardinal red, 45,981 fans gathered in the baseball capital of the world to watch MLB's sultans of swat crush the leather off baseballs as they soared out of St. Louis' Busch stadium under the Gateway Arch.
For Milwaukee Brewers big-man Prince Fielder, 2009 provided sweet redemption to his 2007 performance where he only mustered 3 homers. This year Prince who had 22HRs leading up to All-Star break returned to hit 11HRs in the 1st round and leave with the derby trophy. To solidify his win, the 270 pounder launched the three deepest jacks of the derby with his powerful swing, blasting long balls 488ft, 497ft and monster shot that rocketed 503ft.
"It was what you expected, it was awesome," Prince Fielder said. "This is Albert's stage. It was kind of cool to see how the fans love him here. I wouldn't have expected anything less."
Fans gathered in the Gateway to the West to see one man bring home the title, and although Albert Pujols didn't win the Homerun Derby championship, he certainly didn't disappoint. Hometown favourite, The Machine (Pujols) entered the tournament with a major league best 32HRs, but after finishing a double header the night before and returning to St. Louis at 3am only to guest on the Today show at 6am, Phat Albert was noticeably tired entering the event. Despite not making it out of the second round, Pujols did provide enough drama for the fans as he forced a tie-breaking swing-off with Rays first baseman Carlos Pena and Twins catcher Joe Mauer – Although a fan had actually pulled his 3rd homer over the fence with a catch, proving home field does have its advantages. The leagues best player went on the say,
"I wish I would have put on a better show for our fans," Adding, "But I just thank God for giving me the opportunity to be around these great players."
Runner-up Nelson Cruz of the Texas Rangers matched Fielder's first round performance of 11 dingers knocking shots into upper decks in both left and right field, but fell short in the final round.
Local St. Louis son, Ryan Howard received a warm welcome from the hometown crowd as he knocked 15 long balls out of the park. Howard who had his local high school summer ball coach toss pitches into him said that having coach Deron Spink there was especially meaningful,
"It was a great time. I knew it was a special experience for him. It meant more to me to have him out there than anything else."
Surprisingly the guy having the most fun on the field was the only not to go yard. Tigers third baseman, Brandon Inge who went homerless in the event was grinning from ear to ear throughout the entire event despite not reaching his 15-homer total stating,
"Some guys I talked to about it said they couldn't have fun because it was too stressful…I loved it. I'd do it again in a heartbeat. I really would. I'd ask them to do it again."
This year's Homerun Derby was certainly entertaining, and chalked full of memorable moments, from the NL showcasing its power hitting first basemen while introducing Texas Rangers slugger Nelson Cruz to the world. However, that being said, Prince Fielder's 23HR total, is no where close to Josh Hamilton's 28HR first round performance last year, or Bobby Abreu's 41HR in 2005.
By Brady Rynyk…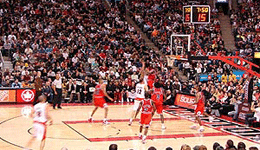 Reports out of Miami suggest that a trade is in the works with the Heat and Raptors in an effort to move Toronto's franchise player Chris Bosh before he becomes a free agent at the close of the 2010 season. The Heat have been open about their desire to pick up CB4 to compliment Dwayne Wade in an effort to prevent their own star from jumping ship next off-season.
Rumoured to be on the table is Heat's first round draft pick from last year Michael Beasley packaged with a series of other mid level players like power forward Udonis Haslem.
The deal is certainly in the preliminary stages and is by no means a done deal as clubs around the NBA have voiced interest in Toronto's all-star and the clubs GM is obviously taking calls from other teams with legitimate offers.
Although it is hard to believe that the team has thrown in the towel with respect to contract negotiations with Bosh, after the raptors franchise player decided to forgo his player option in order to test the free agent market is has become apparent that CB4 wants out of Toronto.

Unfortunately for the Raptors front office, the window of opportunity to trade the superstar is quickly closing. Many teams are not likely to make concrete offers for Bosh in fear that the superstar will head to the highest bidder at seasons end in 2010.
Prior to this year recent NBA entry draft, the rumour-mill included a possible trade with the Chicago Bulls who reportedly were willing to part with draft picks, 6th man of the year Ben Gordon and either the young talent of Joakim Noah or Tyrus Thomas. The Atlanta Hawks had also thrown their hat into the ring offering up their high flying premier player in Josh Smith and a series of picks.
Both offers obviously fell through the cracks as the draft came and went, but it is becoming apparent that GM Bryan Colangelo is looking to make a move and retool a roster that that is made for an up tempo style of play.

There is no question that the Raptors have an up hill battle ahead of them in the Eastern conference and will not likely make the playoffs this year. That being said the team has a decent enough players in Andrea Bargnani & Jose Calderon that if the team can lockdown Shawn Marian, sign a player like Hedu Turkoglu, Chris Bosh easily becomes expendable - especially if the team can create similar trade to that which were proposed by Miami. A tentative Bosh trade coupled with this year's 1st round draft pick, USC star De Mar DeRozen, who draws comparisons to Kobe Bryant and could be breakin' ankles and posterizing opposing players by December, the team might actually have a chance…to break 500.